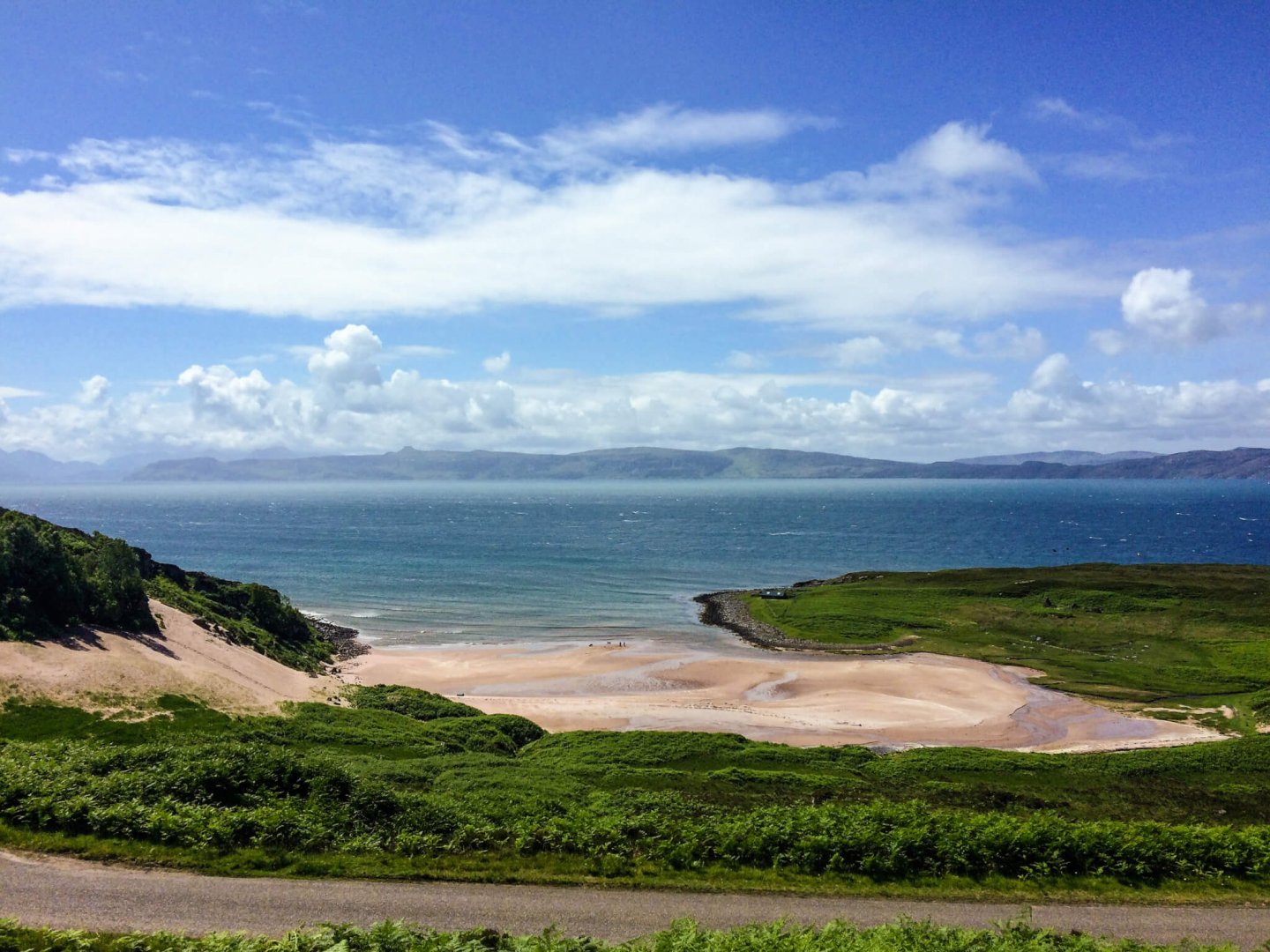 Have you heard about the North Coast 500? It's the Scottish equivalent to the American Route 66. 500 miles around the north coast of Scotland taking in some of the most spectacular scenery (in my opinion) in the world. Can I get a ROAD TRIPPPPP? Whether you spend 4 days or a week, take a tent or stay in luxury accommodation, there is a North Coast 500 itinerary for you.
North Coast 500 Route Map
The route map below has lots more ideas of things to see and do to help you plan your North Coast 500 itinerary.
Green – landscapes, views, lochs and things you have to see
Purple – things to do on the North Coast 500
Yellow – food & drink (and some North Coast 500 accommodation)
North Coast 500 Itinerary
Start this amazing drive from Inverness Castle, from which you will travel over 500 miles visiting beautiful Applecross, Gairloch and Durness to John o'Groats taking in some of Scotland's most spectacular coastal scenery.
Visit the Applecross Peninsula and drive the incredible Bealach Na Ba. Stop at the Applecross Inn or Applecross Walled Garden for lunch. If you have time walk to Sands Beach.
Drive the beautiful Wester Ross coast to Gairloch, have a look at my guide to Wester Ross for lots of things to see and do.
Explore Scotland's wild north coast including Cape Wrath and Durness, including a visit to Smoo Cave and chocolate at Cocoa Mountain.
Head to Scotland's most northerly point at John O'Groats and visit Royal Dornoch, one of Scotland's sunniest places, with a beautiful beach.
Alternatively, start your trip with a drive through Glencoe and visit the famous Eilean Donan Castle before joining the route on the west coast.
North Coast 500 FAQs
How is driving on the wrong side of the road? If you have never driven in Scotland before have a look at my detailed guide to how to plan a road trip and how to drive on a single track road!
When should I drive the North Coast 500? 
I recommend April and May and September and October. Summer is beastie heaven in Scotland – and the Scottish midgie is legendary.Don't forget your 'Smidge'.
Can we sleep in the car on the North Coast 500? 
Well, it is not illegal as far as I am aware. This is unless there are local bylaws restricting overnight sleeping, and it gets very complicated if the driver has had any alcohol, you may attract the attention of the police. My suggestion is to get a tent, as wild camping for most of the route is fine and there are some amazing campsites, and some great pubs for a pint!
Do I need to pre-book accommodation on the NC500 before setting off? 
It depends if you are camping or booking pubs and hotels. We found we could easily find camping spots (and change nights dependent on the weather) For some of the more remote places, such as staying at Applecross, I would recommend booking in advance.
Where can I get an official North Coast 500 map?
For more info and to download the official map visit northcoast500.com or download the North Coast 500 app.
My Scotland Guides might also help plan your trip!
Pin for later