In the far north-west of Scotland, Assynt's landscape of otherworldly rock formations is literally jaw-dropping. Above a turquoise coastline and white sand beaches rise strange mountains – Suilven, Cul Mor, and one of the most popular hills to climb in Scotland, Stac Pollaidh. Here is how to climb it.
How to climb Stac Pollaidh
Stac Pollaidh – or Stac Polly as it's also known – is one of my favourite hills in Scotland. OK, at just 2007 ft / 612 m high, Stac Pollaidh might just a tiny pup in comparison to many of Scotland's bigger hills, but with incredible views of the mountains of the Inverpolly Nature Reserve, down to Loch Lurgainn and across to the mighty Suilven, this mini-mountain punches well above its weight. Along with some great scrambling at the top – you get a big pay off for such a short climb.
From the roadside, Stac Pollaidh (the name comes from the Norse "Pollå" or 'above the Pool River') looks a mess of pinnacles (look out for Lobster's Claw, the Sphinx and Madonna and Child) deep gullies and intimidating scrambles. However, actually climbing the hill is relatively simple thanks to the well made, but steep path up to the peak. There is a circular route which will take you around the base of the pinnacles, or you can return the same way.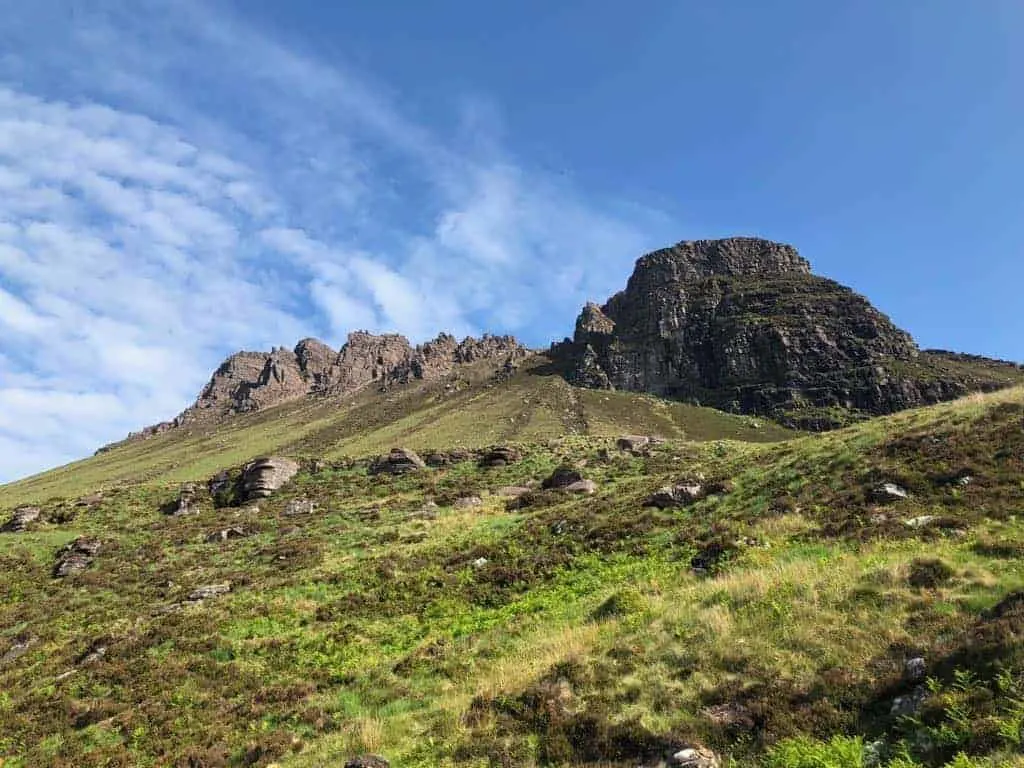 Stac Pollaidh route maps
best time to climb Stac Pollaidh?
Scotland's weather is best in May and September. Don't attempt climbing Stac Pollaidh in winter unless you are a specialist climber. For weather forecasts, I recommend you check out:
how to get to Stac Pollaidh
Stretching from Lochinver in the west to Dornoch in the east, Sutherland & Caithness make up the far north of Scotland. While much of the region can be visited by driving the famous North Coast 500 you need to detour off the route between Unapool and Ullapool to visit Assynt.
If you aren't driving the NC500, Stac Pollaidh is around 5 hours north of Glasgow and Edinburgh and 2 hours from Inverness. Whilst the best way to explore Assynt is by car – there are daily bus services. To get to Lochinver catch the Far North Bus service 804 from either Durness or Ullapool.
Stac Pollaidh is a deservedly a popular hill and on a good day the car park off the A835 from Ullapool can quickly fill up. Get there early and don't park in the passing places if you can't find a spot.
how hard is it to climb Stac Pollaidh?
Whilst climbing Stac Pollaidh is not technically hard, it is steep, and the Torridonian Sandstone can be lethal in the wet, so don't climb up expecting a wee trip up Arthur's Seat. You will need hill walking gear and be prepared for the weather to change in a heartbeat – mist, fog and rain can sweep in quickly off the west coast of Scotland. If you haven't hill walked before, have a look at my beginner's guide to hillwalking in Scotland.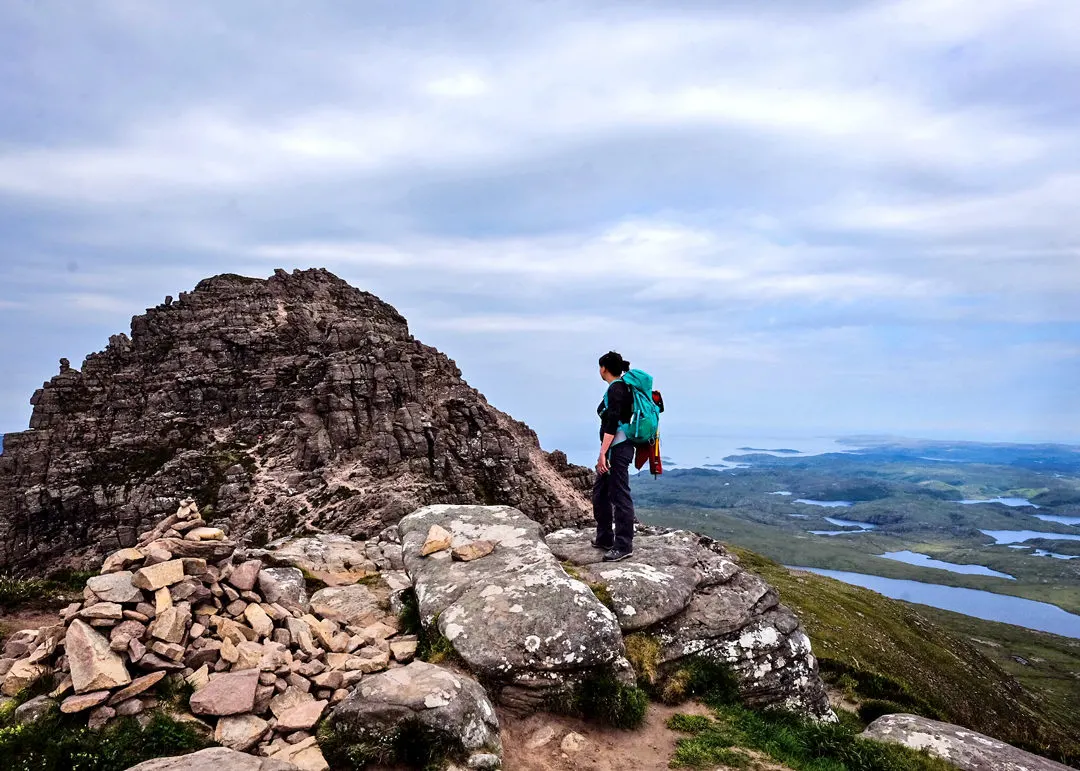 How long does it take to climb Stac Pollaidh?
With a reasonable level of fitness, the walk up Stac Pollaidh will take around 2 hours from the car park, although I'd leave around 3 hours for the climb – you'll need plenty of time on the top for photos! Climbing to the very top of the pinnacles should only be attempted by experienced scramblers – there are lots of deep gullies and slippery Torridonian Sandstone to navigate. However, for most people though this is one mountain you won't mind not getting to the true summit of… the views are just fabulous anyway.
Love, from Scotland x
Climb the spectacular Suilven
More things to do around Lochinver
How to drive the North Coast 500
More iconic mountains in Scotland to climb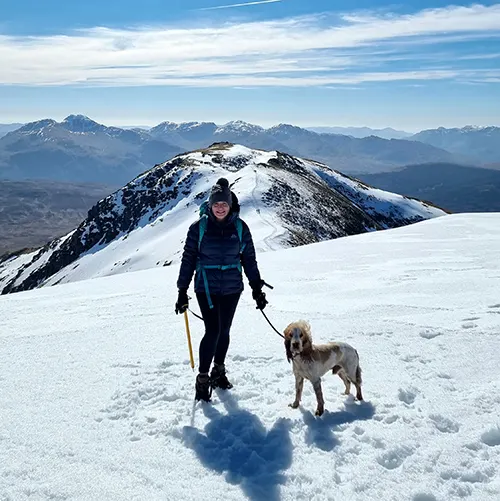 I'm Kate – a travel writer and photographer living in Scotland. Love, From Scotland is the Scotland travel guide that shows you where to stay and how to get outside in Scotland.