I can't be alone in dreaming of becoming a 'little house on the prairie' homesteader and the Lazy Duck near Nethy Bridge in the Cairngorms National Park offers up the chance to do just that. Move into the Homestead, your own tiny off-grid hut in the woods, for a blissful few days on the farm.
Welcome to the Homestead at Lazy Duck
With three eco-huts, an 5-bed hostel and a lightweight campsite, along with the eponymous pond of Aylesbury and other gorgeous ducks, a herd of Soay sheep, chickens and Django the spaniel, owners Valery and David, and more recently, Phil & Sarah, have been welcoming guests to the Lazy Duck deep in the heart of the Cairngorms for the last 40 years.
Subscribing to the 'small is beautiful' culture, with a laid back, genuinely warm welcome, staying at the Lazy Duck is a wonderfully peaceful experience, with an incredible sense of place in the Cairngorms National Park's landscape.
We'd spent a few days last summer in Lazy Duck's simply wonderful Woodman's Hut, a tiny house for two made out of a 260 year old Scots Pine and completely fallen in love with the place – and were rather happy to be invited back to check out Lazy Duck's newest hut – the Homestead.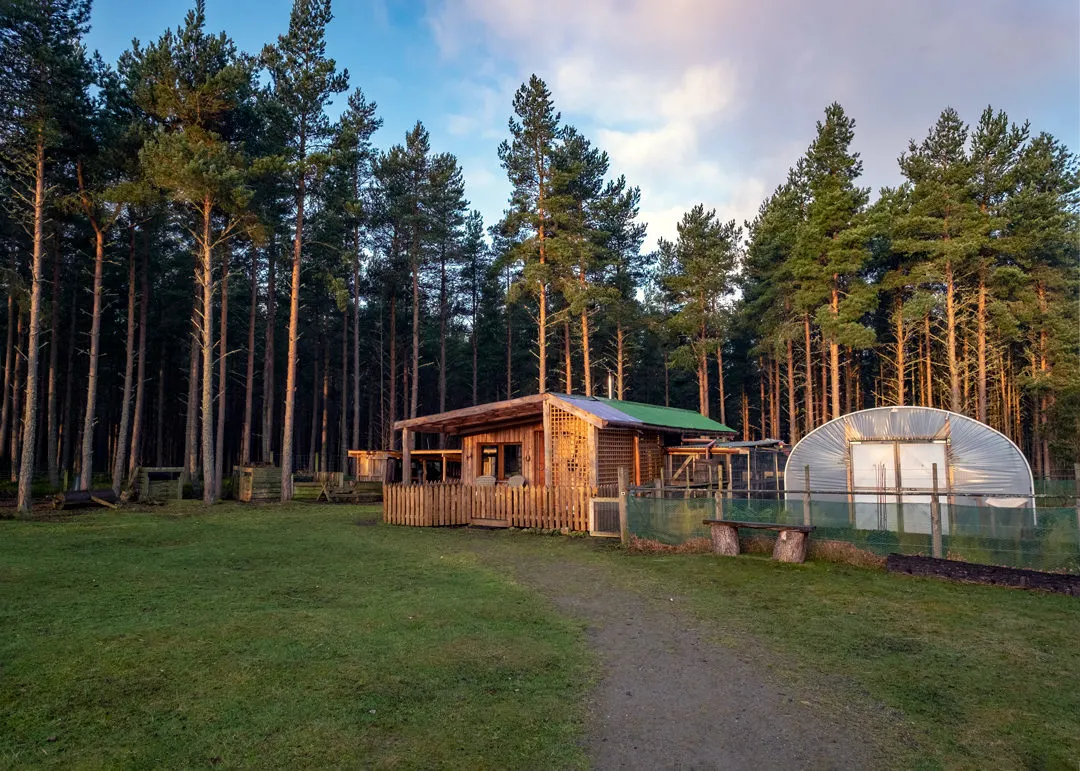 Sitting in its own acre of land, and surrounded by woodland, the Lambing Bothy comes complete with its own small herd of goat-like Soay sheep from Shetland and a group of nosy, bustling, chickens.
Best described as 'off-grid plus', inside, the Lambing Bothy it is all farmhouse rustic chic – there is a comfy high box bed with stargazer skylight, a highly efficient mini wood burner to keep the cabin toasty warm, along with electric lights, a gas hob for cooking and a small fridge for the essentials. There is even wifi if you really need it.
That is where your city-slicker luxuries end. Like all good eco-huts, your composting loo is out the back hidden in the woods and showering is done in a 'bush-shower' outside. Fill up a bucket and get on with it. The composting loos are spotless and going to the loo in the morning, opening the windows to spot the local red squirrels and deer, surrounded by nature is quite a humbling experience.
Our visit to Lazy Duck wasn't without a few real 'homesteading' incidents – on our second night a couple of cheeky hens came a-knockin' at the front door at 5 am for their breakfast – turns out they'd missed their bedtime and had a party staying out all night! Naughty, naughty hens.
After breakfast for two, plus the additional two chickens, we made advantage of the early start to snuggle up under a blanket on the veranda to watch the sunrise over the Cairngorm mountains. Bliss.
Time spent at the Lazy Duck is all these tiny moments, learning how to light the fire, pulling on the cosy socks, popping on the vintage radio rather than the TV, pouring a glass of wine and settling in for the night under a thick woollen blanket.
You check into the Lazy Duck to check out – and settling into your wee log cabin you really do feel like you are embarking on a homesteading adventure.
Fancy your own log cabin in Scotland?
Looking for true peace and quiet? You are in the right place – the Lazy Duck does not accept big groups, the site is smoke-free – and because of the sheep, ducks and hens, no dogs are allowed. Here is how to stay at Lazy Duck:
Lazy Duck Log cabins – choose between the Woodman's Hut, the Homestead and the Duck's Nest – prices start at £375 for a 2 nights stay. The Woodsman Hut is off-grid but offers the most privacy and the Duck's Nest has a lovely view over the duck pond.
Lazy Duck Hostel – The Lazy Duck Cairngorms Hostel sleeps 5 and come complete with a kitchen and outside seating area with log burner.
Camping – Lazy Duck offers a lightweight 4 tent camping site for small tents only. There is a bush shower and camping kitchen, chimaera fires and hammocks. Prices start at £15 for a tent & person + £7.50 per each additional person.
Things to do at the Lazy Duck
Surrounded by ancient woodland and towering mountains, the Lazy Duck's location in the Cairngorms National Park means some of Scotland's best scenery is literally on your doorstep. There is loads to do, so get out and explore.
Get outside: Hike up to the beautiful green An Lochan Uaine and walk around Loch an Eilean and Loch Morlich. One of my favourite walks is to climb up above Farleitter Crag to see the tiny Uath Lochans. Munro bagger? – climb the mighty Bynack More, Cairn Gorm or Scotland's second highest mountain, Ben Macdui.
Visit: the Highland Wildlife Park has the UK's only baby polar bear, red pandas and wildcats. Spot the Cairngorms reindeer in their mountain wilderness, walks start every day at 11 am or go on a sled dog safari, learn to drive a sled, or go on a night sledding experience at the Dog Sled Centre.
Hungry? the Mountain Cafe over in Aviemore does some of Scotland's best breakfasts – its worth the queue! On site you can also pick up freshly laid eggs and home-baked bread along with polytunnel salads and vegetables in summer from the Lazy Duck base camp.
Just need to relax? Book into Lazy Duck's infrared sauna or the fabulous wood-fired hot tub (£10 per couple) and swim by candlelight in 32-degree pine scented waters with a view of the mountains….
Ah bliss. Lazy Duck we will be back.
Love, from Scotland x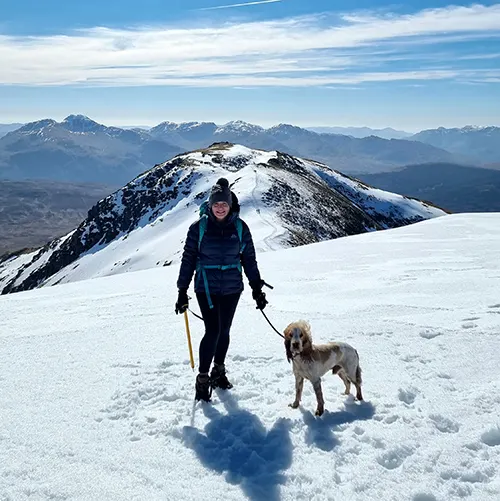 I'm Kate – a travel writer and photographer living in Scotland. Love, From Scotland is the Scotland travel guide that shows you where to stay and how to get outside in Scotland.