Looking for pet friendly accommodation in Scotland? From pet friendly lodges, to romantic getaways to the best five-star hotels, here is love From Scotland's favourite dog friendly accommodation in Scotland. They have all been tried and tested by us, so you are guaranteed a truly fabulous place to stay in Scotland.
This post uses affiliate links which I may make a small commission from at no expense to you!
Dog friendly accommodation in Scotland
My favourite dog friendly accommodation in Scotland are:
Dog friendly lodges and self catering accommodation in Scotland
Looking for self catering accommodation in Scotland which is pet friendly? Here are my favourites:
Eastside Cottages
Near Edinburgh, Eastside Cottages offers dog friendly holiday accommodation in Scotland on a farm in the beautiful Pentland Hills regional park a few miles from the heart of Edinburgh. With miles of walks on your doorstep, these cottages are a perfect doggy holiday!
The Queen's Hut, Aboyne
Hidden in the heart of Royal Deeside, near the pretty town of Aboyne is The Queen's Hut. Sitting on its own tree-lined loch, the Queen's Hut is a luxury log cabin overlooking the Cairngorm Mountains.
Culbin Edge, Moray
Hugging the coastline of the Moray Firth is Culbin Forest, which stretches 8 miles between Nairn and Forres. Overlooking the forest (the cabin is aptly named) is Culbin Edge, a luxurious dog-friendly cabin with a hot tub. The cabin is perfectly located for exploring Moray Speyside.
Gatehouse Luxury Lodges
With three luxury lodges on offer – Sea View. Ocean Drive and the dog friendly lodge – Silver Birch, Gatehouse Luxury Lodges offer up the the perfect base for an adventure in Dumfries and Galloway. Located on the edge of lovely Gatehouse of Fleet, these lodges are perfectly located for a family break exploring the area – the pretty artist town of Kirkcudbright is on your doorstep or visit one of the Solway Beaches – Mossyard is a personal favourite. Or why not drive the South West Coastal 300 and explore with one of Scotland's best road trips?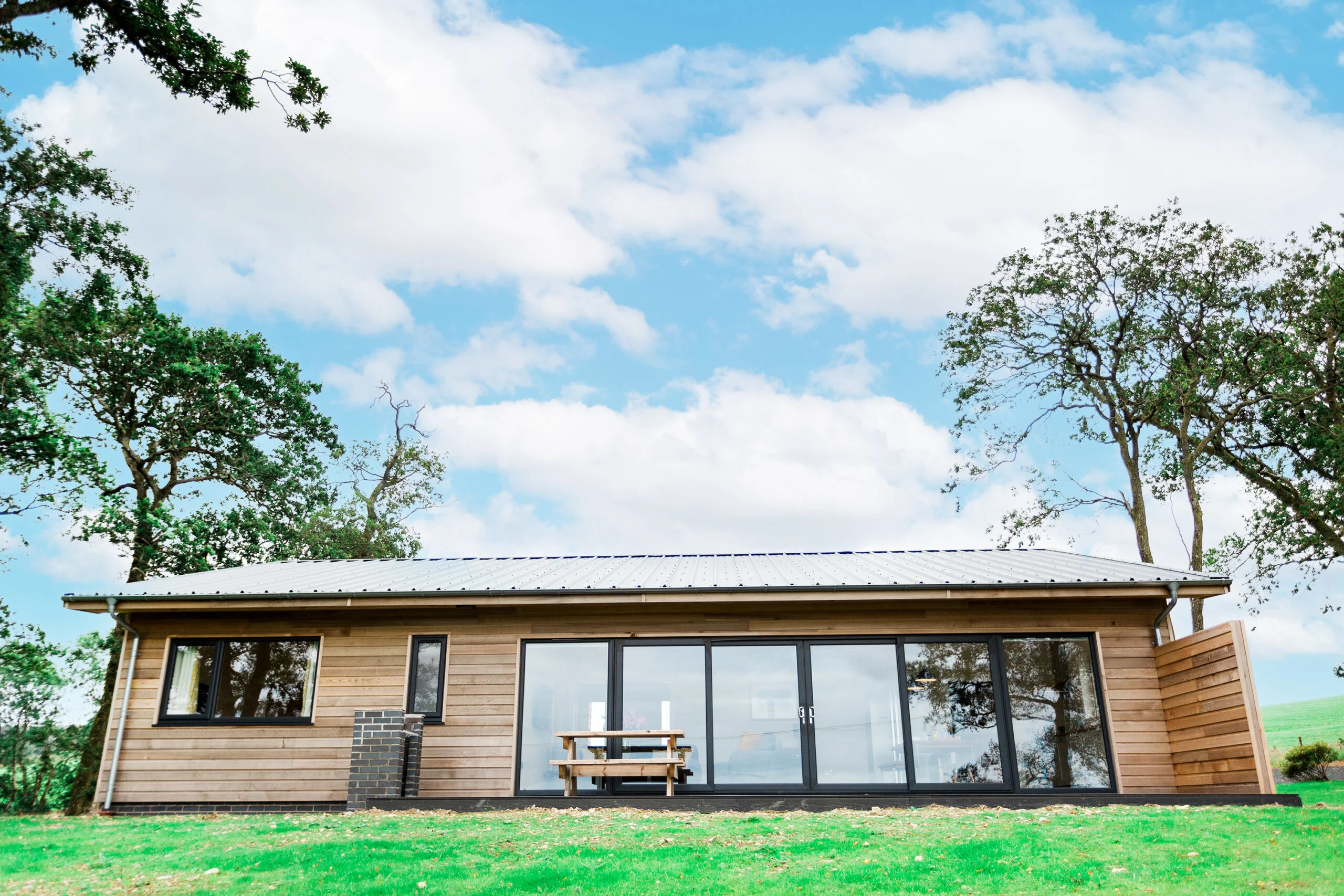 Pet friendly romantic getaways
Birdwatcher's Cabin, Golspie
On the North Coast 500 route by Golspie is one of Scotland's best dog friendly log cabins. A dream for two or cosy for a small family, the Birdwatcher's Cabin sits on lovely Loch Fleet. Inside is a retro dream interior and outside is a deck for watching the sunset, with the pup by your side. On site spa treatments and steaks and champagne ready to order complete the perfect dog friendly romantic getaway. Book the Birdwatcher's Cabin.
Eagle Brae, Glen Affric
Beside Scotland's most beautiful glen is the stunning cabins at Eagle Brae. Dogs will love the underfloor heating and wood burners, and outside there are enclosed balconies for a spot of fresh air – and of course, being the highlands of Scotland there are hundreds of miles of trails – just try and stop your dog exploring!
More romantic pet friendly accomodation in Scotland
Hotels in Scotland that take dogs
There are thankfully now lots of dog friendly hotels in Scotland and the UK. These are my favourite hotels in Scotland that allow dogs.
The Meikleor Arms Hotel and Cottages, Perthshire
While many hotels proclaim they are dog friendly, the Meikleour Arms truly is. With rooms on the ground floor being suitable and well designed for dogs and many of the cottages, and with dogs allowed throughout the restaurant and lounges, this is a perfect dog friendly hotel in Scotland. The staff truly seem to love the pups who come to stay – and your dog will particularly love the underfloor heating in the bar!
The Torridon
At the luxury highland hotel the Torridon, dogs are welcome in the ground floor rooms at the recently refurbished The Stables. Over in the gorgeous main hotel, the luxurious Chestnut Cottage, welcomes dogs. The hotel sits in miles of stunning countryside, surrounded by towering Munros – perfect if your dog is the adventurous type! Read more – The Torridon Hotel.
Mar Hall, Glasgow
On a 200-acre wooded estate on the banks of the River Clyde near Glasgow sits Mar Hall, a luxury Scottish hotel in a huge 19th-century Gothic mansion. Inside the hotel are 52 gorgeously grand bedrooms and suites, all beautifully decorated – and dog friendly! Why not take your dog to Mar Hall and a weekend of complete indulgence? Book – Mar Hall.
The Lovat Loch Ness, Fort Augustus
At the southern tip of Loch Ness sits the pretty village of Fort Augustus and the characterful Lovat Loch Ness Hotel. With 28 rooms ranging from loch front suites to pet-friendly lodges, the hotel is a perfect spot from which to explore the Great Glen. Book – The Lovat Loch Ness.
The Whitebridge hotel, south Loch Ness
High above the madding crowds of Nessie hunters on the shores of Loch Ness sits The Whitebridge Hotel. The hotel now offers up warm and quirky dog friendly bedrooms and a dog friendly restaurant on the south side of Loch Ness. Book – The Whitebridge Hotel.
The Allanton Inn, Scottish Borders
A traditional coaching inn in the small village of Allanton, offering up fantastic hospitality, gorgeous local food and real ale along with a large beer garden out the back. Rooms are modern, large and comfortable. Dating back 100s of years with tons of character the Allanton inn is the perfect Scottish inn from which to explore Berwickshire and the east coast. Book the Allanton Inn.
Murrayshall Country House Hotel, Perth
With 40 bedrooms and dog-friendly suites, Murrayshall has a modern fine dining brasserie, a cosy cocktail bar, an 18-hole golf course with its own stylish but relaxed club house bar and offers up a range of outdoor adventure activities in the surrounding Perthshire countryside. Book Murrayshall.
Dog friendly hotels in Scotland with a swimming pool
Portavadie, Loch Fyne
Offering up a dog friendly hotel and apartment complex, Portavadie is all set around a 260-berth yachting marina. Choose from luxury townhouses complete with saunas, lodge-style hotel rooms, cute family cottages or two couples retreats. With two restaurants and a cafe on site and a £10m spa and swimming pool complex with utterly incredible views, you and your dog will never want to leave! Book Portavadie.
The Fairmont, St Andrews
Located just outside St Andrews and with an incredible view of the castle, cathedral and across to the Firth of Tay is the Fairmont St Andrews. Offering up two golf courses, a spa and six restaurants, the hotel is a five star hotel which also welcomes dogs! Book the Fairmont St Andrews.
Lodge on the Loch, Loch Lomond
Located just 30 minutes from the centre of Glasgow, checking in to the Lodge on Loch Lomond dogs can stay in the classic 'Grahams' are in the original lodge building – the rooms are named after heights of Scottish mountains, right up my street! Many of the rooms also have their own saunas and there is an onsite swimming pool. Book The Lodge on Loch Lomond.
Loch Fyne Hotel and Spa Inveraray
A four star hotel with spa on the banks of Loch Fyne, with great food, the hotel offers up comfy dog friendly rooms, a great restaurant and is a five minute walk into the bustling town of Inveraray.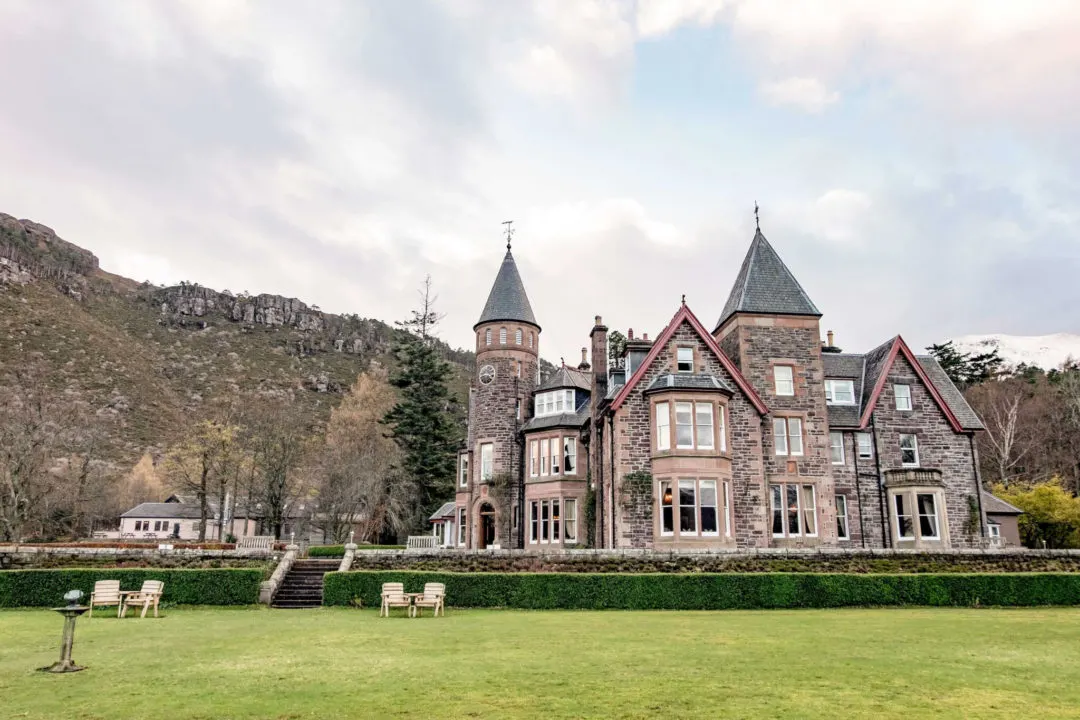 More 5 star dog friendly hotels in Scotland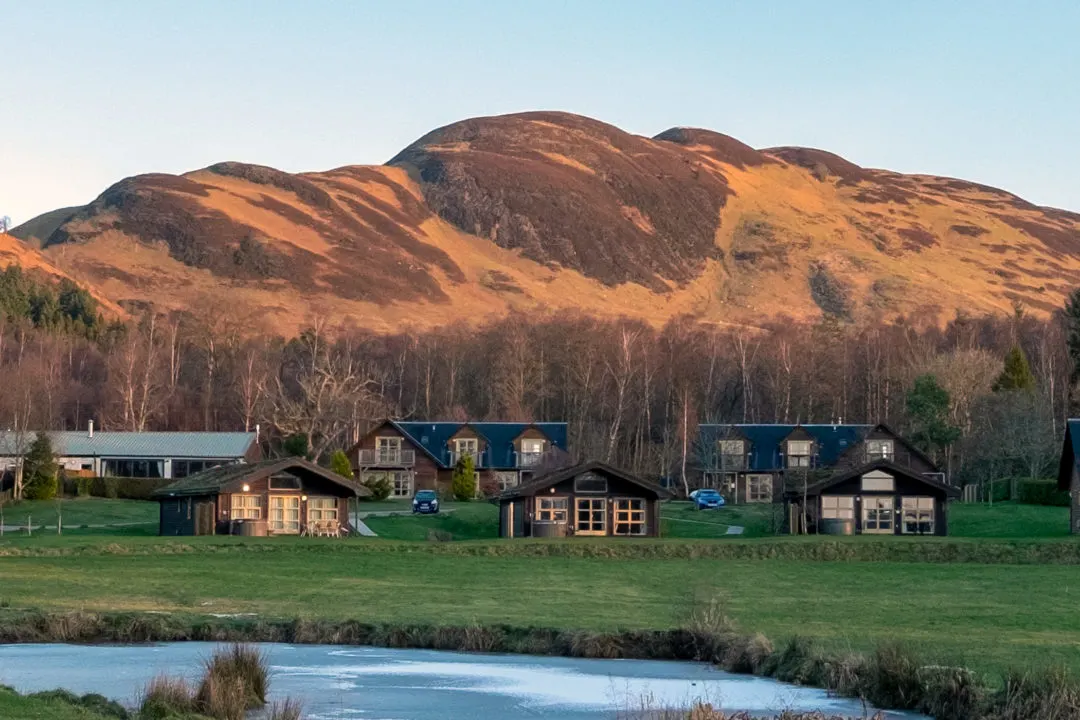 Unusual pet friendly self catering accommodation scotland
Barns Tower
Looking for family castle accommodation in the Scottish Borders? Barns Castle* is owned by the Neidpath family and is located near Peebles. Barns Castle sleeps four guests and your furry friends too.
Looking for more places to stay in Scotland?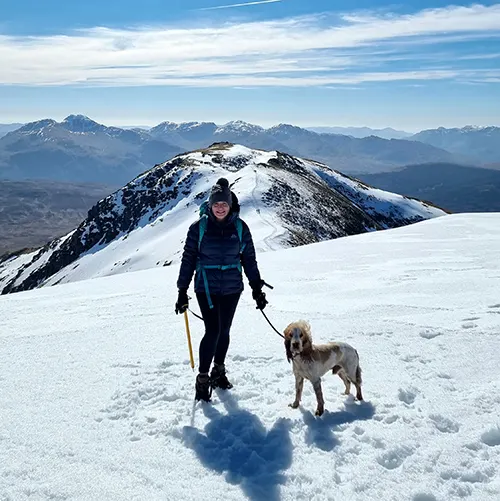 I'm Kate – a travel writer and photographer living in Scotland. Love, From Scotland is the Scotland travel guide that shows you where to stay and how to get outside in Scotland.