On the beautiful banks of Loch Fyne in Argyll is Inver, one of Scotland's best restaurants. The only restaurant in Scotland with a green Michelin star, let's book into one of Inver's bothies overlooking the loch for an incredible evening of sustainable fine dining.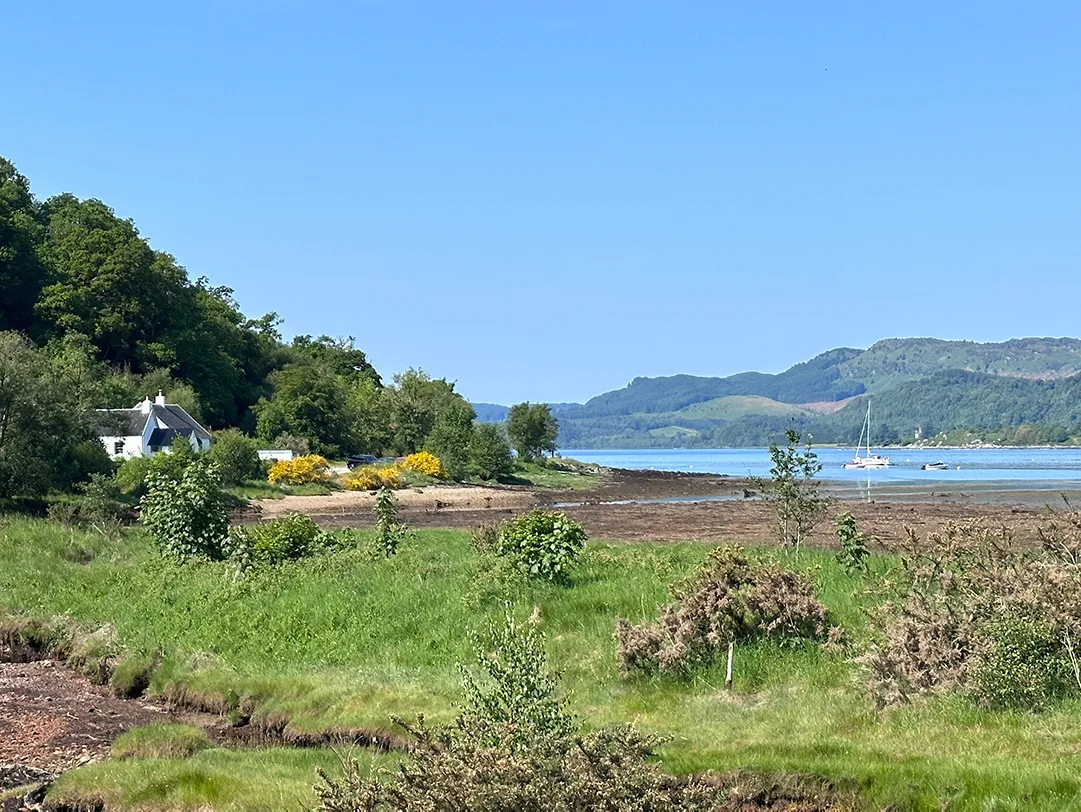 Inver restaurant, Scotland
Inside a whitewashed ex-crofters cottage on the southern bank of Scotland's longest sea loch sits Inver, a relaxed (and dog friendly) fine dining restaurant with a green Michelin star.
Chef Pamela Brunton and co-owner and front of house Rob Latimer, might come from a background at Noma in Copenhagen and Faviken in Sweden – foodies might describe Inver's style as new Nordic – but its Pamela's Scottish roots in Carnoustie and Inver's Argyll location which give this restaurant its heart.
Inver sits at the heart of mountain, croft, loch and sheep country – and outside of the bounds of the bustling town of Inveraray you won't see much else out here – but what you can forage and grow on this land of rock and lush grass is showcased on Inver's menu.
Dinner at Inver is a 6-course tasting menu that takes you from the restaurant's cottage garden, through this season's delights (such as in-season asparagus in a moorish buttered soup and a rich seaweed tart) to locally produced heritage meats such as local Loch Lomond blackface lamb.
Inver's commitment to sustainability has been recognised with Scotland's only green Michelin star – joining celebrated restaurants such as L'Enclume in the Lake District and Le Manoir aux Quat' Saisons. Prestigious company indeed.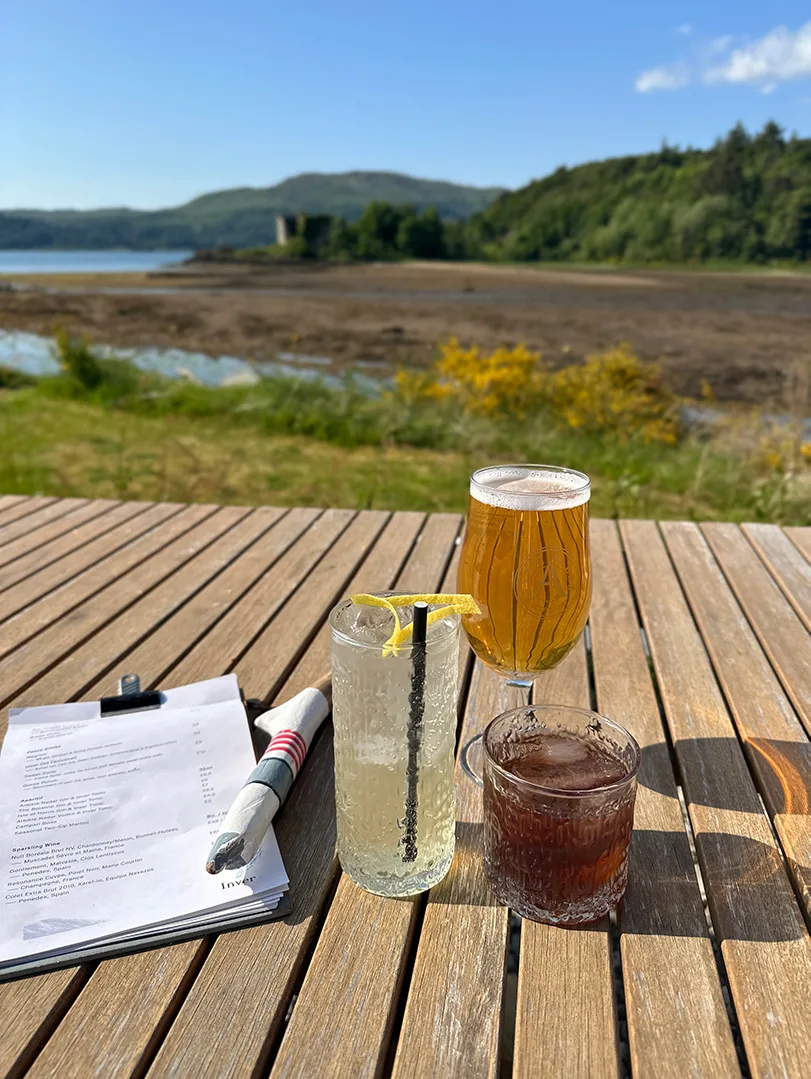 Dining at Inver restaurant Scotland
Our visit to Inver started with cocktails over looking the loch and the ruins of Castle Lachlan. My G&T was made with net zero gin from Arbikie Distillery alongside Inver's own spiced tonic alongside an barrel aged Old Fashioned. Beers are from super local Loch Fyne brewery just down the road.
To start are Inver's 'snacks'. Served outside in summer (if the midges behave long enough) or in Inver's cosy bar area, we were treated to Loch Fyne oysters with sea buckthorn; crisp crab and barley bannocks (a fluffy scone like bread), cured mackerel with herby pine, and locally collected razor clams with sorrel, all accompanied folky Americana on the record player.
A penchant for Bob Dylan aside, Inver's atmosphere is warm and friendly, but laid back and very cool. Our kind of place.
Moving through to the main dining room – all stripped wood, Ercol furniture and plant life as art installation – our 6 course tasting menu was served at a leisurely pace and contained lots of surprises along the way – a dish of delicious raw scallops hid sweet langoustines beneath, and the exceptional trio of lamb was served with chicken of the woods, a rich mushroom which was foraged from the trees at the back of the restaurant.
Desserts were equally surprising, a favourite course was a pre-dessert of carrot sorbet; and a rhubarb dessert spiced up with wood ants which added a lemony crunch. Inver 'goes for it' with their dishes and you are encouraged to too!
We chose to go with accompanying wines and I loved the selections which ranged from a craft cider, to an in fashion Albariño, a lush Gruner Veltliner from Pichler Krutzler, and a delicious sparkling pink wine from the Bugey region in Switzerland. A fabulous menu which introduced us to lots of unusual styles.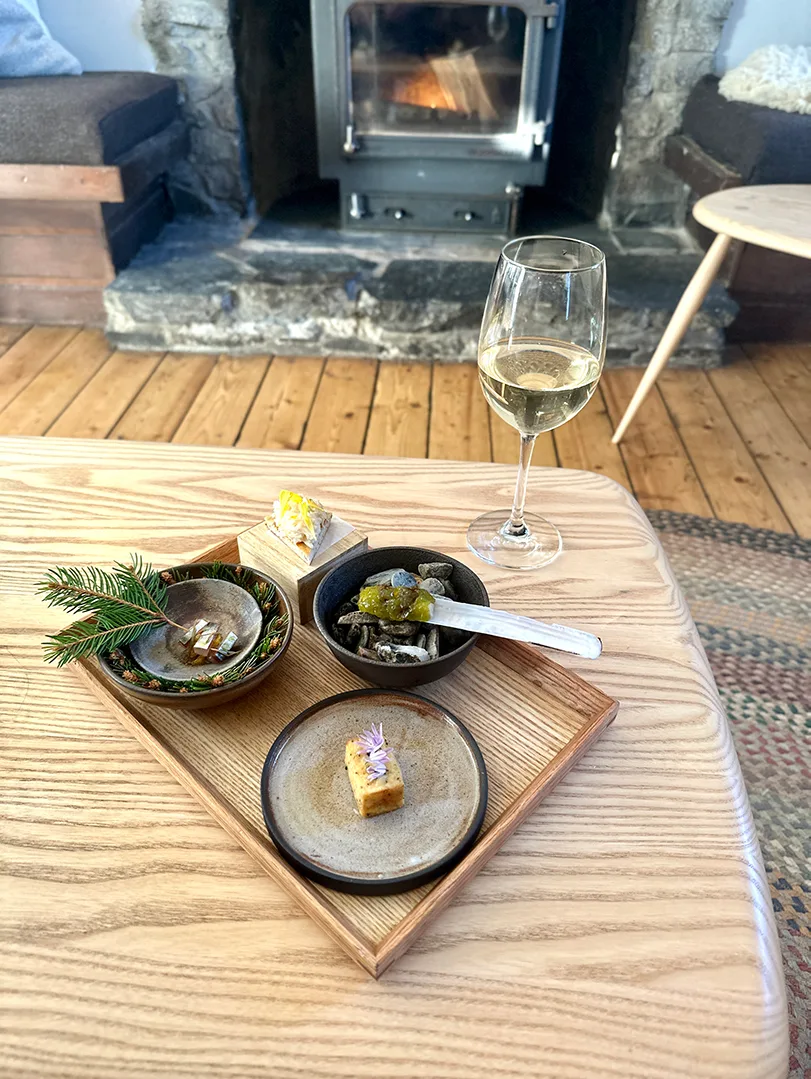 Stay at Inver restaurant bothies
I hesitate to call Argyll remote as the region is easily accessible whether you take a boat across Holy Loch from Greenock or take the busling A83 over the famous Rest and be thankful, but Inver is a rural restaurant so getting your accommodation sorted as part of your visit must be a priority.
If you can, book into one of Inver's four bothies or two shepherds hut overlooking the loch and the castle. The bothies have super king-size beds and huge ensuite bathrooms, are chock full of Scottish design touches and have picture windows to take in that view. One of the bothies (no4) is dog friendly, and we were lucky to grab it for our visit.
Note – Inver does not take bookings for their bothies and shepherd huts on a B&B basis. All bookings in the bothies and shepherd's huts come with a booking in the restaurant as standard. To stay at Inver you are required to eat at the restaurant, and dine on the tasting menu. For subsequent nights they do offer a carte menu.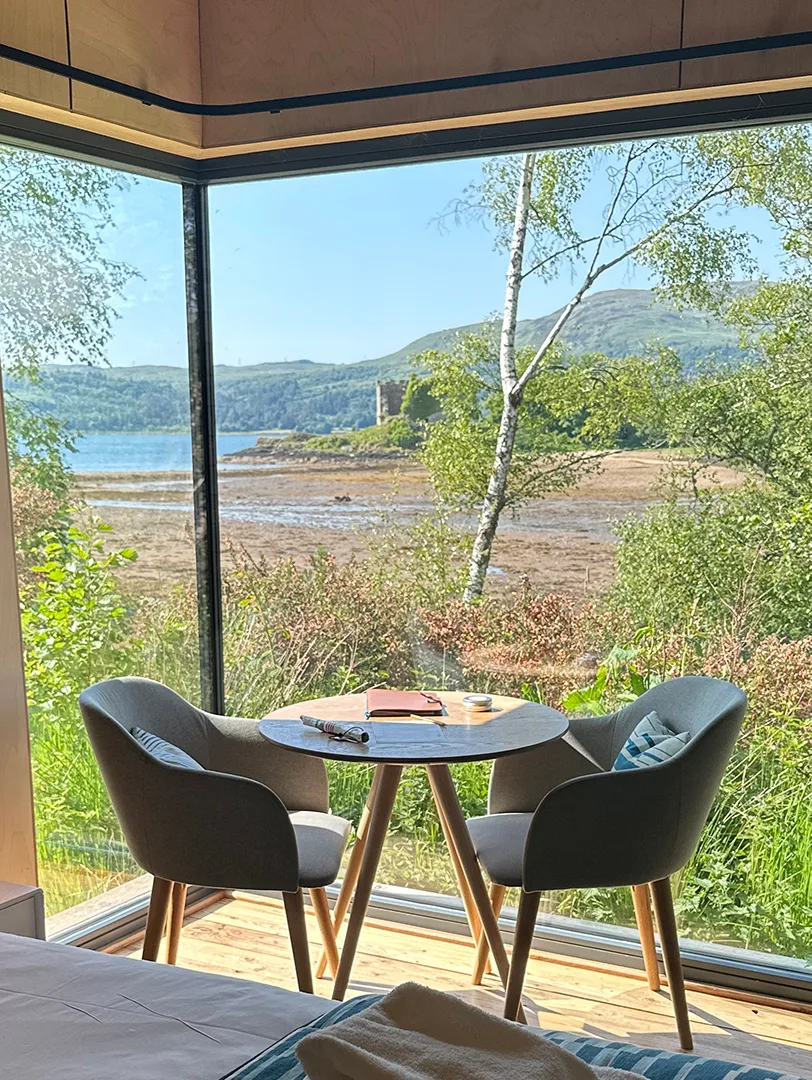 Breakfast was served in our cabin and was an absolute feast. Starting with burnt honey, flax and cardamon granola with spiced yoghurt, before moving onto warm pastries – ours were marmalade, cream and manouri (greek cheese) and a cheese and butter bun with Rainton Tomme cheese, thyme and sunnac. We finished with boiled eggs, porridge oat bread and rhubarb jam or pork rillette. Probably the best breakfast on offer anywhere in Scotland…
I'd seriously recommend making the effort to find a time to stay in the bothies. You can follow Inver on Instagram to spot any cancellations.
More places to stay near Inver
If there is no room at Inver, then there are lots of options nearby from hotels to B&Bs. Inver is located near to the village of Strachur, and further afield are Inveraray and Dunoon.
Affiliate links are used below, at no cost to you.
Holiday cottages near Inver
B&Bs and hotels near Inver
Things to do near Inver
Say hello to Scotland's 'secret coast' – the Cowal Peninsula. Forming part of the Loch Lomond and the Trossachs National Park and sitting on the spectacular Loch Fyne, the Cowal Peninsula stretches from the pretty town of Inveraray to the stunning Ostel Bay – and right out to sea.
Here are my top five recommendations of things to do on your visit to Inver restaurant and bothies:
Explore Puck's Glen – find this spooky walk through a deep glen
Visit Ostel Bay – arguably Cowal (and Argyll's) best beach with a view of Arran
Explore Benmore Botanic Garden – a huge mountain garden filled with redwoods
Hike the Kyles of Bute – follow the coastal path from Tighnabruaich
Climb the Cobbler – famous for its distinctive shape and rocky crags, the Cobbler is one of Scotland's most popular hill walks!
Like real ale? The Fyne Ales Brewery has a lovely tap room on the banks of Loch Fyne. Take a tour around this farm brewery, meet the Highland coos and try their range of beers – Jarl is one of my favourite beers in Scotland. They even have an annual beer and music festival – Fyne Festival.
Further afield, discover Inveraray – visit Inveraray Castle and climb up Dun na Cuaiche above Inveraray for an incredible view of the town.
Read more: things to do in Argyll and Bute.
Read more: things to do on the Cowal Peninsula
Read more: things to do in Inveraray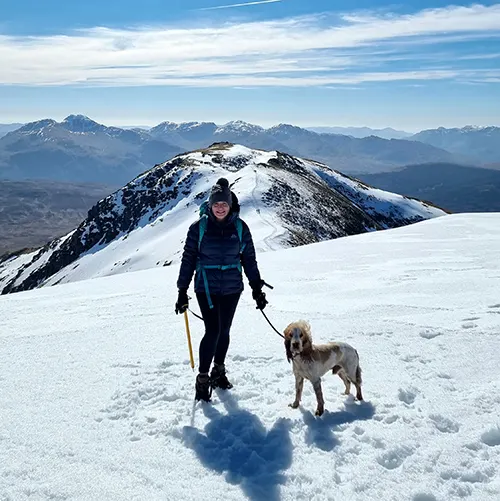 I'm Kate – a travel writer and photographer living in Scotland. Love, From Scotland is the Scotland travel guide that shows you where to stay and how to get outside in Scotland.