If you fancy trying (almost) wild camping in Scotland, glamping in a wildflower meadow, or are looking for a campsite near Edinburgh, here are my favourite campsites in Scotland.
Comrie Croft, Perthshire
Whether you want to camp in a sunny field, under the trees with a fire for company or in a Swedish kåta, at Comrie Croft you will be rewarded with beautiful views, quiet secluded pitches, a laid-back friendly vibe, a great little cafe and a gold award for green tourism; their eco-loos are the best I've seen. With an honesty box full of wood for the fire, phone charging lockers and mountain biking trails and Comrie Croft is one of the best campsites in Scotland – it genuinely ticks all the boxes.
Read more – things to do around Comrie Croft
Greenhillock, Angus
Greenhillock offers camping in beautiful wildflower meadows close to the Angus Glens and perfectly located to explore the Dundee to Aberdeen coast. With 25 pitches for tents and pre-pitched bell tents (complete with double bed) you are spoilt for choice. If you are looking for campsites in Scotland which are perfect for kids then head straight to Greenhilloch – there are hidden paths cut in between the wildflowers (challenge your kids to find the fairy glen) an art tent, bug den, pond for dipping, and a corner for den building.
Read more: things to do around Greenhillock
Sands, Gairloch
Driving the North Coast 500 takes in some of Scotland's most spectacular coastal scenery. One of the most popular stops on the route is at Sands Campsite at Gairloch where whales can be spotted off the coast and the beaches stretch as far as the eye can see.
In good weather, Gairloch is a little piece of heaven, perfect for families and couples alike. The onsite shop is well stocked – even selling prosecco! Grab a couple of mini bottles and watch the sunset over the west coast.
Read more: things to do around Sands Camping and Caravan Park
Loch Ness Shores
The only Camping and Caravan Club site on my list, Loch Ness Shores is a 5-star campsite (they even have underfloor heating in the showers!) on the wild south bank of Loch Ness. With an on-site farm shop and wifi, this is a campsite for those who like a bit of luxury with their tents. Paths run directly down to the banks of the loch where you can build a fire and keep an eye out for Nessie. This is no corporate behemoth, the campsite is eco-friendly with the electricity on site provided by hydropower. Book online at Loch Ness Shores.
Red Squirrel, Glencoe
The Red Squirrel Campsite which is located deep in the heart of Glencoe in a gorgeous spot on the banks of the River Coe – and is famous for those hiking in Glencoe. Red Squirrel is as close to wild camping (with loos!) as you can get. However, I must admit it is also midgie heaven, so head to the pub – the famous Clachaig Inn is just down the road– to escape. Check out the Red Squirrel Website for more details.
Gimme Shelter, Fife
Gimme Shelter might only be 20 minutes from Edinburgh but pitch your tent among the coppices and trees and you will feel a million miles away from the city. With 24 pitches set either in the woodland or in open fields at the top of the site, everything at Gimme Shelter is a brilliant homemade hack, from the fireside seats & signs to the huts housing the eco-loos, camping shacks made entirely of doors, to a new 'glamping' hut made out of a world war II bomb shelter. Pitch your tent, or choose the shepherd's hut and sit with a sundowner on that balcony. Read more: Gimme Shelter
Ruberslaw
On a hillside beneath the often misty Rubers Law hill hides a beautiful Scottish Borders campsite and a hive of activity. Ruberslaw Wild Woods Camping is a gem, offering woodland camping, glamping safari tents and pitches in a walled garden – complete with glasshouses! Ruberslaw Wild Woods Campsite is set between the pretty village of Denholm and the bustling town of Jedburgh, just north of Northumberland so there are loads of things in the area to keep you busy, including Abbeys, a local brewery, a castle and a jail!
Read more: Things to do near Ruberslaw
Blinkbonny Wood
Located on the edge of the Lammermuir Hills in East Lothian, Blinkbonny Wood campsite might be no frills but it is as blissful as you can get. This is wild camping but with a loo. A composting one in a falling down shack, but a loo all the same. There are no showers, no drinking water, no electricity; you need to bring everything yourself. You might be tempted to just pitch the tent, light the fire and put your feet up, but with the Lammermuirs Hills accessible directly from the site it would be a shame to miss out on the view. Read more: Blinkbonny Wood.
Keep your fingers crossed for a great summer… Love from, Scotland x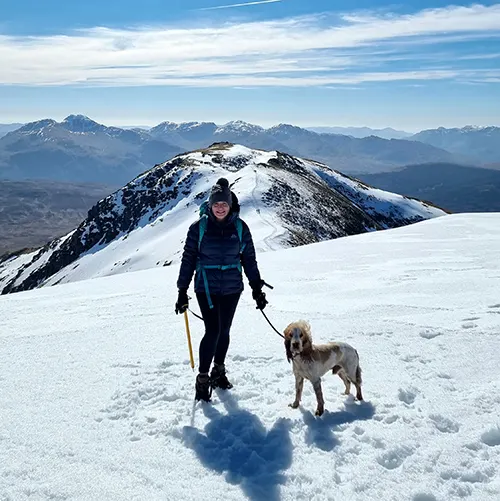 I'm Kate – a travel writer and photographer living in Scotland. Love, From Scotland is the Scotland travel guide that shows you where to stay and how to get outside in Scotland.