Looking for sustainable and eco-friendly accommodation in Scotland? From eco lodges to sustainable getaway, the best vegan hotels and glamping spots, here is my favourite eco-friendly accommodation in Scotland.
Eco-friendly hotels in Scotland
Monachyle Mhor, Perhshire – this boutique hotel is committed to sustainability. They have their own organic farm and offer seasonal, locally sourced, and organic meals with vegetarian and vegan options. Best described as cool and quirky, along with being dog friendly, Monachyle Mhor has held a reputation as one of Scotland's best hotels for decades. Read more: Monachyle Mhor.
The Machrie Hotel & Golf Links, Isle of Islay – set on the beautiful Isle of Islay, The Machrie Hotel & Golf Links is committed to sustainability and responsible tourism. It features an eco-friendly design, energy-efficient systems, and an organic kitchen garden.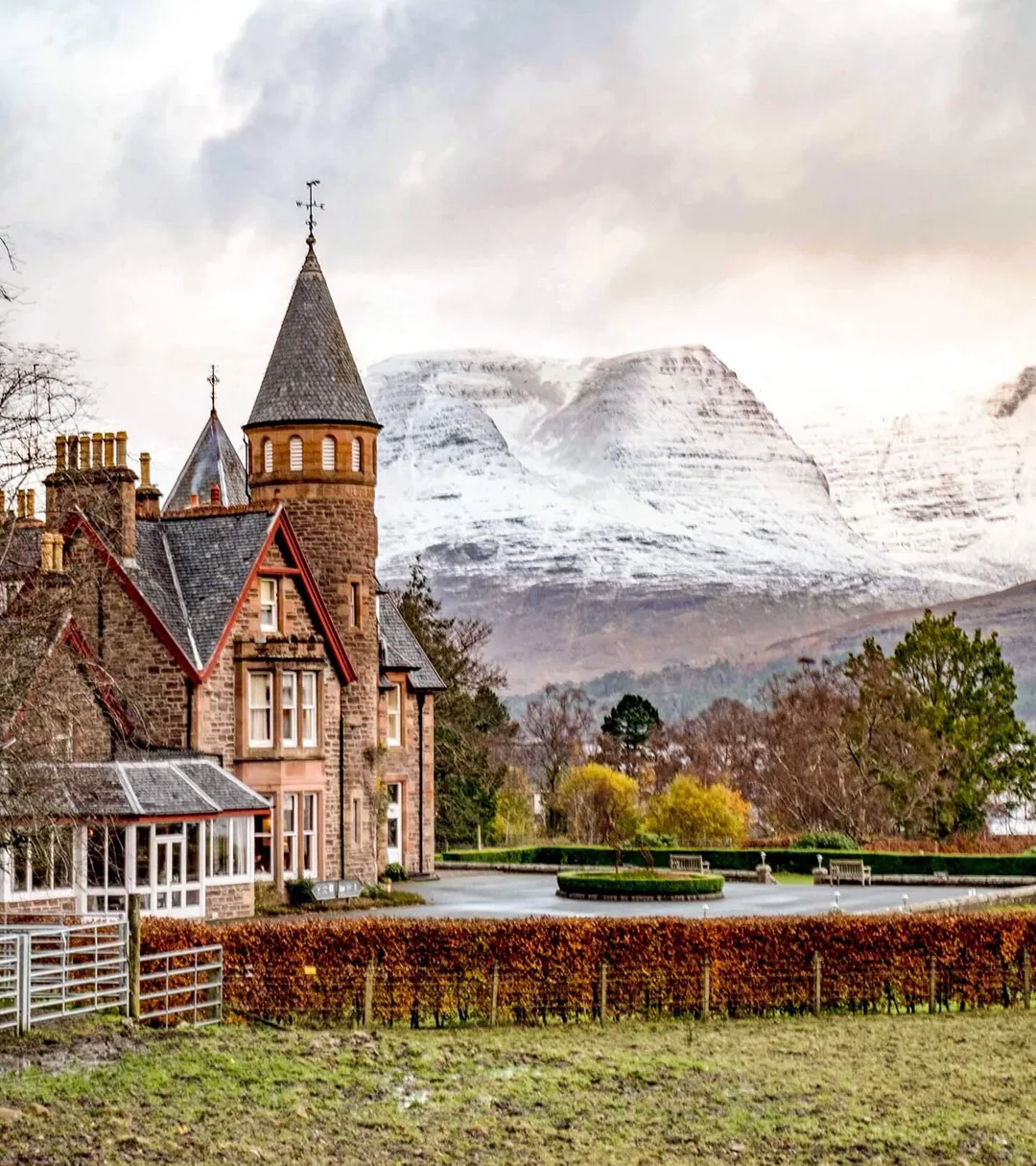 The Torridon, Wester Ross – located in the stunning West Highlands, The Torridon holds multiple eco certifications, including the Green Tourism Gold Award and the Green Hotel of the Year award. With a frankly incredible whisky bar, the hotel also runs its own activity centre – fancy canoeing on Loch Torridon, gorge scrambling, archery on the lawn, or shooting clays out across the bay? It is the highlands of Scotland version of a spa! Book the Torridon.
Rufflets hotel, St Andrews – the first-ever carbon neutral hotel in Scotland, Rufflets is a luxury hotel in the home of golf, St Andrews.
The Lovat Loch Ness, Fort Augustus – a luxury eco-hotel in Fort Augustus, Loch Ness, The Lovat focuses on sustainability and eco-friendly practices. They have an organic restaurant that offers a variety of vegetarian and vegan dishes using locally sourced ingredients.
Isle of Eriska Hotel, Argyll – The Isle of Eriska Hotel, located on a private island in Argyll, has been recognised for its eco-friendly initiatives. The hotel boasts various environmental credentials, including a Gold Award from the Green Tourism Business Scheme. The restaurant focuses on local sourcing.
Knockinaam Lodge, Dumfries and Galloway – Knockinaam Lodge in Dumfries and Galloway is a luxury eco-friendly retreat that has been awarded the Gold Award by the Green Tourism Business Scheme.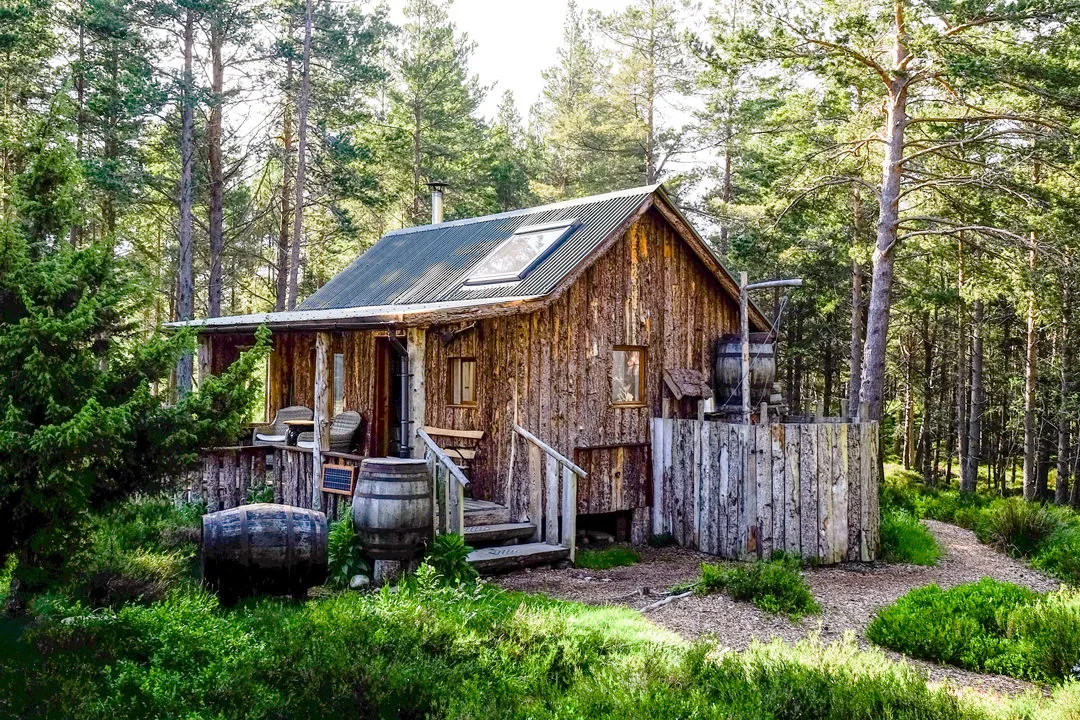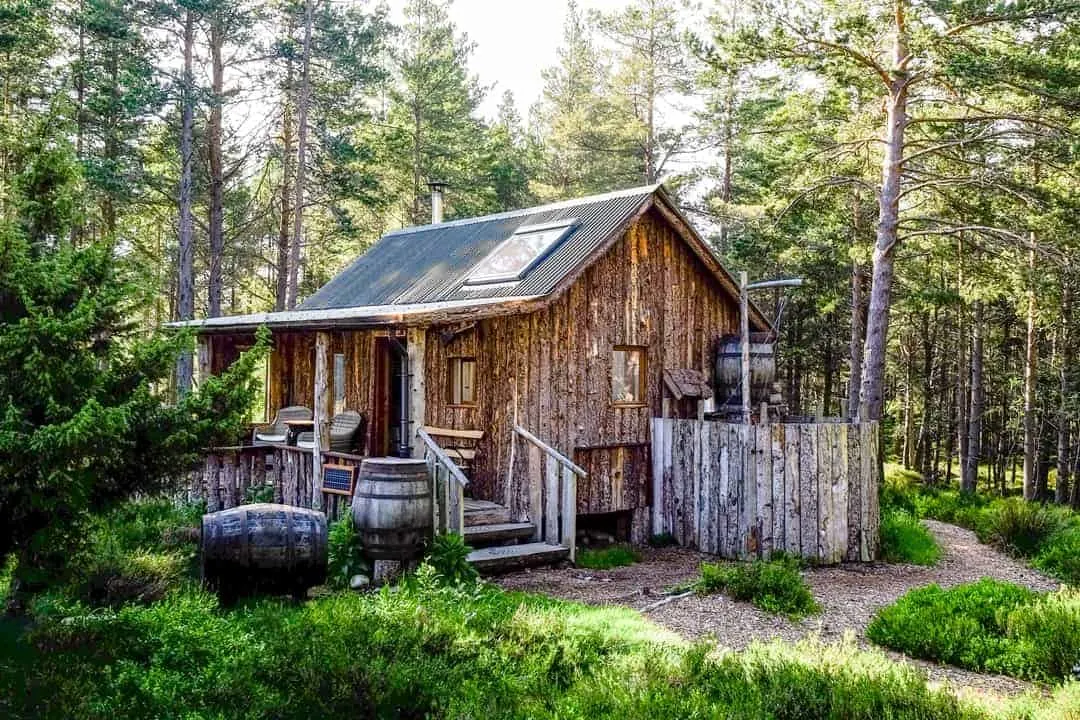 Vegan places to stay in Scotland
Saorsa 1875 – Located in Pitlochry, Saorsa 1875 is Scotland's first vegan hotel showing that there is life without animal products. With dramatic rooms, a cocktail bar and a daily changing 5 course vegan set menu they also have a onsite bar.
Eco lodges in Scotland
Inshriach House, Aviemore – Inshriach House, near Aviemore, is a unique eco lodge set in a 200-acre estate. The lodge incorporates sustainable practices and offers a range of accommodations, including a converted farmhouse, a yurt, a converted 1954 Commer lorry, an isolated bothy and a riverside shepherd's hut.. Guests can enjoy the surrounding nature and even take part in activities like foraging and wildlife spotting.
The Lazy Duck, Nethy Bridge – Located in the Cairngorms National Park, The Lazy Duck offers eco-friendly accommodations in a tranquil setting. The lodge focuses on sustainability and provides a range of self-catering eco-cabins. Read more – The Lazy Duck.
Inverlonan, Oban – Usually found in the remotest of spots and only accessed by foot, a Scottish bothy normally conjures up images of rough and ready shelter, off-grid outdoor living, and tales around the fire. However, when you add lots of little luxuries and great food, you get Inverlonan. The emphasis is on seasonal, local ingredients and a truly modern cooking style, not seen in Scotland. You might even find yourself eating Japanese knotweed! Book yourself a stay now at Inverlonan.com
Alladale Wilderness Reserve, Sutherland – Nestled in the Scottish Highlands, Alladale is a private reserve with luxurious eco-friendly lodges. They prioritise sustainability, rewilding, and conservation efforts.
Inver restaurant and bothies – On the beautiful banks of Loch Fyne in Argyll is Inver, one of Scotland's best restaurants. The only restaurant in Scotland with a green Michelin star, book into one of Inver's bothies overlooking the loch for an incredible evening of sustainable fine dining.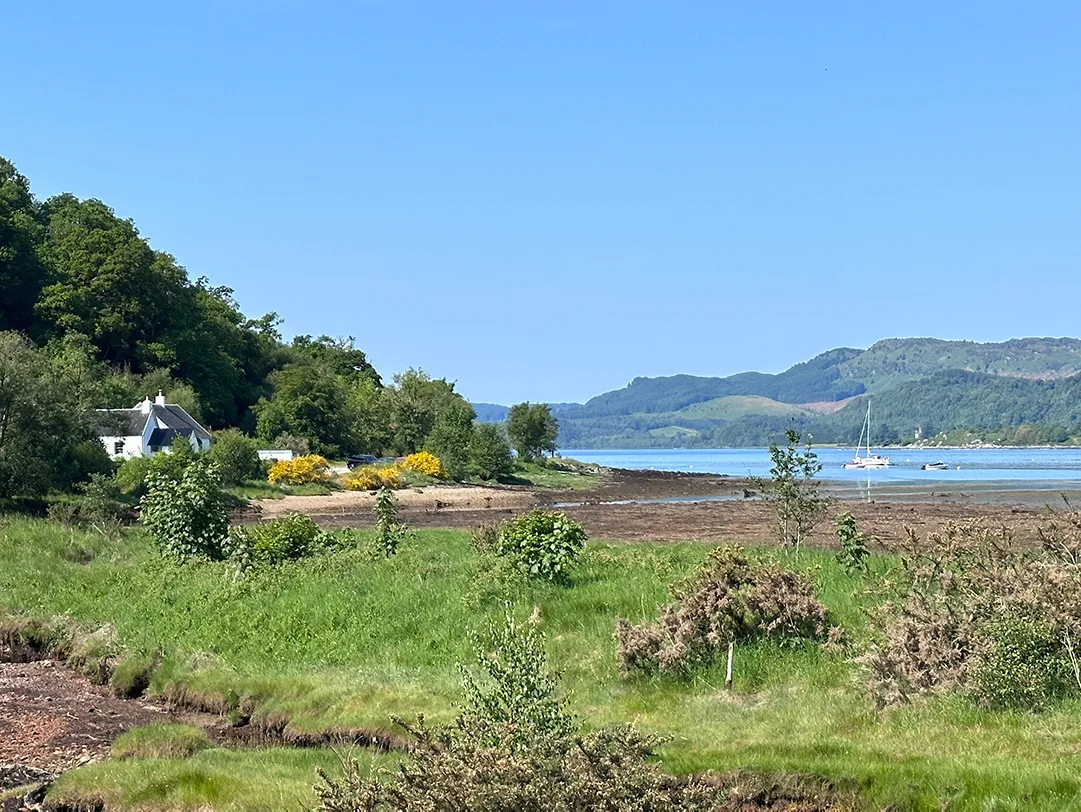 Green B&Bs in Scotland
Ardtorna, Oban – A boutique bed and breakfast in Oban, Ardtorna is known for its stunning views and commitment to sustainability. They use renewable energy sources, offer organic breakfast options, and cater to vegetarian and vegan diets.
Eco-self catering, Scotland
Ardnamurchan Estate – Set in a remote location on the Ardnamurchan Peninsula, this estate offers self-catering cottages with a focus on sustainability. Guests can enjoy organic produce from the estate's gardens. Stay at Ardmurchan Estate.
Cambo House and Estate, Fife – Cambo House and Estate, located near St. Andrews in Fife, offers vegan-friendly accommodation in its charming self-catering cottages. The estate features beautiful gardens, and guests can explore the nearby coastline and nature reserves.
Airhouses, Scottish Borders – Airhouses is a collection of luxury lodges situated on a working organic farm in the Scottish Borders. Guests can enjoy the peaceful countryside, take part in farm activities, and explore the surrounding nature. The lodges offer modern amenities and stunning views.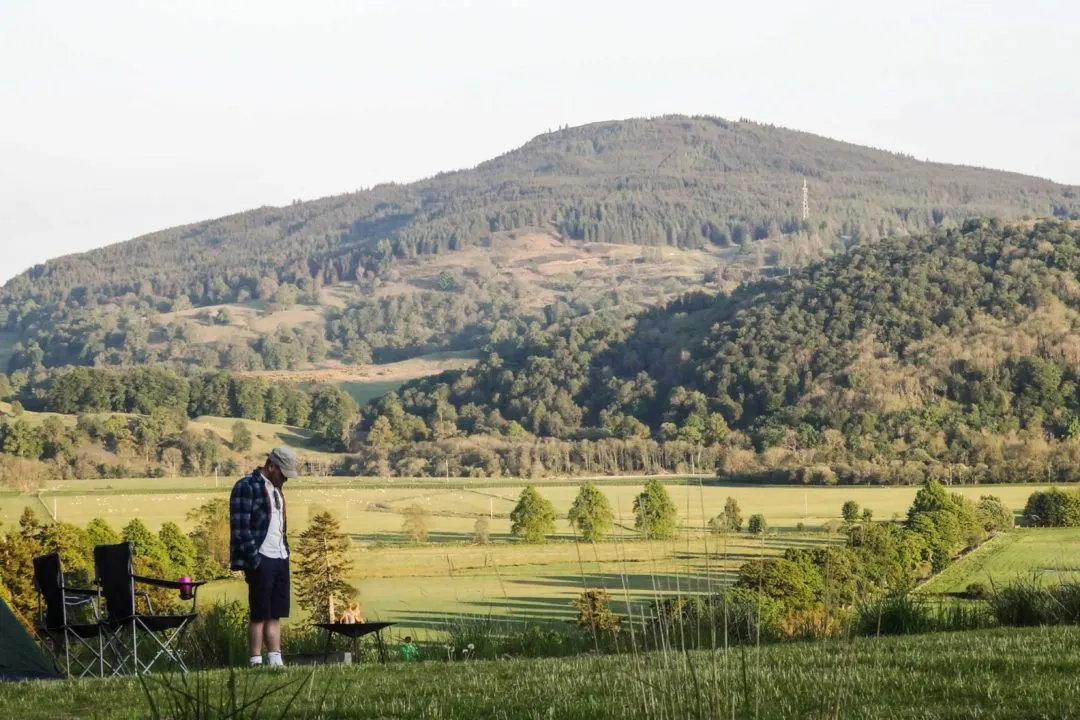 Eco-camping and glamping in Scotland
Comrie Croft – Situated near Crieff, Comrie Croft is an eco-friendly farmstead offering a variety of accommodation options, including eco-camping, eco-cabins, and a hostel. They have a farm shop with organic and local products and a cafe with vegetarian and vegan options.
The Ecocamp Glenshee, Spittal of Glenshee – For a unique eco-friendly experience, The Ecocamp Glenshee offers glamping accommodations in Spittal of Glenshee.
Loch Voil Hostel, Loch Lomond and The Trossachs National Park – Loch Voil Hostel, located in Balquhidder, offers vegan-friendly accommodation and a vegan breakfast. The hostel is situated amidst beautiful scenery and provides a budget-friendly option for vegan travelers.
You might also like…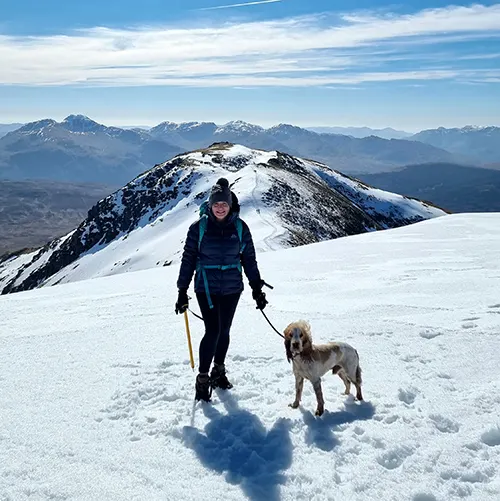 I'm Kate – a travel writer and photographer living in Scotland. Love, From Scotland is the Scotland travel guide that shows you where to stay and how to get outside in Scotland.