Let's check into Culbin Edge, a luxurious and stylish dog-friendly cabin in Scotland perfectly located to explore Moray Speyside.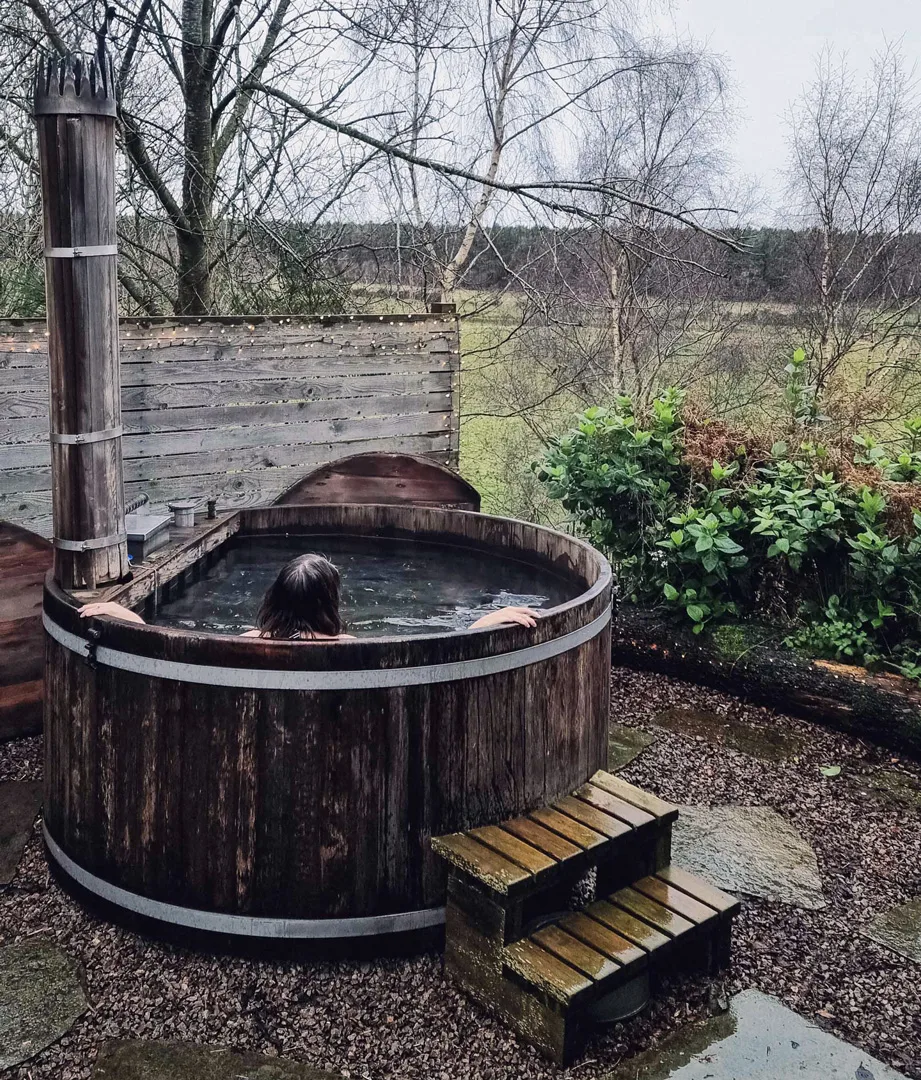 Welcome to Moray Speyside and Culbin Edge
Moray is one of my favourite regions of Scotland. Stretching from Brodie Castle in the west to Cullen in the east, and south to Glenlivet and Tomitoul, taking in much of the remote Cairngorms, Moray is most famous for its beautiful and dramatic coastline and the whisky distilleries along the beautiful River Spey.
Hugging the coastline of the Moray Firth is Culbin Forest, which stretches 8 miles between Nairn and Forres. Overlooking the forest (the cabin is aptly named) is Culbin Edge, a luxurious dog-friendly cabin with a fabulous wood-fired hot tub. Let's check in for the weekend.
[We were invited to stay at Culbin Edge]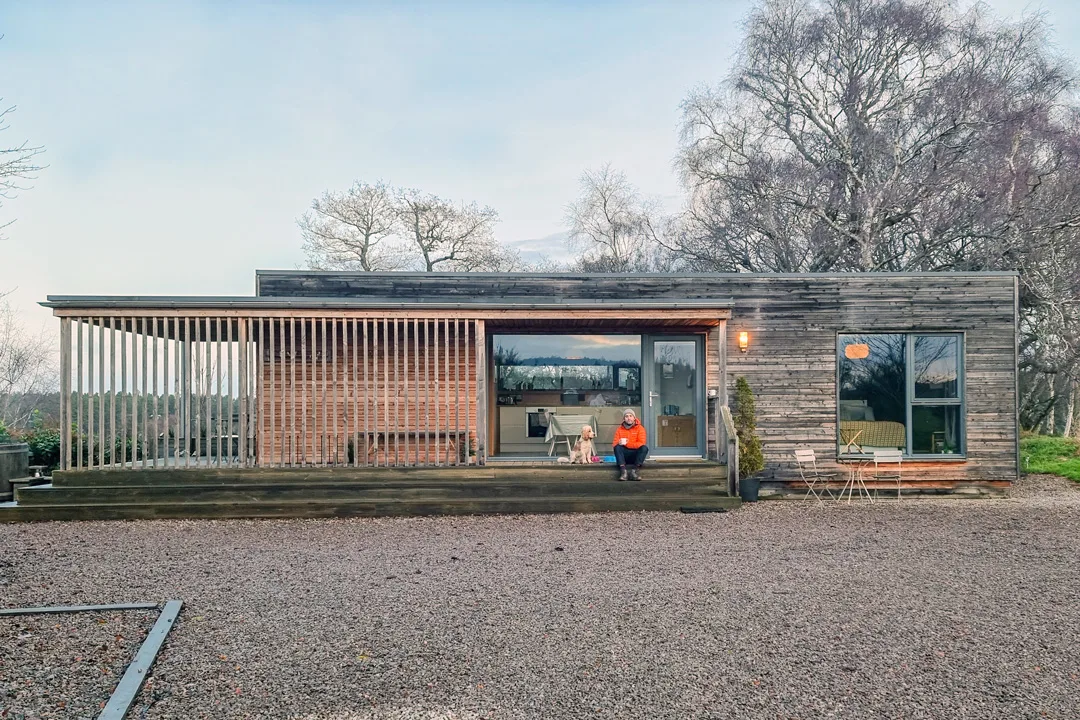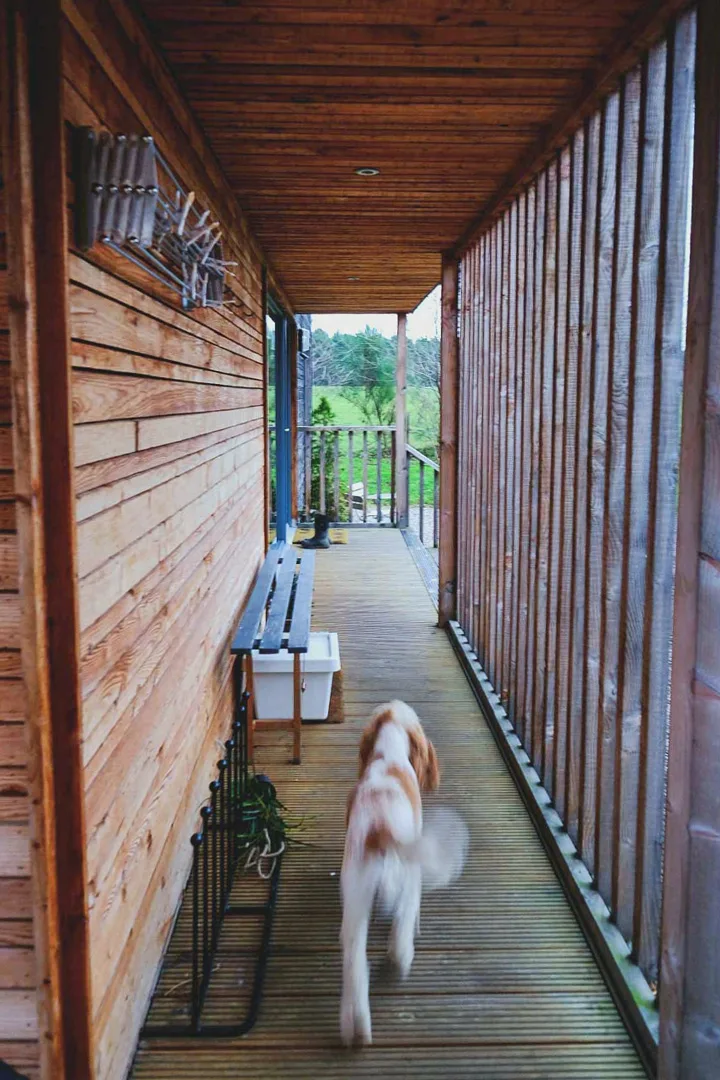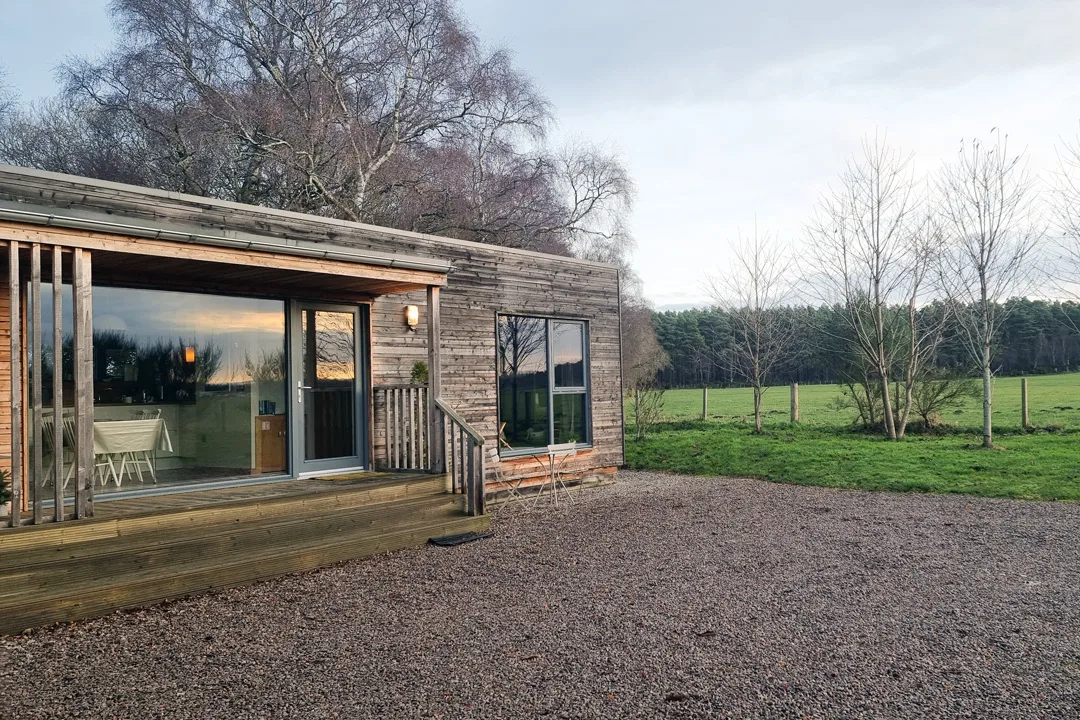 A luxurious dog-friendly cabin in Moray
Culbin Edge has everything you need for a Moray self catering break, with a full kitchen complete with all those things you forget, gorgeous hand wash, body wash and body lotion from Laura Thomas Co, plenty of logs for the wood burner, and an eco-friendly design – even in the depths of the Scottish winter the cabin is toasty warm.
While best suited for a couple (and a pup) this stylish cabin can sleep up to four, and has a full dining kitchen, living room with a double sofa bed, luxury shower room and out on the deck a gorgeous wood-fired hot tub perfect for stargazing.
Whether you want to explore Moray's stunning beaches, make forages into the bright lights of nearby Inverness, visit the Speyside distilleries, or as the sun shines or the stars above twinkle, sit in hot tub doing absolutely, blissfully nothing at all, then this is the perfect cabin for you.
The cabin has a quirky and sleek retro style – I particularly loved the cabin's oak floors, stylish throws and cosy dressing gowns. The cabin's detail is second to none – they really have thought of everything. All that's left to do is unpack, pull open the sliding door onto your deck, pour yourself a glass of prosecco and slip into the hot tub!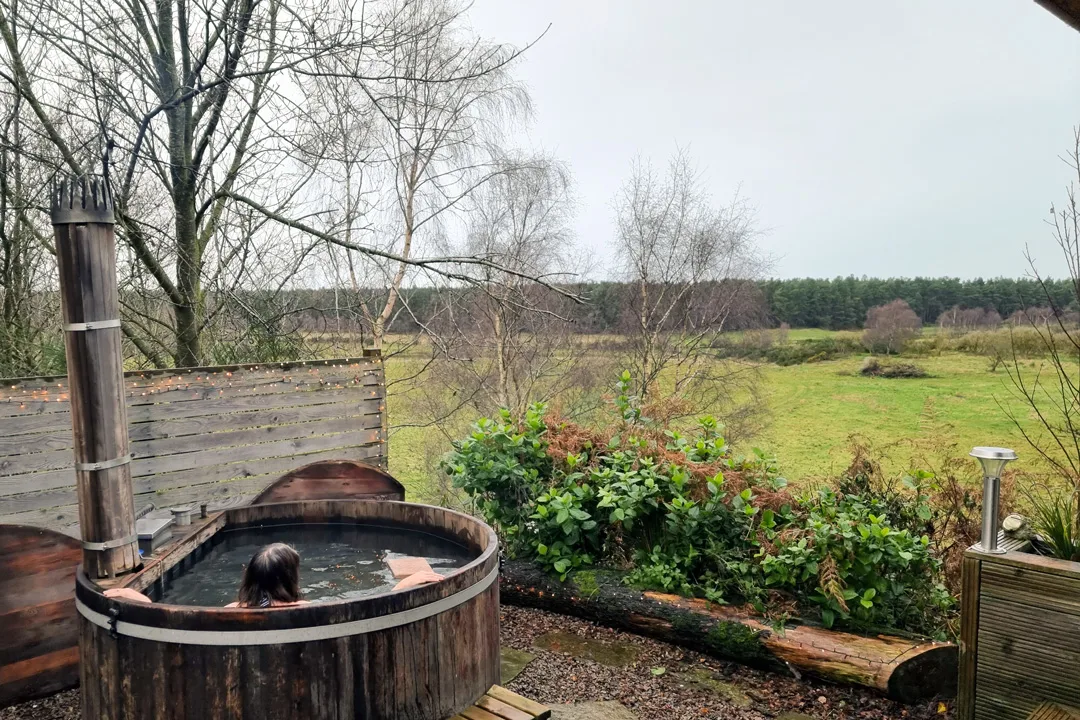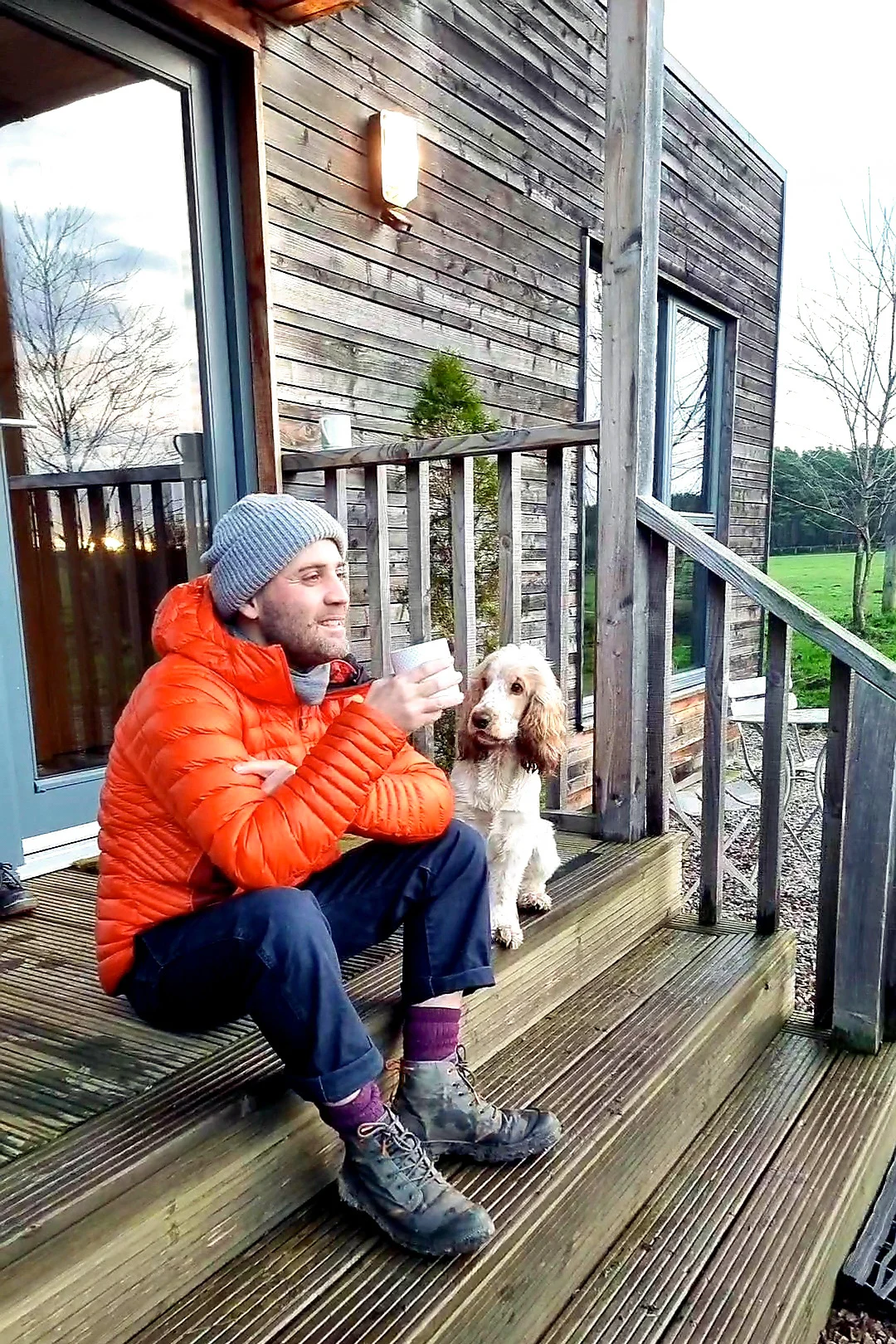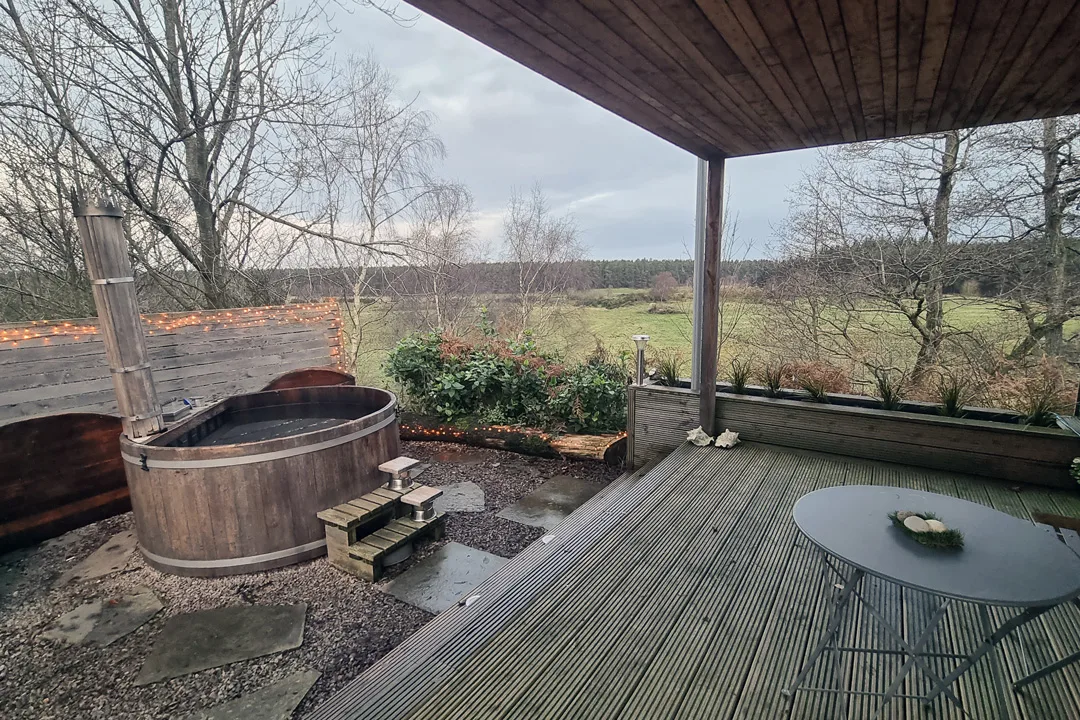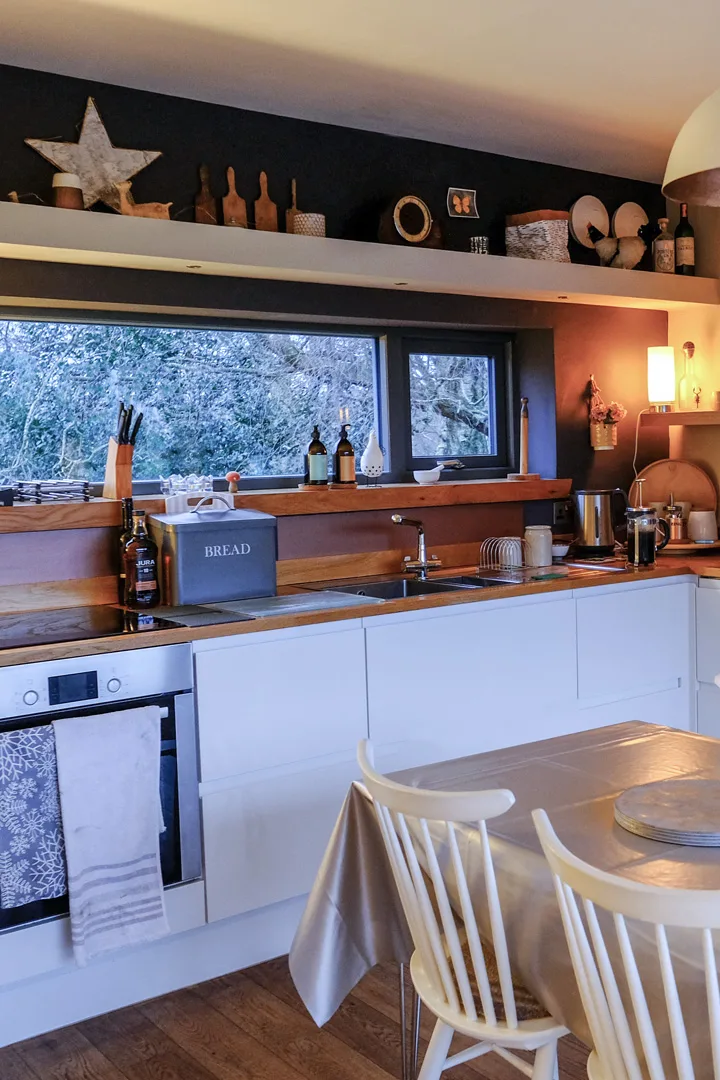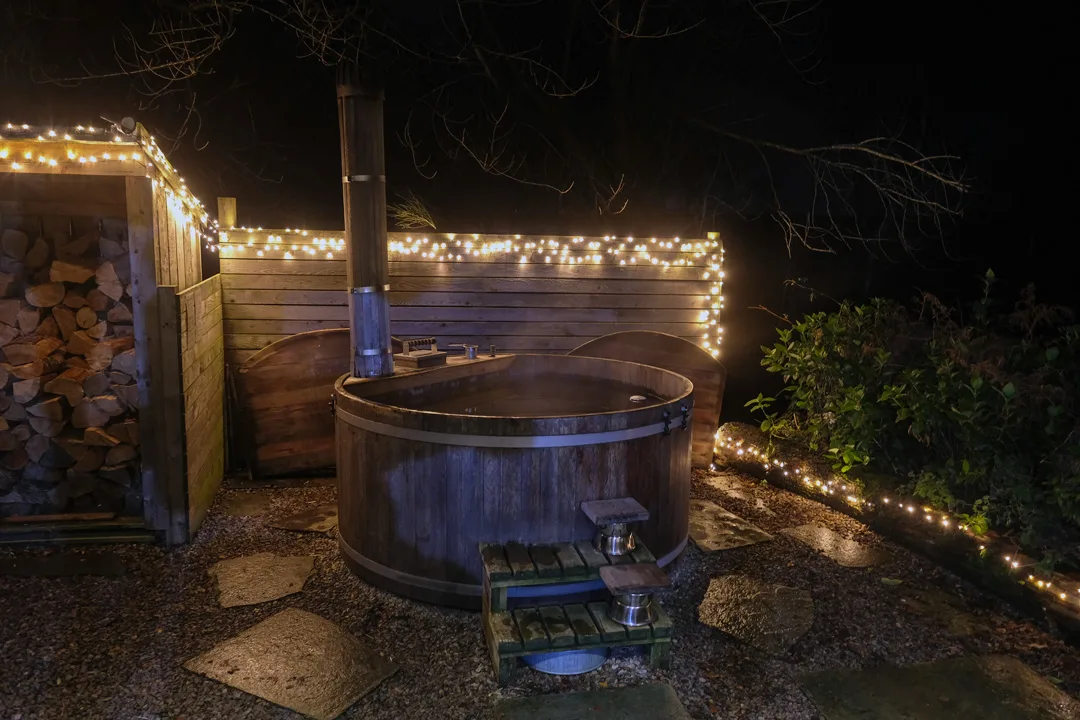 Where to eat in Moray and at Culbin Edge
Culbin Edge has a full kitchen and a BBQ for summer days. Just 10 mins from the cabin is Brodie Countryfare which has a fabulous deli from pick up all your supplies for your stay at Culbin Edge. There is also a restaurant on site.
If you do fancy eating out while you are at Culbin Edge try:
The Kale Yard at Boath House – in the walled Garden of Boath House Hotel is the Kale Yard, a garden cafe serving gorgeous food including wood fired pizza and sharing platters.
Olive Tree Cafe at Logie Steading – a fab cafe for breakfast or lunch before walking to Randolph's Leap on the River Findhorn.
Bothy at Burghead – With a bistro menu that offers up a selection of fancy pieces (Scots for sandwiches) fish n chips, hog roasts and decadent crab and chilli mac & cheese, this is a Moray Firth restaurant worth visiting.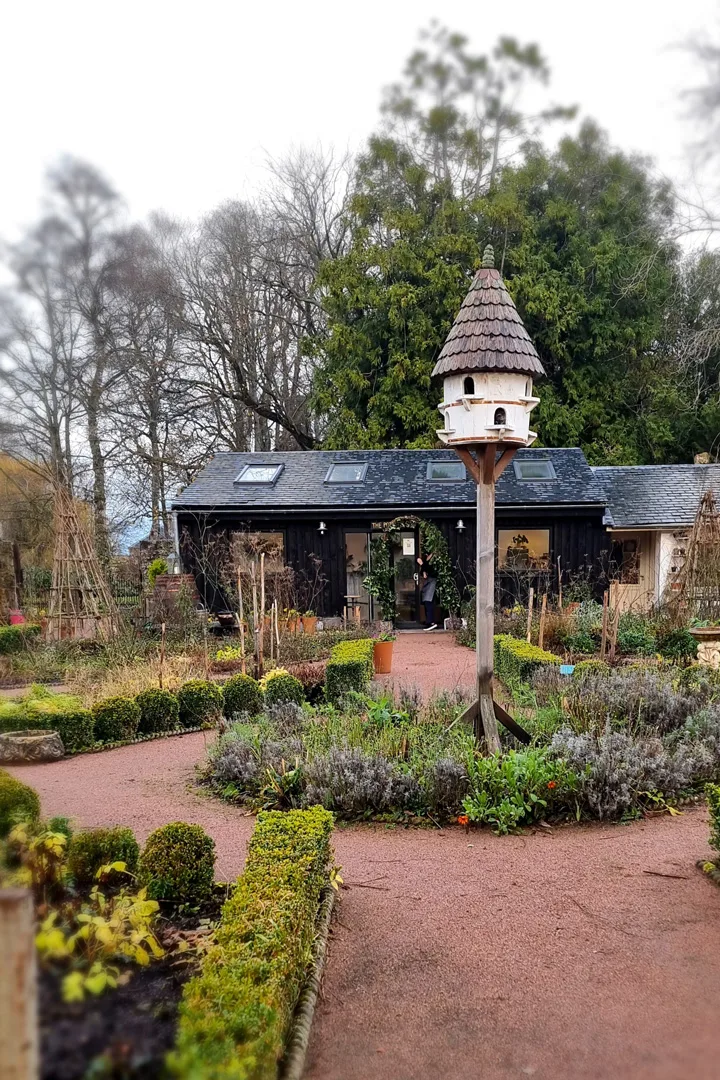 Things to do in Moray and near Culbin Edge
If you can tear yourself away from the hot tub, you have beautiful Moray and Speyside to explore. Here is what to get up to:
Culbin Forest – Explore the sandy forest trails to reach the spectacular Hill 99 viewpoint tower for a 360 view over the forest and the Moray Firth.
Brodie Castle – visit the rose-coloured Brodie Castle, walkable from your cabin at Culbin Edge. This 16th and 17th castle has magnificent rooms and paintings and a quirky Playful Garden to eplore.
Randolp's Leap and Logie Steading – follow the River Findhorn to a dramatic cleft in the rock before heading to the shops and cafe at the lovely Logie Steading.
Walk from Findhorn to Burghead – Follow the coastal path from Findhorn to the village of Burghead at the other end of the bay (stop here for lunch!) and then walk to Hopeman with its row of pretty beach huts.
Take the dog for a beach walk – Nairn beach is just 10 minutes from Culbin Edge, or head to Findhorn, Hopeman, Roseisle and Lossiemouth beaches – some of Scotland's best.
Visit Cawdor Castle – explore the ancestral castle of the Thanes of Cawdor. Cawdor Castle gardens are a riot of colour, there is a drawbridge and moat, and stepping inside you are immediately transported back to clan culture.
Dolphins at Spey Bay – it is estimated that around 130 Bottlenose Dolphins live in the waters off Inverness and Morayshire, including at Spey Bay where you can visit the Scottish Dolphin Centre.
Bow Fiddle Rock – The star of many an Instagram shot, Bow Fiddle Rock is a humongous arch rock formation just to the north of the seaside town of Portknockie.
Cullen Skink, at Cullen – What must be Scotland's most famous soup, Cullen Skink, comes from the pretty Moray seaside village, Cullen. Explore the many antique shops before warming up with a bowl of smokey fish soup!
Visit a distillery – over half of Scotland's distilleries can be found in Moray Speyside. My favourites are Aberlour, Glenfarclas, Glenfiddich, and Glenlivet.
Take a whisky tour into Glenlivet – The glens of Speyside contain a lot of secrets – and most of them are to do with illicit whisky. We took a Speyside whisky tour behind the scenes of 'the single malt that started it all' with the fantastic Glenlivet Hill Trek.
Explore the Cairngorms – the mountains of the Cairngorms are just to the south of Culbin Edge – there is lots to explore if you love getting out into the hills.
Day trip to Inverness – 20 miles to the west of Culbin is the city of Inverness – and it is well worth a day trip. Walk along the River Ness and the Caledonian Canal, discover Leakey's Bookshop, take a boat trip out on Loch Ness to Urquhart Castle, and then head back into town to the Black Isle Brewery Bar which serves up organic beers accompanied by delicious pizzas.
Read more: Things to do on the Moray Firth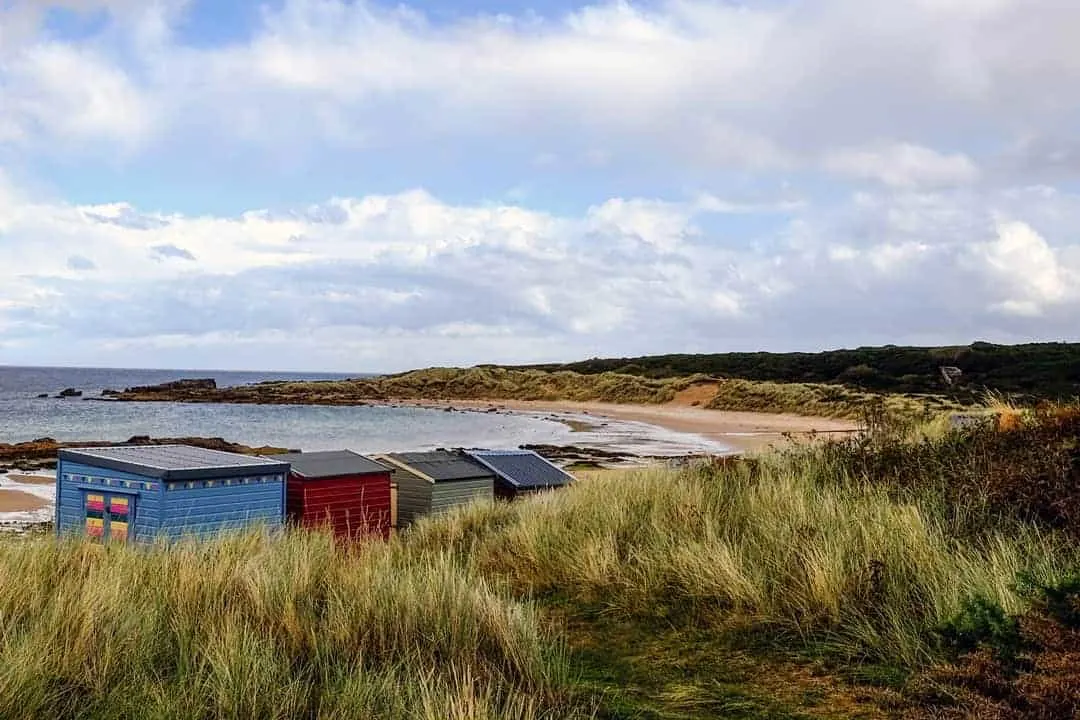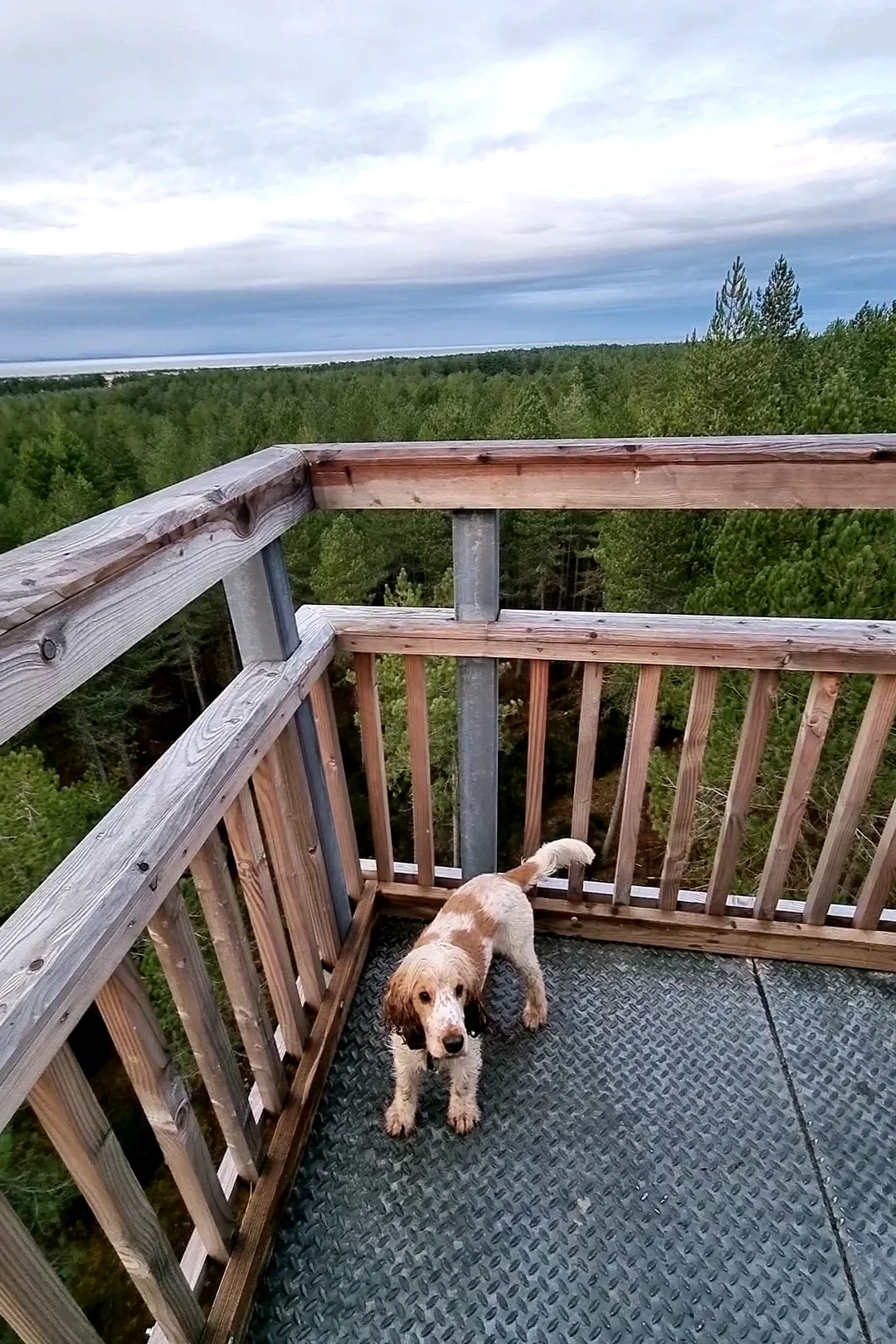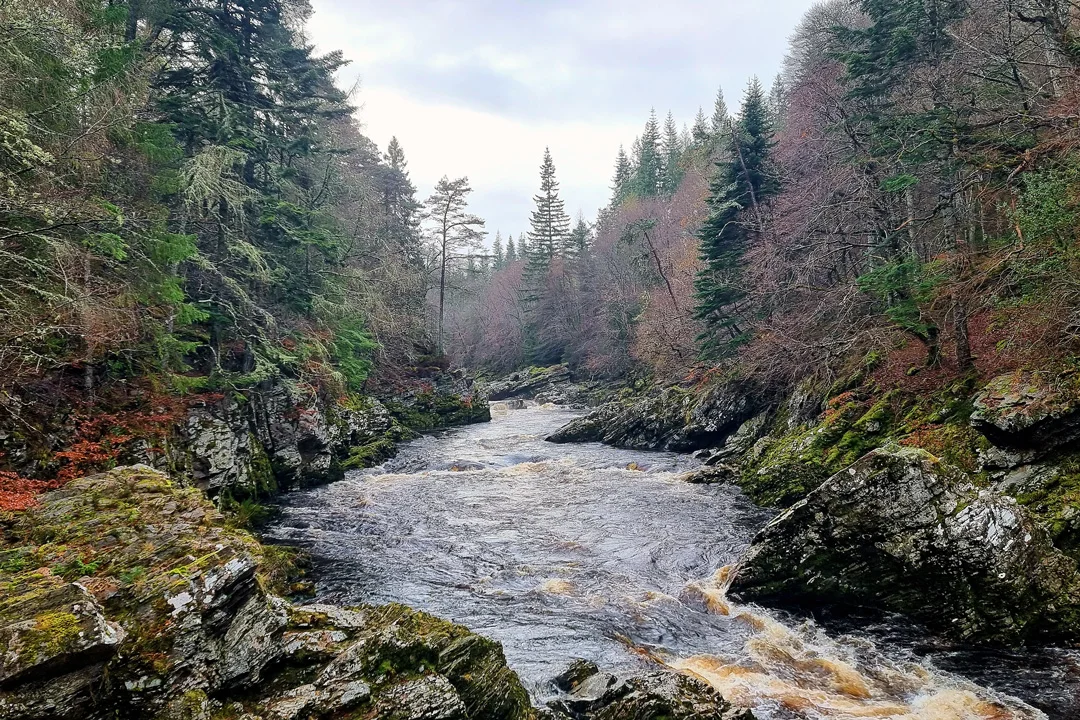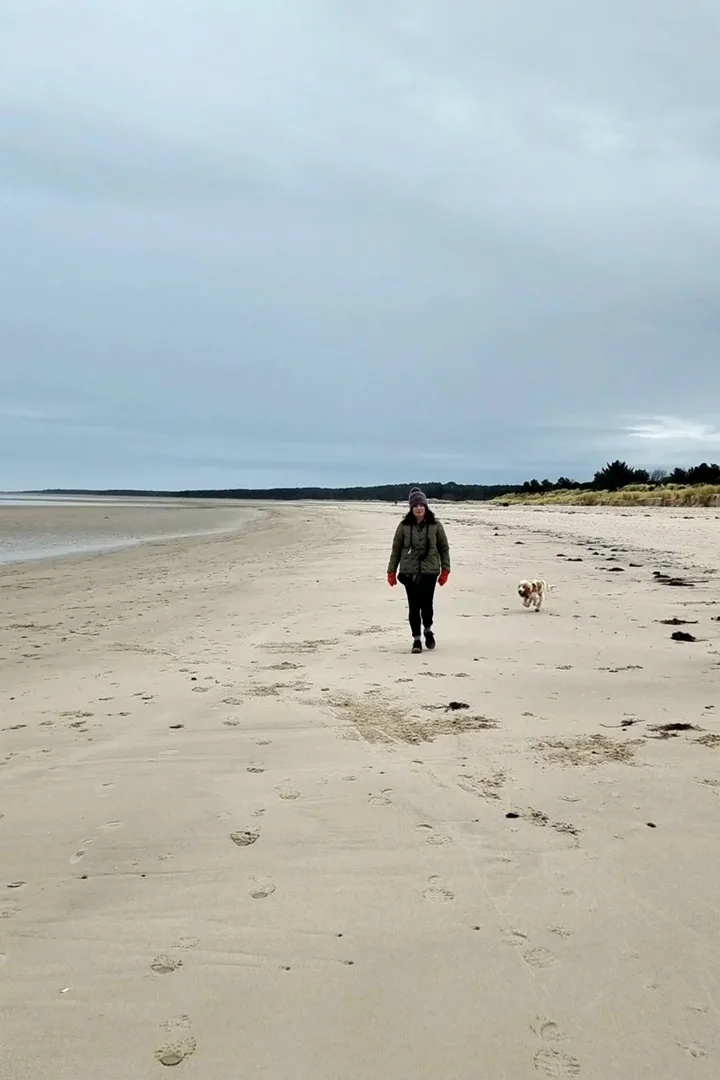 What a fabulous weekend in Moray staying with Culbin Edge. Thank you for inviting us to stay!
Love, from Scotland x
Book: Culbin Edge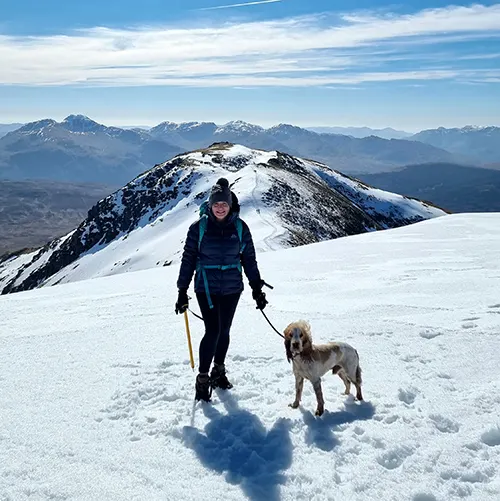 I'm Kate – a travel writer and photographer living in Scotland. Love, From Scotland is the Scotland travel guide that shows you where to stay and how to get outside in Scotland.