Welcome to Mar Hal and a weekend of complete indulgence…
On a 200-acre wooded estate on the banks of the River Clyde near Glasgow sits Mar Hall*, a luxury Scottish hotel in a huge 19th-century Gothic mansion. Built in 1845 for the Earl of Mar as part of the Erskine Estate, Mar Hall was once a World War 2 hospital and opened as a 5-star hotel in 2004.
Inside the hotel are 52 gorgeously grand bedrooms and suites, all beautifully decorated. Then there is the 60ft 'Grand Hall' with its oak interior and cathedral-like ceiling for afternoon tea and after dinner drinks, along with the fine-dining Cristal restaurant (and currently a pop up fish restaurant, 'The Earl's Catch') a 18 hole golf course, and a spa with pool, sauna and steam room. We checked into Mar Hall* for a girl's weekend.
Mar Hall Hotel, Glasgow
Just 10 minutes from Glasgow airport and less than 30 minutes from the city centre, you arrive at Mar Hall off the busy M8 with its traffic rushing north over the Erskine Bridge to Loch Lomond, and drive in style through the quiet wooded grounds, eventually arriving at the front hotel, to be greeted by a pair of roaring stags in front of the imposing front door.
We were at Mar Hall* for the perfect girl's weekend away – afternoon tea, cocktails before dinner in Cristal, a stay in a huge junior suite and finally spa treatments the following morning. As check in to the hotel isn't until 4 pm (they need to accommodate the rather nice check out time of 12noon) we first settled down on the overstuffed sofas in the 'Grand Hall' for our afternoon tea.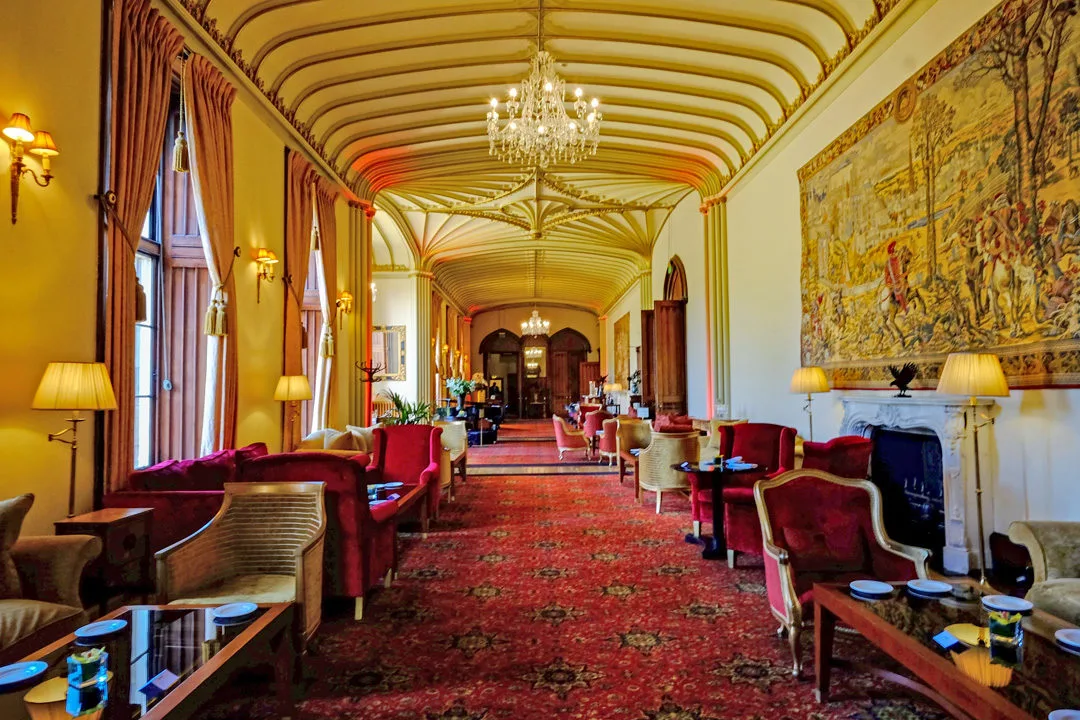 Afternoon Tea at Mar Hall
Now I like my afternoon tea traditional, and Mar Hall's was perfect. Well filled sandwiches with smoked salmon, egg, tuna and ham came with a warm sausage roll. The scones (one plain, one fruit) were light as a feather and were served with proper thick buttercream, fresh strawberries and jam. On the top tier, the cakes were delicious – good thick slabs of brownie, carrot and lemon cake along with slightly daintier eclairs.
As I'd planned an afternoon out to nearby Dumbarton Castle with its spectacular view back along the Clyde to the Erskine Estate, I had to envy the glasses of Moet on neighbouring tables from afar and opt for pretty good coffee and left with doggy bags for our other halves left at home.
Having climbed the hundreds of steps to the top of Dumbarton Rock we'd made plenty of room for a 3-course dinner. We arrived back at the hotel and checked into Room 20 – our junior suite.
With a view of the hotel's formal garden grounds and woods our suite was opulently furnished in modern pinks, black and silver tones with a huge squishy four poster king size bed, a sofa, a dining table with a view of the garden, a Nespresso machine and a massive twin sink-ed bathroom. It was the perfect space for a couple wanting a romantic weekend away, or a couple of girls to chill before getting ready for dinner.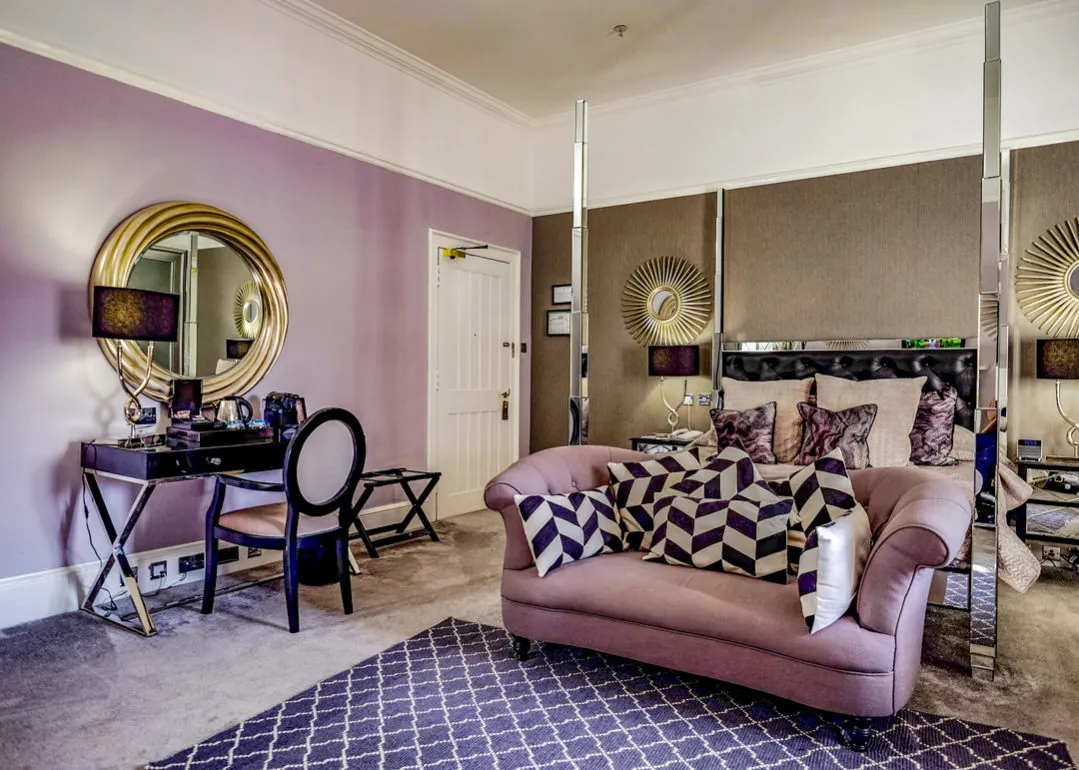 Dining at Mar Hall
Downstairs, pre-dinner drinks can be served in the Spike Bar (rather masculine with football on the telly) or in the Grand Hall. We took seats in the hall by the baby grand piano and ordered up a couple of cocktails – fruity daiquiris and off-menu aviation and hungrily pre-ordered our dinner off Cristal's a la carte menu.
Cristal looks out over Mar Hall's 18-hole 'Earl of Mar' championship golf course and is a fine-dining restaurant with Scottish providence being the star – starters of Katy Rodgers Crowdie (from her award-winning farm near Fintry) was served with salt baked beetroot and on the other side of the table, juicy Isle of Mull scallops with chicory and tarragon.
Mains of Shetland cod was served with harissa and a "perfectly cooked" fillet steak came from Carswadda Farm near Dumfries. A bottle of well-priced Provencal rose and a shared pudding of caramel delice with apple curd completed an excellent meal.
If the grand formality of the dining room housing the Cristal Restaurant looks a little intimidating, the staff throughout the hotel are certainly not – we found the service laid back, friendly and ready to enjoy a well-placed bit of banter, well you are in Glasgow after all…
Mar Hall Spa
Mar Hall's spa focuses on skin and body treatments using essential oils and aromatherapy – and a skin, body, mind philosophy. After a swim before a delicious breakfast, we chose a treatment each- reiki for relaxation and release for my friend- and a classic Decleor facial for me.
As I have very sensitive (and sadly, ageing) skin, I went for the rose based 'harmonie calm' facial. After exfoliation and cleansing, an Aromaplastie or 'vitamin glow mask' was applied which smelt rather like Weetabix but is actually made with linseed, wheat germ, and sunflower seeds. Lots of moisturising and a dry-oil head massage later I left the spa completely glowing and relaxed.
My therapist was lovely (we chatted all things skincare) and the treatment room one of the biggest I'd seen with armchairs, showers and plenty of space to relax. Mar Hall's spa is award winning – and I can see why.
Stay at Mar Hall
Mar Hall is a lovely 5-star hotel, perfect for a wee weekend escape from Glasgow, or an indulgent spa weekend with the girls. Our stay at Mar Hall was complimentary but there are lots of offers and Mar Hall deals available – from a suite package to an overnight spa escape – keep an eye out for afternoon tea vouchers online. Thanks to Mar Hall for having us, we had a lovely girls weekend away!
Book Mar Hall*
Love, from Scotland x
Staying for longer?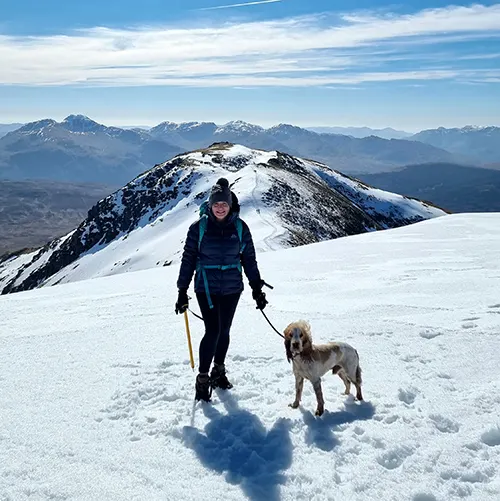 I'm Kate – a travel writer and photographer living in Scotland. Love, From Scotland is the Scotland travel guide that shows you where to stay and how to get outside in Scotland.