Have you heard about the North Coast 500? Scotland's incredible road trip takes you 500 miles around the north coast of Scotland taking in some of the most spectacular scenery in the world – there's no wonder they call it Scotland's Route 66.
With over 500 miles of dramatic driving roads, beautiful coastal scenery, turquoise blue seas and white sand beaches, the North Coast 500 (NC500) is one of Scotland's best road trips. Here's how to drive the North Coast 500 route.
Disclaimer – this post uses affiliate links [marked by *] from which I may receive a small commission.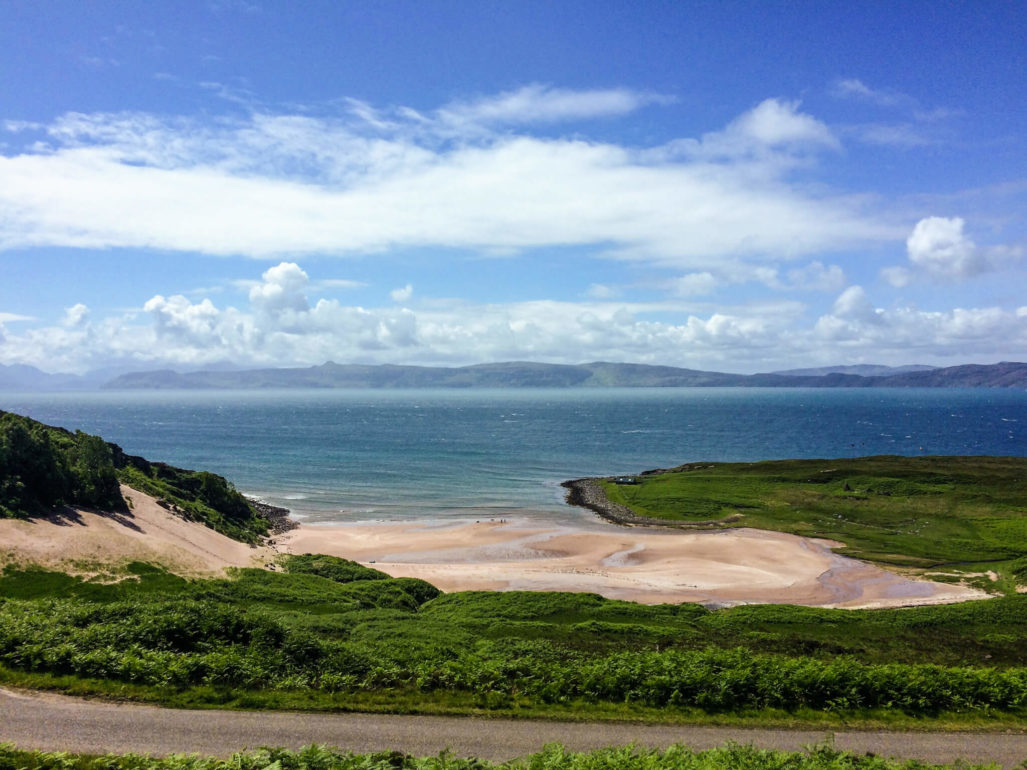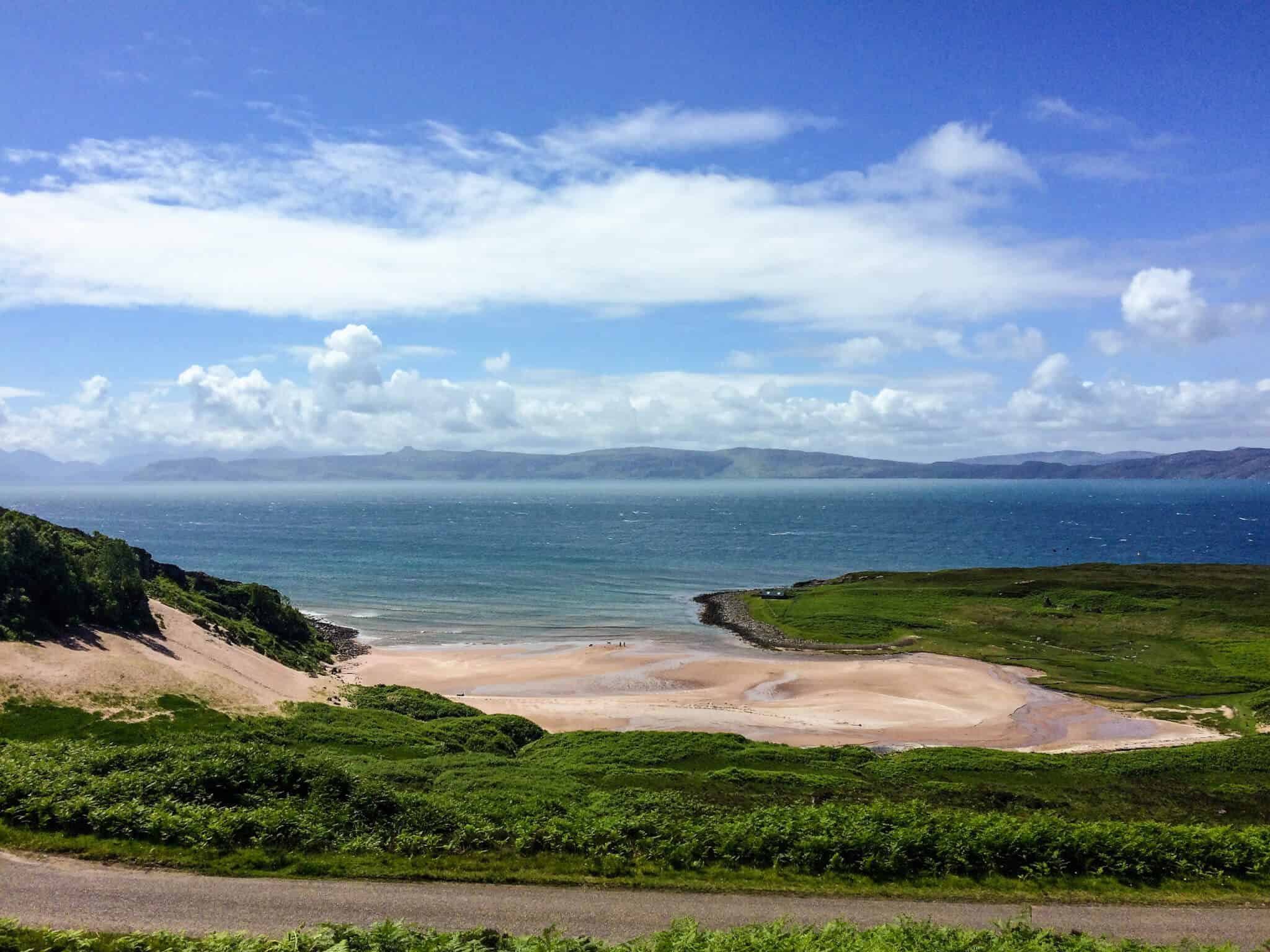 The NC 500 takes you over 500 miles around the north coast of Scotland. Many of the roads are single track and are home to highland coos, sheep, geese and all manner of other travellers. Before you set off it is worth reading up on the rules of the road in Scotland.
Driving the Bealach Na Ba to the Applecross Penisula is not for the faint of heart!
You will need as much time as you can get to do the route – you will want to stop every couple of hours and get out of the car and go for a walk – the NC500 should definitely not be all about the road.
I would suggest that you need a minimum of five days to do the route, a week would be perfect, and 10 days or more if you want to visit Inverness or any of the west coast islands.
Don't forget to go off-piste. There is lots to see and do just off the route – don't miss a trip into Cromarty and the Black Isle, take a trip across to Orkney or to the gorgeous Handa Island.
I love the wee village of Laird, the Falls of Shin, and it is always worth exploring the mountains of Assynt. Ready to drive the NC500? Let's go.
Read more – things to do on the North Coast 500 route
How long is the North Coast 500?
516-miles (830 km)
Is the North Coast 500 Scotland's Route 66?
The NC500 is often described as Scotland's route 66 – because it is one of the world's most epic road trips. However, there are some differences. Route 66 crosses eight states over 2400 miles from Chicago to California.
The NC500 miles is a lot shorter at just over 500 miles and takes you through some of the most remote bits of Scotland.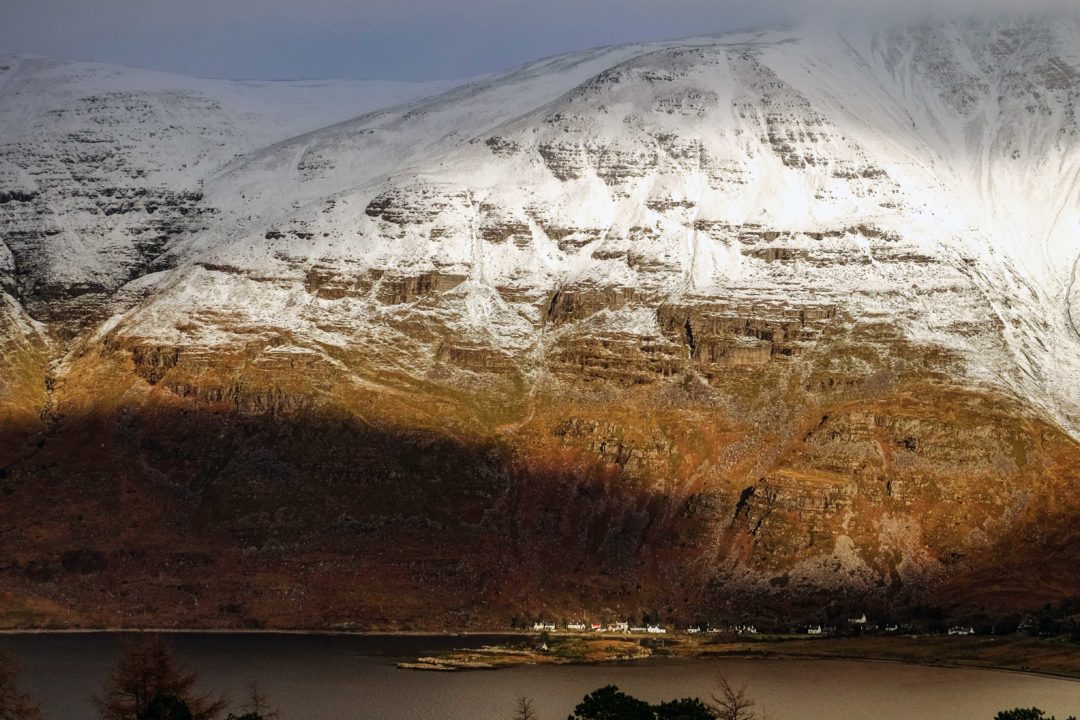 How long does it take to drive the route?
How long you take driving the NC500 is up to you. If you just want to experience one of the world's best roads you could just about manage it in a day – but then you'll miss everything the route has to offer.
Why not take longer to visit huge sea caves, sail to a tropical island to see puffins, or bag Scotland's most northerly Munro … there is so much to see and do along the route it's a shame to not do it justice.
If you just want to see the main sights I would suggest you will need a minimum of four days to do the main stages of the NC500, however, I would suggest a week to 10 days to really make the most of your trip.
What's the best time of year to drive the North Coast 500?
My favourite time(s) of year in Scotland are April – May and September.
June and August can be wet months in Scotland.
July is busy with UK school holidays – particularly campsites on the west and north coasts.
Most attractions (from the National Trust or Historic Scotland) close from October to Easter. Many of the grounds are still open.
There is always a risk of snow in winter months inland from the coasts.
Whenever you drive the route, Scotland's NC500 will take you on an incredible road trip around Scotland you won't ever forget…
…but what about ticks and midges in Scotland?
Travelling in summer in Scotland means midgie – a tiny biting black fly – they are legendary for a reason. You can't avoid them, but you can beat them – pick up the best insect repellent for the Scottish midge – 'Smidge'.
Sadly, midgies are worst in the early evening – just as you want to sit out on the lochside with that sundowner drink…
You also need to watch out for ticks in Scotland. These beasties sometimes carry lyme disease, so wear long trousers if you are hiking and always check yourself out.
If you want to avoid beasties, the best time to travel in Scotland is spring, autumn and winter.
Should I drive clockwise or anti-clockwise?
I would suggest going anti-clockwise. Start at Inverness Castle and travel first up the East coast to John o'Groats, across to Durness, down to Gairloch and finally Applecross taking in some of Scotland's most spectacular coastal scenery along the way.
Alternatively, you could start your trip with a drive through Glencoe and visiting the famous Eilean Donan Castle before joining the route clockwise on the west coast at Strathcarron.
Any driving tips for the North Coast 500?
Most of the NC500 route is on single-track roads – and you will be driving the route along with sports cars, campervans, motorbikes, cyclists, tractors, delivery drivers, sheep, coos and deer.
Here are a few tips for driving in Scotland:
KEEP LEFT – or you will cause an accident
Know the speed limits, road signs and general driving advice – in Scotland, understand how to drive on a single track road!
Learn how to use passing places on the single track road – always pull to your left into the passing space and be prepared to reverse
Acknowledge your fellow drivers – a wave, a thank you or let someone past
Remember the route is not just for you to enjoy your holiday – people use the roads as part of their daily life, so let people past.
I recommend that your stops are no more than 1-1.5 hours apart unless much of the journey is on a motorway or you know the rules of the road. 2 hours on mountain roads will exhaust even the most patient of drivers.
Is the North Coast 500 suitable for motorhomes and campervans?
Yes – and lots do – although you will need to be prepared for the single track roads. The Bealach Na Ba is the only section not recommended for anything larger than a 16 – 18 ft camper and the Berriedale Brae is a very steep hairpin bend.
If you have never driven a campervan before I suggest doing the route anti-clockwise as you will be coming down the Bealach Na Ba rather than up it.
Are there petrol stations on the North Coast 500?
There are plenty of petrol stations on the route. I suggest filling up regularly as the NC500 is quite remote in places.
What about the 3g mobile phone signal if I get lost?
It is an issue, I admit. Most of the route does not have a signal, let alone 4g, so be prepared. However, wifi is very common in hotels and b&bs so you will be able to keep up with the outside world along the way. Using google maps? Use wifi to download sections of your map each day.
Can't drive/won't drive? Try this 3 day NC500 tour from Inverness*
More tours in the Scottish Highlands*
What is the NC500 route?
Starting in Inverness you will drive to the very top of the UK, spotting dolphins and visiting amazing castles along the way.
You will then road trip along the far north coast of Scotland – don't miss the incredible Duncansby Head Stacks, exploring the huge Smoo Cave, and trying the famous hot chocolate at Cocoa Mountain.
Heading south, you will then travel through the otherworldly landscapes of Lochinver and Assynt and drive along a coastline pepper-potted with incredible white sand beaches with turquoise blue seas to Wester Ross.
Finally, you will drive through the huge Torridon mountains, past fiord-like lochs to the beautiful Applecross Peninsula where you end your trip driving the famous Bealach na Bà.
Is there a section of the North Coast 500 I should not miss?
There is a saying in Scotland that 'west is best' and the route certainly takes you through the best of the west coast of Scotland's scenery, but that doesn't mean the east coast of the NC 500 isn't stunning in its own right – with dolphins, fairytale castles, over 200 brochs (Iron Age structures) and the 330 Waligoe Steps.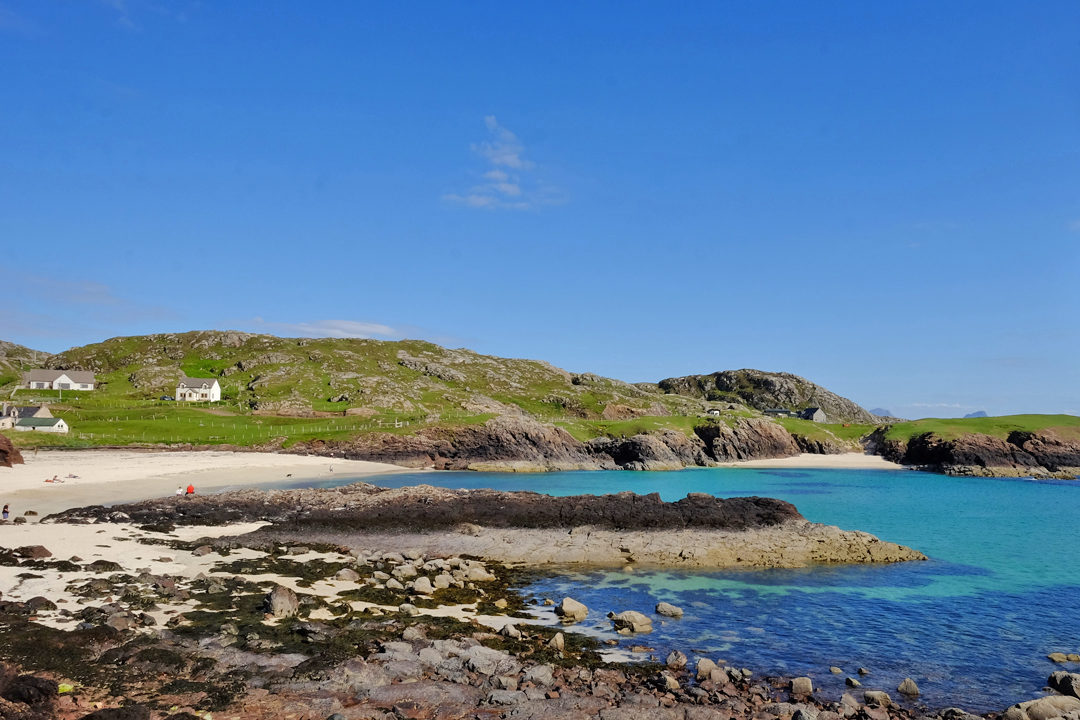 Plan your North Coast 500 Itinerary
Whether you want to drive the route in 4 days or 3 weeks, take a tent or stay in luxury accommodation, there is an itinerary for you! A good way to plan out your NC500 road trip is to think of the route in four stages.
If you are travelling anti-clockwise – try this itinerary:
Stage 1 – Inverness & Easter Ross – Starting from the Highland capital, Inverness, drive up Scotland's east coast
Stage 2 – Caithness – Explore Scotland's wild north coast including Cape Wrath and Durness
Stage 3 – Sutherland & Assynt -Drive the beautiful coast from Durness to Gairloch and visit Scotland's best beaches.
Stage 4 – Wester Ross – Explore the Torridon mountains and drive the incredible Bealach Na Ba.
Things to do on the North Coast 500
Don't just drive the route, there are lots of things to do along the way:
You might want to purchase a 3, 7, or 14-day Historic Scotland Explorer Pass*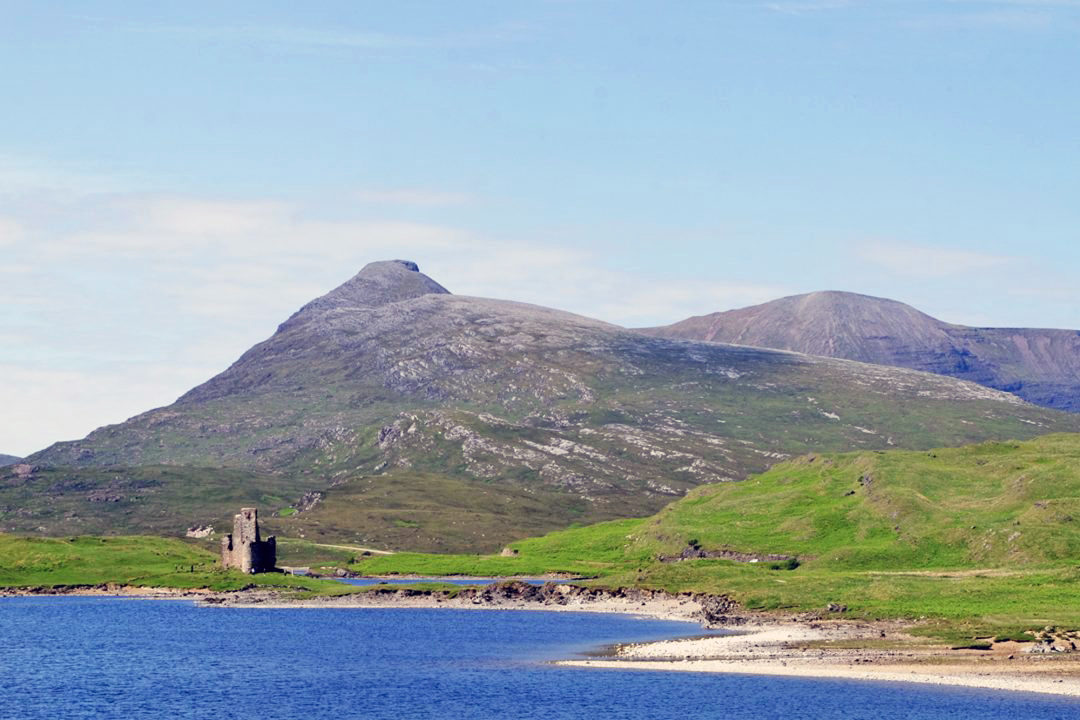 Best things to do with kids on the NC 500
A boat trip out on Loch Ness to Urquhart Castle – try and spot the Loch Ness Monster
Urquhart Castle – one of the largest in Scotland
Dolphin watching, around 130 Bottlenose Dolphins live in the waters off Inverness
RSPB Tollie Red Kites – watch the RSPB volunteers feed beautiful Red Kites
Black Rock Gorge – take a short walk up the Black Rock Gorge north of Dingwall. This 'box gorge' appeared in Harry Potter and the Goblet of Fire.
Waligoe Harbour – climb down 250 metres to the tiny Waligoe Harbour.
Melvich Beach – one of the north coast's most stunning beaches
Smoo Cave – explore this huge cave near Durness by foot or by boat.
Cocao Mountain – kids will love the hot chocolates!
Whale Cruise – Take a Hebridean Whale Cruise to spot otters, seabirds and even dolphins and sharks in the waters off Gairloch.
Best Beaches on the North Coast 500
My favourite beaches are:
Melvich Beach – the north coast's best beach
Strathy Point Beach/Strathy Point Lighthouse – a great spot to see dolphins and whales
Sandwood Bay Beach – It might be an eight-mile walk to Sandwood Bay and back, but boy is the hike worth the trek.
Achmelvich and Clachtoll Beaches – two beautiful beaches well worth an afternoon detour.
Big Sands and Red Point Beach – huge beaches with views across to Raasay and Skye.
Sands Beach – voted by Countryfile readers as the Beach of the Year in 2015/16.
Best castles on the NC500
The best castles worth a stop on the NC500
Dunrobin Castle – a gorgeous stately home just outside Golspie which looks like a fairytale castle
The Castle of Old Wick – perched on dramatic cliffs, the Castle of Old Wick one of Scotland's oldest castles.
Buchollie Castle – access is across a walkway with sheer 100m drops on each side – don't try and visit in bad weather!
Castle Sinclair Girnigoe – near Wick is a spectacular ruin.
Castle of Mey – previously the home of the Queen Mother in Scotland, you can now tour this royal palace.
Castle Varrich – climb up to Castle Varrich for a great view over Kyle and Ben Loyal.
Ardvreck Castle – Sitting on the banks of Loch Assynt
Strome Castle – stop on Loch Carron to discover one of the National Trust for Scotland's little gems.
North Coast 500 route map – things to do
My route map has lots of ideas of things to see and do to help you plan your itinerary.
Yellow – places to visit
Light green – places to stay & eat
Brown – mountains to climb
Orange – towns and villages
Blue – where to eat and drink
Dark green – petrol stations
The NC500 is not a waymarked route and the highlands of Scotland are renowned for not having a 3g or even in some places a mobile signal, you will need actually need a paper map of the North Coast 500 route.
Read my complete guide to things to do on the North Coast 500 route
Download my north coast 500 map to your smartphone. Click on the link via your phone and it will open in the google maps app so you can follow it.
Use the wifi in your accommodation to download your daily sections of the route to Google Maps.
North Coast 500 guidebooks
Check out these recommended guidebooks for your road trip! [affiliate links]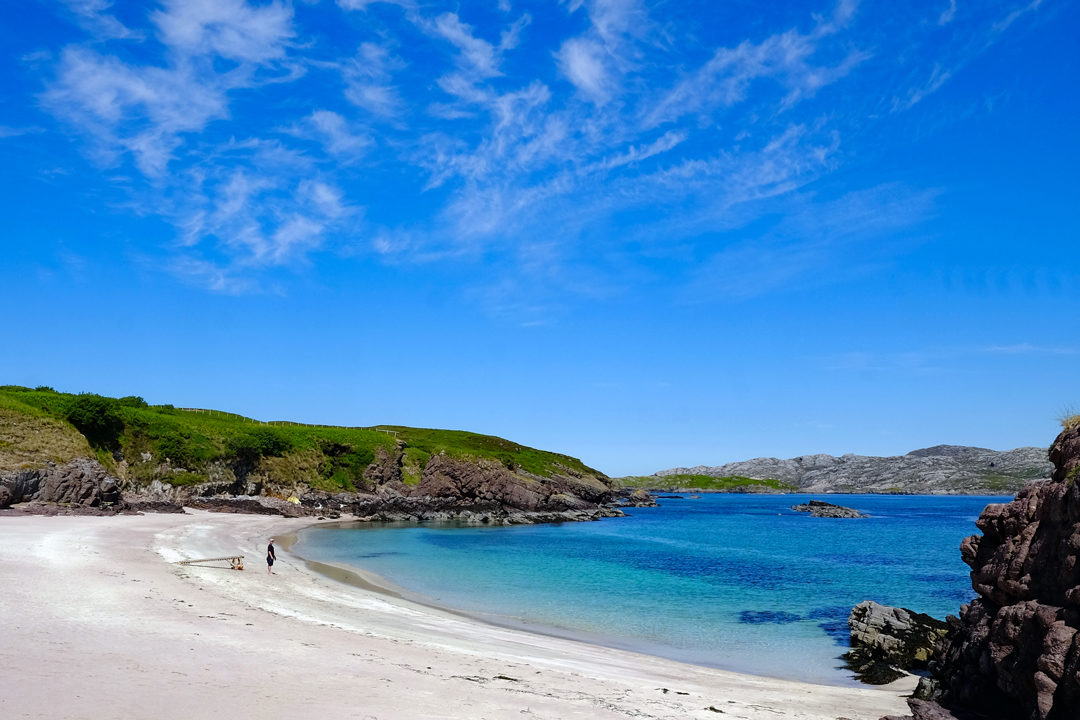 Where to stay on the North Coast 500
There are lots of ways to do the NC500 – with a tent, staying in b&bs or self-catering. How you do it is up to you! There are hundreds of places to stay in the Scottish Highlands* from fancy hotels, luxury lodges, AirBnBs and cool campsites. If you are looking for options for certain areas use my (affiliate) links :
Read my complete guide to where to stay on the North Coast 500
Do I need to pre-book NC500 accommodation before setting off?
It depends if you are camping or booking pubs and hotels. For hotels, B&Bs and camper vans the route is so popular many places are booked up a year in advance – so get planning!
For tent camping, for some of the more remote places such as staying at Applecross Campsite, I would recommend booking in advance. However, even doing the route in summer we found we could easily find camping spots – and change location dependent on the weather.
North Coast 500 Self-Catering Accommodation
North Coast 500 Hotels and b&bs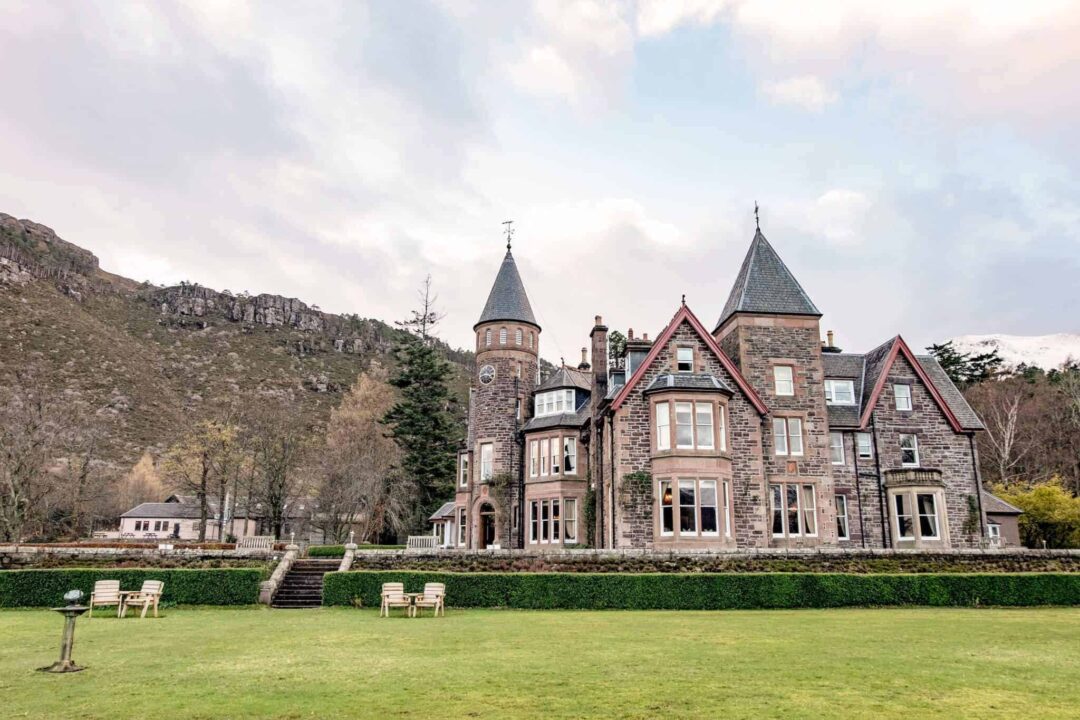 North Coast 500 Campsites
Pitch up and put your feet up here…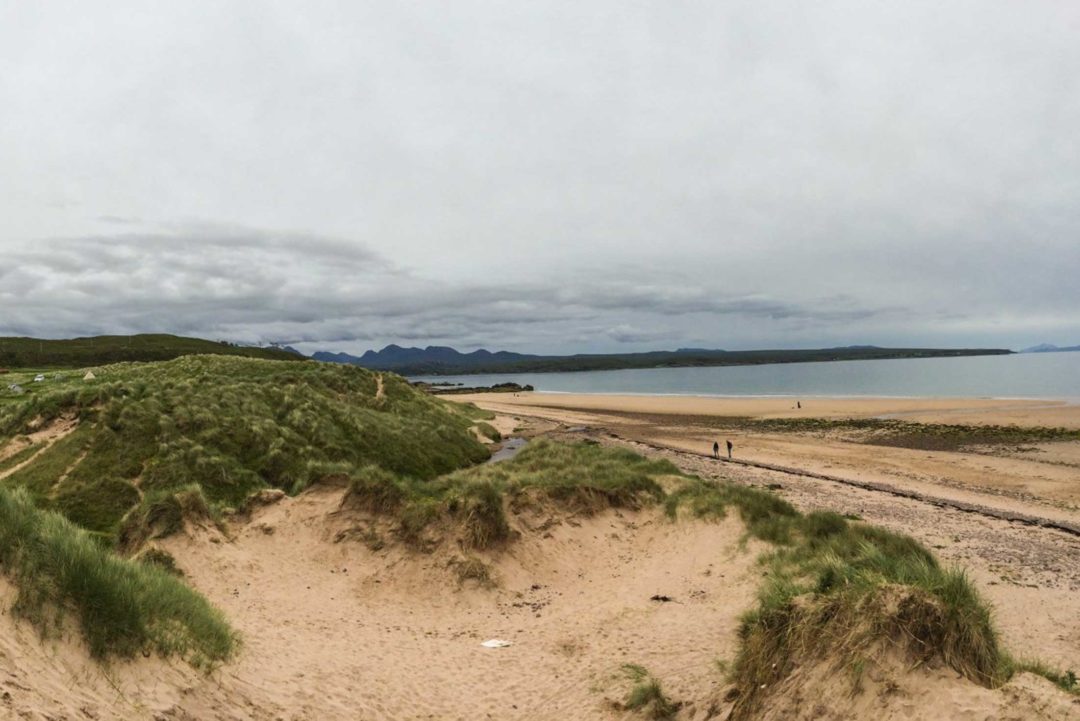 Love, from Scotland x