Sitting on the shores of beautiful Loch Broom, beneath the 9 munros of the Fannich mountains and on the famous North Coast 500 road trip route is the pretty highland village of Ullapool.
One of the best places to visit in northern Scotland, Ullapool is a great stopping point on the NC500 and a excellent base from which to explore the surrounding area including the beautiful Wester Ross coast, the remote Coigach Peninsula and mountainous Assynt and from which to catch the ferry to Stornoway in the Outer Hebrides.
Or just grab a drink at one of the waterfront bars and watch the boats come and go… if you want to stay awhile, here are my favourite places to eat and things to do in Ullapool.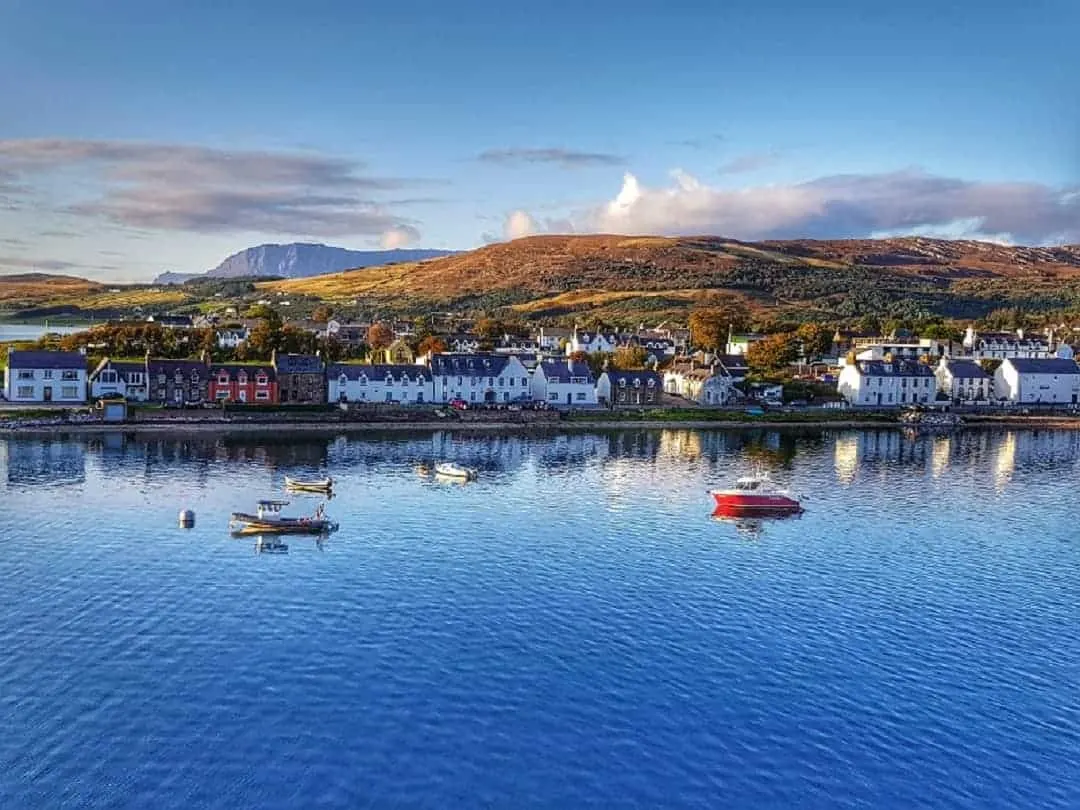 Things to do in Ullapool
Ullapool is one of Scotland's prettiest seaside towns. Designed by Thomas Telford in 1788 as a herring port, its name is most likely derived from the norse for 'wool town'. Now home to around 1500 people, the village's population swells in summer by those heading out to the Outer Hebrides or travelling further north on the NC500. However, it is worth stopping for a while and exploring the area! Here is what to do in Ullapool.
Explore by foot – Ullapool walks
The best thing to do in Ullapool? Get out and explore on foot! From gentle strolls to the best hill walks, here are my favourite Ullapool walks.
Ullapool Hill
Otherwise known as Meall Mhor, this short but steep 5 mile walk takes you up 270m above Ullapool for a fabulous view of Loch Broom. Climb Ullapool Hill.
Lael Forest Garden
With around 200 species of trees from all around the globe. Folllow the 1 mile Gorge Trail to explore the forest garden and the spectacular Allt na h-Ighine gorge.
Knockan Crag Nature Reserve
A site of special scientific interest famous for the Highland's Controversy, a long-running argument between geologists about the age of the rocks here – otherwise known as the Moine Thrust – when two continents slammed together upending the landscape of Assynt. Explore on the 1.25 mile walking trail around Knockan Crag.
Stac Pollaidh
Assynt's landscape of otherworldly rock formations is literally jaw-dropping. One of the most popular hills to climb in Scotland is the stunning Stac Pollaidh – at 612m, Stac Pollaidh is not a munro, but gives great views for its height. The circular trail around the hill will take around 3 hours.
The Bone Caves
Discover these unusual caves on a cliff face, where the bones of polar bears (yes really!), wolf, lynx, arctic fox and brown bears have been found.
Take a sunset stroll to Rhue Lighthouse
At the entrance to Loch Broom is Rhue Lighthouse, just a 10 minute drive from the village centre with lovely views to the Summer Isle and to the mighty Beinn Ghoblach and Ben More Coigach. There is a car park at the headland and the lighthouse is a 10 minute, 3/4 mile walk. The lighthouse is a great place to watch the sunset. Walk to Rhue Lighthouse.
Ullapool by water
With its position on Loch Broom, the best way to explore Ullapool is by boat!
Sail over to Isle Martin
Managed by the Isle Martin Trust since 1999, catch the ferry across to the uninhabited Isle Martin which has nice walks, a beach and small museum. The ferry runs on Saturdays and Sunday (check with Covid 19 restrictions) from Ardmair Jetty. The ferry costs £15 pp and runs all day from 11am to 4pm. The crossing takes 5 minutes. Visit Isle Martin.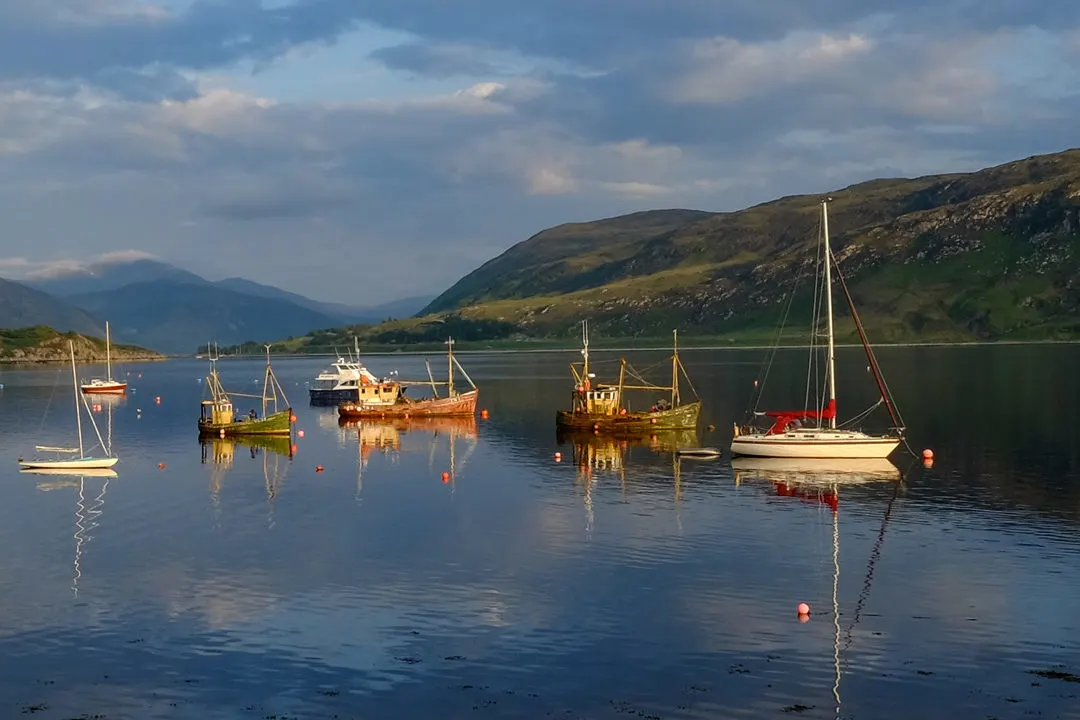 Sea kayak to the Summer Isles
The Summer Isles – an archipelago in Loch Broom, including the largest – Tanera Mòr – are perfect for a days paddling – you might spot seals, dolphins, or even whales. Sea Kayaks can be hired from Summer Isles Kayaks or Kayak Summer Isles – who are also dog friendly!
Take a boat trip on Loch Broom
Whether you prefer your boat trips sedate or full of adrenaline, a trip out on the waters of Loch Broom is a great way to see Ullapool and the surrounding mountains, including Cathedral Cave on Tanera Beag.
Ride a RIB with Seascape Expeditions, or take a cruise with Shearwater Cruises on the M.V Shearwater – you never know what wildlife you might spot from the water – even white-tailed sea eagles – on their 2 hour cruise.
Further south, take a Hebridean Whale Cruise to spot otters, seabirds and even dolphins and sharks in the waters off Gairloch.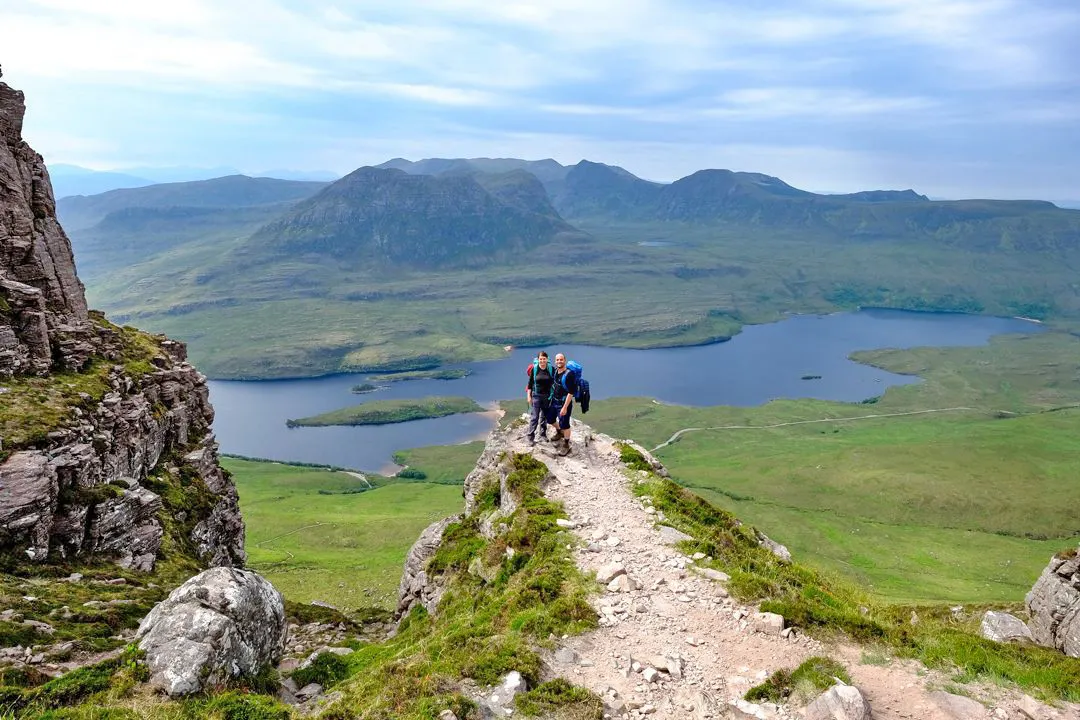 Things to do near Ullapool
Got a little longer to explore? Here is what to do near Ullapool.
Visit the Coigach Peninsula
The Coigach Peninsula sits just off the popular NC500 and is home to Achiltibuie and the Summer Isles, Ardmair Bay, views of Stac Pollaidh and miles and miles of stunning single track roads!
Corrieshalloch Gorge National Nature Reserve
Discover the River Droma as it drops 60m deep into the Corrieshalloch Gorge. If you have a head for heights, cross the Victorian suspension bridge, 45m above the Falls of Measach.
Handa Island
One of Scotland's most beautiful islands and a nationally important wildlife reserve, Handa Island is home to Puffins, rare Bonxies, stunning views of the Assynt mountains. A visit to the island is by boat (£15 cash only) and takes around 4 hours (10 mins on the ferry, and to walk around the island). There is also a seafood restaurant at Tarbert from where you catch the ferry.
Ardessie Falls and Wailing Widow Falls
To find the beautiful Ardressie Falls, follow the Allt Airdeasaidh to the falls at Ardressie with lovely views back along Loch Broom. Visit the Ardessie Falls. The Wailing Widow falls can be found near the Kylesku Bridge and are one of the longest drop falls in Scotland.
Ardvreck Castle
Sitting on the banks of Loch Assynt sits the ruins of Ardvreck Castle, once the 15th-century stronghold of Clan MacLeod, longtime owners of the Isle of Skye and the Isle of Lewis and Harris. The castle was hit by lightning and destroyed.
Inverewe Gardens
Don't miss a trip to the spectacular Inverewe Garden and Estate at Poolewe, one of Scotland's most beautiful gardens. Inverewe House has recently been opened to the public for the first time in its history and gives visitors a snapshot of 1930s life in a Scottish estate.
Ullapool beaches
Looking for beaches near Ullapool? There are lots of beautiful beaches in Ullapool to discover, and here are my favorites:
Mellon Udrigle Beach – a beautiful sandy beach at Gruinard Bay by the village of Laide. There is a campsite beside the beach.
Achmelvich Beach – turquoise waters and white sands – you could think you are in the Caribbean – hint, Achmelvich and its neighbour Clachtoll beach are even better!
Achnahaird Beach – accessed by road from Altandhu and Achiltibuie, Achnahaird Beach is one of Scotland's best and has views of Stac Pollaidh.
Ardmair Beach – Ullapool's local, rocky beach.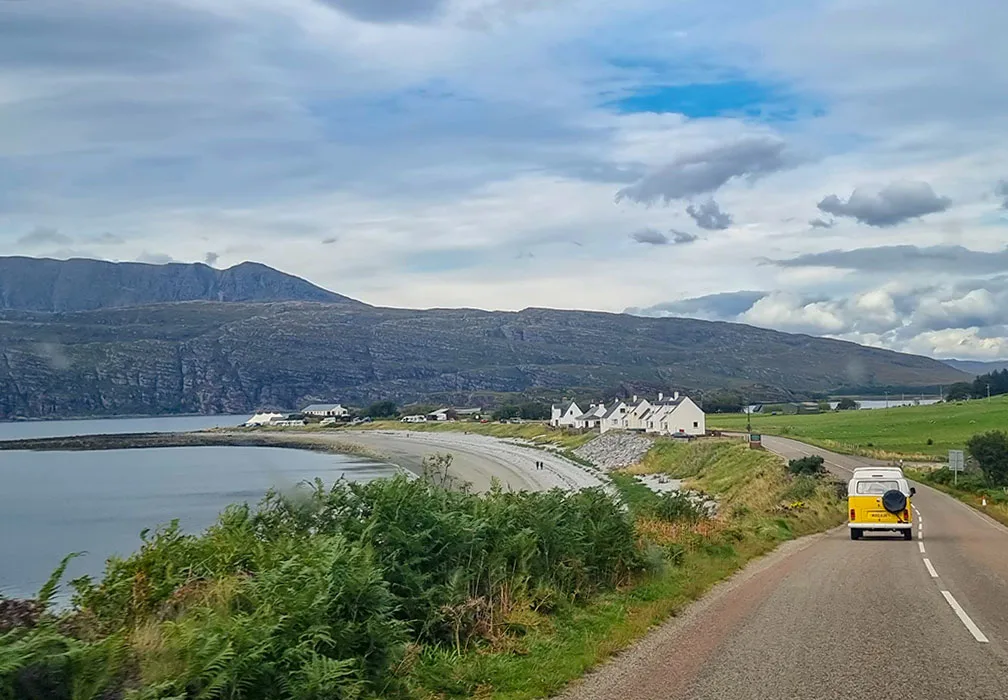 Thing to do in Ullapool in the rain
Of course it is going to rain in Scotland, but don't just wait for a wet day to explore…
Visit the Ullapool Museum and An Talla Solais
Telling the story of Loch Broom, visit this lovely museum housed in a Thomas Telford church. Find out about Loch Broom's fishing history, the Highland Clearances and the Dutch sailing ship – The Hector. Find out more about Ullapool Museum. An Talla Solais is Ullapool's Visual Arts centre with changing displays including ceramics and paintings from local artists. Visit An Talla Solais.
Ullapool pubs and where to eat in Ullapool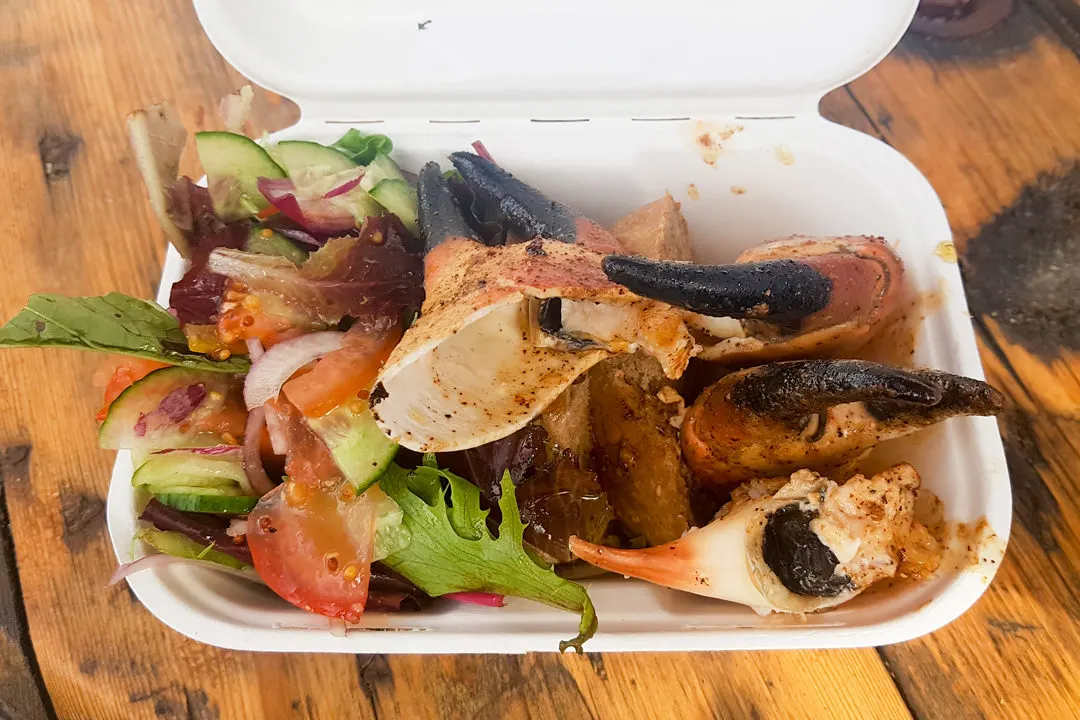 Where to stay Ullapool
Looking for accommodation in Ullapool Scotland?
Where is Ullapool?
Ullapool sits on Loch Broom in Wester Ross in the far north west of Scotland.
Driving times to Ullapool can vary due to the remoteness of Ullapool, but some popular routes are below.
Edinburgh to Ullapool – 4 hours via Inverness
Glasgow to Ullapool – 4 hours
Aberdeen to Ullapool – 3.5 hours
Ullapool to Oban – 3.45 hours
Ullapool to Skye – 2.5 hours
Fort William to Ullapool – 2.5 hours
Applecross to Ullapool on the NC500 – 2 hours
Ullapool to Durness on the NC500 – 1.45 hours
Inverness to Ullapool – 1.5 hours
Ullapool to Lochinver – 1 hour
More things to do near Ullapool
Read more: more things to do in Assynt
Read more: more things to do in Wester Ross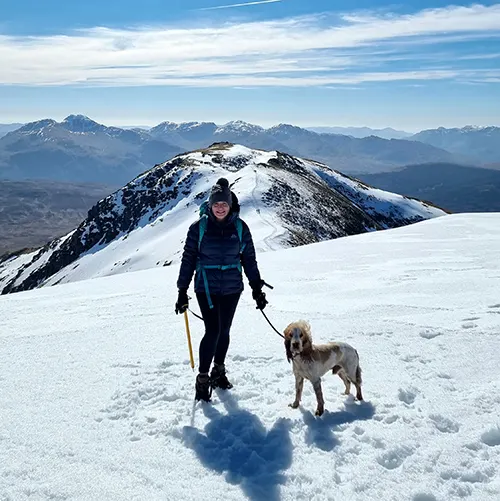 I'm Kate – a travel writer and photographer living in Scotland. Love, From Scotland is the Scotland travel guide that shows you where to stay and how to get outside in Scotland.