The magical Outer Hebrides…
A visit to the Outer Hebrides is an otherworldly dip into Scotland's island culture. However, the Western Isles are more than picture perfect views, Harris Gin, the home of the Gaelic language, the famous Callanish standing stones, Norseman tales and world-famous beaches and turquoise seas.
For this 130-mile long island chain 24 miles off the northwest coast of Scotland also makes for an incredible adventure playground where you can go horse riding on stunning beaches on South Uist, kayaking around a castle on Barra, and mountain biking in the mountains of Harris.
In collaboration with Outer Hebrides Tourism, my first visit to these beautiful islands didn't disappoint – it was a mad, crazy, exhausting and altogether incredible trip – and I'm desperate to go back. You can watch a sneak peek of our trip below.
Watch – An Outdoor Hebrides Adventure
View the full video and our highlights on Visit Outer Hebrides
This is a paid collaboration with Outer Hebrides Tourism
---
Fancy your own Outdoor Hebrides adventure?
We spent an incredible five days in the Outer Hebrides ferry hopping across the islands in a campervan – kayaking, wild swimming and horse riding along the way. If you fancy your own Outdoor Hebrides adventure, here is how to plan your trip.
Lewis and Harris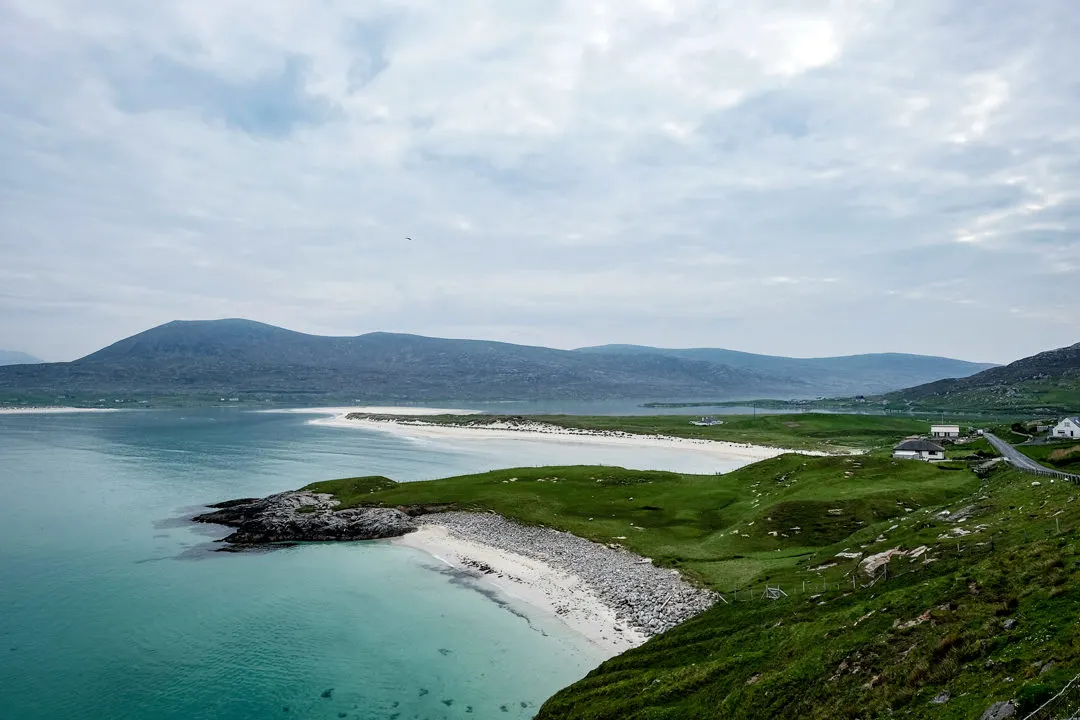 The largest of the Outer Hebrides 15 inhabited islands, Lewis and Harris are actually the largest islands in the UK – after Ireland and GB that is! Confusingly, Lewis and Harris aren't actually separate islands, although they are frequently referred to such, with the northern (and flatter) two-thirds taken up by Lewis and the capital, Stornoway, and the south by more mountainous Harris.
You could spend a whole week on Lewis and Harris visiting the capital Stornoway (compared to the rest of the Islands, tiny Stornoway is a busy town) seeing the Callanish Stones, visiting the Isle of Harris Distillery to try the famous Harris Gin and exploring Harris's incredible beaches including Seilebost and famous Luskintyre.
However, if you prefer your adventures of the more active variety…
How to Get Outside on Lewis & Harris
HILL WALKING – Harris's hills divide these two islands and include the mighty Clisham, a Corbett at 799 m (2,621 ft), and neighbouring Uisgneabhal Mor, Teileasbhal and Stuabhal, making for a paradise for walkers giving views across the whole Outer Hebrides. If you are looking for a low-level walk, follow the Coffin Road across Harris following the route taken from Bays to Seilebost for burials on the machair.
MOUNTAIN BIKING – If you prefer to travel by bike rather than by foot, the Scaladale Centre will load up mountain bikes for you and take you out into the hills – we tried the 12-mile Urgha and Maraig circuit otherwise known as the Postman's Trail with views above stunning above Loch Mharaig – the route includes 840m of descent.
COASTEERING – Does jumping off cliffs into the sea sound like your kind of fun? Well, over at Hushinish Beach beside the island of Scarp, Scaladale run coasteering sessions. Grab your wetsuit, a life jacket and helmet and let the tide take you where it fancies including into deep sea caves – and then see how high you are willing to jump. Brilliant fun.
WILDLIFE WATCH – Take a boat trip out with Fish 'n' Trips from Keose harbour on Lewis to spot sea eagles, dolphins, seals and big and bossy bonxies. With a maximum of five people per boat, this is a great way to see Lewis and Harris's wildlife. You can also spot eagles at the North Harris Eagle Observatory.
WILD CAMPING – Fancy sleeping outside? Thanks to Scotland's access laws you can pitch your (small) tent on the Machair above Hushinish Beach (or pitch up in the next door campervan site) and watch the sunset over Scarp with a BBQ on the beach. My night at Hushinish was the highlight of my trip! If you plan on wild camping in the Outer Hebrides follow the outdoor access code and remember to leave no trace of your visit. Why not wild camp on top of one of Harris' hills?
BEACH HOP – from Hushinish Beach hop your way through some of the world's best beaches – the huge sweep of sand of Luskentyre, to my favourite Seilebost, then to Horgabost, Borve, and Scarista Beach – all with beautiful white sands and turquoise seas.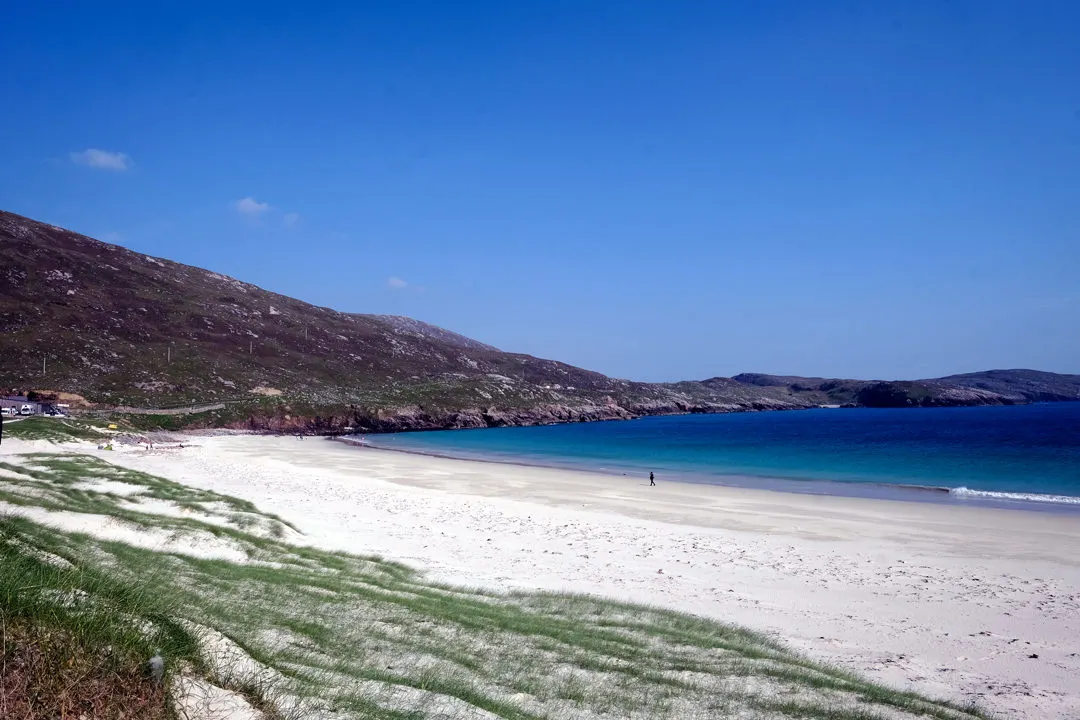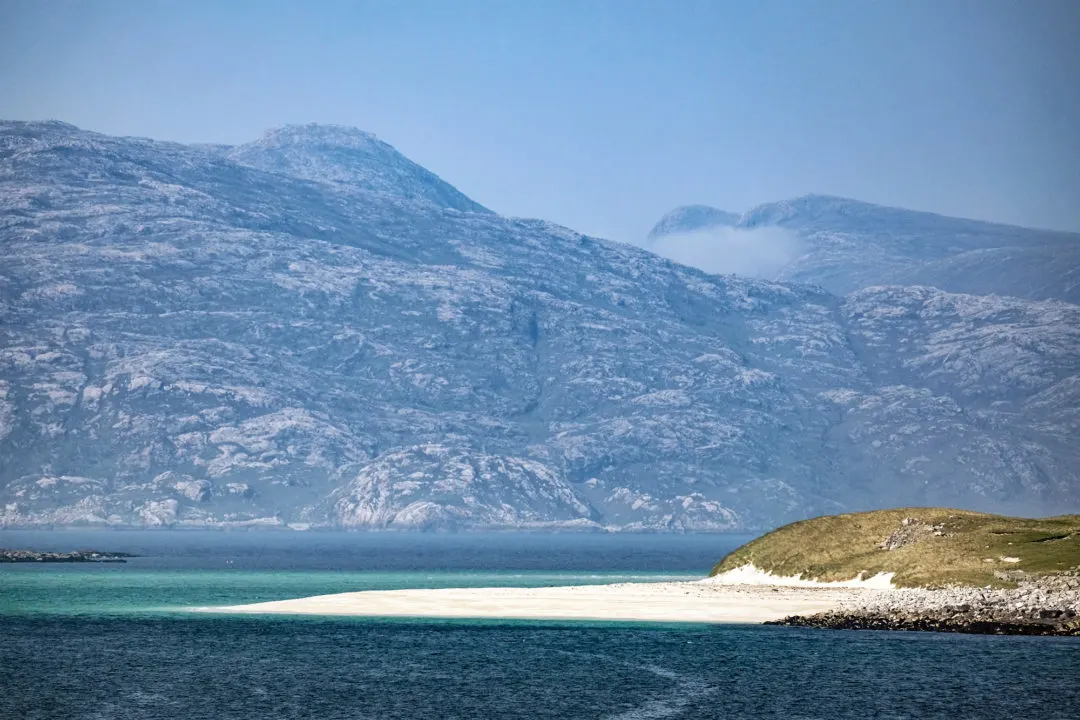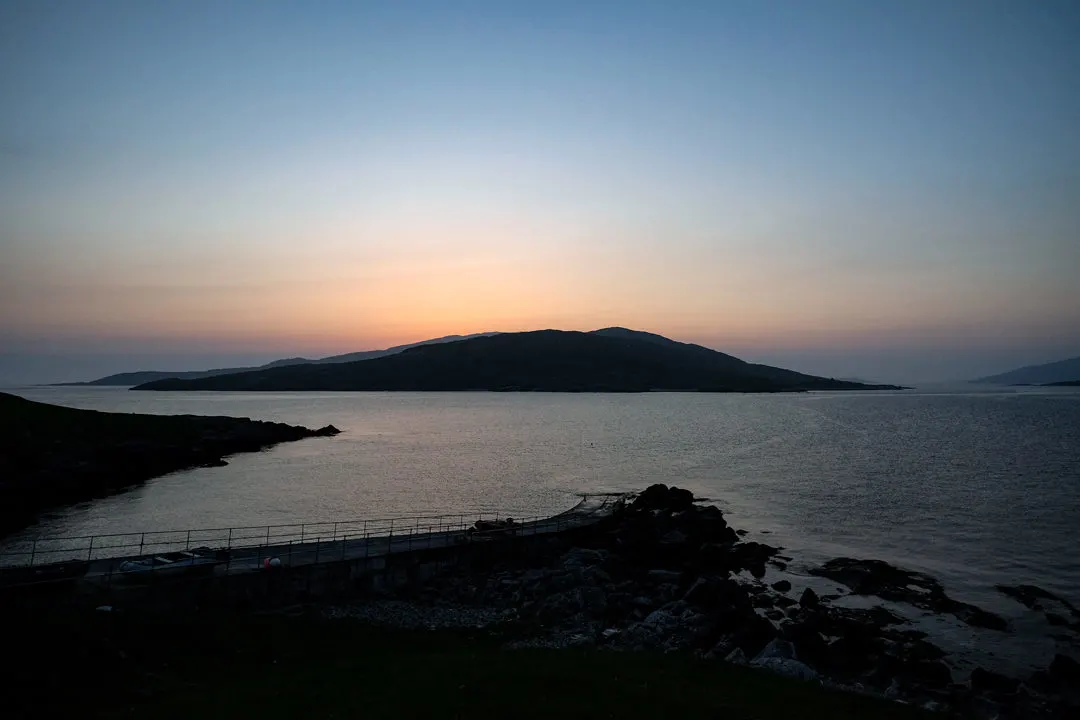 The Uists – North Uist, Benbecula, South Uist & Eriskay
A one-hour ferry crossing takes you across the Sound of Harris to the tiny Island of Berneray where you join The Uists. The beaches here are as arguably as good as Harris's but this is a land of lochans, crannogs and standing stones – and remnants of Norse history when the Uists were part of the Kingdom of the Isles.
However, North Uists most famous tale is actually much more recent – Hercules the Bear, a famous grizzly bear filming an advert on the island went on the run for three weeks across the Outer Hebrides, eventually being captured on North Uist – and a statue now stands in Langlass Woodland in his honour.
How to get outside on The Uists
HORSE RIDING – fancy horse riding on a white sandy beach in the Outer Hebrides? Well, that's what the Uist Community Riding School at Balivanich on Benbecula offers. With horses for all sizes and abilities, you might even be able to persuade your horse to go for a paddle in the water. My horse Thorn was a great character – patient and gentle with me, and the leaders confident and friendly towards all abilities – a pleasure to ride.
WILD SWIMMING – They say no one ever regrets a wild swim, but with the temperature of the water off the Outer Hebrides you certainly won't forget it. However if you do brave it, the beaches off the Outer Hebrides are perfect for swimming, with soft sands, and shallow depths and thankfully the temperature off Benbecula in summer is just about bearable. You will certainly feel refreshed!
GO GLAMPING – Sleeping up to 4 (well, in a pinch) Wee Haven has a mini kitchen, perfectly formed shower room, double bed and beautiful views across Benbecula. Looking to make your retreat even more relaxing? Wee Haven also offers up on site complementary therapies and yoga in a purpose-built yurt… or just relax on the terrace and watch the sun go down over the croft.
STAY IN A TRADITIONAL BLACKHOUSE – Howmore Hostel on South Uist is something a little special, a traditional thatched croft house sitting on the machair as far as the eye can see. Managed by the Gatliff Hebridean Hostels Trust who aim to give all visitors to the island a real taste of Hebrides life, the hostel is open all year and has a lounge and large kitchen for guests and four rooms with bunk beds. The hostel doesn't take bookings, but camping is also available on site if there is no space inside.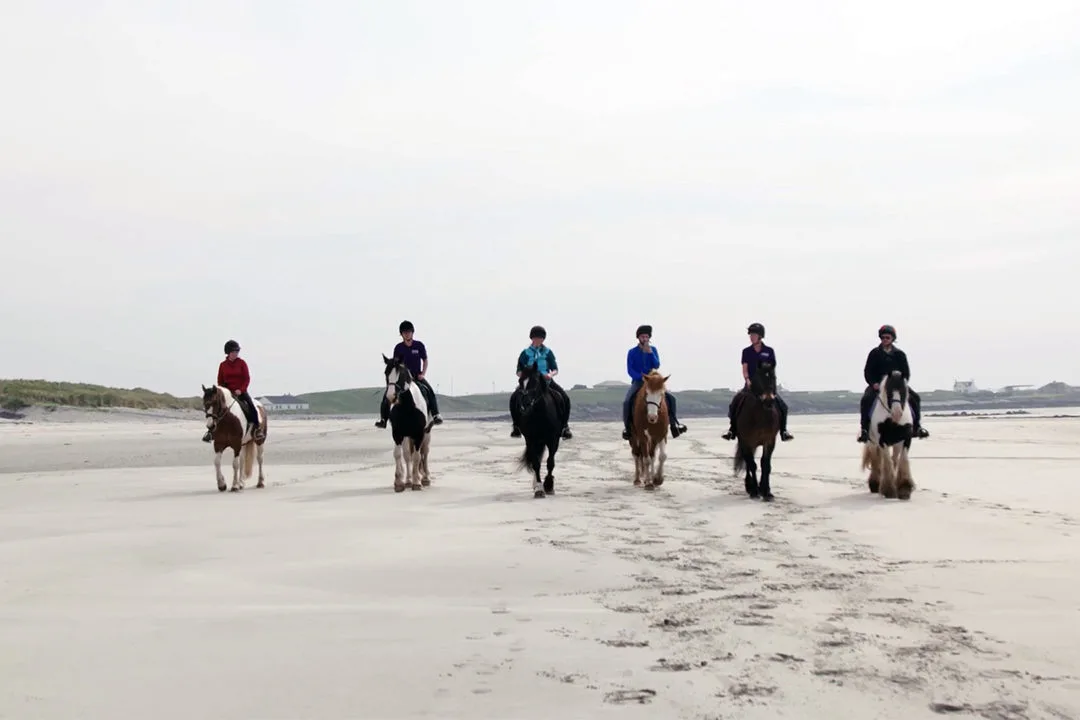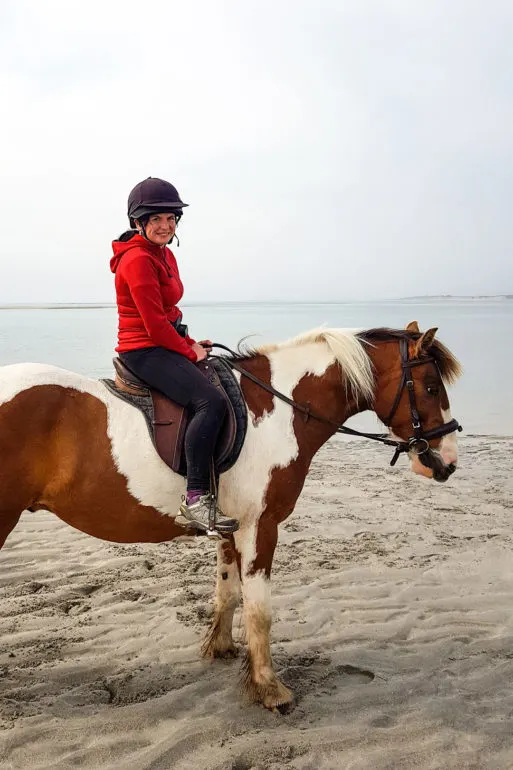 The Isle of Barra
Along with Vatersay, the most southerly of the Outer Hebrides might most famous for its airport on the beach (the baggage reclaim is also a bus stop) but this beautiful island 'Barradise' has lots to offer for the visitor – not least an incredible castle which gives the main town Castlebay its name.
Catch the Barra ferry from Eriskay (look out for the white Eriskay ponies, and the football pitch – recognised by Fifa as one of eight unique places to play the game in the world!) across the Sound of Barra – looking out for dolphins and seals.
If you are doing the trip South to North, Barra will be your start to your Outer Hebrides road trip – the island has regular ferries from Oban.
How to Get Outside on the Isle of Barra
SEA KAYAKING – There can't be many more places in the world more spectacular than Kisimul Castle to go kayaking. Clearwater Paddling hire sea kayaks so you can explore the bay or head further afield along the coastline of this beautiful part of Scotland. We just had time to explore the castle, but Barra Surf Adventures offers kayak camping trips and multi-day tours of the island. I want to go back to the Outer Hebrides for this alone.
SNORKELLING WITH SEALS – Think snorkelling is just for warmer climbs? Well, Barra is great for snorkelling too – and you can explore the coast along with friendly grey seals. Don't worry you are fully equipped with full winter 'steamer' wetsuits, gloves, hoods, boots, snorkel, mask and flippers and the Barra Surf Aventure staff are fully trained – plus you can put your flippers down at any time, the water is so shallow.
WALK OR CYCLE THE HEBRIDEAN WAY – up for a challenge? The Hebridean Way is a 155m route finishing at Lews Castle on Stornoway taking in 10 of the Outer Hebrides islands – Vatersay, Barra, Eriskay, South Uist, Benbecula, Grimsay, North Uist, Berneray, Harris and Lewis. Phew. If you fancy taking on your own long distance trek, Watch Me See has a comprehensive Hebridean Way Guide.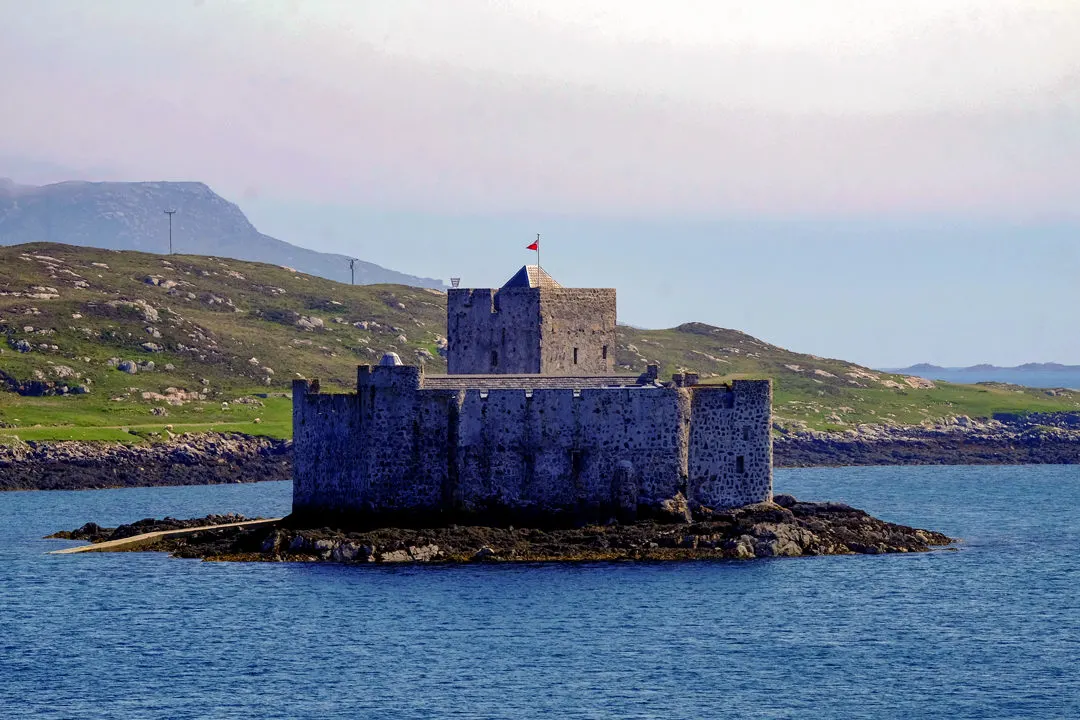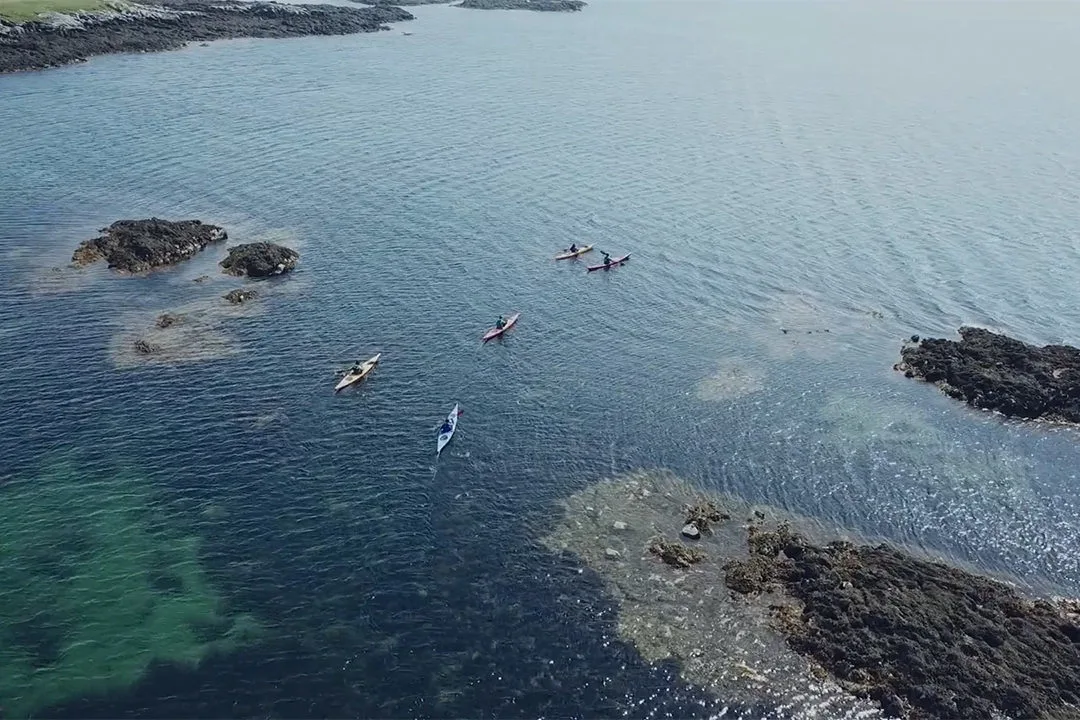 My Outer Hebrides highlights?
You can view my wee highlights video below!
Outdoor Hebrides – Kate Hopper from Outer Hebrides on Vimeo.
How to get to the Outer Hebrides
24 miles off the coast of north west Scotland, getting to the Outer Hebrides is half the fun…
BY AIR – To get to the Outer Hebrides you can choose between flights to Stornoway, Barra and Benbecula from Manchester Edinburgh, Glasgow, Aberdeen and Inverness. You can even land Traigh Mhor Beach on Barra. Wherever you fly from to the Outer Hebrides the view will be amazing…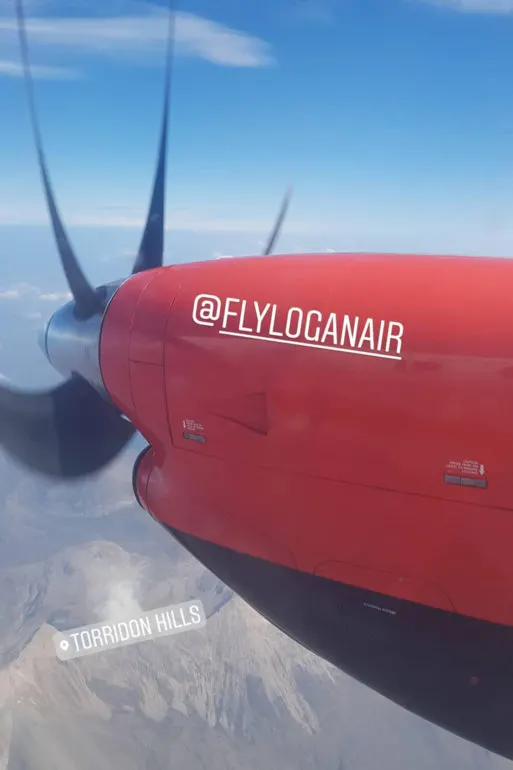 I flew to the Outer Hebrides with Loganair from Edinburgh to Stornoway (1 hour) and back to Inverness (45 mins). I loved Loganair's wee Scottish touches such as caramel wafers and tartan seats, lovely friendly staff, plenty of luggage allowance for those doing outdoor activities and a great small airline welcome. I also loved flying so low you could see an amazing cloud inversion across the Scottish mountains – wow!
Outer Hebrides Ferry
BY FERRY – Caledonian MacBrayne (Calmac) sail four routes to the Outer Hebrides –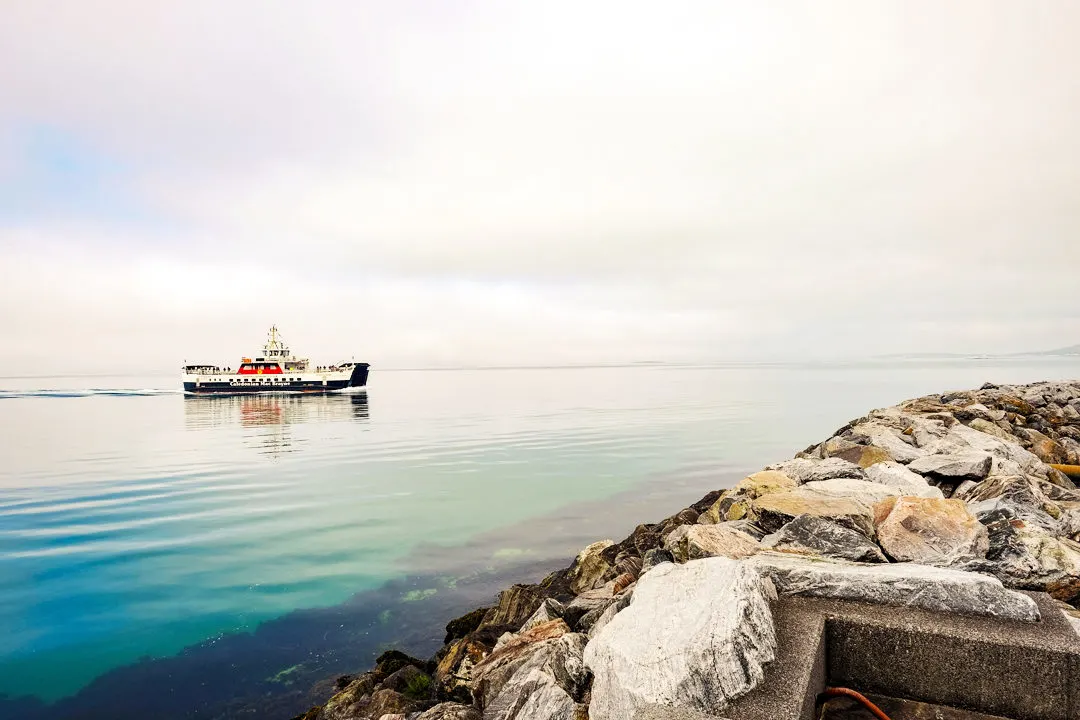 Getting around the Outer Hebrides Islands
FERRY HOPPING IN THE OUTER HEBRIDES – The easiest way to get around the islands is via a ferry hopping ticket.
For the full route of Barra to Lewis, Hopscotch 8 will take you from Oban to Castlebay, Barra to Eriskay, Berneray to Leverburgh, and back to the mainland via the Ullapool to Stornoway ferry.
If you are crossing from Skye to visit Lewis and Harris Hopscotch 11 will take you from Uig to Lochmaddy, Berneray to Leverburgh, and Stornoway to Ullapool.
BY CAMPERVAN – Our campervan was hired though Bunk Campers near Edinburgh. Visit Outer Hebrides have a list of camping and caravan sites in the Outer Hebrides
BY BUS – If you plan to use public transport on the Outer Hebrides buses run across the islands Monday – Sunday and timetables are aligned to meet ferries and flights. The Western Isles Council has all the bus timetables for the Outer Hebrides.
ROAD TRIP OUTER HEBRIDES BY CAR – If you bring your car over on the ferry you will find the Outer Hebrides really easy to navigate, although you will need to know how to drive on a single track road, especially if you plan to head to some of the remoter beaches like Hushinish, which is down the end of a 15 mile twisty and turny road – one not for the faint-hearted.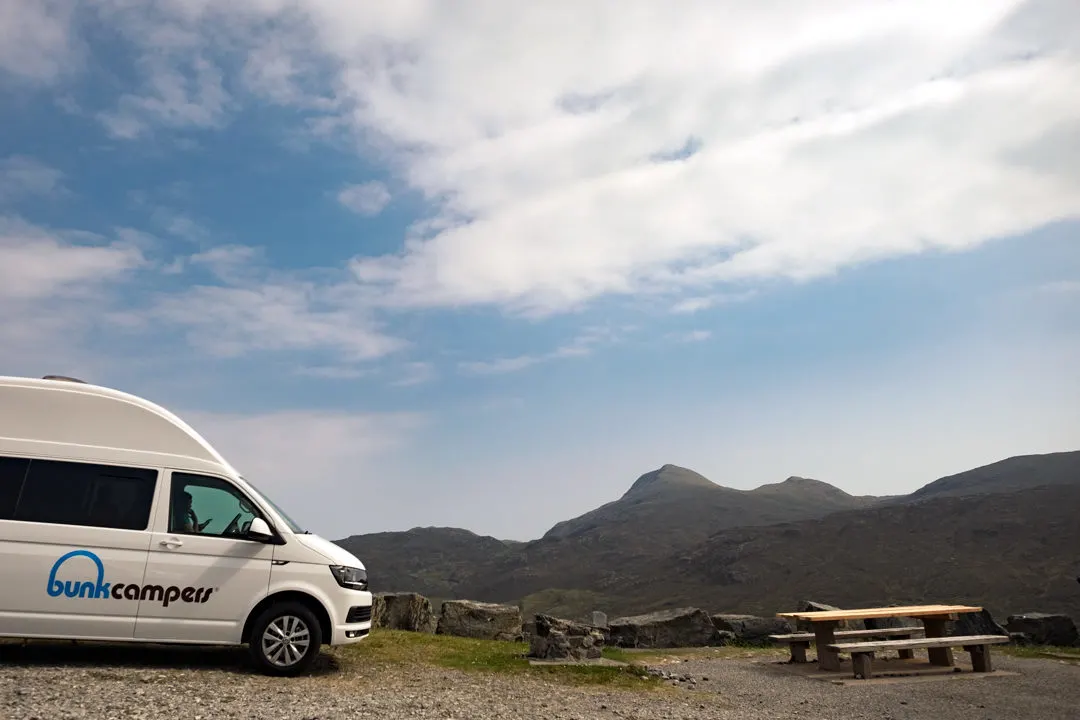 Best time to visit the Outer Hebrides?
We visited the Outer Hebrides at the end of May – and as you can see from the film the weather was perfect, mostly. We even managed to avoid the midgies, apart from one evening when the Haar came down and we got caught in a swarm. If you are planning water-based activities like coasteering, snorkelling or swimming summer is the best time to visit – if only for a reasonable water temperature.
Outer Hebrides Map
If you fancy doing your own road trip around the Outer Hebrides I have put all the outer activities we took part in on the map, download it to your phone via the icon in the top corner.
View the full video of our Outdoor Hebrides adventure on Visit Outer Hebrides
What an incredible trip! Thanks to Outer Hebrides Tourism for inviting me to take part in the video and particular thanks to Sean & Jen at the Scaladale Centre for their patience in getting me on a a bike for pretty much the first time ever, and Ben at Barra Surf and Coastal Adventures, although no thanks for making me walk through a field of cows.
Love, from Scotland x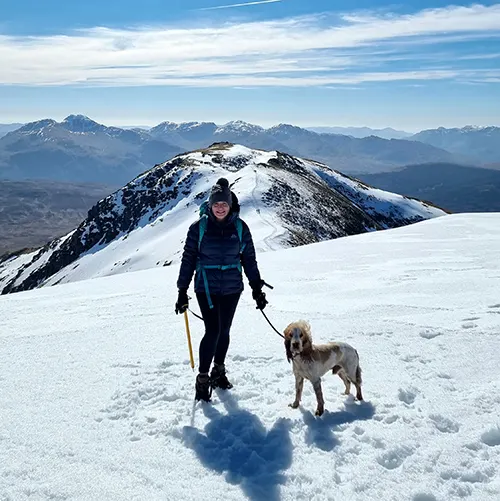 I'm Kate – a travel writer and photographer living in Scotland. Love, From Scotland is the Scotland travel guide that shows you where to stay and how to get outside in Scotland.