On the east coast of Fife between Edinburgh and Dundee is St Andrews. Most famous for golf and Scotland's oldest university, St Andrews is a buzzing little town surrounded by spectacular Fife beaches and countryside.
With Michelin-starred restaurants, beautiful beaches, a stylish compact town centre full of independent shops and plenty of bars and restaurants, you can spend a couple of days just exploring the town and the pretty coastal villages nearby – the East Neuk is perfect for a weekend break.
Here are my favourite places to eat and things to do in St Andrews.
Things to do in St Andrews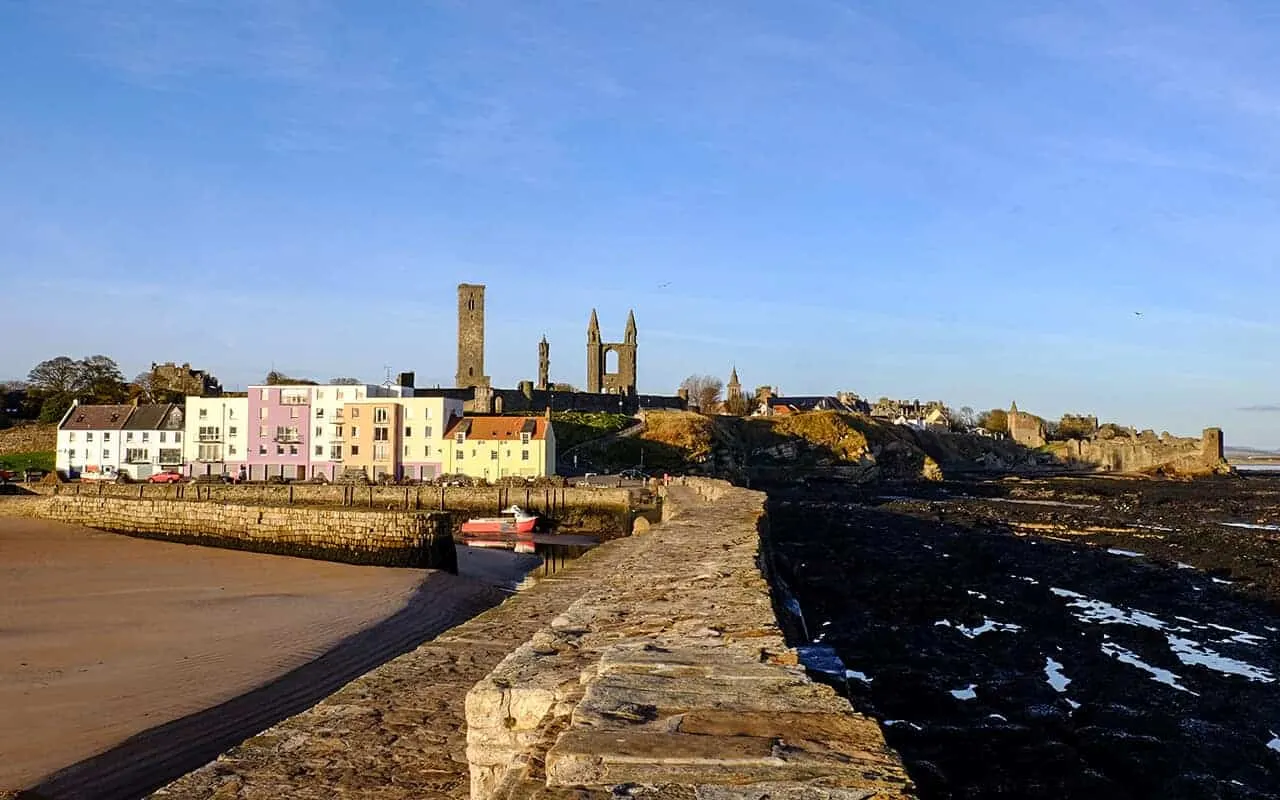 Play a round of golf at St Andrews
The town might be named after Saint Andrew the Apostle but it most widely known as 'the Home of Golf' – many come to St Andrews to play (or watch the golfers) on the famous St Andrews Links. Not got a t-time? Why not test yourself on the the Himalayas otherwise known as the St Andrews Putting Club, probably the worlds best (and hardest) putting course over looking the 18th green. Desperate for a round? There are 7 golf courses in St Andrews including the Links.
St Andrews Beaches
Head down to the famous swathe of West Sands Beach (made famous by the movie Chariots of Fire) – why not go sand yachting with local outdoor activity company Blown Away – or the more compact East Sands with its playpark and the St Andrews Aquarium. There is also a lovely small beach – Castle Sands – which is hidden away beneath St Andrew's Castle.
St Andrews Town Centre
Stroll amongst the St Andrews University Colleges via the Town and Gown Walk including St Andrew's lovely quadrangle on North Street.
Explore the boutique shops and cafes on the three main shopping streets of South Street, Market Street and North Street and then explore St Andrews Harbour for the best view of the town.
St Andrews also has a Botanic Garden, 18 acres of lovely gardens, just 10 minutes from the town centre.
If you love gin, then why not visit the Eden Mill Blend Works Gin School to learn how to make this locally made spirit?
Historic St Andrews
From The Scores or the Harbour you can visit ecclesiastical St Andrews including St Andrews Cathedral, once Scotland's biggest building (try climbing the 33m tall St Rule's Tower!) and St Andrews Castle which was built in 1200 and once the home of Scotland's leading bishop, with its unique underground mine.
St Andrews harbour can be reached from behind the cathedral. The cathedral and castle are managed by Historic Environment Scotland. A joint ticket for both the cathedral and castle is available, £9 for adults, free entry for members.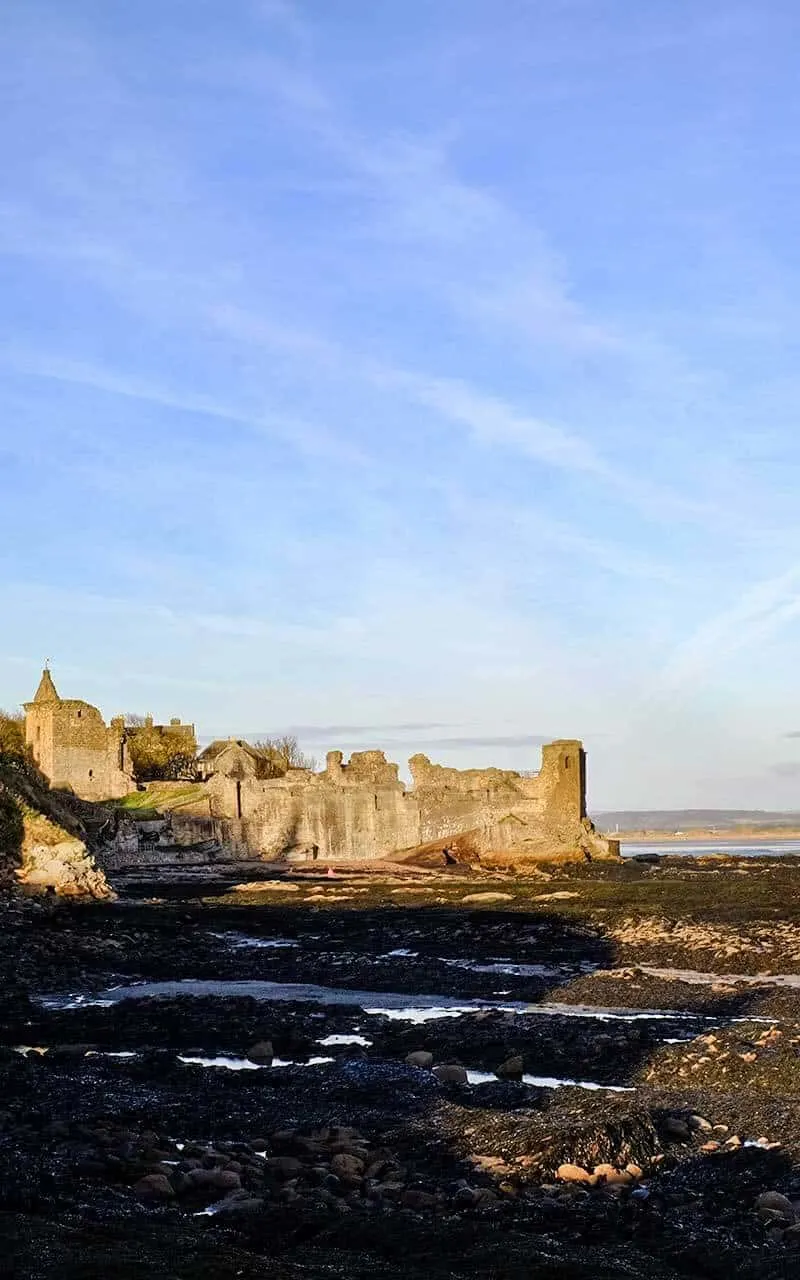 Days out from St Andrews
Beyond St Andrews town centre, there is lots of exploring to do!
Stroll around Cambo Estate and Kingsbarns
To the east of St Andrews is the Cambo Estate and Kingsbarns. Privately owned by the Erskine family, this beautiful estate has a walled garden, woodland walks, a beach frontage and the Kingsbarns Golf Course. Walk down to the beach before stopping into the new Stables block for a coffee. The Estate even has quirky places to stay including the Camboat! Next door to the estate is the Kingsbarns Whisky Distillery and Darnley's Gin.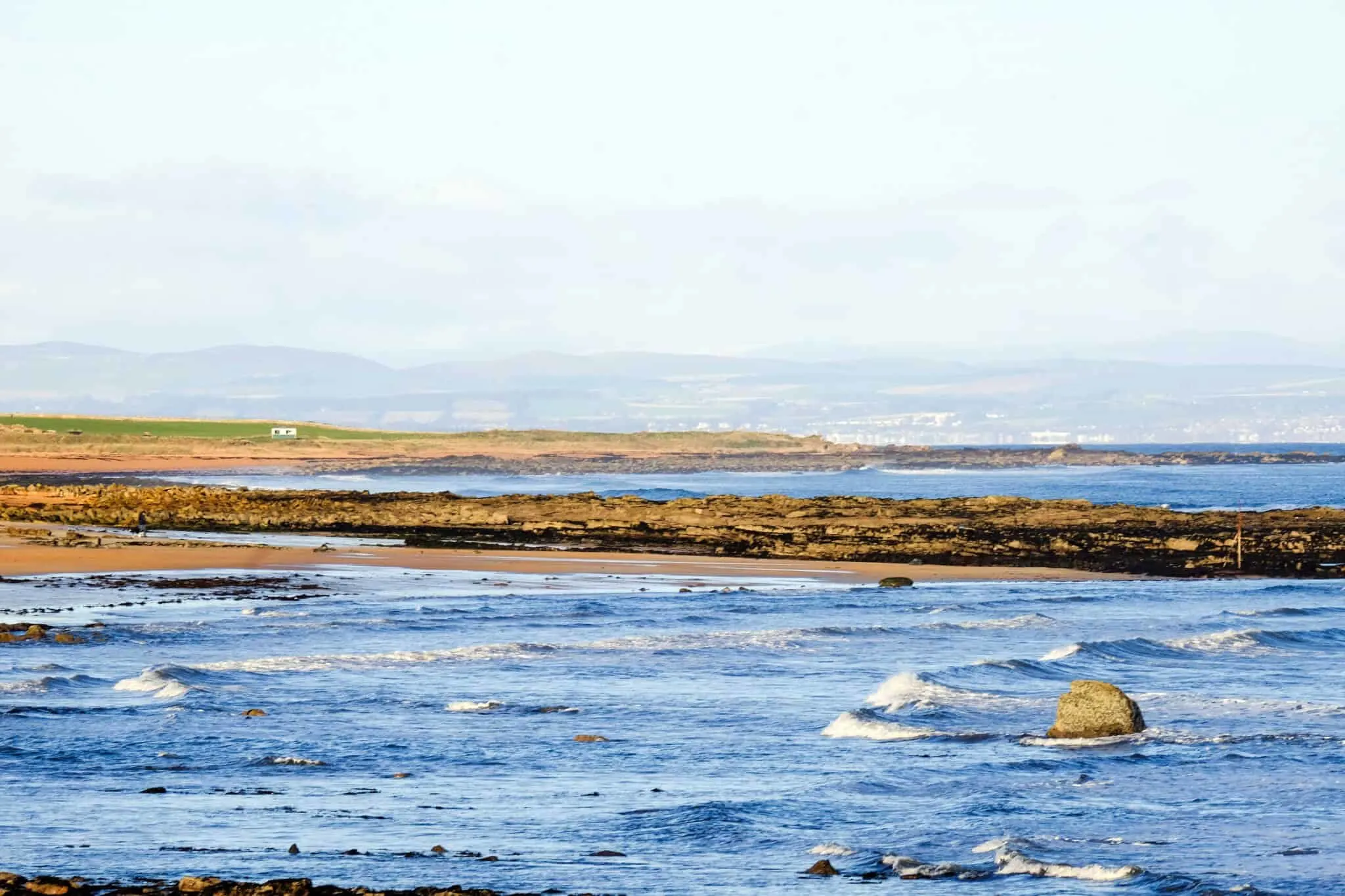 Discover the East Neuk of Fife
The villages of the East Neuk of Fife are arguably Scotland's prettiest. From Crail to Elie, fishing villages hug the coastline, joined up by the 117 mile Fife Coastal Path. Stroll from village to village, grab fish and chips or a lobster roll and sit on a seawall and watch the fishermen come and go. We visited Pittemweem and St Monans with its unusually shaped pier!
Read more: how to visit the East Neuk of Fife
One thing you must do in the East Neuk of Fife is eat – which is why you need to walk the coastal path!
In St Monans, grab a great lunch from warm and welcoming cafe The Diving Gannet – try the Puddledub sausages! In summer, fish is straight from the boat at The East Pier,
Eat freshly caught lobster from the Lobster Hut in Crail Harbour.
Have fish and chips at Anstruther – home to the award-winning Anstruther Fish Bar.
Check out East Neuk chocolate at the Pittemweem Chocolate company, there is also a cafe in the back.
Eat on the beach at the Ship Inn in Elie.
Visit: the East Neuk of Fife is 30 minutes from St Andrews. The main villages are Crail, Anstruther, Pittenweem, St Monans and Elie and Earlsferry. Choose your favourite!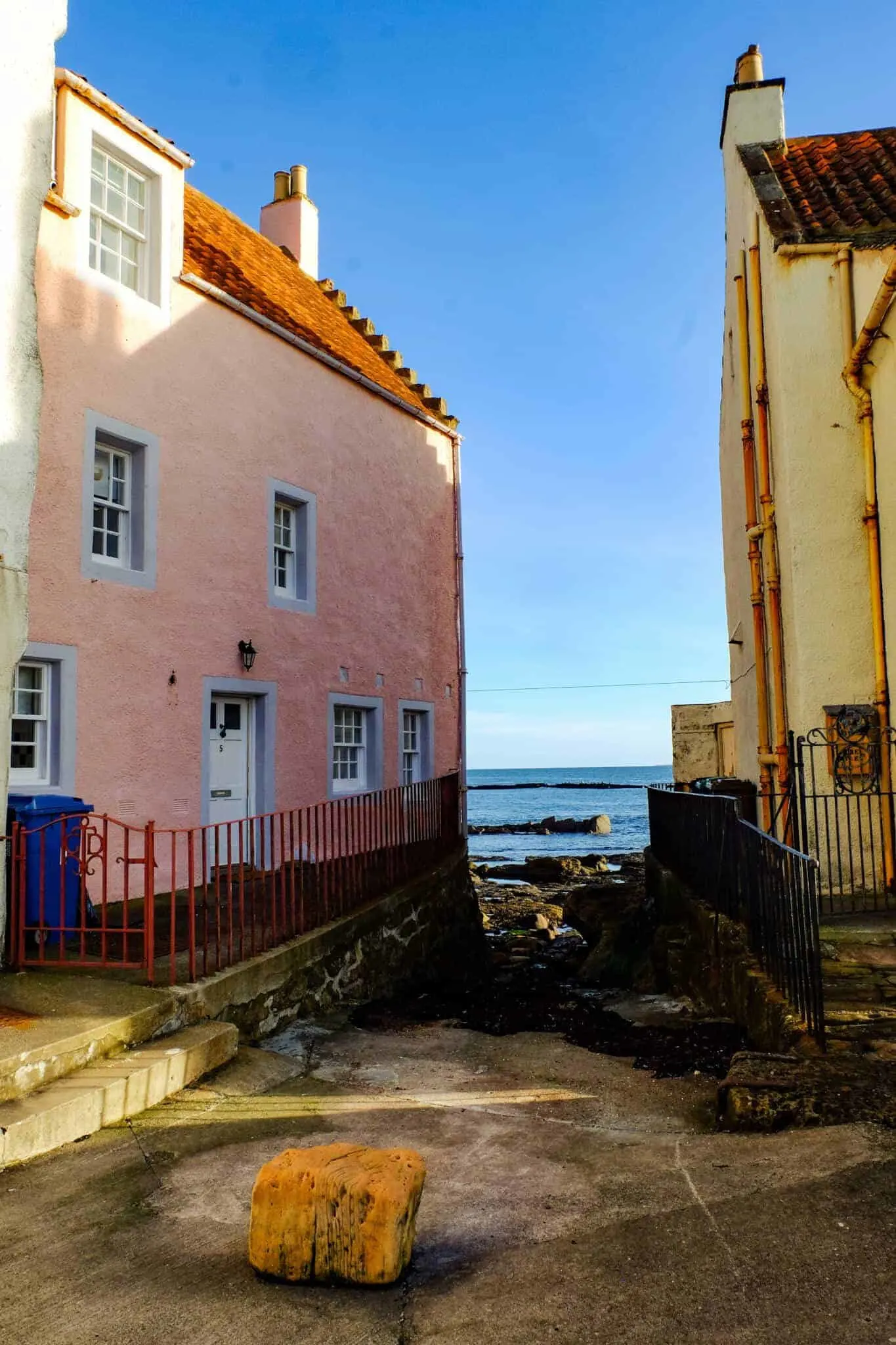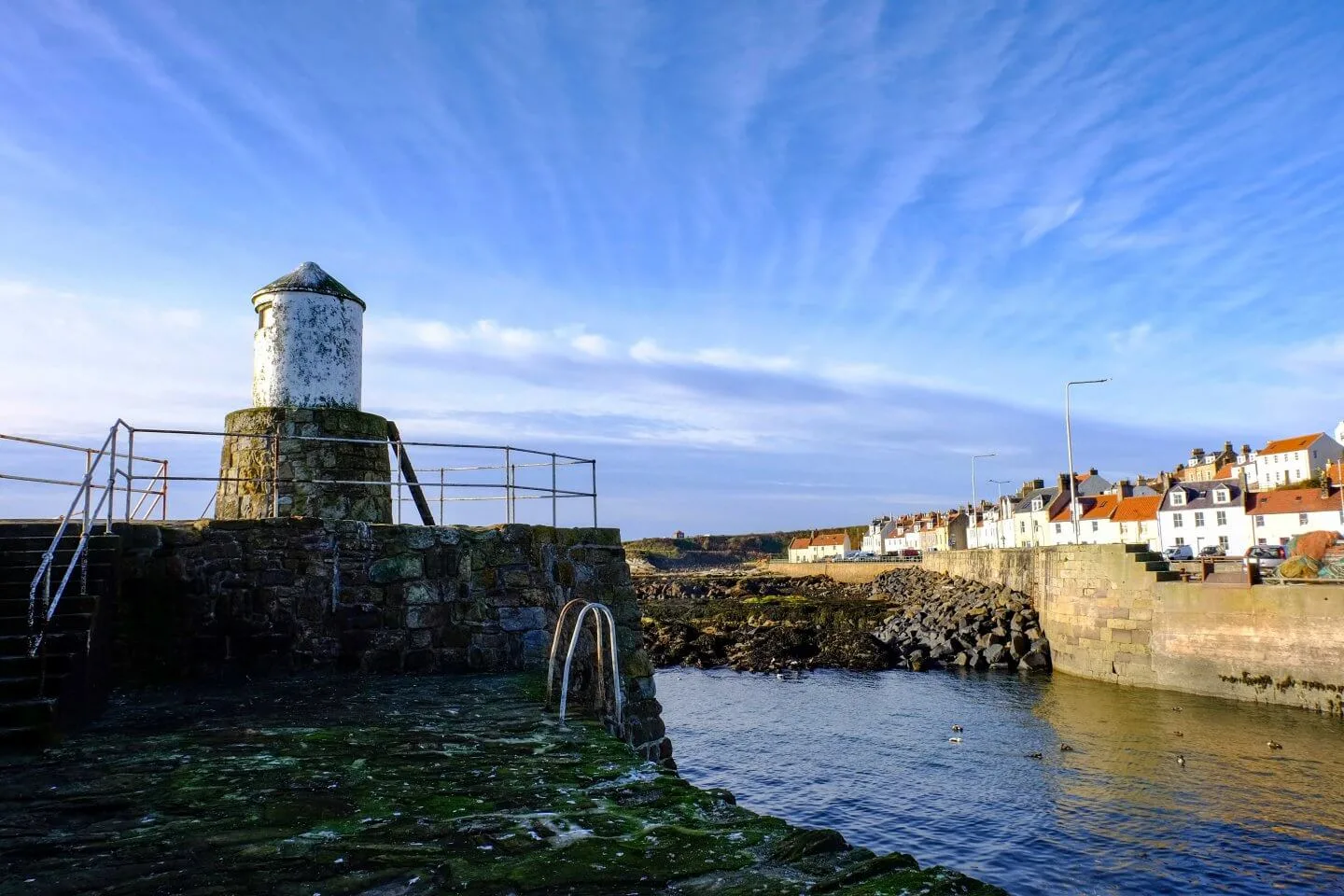 Restaurants in St Andrews
St Andrews Town Centre is packed full of pubs, cafes and restaurants – including my favourites The Criterion and the St Andrews Brewing Company – but it is worth a trip outside the town to the Peat Inn and The Steak Barn.
Michelin-starred dining at the Peat Inn
Scotland has 13 Michelin-starred restaurants and the original (and first to receive a star in Scotland!) is the Peat Inn, a 5-minute drive from St Andrews. Owned by chef Geoffrey Smeddle and wife Katherine, it is a luxuriously cool and stylish restaurant inside a traditional inn.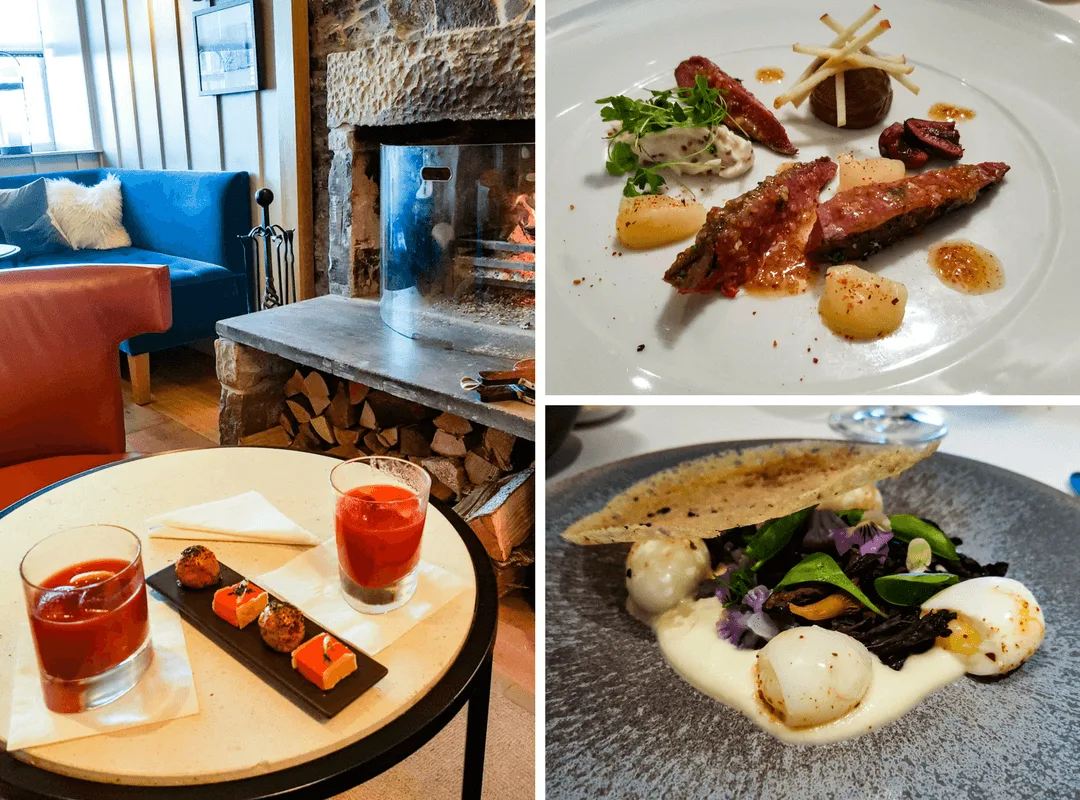 By night the Peat Inn focuses on a 7-course tasting menu, but at lunch, dining is a real steal – lunch here can be as little as £22 for 3-courses. We dined a la carte and a starter of poached locally sourced quails eggs with marinated mushrooms and an olive oil tuile was pretty as a picture and delicately flavoured. On the other side of the table, it was a little more robust, East Neuk wood pigeon is served with an incredibly rich smooth liver parfait.
Mains are substantial – expertly cooked and spiced mallard is served with lentils and figs, and a classic hearty daube of Scotch beef with kale and fondant potatoes. Puddings are a delight, try the utterly moreish blackberry and chocolate ganache served in a croustillant tower.
Eat: Lunch for two starts at £22 for 3 courses on a set menu. We ate on the a la carte menu and the bill with a glass of wine, virgin cocktails and lots of little extras was £100. Book in advance at The Peat Inn. We drove to the Inn from Elderburn Lodges, a 5 minute drive.
The Steak Barn at Balgove Larder
Balgove Larder is a hub of all things foodie, with a farm shop, butcher, cafe, and the Steak Barn. A former sawmill has been converted into a huge dining space with bench seating, fire pits, and their own steaks, sausages and burgers cooked in the open kitchen on a wood fired BBQ.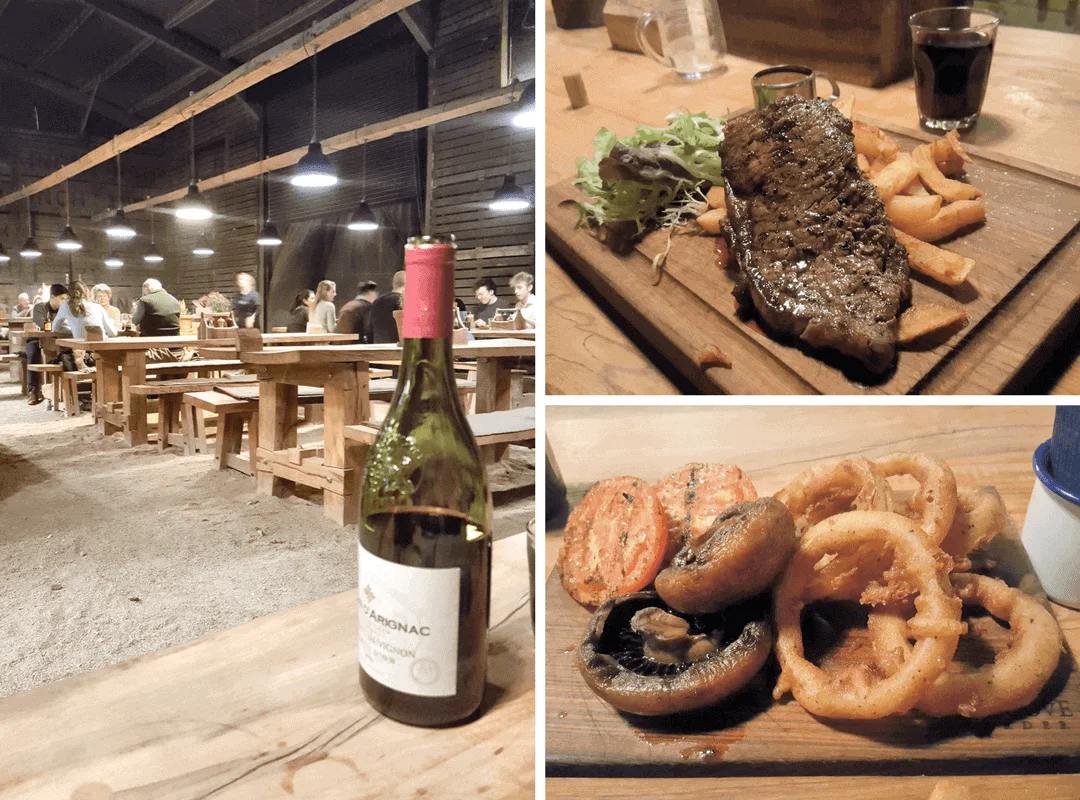 Choose from the Steak Barn's burger and steak menu or from daily specials which include Balgove reared lamb and pork, chicken kebabs or two juicy Balgove reared 8oz steaks, perfectly twice fried chips & sauces for £35.
Eat: The Steak Barn does not take bookings, just turn up and grab a seat, or wait for a table in their outdoor bar. A taxi from Elderburn Lodges was £12. From the Steak Barn to the center of St Andrews was £7.
Where to stay in St Andrews
Our home for the weekend was Elderburn Lodges*, a cluster of six luxury self-catering cottages located just 10 minutes drive from St Andrews. The lodges are perfectly located for exploring both the town and the coastal villages of the East Neuk but are set in the quiet rolling Fife countryside with views for miles. Our two-bed lodge looked out over a field of horses and at night the countryside location was perfect for stargazing.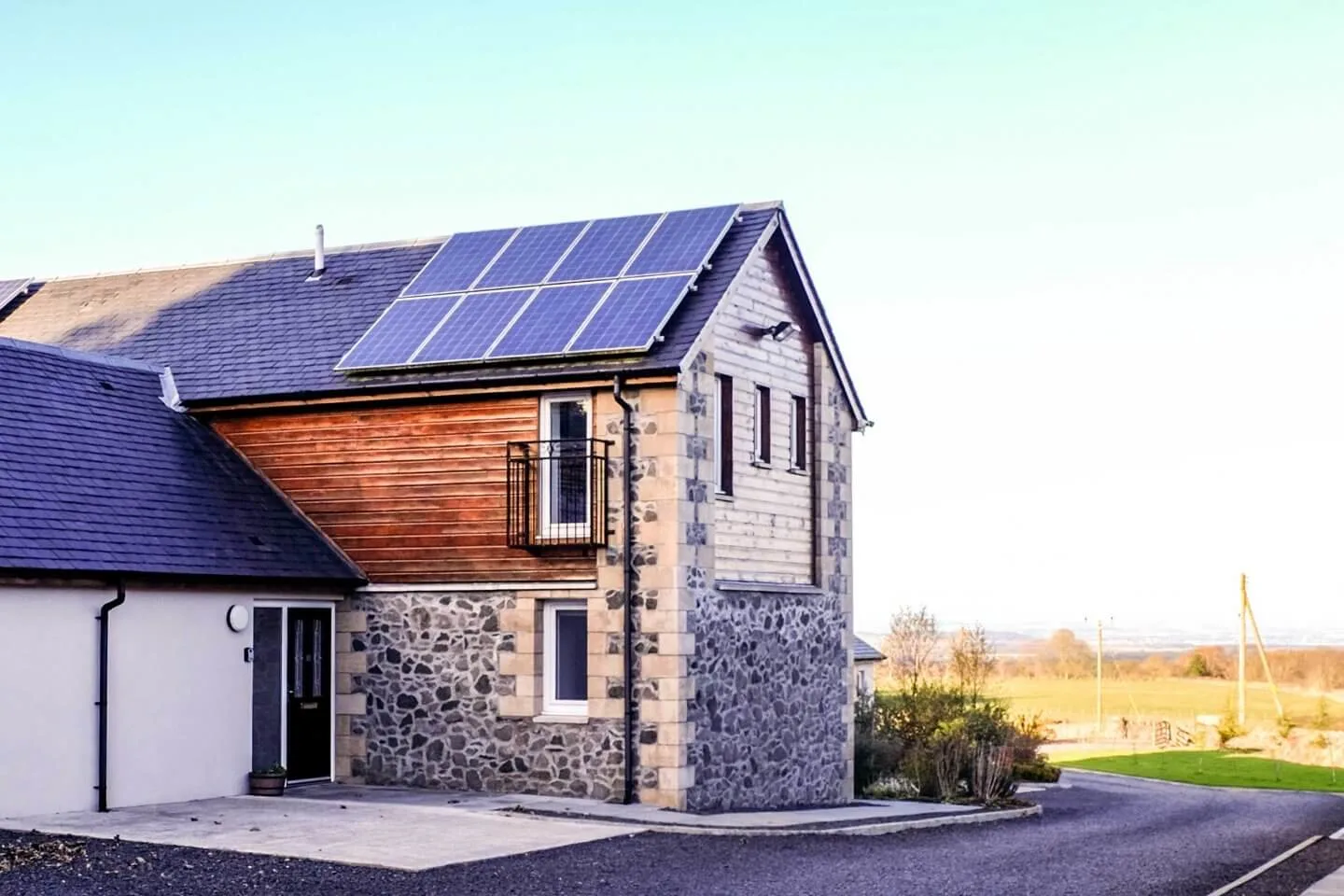 Elderburn Lodges are based around a traditional Scottish steading, but with all the mod-cons you need, sleeping up to six with squishy sofas, comfy beds, free wifi, full kitchens and dining spaces, and in our lodge, a huge wet room, suitable for disabled access. The lodge was incredibly clean and comfy and with biomass heating, warm and cosy even in the depths of November when we visited.
The lodges are self-catering, so if you are thinking of cooking (even breakfast!) bring everything you need – my only wish for self catering cottages in Scotland is that they leave some cooking oil, foil etc, as I always forget!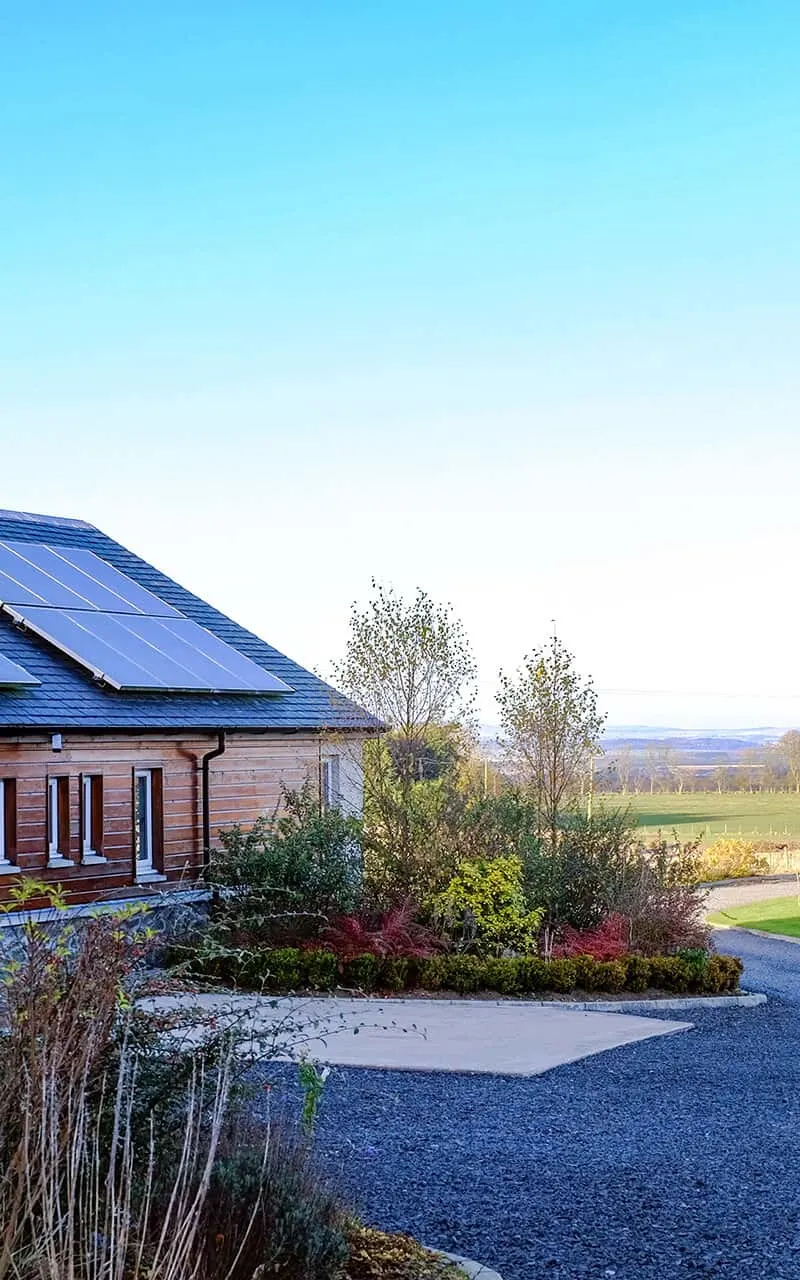 We made Elderburn Lodges our base for the weekend, exploring the area by car, but if you don't fancy driving, getting into St Andrews is easy – a taxi from Elderburn Lodges to the centre of St Andrews is about £10. A taxi from Leuchers (the train station) is about £12-15.
Stay – Elderburn Lodges, Denhead near St Andrews. Prices from £450 for a 2-bed lodge for 3 nights. *Our stay with Elderburn Lodges was complimentary.
Getting to St Andrews
Drive – 1.5 hours from Edinburgh, 1.45 from Glasgow, 30 minutes from Dundee
Train – catch the train to Leuchers Station and then the shuttle bus into town. Buses meet every train service. Book your train tickets with trainline.com*.
Buses to St Andrews are run by Stagecoach to the St Andrews bus station.
Edinburgh to St Andrews X59 / Dundee to St Andrews X99 / Glasgow to St Andrews – X24
Note that St Andrews University graduation week is at the end of June each year when the town will be very busy and accommodation hard to find.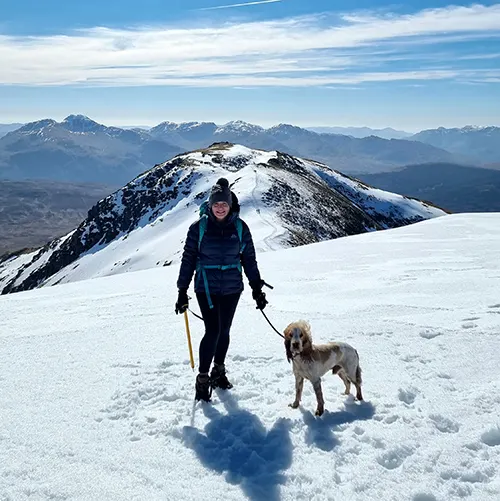 I'm Kate – a travel writer and photographer living in Scotland. Love, From Scotland is the Scotland travel guide that shows you where to stay and how to get outside in Scotland.