Looking for a complete 7 day North Coast 500 itinerary? I am here to help! If you are thinking of spending a week driving the North Coast 500 from Inverness to Durness, Lochinver to Applecross, here is a NC500 7 day itinerary to ensure you have a perfect trip. Let's go!
This post uses affiliate links at no cost to you. Thank you for supporting my site!
Planning your 7 day NC500 itinerary
Starting in the highland capital of Inverness, the NC500 takes you over 500 miles around the far north coast of Scotland. Along the way, you will visit Inverness, Easter Ross and the Black Isle, Caithness, Sutherland, Assynt and Wester Ross over a fabulous 7 day road trip. Here is how to plan your 7 day North Coast 500 itinerary:
Days 1-2 – Inverness & Easter Ross: Starting from the Highland capital, Inverness, spend your first two days on Scotland's east coast.
Days 3-4 – Caithness: Spend days 3 and 4 exploring Scotland's wild north coast including Cape Wrath and Durness
Day 5-6 – Sutherland & Assynt: Drive the beautiful west coast to Gairloch and visit Scotland's best beaches.
Day 7 – Wester Ross: Explore the Torridon mountains, visit the Applecross peninsula and then drive the incredible Bealach Na Ba.
Before you start: read my complete guide to the North Coast 500
Your North Coast 500 map
You can download my north coast 500 map to your smartphone. Click on the link via your phone and it will open in the google maps app so you can follow it. All the stops in this guide are marked on the map.
Day 1 on your 7 day North Coast 500 Itinerary
The official NC500 route starts at Inverness Castle but you truly start your 1 week NC500 itinerary by leaving Inverness by crossing the Kessock Bridge across the Moray Firth.
Don't just drive north as fast as you can as you will miss out. To the east side of the NC500 route is the beautiful Black Isle – a great place for detour. So make your first stop on your 7 day North Coast 500 itinerary Chanonry Point to go dolphin watching – around 130 bottlenose dolphins live in the waters off the NC500. The best time to see the dolphins is on an incoming tide.
You could spend your whole week on the Black Isle, but after your dolphin adventure it is time to head back to the NC500. On your way, visit the Black Isle Brewery for a tour of this organic brewery and to pick up a couple of beers and lagers to take away.
Driving north, you will cross a series of 'firths' or river mouths – first up is the Cromarty Firth which you drive over using the Cromarty Bridge. Next stop is Evanton and the Storehouse of Foulis cafe, farm shop and food hall to pick up locally sourced Scottish supplies for your NC500 journey.
If you like whisky, don't miss a tour of the world famous Glenmorangie Distillery to take a tour of the distillery – remember no drinking for the designated driver!
If you are looking for lunch, Platform 1864 is located at the Tain railway station and serves breakfast, lunches and dinners in the pretty town of Tain – don't miss picking up some Tain cheese!
In the afternoon, explore the east coast of the North Coast 500 with getting out of the car and going for a walk. Two of my favourite walks near the Dornoch Firth include climbing up to the Fyrish Monument – one of the NC500's hidden gems, the view from the top is well worth the 3-hour round trip walk.
If you are a Harry Potter fan, take a short walk up the Black Rock Gorge north of Dingwall. This 'box gorge' appeared in Harry Potter and the Goblet of Fire.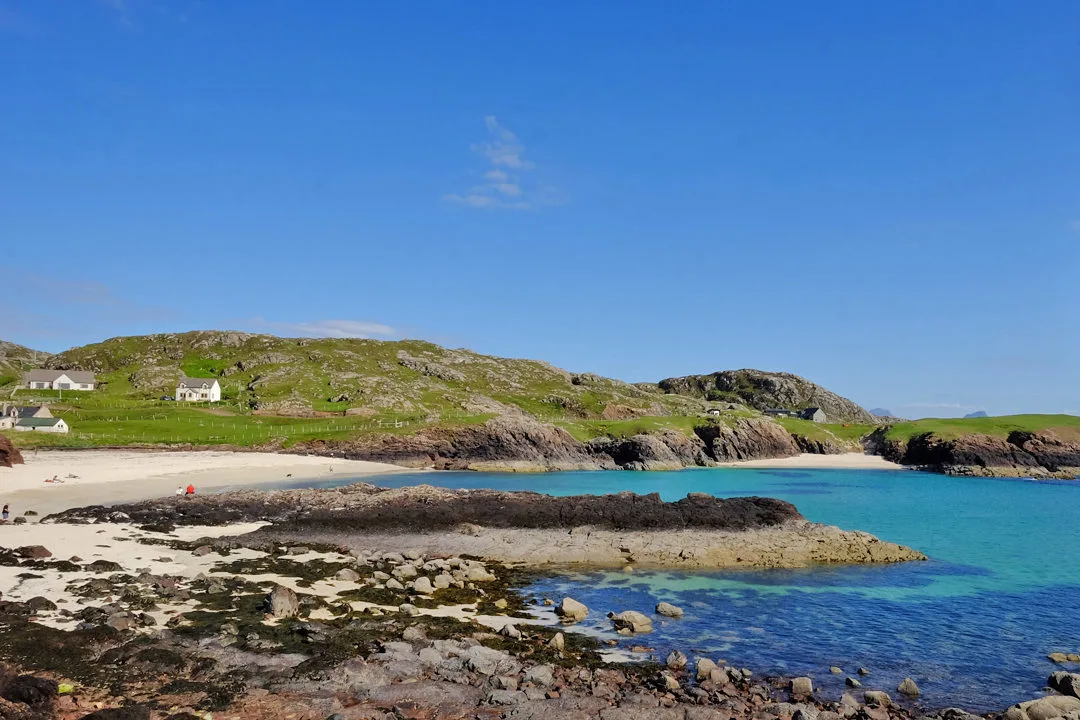 Where to stay on Day 1 of your NC500 itinerary
The town of Dornoch is your destination for the night on your first day of your 7 day NC 500 itinerary. Dornoch has lovely independent shops, the Royal Dornoch Golf Club and a lovely beach. An alternative stopping point on Day 1 of your 7 day North Coast 500 itinerary is the self catering Birdwatcher's Cabin.
Here is where to stay in Dornoch:
For dinner In Dornoch, head for the Dornoch Castle Whisky Bar & Bistro, for Italian food at Luigi, Greens Restaurant, or Highland Larder, street food cart at Dornoch Beach or Mara Restaurant at Links House.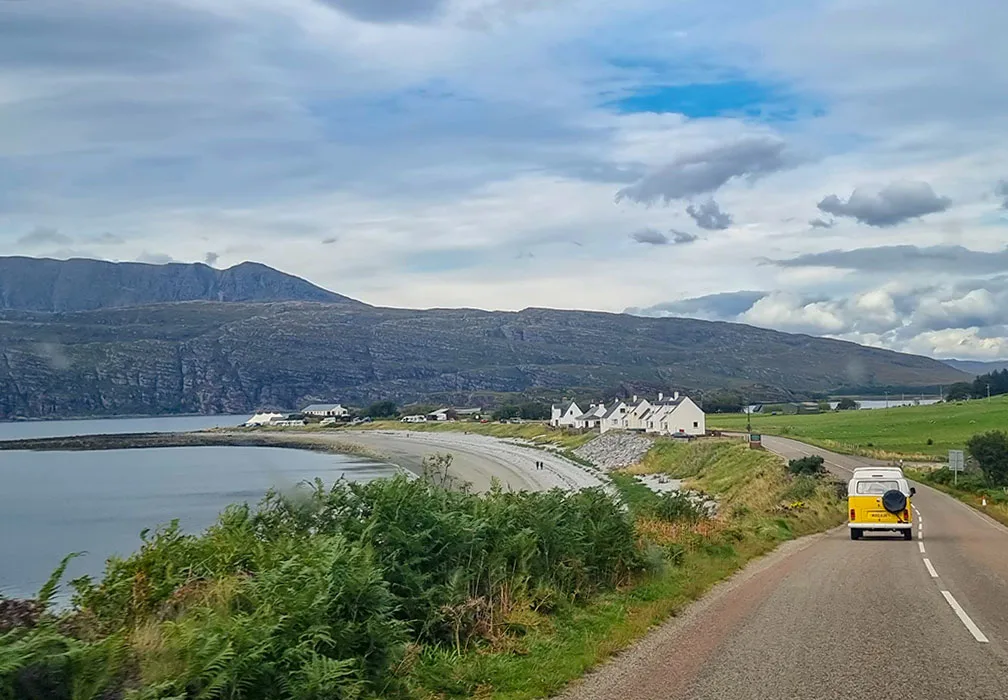 Day 2 on your 7 day North Coast 500 Itinerary
Leaving Dornoch, it is time to rejoin the north coast 500 route and head north to Golspie to visit Dunrobin Castle – a gorgeous stately home with lovely gardens copied from Versailles. Dunrobin Castle is a popular spot for Instagrammers – the castle looks like it just fell out of a fairy tale! There are also daily Birds of Prey demonstrations.
At Golspie, don't miss a walk up to the beautiful waterfalls at the Big Burn and then make a visit to the Jonnie Walker Clynelish distillery which has a great modern restaurant on site.
Your next destination is Caithness – wild, remote and full of lots of fantastic hidden historical gems including Whaligoe Harbour where you climb down 250 metres by 330 steps to a tiny harbour. Further north is the Hill o Many Stanes. Why were 200 wee stones placed in rows here up to 4000 years ago? No one knows.
If you like castles, the east coast of the NC500 has loads of them. Visit The Castle of Old Wick perched on dramatic cliffs – one of Scotland's oldest castles. Bucholie Castle is accessed across a walkway with sheer 100m drops on each side – don't try to visit in bad weather! Castle Sinclair Girnigoe near Wick is a spectacular ruin.
For lunch stop for a takeaway at Thyme and Plaice in Helmsdale or wood fired pizzas and burgers at The Bay Dunbeath or shellfish to go at Tasty Toes.
The most northerly tip of the UK is Dunnet Head and Lighthouse where there is an RSPB reserve – the Dunnet Bay Nature Reserve which is worth a short walk. You might even spot puffins! At Dunnet there is also the Dunnet Bay Distillery who make gin and whisky.
Finally you will reach Duncansby Head Lighthouse and stacks – where you can take a walk to Duncansby's huge sea stacks before visiting John O'Groats – take the photo of the sign – it is a must!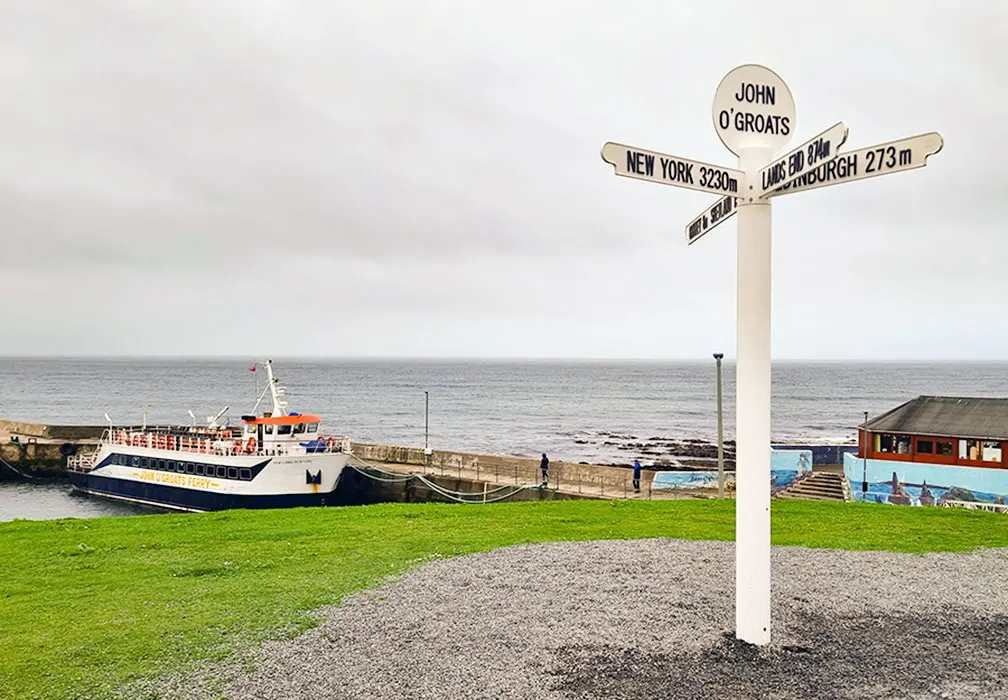 Where to stay on Day 2 of your NC500 itinerary
Days 3 and 4 of your 7 day North Coast 500 Itinerary
Your next stage of your NC500 itinerary explores the far north coast of Scotland, passing through Thurso and Scrabster before reaching the stunning Melvich Beach – one of the north coast's best beaches, just a short walk from the road.
If you are feeling energetic (and well prepared), climb Ben Loyal or Ben Hope – the Queen of Scottish Mountains, Ben Loyal is a Corbett with four dramatic peaks to climb. Ben Hope is the most northerly Munro (Scottish mountain over 3000ft).
The NC500 winds its way along the coast, and at Ceannabeinne you can visit a highland clearance site on a short walk with beautiful sea views and a great beach. Above the beach is the Golden Eagle Zip Line (weather dependent so opening times vary).
Don't miss Smoo Cave near Durness. Floodlit inside, Smoo Cave was formed by both the river inside and the sea outside! The guided tour by boat costs £10.
Durness has two beaches, Sango Sands and Balnakeil Beach, and shops, cafe and a petrol station, you can also visit the Balnakeil Craft Village most known for the hot chocolate at Cocoa Mountain – you won't regret it
Unlike the north east corner of Scotland, the north west point of Scotland, Cape Wrath is only accessible by the Cape Wrath Ferry or a very long hike over mooreland! Visiting Cape Wrath on the ferry takes around 3 hours.
If you have more time, it might be an eight-mile walk to Sandwood Bay and back, but boy is the hike worth the trek. This is one of Scotland's best beaches and has a spectacular sea stack – Am Buchaille.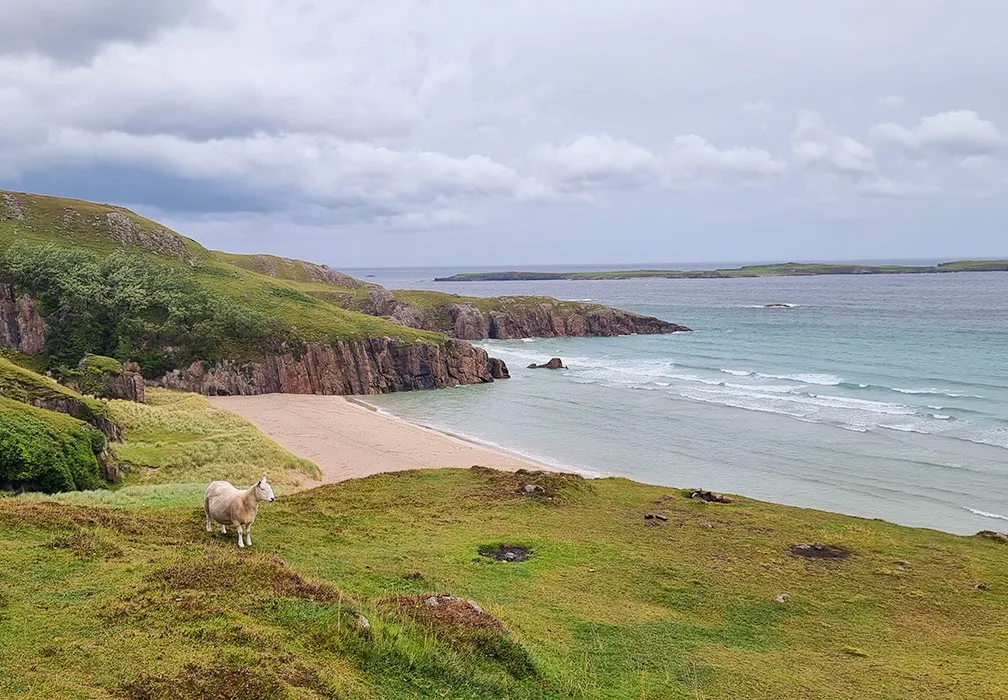 Where to stay on Day 3 and 4 of your NC500 itinerary
It is worth spending two days of your 7 day North Coast 500 itinery on the north coast, so make one of the many campsites, hotels and B&Bs your base to explore:
The best hotels along the north coast of the NC500 include the Melvich Hotel, the Farr Bay Inn, the Bettyhill Hotel, the Borgie Lodge Hotel, the Tongue Hotel and Mackay's Rooms.
In Durness there is the Durness Youth Hostel
Camping and campervan sites can be found at Windhaven Cafe, Camping and B&B, Dunnet Bay campsite, the very popular Sango Sands, Bayview Caravan Site, Altnaharra Caravan Club Site, and the Kyle of Tongue Hostel & Campsite.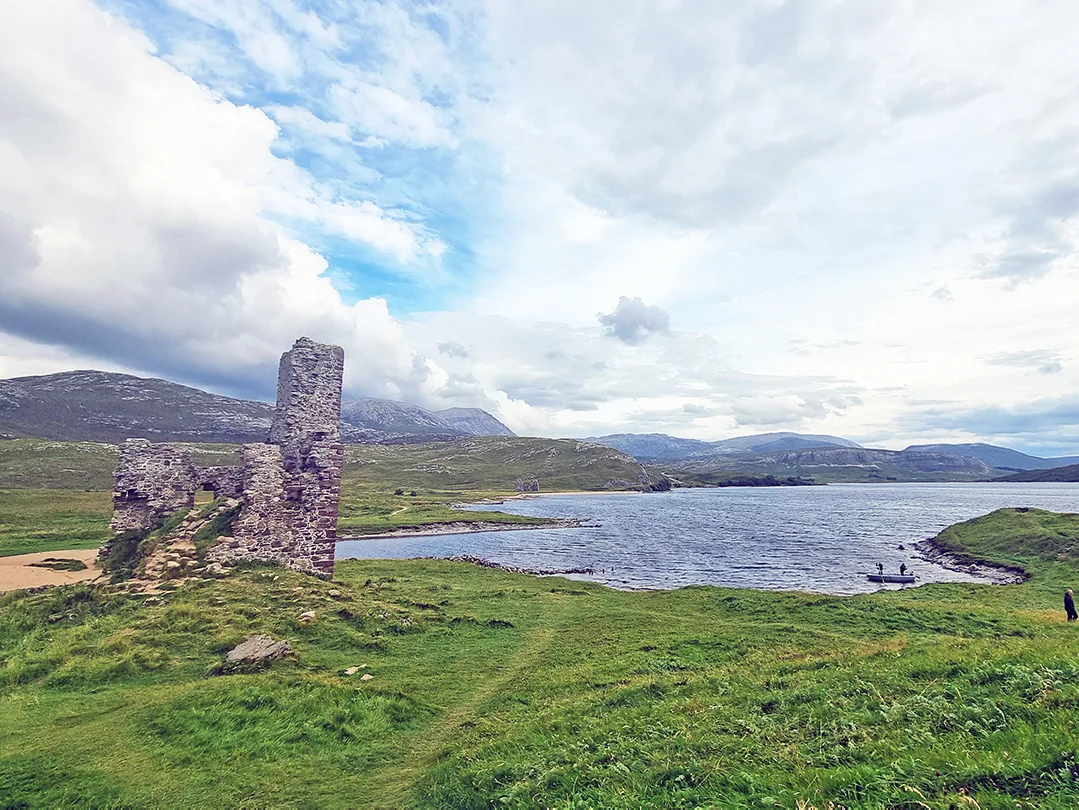 Day 5 on your 7 day North Coast 500 Itinerary
It is now time to turn south to visit Scotland's famous north west coast, travelling through the otherworldly mountain landscapes of Lochinver and Assynt and then drive along a coastline pepper-potted with incredible white sand beaches with turquoise blue seas.
Your first stop should be one of my favourite beaches is Oldshoremore Beach – a pristine expanse of golden sands backed by rolling dunes. It is worth strolling over the dunes to Pollin beach.
It is also well worth taking a detour to Handa Island – one of Scotland's most beautiful islands and a nationally important wildlife reserve, Handa Island is home to Puffins, rare Bonxies, stunning views of the Assynt mountains. A visit to the island is by boat (£15 cash only) and takes around 4 hours (10 mins on the ferry, and to walk around the island).
Next you will drive over the famous Kylesku Bridge, stop for a photo and stop for lunch at the famous Kylesku Hotel Restaurant or Surf and Turf, a takeaway hut beside the bridge.
If you are brave enough (or not in a huge campervan) it is worth driving the Drumbeg Loop (otherwise known as the mad wee road) a single track road with blind hair pin bends. Clashnessie Beach is the first of the beaches on the Drumbeg Loop with a waterfall to visit beside the beach. Next up are two of my favourite Scottish beaches – Achmelvich and Clachtoll.
After visiting the beaches head to Lochinver for one of the pies sold at Lochinver Larder on the village's main street. Lochinver Larder also has an outdoor cafe serving lunches and drinks.
Your next stop is Ardvreck Castle, which sits on the banks of Loch Assynt the 15th-century stronghold of Clan MacLeod, longtime owners of the Isle of Skye and the Isle of Lewis and Harris.
You will now head into Assynt, famed for its mountains – you could spend the afternoon climbing Stac Pollaidh which is one of Scotland's best hill walks, with a well-made path to the summit, easy and fun scrambling over its pinnacles and ridges and incredible views over the Assynt mountains.
If you don't fancy hillwalking, then visit The Knockan Crag National Nature Reserve, a walking trail with incredible views or visit Corrieshalloch Gorge through which the River Droma falls through a series of waterfalls, including the huge 45 m Falls of Measach. Don't be scared!
Your destination for the night is Ullapool. One of the best places to visit in northern Scotland, Ullapool is a great stopping point on the NC500 and a excellent base from which to explore the surrounding area including the beautiful Wester Ross coast, the remote Coigach Peninsula and mountainous Assynt and from which to catch the ferry to Stornoway in the Outer Hebrides.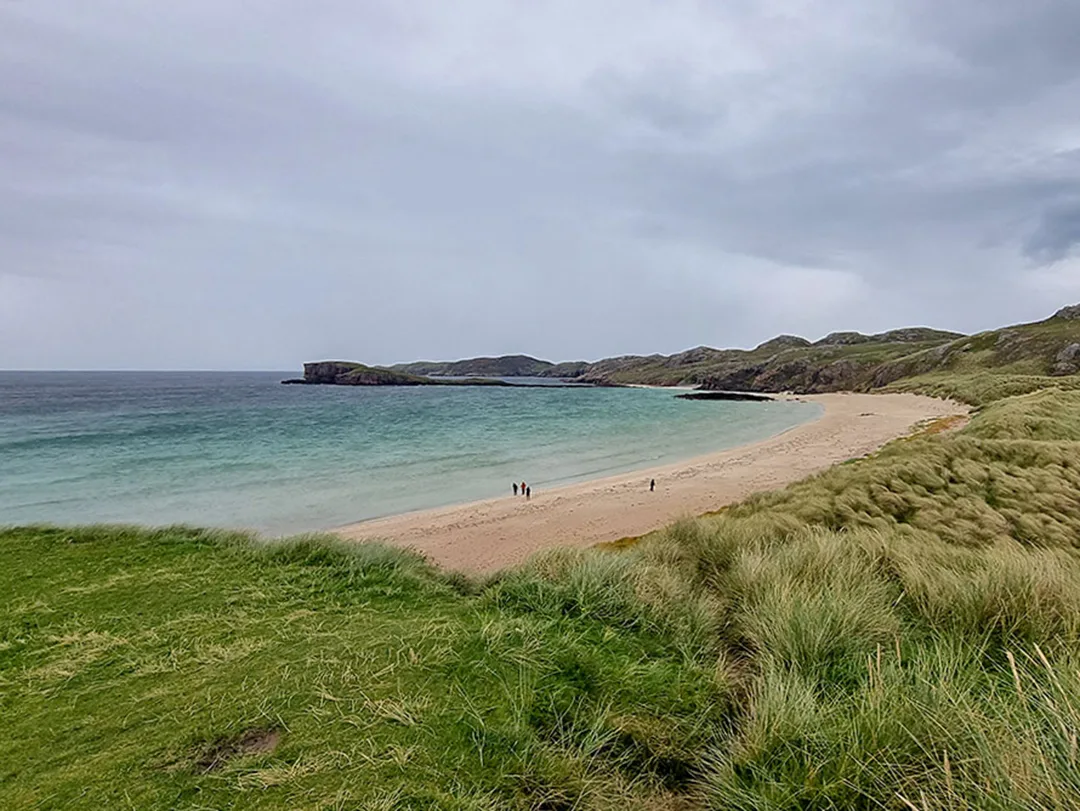 Where to stay on Day 5 of your NC500 itinerary
For dinner, The Arch Inn is a traditional pub serving seafood and other Scottish dishes. If you're a fan of seafood, then the Seafood Shack in Ullapool is a must-visit serving up fish and chips, langoustines, crab claws, scallops, and more. The Ceilidh Place is a combination of a hotel, bookshop, and restaurant. The West Coast Deli is a great place to grab all your local produce for your journey on the NC500.
Day 6 on your 7 day North Coast 500 Itinerary
Leaving Ullapool behind it is time to head to Torridon and Wester Ross. Following the NC500 south, make a detour to Mellon Udrigle Beach. Backed by dunes, this is one of the NC500's best beaches and definitely worth the detour off the main route.
Heading deeper into Wester Ross, the Inverewe Garden and Estate at Poolewe, one of Scotland's most beautiful gardens, should be your next stop. Inverewe House has recently been opened to the public for the first time in its history and gives visitors a snapshot of 1930s life in a Scottish estate.
Next stop is the village of Gairloch sits on the spectacular Loch Gairloch, where the beaches stretch for miles.Head to Red Point, for beautiful red sands and Big Sands for views across to Raasay and Skye. I would highly recommend taking a Hebridean Whale Cruise to spot otters, seabirds and even dolphins and sharks in the waters off Gairloch.
After leaving Gairloch visit the Glen Docherty (along the A832) for stunning views to Loch Maree before heading to the Beinn Eighe National Nature Reserve. Beinn Eighe is a Unesco Biosphere, covering 500,000ha meters of protected landscape. Then explore the village of Torridon along one of three low-level walks and visit the Torridon Countryside Centre to find out more about this beautiful region.
Where to stay on Day 6 of your NC500 itinerary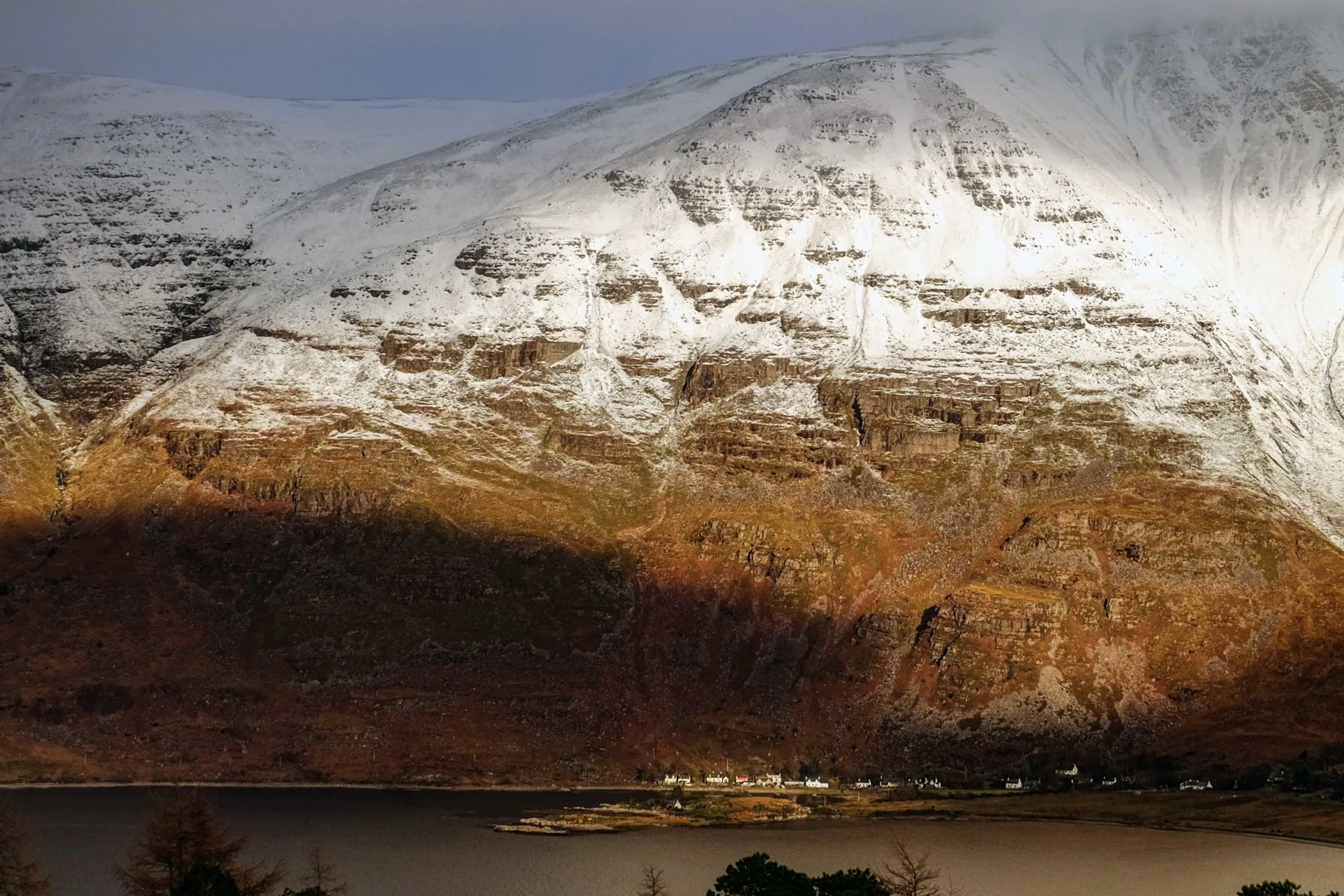 Day 7 on your 7 day North Coast 500 Itinerary
It is your final day on the North Coast 500 – and you've still some of the best places on your NC500 itinerary to visit. Heading south, you will first visit the small village of Shieldaig before arriving on the Applecross Peninsula.
Sands Beach is one of my favourite places in Scotland the view across the Inner Sound to Raasay and Skye is mesmerising. The Applecross Inn is a famous stopping point for lunch – make sure you book.
To leave the Applecross Peninsula you have to drive the famous Bealach na Ba – meaning pass of the cattle. The road is utterly incredible, and definitely not for the faint of heart. Once you have crossed the pass stop at Attadale Gardens – where, in the late 19th century a plant collector started a garden on the Attadale Estate, importing rhododendrons from all over the world.
Your final destination before returning to Inverness is Plockton – where the mild, warm and wet climate allows palm trees to prosper on the waterfront, and home to two great pubs!
Ready to plan your trip? Read more: My guide to the North Coast 500
Love from Scotland x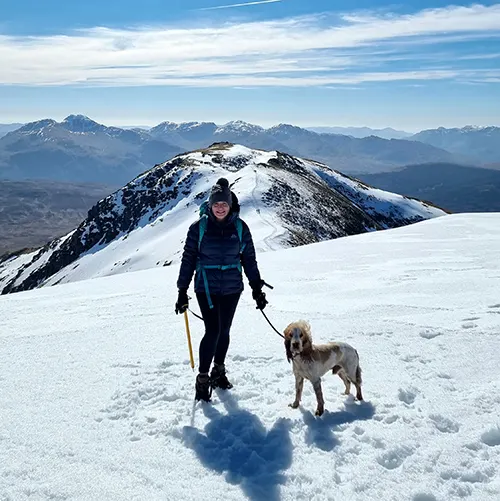 I'm Kate – a travel writer and photographer living in Scotland. Love, From Scotland is the Scotland travel guide that shows you where to stay and how to get outside in Scotland.