Hello, Orkney!
With stone-age villages, huge sea-scapes, a vibrant arts culture and a genuinely warm welcome (and not just from the Orkney gin!) we took a weekend trip to Orkney to dip into 5000 years of history. Here's how to visit Orkney.
This is a paid partnership with Destination Orkney. Take a look behind the scenes of my visit over on Orkney.com!
Orkney might not be short on time, but if you are…
Discover the incredible Skara Brae, a 5000-year-old Neolithic village
Walk around the Ring of Brodgar – and wonder at how they built it
Find out the story behind the beautiful Italian Chapel
Climb up to the Kitchener Memorial above 100m cliffs filled with seabirds
Visit the Pier Arts Centre in Stromness – for gorgeous architecture and even better art!
Got longer? Here is how to plan a visit to Orkney
We visited Orkney for a long weekend and visited the West Mainland, East Mainland and explored the towns of Kirkwall and Stromness. From the simply incredible Heart of Neolithic Orkney to tales of invading Vikings and World War 2 battles, spiritual awakening in gin, whisky and St Magnus Cathedral in Kirkwall, to walks along a coast constantly being changed by time, with a history stretching back 5000 years, you won't be short of things to do when you visit Orkney.
There might be no trees, but there are plenty of standing stones…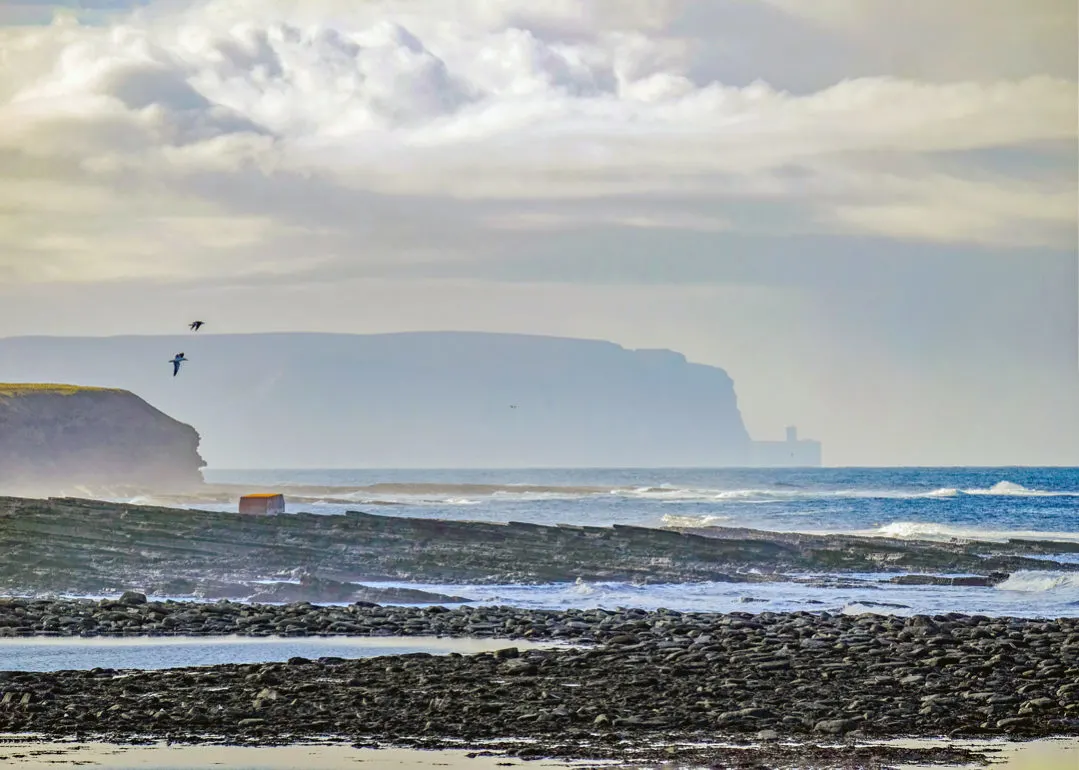 The need to know before you visit Orkney
Orkney might feel like it is end-of-the-world-remote but the islands are actually just 10 miles off the coast of Scotland. You can get to Orkney from the Scottish mainland in just 1 hour – either by catching a ferry from the North Coast 500 at Scrabster or John O'Groats or flying with LoganAir from Inverness, Aberdeen, Glasgow or Edinburgh. A weekend break in Orkney is easier than visiting the Isle of Skye, Islay or Mull.
Orkney is an archipelago of 70 islands, 20 of which are inhabited. The largest of the islands is called 'the Mainland' or just 'Mainland' (and the Orcadians don't mean the Scottish mainland) and is the 6th largest island in Scotland. Around 22,000 people live in Orkney, just under half of which live in the bustling capital of Kirkwall.
It is crazy to imagine but Orkney has been inhabited for over 8000 years – and the Orkney Islands have only been inhabited by the Scots for 1.8% of that time! The islands have been home to stone-age nomadic tribes, iron age Picts, Norse Viking settlers and finally in 1468 ownership of the islands was passed to Scotland.
Orkney is pronounced 'Orc-nee' and the name is thought to come from the Norse name Orkneyjar – 'Seal Islands' or from the Pictish name – 'Boar Island'. Orkney is also known as Arcaibh in Gaelic, but the Gaelic language is not traditionally spoken in Orkney – any sign of the Gaels in Orkney were most likely driven out by the Vikings.
The Orcadians have a gorgeously sing-song accent which is quite unlike any Scottish accent you will have ever heard. These days the Orkney dialect might be mostly Scots, but it has roots in 'the Norn' the dialect spoken by Norsemen – and the Orcadian accent today still sounds like a lovely mix of Scots and Scandinavian.
Orkney Tours
Things to do in Orkney
The West Mainland – Neolithic Orkney and Viking Villages
From the storm-battered Bay of Birsay to the ferry across to the Island of Hoy, West Mainland is home to some of Scotland's most treasured landscapes – and historic marvels.
The Heart of Neolithic Orkney
On a long promontory or 'ness' between two lochs, surrounded by a huge bowl of low hills, sits the Heart of Neolithic Orkney, an incredibly well preserved stone-age community and a UNESCO World Heritage site. Visiting the Heart of Neolithic Orkney tells a truly vivid story of life on these islands 5000 years ago.
It turns out that the ancient residents of Orkney didn't just scratch a living on these windswept islands. Instead, they were organised and ingenious, living in sophisticated settlements, built massive ceremonial stone circles, and buried their dead in huge chambered cairns. The monuments left behind by the ancient Orcadians are incredibly well preserved – and only hint at what is still left to be discovered.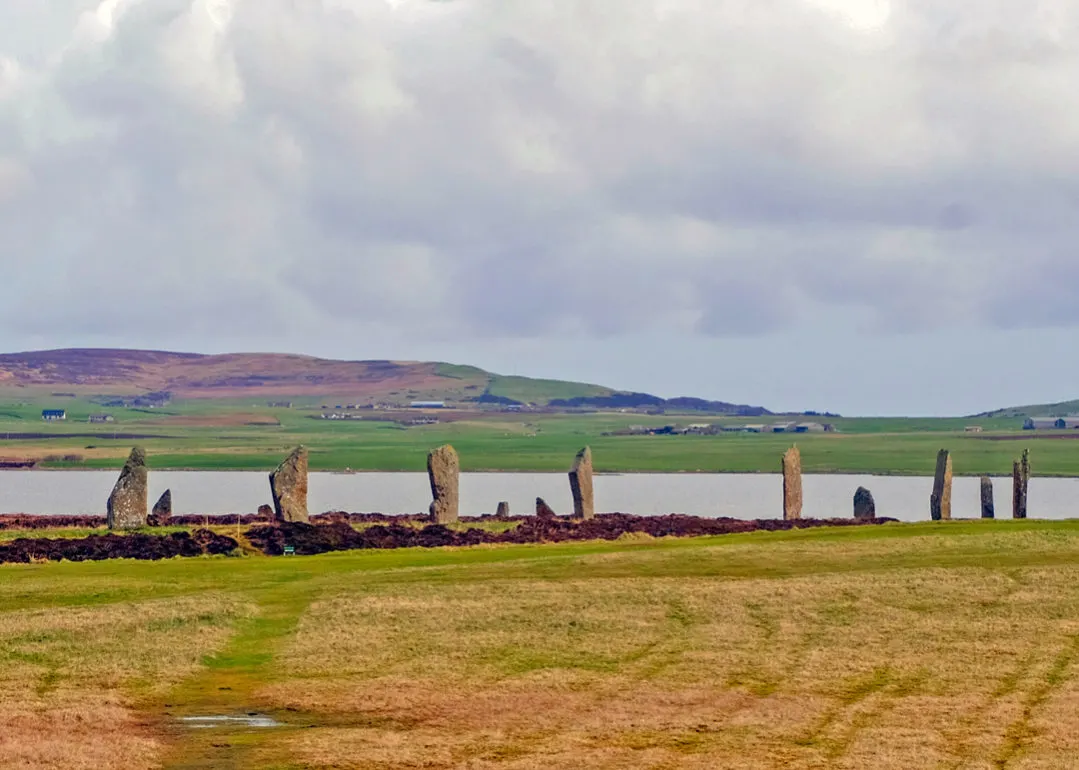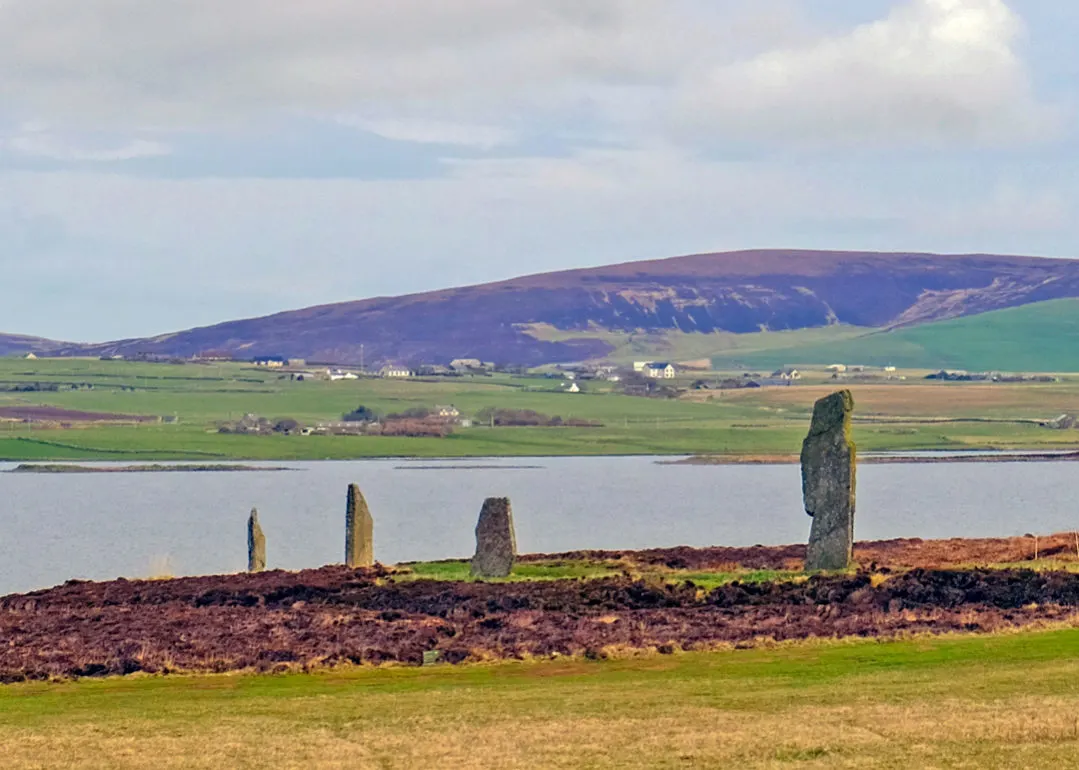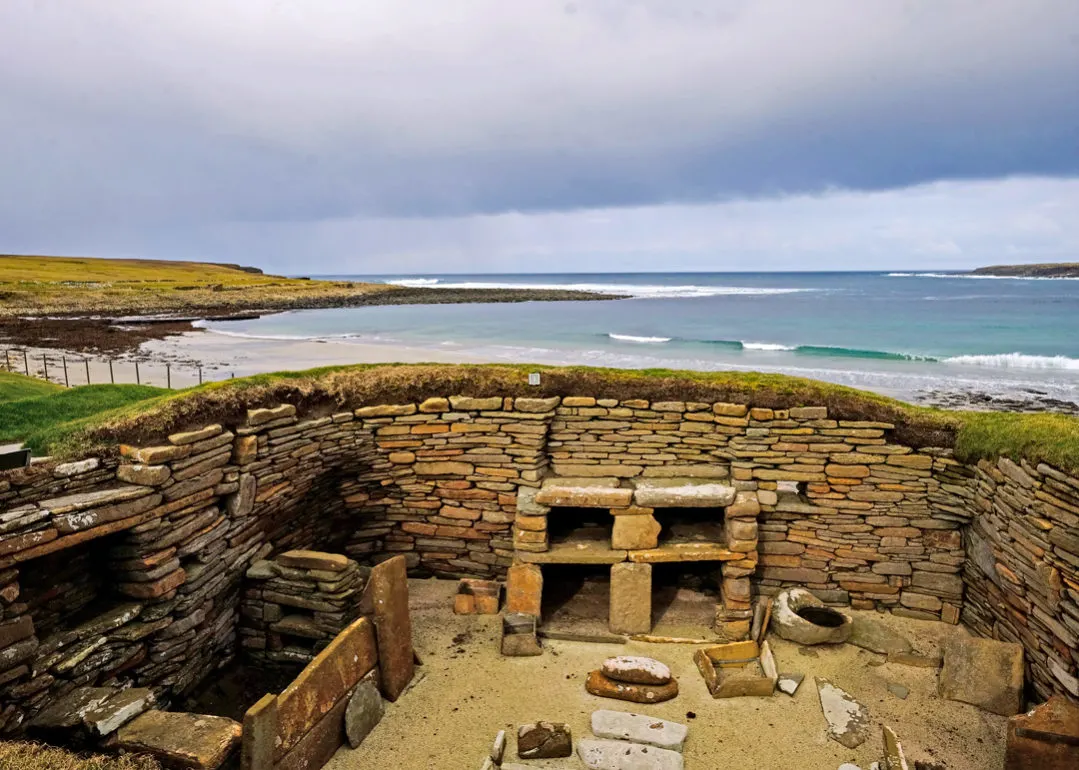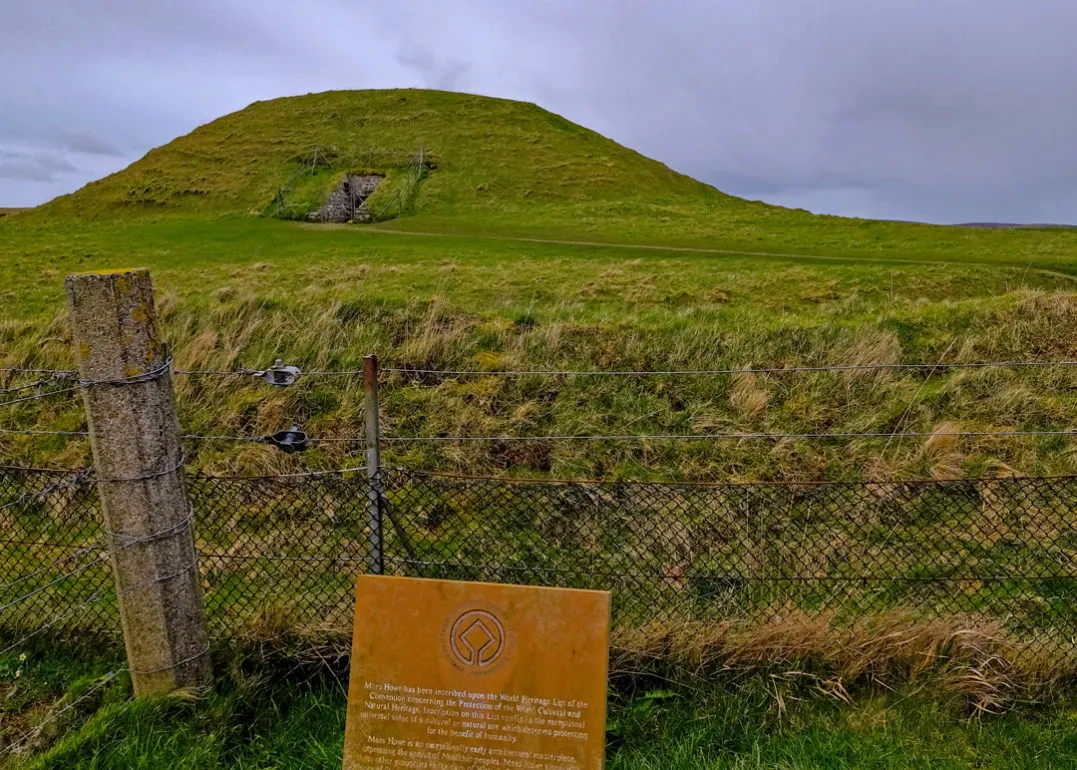 How to visit the Heart of Neolithic Orkney
Follow the Heart of Neolithic Orkney itinerary route to make the most of your time in the World Heritage site.
Think about getting an Orkney Explorer Pass from Historic Environment Scotland. It will save you £20, but you need to be really into history to make the most of it – and want to visit all the paid attractions in Orkney.
The Ring of Brodgar and the Stones of Stenness
Step amongst Orkney's standing stones and you will truly feel like a dwarf standing on the shoulders of giants. Whether you believe Orkney's 5000-year-old stone rings were raised for celebration or grief, to monitor the stars or the seasons, or were really built by aliens or time travellers – without any hyperbole intended, they are awe-inspiring.
Ask yourself, how did the builders of the Ring of Brodgar measure a true circle 2500 years before Archimedes? How were giant stone slabs up to six meters high dragged from seven different quarries up to 10 miles away? How was a ditch 104 meters in length, ten meters wide and four meters deep dug by without the use of metal tools? I'm with time travellers.
Visiting the ring of Brodgar and Stones of Stenness is free. Guided walks of the Ring of Brodgar and the Standing Stones of Stenness with more sensible suggestions about how the circles were built are run in summer.
Watch out for The Watchstone – one of the largest of the standing stones is right by the roadside – and in the dark, it is pretty intimidating when it appears suddenly in your headlights! The stone used to be one of a pair, marking the entrance to the Ring of Brodgar complex.
Skara Brae – a 5000-year-old stone-age village
Discovered after a storm in 1850, Skara Brae is one of the world's best stone-age sites. Made up of nine identical houses built with nothing but stone and animal tools, complete with box beds and stone dressers and even luxuries such as indoor fires for heating – who were the residents of the 5000-year-old Skara Brae?
Leaving behind just pots, jewellery and tools, little is known about who once lived in Skara Brae – or why they left the village behind. Like today, did the teenagers eventually leave for the brighter lights of the (newly discovered) town at the Ness of Brodgar? Or did something more apocalyptic happen to them, leaving the homes to be hidden by the passage of time… visit Skara Brae and try and work out for yourself.
Tickets for Skara Brae are part of the Orkney Explorer Pass or £6.50 for adults, £5.20 concessions, £3.90 per child.
In summer, you will need to book a time slot to ensure entrance.
Maeshowe – more than just a burial mound
Burial mounds and cairns can be found right across Scotland, but Meashowe is probably the most fascinating – and not just because it was built to house the dead in 2500 BC.
Carved out by huge slabs of rock, the interior of the cairn has been orientated exactly so that on the winter solstice the setting sun shines up entranceway and illuminates the chamber. Considering it must have taken years for the huge slabs to have been piled up to make the cairn – imagine if they'd got it wrong by even 10cms…
What is even more fascinating is that the cairn also contains one of the largest examples of Viking inscriptions in the world – many of which are just simple 'i woz eerr' type graffiti (nothing changes!) or are just simply rude. Although on inspiration "to the north-west is a great treasure hidden. It was long ago that a great treasure was hidden here" intrigued me – to the north-west of Maeshowe is the Ness of Brodgar and it's stone ring… maybe the Orkney archaeological digs will one day dig up some Viking treasure!
Tickets for Maeshowe are part of the Orkney Explorer Pass or £6 for adults, £4.80 concessions, £3.60 per child.
It is recommended you book in advance to visit Maeshowe
You can also go on a virtual reality tour of Maeshowe with a 3D app!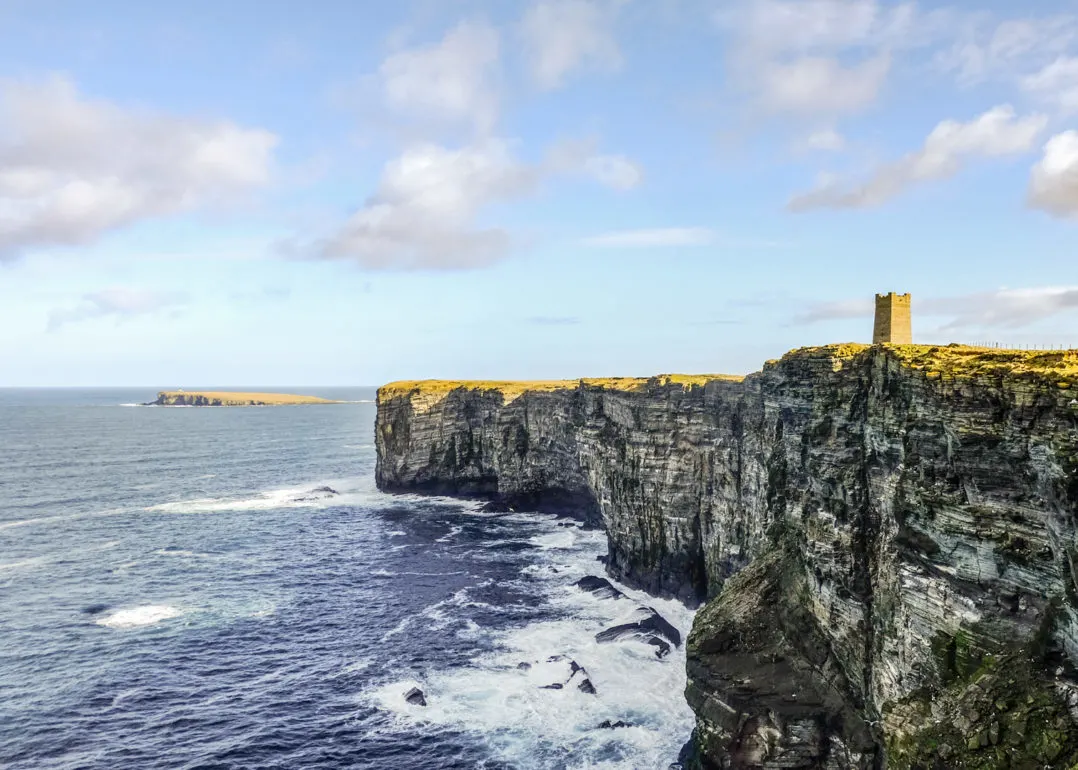 Walk the west coast: Yesnaby, Marwick Head & the Kitchener Memorial
The west coast of Orkney from Stromness to Birsay is linked by a 20-mile coastal path. The path is best walked in two sections – Stromness to Skara Brae and the Bay of Skaill to Birsay.
Between Stromness and Skara Brae is Yesnaby – a series of stunning red sandstone sea cliffs dropping 100m into the Atlantic Ocean. Battered by storms and waves, the coast at Yesnaby is constantly changing, creating arches, sea stacks and blowholes.
In spring and summer puffins can be spotted here – but watch out, the cliffs are crumbly and it is dangerous to stray too close to the edge. The most famous feature at Yesnaby is the Castle, a two-legged sea stack – popular with climbers!
To the north of the Bay of Skail is Marwick Head Nature Reserve and a memorial to a tale of Russian spies and sabotage, conspiracy theories, bribery and gold and the loss of World War 1 hero, Lord Kitchener of "your country needs you" fame along with 736 sailors in the sinking of cruiser H.M.S. Hampshire on the 5 June 1916. The Kitchener Memorial, a 15-metre tower was raised in 1926 by the people of Orkney.
Today the memorial sits in a rather dramatic position on the Marwick Head cliffs – surrounded by seabird packed along the cliff edges and whales and dolphins pass by. The walk up to the memorial is a beautiful one – and on a clear day has views all the way back to the Old Man of Hoy.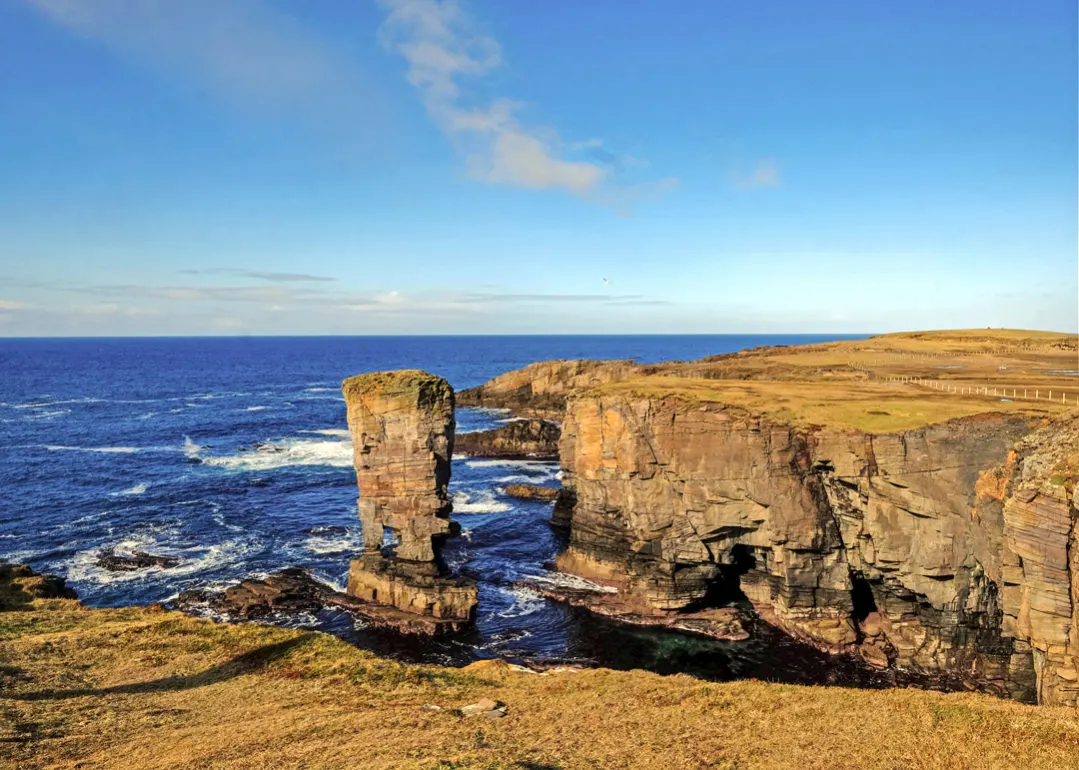 Birsay – explore a Viking village
The story of Orkney's Vikings is a well known one and documented in the famous "Orkneyinga Saga' written in Iceland in the 12th century. The village of Birsay in Orkney's far north-west coast was once the seat of Earl Thorfinn the Mighty, the most powerful of all the Viking Earls, and outlines of longhouses can still be seen on the Brough of Birsay today.
The Brough of Birsay is a tidal island, crossed only at low tide by a causeway. The island is best accessed between June and September but can be very carefully reached 2 hours each side of low tide. If the tide is in, follow the cliffside path to Skippa Geo to see Birsay's unusual Whalebone sculpture.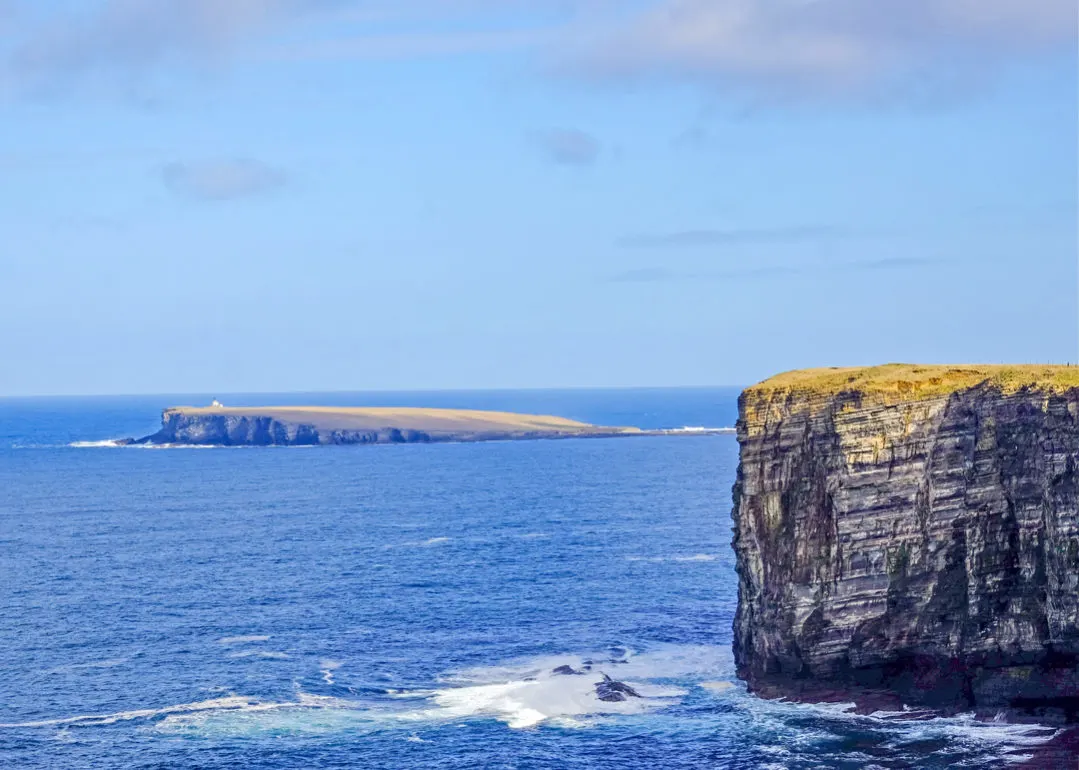 East Mainland – for the Italian Chapel and Scapa Flow
The East Mainland might not have a world heritage site, but it is full of history it is just a little more recent! Explore relics from the second world war including the stunning Italian Chapel and visit a nature reserve with a hidden waterfall.
The Italian Chapel & POW camp
On the tiny island of Lamb Holm, just off the coast of Orkney Mainland is an Orkney oddity. Built by Italian POWs, the Italian Chapel is a thought-provoking remnant of the Second World War. In 1942, 1300 Italian prisoners of war were captured in North Africa and transported to Orkney to build the 'Churchill Barriers' – strategic defences for Scapa Flow which was acting as the main British naval base during the Second World War.
Led by Father Giacombazzi, the POW camp's priest, two Nissen Huts were joined together to make a chapel for the camp. The interior was painted with beautiful and intricate designs by artist Domenico Chiocchetti and church facade made out of leftover concrete from the barrier. Whilst the interior of the church is beautiful, the story of what happened after the war is even more so.
Following the end of the war, the POWs were released back to Italy, but Chiocchetti stayed to finish the now consecrated church. In 1960 and 1964 Chiocchetti returned to Orkney to assist with the renovation – and in 2017, at a mass was held to mark the Chapel's 70th anniversary, at which his daughter, Angela, sang.
Our visit to the chapel was especially moving. My grandfather was also captured as a POW in North Africa in 1941, but he was fighting for the allies. He was taken to Italy. He was also an artist and loved painting the tiny Italian churches – just like the one in Orkney. He survived the war, and my parents recently visited Italy to see where he was taken and to visit one of the chapels. You can read all about his stay at Campo 52.
Entry to the Italian Chapel is £3 per person.
Follow the War Time Itinerary to find out more about Orkney's role in the first and second World Wars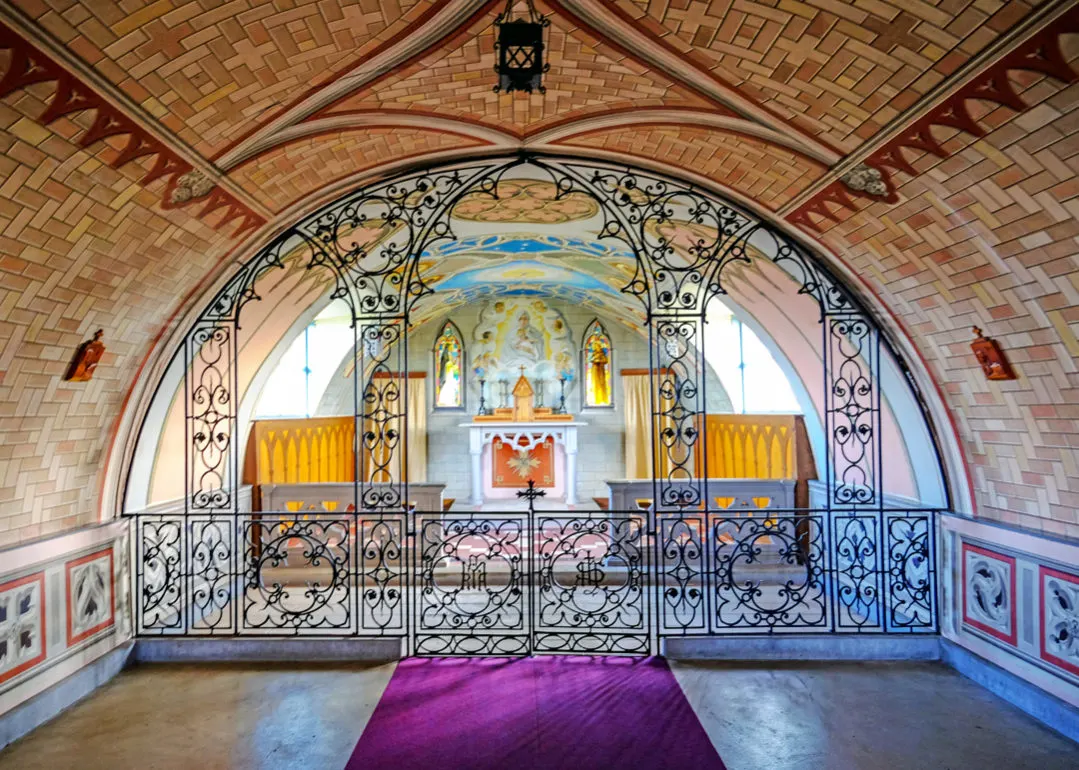 Scapa Flow, The Churchill Barriers & Blockships
At the heart of Orkney is Scapa Flow a huge natural harbour used since the arrival of the Vikings but most famous for its role during the first and second world war as the Naval base for the British fleet.
Scapa flow is full of relics of past wars, including seven German battleships and cruisers scuttled following the end of the first world war, war graves including battleship HMS Royal Oak which was destroyed by a U Boat with the loss of 833 sailors, along with blockships – boats purposely scuttled to protect the harbour. Not surprisingly Scapa Flow is now a popular scuba diving site.
Scapa Flow is separated from the North Sea by the 'Churchill Barriers' (yes, named after the Prime Minister) built during WW2 to protect the harbour from invading German U Boats following the sinking of HMS Royal Oak. You can drive all four of the Churchill Barriers from Mainland to Lamb Holm, Glimps Holm, Burray and South Ronaldsay, spotting the Navy blockships which are still rusting away above the waterline.
You can visit the Scapa Flow Visitor Centre on the Isle of Hoy
The bell from the HMS Royal Oak now hangs in a memorial in St Magnus Cathedral in Kirkwall.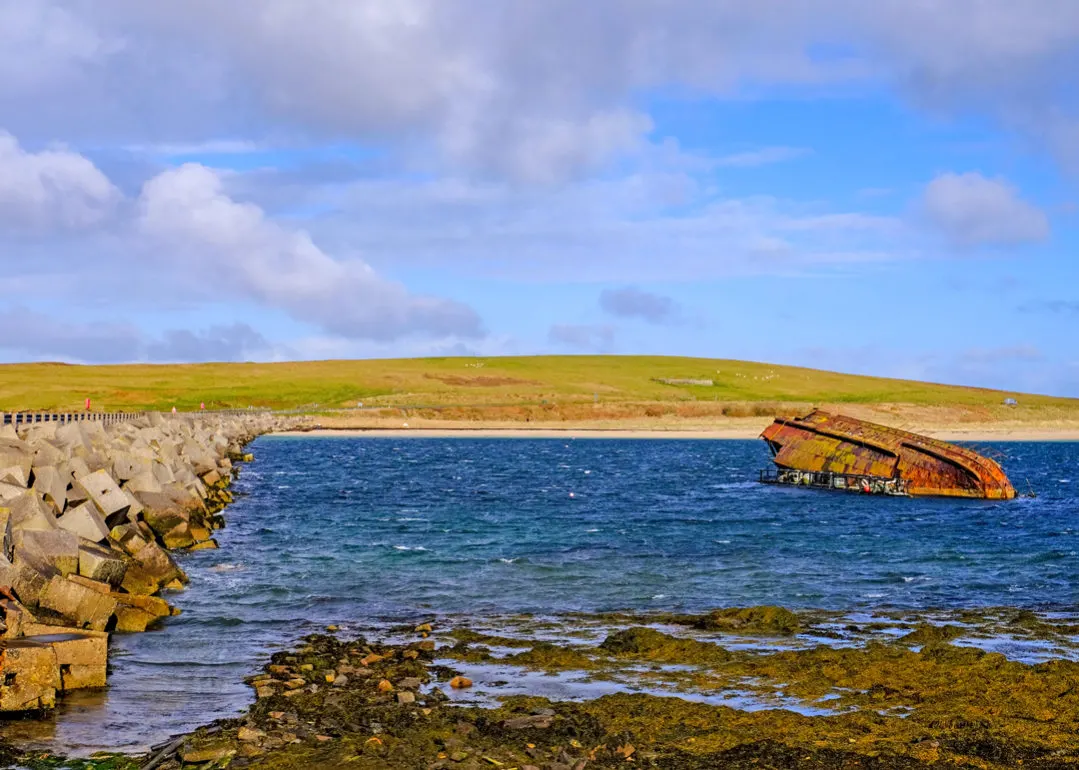 Walk the east coast: Mull Head & The Gloop
Connected to the rest of the Mainland by Deer Sound, the Deerness peninsula is well worth the drive east. At the most eastern tip of the peninsula is Mull Head, a Nature Reserve made up of 160 ha of cliffs home to hundreds of seabirds including Kittiwakes, Guillemots and Razorbills in summer. The reserve is also a great place to spot basking seals!
Park at the Mull Head car park and walk out onto the headland – first visiting 'The Gloup' – a huge collapsed red sandstone sea cave with a waterfall pouring over the edge – before heading out along the cliff path the Brough of Deerness where there is a small Norse chapel.
Explore Mull Head and The Gloup with this walk to the Brough of Deerness
Stop at: Dingieshowe beach at Deerness – it is one of Orkney's prettiest beaches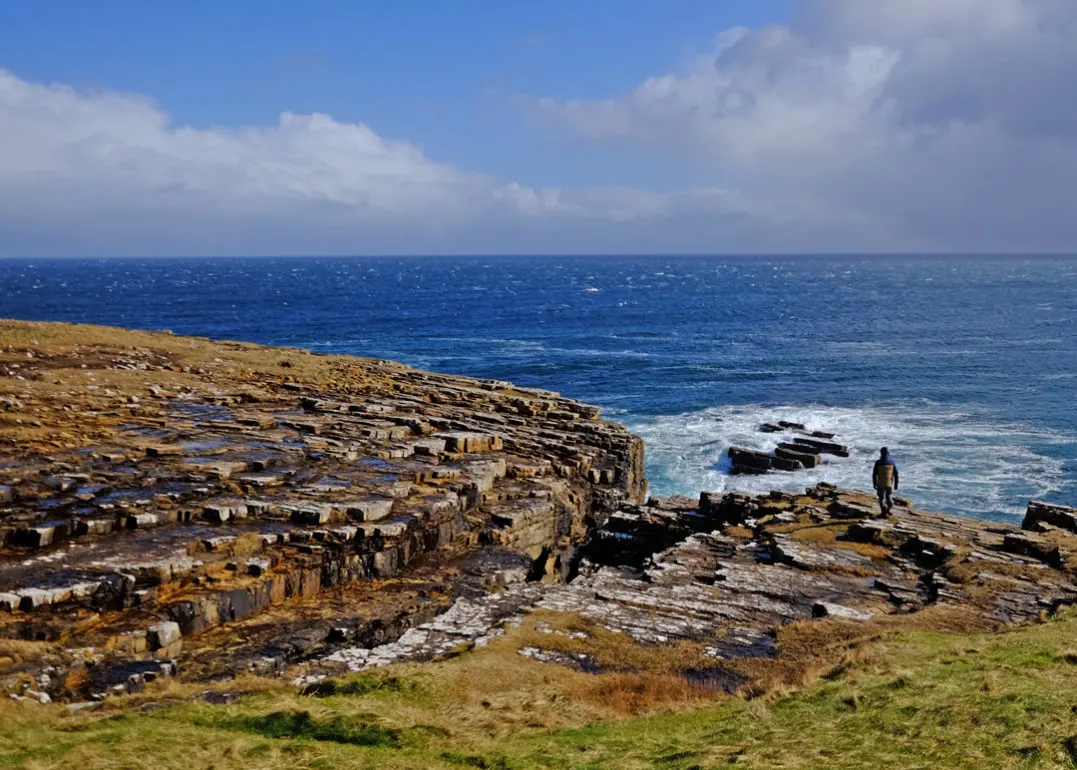 Visit Kirkwall & Stromness – for art & gin!
Kirkwall, the capital of Orkney, is home to around 9000 people and is the main ferry, freight and airport hub for the islands. Kirkwall is a bustling little place, with a great town centre filled with quirky boutique shops (including Sheila Fleet) along with cafes and delis, and pubs and bars – perfect for an afternoon stroll.
St Magnus Cathedral, Kirkwall
At the southern end of Kirkwall high street is the impressive St Magnus Cathedral – Britain's most northerly cathedral built in 1137 by the Viking, Earl Rognvald, for his uncle Magnus. The story goes that Magnus Erlendsson became Earl of Orkney along with his cousin Hakon in 1105.
Seemingly jealous of Magnus's popularity, Hakon betrayed him and in 1117 Magnus was murdered by his cousin's cook. Hakon couldn't do the murdering himself it seems (the Orkneyinga Saga is full of stuff like this). Magnus was sanctified (made a saint) following a series of miracles (like growing his own grass on his grave) and finally hidden by Earl Rognvald in a pillar in the new cathedral.
The cathedral, whilst impressive from the outside, is gorgeous inside, and contains many Orkney relics along with St Magnus, including the bell from the HMS Royal Oak and the grave of famous Orkney explorer John Rae who found the last section of the Northwest Passage, along with evidence of the ice-bound fate of Sir John Franklin.
Visit the St Magnus Cathedral Kirkwall – open (summer) Monday – Saturday, from 09:00 – 18:00 and Sunday 13:00 – 18:00.
Orkney Distillery, Home to Kirkjuvagr Gin
Fancy an alcoholic version of a spirit? Then head to Kirkwall harbour where you will find the Orkney Distillery, home of Kirkjuvagr Gin. Made up of a blend of very local Orkney Botanicals including angelica, ramanas rose, burnet rose, borage and made with barley grown on, rather than imported to, Orkney.
Orkney Gin has a great visitor centre where you can learn how the gin is made (and marvel at how small gin stills actually are) and try the gin in their stylish bar.
Gin tours start at £8. We toured the distillery and then tried Kirkjuvagr's four gins, along with our chosen gin & tonic.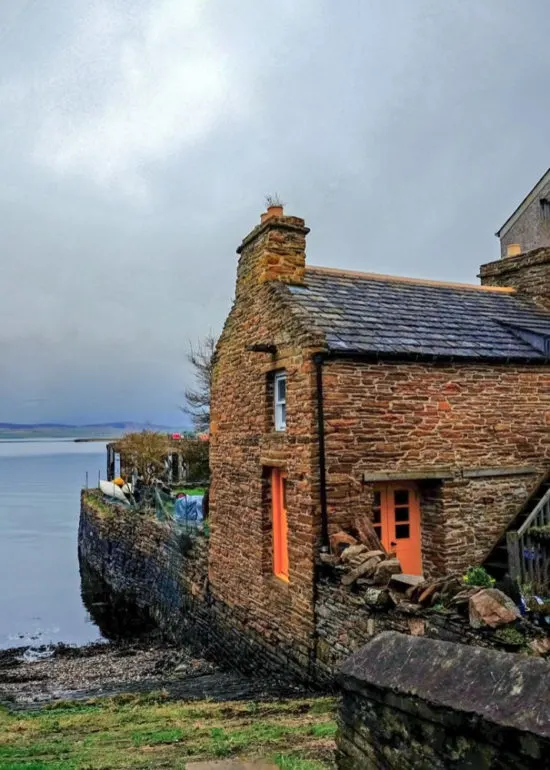 Stromness
Over on West Mainland is Stromness, a quirky traditional, and sleepy port town where buildings hug – and expand out onto – the coast. Take a stroll along the high street winding your way along the waterfront – today it is just wide enough for a car. Look down the alleys – most houses have a slip for a boat reflecting on Stromness's role as a major trading port for the Hudson Bay company. The town is now the port for ferries arriving from Scrabster.
The Pier Arts Centre
Established by renowned British patron of art Margaret Emilia Gardiner OBE, the Pier Arts Centre in Stromness is home to a gorgeous collection of modernist art left by Gardiner in trust to Orkney. There are around 180 works in the gallery, including sculptures by Barbara Hepworth, a long-time friend of Gardiner, whose garden on Rousay, Orkney inspired many of Hepworth's works.
It is not just the art on display which is worth a visit, for the building holding the collection is award-winning too. Originally forming part of the Hudson Bay Company's warehousing (much of Stromness was built due to trading links) the gallery was altered in 2007 to create a new building overlooking the harbour.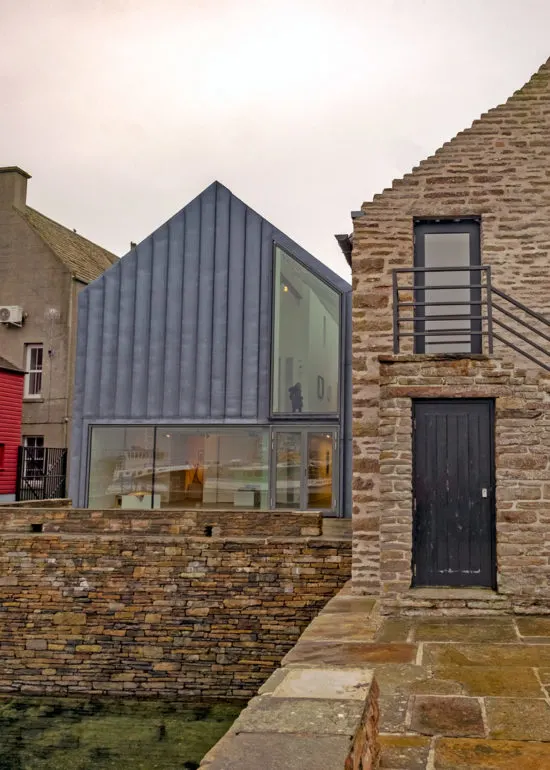 Planning a trip to Orkney
Everything you need to know about getting to Orkney!
Recommended tours to Orkney
Flights to Orkney
Flights to Orkney are run by Scotland's lovely wee airline Loganair*. We flew to Kirkwall Airport in Orkney mainland from Edinburgh. Our flight took around an hour and included lovely friendly service and a cup of tea & a Tunnocks caramel wafer! Loganair also fly to Kirkwall from Sumburgh on Shetland (35 mins), Inverness to Kirkwall (45 mins) Aberdeen (50 mins) and Glasgow (1.15 mins). You can also fly to Kirkwall from Manchester connecting via Glasgow or Inverness. Book online.
Orkney Ferries
There are four ways to catch a ferry to Orkney. The average journey time from Edinburgh to Kirkwall via road and ferry is around 8 hours including the crossing. Or you could visit Orkney as part of your North Coast 500 trip!
Gills Bay to St Margaret's Hope, South Ronaldsay – Pentland Ferries sail every day to Orkney at 9.30am, 13.30 and 16.45 and the crossing takes 1 hour and costs around £140 per car with two people travelling. Book online.
Scrabster to Stromness – takes 90 mins and normally sails at 8.45 am / 16.45 pm those wanting a day trip to Orkney. The ferry from Scrabster to Stromness costs around £200 per car with two people travelling. Book online.
John O'Groats to Burwick, South Ronaldsay – doing the NC500 and want to spend a day in Orkney? A passenger-only ferry runs May to September, costing £20 per person, or £68 including a coach day tour. An express bus runs from Inverness to Orkney departing at 7.15am for £25 including the ferry crossing. The crossing takes 1 hour Book online.
Aberdeen to Kirkwall (and on to Shetland) – the NL2 ferry from Aberdeen takes 6 hours, sailing at 5 pm on Tues, Thurs and Saturday arriving at Kirkwall at 11 pm. The ferry returns the same day, arriving in Aberdeen at 7 am. The ferry from Aberdeen to Kirkwall costs around £315 per car with two people travelling. Book online.
Getting around Orkney
Where to stay in Orkney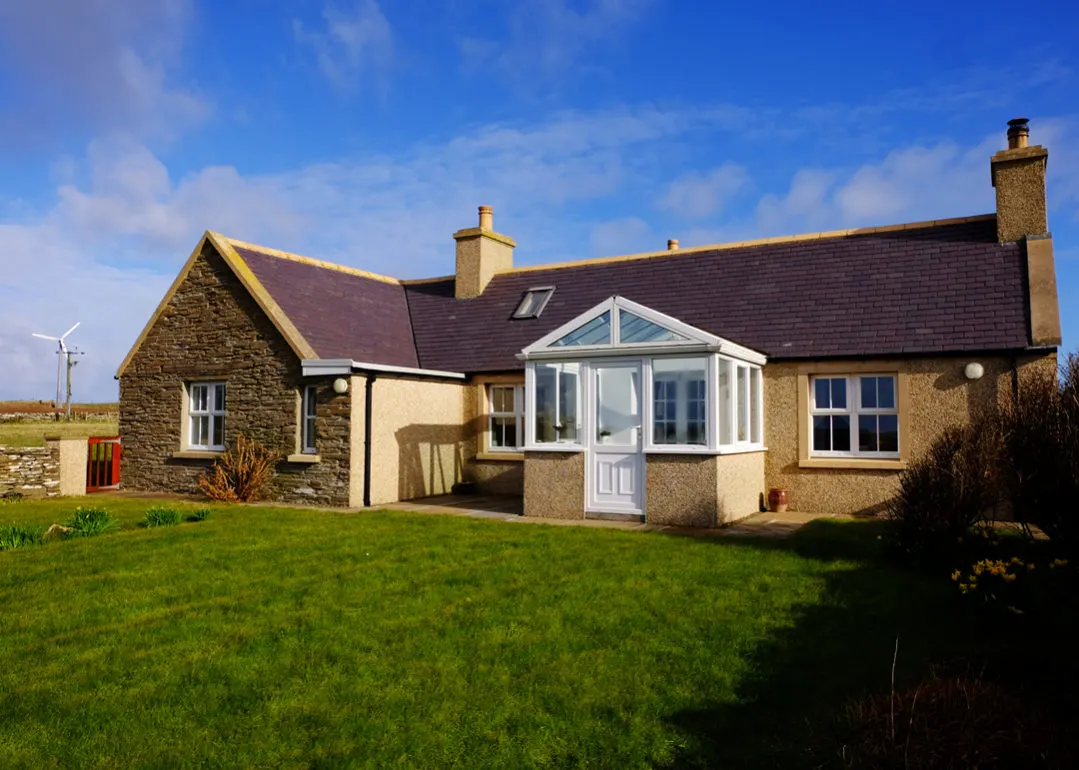 Try the lovely Instabillie Self Catering. Sleeping up to 5, the cottage is super handy for exploring Skara Brae and West Mainland, but only 35 minutes from Kirkwall, 40 minutes from the Italian Chapel and 15 minutes from Stromness. There is a local shop nearby, which literally seemed to sell everything.
Where to eat in Orkney
Eating out?
Self-catering?
Best time to visit Orkney?
Orkney has a maritime climate so its mild(ish – this is still Scotland!) all year round, just watch out for the wind – it can be ferocious. We visited in Spring when the weather was gorgeous and the shops and restaurants were open, but the island was still really quiet – we often had places like Skara Brae to ourselves and we were even treated to our own private tour. Looking for puffins? They normally arrive in Orkney in April. Planning a summer trip? Orkney can be busy – cruise ships dock in Kirkwall every day.
If you need help to decide when to visit, Destination Orkney has lots of offers online – from bogof brewery tours to accommodation discounts – check out their offers page*
Wild, windswept and remote and with that island magic that you'll wish could be bottled, a visit to Orkney will always leave you wanting more. Orkney, I promise I'll be seeing you at the weekend again!
Love, from Scotland x
Looking for more Scottish islands to visit?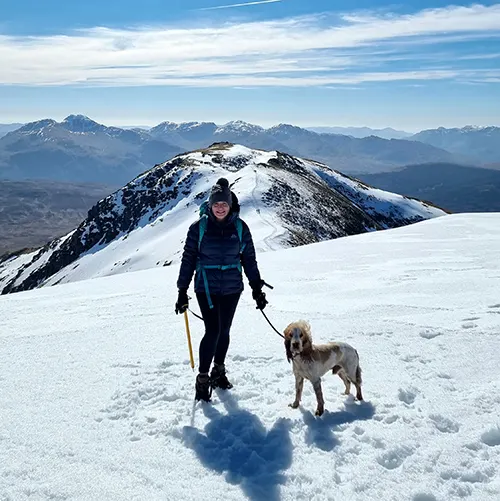 I'm Kate – a travel writer and photographer living in Scotland. Love, From Scotland is the Scotland travel guide that shows you where to stay and how to get outside in Scotland.