Fancy waking up with a view of a beautiful sandy beach, then exploring 5000-year-old villages and quaint seaside towns, before settling down by the fire by night? Then check into Instabillie, a self-catering cottage in a traditional Orkney croft house, with stunning views over rolling countryside, and the Bay of Skaill. Welcome to Instabilie Self Catering in Orkney.
Located just a mile from the Neolithic village of Skara Brae and overlooking the beautiful Bay of Skaill, Instabillie (meaning Inner Croft) is a 12-acre croft, home to the Brass family since 1759. Once used as a hay barn, Instabillie has now been converted into a lovely self-catering holiday cottage, complete with everything you need for a holiday in Orkney.
Staying at Instabillie Self Catering Orkney
Inside Instabillie are three bedrooms, sleeping up to five (one double, one twin and one single) two bathrooms, a huge living and dining space with a full kitchen for self-catering and a cute conservatory with those gorgeous views. The cottage is decorated in a traditional Orkney style – there is an Orkney Chair (the high top is for protection from draughts) and Fursbreck Pottery on the dresser and local artwork on the walls. Outside there is even an outbuilding with a pool table and games for the kids.
Days at Instabillie are spent waking to views of waves crashing over huge sea cliffs, beneath skies as far as the eye can see, rolling hills and tiny churches, before heading out to explore. By night, the remoteness of Instabillie means proper dark skies and stargazing will become a mini obsession. You'll be permanently on Aurora watch, staring up in awe at the full milky way above our heads. As city dwellers, it's a complete treat. Settling in ith the log burner merrily roaring away, you'll quickly realise that after your weekend is over you'll find it very hard to leave your new cosy cottage home…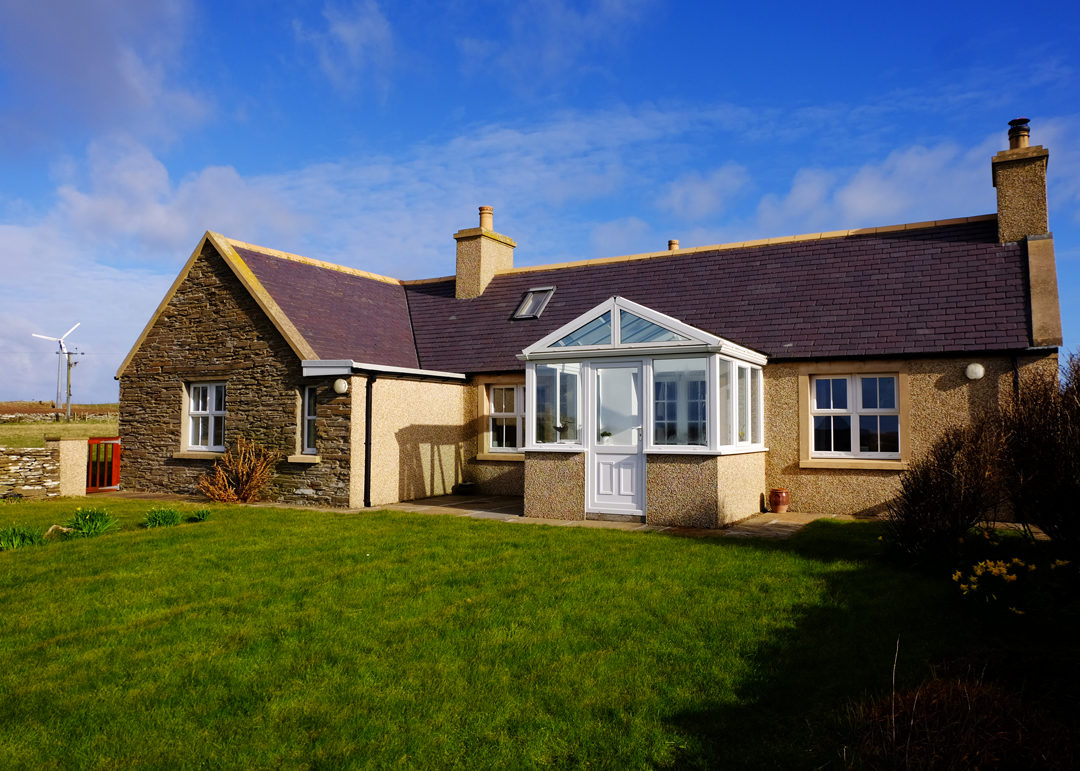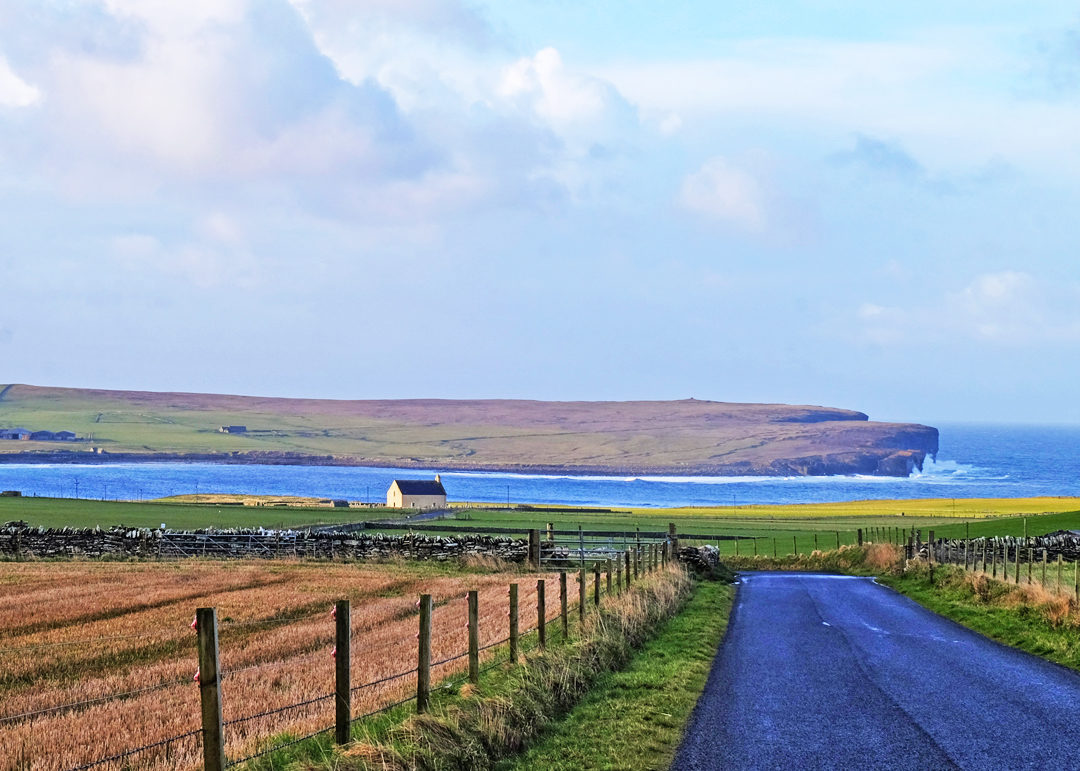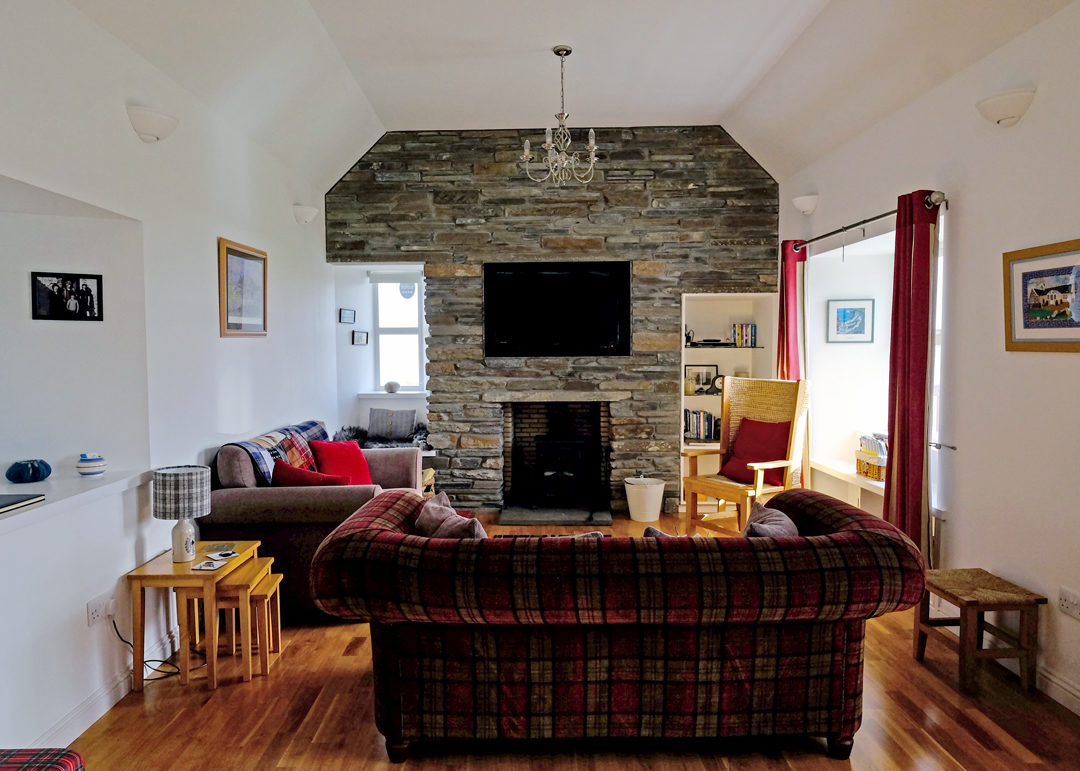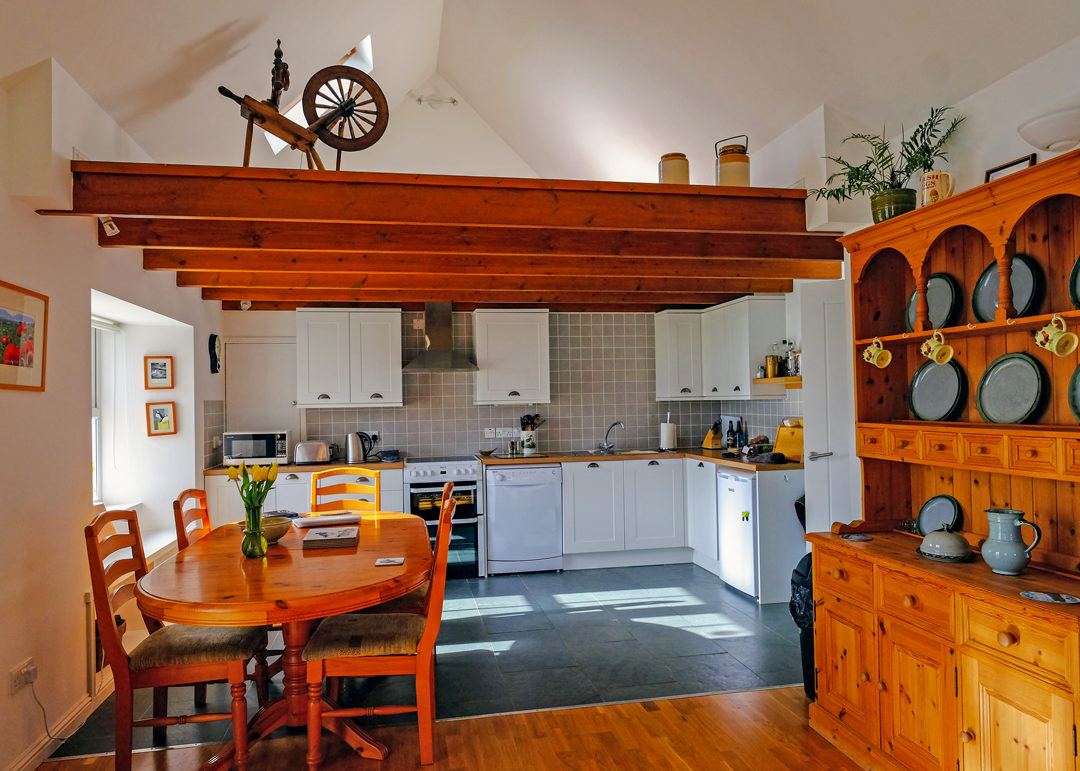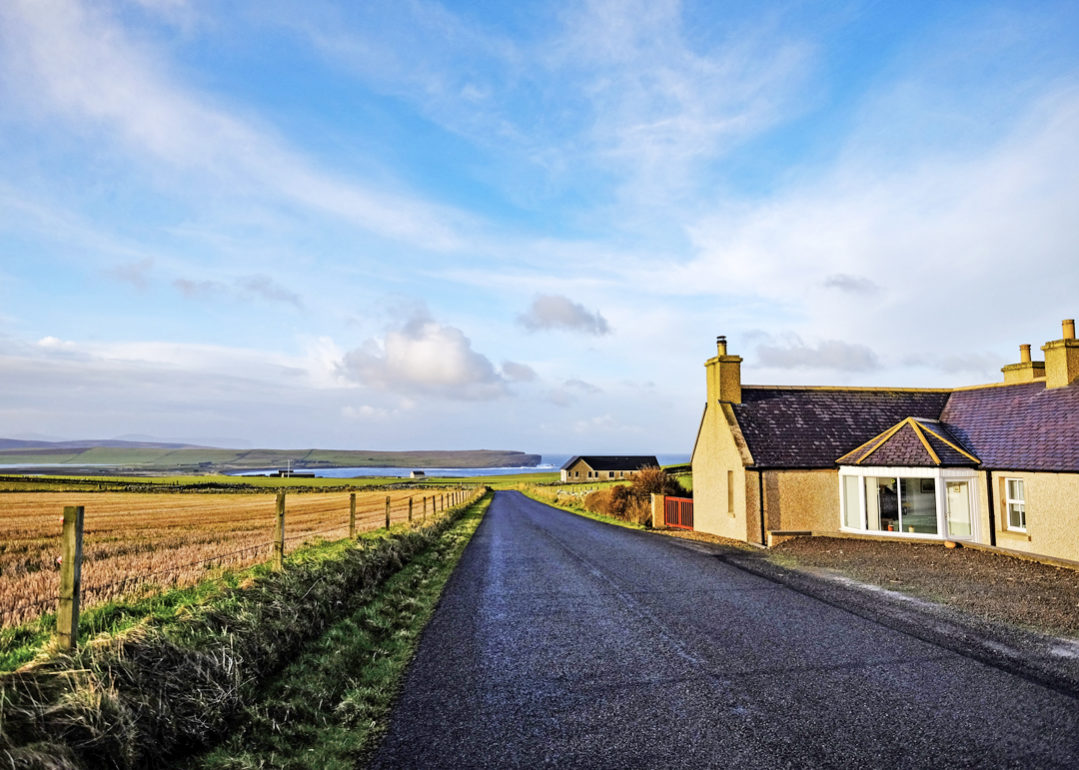 Instabillies' owners have thought of everything – there are local Orkney soaps and shower gels in the bathrooms. oils, spices, sauces for cooking, along with teas, coffee and milk. We'd also been left a goody bag of local products, including suppers of Orkney Island Cheddar, Stockan's oatcakes and Orkney Isle Preserves – which we ate in front of the fire.
For breakfast, we had feasts from Craigie Butchers – including their own delicious sausages and black pudding.  If you are visiting Orkney and self-catering, look out for the Taste of Orkney stamp for great local products – everything we tried was delicious.
How to get to Orkney and Instabillie
We flew to Kirkwall on the Orkney mainland from Edinburgh with LoganAir. Our flight was at 6pm on a Friday night and by 7.30pm we'd landed and picked up our hire car from the airport and were winding our way to the west coast of the island. 35 minutes later (after a quick stop for supplies) we were being warmly welcomed to Instabillie by owner Karen.
If you fancy flying to Orkney, Loganair also fly to Kirkwall from Sumburgh on Shetland (35 mins), Inverness to Kirkwall (45 mins) Aberdeen (50 mins) and Glasgow (1.15 mins). You can also fly to Kirkwall from Manchester connecting via Glasgow or Inverness. You even get a get a wee cup of tea and a caramel wafer!
Driving? You can also catch a ferry to Orkney – car ferries run from Gills Bay to St Margaret's Hope, Scrabster to Stromness, and Aberdeen to Kirkwall – why not visit Orkney from the North Coast 500?
10 things to do in Orkney
Discover the incredible Skara Brae, a 5000-year-old Neolithic village discovered after a storm in the 1800s. Tickets for Skara Brae are £6.50 for adults, you will need to book a time slot to ensure entrance. There is a great visitor centre and a replica house to explore.
Walk around the 104m wide Ring of Brodgar and the nearby Stones of Stenness – wonder at how people 5000 years ago managed to lift 14 m high stones and dig a 10 m deep ditch – all without metal tools
Discover Viking graffiti in the Maeshowe tomb – don't blush at some of the rude inscriptions! It is recommended you book in advance to visit Maeshowe. You can also go on a virtual reality tour of Maeshowe with a 3D app!
Walk the coastal path – just 10 minutes from Instabillie is the west Mainland coastal path – hike from Stromness to Birsay along 20 miles of path. Climb up to the Kitchener Memorial above 100m cliffs filled with seabirds to spot puffins and find Yesnaby Castle, a huge sea stack, popular with climbers
Cross to the tidal island of The Brough of Birsay – and discover its Viking heritage – the brough was once the seat of Earl Thorfinn the Mighty, the most powerful of all the Viking Earls.
Find out the story behind the beautiful Italian Chapel – and learn about the POWs who decorated the stunning interior.
Visit 'the Gloup' – a collapsed sea cave complete with its own waterfall and visit Mull Head, a Nature Reserve made up of 160 ha of cliffs home to hundreds of seabirds including Kittiwakes, Guillemots and Razorbills in summer.
See Scapa Flow, The Churchill Barriers & the Blockships – and find out about Orkney's wartime past. You can visit the Scapa Flow Visitor Centre on the Isle of Hoy.
Visit the Pier Arts Centre in Stromness – for gorgeous architecture and even better art including sculptures by Barbara Hepworth who was inspired by Orkney
See St Magnus Cathedral – Britain's most northerly cathedral built in 1137 by the Viking, Earl Rognvald, for his uncle Magnus. The story goes that Magnus was sanctified (made a saint) following a series of miracles (like growing his own grass on his grave) and finally hidden by Earl Rognvald in a pillar in the new cathedral…
There might not be many trees in Orkney but there are a lot of tall tales…
Read my complete guide to things to do in Orkney.
Love from, Scotland x
You can book Instabillie online
Thanks to Instabillie for hosting us as part of our trip to Orkney with Destination Orkney