Everyone loves Autumn, right? But have you visited Scotland in Autumn? If you love beautiful fall colours, long days, mild temperatures and no midges, then a visit to Scotland in September, October or November is for you. Here is how and where to visit in Scotland in Autumn.
The best places to visit in Scotland in Autumn
Looking for autumn colours? Here are some of my favourite places to visit in Scotland in fall.
1. Glencoe Lochan
Take a walk amongst the autumn colours overshadowed by two of Glencoe's most famous peaks; the imposing Pap of Glencoe which guards the entrance to the glen and Beinn a'Bheithir, the Mountain of the Thunderbolt. There are three routes to explore at Glencoe Lochan – the woodland, the mountain and the lochan trail – on a beautiful autumn day, the reflections of the cedars, larches, and spruce trees and the mountains in the lochan are just spectacular. Glencoe Lochan can be found behind Glencoe village.
Read more: how to visit Glencoe
Make it a weekend: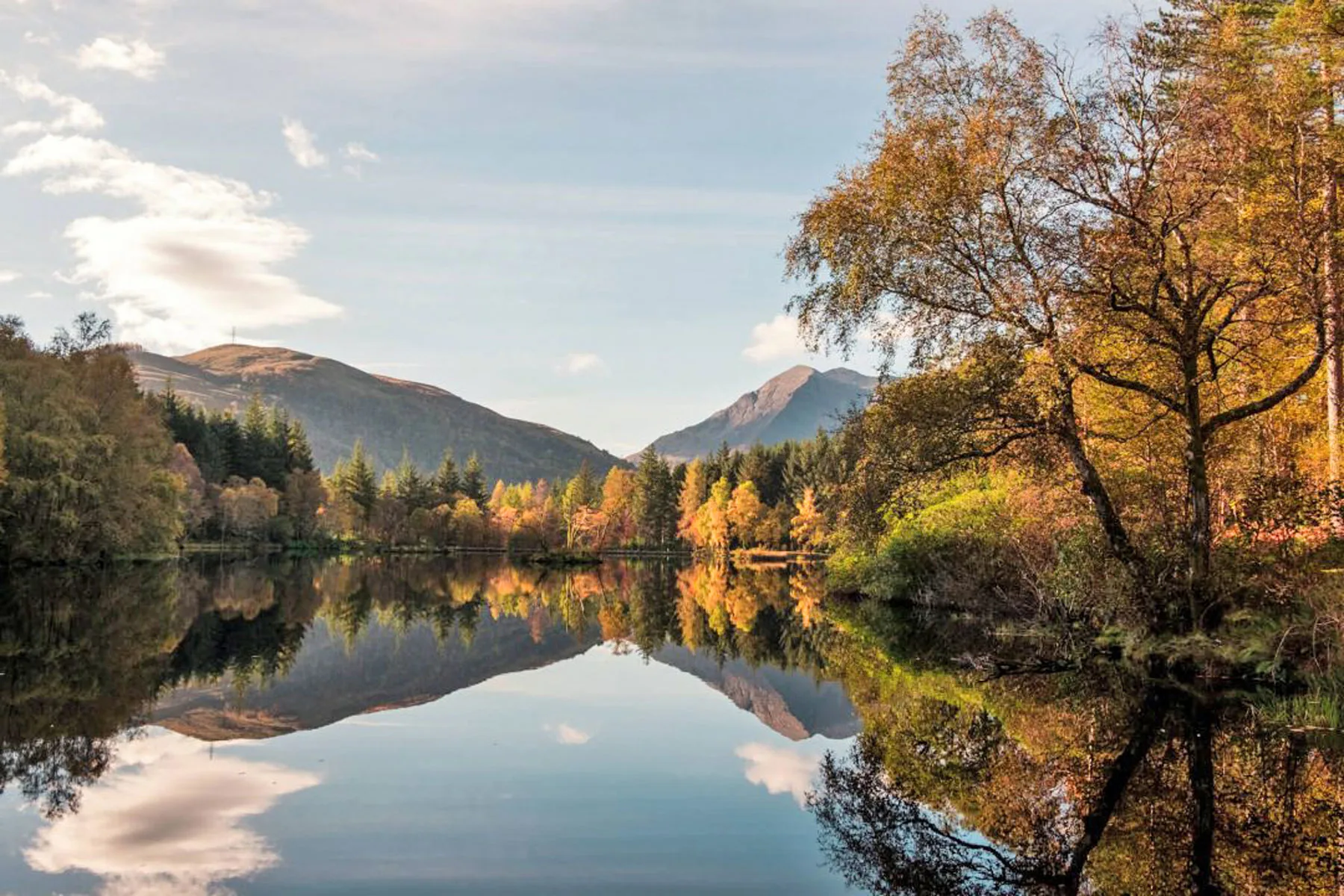 2. Ardnamurchan and Castle Tioram
Ardnamurchan and the West Highland Peninsulas are one of Scotland's hidden gems – and a great spot to visit in autumn in Scotland. My favourite spot for autumn and fall colours in Ardnamurchan is at Castle Tioram which guards the entrance to Loch Moidart where it joins the River Shiel on its way to Glenfinnan. To see the area in all its autumn glory, walk from the castle along the Silver Circuit which has views of with Eigg, Muck and Coll in the distance.
Read more: How to visit Ardnamurchan (and the West Highland Peninsulas)
Make it a weekend:
The Glenuig Inn – great food and comfortable rooms. Book directly with The Glenuig Inn.
The Kilchoan Hotel – owned by the Ardnamurchan Estate – book online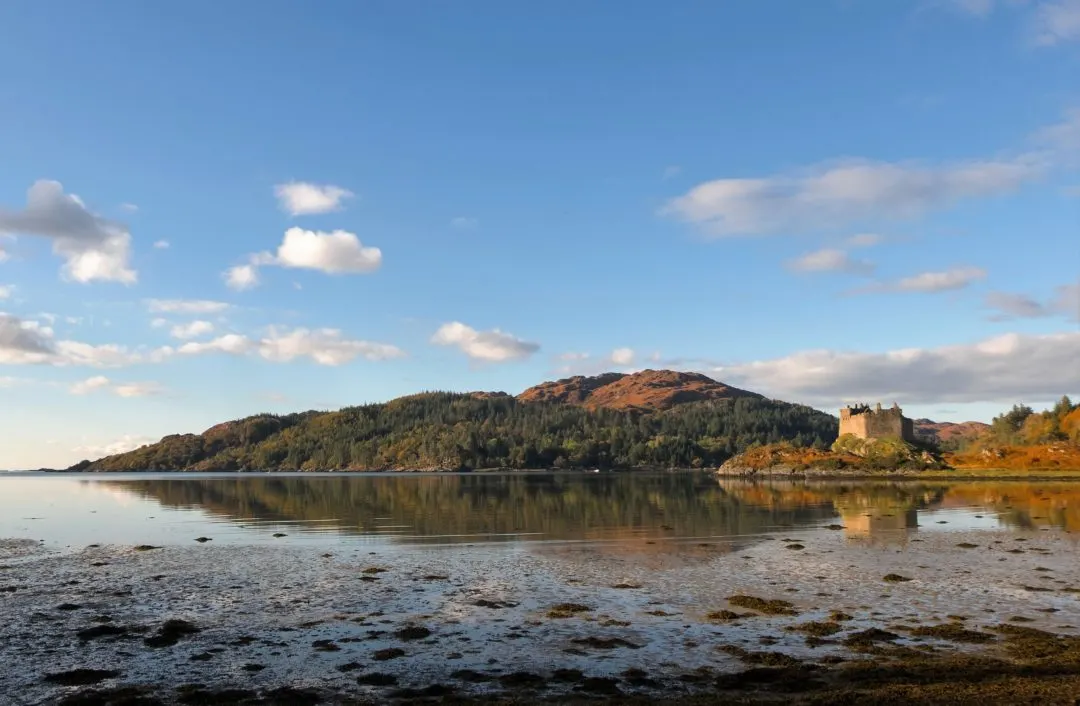 3. Perthshire / Big tree Country
Visiting Scotland in October or November? Then don't miss a visit to Perthshire. Known as 'Big Tree Country', Perthshire is home to some of the most stunning and popular spots for Scotland in the fall. The best autumn colours can be found in the woodlands at the Hermitage and along the river at Killiecrankie, around the Linn of Tummel or at the waterfalls at the Deil's Cauldron. By night don't miss a visit to the Enchanted Forest in Faskally Wood.
Read more: more woodland and forest walks in Scotland
Read more: how to visit Perthshire
Make it a weekend:
The Meikleour Arms, Cateran Country – built in 1820 as a coaching inn the Meikleour Arms Hotel has 11 bedrooms in the main hotel, cottages in the stables and steading, and a lovely French-Scottish farm to fork restaurant.
Monachyle Mhor / Mhor 84, Balquidder – located on the edge of Loch Lomond and the Trossachs National Park, Mhor 84 and its big sister Monachyle Mhor just up the road, are stylish and vintage chic boutique hotels with a fantastic welcome, glamping options anc chic rooms, along with even more fantastic food.
Grandtully Hotel / Ballintaggart Farm – the Grandtully Hotel and Ballintaggart Farm are foodie boltholes in the heart of Perthshire, on the famous River Tay. Indulge in stylish rooms, farm to fork menus and great cocktails.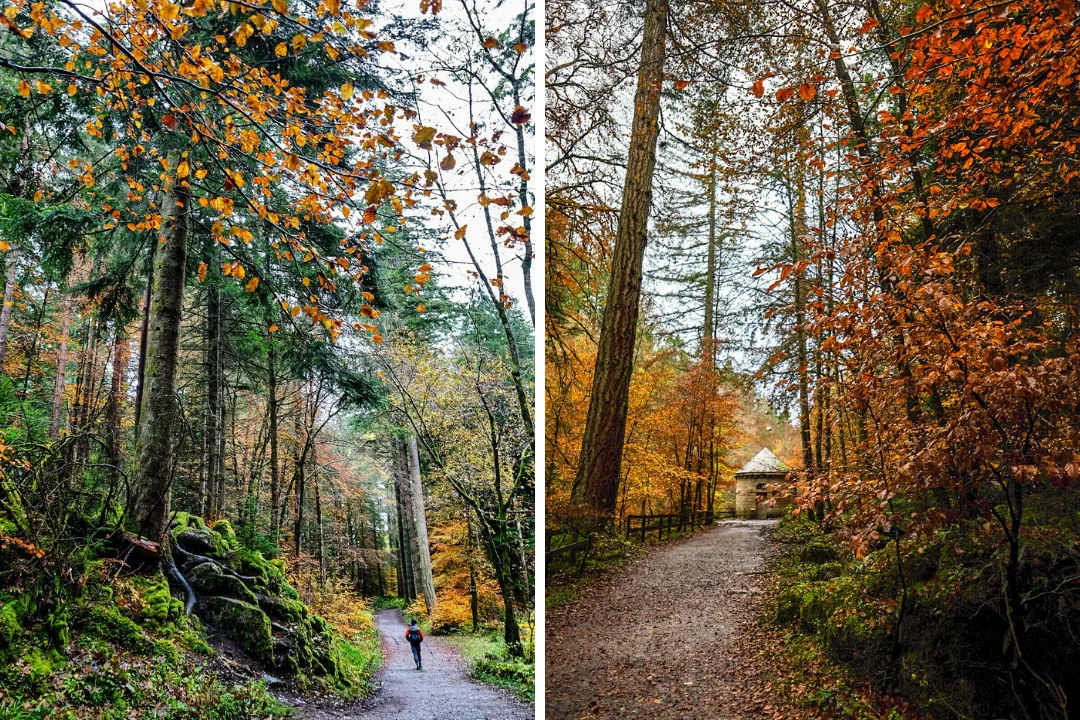 4. Glen Affric in Autumn
Walking through Glen Affric in autumn, must be one of Scotland's most awe-inspiring walks. Amongst the remnants of Scotland's ancient Caledonian Scots Pine forest, discover Autumn in Scotland along the River Affric including the stunning Dog Falls (2 miles, 1.25 hours) and the Viewpoint Trail (1.45 miles, 1 hour) or take on the full circuit of Loch Affric on the 11 mile trail amongst the towering mountains. Next door is Glen Strathfarrar, where, if you are looking for peace, only 25 cars are allowed in a day!
Read more: how to visit Glen Affric
Make it a weekend and stay at Eagle Brae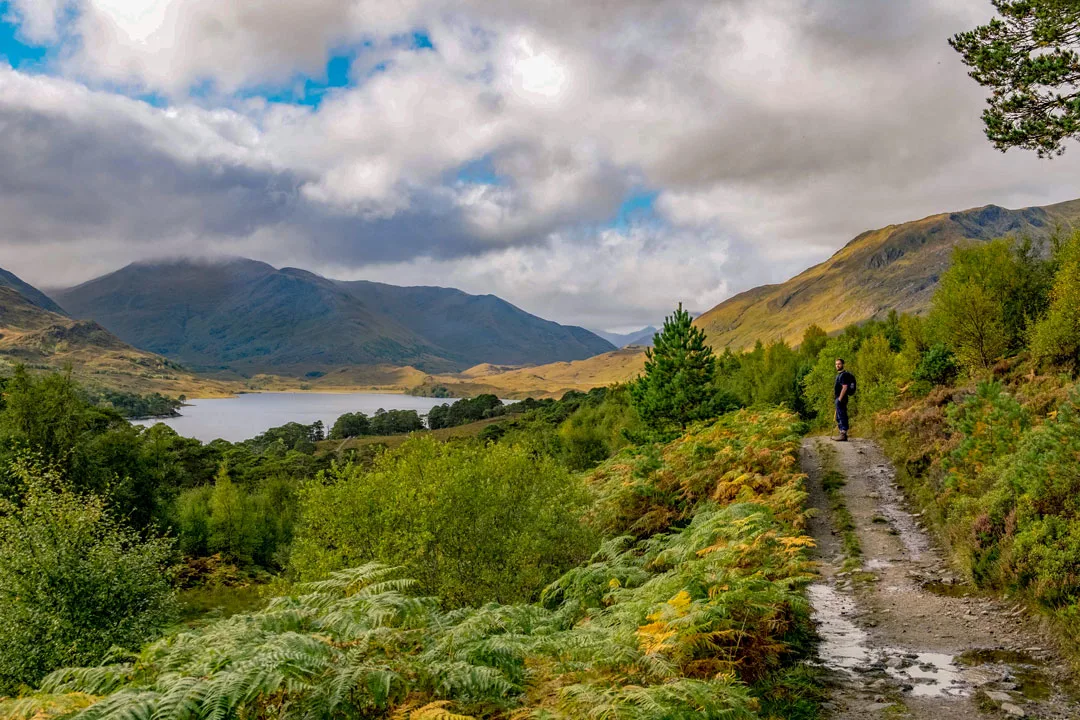 5. Uath Lochans Trail, the Cairngorms National Park
Hidden away in Glenfeshie are the Uath Lochans and above the lochs is a great view of Scotland in all its autumn glory. Wind your way around the lochs before climb up to Farleitter Crag for an incredible view across to the Monadhliath Munros – the grey mountains. Whilst much of the Cairngorms National Park is made up of evergreen fir trees, there are parches of cedars, larches, and spruce trees which turn stunning colours in Scotland in the fall.
Read more: how to visit the Cairngorm National Park
Make it a weekend and stay at:
Lazy Duck, Nethy Bridge – If you dream of retreating to a tiny log cabin in the woods, then I have the perfect spot for you. With an 8-bed hostel, a beautifully quiet 4-pitch campsite and three romantic eco-huts, the Lazy Duck is a little piece of off-grid heaven. Stay at the Lazy Duck. Stay at the Lazy Duck.
Balsporran B&B, Dalwhinnie – a luxury B&B with real heart (and Dalwhinnie whisky!) deep in the Drumochter Pass in the Cairngorm National Park. Upstairs are four simple, but luxurious, guest bedrooms and downstairs, owners Fiona and Geoff serve up lovely communal meals. Stay at Balsporran B&B
More places to stay in Aviemore and the Cairngorms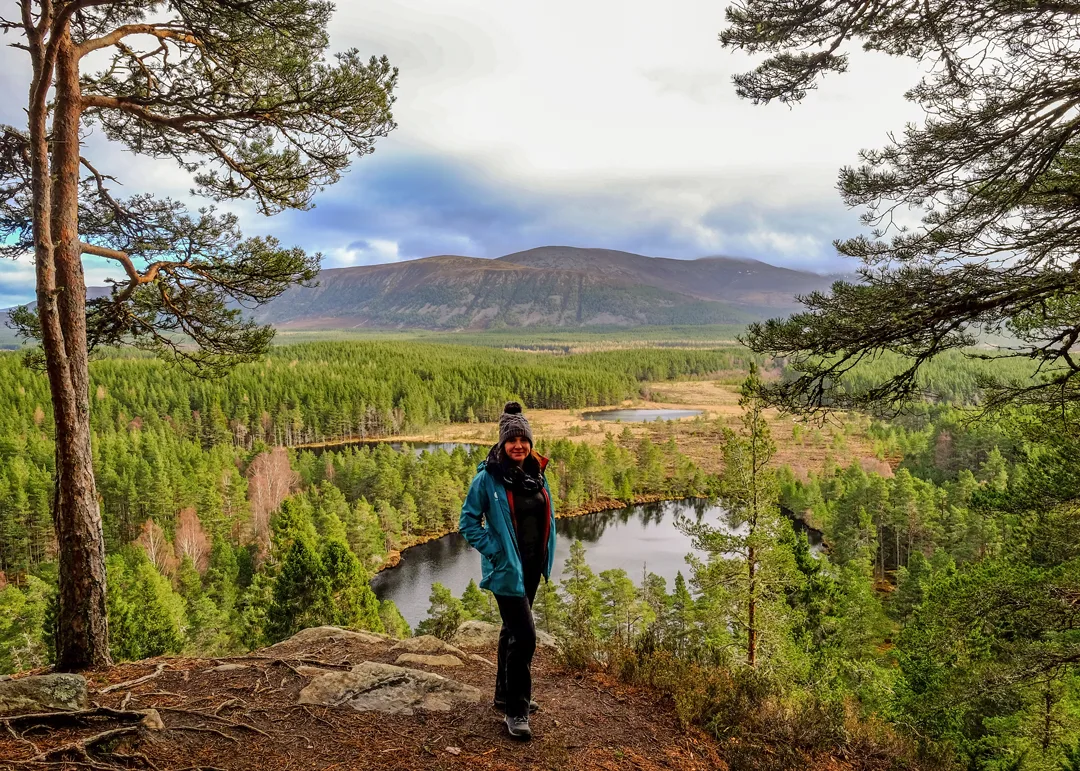 6. Scotland's Botanical Gardens
One of the best places to see autumn and fall colours in Scotland is in one of Scotland's botanical gardens – from the Royal Botanic Garden Edinburgh (RBGE) at Inverleith and the Logan Botanic Garden in Dumfries and Galloway, Attadale Gardens in the Highlands, Cawdor Castle and Gardens Nairn, Dawyck Botanic Garden in the Borders and Branklyn Garden in Perth. Look out for golden birches, red, purple and orange maples, rowans, and beech trees.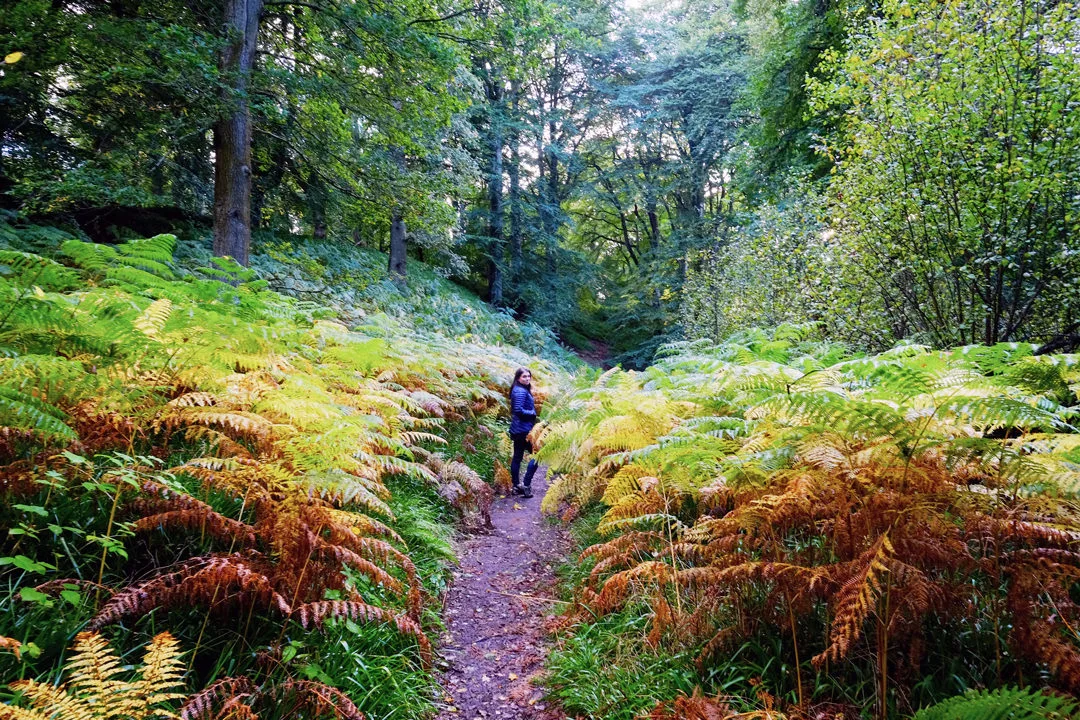 7. The Glens of The Ochills
Clackmananshire is one of the most undiscovered areas of Scotland – so let's change that this autumn! Hidden in the Ochils mountains are Dollar Glen and Alva Glen – explore these two deep, tree lined waterfall gorges – they are especially beautiful to visit in Autumn with fall colours and orange leaves.
Read more: Dollar Glen and Castle Campbell
8. Royal Deeside
The River Dee flows through the heart of Aberdeenshire to the city of Aberdeen. Forming part of the truly spectacular Cairngorms National Park, Deeside is a fabulous place to visit in Scotland in Autumn. From the Linn of Dee where there is a pretty gorge in which to spot red squirrels in the pine woods, or Craigendarroch Oakwoods which have a great view over Ballater, or walk around Cambus o May – explore the woods and lochans of this pretty woodland on a 3 mile walk.
Read more: how to visit Royal Deeside in Autumn
Make it a weekend and stay at: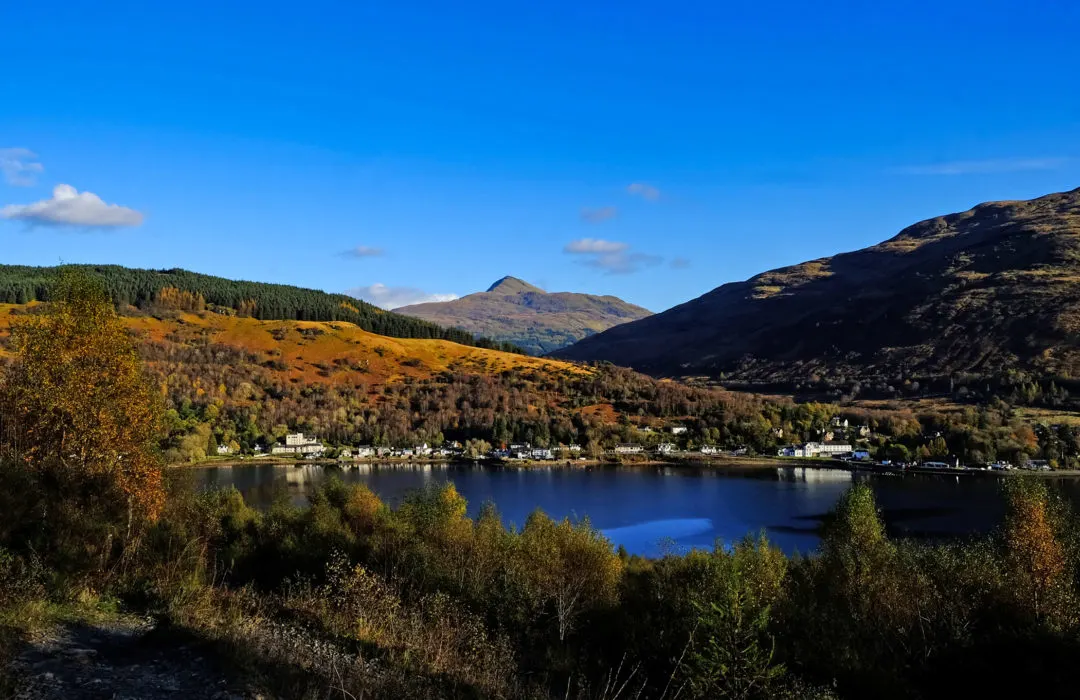 9. The woods of the Trossachs
Covering 720 stunning square miles and two forest parks, the Loch Lomond and Trossachs National Park is one of the most stunning places to visit in Scotland in the fall. The 20,000 hectare Queen Elizabeth Forest covers the east side of Loch Lomond and stretches up to Strathyre, making up most of the Trossachs (the wooded valleys) region.
Start at The Lodge visitor centre, explore the footpaths around pretty Loch Ard, walk the Millennium Forest Path, or visit Aberfoyle. Why not hike the Great Trossachs Path? Hike 30-mile from Inversaig on the banks of Loch Lomond to Callander via the stunning Loch Katrine underneath Ben Venue and Ben A'an – you'll be hiking through some of my favourite parts of the whole of Scotland!
Read more: How to visit Loch Lomond and the Trossachs
Make it a weekend and stay at:
Inn on Loch Lomond – The budget-friendly Inn on Loch Lomond* at Inverbeg is really well located for exploring the park with rooms as little as £50 a night.
The Lodge on the Loch – You can't get any closer to Loch Lomond than the Lodge on the Loch Lomond by the village of Luss. This beautiful American / Scottish lodge-style hotel offers up comfortable and stylish rooms, some have their own saunas and pine balconies right on the loch. Book: Lodge on the Loch Lomond*
Mhor 84 – Over in the Trossachs Mhor 84 at Balquhidder is refurbished roadside inn and is a very popular stop for foodies – the cakes are Michelin recommended and evening meals are served in their lovely candlelit dining room.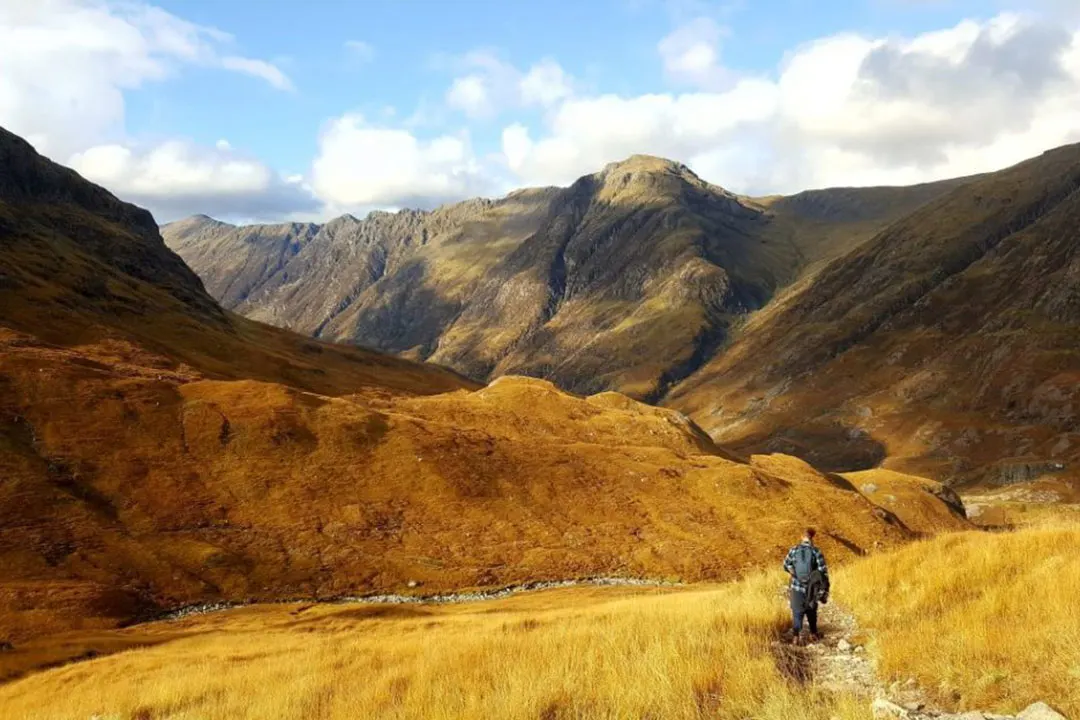 10. Scotland's moors and mountains in Autumn
It is not just the woods and forests of Scotland that turn stunning colours in Autumn in Scotland – the moors, hills and mountains do too! Look of our stunning purple heather, brown and orange glens and stunning sunsets – why not climb one of my beginners hills in Scotland for a better view?
How to visit Scotland in the autumn
Thinking of visiting Scotland in autumn? Here is how to visit.
What month is autumn in Scotland?
Autumn in Scotland is September, October and November
What is the weather like in autumn in Scotland?
Think crisp days and cold dark nights, with often settled weather patterns, why is why autumn is one of my favourite times of year in Scotland.
How cold does it get in autumn in Scotland?
Between September and November the normal temperature range is 8°C (46°F) to 14°C (57°F).
Does it snow in autumn in Scotland?
Not usually, although there is sometimes snow in Scotland in November. If you want snow then visit Scotland in Winter.
Where should I go leaf peeping in Scotland?
The best places for autumn colours in Scotland in my opinion are at Meikleour where the famous Beech Hedge reaches an impressive 30m high, the lovely walks at The Hermitage near Dunkeld and Faskally Wood near Pitlochry.
How long are the days in autumn?
In September in Scotland you get around 12 hours of daylight, October, 10 hours and in November, 9 hours. This is compared to 17.5 hours in June and 7 hours of daylight in January.
Have you visited Scotland in Autum?
Love from, Scotland x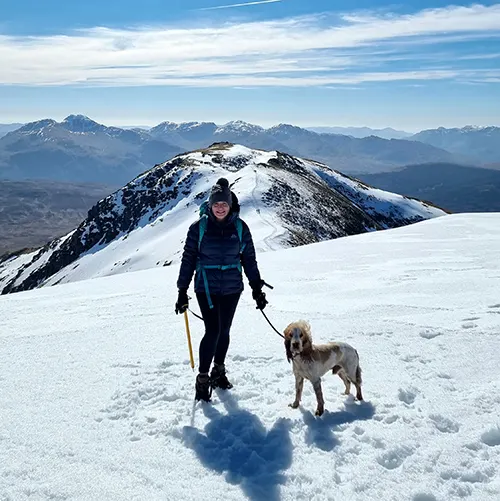 I'm Kate – a travel writer and photographer living in Scotland. Love, From Scotland is the Scotland travel guide that shows you where to stay and how to get outside in Scotland.