Fancy hill walking in Scotland? Climb in the Scottish mountains? Before rushing off to bag a Munro, here are my recommended hills for beginners in Scotland.
So which are the best hills for beginners in Scotland?
Hill walking in Scotland is not for the faint of heart, the unfit, the unprepared, the beginner… actually, that is a load of rubbish, as all hill walkers were beginners once. In fact, when I climbed my first Munro (a Scottish mountain over 3000ft) I hadn't been up a big hill in 20 years and I still made it up there. However, in hindsight, I wouldn't advocate climbing a Munro if you have never ever had a pair of hiking boots on in your life, as it is worth getting a wee bit of practice in first. So if you are just starting out and fancy hiking in Scotland, here are my best hills for beginners in Scotland.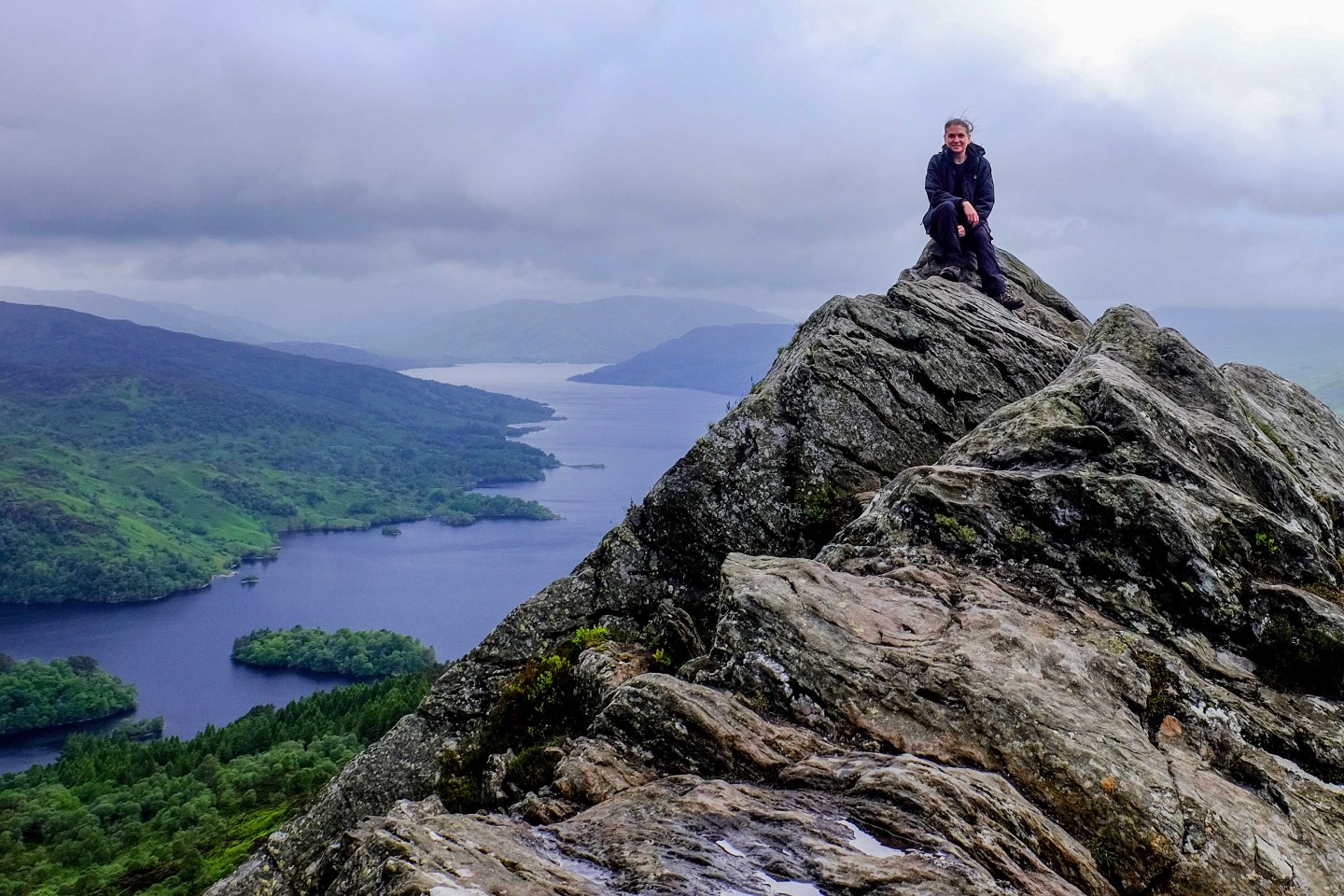 1 – Ben A'an, Aberfoyle, The Trossachs
Best hill for beginners in Scotland? That'll be Ben A'an. Described by many hill walkers as the perfect hill, Ben A'an is a 'mountain in miniature'. Climbing it you'll get all the practice in for future Munro bagging – the long slog up, the steep huffing and puffing bits, a wee bit of scrambling around on rocks – plus the amazing views – and you only have to climb 454m (1500ft) to do it.
Despite Ben A'an's petite size (and the annoying kids that will race past you up the hill) don't underestimate it, the weather can change in a second up in the hills and despite there being a great path, there is not much shelter. When we were up earlier in the year we saw so many people fail to reach the top as they were unprepared. Ben A'an is still a hill. In Scotland. DO NOT WEAR JEANS OR YOU WILL REGRET IT. I don't need to say that again do I?
Location: Between Callander and Aberfoyle in the Trossachs
Height: 454m / ascent – 340m
Climb: Ben A'an
Beginner's tip for hill walking #1
When researching a route, have a look at the amount of ascent you have to climb. Remember that not all walks start at sea level – so on the map, the hill may be 1000m, but you actually may start at 300m – this means only 700m 'of ascent', making for an easier walk. You might also want to look at how long the walk will take and how high the hill is. For example 1000m and anything under 3 hours? That means you are in for a very steep walk!
Read more: how to start hill walking – all my beginner's tips!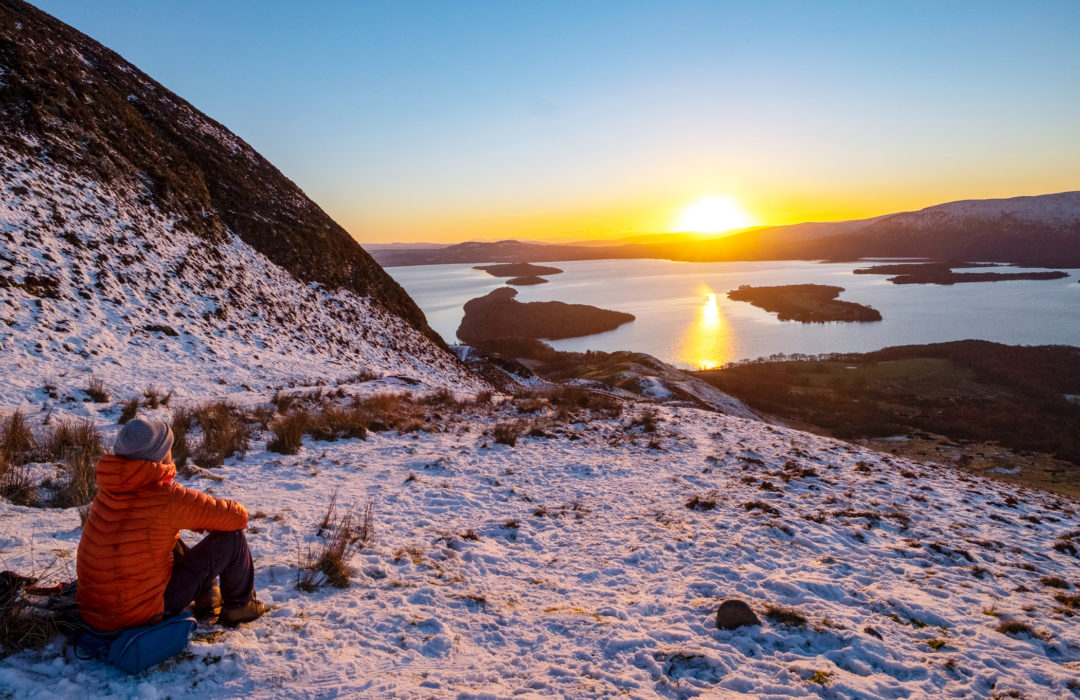 2 – Conic Hill, Loch Lomond
Second on the list is Conic Hill, a knobbly little peak which rises up 350m above Loch Lomond. Conic Hill is an incredibly popular hill, as on a good day the views over the loch are utterly incredible and achieved with not much effort at all. The walk to the top will only take around an hour, but the path can be muddy and slippy – so wear decent shoes.
I must admit that I am not a huge fan of Conic Hill (and this is why it is not no.1 for me) as a) the car park can get very busy – on a sunny day the traffic along east Loch Lomond can be awful, but mainly because b) the slopes of Conic Hill are infested with a herd of shaggy 'highland coos' which can be pretty scary appearing out of the mist. Or you might like them. I don't. They are pretty cute though I must admit.
Location: Balmaha at Loch Lomond
Height –350m / ascent – 350m
Climb Conic Hill
Beginner's tip #2

Hillwalking is not cool. Nor is it meant to be. You don't need top of the range designer, shiny gear, nor should you be climbing Conic Hill in your best trainers. A good pair of boots, a waterproof – and if you have older knees like me you will soon realise the benefit of a pair of walking sticks. You won't be embarrassed when you make it safely down without falling on your bum once.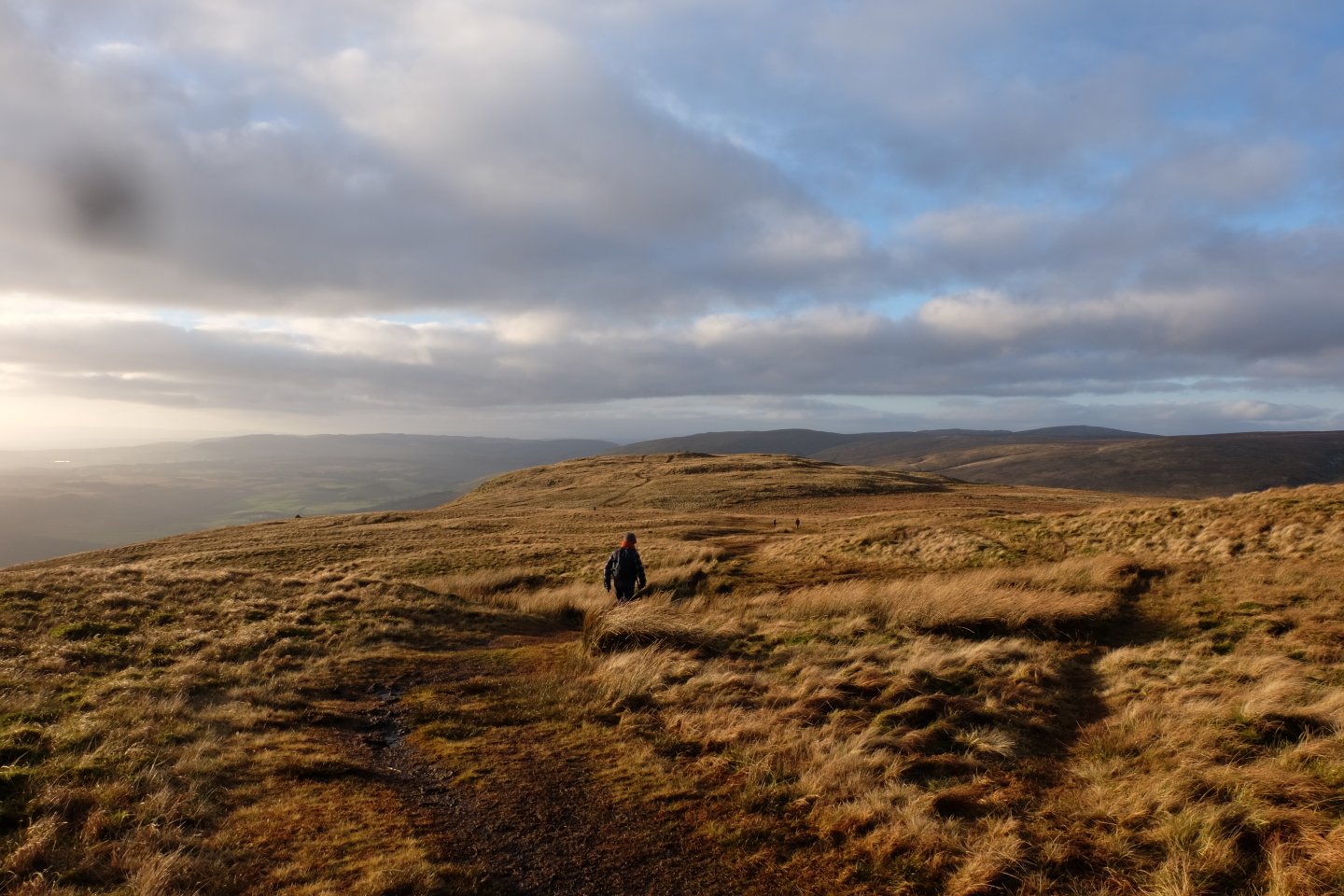 3 – Cort Ma Law, The Campsie Fells
The highest of the Campsie Fells might be Earl's Seat but the walk along the ridge from Campsie Glen to Cort Ma Law is one of my favourite wee walks in Scotland. With views across to the mighty city of Glasgow and north to Ben Lomond, the Campsies are also easily reachable from the city centre. After exploring the beautiful Campsie Glen head up the steep-sided Black Craig – once you are on the ridge you could be in the highlands not just 30 minutes from Glasgow!
Location: Just to the north of Glasgow
Height: 526m / ascent 351m
Go climb Cort Ma Law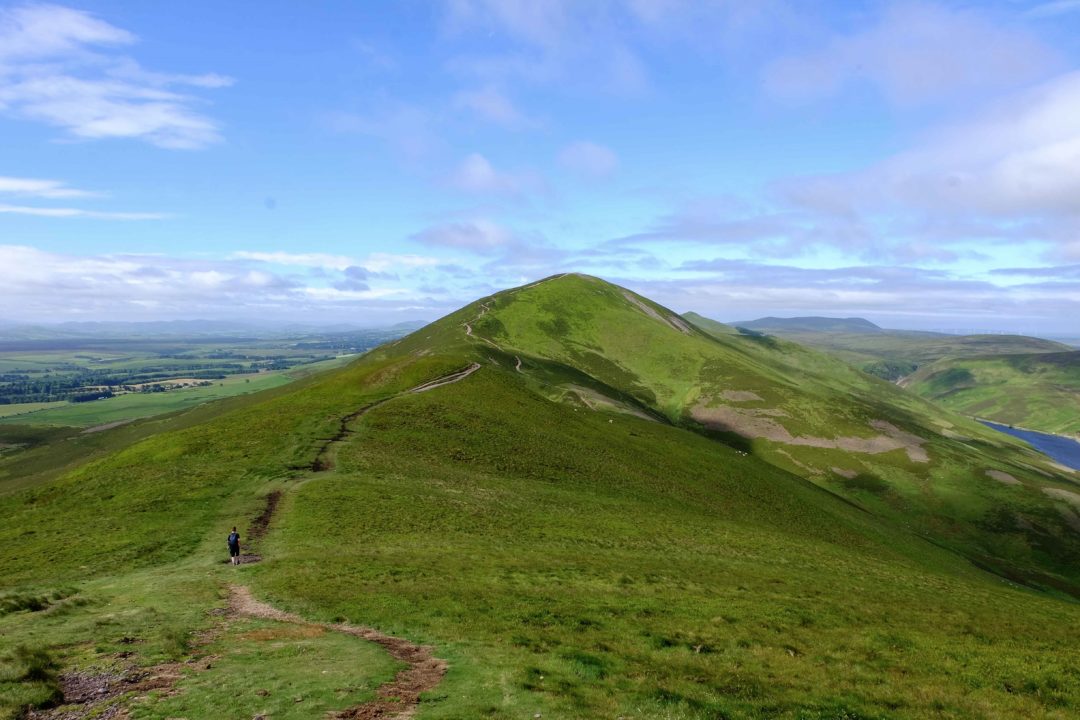 4 – Scald Law, Edinburgh
The Pentland Hills Regional Park is just to the south of Edinburgh. There are quite a few peaks in the Pentland's to bag, but the highest is Scald Law. With views across to Edinburgh and the Scottish Borders, as well as the Pentland's reservoirs, it is a small hill with a very big view. Great for a day out escaping the city.
…let's get a little higher up shall we?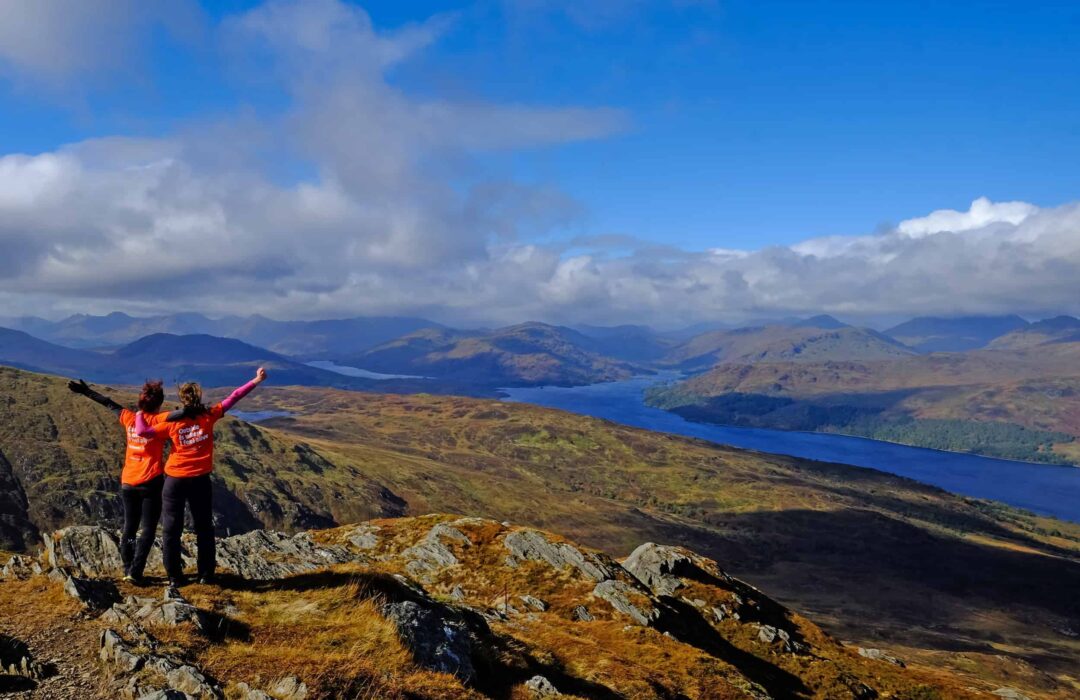 5 – Ben Venue, Aberfoyle
Whilst Ben A'an might be the most popular of all the Trossachs hills, the view from Ben Venue is actually even better. Ok, so you have to work for it a little harder – Ben Venue at 729m is a bit higher than Ben A'an at 454m – and there is a wee bit of very easy scrambling to get you to the two summits. The walk starts just along from the Ben A'an car park and will take you around 4 hours. The view across the Loch Lomond's and the Trossachs National Park and Loch Katrine, Loch Akray and Loch Venacher is so worth it.
Location: Aberfoyle
Height: 729m / ascent 725m
Go climb Ben Venue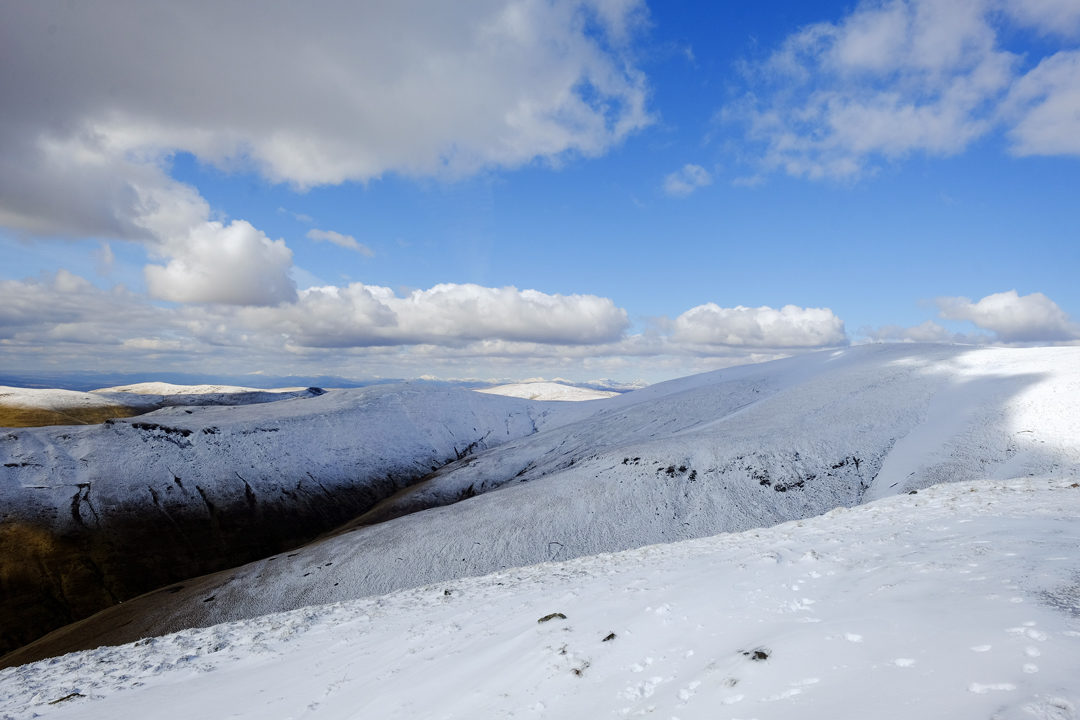 6 – Ben Cleuch, The Ochills
Right on central Scotland's doorstep are the Ochils, and the highest point, Ben Cleuch which stands at 721m. Climb up the steep Mill Glen from Tillicoultry, climbing up over the Law to the summit of Ben Cleuch for an incredible view across to Gleneagles and the hills of Highland Perthshire.
The path up the Law to Ben Cleuch is incredibly popular and easy to follow and the circular is about 8 miles if you also take in nearby Ben Ever. If you prefer an even longer walk, climb up over Kings Seat to Castle Campbell and follow the railway path back through the glen.
Location: Tillicoultry
Height: 731m / ascent 731m
Go climb Ben Cleuch
7 – Ben Vrackie, Pitlochry
Ben Vrackie is an incredibly popular hill walk which starts from the town of Pitlochry. At 841m, climbing Ben Vrackie is getting closer to how it will feel to climb a Munro, without actually climbing one. Basically, I am saying be prepared – like all hills do not estimate how remote the hill will actually feel when you get up there.
The walk starts just past the small hamlet at Moulin (spot the pub for your return!) and for most of the walk, there is a well-made path, with steps to tackle the very steep sections towards the top. From the top the views are stunning – you are looking across to the iconic Beinn a'Ghlo range and further afield to the Cairngorm mountains. Take a picnic and stay awhile, I suggest dropping down to just below the summit, even on a summer's day, it can be a tad windy at the top!
Location: Pitlochry
Height: 841m / ascent 720m
Go climb Ben Vrackie
Beginner's tip #3
Google Maps is useless for hill walking. You should always carry an Ordnance Survey Map of your route. However, carrying a map is also useless if a) you don't know how to read it and b) you have no idea where you are. So for extra protection against getting lost, GPS is the way to go. I use the Ordnance Survey (OS) App (*there are other GPS apps out there) and always carry an extra mobile phone battery pack. Just don't be an app zombie and blindly follow it. Ruins the point of getting out into the outdoors.
8 – Ben Ledi, Callander
Ben Ledi 'or the mountain of God' dominates the Trossachs town of Callander. Starting from the edge of Loch Lubnaig it is a steady walk up a good path. Ben Ledi is a Corbett – so it's just under Munro height, so it's another one to be prepared for if the weather isn't great, plus there are a couple of false summits to deal with (groan!) before you finally reach the cross on the top. The hill gives wide-ranging and stunning views of the Trossachs – including across to the Ben Lawers range.
The cross is actually a memorial to Sergeant Harry Laurie of the Killin Scottish Mountain Rescue team, who died in 1987 in a helicopter crash. The mountain has (is?) also been regularly used for Beltane celebrations, with local people using the summit to get as close to heaven as they could – and you can see why. One of my favourite hills in Scotland and that includes the 23 Munros I've bagged.
Location: Callander
Height: 879m / ascent 760m
Go climb Ben Ledi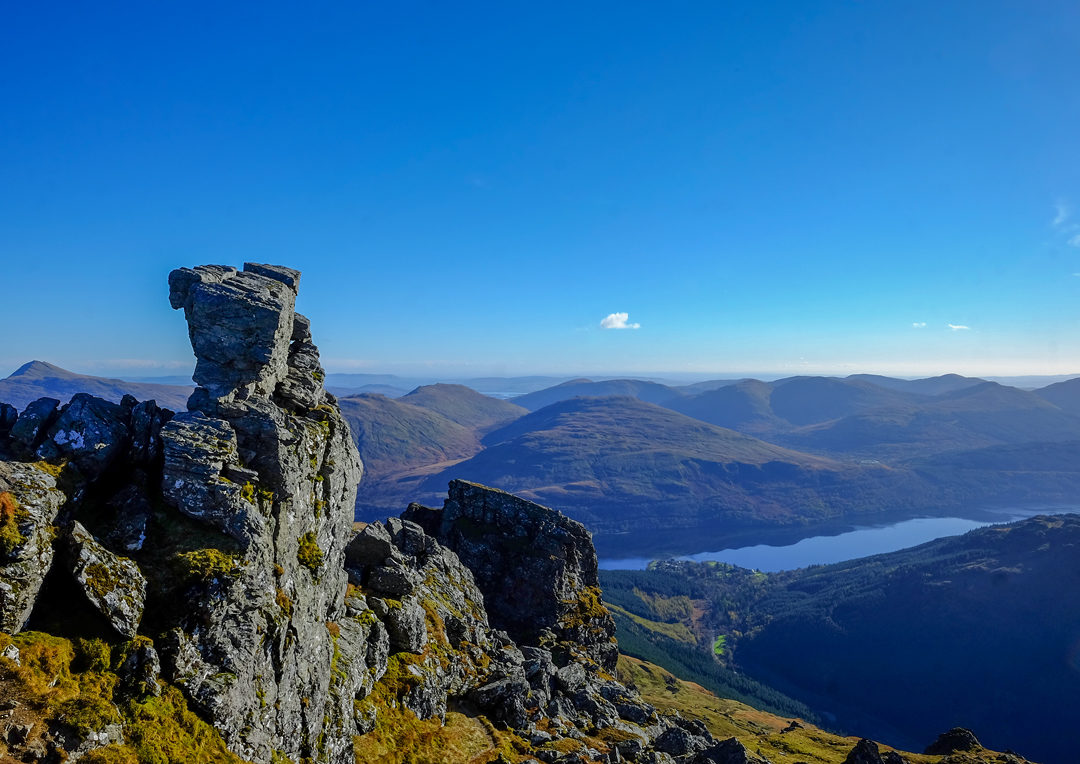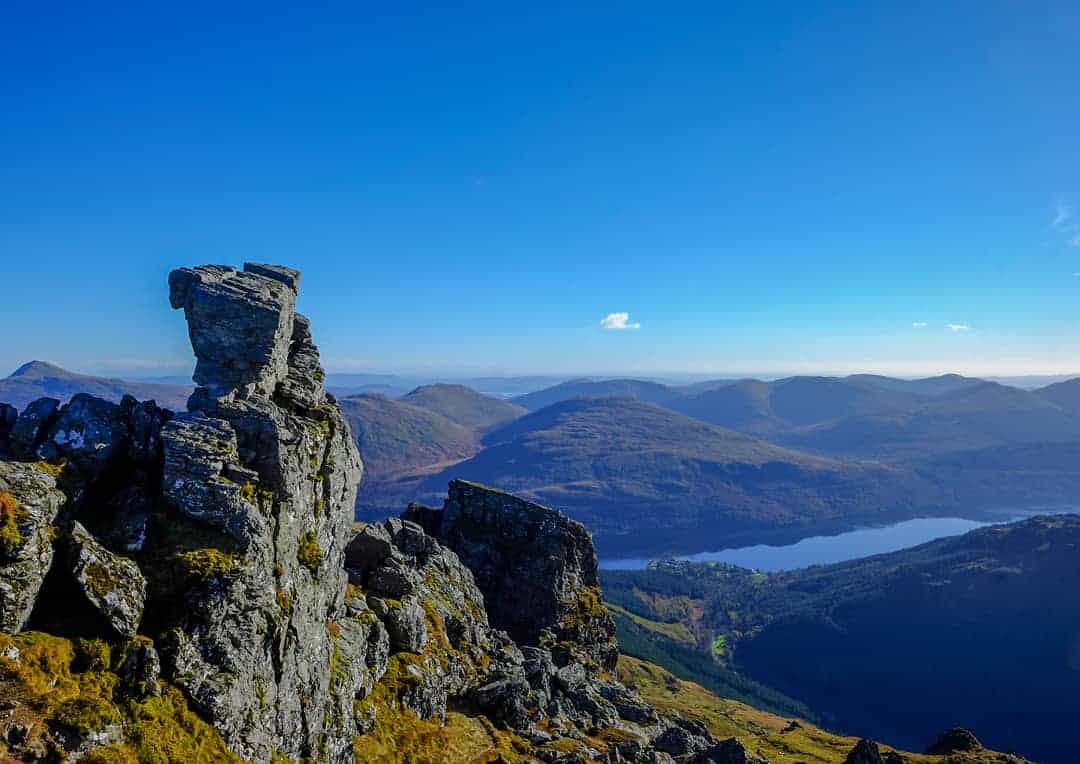 9 – Ben Arthur – AKA The Cobbler, Arrochar
On a sunny day, the path up the Cobbler might look and feel like a mountaineering superhighway, but that is because The Cobbler is one of Scotland's most famous hill walks. The Cobbler is famous mostly for its distinctive shape and rocky crags – and the challenge of 'threading the needle' – jumping across and then scrambling up the pinnacle to stand on the rocky peak which is actually the very top of the hill.
Shudder. I'll just watch thank you.
The Cobbler is a simple walk (in good weather that is, my video here at 46 secs shows it in the wet!) and a good path leads up the hill from the village of Arrochar, switching back and forth in the most tiring manner before popping out into the Arrochar Alps. Take the main path at the back of the Cobbler for the easiest route up, or have a go at some scrambling up the front. I prefer the front, but then I don't mind getting hands on.
Location: Arrochar
Height:884m / ascent 920m (there are lots of ups and downs!)
Go climb The Cobbler
My last tip? – Don't be an idiot. Smoking a cigar on the way up? (I've seen it on Ben Vrackie) A few tins on top? Save it for when you are safely down. A wee whisky in the pack? that's ok with me. Mine's a Dalwhinnie.
Love, from Scotland x
---
Climbed all my recommended hills for beginners in Scotland?
Time to start Munro bagging – 20 Munros for beginners
Get serious about hill walking in Scotland
Scotland's Best Day Hikes