Whether you are looking for a family friendly woodland stroll, a long forest walk with the pup, or are looking for somewhere peaceful to forest bathe in Scotland, here are the best forest walks in Scotland.
My favourite woodland and forest walks in Scotland
From ancient Caledonian pinewoods to beautiful upland oak woodlands, and even Scottish rainforests – Scotland has every type of forest walks you could wish for – especially in Autumn. Here are my favourite woodland walks in Scotland, from the highlands to the lowlands.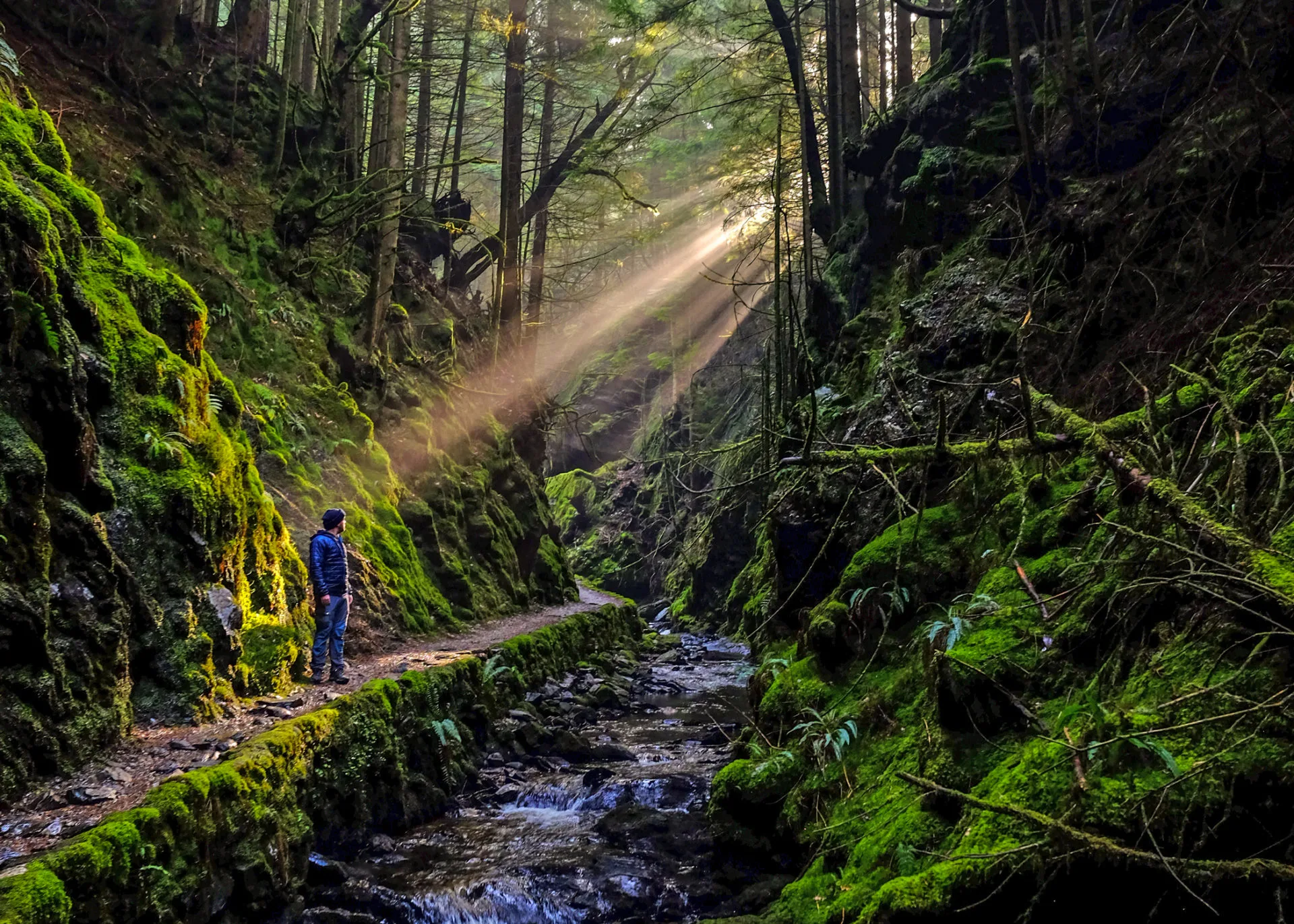 Forest walks in Scotland – Argyll and Galloway
Pucks Glen, Cowal – the stroll through Puck's Glen is one of the best woodland walks in Scotland following a path laid down by the Victorians in the 1800s (they loved a gothic walk!) through a waterfall-filled spectacularly-deep gorge filled with tropical plants and an otherworldly atmosphere. Visit Pucks Glen and the Cowal Peninsula.
Ardkinglas woodland garden, Cairndow – explore the Ardkinglas Woodland Garden to find the wee mouse pointing towards Scotland's Gruffalo Trail – great for kids. Price £5 per adult, £3 per child (4-16yrs) 3 & under free. £15 per family.
Glen Trool, Galloway Forest Park – ​​Scotland's largest forest park, Loch Trool is one of southern Scotland's most beautiful lochs and the hike takes you to find Bruce's Stone, a memorial commemorating Robert the Bruce's first victory in 1307 over an English army along takes you along the Southern Upland Way with a great view.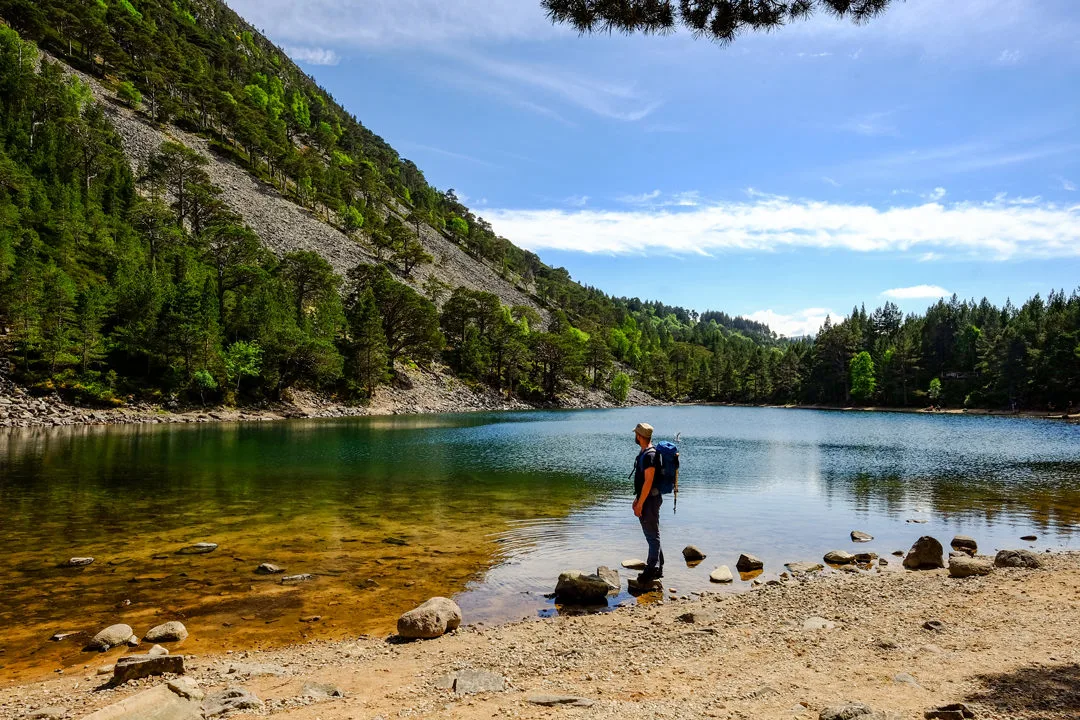 Forest walks in Scotland – the Cairngorm's National Park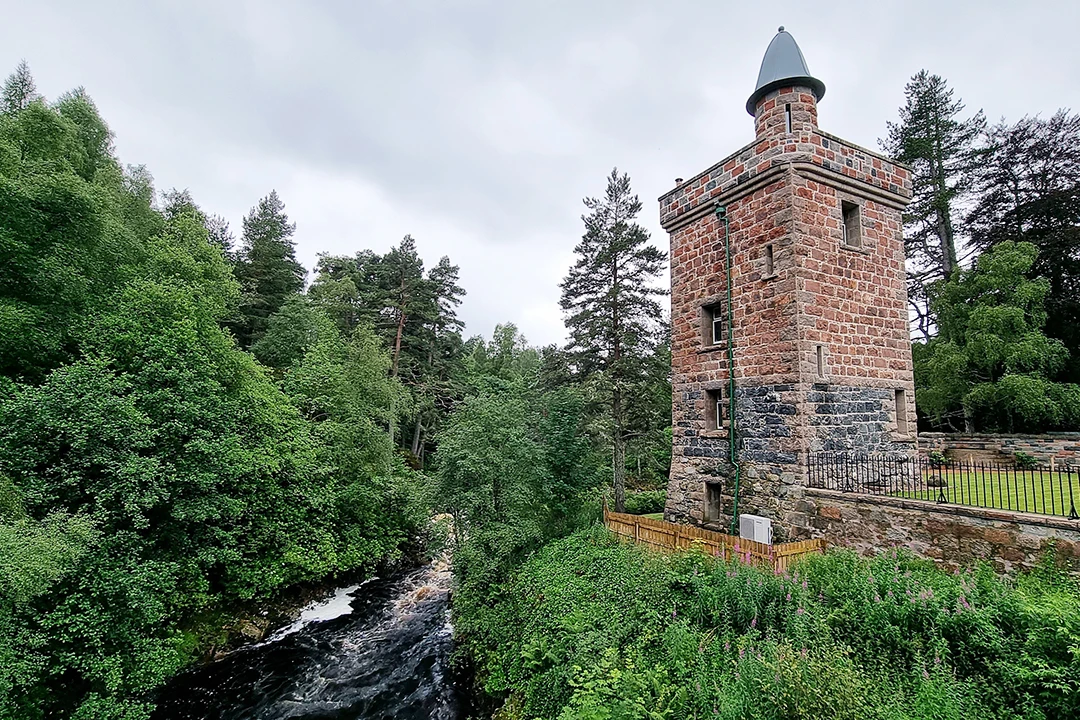 Forest walks in Scotland – Fife and Clackmananshire
West Fife Woodlands Way – visit many of west Fife's gorgeous woodlands including Valleyfield Woodland Park, Balgownie Wood, Devilla Forest and visit a plague grave and the West Kirk (Black Kirk in Outlander) with great views of The Ochills on the 10 mile West Fife Woodland Way circuit from pretty Culross.
Dollar Glen, The Ochils, Clackmanashire – Nestled below the dramatic Ochils mountains sits the imposing Castle Campbell and below, is the beautiful wooded Dollar Glen. Deep in the Glen are two deep chasms, carrying two burns – the Burn of Sorrows and the Burn of Care – and the glen is laid out with a series of bridges and raised walkways which dip you down into crevices, revealing glimpses of the castle. Visit Dollar Glen.
Tentsmuir Forest, Fife – With 1500ha of forest and 5 miles of spectacular beach to explore, there is plenty to keep you busy at Tentsmuir. The woods here are criss-crossed with miles of walking and cycling paths. You might also spot Limousin cattle!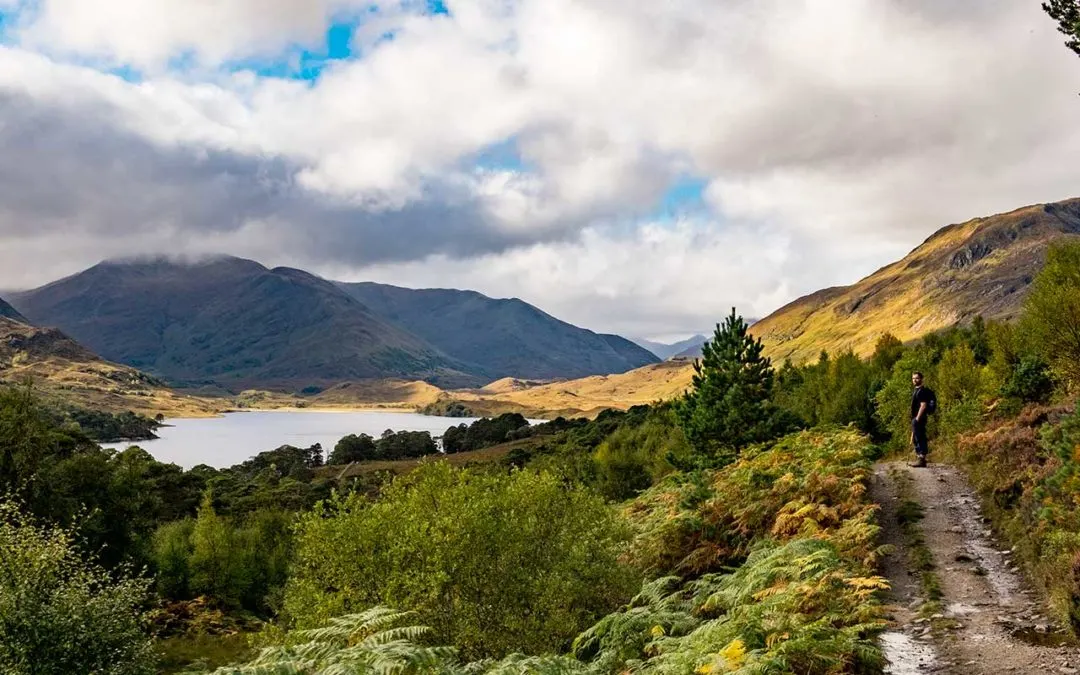 Forest walks in Scotland – Perthshire and the Highlands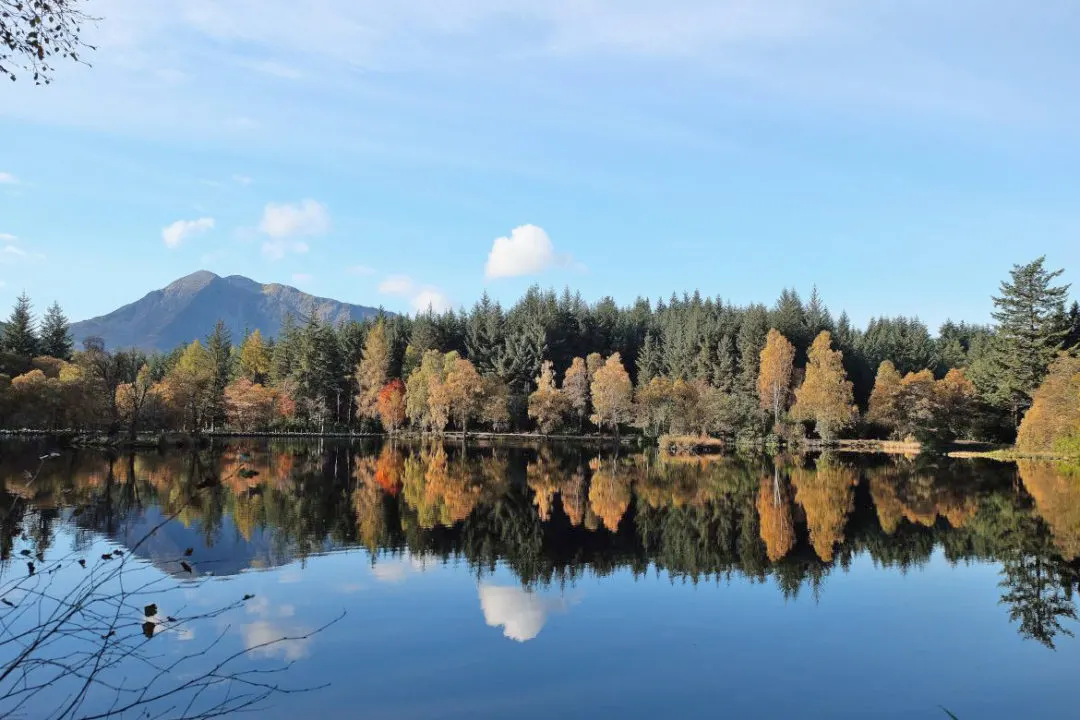 The best walks in Scotland's National Forest Parks
There are six National Forest Parks in Scotland – in the north east is Glenmore, the west is Argyll, in central Scotland are Queen Elizabeth and the Tay Forest Park, and in the south, Galloway Forest and the Tweed Valley. Here are the best walks in the national forest parks in Scotland.
Glenmore Forest Park Walks
Glenmore Forest Park is in the heart of the Cairngorms National Park. My favourite forest walks in the park are in Rothiemurchus where you can visit the gorgeous Uath Lochans, stroll around Loch Morlich or Loch Eileen, or up to the Lochan Uaine (green lochan). Rising above the woods and forests of Glenmore are the awe inspiring Cairngorm mountains. Read more – visit the Cairngorms National Park.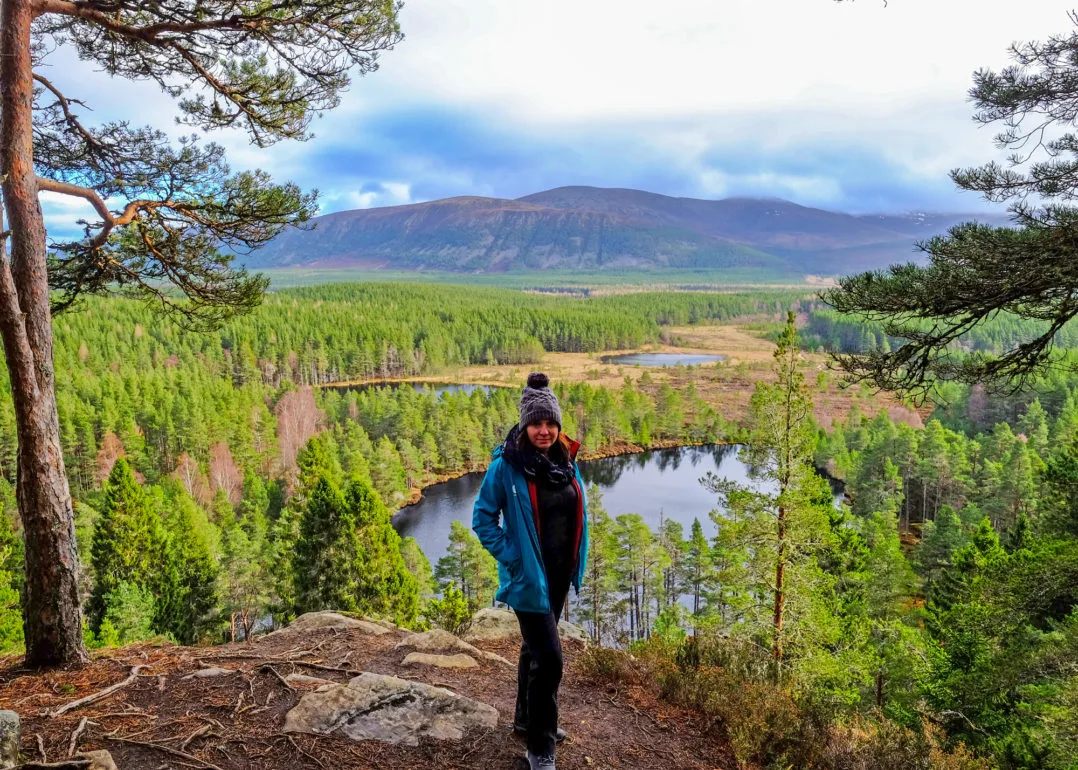 Argyll Forest Park Walks
Did you know that Argyll is home to the first National Forest Park in Scotland, established in 1935? Argyll forest park is also home to some of my favourite forest walks in Scotland – including the dramatic Puck's Glen on the Cowal Peninsula, the managed gardens at Benmore Botanic Garden, the lovely oak woods at Ardentinny and Glenbranter for red squirrel spotting and the Gruffalo Trail at Arkinglas.
Queen Elizabeth Forest Park Walks
Most famous for being home to Loch Lomond, the Queen Elizabeth Forest Park forest park also contains the beautiful Loch Katrine with its steam ship. Visit the Lodge Forest Visitor Centre, near Aberfoyle to discover the park – why not stroll around Loch Drunkie, or at Rowardennan where trails lead up to the popular Ben Lomond. If you do want a view from above, climb up the smaller Ben A'an for a lovely woodland walk followed by one of the best views in Scotland!
Tay Forest Park Walks
Highland Perthshire isn't called Big Tree Country for nothing – the woodlands of the Tay Forest Park are ginormous! From the lovely woods at The Hermitage and Faskally Forest, to the sculptures and viewpoints in Craigvinean forest, including the Pine Cone Point Trail with views over Loch Tay. One of my favourite walks in the Tay Forest Park is to Garry Bridge along the Linn of Tummel.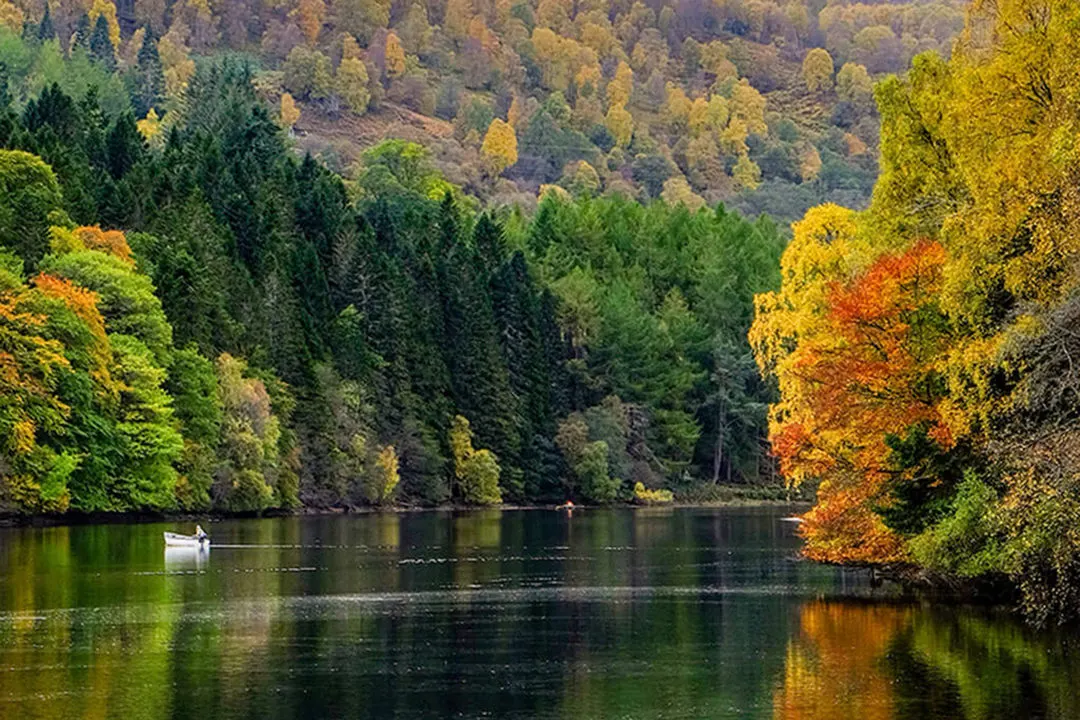 Walks in Galloway Forest Park
Galloway Forest Park is the largest forest park in the whole of the UK and is one of my favourite places to forest walk in Scotland. Explore the loch at Clatteringshaws, take a hike in Glentrool around beautiful Loch Trool to find Bruce's Stone under the towering mountains, or the short stroll up the gorgeous Ness Glen near Loch Doon. If you are looking for a hillwalk above the forests of Galloway, then hike up Corserine and the Rhinns of Kells ridge.
Tweed Valley Forest Park Walks
With seven forests to explore and only an hour from Edinburgh, the Tweed Valley Forest Park is also popular with mountain bikers at the 7stanes. Visit Glentress for great views of Peebles, the Three Brethren cairns at Yair, the quiet, Cardrona Forest to visit the Cardrona Tower, built in the 1500s and the Iron Age fort at Castle Knowe or the woods at Cademuir, Innerleithen or visit the 500 year old oak tree at Glenkinnon.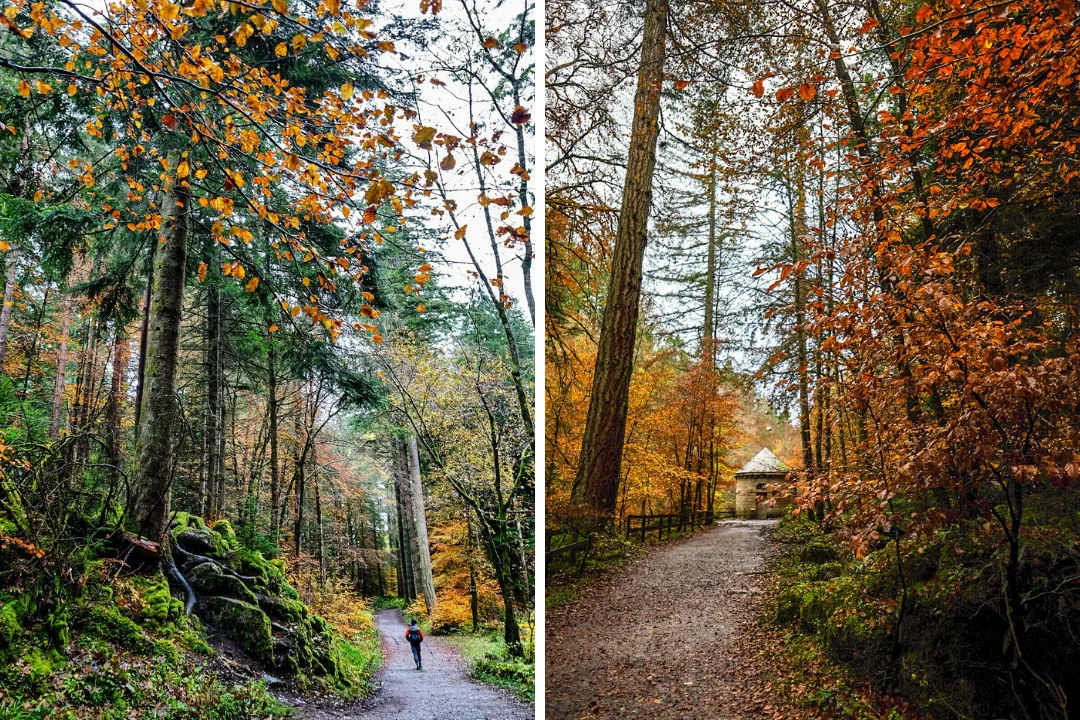 Where to find forest walks near you in Scotland
The Woodland Trust – a registered charity, the Woodland Trust manages more than 60 woods across Scotland. They have a find a wood page so you can find a woodland or forest walk near you.
Forestry and Land Scotland, previously known as the Forestry Commission, look after Scotland's national forests. There are lots of Forestry Commission walks and you can find them on their Forest search page – you can search by name, area and find woods closest to you.
Walkhighlands – one of the best websites to find walks across Scotland, Walkhighlands is great for finding woodland walks in Scotland.
Map of forest walks in Scotland
Woods and Forests in Scotland
Did you know that Scotland has over 1.4 million hectares of forests (that is over 260,000 football pitches) covering 18% of the country – that is a lot of woodlands to explore! Our Caledonian pinewoods are Scotland's only native coniferous forests, but we have stunning oak woodlands, and birch and pine groves.
Six of the 10 UK National Forest parks (Argyll, Galloway, Tweed Valley, Queen Elizabeth and Tay Forest Park) are in Scotland and there are many Forest National Nature Reserves from Loch Lomond to the Muir of Dinnet to explore.
The largest forest in Scotland is Galloway Forest Park which at 297 square miles is also the largest forest in the UK! Thousands of more hectares of forest and woodlands are planned for Scotland – for rewilding and biodiversity and climate change mitigation.
The oldest tree in Scotland is the Fortingall Yew which is in the churchyard of the village of Fortingall in Perthshire – it is thought to be around 3000 years old!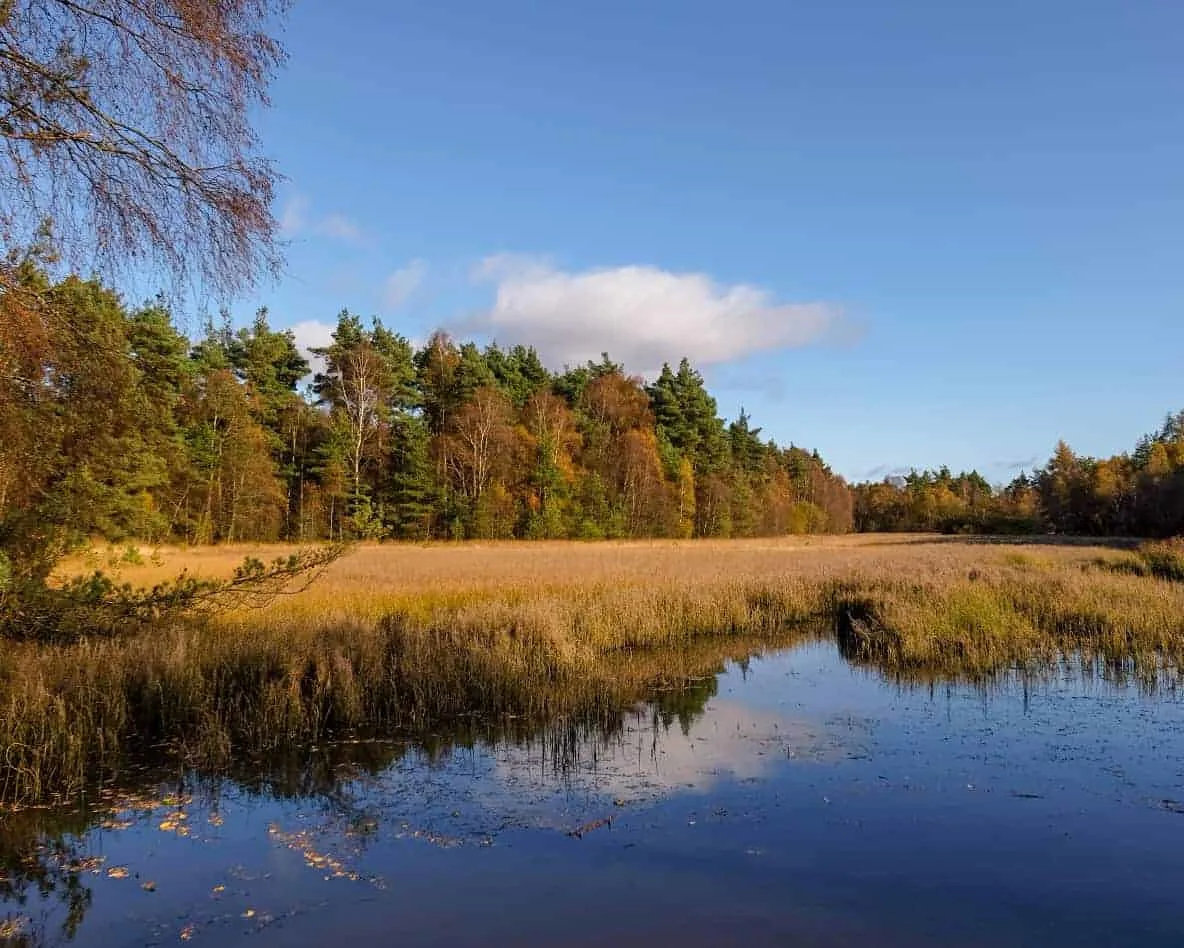 Caledonian pinewoods
The oldest forest in Scotland are our caledonian pinewoods, which can be found in 35 locations across Scotland – including Abernethy Forest, Attadale Gardens, Glen Affric, and Rothiemurchus. Rewilding at Glen Feshie is bringing Caledonian pinewoods back to life!
Scottish oakwoods
One of Scotland's most beautiful trees, there are stunning Oakwoods right across the country – and are often home to fantastic carpets of bluebells in the spring. Why not visit the oakwoods at Loch Lomond National Nature Reserve or Ariundle Oakwood NNR.
Scottish rainforests
Did you know that Scotland's west coast has rainforests? With consistent rain and mild temperatures, Scotland is a perfect home for a rainforest. You can visit the Atlantic or Celtic rainforest at Crinan Wood, Ben Shieldaig Estate and Loch Arkaig pine forest.
Love, from Scotland x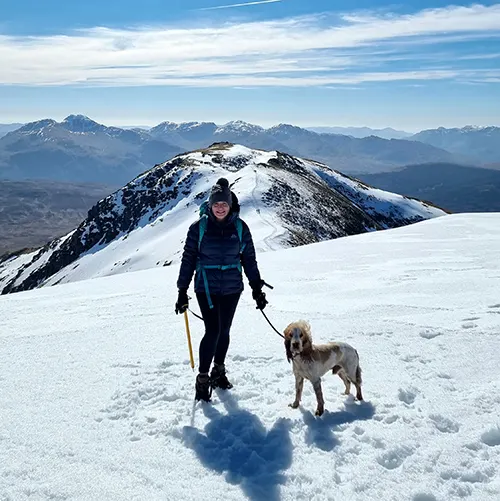 I'm Kate – a travel writer and photographer living in Scotland. Love, From Scotland is the Scotland travel guide that shows you where to stay and how to get outside in Scotland.