Do you ever get back from a holiday needing another one? Yeah, me too. We spend so much time planning a trip, rushing on and off a plane and then desperately trying to fit everything in, that we forget about actually being in the moment. It is exhausting. Instead I have discovered another way – welcome to Scotland!
If this year you want to prioritise your health and wellbeing and spend more time outdoors instead of rushing off on a plane, then you have come to right place. I'm here to show you how Scotland is the perfect country for wellness – and really being in the moment. So here are my favourite outdoor wellness activities in Scotland – from Munro bagging to forest bathing, wild swimming to SUP.
Disclaimer: this post is sponsored as part of the Living well with Very campaign which aims to promote the benefits of spending more time outdoors.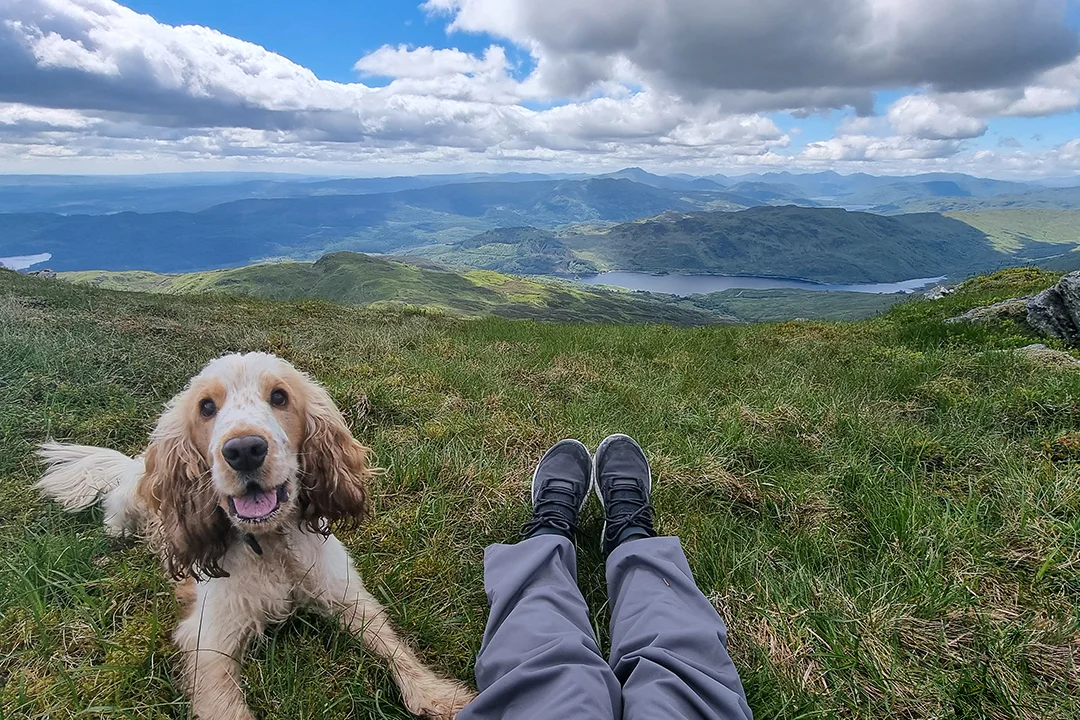 Bag Ben Ledi in the Loch Lomond and the Trossachs National Park – i'm wearing Adidas Terrex hiking trainers c/o very.co.uk
Head up into the hills for an exhilarating view
Looking for the perfect antidote to a stressful week sitting behind a desk? Start hillwalking. I was once stuck in a rut, mentally and physically tired, with no idea how much getting outside could help me. I thought that exercise is all about running marathons, triathlons or hours in the gym.
Then I discovered there was another way – Munro bagging – and it has been life changing. Nothing beats the feeling of reaching the top of a Scottish mountain and seeing an absolutely incredible view… and not forgetting the sense of achievement you will get on reaching the bottom again!
With hundreds of Munros (mountains over 3000ft) to bag, Corbetts to climb and insta ready summit selfies to take, why not try a weekend up in the Scottish hills. Ready to go?
Just starting out hillwalking? Then try one of my favourite hills for beginners in Scotland – start small on beautiful Ben A'an and work your way up to one of my favourite hills in Scotland, Ben Ledi.

Once you have the gear and some hillwalking experience, then start on one of my favourite 20 Munros for beginners, try Ben Lomond, Ben Chonzie or Mount Keen to start.

If you are looking for an incredible day out or that instagram shot but don't care about peak bagging, then head up one of Scotland's most iconic mountains – how about climbing the spectacular Suilven in Assynt?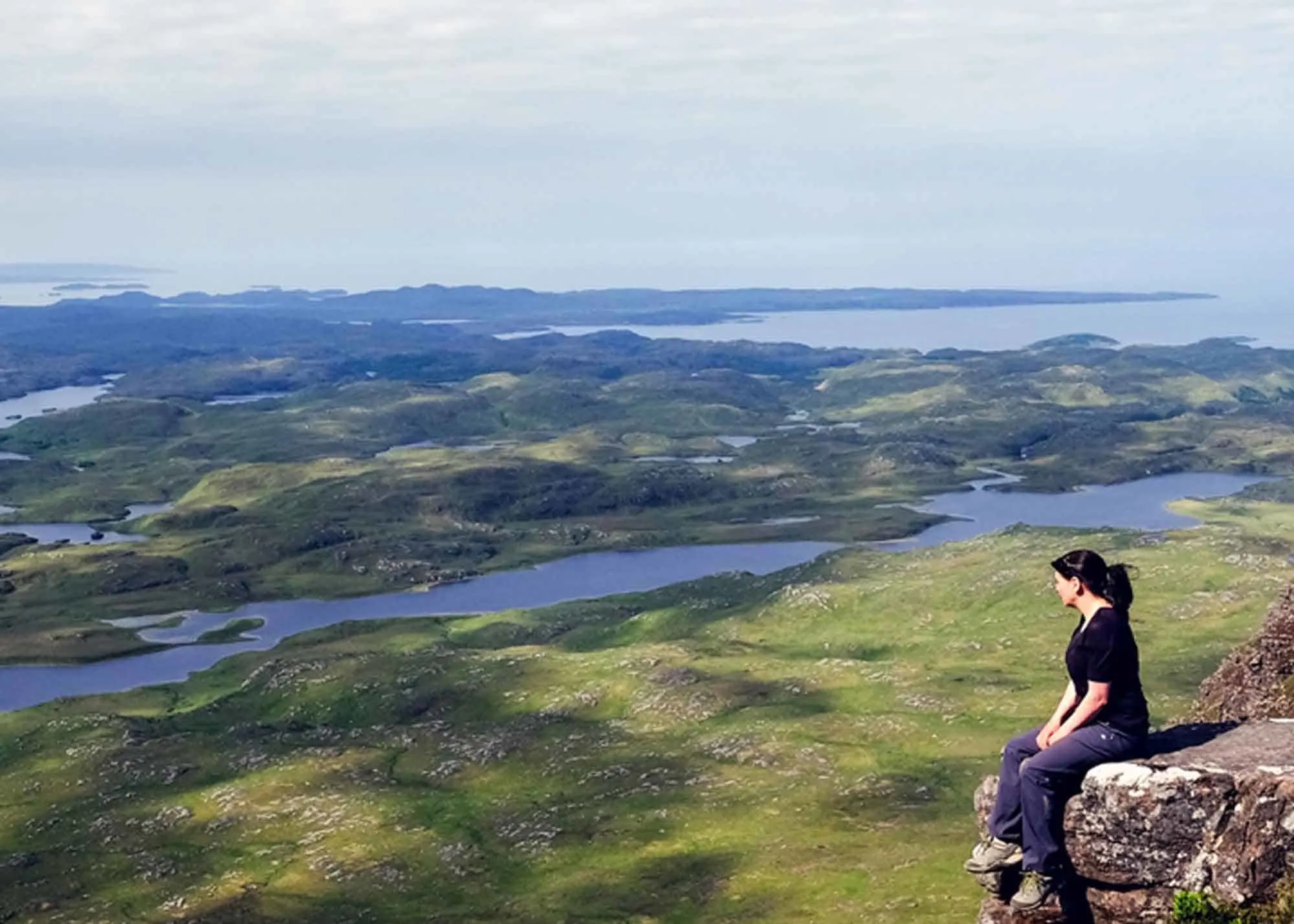 Hike up Suilven in the NW Highlands of Scotland
Go on a wellness walk – hike Scotland's best trails
Not up for hoofing it up into the Highlands to bag a Munro? Well, there are hundreds of amazing walks right across the country from the Highlands to the Lowlands. Don't let anyone tell you walking isn't good for you! Whether like me you try for 10,000 steps a day, or like to forest bathe or are looking for the best spots to take your dog for a walk, why not go on a wellness walk and hike Scotland's trails.
Looking for a big challenge? Why not walk one of Scotland's 30 long distance trails over a week – try the 113 mile Fife Coastal Path or the famous 96 mile West Highland Way. Spend a week challenging yourself in some of Scotland's most dramatic scenery.
Looking for an incredible view on your walk? Here are my favourite day hikes in Scotland – walk from Glencoe to Glen Nevis, climb the Five Peaks in the Pentlands, or hike the remote Loch Affric Circuit.
Prefer a low level loch side or woodland stroll and like to take it easy whilst getting outside? Here are my favourite short walks in Scotland – go forest bathing in Big Tree Country or explore the hidden walkways of Edinburgh, Scotland's capital city.
Love a loch? Here are my favourite loch walks in Scotland – from Loch Lomond to Loch Ness.
If you have more time, why not spend a wellness weekend in Scotland walking? My favourite areas to walk in Scotland are Perthshire, the Cairngorms and Loch Lomond and the Trossach's National Parks, and in the dramatic hills in Lochinver and Assynt.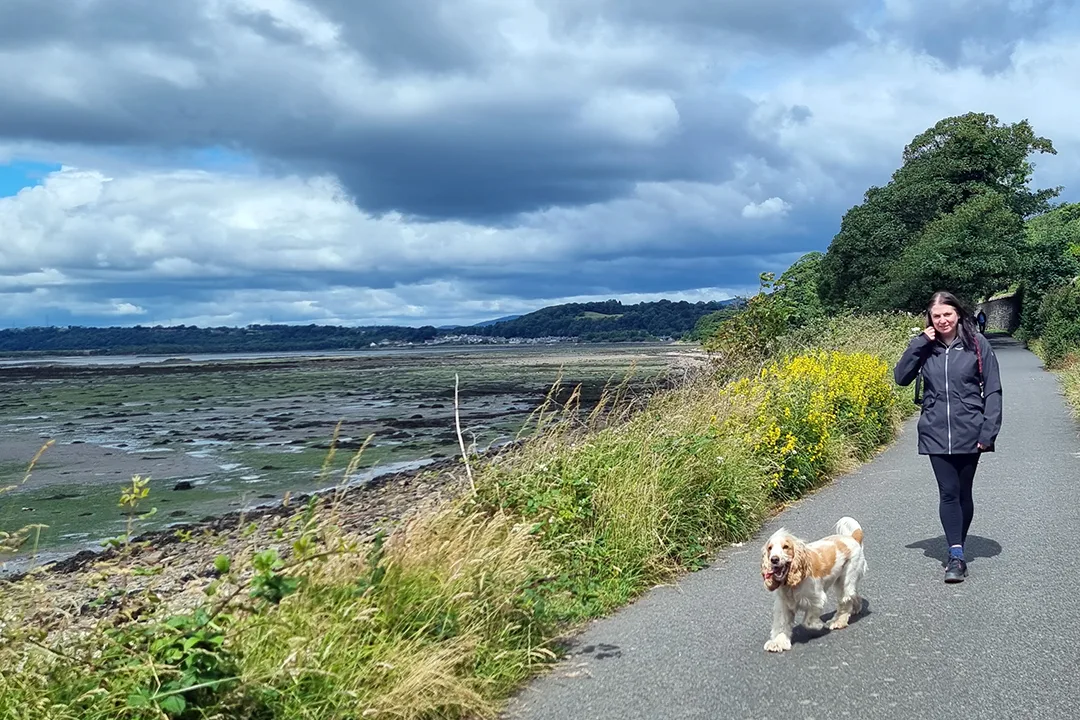 Explore the Fife Coastal Path – perfect for a dog walk. To beat the showers I am wearing the Craghoppers Minola gor-tex Jacket c/o very.co.uk
New to getting outside in Scotland?
Before you head out into the hills, read my beginners guide to how to hill walk in Scotland and my beginners guide to bagging a Munro.
Not sure what to wear? Scotland's weather is changeable at best so think geek, not cool – look for quality outdoor clothing from and gear which will handle all weather conditions.
Choose grippy, waterproof hiking trainers such as the Adidas Terrex Gore-Tex Free Hiker trainers which are perfect for short strolls and even for getting up into the hills.
My Craghoppers Minola Gore-Tex Jacket is made out of recycled bottles and is fully waterproof which is great for Scotland's changeable weather conditions.
For wellness tracking and safety I use a Garmin Solar which is great for both fitness and heath monitoring and even has a GPS in case I ever get lost.
Thanks to very.co.uk who have kitted me out for this summer's adventures.
The spaniel as always is wearing Eau de Bog.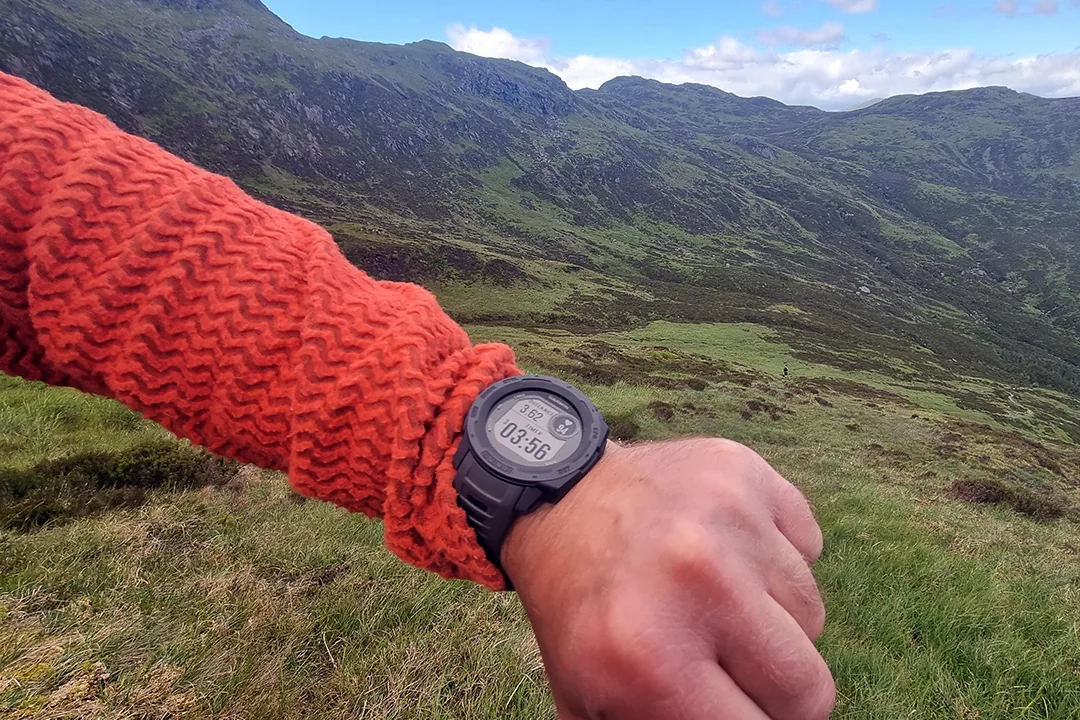 Be safe in the hills and track your wellness activities with a Garmin Solar GPS watch c/o very.co.uk
Get a stress relieving rush from mountain biking
Scotland is a world-class destination for mountain biking. I'm a total mountain biking beginner – and I love it. f you want to get out on your bike for an exhilarating stress releasing rush, why not:
Try wild swimming in Scotland for wellness
Wild swimming is having a moment, and it one of the best stress relievers out there. The water in Scotland is certainly refreshing – be prepared for cold water! Go on brave it, get a wetsuit and a buoyancy aid to start you off and jump in. Here are a few of my favourite places to go for a swim in Scotland.
Lochinver, Assynt – home to some of Scotland's most famous beaches, the beaches around Lochinver in the far north of Scotland have clear blue water, and white sands.
Harris and North Uist, The Outer Hebrides – with clear turquoise waters, soft sands, and shallow depths, you won't be able to resist swimming off the beaches of Harris and North Uist. My favourite beach is Hushinish.
An Lochan Uaine, Glenmore Forest – surrounded by huge Caledonian pines the beautiful Lochan Uaine is said to have got its green hue from the local fairies washing their clothes in it.
Loch Morlich, the Cairngorms – swimming off Scotland's highest beach at Loch Morlich gives beautiful views of the surrounding mountains.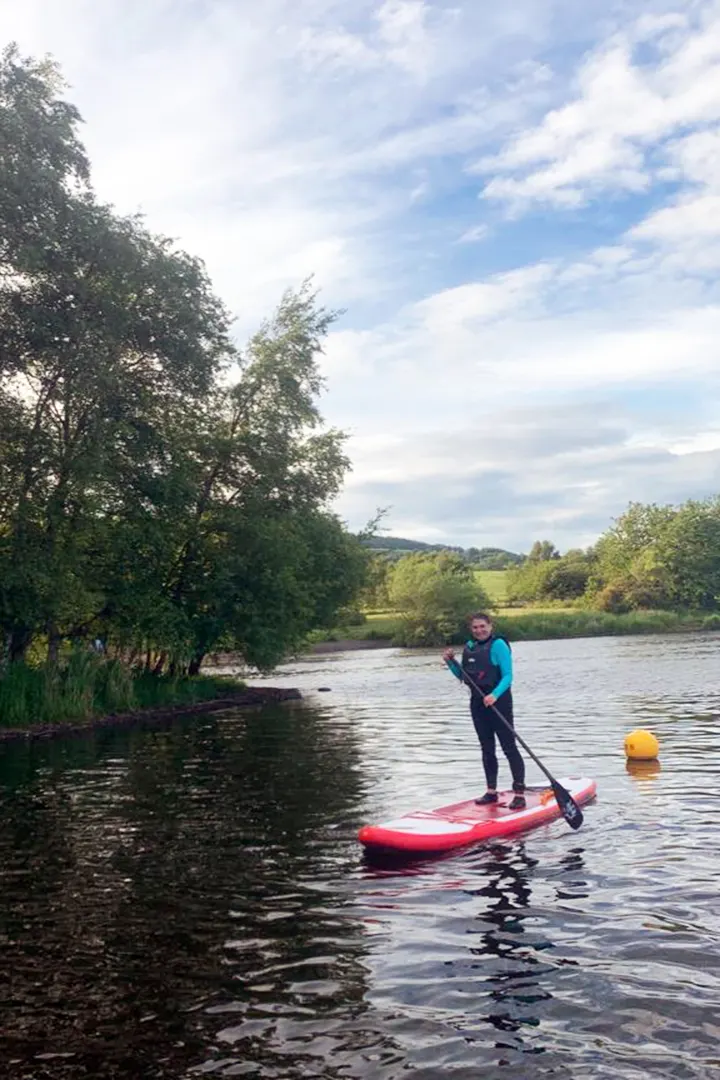 Stand up Paddleboarding in Fife, Scotland
Chill out while Stand Up Paddle boarding (SUP)
Stand up paddleboarding (SUP) is an incredibly popular wellness activity in Scotland. If you fancy trying SUP for yourself, look for calm lochs perfect for beginners. Once you are up on your feet you will be doing tricks in no time! Or, just trying to stay up… I got my SUP last year and it has been one of my best ever purchases, I love being able to head out for an evening paddle after work. Here are my favourite places to SUP in Scotland
Kinghorn Loch, Fife – a perfect spot for beginners, this small loch in Fife is sheltered and relaxing.
Loch Lomond – hire your board or kayak from Loch Lomond Leisure and explore the islands in one of Scotland's most famous lochs.
Arisaig and the Silver Sands of Morar – famous for its sandy beaches and still waters, Arisaig has lots of coves to explore.
Belhaven Bay, East Lothian – famed for its beaches, paddle out from this gorgeous beach for views of Bass Rock.
The Isle of Barra – head out on your board to paddle around Kismul Castle in Castlebay before exploring further afield on 'Barradise'.
Ready to explore wellness in Scotland?
… and not sure how to start? I have come a long way since I first started getting outside for my own wellness in Scotland and I know how intimidating the outdoors can be – at times it just seems like the outdoor community is full of people setting out to achieve bigger and bigger things, running ultras, triathlons and compleating the Munros.
But we are not all experts – and even if we are, we were all beginners once. I want to show you how easy it is to take that first step outside – and how it will be one of the best things you will ever do.
My Beginners Guide to Bagging a Munro for BBC Scotland inspired so many people to get outside – over the years I have had so many people getting in touch about how it has motivated them to get started, and it's been amazing to see that I have helped encourage so many people to post their first 'summit selfies'!
I wouldn't be doing this without Scotland. My favourite country is more than just castles and whisky – Scotland's landscape is a huge part of what makes Scotland, as a place, tick. From picturesque short walks and the best wee hills to getting up there and bagging a Munro, I hope to inspire all visitors to Scotland to Get Outside into our gorgeous country. I hope you join in too!
Love, from Scotland x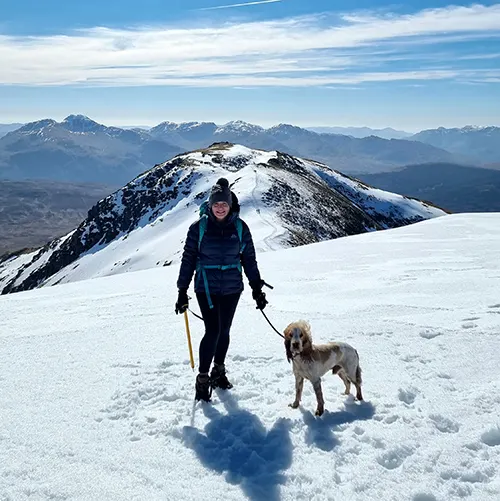 I'm Kate – a travel writer and photographer living in Scotland. Love, From Scotland is the Scotland travel guide that shows you where to stay and how to get outside in Scotland.