From the stunning north west Highlands to the glens of Perthshire and the arctic tundra of the Cairngorms, the Scottish mountains might not be the biggest hills in the world, but they are charismatic despite their lack of height, and because of Scotland's dependably undependable weather, they are at times downright dramatic.
Here are my favourite Scottish mountains to climb.
Ben Lomond – for a 360-degree view of Loch Lomond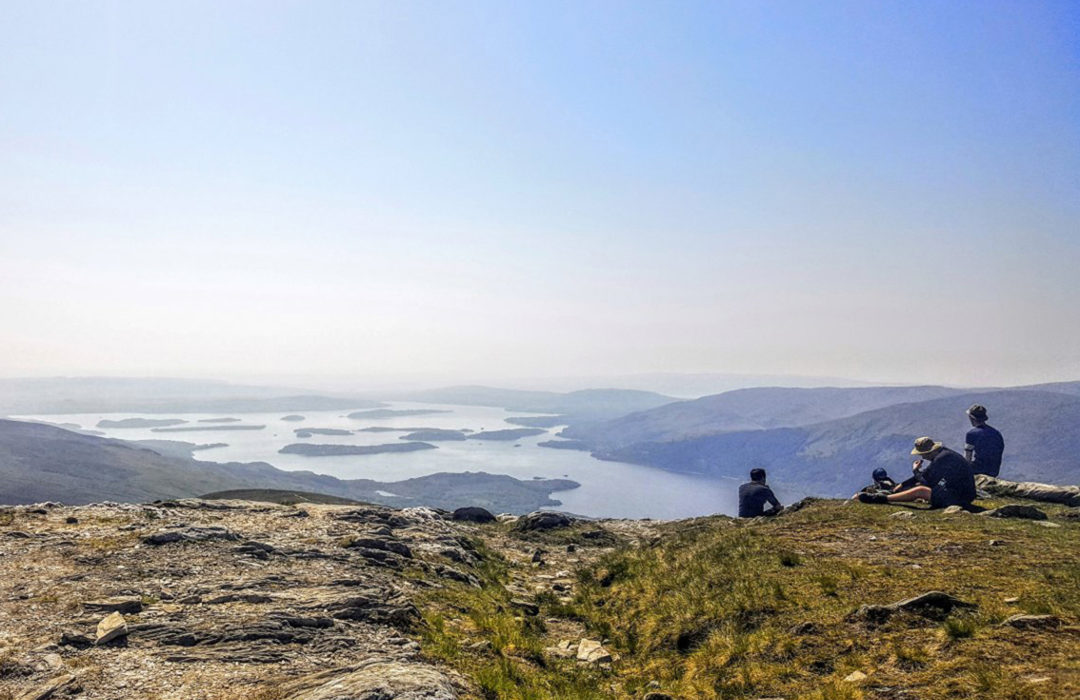 Ah, Loch Lomond and its bonnie banks. The problem is you can't really see the loch from the banks – to view it in all its glory you need to climb up high… and it is the view of the loch is what makes Ben Lomond one of Scotland's most popular mountains. Around 30,000 people reach the summit every year – and on a summers day you will believe it – the 'tourist path' is often described as being 'like Sauchiehall Street on a Saturday'.
Thankfully, that is where the comparison stops. Ben Lomond has a much better view than the shops of Glasgow's high street and climbing it is much better for you than retail therapy. Starting from Rowardennan on the east side of Loch Lomond you don't need to climb that far up before views of the loch are revealed, but those who persevere to the summit will be treated to an incredible 360-degree view of the whole National Park.
Where? Loch Lomond

Park at Rowardennan, be warned in good weather the car park can fill up quickly. Paid, bring £ coins.

Height / Distance – 974m / 7.5 miles / time – 5-6 hours.

Difficulty – hard – you will need hiking boots and waterproofs, climbing Ben Lomond is not a walk around the shops

Read more: climb

Ben Lomond
Suilven – an otherworldly rock rising straight up from sea level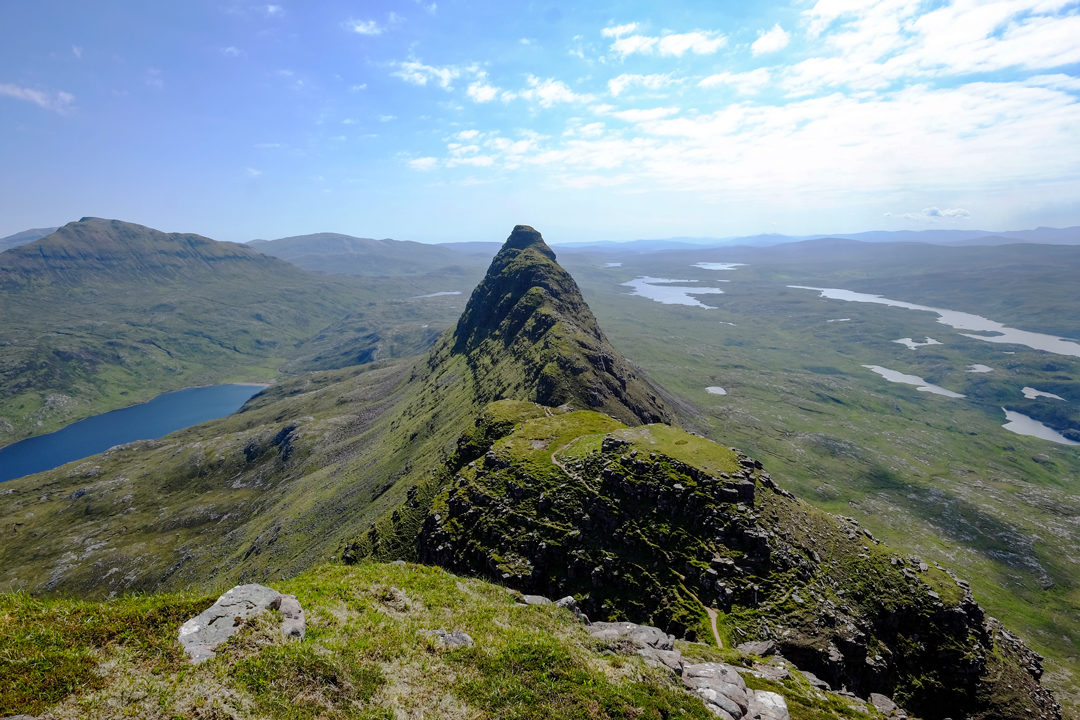 At just 731m Suilven (pronounced Sool-ven) might be considered a wee mountain in Scotland (Ben Nevis is nearly twice its height) but once seen Suilven's 2km long rocky ridge is never to be forgotten. Getting to (and back from) Suilven is a challenge – the walk to Suilven will take you most of a day – at times the path never seems to get to the base of the hill and once you do finally reach the black loch at the foot of the mountain, you will start to wonder just how you are going to get up that cliff face.
But up you go – following a small gully you climb directly up the face of the hill – although there is no scrambling required as the path zigzags sharply back and forth. As you reach the bealach and unsteadily get to your feet the view opens up all around you – it is not hyperbole to say it is simply awe-inspiring. Suilven has just been the star of the Hollywood movie Edie – a film with the message is that it is never too late to challenge yourself – and climbing Suilven is one of the best hills in Scotland for doing just that.
Where? Lochinver, North West Scotland

Park just before you get to Glencansip Lodge on Cansip Road.

Height / Distance – 731m / 12.5 miles / 8 – 10 hours.

Difficulty – very hard

Read more:

How to climb Suilven
Arthurs Seat – a volcano in the heart of the city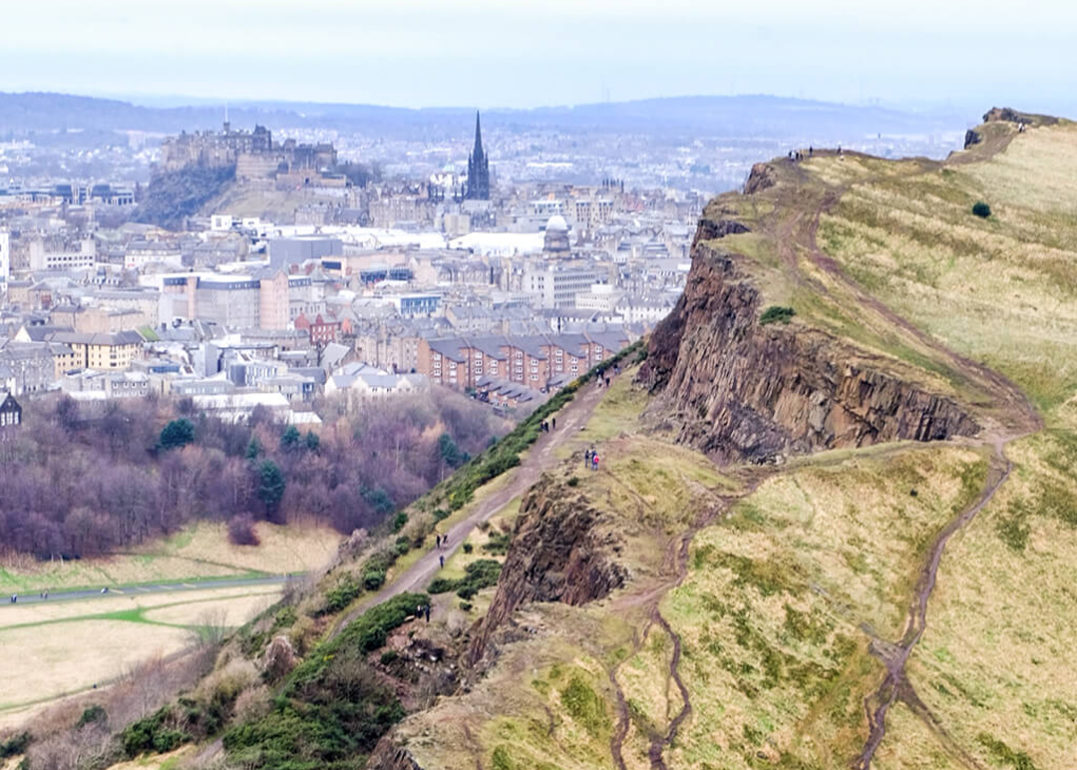 You don't have to hoof it up to the Highlands to go hill walking in Scotland, Edinburgh has its own mini-mountain. You even get to climb an extinct volcano – which is why climbing Arthur's Seat is one of the must-dos when you visit Scotland's capital.
Ok, Arthur's Seat might not be strenuous – you can even cheat by parking at the back and ambling to the top – but the views stretch right across the city and down to the Firth of Forth and on a clear day as far as the Forth Bridges. Whilst Arthur's Seat is in the city centre, it is still a hill, so make sure you wear sensible shoes – the path up the front can be slippy and the summit is muddy and rocky – slip on pumps are guaranteed to lead to a slip. I've seen it. It's not pretty.
Where? Edinburgh, at the bottom of the Royal Mile

Walk from the city centre

Height / Distance – 280m / 2.25 miles / max 2 hours

Difficulty – easy

Arthur's seat walk –

Route map
Ben Nevis – bagging the Big Ben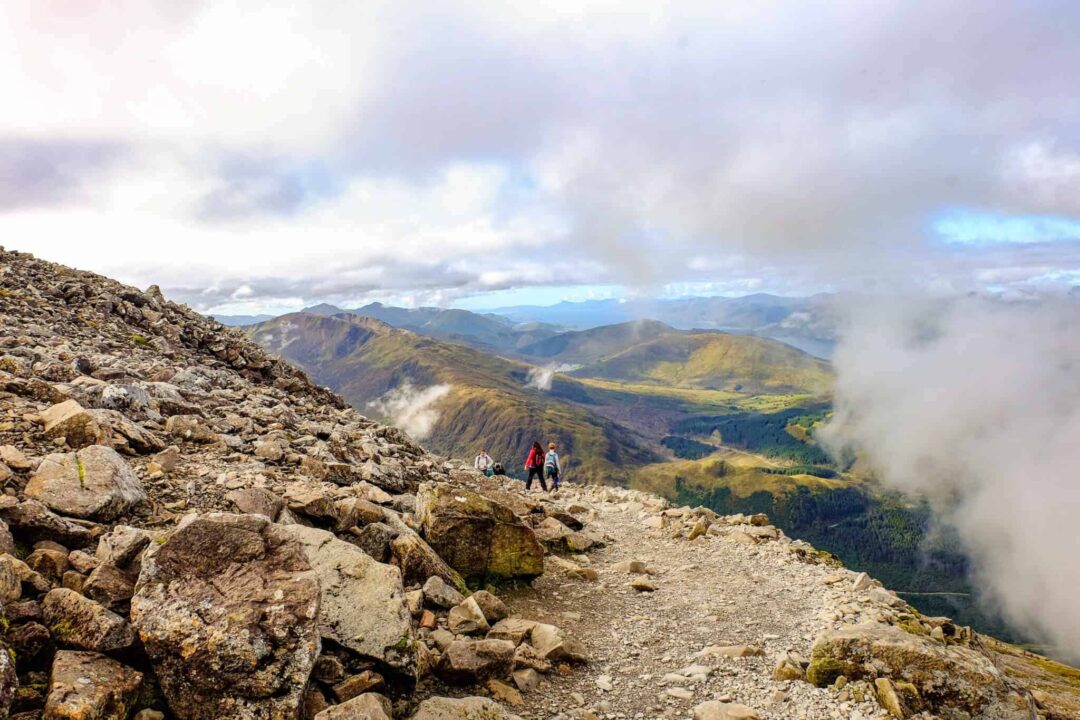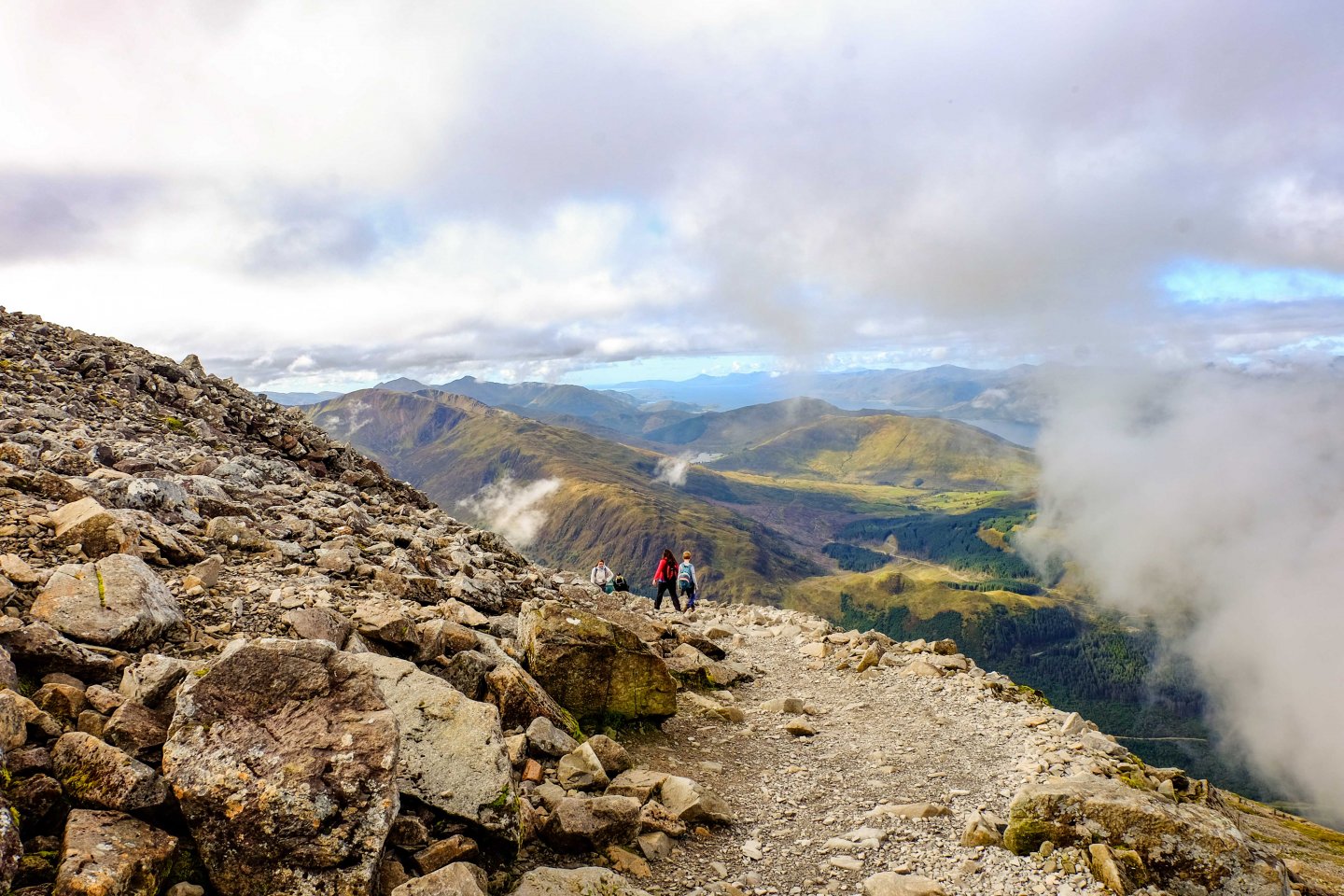 Climbing Scotland (and the UK's) highest mountain is on most people's bucket list. For me, I'd just completed my first 10 Munros, and I'd actually laughed a friend out of the pub when he'd suggested I'd be soon 'Bagging the Big Ben'. Who me? Climbing Ben Nevis? Ha, never in a million years. I wasn't ready for that! Turns out I was, and I joined the 150,000 people who attempt to climb to the summit each year.
The main route up is the 'Mountain Path' – also known as the 'the Ben Nevis tourist route' – which makes it sound easy – it is not. Ben Nevis is a 5-mile slog uphill – and often with no visibility. Don't expect to get a view from Scotland's highest mountain, the top of Ben Nevis is clear on average just 14 days a year! However, if you do get a clear day, the views across Scotland and down to Fort William and Loch Linnhe, and as far as the Isle of Mull is absolutely stunning which makes that slog worth it. No view? Well, you've still stood on the top of the UK…
Where? Fort William

Parking available at the Glen Nevis Visitor Center for £3.

Taxi – £7 from Fort William.

Height / Distance –

1345

m / 11 miles / 7-9 hours

Difficulty – Hard

Read more:

how to climb Ben Nevis
Schiehallion – The Fairy Hill of the Caledonians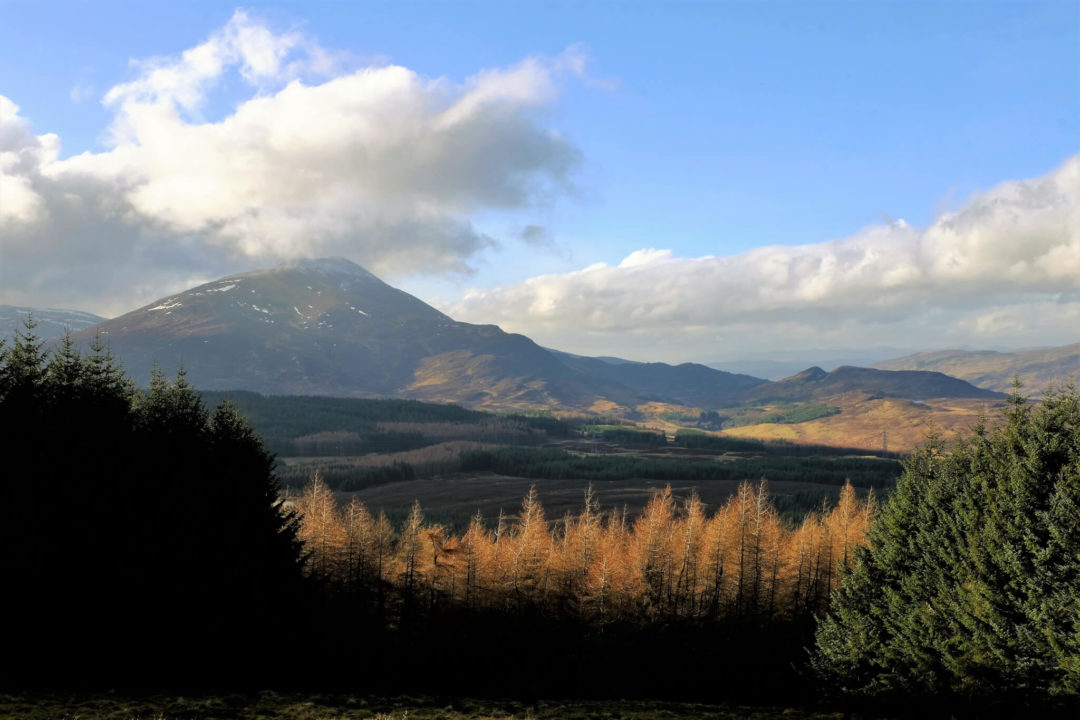 The most 'mystical' of all the Munros due to its name meaning "Fairy Hill of the Caledonians", Schiehallion is also called the 'constant storm' due to the often nasty weather conditions on its slopes. Despite the weather, Schiehallion is still a popular first Munro, due to the well-made path most of the way up the mountain.
That is until you reach the Schiehallion boulder field – whilst walking in Scotland in winter is really for those with experience and gear for the conditions (you will need an ice axe and crampons and know how to use them) Schiehallion is an easy first snowy Munro in good weather – you walk right over the blasted boulders.
Where? Perthshire

Park – the Braes of Foss car park (£ charge)

Height / Distance – 1083m / 6.25 miles / 4-6 hours

Difficulty – hard

Route via Walkhighlands
Buachaille Etive Beag – the litte(r) herdsmen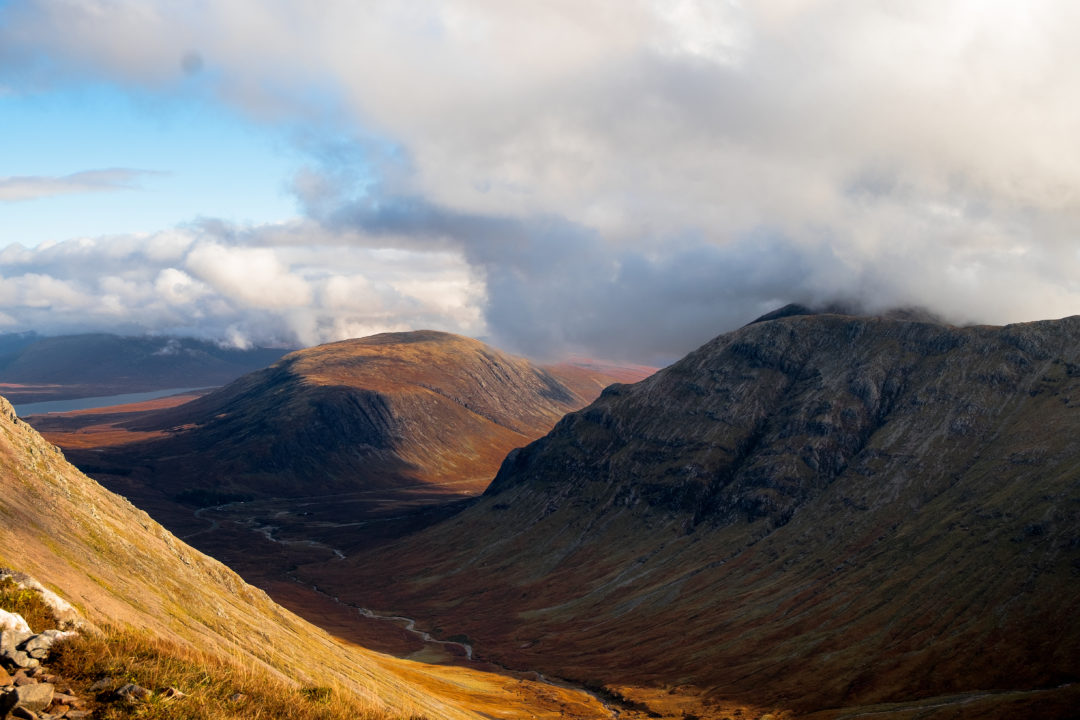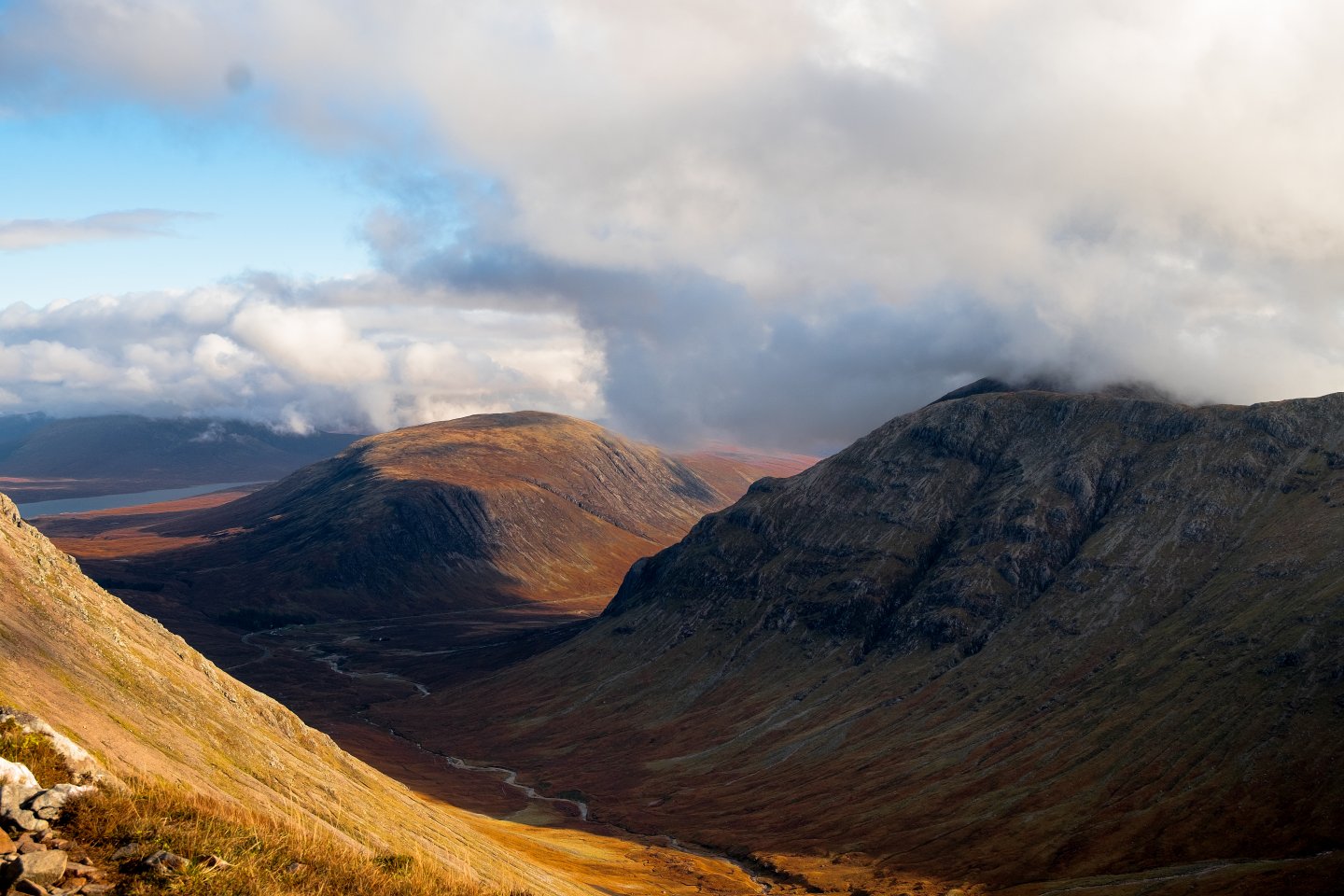 Driving through Glencoe the mountains will call your name. However, don't ever underestimate the mountains of Glencoe – they are not for the faint of heart. The weather can be wild, the ascent steep and relentless and you will be facing your first ridges, scree and scrambles.
Beginners to Glencoe will love finding the Lost Valley and Munro baggers love the Mount Doom like Buachaille Etive Mor (the Bookle). It might be Scotland's most famous (and photographed) mountain, but the slightly smaller Buachaille Etive Beag allows for the views to be achieved a little more easily…After a very steep ascent, you will be bagging two Munros – Stob Coire Raneach and Stob Dubh – giving you a whole different perspective on Glencoe.
Where? Glencoe

Park – in Glencoe next to the beehive cairn

Height / Distance – 958m / 5 miles / 5-6 hours

Difficulty – very hard

Route via Walkhighlands
The Cobbler – The pinnacle in the Arrochar Alps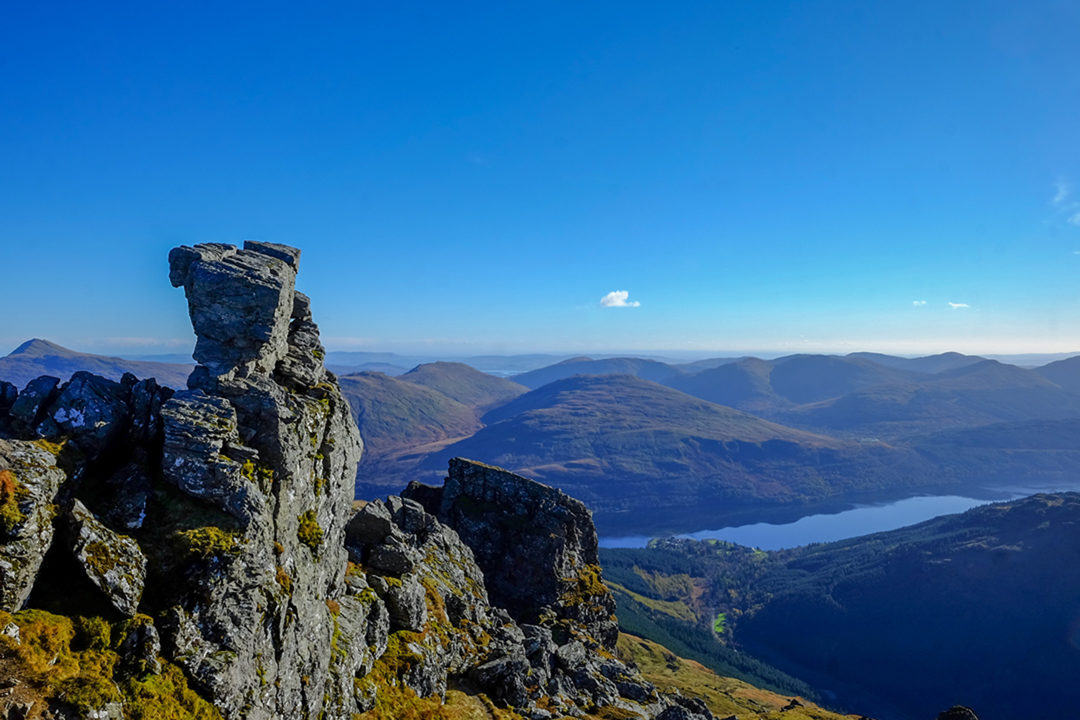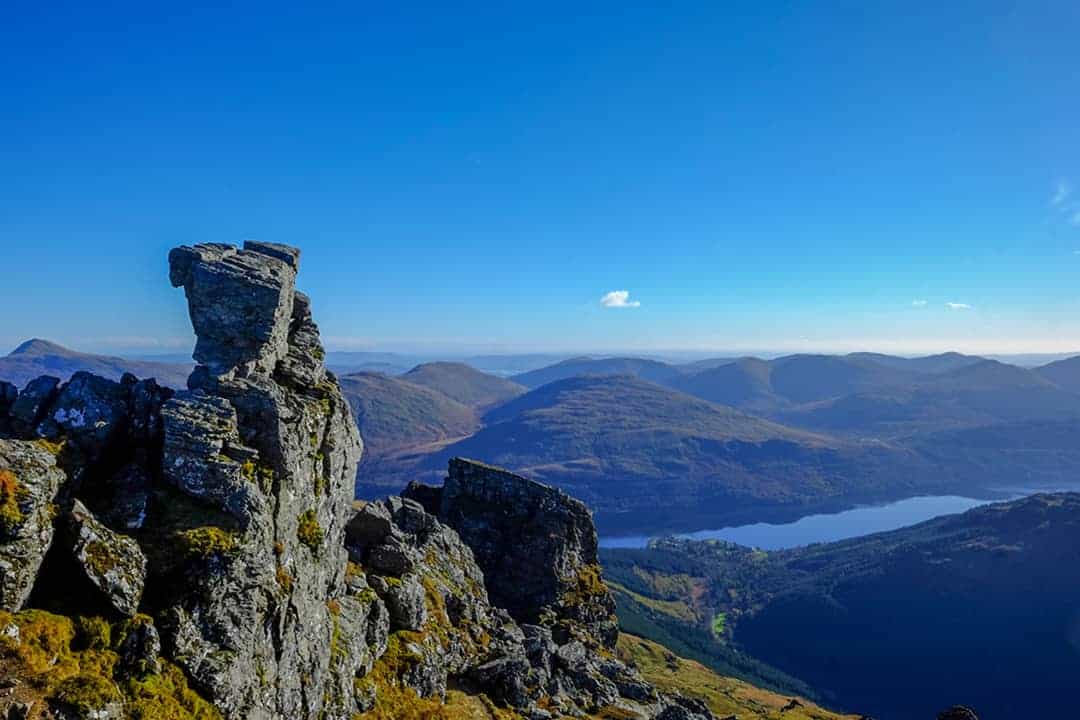 The Cobbler is one of the best known Scotland mountains. Famous for its distinctive shape and rocky crags – and the challenge of 'threading the needle' – jumping across and then scrambling up the Cobbler's pinnacle to stand on the rocky peak which is actually the very top of the hill. It looks hard – but you really just need a good head for heights – and an Instagram account to show off that you've done it.
The Cobbler is a very simple walk (in good weather that is, my video here at 46 secs shows it in the wet!) as a good path leads up the hill from Arrochar. Be prepared for a full day out and for the weather to change, the Cobbler is much higher than it looks. Aim for a good day and you will get an incredible view at the top!
Where? Arrochar

Park – Arrochar car park (£1 hour charge)

Height / Distance – 884m / 7 miles / 4 -6 hours

Difficulty – medium

Route – The Cobbler
---
Want more Scotland mountains?
Scotland's best day hikes – including a walking marathon through two of Scotland's best glens
Work your way up to bagging a Munro – 10 best hills for beginners in Scotland
10 Munros for beginners – and my video guide to how to bag a Munro
Don't fancy hill walking? – here are Scotland's best short walks
Warning – climbing Scotland's mountains in winter is for the experienced and very well prepared hill walker. If you are a beginner please read my guide to hill walking in Scotland before attempting any of these routes. All of these Scotland mountains are suitable for those with a reasonable amount of fitness – there is no scrambling or rock climbing required!
---
Love, from Scotland x