I love being a tourist in Edinburgh – and I love it, even more, when I have family or friends to show around. I get to go to my favourite museums, eat at my favourite places and show off all the tips and tricks about Edinburgh which only the locals know about! We all know how easy it to fall into the trap of visiting the 'top ten' places in the city you are visiting. So here are my top ten things to do in Edinburgh.
Free things to do in Edinburgh
1. Work up an appetite at the Edinburgh Botanical Garden
There are lots of things to see at Edinburgh's Royal Botanic Garden, including the spectacular glasshouses, Inverleith House, a great visitor centre (which sells lots of succulents!) and a couple of Andy Goldsworthy sculptures – not to mention a beautiful garden to stroll around.
2. Take a Sunday stroll in Stockbridge
One of my favourite neighbourhood in Edinburgh for a stroll, Stockbridge is a proper village in the city.
Browse the Stockbridge Sunday market, pop into the charity shops (including Oxfam Music and Mary's Living and Giving) and independent fashion shops (I like Dicks on North West Circus Place and Epitome on Dundas Street) and buy a book from the gorgeous Golden Hare Books.
Then fill up on stinky melted cheese sandwiches at renowned Edinburgh cheese shop IJ Mellis, head for cake at Lovecrumbs, or brunch at The Pantry or street food at the Neighbourgood Market and then find the Last Word Saloon or the St Bernards Bar for a few cocktails.
3. Get hands-on with the animals at Gorgie City Farm
For hands-on animal encounters, head to Gorgie City Farm, an Edinburgh institution for over 30 years. Meet pigs, ride a horse, or just feed the ducks. Whilst entry is free, donations are welcome.
4. Go on an insta-worthy tour of Edinburgh
Insta-obsessed? Head out on a tour of Edinburgh's famous Instagram shots:
Circus Lane – Behind Edinburgh's grand houses are a series of cobbled mews lanes and the most famous, Circus Lane. To take the classic insta-shot head down the lane until the imposing tower of St Stephen's Church comes into view.
Climb Arthurs Seat – for a fantastic view of the city. Got the kids with you? Tell them it's a volcano – they will be up in a flash.
Edinburgh's Princes Street from Calton Hill – walk as far to the west of Calton Hill you will be rewarded with a view right down Princes Street
Dean Village – one of Edinburgh's prettiest villages, Dean Village is hidden away near Stockbridge. The classic shots are of Hawthornbank Lane, of the river from the metal bridge and Damside.
The Vennel & Edinburgh Castle – climb the Vennel leading up from the Grassmarket for one of the best views in the city. The Vennel is near Mary's Milk Bar.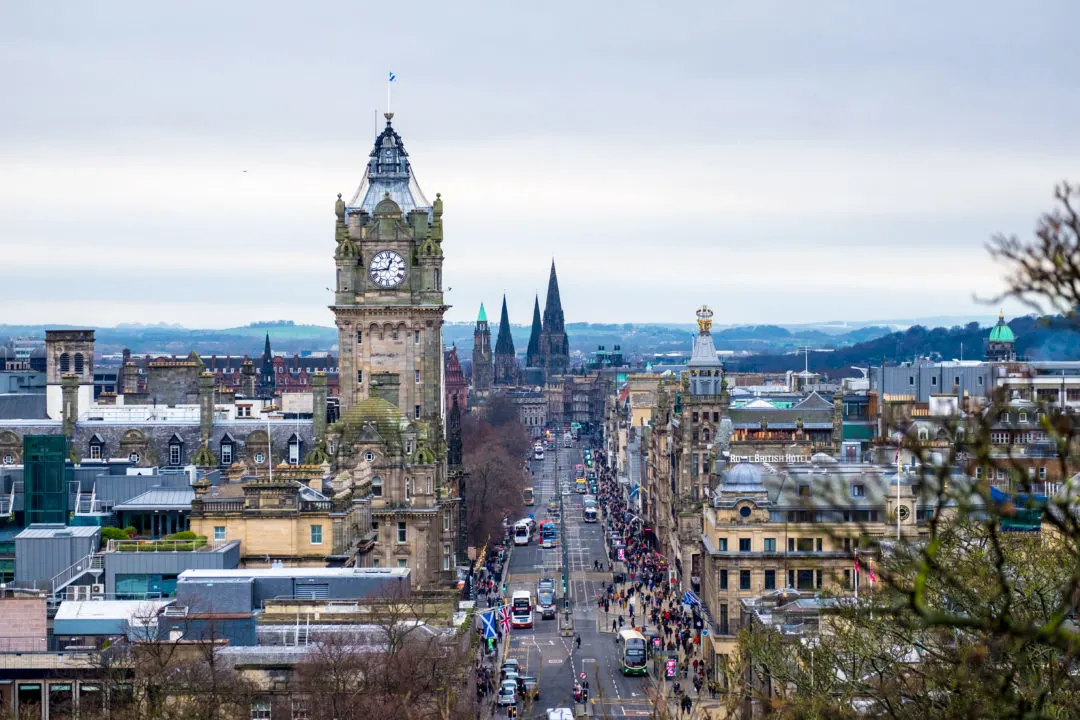 4. Explore Edinburgh's waterside walkways
From discovering the Dean Village along the Water of Leith, the old water mills on the River Almond, boats on the Union Canal and castles on the Shore Walk, Edinburgh is one of the UK's best cities for walking. Head to any one of these paths and you will soon feel a million miles away from the city. Perfect for clearing your head after the night before. Ahem.
5. Head to Edinburgh's beach at Portobello
Portobello is favourite of Edinburgh locals for a stroll on a sunny day when the sun is out and that blue sky is all above you there are very few places better. Even if it is not often warm enough to sit on the beach! Instead, take a bracing walk along the prom and have a go on the vintage penny arcades. Brunch after your walk is available at the cool Espy Bar, the Beach House cafe or The Skylark.
6. Go behind the scenes of the city
From the tiny, peaceful, Dunbar's Close garden (originally created by town planner Sir Patrick Geddes) to the slightly creepy Innocent Railway tunnel, Edinburgh is a city of secret places, and discovering them is one of my favourite pastimes. If you don't have much time, just head down one of the closes off the Royal Mile. You never know what you will find!
7. Climb Edinburgh's Pentland Hills
Ask an Edinburgh local where they head on a Sunday for a walk, and the Pentland Hills Regional Park will be high on the list. There are lots of low-level Pentland Hills walks to explore, including reservoir rambles and moorland strolls which are great for a dog walk, along with mountain bike trails. If you fancy getting up into the hills then the Pentland's contain 20 miles of peaks including the region's highest hill, Scald Law. Here are my favourite walks in the Pentlands.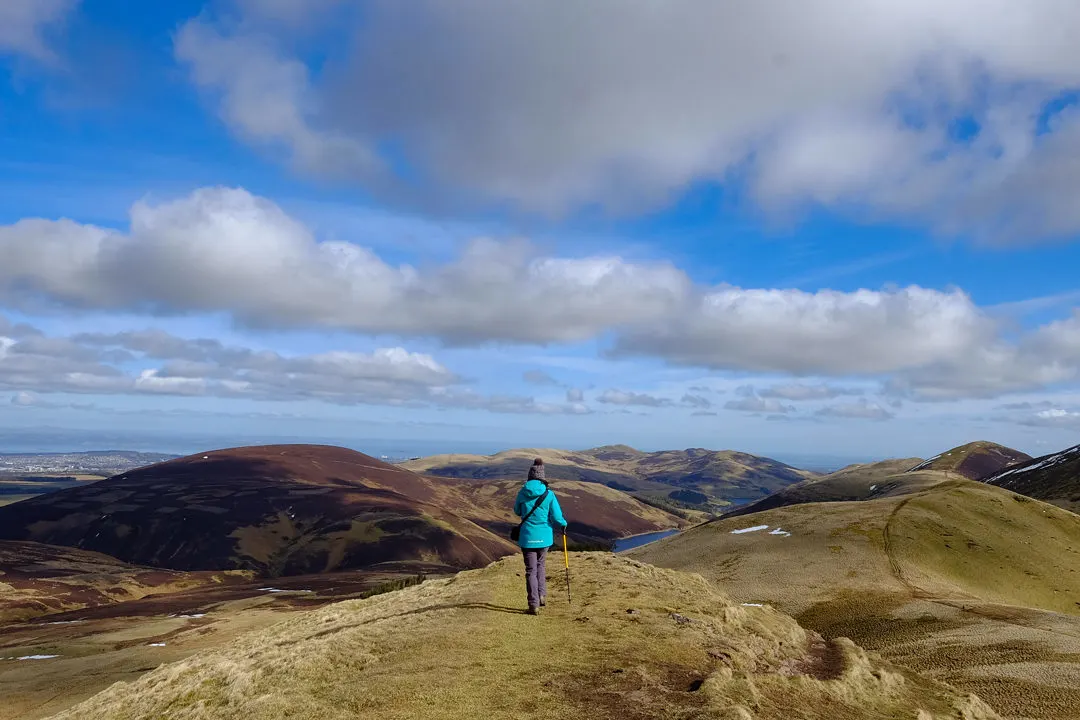 Things to do in Edinburgh on a rainy day
---
1. Visit the National Museum of Scotland
The National Museum of Scotland on Chambers Street isn't a traditional museum. It's stuffed full of lots of fun interactive exhibitions for kids (and adults) – why not try and drive a F1 car, have fun generating electricity running around in a giant hamster wheel and marvel at the huge display of animals in the Natural World Gallery. I will always wonder just how they got a whole train into the building!
2. Ride in a whisky barrel
If you fancy trying Scottish whisky whilst you are in Edinburgh then head to the top of the Royal Mile to The Scotch Whisky Experience. From the sublime to occasionally a little bit ridiculous, learn about what makes uisge beatha (or the 'water of life') and find your perfect malt or blend.
3. Explore Camera Obscura and World of Illusions
Fancy getting silly? From mirrors to mazes, to optical illusions, Camera Obscura is five floors of fun. It's not just for the kids! Please don't ask me to go into the vortex maze… I just can't do it! At the top of the building, the rooftop camera or 'camera obscura' will take you on a virtual tour of the city. Camera Obscura is right next to the Castle on the Royal Mile and costs £16.00 for adults, £14.00 for seniors and students, and £12.00 for children (aged 5-15). Camera Obscura tickets are valid all day and right up to 10 pm – which means if your kids love it you can go back for more in the evening.
4. Hear Edinburgh's tall tales and stories about ghosts
Hidden under the Royal Mile is The Real Mary King's Close. Do you dare to descend underground and explore a warren of Edinburgh streets (closes) frozen in the 17th century? It is great fun – learn about Edinburgh's stranger characters and traditions including what happens if someone shouts 'gardy loo' – yes you will all be sniggering at poo.
For older children, who don't mind a scary story or two, take an evening Ghost Bus Tour or visit the Edinburgh Dungeons. For those who are very brave, head to the spooky, most haunted (probably) graveyard in the world, the Greyfriars Kirkyard – but watch out for MacKenzie the Poltergeist!
5. Meet the characters at Edinburgh Zoo
With over 1000 species living within 82 acres, Edinburgh Zoo is much more than its famous Pandas. The zoo is open all year round (even on Christmas Day) and is £19.50 for adults and £9.95 for kids. Early bird tickets are available if you book in advance. My locals tip: the Edinburgh Zoo penguin parade is at 2.15pm – there is no guarantee how many will fancy a wander but it is always fun to watch.
6. Discover the Secret Herb Garden
If you have a car this is a great place to escape to for a wander around the gardens and retro greenhouses; followed by a cup of tea and some amazing cake. They make everything on site often using their own homegrown plants and herbs, and they have a surprisingly good gluten-free range. Visit the Secret Herb Garden on Old Pentland Road.
7. Visit the Cat Cafe
Feline fan? Well, Edinburgh has just the cafe for you. Maison de Moggy offers up tea & cake and access to its 12 therapeutic and characterful cats. Maison de Moggy is at 17-19 West Port. Entrance to the cafe is £7. Appointments are for 1 hour, you need to book in advance. find out more: Maison de Moggy
Eating and Drinking in Edinburgh
Edinburgh's restaurant scene is famous worldwide – and not just for haggis, fried mars bars and whichever place does the best fish and chips on the Royal Mile. However, you don't need to spend a fortune on microwaved food or resort to eating baked potatoes. Edinburgh is full of tiny one old pop & a couple of stool places, brunch hangouts, hipster start-ups and quirky Asian hangouts.
Eating out with kids in Edinburgh
Sadly for parents, many pubs in Edinburgh (and Scotland in general) don't have a children's license – and if they do, children need to be eating food. However there are child-friendly pubs in the city – check out:
Akva, Fountainbridge
Scran & Scallie, Stockbridge
The Roseleaf, Leith
Hemma, Old Town
The Espy, Portobello
The Ox, Broughton Street
Joseph Pearces, Leith Walk
The Orchard, Canonmills
Hamiltons, Stockbridge
The Sheeps Heid, Duddingston – which also has a skittle alley
Afternoon tea? Prestonfield House – the house and grounds are gorgeous and if you are lucky you might get your own private salon in which to sup champagne and eat teeny-tiny sandwiches. It's the perfect place to go with the girls or to take your mum. After tea, have a wander around the lovely gardens and spot the peacocks! Prestonfield's Afternoon Tea is served daily from 2-7pm at £25 or Champagne Afternoon Tea for £35.
Dine with your own chef – Each night at The Table Edinburgh, two chefs serve a seven-course fine dining tasting menu for just 10 lucky diners. This is no fussy fine dining restaurant; everything about it from the food to the setting, to the chefs themselves, encourage you to just get stuck in and enjoy yourself. Highly recommended, if you can get a seat at the table!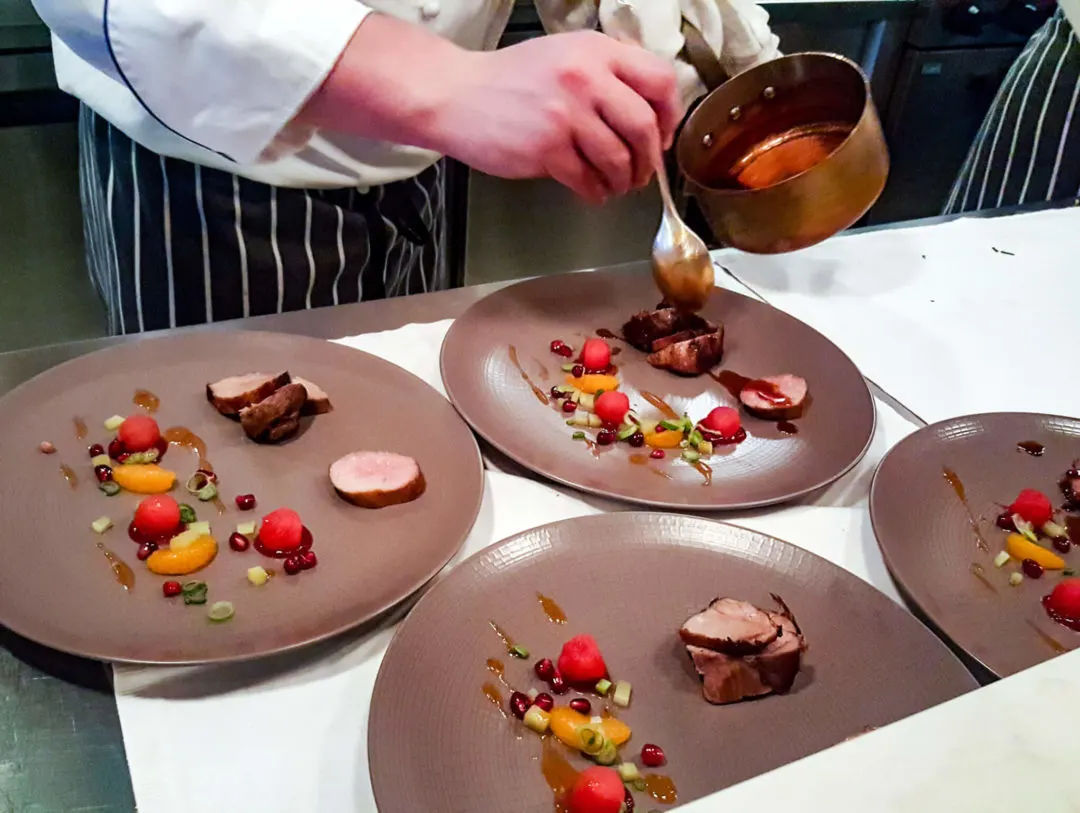 Street Food in Edinburgh – Whilst not such as a huge thing as in other cities, you can find great street food in Edinburgh. Head to either the Food & Flea Market (at the end of East Market Street) or the Pitt Street Market (Bonnington, take buses 11, 7 and 14) for beers, bands and brilliant food pop-ups. Street food is also available at the Stockbridge, Grassmarket, and Leith Sunday Markets.
Nightlife in Edinburgh
Edinburgh has hundred of pubs – from traditional 'old man's' style pubs (where you can get a malt of the moment for a quid), Scottish bars with traditional music, modernised pubs with great grub and real ale to craft beer bars, we have them all. Edinburgh also has a brilliant underground cocktail scene – with its cocktail bars regularly being voted the best in the world – you just have to know where to find them!
5 of my favourite pubs in Edinburgh
The Bow Bar– this may look like one of Edinburgh's oldest pubs but it is actually a modern recreation with 8 traditional air fonts, 100s of whiskies and a cosy interior. It's easily missed as it is hidden away in plain sight on Victoria Street, but then that is no bad thing. 80 West Bow, The Old Town
The Brass Monkey – one of my favourite Edinburgh pubs, hands down. Dark and a little dingy, it's one of the city's best bars to pull a stool up at. Plus daily films are shown in the back room. 14 Drummond St, The Old Town
The Cumberland Bar – a new town stalwart, with a lovely beer garden. Traditional, unspoilt interior with a very high bar festooned with real ale hand pumps. 1-3 Cumberland Street, The New Town
Teuchters Landing – this cosy Leith pub is in an old waiting room for the steam ferry from Leith to Aberdeen. With 18 beers on tap, 100s of whiskies and one of Edinburgh's best beer gardens perched out on the dock. 1c Dock Place, Leith
Cloisters – a stalwart of the Edinburgh real ale scene; posting their huge board of real ale (and sometimes real cider) almost on a daily basis. To see what they have on today check out their twitter. You are also drinking in an old church hall – fab interior. 26 Broughton Street, Southside
I also love – the Joker & The Thief (Leith Walk)- there is a quiz on Wednesday and student deals or Brandons (Canonmills)- with a relaxed local's feel & great staff, the cool Devil's Advocate (Old Town), the quirky Roseleaf (Leith) and the cosy Bon Vivant (New Town). More bars in Edinburgh.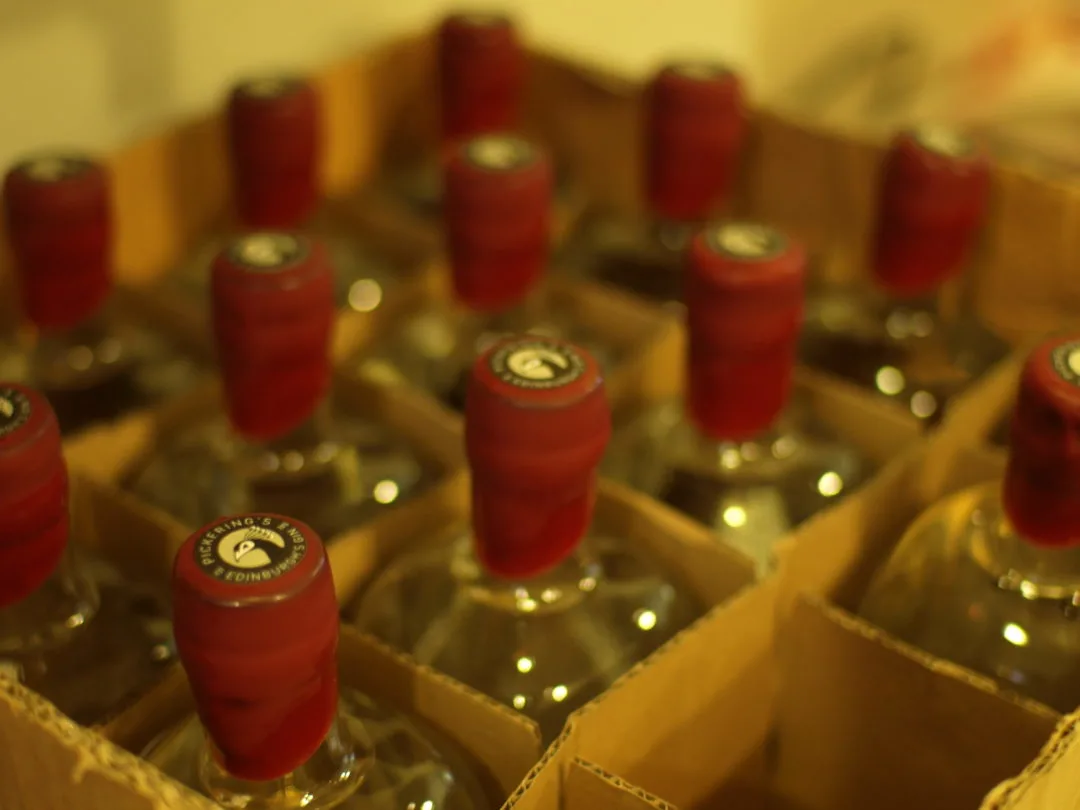 Try a great G&T
With three home-grown gins made in the city and a plethora of specialist bars serving gin from across Scotland, Edinburgh is your perfect destination if you love gin as much as me!
Edinburgh Gin distillery is hidden under the Rutland Square in a bar called Heads & Tales – pop in and try their signature blend and learn about the distiller. The cocktails are pretty good too, try Thyme for a Bru, made with Portobello Road gin served in an Irn Bru can! Shandwick Place.
Pickering's Gin is distilled in the multi-use arts venue Summerhall, located in Edinburgh's southside. The distillery is actually tiny, fitting into the Old Animal Hospital dog kennels. You can visit Pickering's Gin Distillery by appointment, Monday-Friday at 2 & 4 pm and there are 3 tours on a Saturday afternoon. Tours last 45-50 minutes and cost £10 with gin samples. Book online. Try a P&T in the adjoining Royal Dick bar.
Daffy's Gin instils botanical flavours of Lebanese mint, angelica root, and lemon peel to make a 43.4% gin. Sadly you can't tour their distillery (yet?) but watch out for Daffy's bottles as they are especially lovely, being designed by Robert McGinnis; famous for his James Bond, Barbarella and Breakfast at Tiffany's film posters!
Hideaway with a cocktail or head to a club
My favourite cocktail bar in Edinburgh is Bramble. With a speakeasy vibe, beds to lie on, DJs on the weekend, and knowledgeable bar staff it is a great place to hide away. You should Also try Nightcap, Lucky Liquor Co, Bullard & Worth, St Bernards Bar and Panda and Sons. More cocktail bars in Edinburgh
There is a long-running joke that the only place to go for nightlife in Edinburgh is the infamous studenty Hive Nightclub. Do not be suckered in. Edinburgh may not have many gig venues and nightclubs compared to Glasgow, but there are still plenty of places to spend a drunken evening.
The main nightclubs in Edinburgh are to be found in the Old Town and include the Liquid Room (house, indie and bands), Cabaret Voltaire (house/techno), and the Bongo Club (world, drum and bass). Fancy dressing up in your best heels? In the New Town there are plenty of nightclubs perfect for a girls night out on a Saturday – try Lulu on George Street. For live music, check out the Edinburgh Gig Guide for listings.
When to visit Edinburgh
Edinburgh is an all year round city. The quietest months are February to April and September to November. May is my favourite month in Edinburgh, as we usually get settled dry weather and even some sunshine. The famous Edinburgh arts festival and Fringe is in August, we have a winter festival over Christmas and Hogmanay (new year) and there are film, science and children's festivals across the whole year. Visit Edinburgh Festivals for more information.
Getting to Edinburgh
You can reach Edinburgh by train or plane.
Train – The main train station is Waverley Station. To the west of the city centre is Haymarket Station. Book your train tickets with trainline.com*.
Air – Edinburgh's international airport is to the west of the city centre. It is small, modern and easily navigable. It takes around 30 minutes to reach the city centre by taxi, the Skylink bus or the tram line. Which you prefer is up to you! You can get open return tickets for the bus (£7.50) and tram (£8.50 for adults and £4.50 for under 16s).
Getting around
Edinburgh
Edinburgh is tiny which makes it perfect for walking. If you need to go further afield then jump on a Lothian Bus. Tickets are £1.70 for any length of the journey. Family day tickets are £8.50 giving you all day travel for 2 adults and up to 3 children. Edinburgh's buses don't give change. Instead, download mobile tickets through 'Transport for Edinburgh' App which also has all the routes and a bus tracker. Always thank your driver!
If you do get lost or want to use the bus app there is free wifi in the city centre. Turn on your wifi and look for the EdFreeWifi network. Need the loo? A map of all the public loos available in the city can be found on Edinburgh Outdoors.
Where to stay in Edinburgh
As a local, I would always recommend staying in or near one of Edinburgh's villages rather than the city centre. Easily accessible from the city centre by bus or on foot, with independent high streets, small cafes and quirky restaurants, you could spend a whole trip to Edinburgh in one of its villages, and immediately want to move in. Here is where to stay in Edinburgh
Edinburgh's West End Village – with cute cafes, cocktail bars, designer shopping and some of Edinburgh's grandest Georgian new town streets, Edinburgh's West End Village is just 5 minutes walk from the hustle and bustle of Princes Street, Haymarket Station and the tram route. Where to stay near the West End Edinburgh*
Stockbridge – perhaps the prettiest of all of Edinburgh's urban villages, Stockbridge was recently voted the best place to live in Scotland and has a mix of quirky shops, a lovely market and some of Edinburgh's best green spaces to wander around, along with great pubs, bars and restaurants. Where to stay in Stockbridge Edinburgh*
More areas to stay in Edinburgh – Bruntsfield* (for a relaxed student vibe) and Leith* (for The Shore, Michelin starred restaurants and locals bars)
… finally how to dress for the Edinburgh weather
Whilst it rarely actually snows in Summer in Scotland, the cliche of 'four seasons in one day' is never truer than in Edinburgh. Scotland has a maritime climate, and whilst Edinburgh is generally drier than Glasgow, at any moment the rain can be horizontal, it might hail in May and only occasionally (in February) might you need some sunscreen.
However, Edinburgh is a stylish city (we even have our own Harvey Nichols) so don't pack your walking trousers (unless you plan on visiting the Highlands too) and have to emergency buy a £1 plastic parka.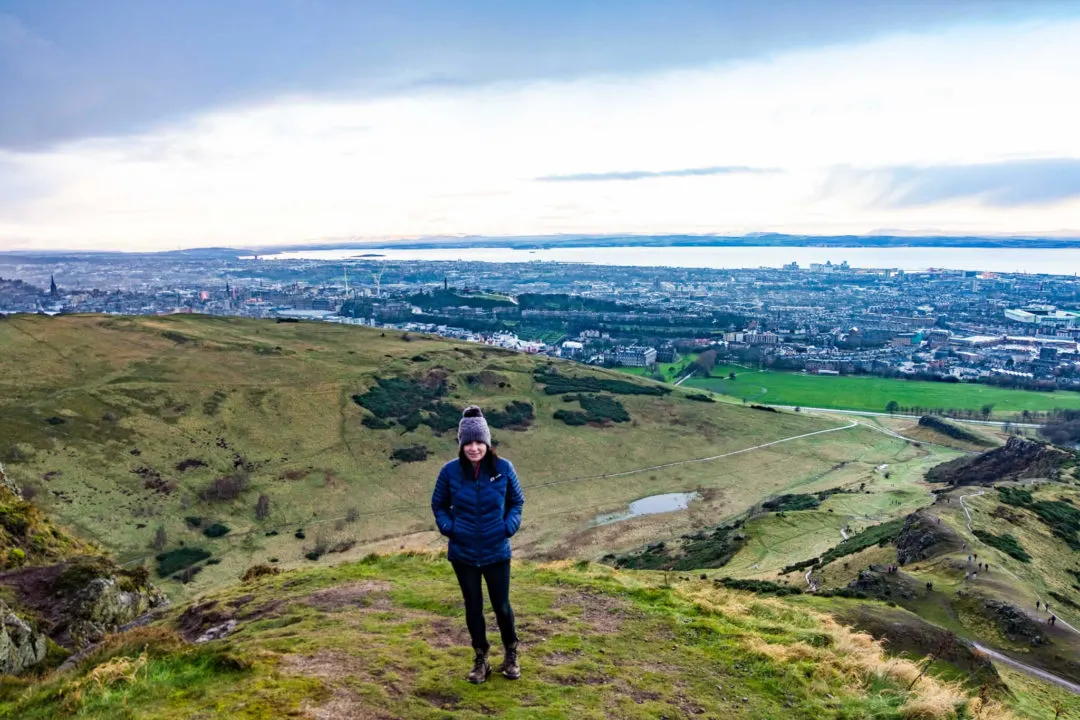 Instead, dress for the wettest day where you live, and you will be fine. A hat, a decent pair of flattish ankle boots (we also have cobbles, so stilettos are brave), invest in a sturdy umbrella (and learn to angle it 'just right' into the legendary Edinburgh winds) and wear a coat with a hood. If the weather is that bad, just hide in a pub – that is exactly what all the locals are doing after all.
Love From, Scotland x
Read more:
Map of my local's guide to Edinburgh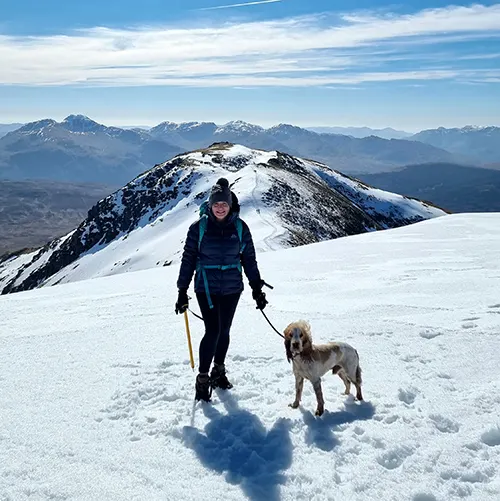 I'm Kate – a travel writer and photographer living in Scotland. Love, From Scotland is the Scotland travel guide that shows you where to stay and how to get outside in Scotland.