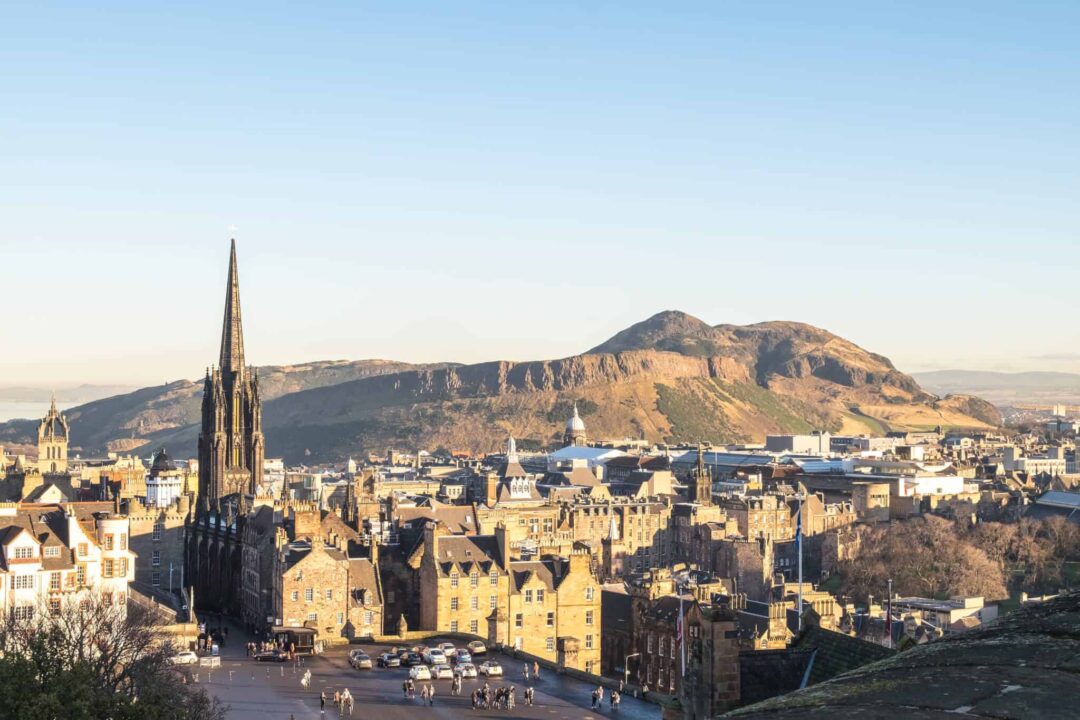 We all know how easy it to fall into the trap of visiting the 'top ten' places and well-trod drinking dens of the city you are visiting. Here are my favourite things to do in Edinburgh.
Free things to do in Edinburgh
---
Work up an appetite at the Edinburgh Botanical Garden
There are lots of things to see at Edinburgh's Royal Botanic Garden, including the spectacular glasshouses, Inverleith House, a great visitor centre and a couple of Andy Goldsworthy sculptures – not to mention a beautiful garden to stroll around. After a good walk, there are also lots of delicious cafes in the area including Blue Bear Cafe and The Water of Leith Cafe at Canonmills.
Take a Sunday stroll in Stockbridge
Browse the Stockbridge Sunday market, pop into independent fashion and charity shops (including Oxfam Music and Mary's Living and Giving) & fill up on stinky melted cheese sandwiches at renowned Edinburgh cheese shop IJ Mellis. After a good browse head for brunch at The Pantry and then to The Last Word Saloon for a few cocktails and dream of the day you might own a beautiful Georgian mews house on Circus Mews Lane.
Explore Edinburgh's waterside walkways
From discovering the Dean Village along the Water of Leith, mills on the River Almond, boats on the Union Canal and castles on the Shore Walk, Edinburgh is one of the UK's best cities for walking. Head to any one of these paths and you will soon feel a million miles away from the city. Perfect for clearing your head after the night before. Ahem.
Head to Edinburgh's beach at Portobello
Portobello is favourite of Edinburgh locals for a stroll on a sunny day when the sun is out and that blue sky is all above you there are very few places better. Even if it is not often warm enough to sit on the beach! Instead, take a bracing walk along the prom and have a go on the vintage penny arcades. Brunch after your walk is available at the cool Espy Bar, the Beach House cafe or The Skylark.
Go behind the scenes of the city
From the tiny, peaceful, Dunbar's Close garden (originally created by another town planner Sir Patrick Geddes) to the slightly creepy Innocent Railway tunnel, Edinburgh is a city of secret places, and discovering them is one of my favourite pastimes. If you don't have much time, just head down one of the closes off the Royal Mile. You never know what you will find!


Things to do in Edinburgh on a rainy day
---
Meet the characters at Edinburgh Zoo
With over 1000 species living within 82 acres on the steep-sided Corstorphine Hill, Edinburgh Zoo is much more than its famous Pandas – they even have a penguin parade. Edinburgh Zoo is open all year round and is £19.50 for adults.
Discover the Secret Herb Garden
If you have a car this is a great place to escape to for a wander around the gardens and retro greenhouses; followed by a cup of tea and some amazing cake. They make everything on site often using their own homegrown plants and herbs, and they have a surprisingly good gluten-free range. Visit the Secret Herb Garden on Old Pentland Road.
Ride in a whisky barrel
If you fancy trying Scottish whisky whilst you are in Edinburgh then head to the top of the Royal Mile to The Scotch Whisky Experience. From the sublime to occasionally a little bit ridiculous, learn about what makes uisge beatha (or the 'water of life') and find your perfect malt or blend.
Explore Camera Obscura and World of Illusions
Fancy getting silly? From mirrors to mazes, to optical illusions, Camera Obscura is five floors of fun. It's not just for the kids! Please don't ask me to go into the vortex maze… I just can't do it! Camera Obscura is right next to the Castle on the Royal Mile and costs £14.50 for adults.
Rummage in the Edinburgh vintage shops
Edinburgh has a plethora of vintage shops. For Scandinavian furniture, art and design try Bra Brohag on Easter Road. On the outskirts of the city is Retropolis – a bit of a rummage, but great fun. Also over on Leith Walk is Crawford's furniture showrooms, a proper old-fashioned junk shop. For refurbished stuff check out Retro is located on Edinburgh's Morrison Street and Ubermas on Gillespie Place.

Eating and Drinking in Edinburgh
---
Pull up a bar stool and drink some beer
Whilst Glasgow will forever hold the reputation as Scotland's friendliest city, Edinburgh can certainly hold its own. Pull up a bar stool at a traditional Edinburgh bar (these are my favourite bars in Edinburgh) smile willingly, or just join in with the banter, you will soon be made welcome. Just don't mention fitba, the trams, or the bins.
Settle down with a great G&T
With three home-grown gins made in the city and a plethora of specialist bars serving gin from across Scotland, Edinburgh is your perfect destination if you love gin as much as me! My favourite gin bar is Bramble. With a speakeasy vibe, beds to lie on, DJs on the weekend, and knowledgeable bar staff it is a great place to hide away with a cocktail. More gin bars in Edinburgh and my favourite places for a cocktail.
Eat & drink like a queen at Prestonfield House
The house and grounds are gorgeous and if you are lucky you might get your own private salon in which to sup champagne and eat teeny-tiny sandwiches. It's the perfect place to go with the girls or to take your mum. After tea, have a wander around the lovely gardens and spot the peacocks! Prestonfield's Afternoon Tea is served daily from 2-7pm at £25 or Champagne Afternoon Tea for £35.
Make it a Taco Tuesday!
Edinburgh does Taco's brilliantly. El Cartel has a selection of very tasty tacos, you can choose to tuck into as little or as much as you want, and there's always a new flavour of frozen margaritas to try out (as well as a HUGE tequila menu). Over on Leith Walk, is Bodega, a tiny BYOB taco bar, with a selection of Mexican and modern tacos.
Dine with your own chef at The Table
Each night at The Table Edinburgh, two chefs serve a seven-course fine dining tasting menu for just 10 lucky diners. This is no fussy fine dining restaurant; everything about it from the food, to the setting, to the chefs themselves encourage you to just get stuck in and enjoy yourself. Highly recommended, if you can get a seat at the table!
Check out more of my favourite restaurants in Edinburgh.
(affiliate link, every booking helps support this site)
Love From, Scotland x
The best places to visit in Edinburgh from the Trusted Traveller
A city guide to Edinburgh from Eastpak & comedian Damian Clark
9 things to do in Edinburgh that won't cost you a penny!
More and things to do in Edinburgh from Eva Explores
Spend new year's eve in Edinburgh with this guide to Hogmanay
Pin for later