From a great plate of pasta to the best hangover cure brunch and a fine dining experience you won't forget, here is where to eat in Edinburgh.
Brunch and lunch in Edinburgh
Milk at Edinburgh Sculpture Workshop – accessed off the north Edinburgh path network and perfect stop on a long bike ride around the city. Food is served all day until 5 pm and on a sunny day the courtyard is packed (and dog-friendly too!) Try the veggie breakfast with rosemary and garlic mushrooms & sun-dried tomatoes or one of Milk's delicious cheese and mustard scones. Milk is at 21 Hawthornvale, Edinburgh. Visit Cafe Milk
The Roseleaf –

Down at the Shore in Leith, the Roseleaf is a bar and a restaurant produces one of the city's most fun brunches. Grab a cocktail in a teapot and get stuck into their seasonal, local & sustainable brunch menu. The Roseleaf is a great place for an all-day brunch – I usually go for the Roseleafer veggie breakfast – haggis, beans, slow-roasted tomatoes, homemade tattie scone, flat cap mushroom, wilted spinach with an egg cracked in the skillet.

The Roseleaf is at 23-24 Sandport Place, Edinburgh. Visit www.roseleaf.co.uk
The Pantry, Leith, Stockbridge and Colinton – with an ever-expanding offer, the Pantry is an Edinburgh brunch staple. Quirky surroundings and a regularly changing brunch menu with waffles and Benedicts, they also do smashed avocado plates – try my favourite Sunshine on Stockbridge, olive oil toast with guacamole, roasted tomatoes, grilled pepper, poached eggs and fresh chilli. Visit The Pantry
Greek Food in Edinburgh
Spitaki – Meaning 'The little house' in Greek, Spitaki is a friendly family run taverna which will transport you straight to the Greek islands. Spitaki serves meze, so order everything to share. I love the smokey aubergine dip with chilli, their baked feta, amazingly juicy lamb chops, crispy calamari and a selection of souvlaki. Their Greek house wine is excellent (no retsina here) and they serve Mythos and Fix beers. Spitaki is at 133-135 East Claremont Street, Edinburgh. Visit http://www.spitaki.co.uk
Ola Kala –

Try gyros from Ola Kala and you will be instantly transported to Greece. This is not a kebab, it is far far far superior. If you are really hungry, eat your gyros with a side of Kefalotiri Saganaki, grilled Greek cheese. Don't expect luxury, the food is amazing but this is a cafe, not a restaurant and for a quick and tasty lunch that is perfect.

Ola Kala is at 202 Morrison St, Edinburgh.
Italian Food in Edinburgh
Street Food in Edinburgh
Whilst not such as a huge thing as in other cities, you can find great street food in Edinburgh.
The

Pitt Street Market

(Bonnington, take buses 11, 7 and 14) for beers, bands and brilliant food pop-ups.

Street food is also available at the Stockbridge, Grassmarket, and Leith

Sunday Markets

.
Mexican Food in Edinburgh
El Cartel –

If you are after Tequila and Tacos then head straight for El Cartel. Tacos are served in pairs (£6.50) so going with a pal ups your chances of finding a favourite. Try the duck carnitas with sweet and spicy chipotle peach salsa with one of the 11 kinds of mezcal on the menu. El Cartel doesn't take bookings but if you ask nicely you can wait for a table in the Bon Vivant across the road.

El Cartel is at 64 Thistle Street. Visit El Cartel Mexican
Asian Food in Edinburgh
Stack Dim Sum – Deep in Leith, Stack Dim Sum is as traditional as you get for Dim Sum and Yum Cha in Edinburgh. Family run, the service is sharp and quirky and the dim sum, tasty and traditional. Try the crispy spring rolls with lettuce, char sui buns, and chilli ribs, alongside pork and crab gyoza. For those with a bigger appetite Stack also do soup noodles and traditional fried dishes. Don't expect to stand on ceremony, just go, order up a storm and dig in, you won't regret it. Stack Dim Sum is at 42 Dalmeny Street, Edinburgh.
Wee Buddha

– Hidden in the Edinburgh new town is a very cool Asian hideaway. Wee Buddha serves Asian fusion tapas-style food and a huge selection of craft beers and cocktails. Eat and drink as much or little as you like – but I suggest and settling in with friends over Korean wings, Thai style skewered skirt-steak beef and Cantonese pork belly 'wee Buddha' style. The restaurant is stylishly decorated and the owner will happily come and join you to chat over the menu.

Wee Buddha is at 2b Jamaica Street, Edinburgh. Visit Wee Buddha
Fine Dining in Edinburgh
The Table – Each night at The Table Edinburgh, two chefs serve a seven-course fine dining tasting menu for just 10 lucky diners. The Table is no fussy fine dining restaurant; everything about it from the food to the setting, to the chefs themselves, encourage you to just get stuck in and enjoy yourself. Grab a seat at the bar, watch Chef Sean prepare your food – and then get a booking for a second visit, you will won't regret it! Read my full post on The Table. The Table is at 3A Dundas St, Edinburgh. Visit The Table
Love, from Scotland x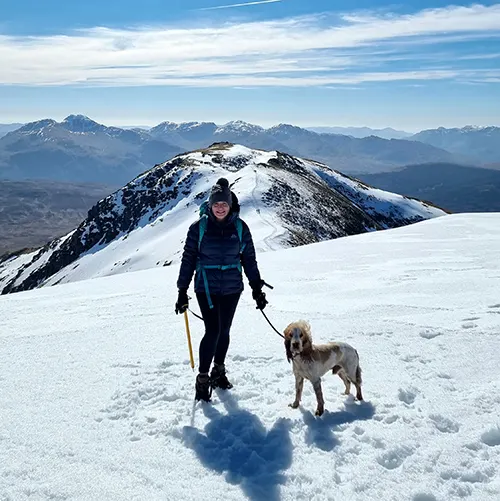 I'm Kate – a travel writer and photographer living in Scotland. Love, From Scotland is the Scotland travel guide that shows you where to stay and how to get outside in Scotland.