Once a thriving Victorian seaside resort, now a more sedate beach town, Portobello is always a favourite of Edinburgh locals for a stroll on a sunny day. When the sun is out and that blue sky is all above you there are very few places better. This weekend in need of some fresh air we went for brunch at The Skylark Portobello and then a rather bracing, mind-clearing, cheery-up stroll along the prom.
Brunch at the Skylark Portobello
The Skylark is named after a 1950s pleasure boat which took hoards of beachgoers a tour along The Forth and opened on Portobello High Street in July 2012 to feed the growing family population of Porty with brunch and evening dinners. It is an unusual little space made out of two old shop units, is it a cafe, a bar or a bistro? It is all of these things; a comfortable all day space with white panelled walls, a real ale tap, an open kitchen and a haphazard mix of Formica tables and eames-copy chairs.
This wasn't my first visit, I'd been before, for a long boozy evening with friends and the place had been buzzy, candle-lit and very in my mind non-Portobello. I'd liked it, even if I was joining in with the young and upwardly mobile taking over. On a Saturday afternoon, it was just as packed, with a mix of families, children crawling around the bookcase and friends all bursting with noisy chat and giggles.
The day menu is a mix of brunch & lunch….
We were there for brunch, so started with good flat whites. We quickly moved on to contradictory brunch choices, I went for a heart-stoppingly good veggie Croque madame, with mushrooms and melted mature cheddar cheese and a runny egg on top, served with salad (£7.70) The salad, whilst appreciated, no way made a dent in all that cheese… mmmm. B went traditional with a seeded french roll with smoked bacon and black pudding (£3.75) and lots of brown sauce.
We were in no hurry, taking our time, there is no need to rush here, passing an ESPC back and forth; agreeing that we'd like to live either by the sea, or out in the country, maybe 5 years time, out in East Linton, or will Porty be the perfect place for us? If there was a local cafe like this near our flat, I don't think we'd ever move.
But move we eventually did, out into the sunshine and biting wind to walk off all that cheese…
Love, from Scotland x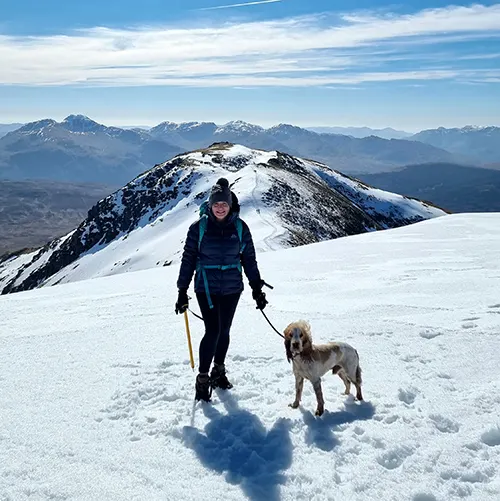 I'm Kate – a travel writer and photographer living in Scotland. Love, From Scotland is the Scotland travel guide that shows you where to stay and how to get outside in Scotland.