Do you want to climb Ben Nevis, the UK's highest mountain?
"Who me? Climbing Ben Nevis? Ha, never in a million years… I'm not ready for that" If like me, that thought is going through your head, then this post is for you. Here is how to climb Ben Nevis, the UK's highest mountain.
Where is Ben Nevis?
Ben Nevis is in Lochaber, around 1.5 miles from Fort William and is part of the Nevis Range of the Grampian mountains in Scotland.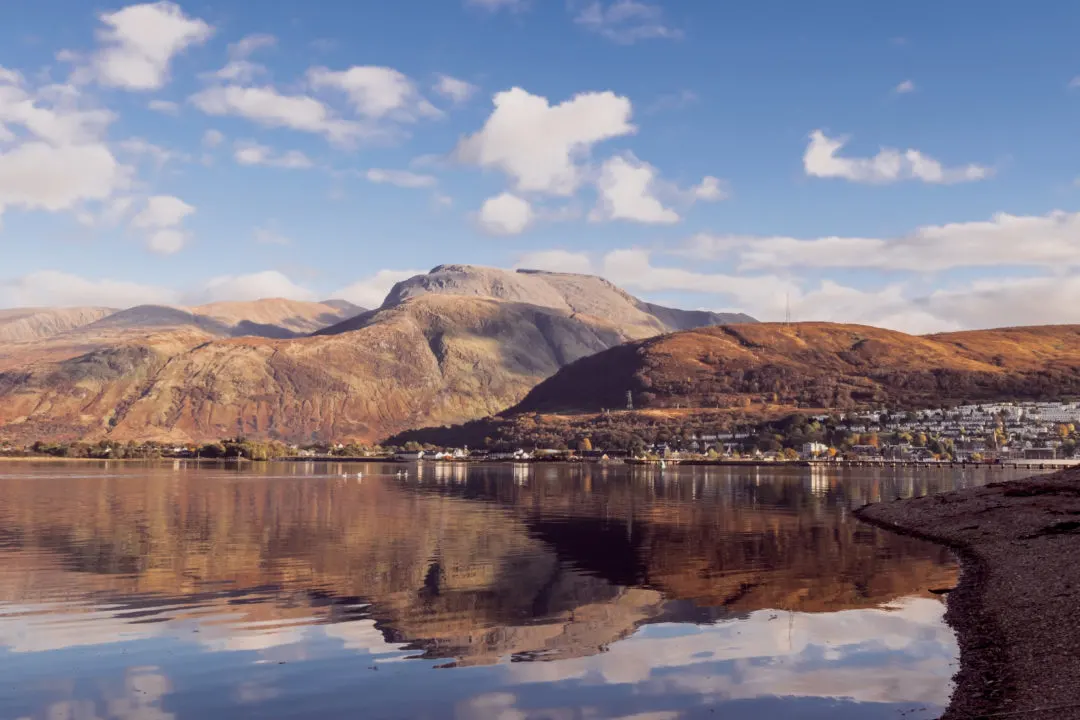 How do you get to Ben Nevis?
The best way to get to Ben Nevis is to stay in a hotel or BnB in Fort William or in Glen Nevis where there is a campsite and hostel.
We were sailing the Caledonian Canal so tied up at nearby Banavie and jumped in a taxi (£9 from Banavie, £7 back into Fort William) to the start of the walk at the Glen Nevis Visitor Center.
There is also parking available at the Glen Nevis Centre for £3. Beware of organised events as the car park only has spaces for 80 cars.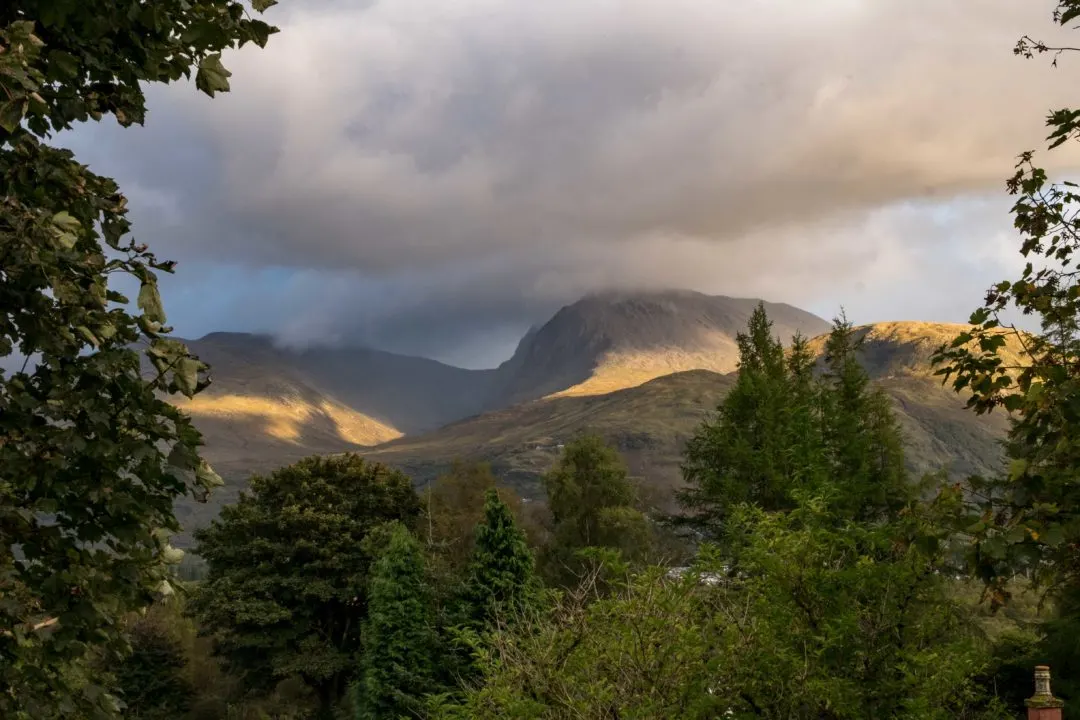 With an average of only 14 clear days a year on its summit, getting a good day is a wee bit of luck!
How long does it take to climb Ben Nevis?
The average time taken to climb Ben Nevis is 7-9 hours, with the climb to the top taking around 4 hours, and the return 3 hours.
We started our climb at 9 am. At first, we found the path easy, and steadily climbing we left the glen behind. We made fast progress, reaching the halfway point of the Red Burn and the Lochan Meall a t-Suidhe at 570m in just 1 hour.
I couldn't help stopping for photos, the views across to Loch Linnhe, down to Lismore and as far as the Isle of Mull were absolutely stunning.
However, from the halfway point on I struggled. Despite all the hills I'd clocked up, the ease that I could walk 10 miles, and that our last outing (14 miles in the rain over most of Beinn a'Ghlo) was a much tougher challenge, I climbed the next 500 meters at a snail's pace.
Thankfully, being surrounded by hundreds of people going through exactly the same thing kept me going. I forced myself onward and upwards as the easy steps and well-made path of the glen below turned to slippery shale and uneven rocks and the path climbed up the hill in an endless exhausting zigzag.
Then at 1200m, the views disappeared, leaving us in the fog to follow the crowds to the summit. You can see just why this hill is so dangerous and deserves its name 'the venomous' mountain.
I must admit I've never been happier to reach the summit of a hill, you can tell by my face just how much I was still grimacing. But in 3 hours we had climbed 1345m – and were on top of the UK.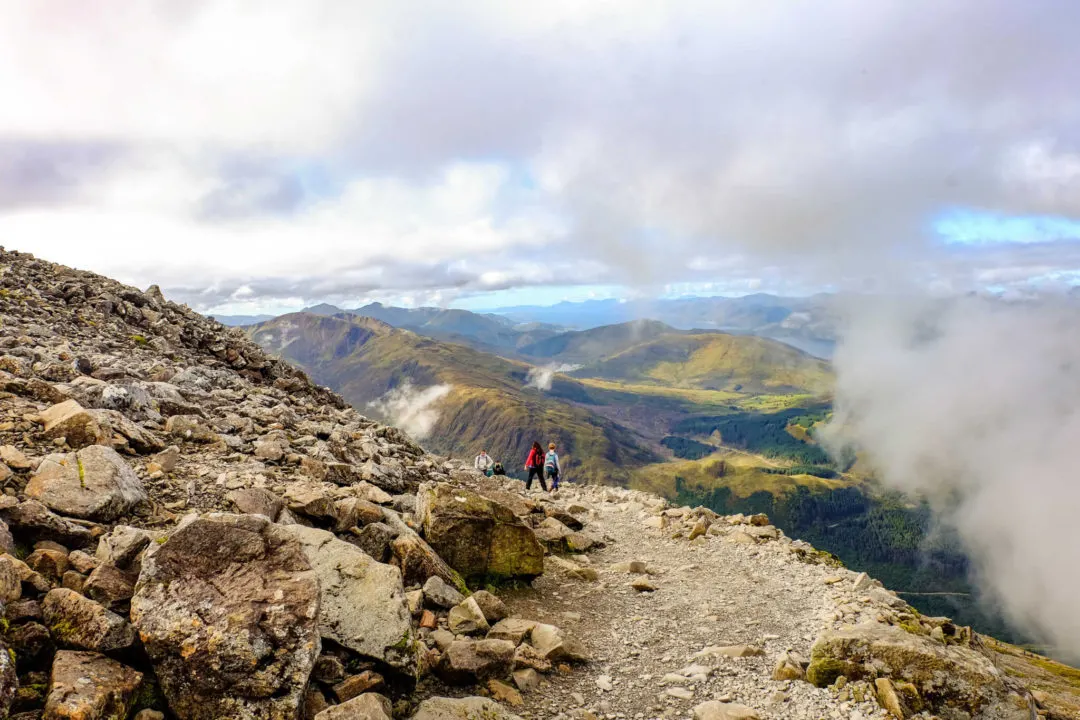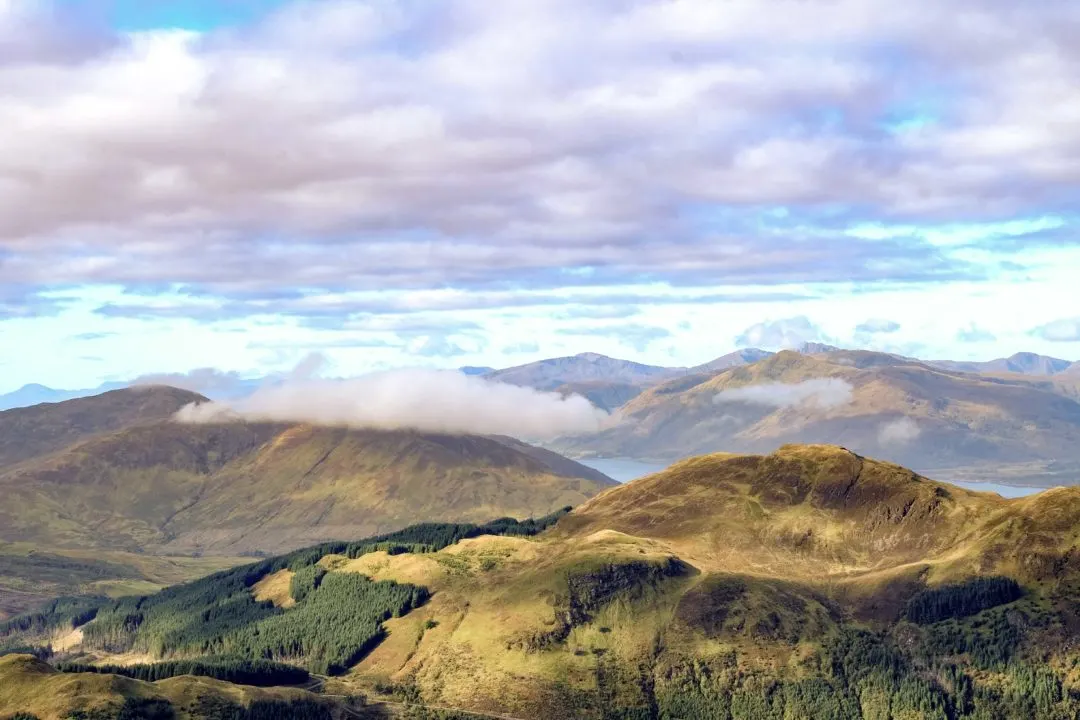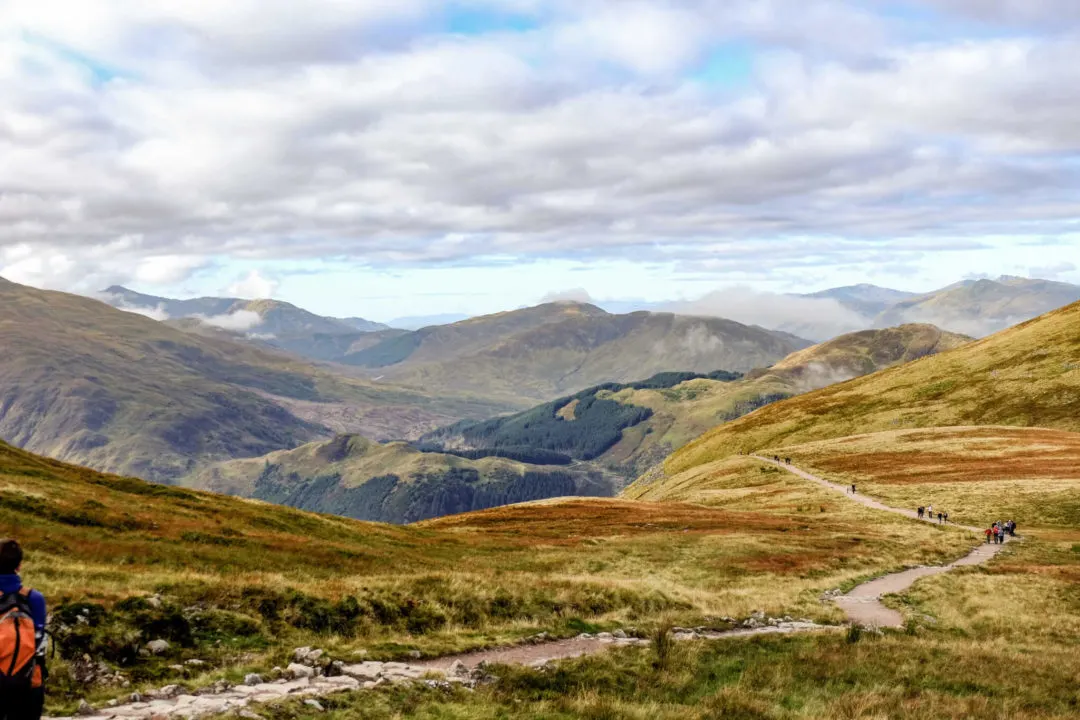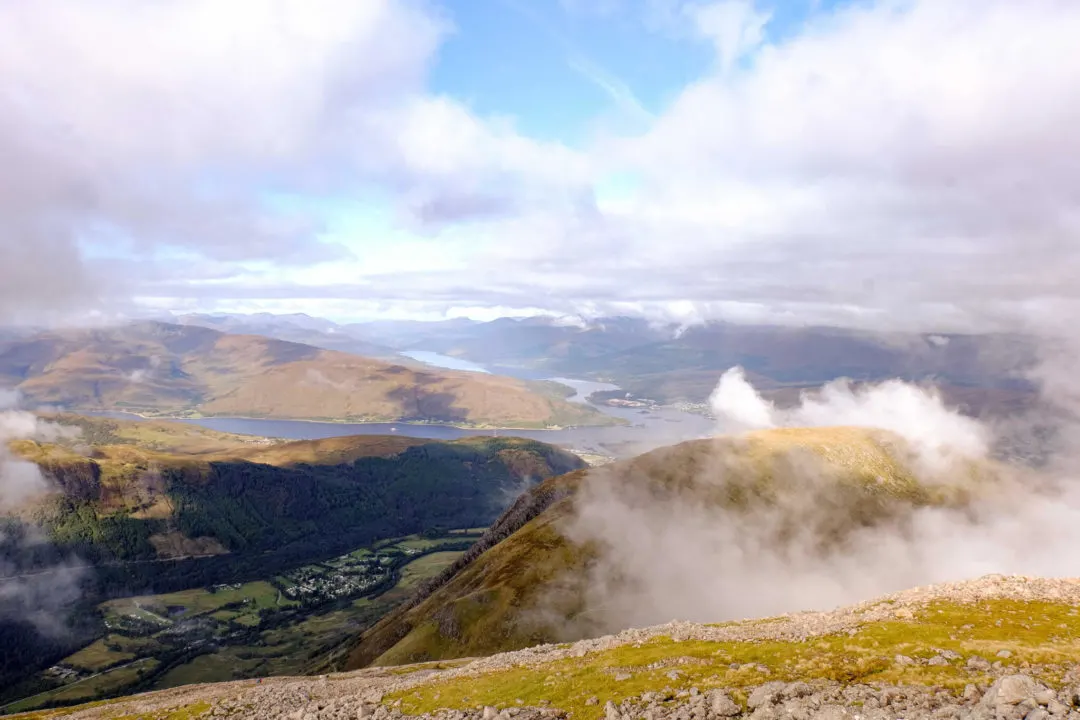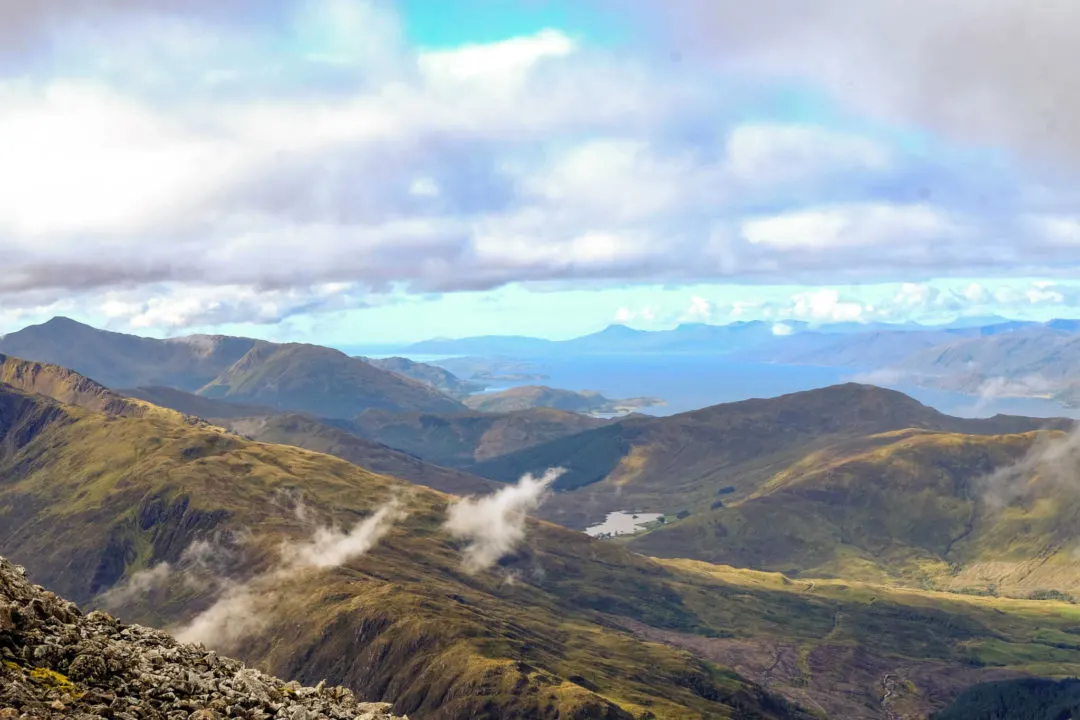 It was freezing at the top, and after a quick summit selfie we wrapped up (I was very thankful for my hat, gloves and my down jacket!) and perched on a rock for a wee dram and a good old-fashioned cheese sarnie before we turned for home.
It was time to face those horrendous zigzags again, but with my trusty Leki walking sticks, I found the going down much easier, and just 2 hours later the welcoming sight of the Ben Nevis Inn appeared into view.
The climb took us 5.5 hours, but we are used to hillwalking (despite my struggles!) and the weather was on our side.To the bar to celebrate the Big Ben! My head has still to come back down out of the clouds…
Fancy climbing Ben Nevis yourself?
Where to stay near Fort William and Ben Nevis
AirBnB
When is the Best time to climb Ben Nevis?
I am not sure there is a 'best time' to climb Ben Nevis. With a very wet and very windy alpine climate, you are never guaranteed views on the Ben.
Most of the time the Ben is hidden in deep cloud. However, I find Scotland's weather is best in May and September. Don't attempt the Ben in winter unless you are a specialist climber.
For Ben Nevis weather forecasts, I recommend you check out all the following sites before your walk.
Don't forget to check out the wind speed. Anything above 20mph will be arduous at 4000ft.
How hard is it to climb Ben Nevis?
How hard you will find climbing Ben Nevis will totally depend on your fitness – and the type of exercise you are used to.
Firstly, the Mountain Path route is 11 miles from the Ben Nevis Visitor Centre, so I suggest getting used to walking at least 10 miles on a regular basis. As the climb is also 5.4 miles uphill, I would also suggest climbing a few beginners hills or beginners Munros in advance.
Total beginner? Check out my guide to hillwalking in Scotland
Are there toilets on Ben Nevis?
No. There are toilets at the Inn at the bottom of Ben Nevis.
Is there a cable car up Ben Nevis?
No. The cable car or the Nevis Range Mountain Gondola goes up Aonach Mor which is also in the Ben Nevis Range.
Which Ben Nevis route should I take?
If you aren't an experienced hillwalker, then the 'Mountain Path' or the 'Pony Track' is for you. Do not attempt the much more difficult CMD Arete without the experience of ridge walking.
The Mountain Track is also known as 'the Ben Nevis tourist route' which makes it sound easy – it is not. Whilst there is a steep path most of the way, there are some horrible drops near the top – including the vertiginous Gardyloo Gully – just as the path disappears.
There are a series of large summit cairns to follow in bad weather. Please don't build cairns on Ben Nevis, as you might inadvertently direct someone the wrong way in the fog.
Ben Nevis Route Maps
Walkhighlands have the Mountain Path route.
You also need an Ordnance Survey Map of Ben Nevis.
I also use the Viewranger App which is a GPS tracker. Always carry an extra battery pack if you plan to use an app.
Love, from Scotland x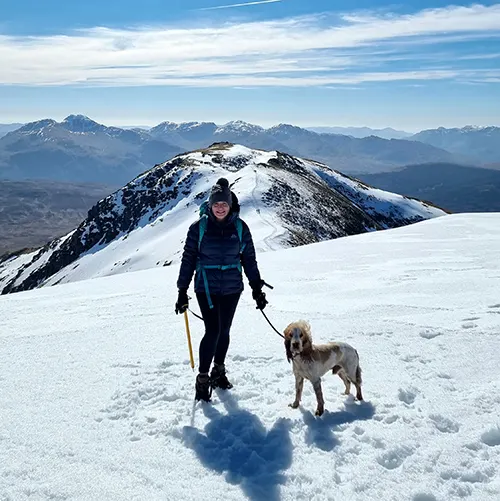 I'm Kate – a travel writer and photographer living in Scotland. Love, From Scotland is the Scotland travel guide that shows you where to stay and how to get outside in Scotland.