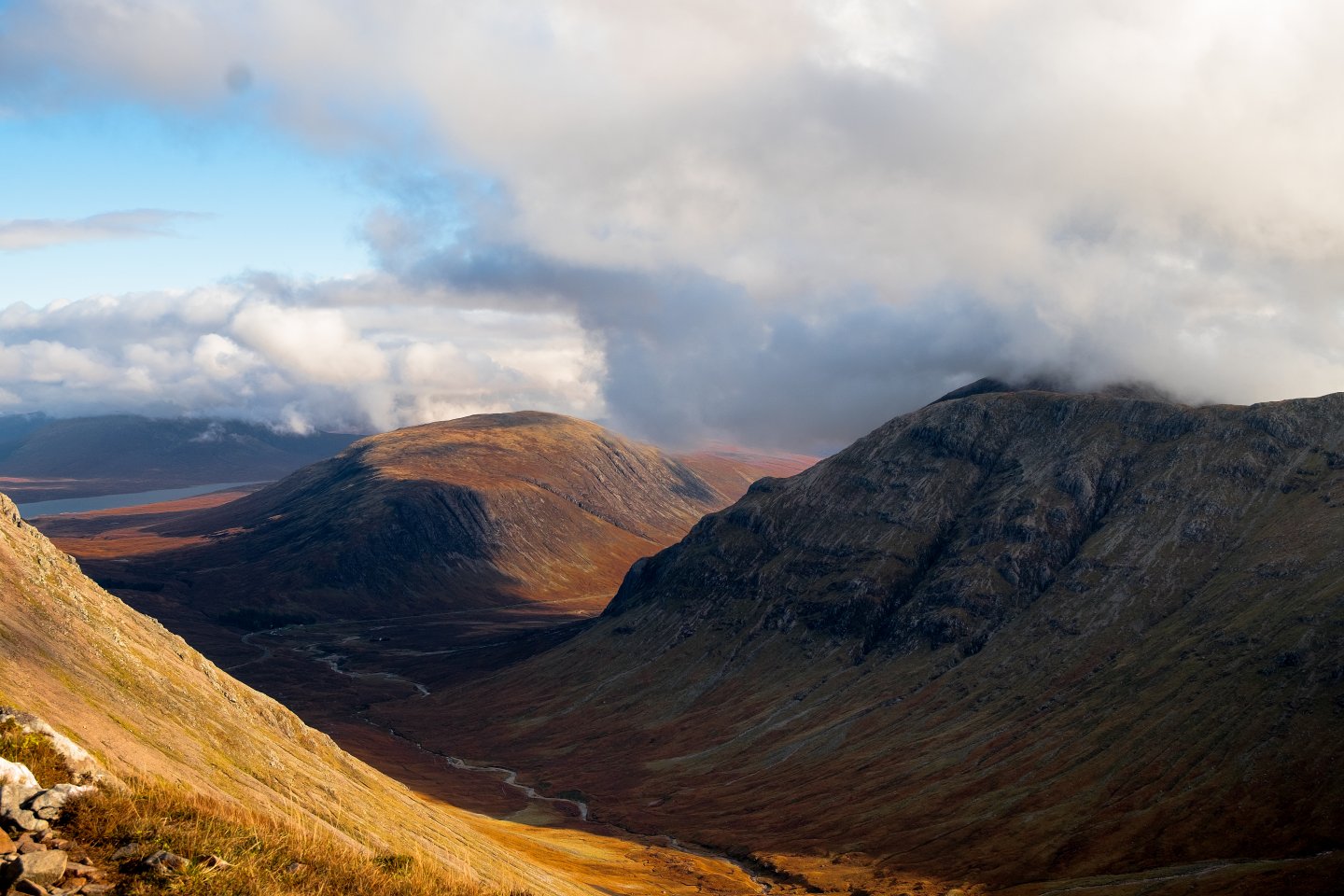 Fancy trying Munro climbing in Scotland? If you are thinking of bagging a Munro here are 10 Munros for beginners and how to climb them.
It is the drama of the mountains which give the Scottish Highlands their character and with 282 Munros (Scottish mountains over 3000ft) to 'bag', climbing them is a national pastime.
Over the last 9 months, I have become a 'Munro bagger' – and I love it. Working in an office 9-5 means I need to get outside on the weekends. Climbing Munros ticks all the boxes for me – I love the challenge, I love the mountain climbing pain, and I love the mental health benefits. Most of all I love the incredible Scottish mountain scenery. I can't recommend climbing Munros enough!
I've now bagged 10 Munros, from Ben Vorlich to Schiehallion – and learned to pose at the summit along the way!


If you fancy becoming a Munro bagger yourself, here are 10 amazing days out on the mountainside to enjoy. I've climbed them all – so you can too!
Ben Vorlich (Loch Earn)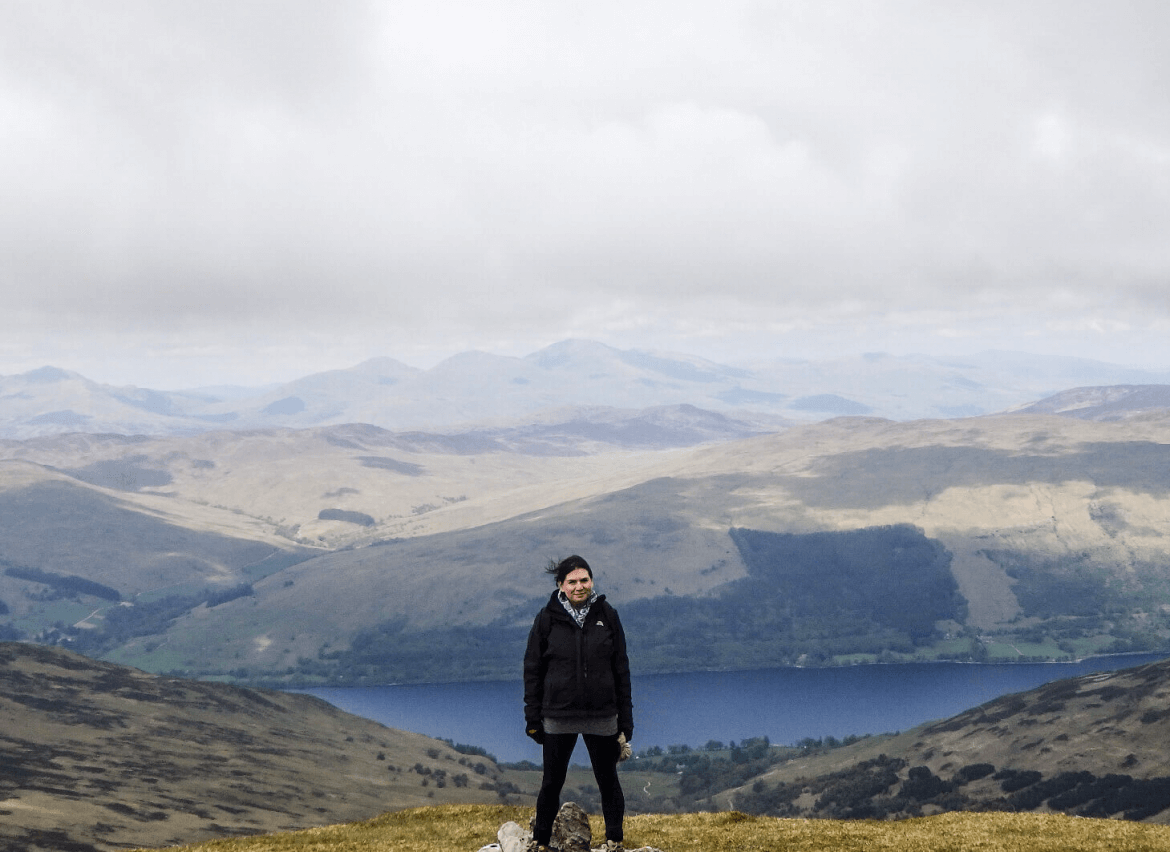 Our first Munro was Ben Vorlich (935m) at Loch Earn. 'The Hill of the Bay' is one of the most popular Munros as the climb is straightforward and it is easily accessible from both Edinburgh and Glasgow. There is a well-maintained path up to the top, but be warned, climbing continually upwards for at least 2 hours, above 3000ft is hard, hard work, whatever your fitness – and at this point, I had absolutely none! I must admit, having done little hill walking since I was a teenager I found it a struggle. However, I made it and found that all the pain was utterly worth it, as from the top the views to neighbour Stuc a'Chroin, down to Loch Earn and across to the Ben Lawers range on Loch Tay are stunning.
Munro no.1 – done!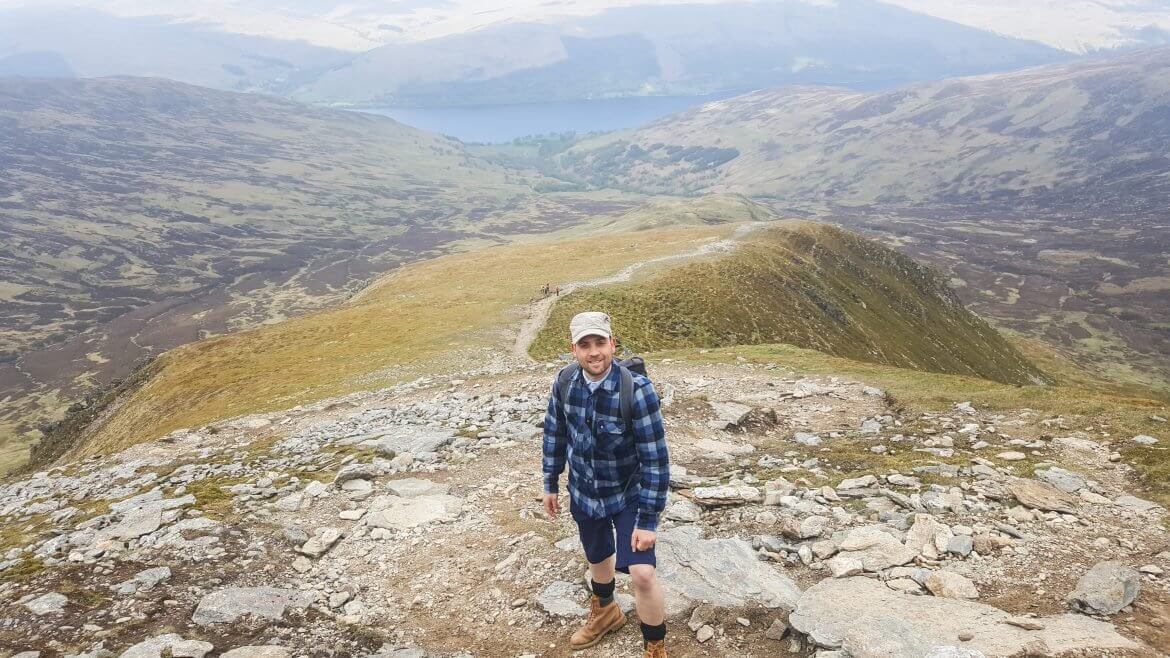 Read more – my Beginners Guide to Climbing a Munro
Route – via Walkhighlands
Ben Lomond, Loch Lomond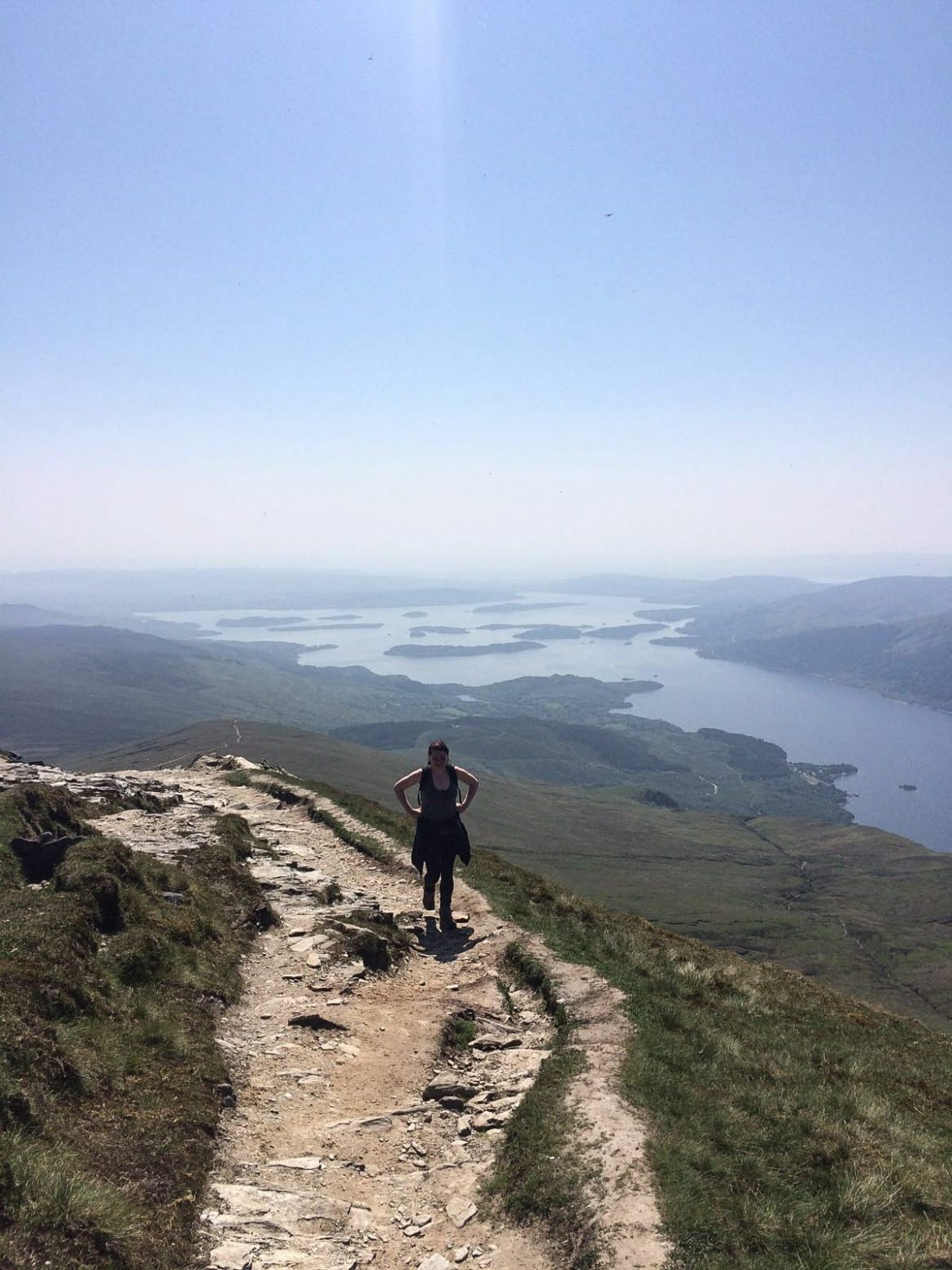 Now, anyone who climbs Munros will tell you that it is addictive, and just a week after climbing Ben Vorlich we were back out again, this time to climb Ben Lomond.
The most popular of all the Munros might be Scotland's highest mountain, Ben Nevis, but Ben Lomond (974m) comes a very close second. Under an hour's drive from Glasgow and with stunning views of Loch Lomond and the Trossachs from even halfway up, you can see why over 30,000 people climb Ben Lomond every year. If you are climbing in (very hot for Scotland) summer, like we did, you just follow the crowds!
Thankfully, we discovered the quieter, but tougher descent down the Ptarmigan Ridge – as most people descend the same way you leave everyone behind as you wind your way down to the loch.
Read more – Ben Lomond
Route via Walkhighlands
Beinn Ghlas & Ben Lawers, Loch Tay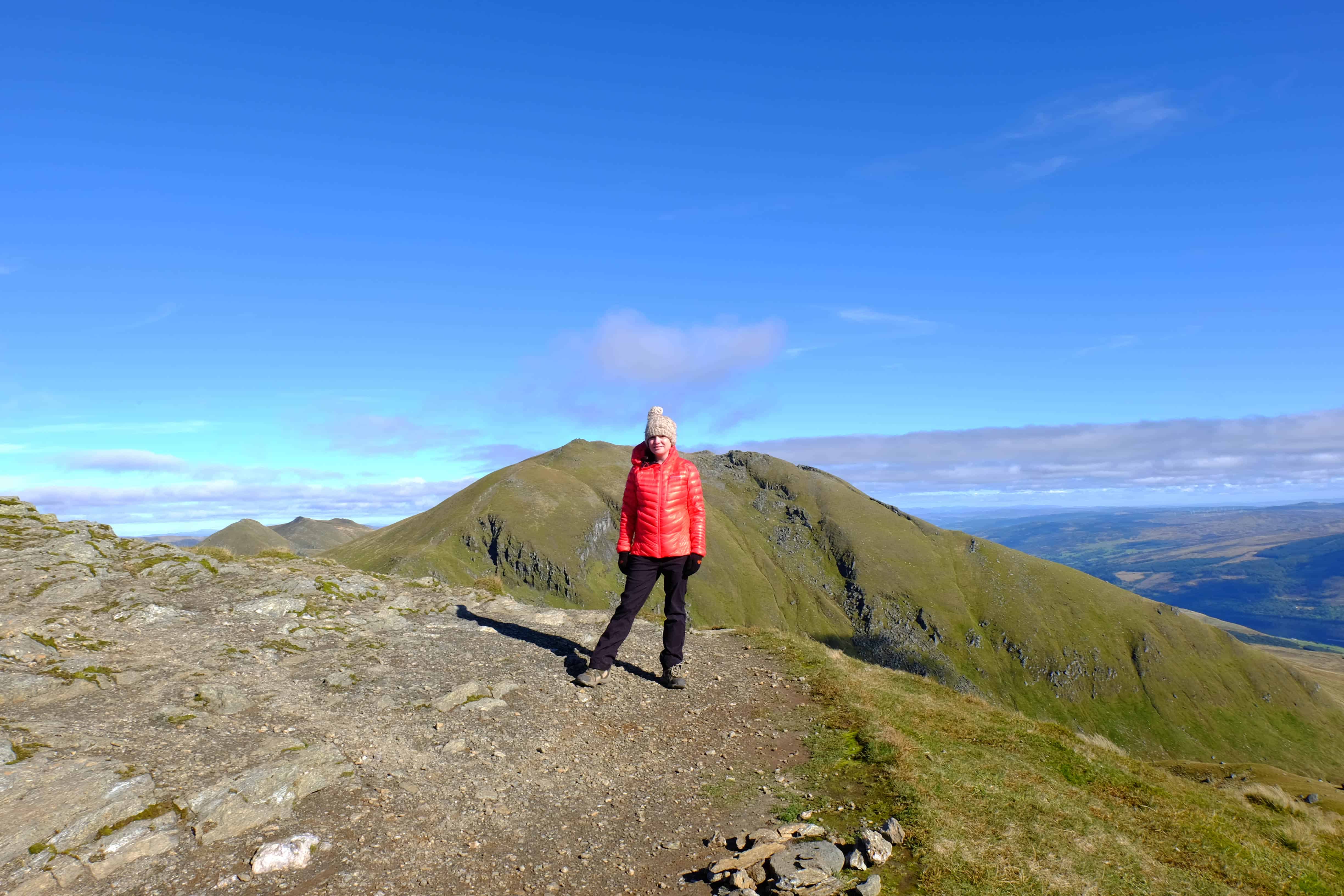 By this point, you will probably be realising just how long it would take you to 'bag' all 282 Munros. Time to start multiple bagging! It isn't quite as hard as it seems, for it to be a 'real Munro' you actually only need to descend 150m between summits…
This is when I discovered that the easiest way to bag your first multiple Munros is to climb Beinn Ghlas and Ben Lawers. Why? Well, Ben Lawers (1214m) might be the 10th highest mountain in Scotland, but thankfully you don't have to climb all of it. Starting at 400m at the Ben Lawers Nature Reserve you pop over the small Beinn Glass (1103m) before finally climbing up to the summit of Ben Lawers.  You can return back over Beinn Ghlas or there is a path around the side.
Two Munros – just like that (technically three, we did Beinn Ghlas twice!)
Read more – Beinn Ghlas and Ben Lawers
Route via Walkhighlands
Buachaille Etive Beag, Glencoe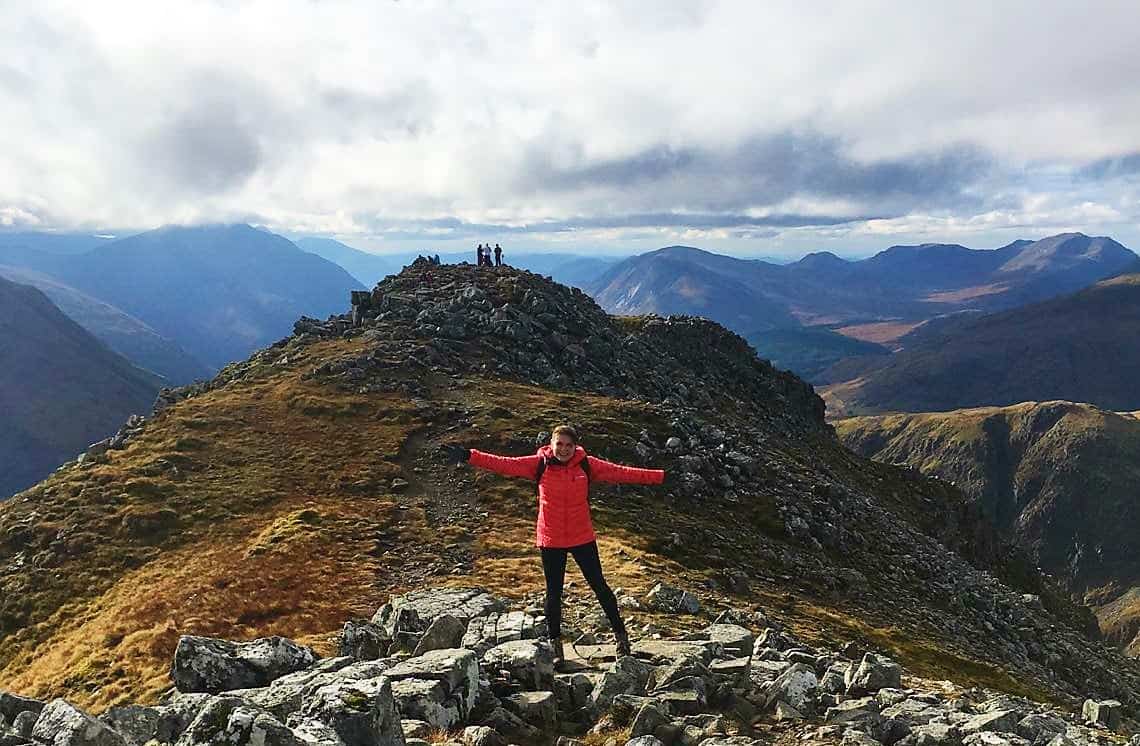 If you have a hankering for the hills, then driving through Glencoe they will call your name. However, the mountains here are not for the faint of heart. The weather can be wild, the ascent steep and relentless and you will be facing your first ridges and scrambles.
Bring on the challenge! Being beginners, we decided against climbing the famously tough Buachaille Etive Mor in favour of its little(r) neighbour Buachaille Etive Beag. The Buachaille (or 'herdsmen') actually means the 'pass' between two Munros, after a very steep ascent, Stob Coire Raneach is to the right and Stob Dubh to the left. From the peak of Stob Dubh you can see all the way down into Glen Etive and across to Buacheille Etive Mor. It is a whole different perspective on Glencoe.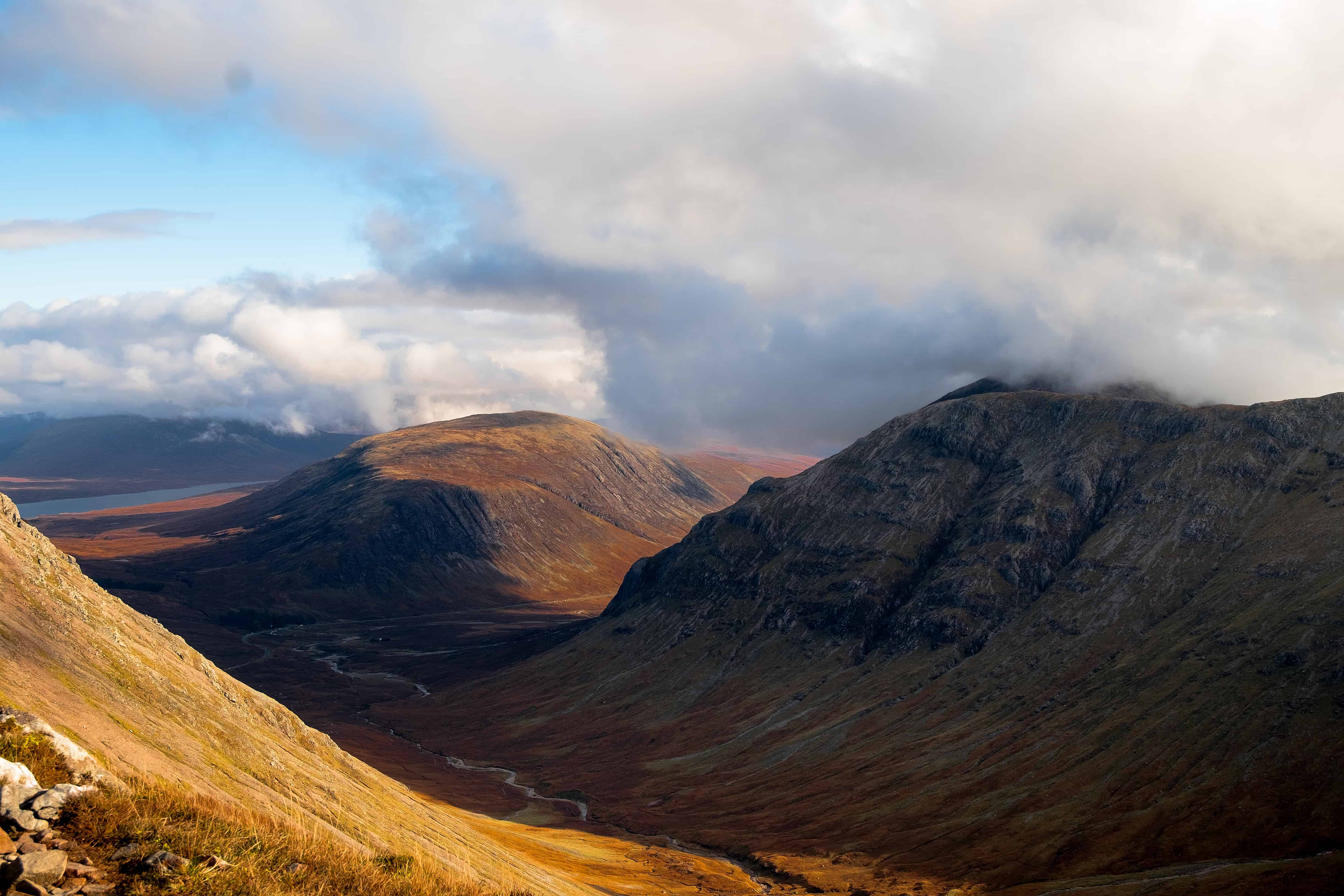 My guide to Glencoe
Route via Walkhighlands
Beinn Narnain and Beinn Ime, Arrochar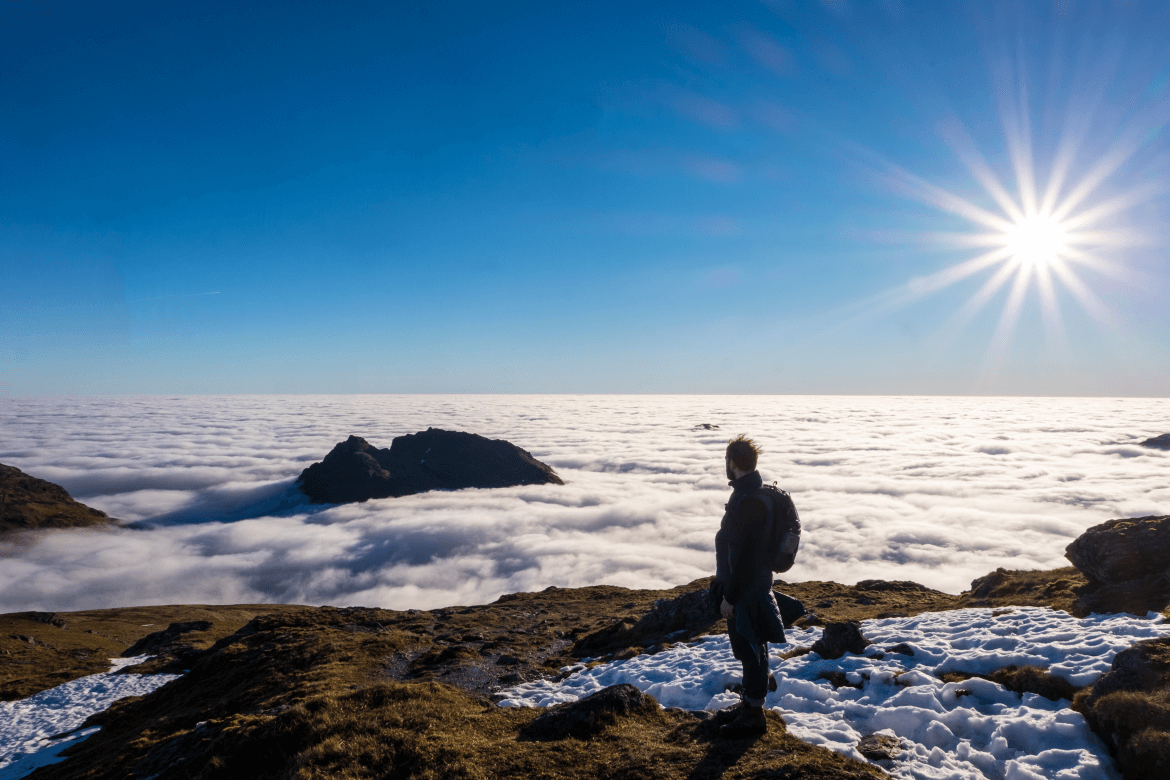 After Buachaille Etive Beag we got cocky. We'd successfully climbed in Glencoe, had got myself some new technology (a GPS tracker), new boots and the weather forecast was great. Of course, just as you are getting comfortable, this is when disaster strikes and you can read the full story of just why I will never take a Munro for granted again – hopefully, you might pick up some tips too!
But back to the bagging. The 'Arrochar Alps' loom over Loch Long and the Alp's most famous peak, The Cobbler is one of Scotland's most popular short hill walks. The Munros are another story altogether. We climbed Beinn Narnain and the highest of the range, Ben Ime. It turns out that despite its lack of height, Beinn Narnain is a tough little hill and Ben Ime is a boggy slog, but boy, are the views of the surrounding hills, including the Cobbler are worth it. Especially if you get an inversion…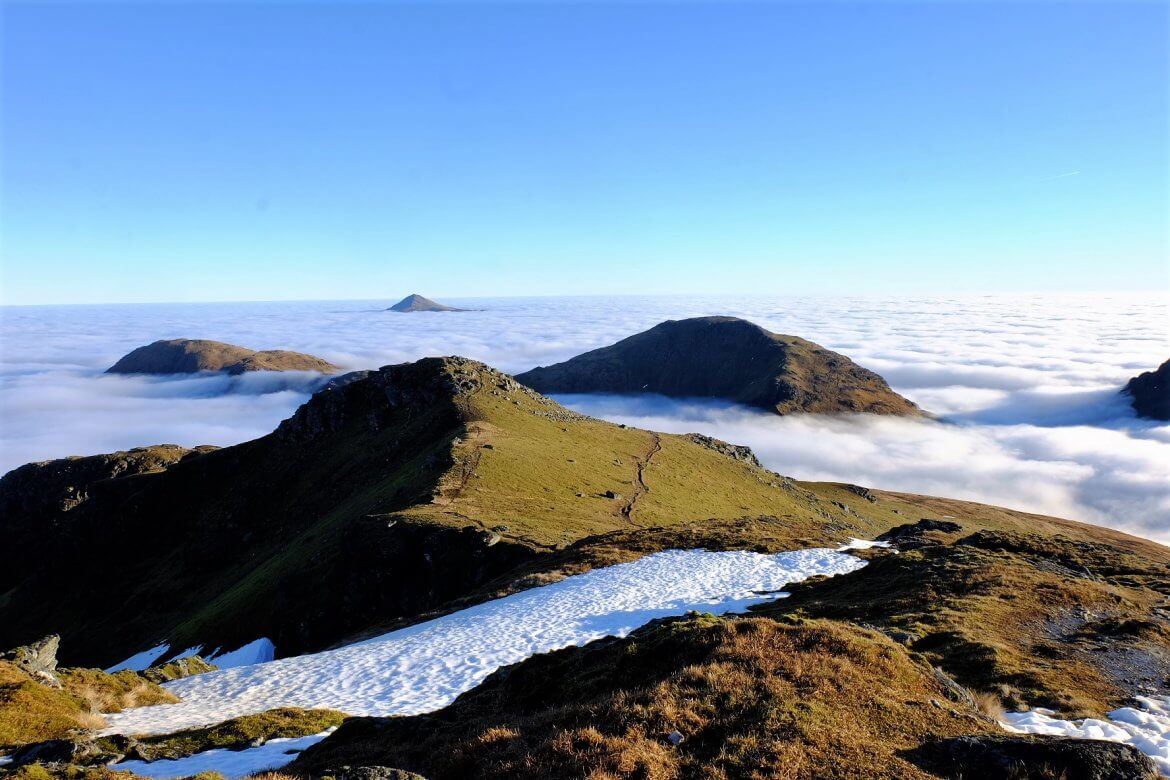 My Guide to Beinn Narnaim and Ben Ime
Route via Walkhighlands
Ben Chonzie, Glen Lednock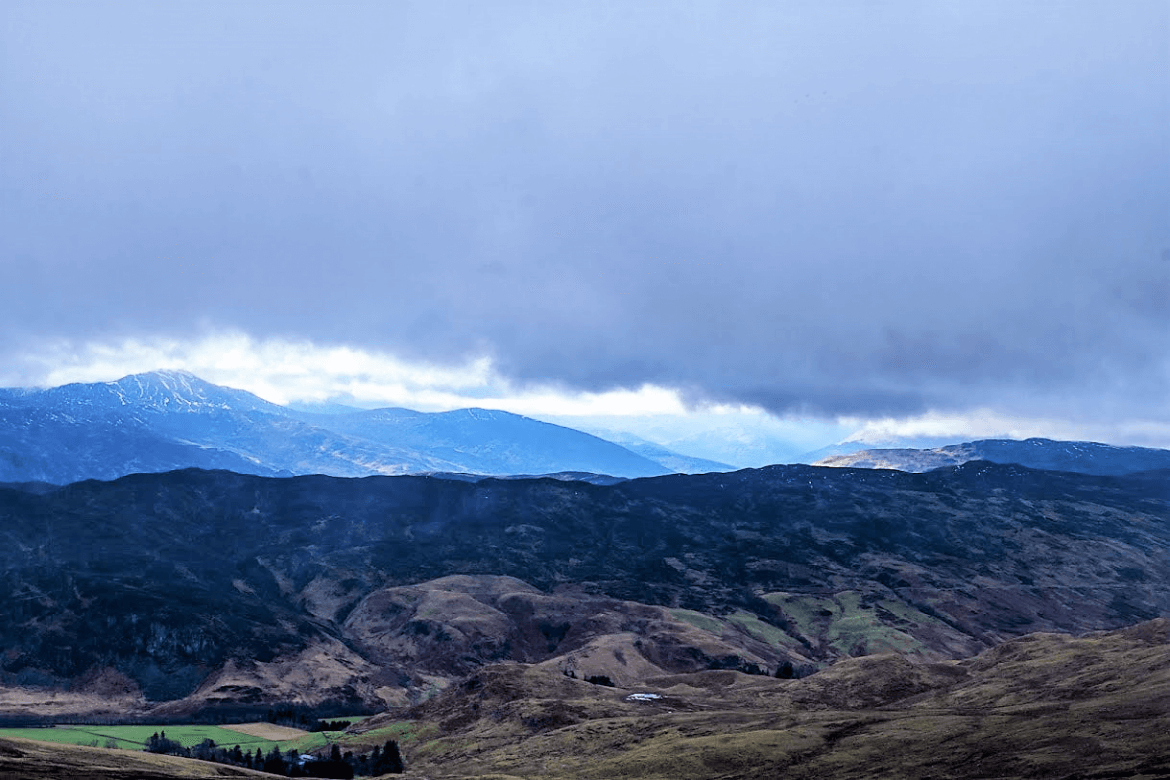 Don't let anyone tell you Ben Chonzie is the most boring of all the Munros. OK, for view hunters, it's not that exciting at the top (if you can see anything) as it is the highest point in a large amount of moorland, but it is its location in Glen Lednock that I love – especially the view across to Ben Vorlich.
Ben Chonzie is often the first choice for new Munro baggers as it is a quick and easy ascent on a mountain track for most of the way up. We headed up in 50 miles an hour winds and snow (video!) with no visibility – and still enjoyed our morning out! That's Munro bagging dedication (obsession) for you!
Schiehallion, Loch Tummel
Last but definitely not least is Schiehallion (1,083m) arguably the most 'mystical' of all the Munros due to its name meaning "Fairy Hill of the Caledonians". I've also read people call Schiehallion the 'constant storm' due to the often nasty weather conditions on its slopes.
So, of course, we had to test that out and climb it in full winter conditions. Our first proper go in the snow! There is a well-made path most of the way up the mountain, which until you reach the boulder field at the top makes for very easy going.
As we were climbing in the snow, thankfully the boulders were completely covered making for easy going on what I've been told is very hard on the knees! The climb in the snow is really only for those who have experience and gear for the conditions, but Schiehallion is an easy first Munro in the warmer months.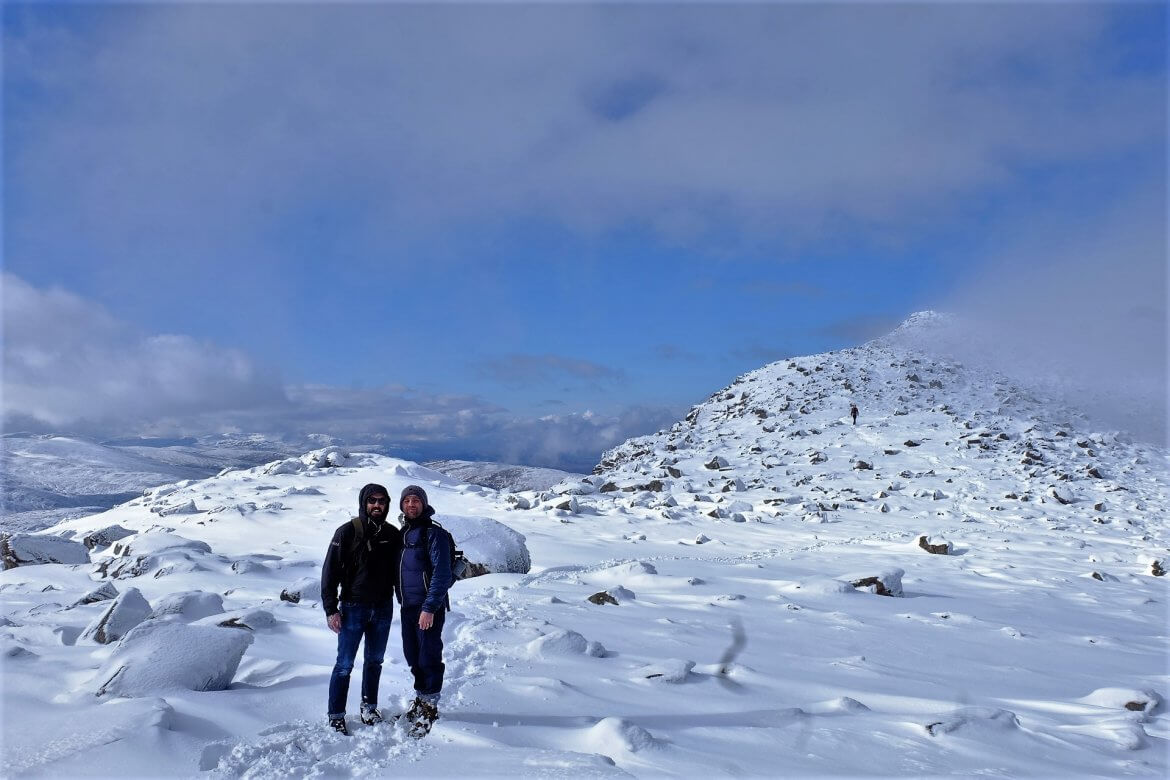 Do not climb in jeans. It is not recommended!
My tips for climbing Munros for beginners
Most of these are suitable Munros for beginners but have a look at how it can easily end in disaster.
For more advice on bagging a Munro check out my beginners guide with BBC Scotland.
Gear  – I wear leather waterproof walking boots (I recommend Scarpa), good hiking socks, and waterproof or windproof trousers with gym leggings underneath. On top, I wear multiple base layers (again gym gear) and a hydro down jacket. Because the weather can change so quickly I always carry a hard shell waterproof jacket. I love my fleece lined hat and I always keep climbing gloves handy for scrambling. Steve Fallon has a list of gear for winter.
Kitbag – Never climb without safety gear – We carry an Ordnance Survey Map, compass (learn how to use it), waterproof map bag, head torch, bivvy bag, and lighter or matches. We also carry a camping knife, first aid kit, and a whistle. I use the OS and Viewranger Apps and carry an extra battery pack charger. Don't forget water, food, and sweets for a sugar boost.
Weather – Before you leave check the weather at your elevation via Mountain Forecast and the Mountain Weather Information Service. The weather can change dramatically from 100m to 900m+.
 Love from Scotland x
Pin for later