Ben Lomond is one of Scotland's most popular hill climbs, with over 30,000 people reaching the summit every year. Here is how to climb Ben Lomond.
How to climb Ben Lomond
Covering 720sq miles, 22 lochs and 21 Munros, Loch Lomond and the Trossachs National Park is famous worldwide for those seeking wonderful scenery and outdoor adventures. The best way to see the park? Climb Ben Lomond and the Ptarmigan Ridge to take in the spectacular views.
On a good day, the Forestry Commission car park at Rowardennan (£3/day) on the east side of the loch is jam-packed and a stream of people head up into the hills. We chose the National Trust for Scotland managed 'tourist path' for our ascent and surrounded by the mountains, you get incredible full-circle views of the loch and it's 22 islands.
This was our first time up Ben Lomond, and after climbing Ben Vorlich at Loch Earn (which is around the same height) we thought we knew what to expect; that was until the weather decided to add 25 degrees of heat.
By the time we'd left the tree line everyone around us was huffing and puffing, and we realised with our fleeces and a rucksack full of hats and scarves, that we were completely over-dressed. I was very thankful I had remembered to pack the factor 30 sunscreen.
We took a well-deserved rest on the plateau before attempting the final climb to the top; I almost want to stay here all day, with a sunbed and a glass of wine in my hand!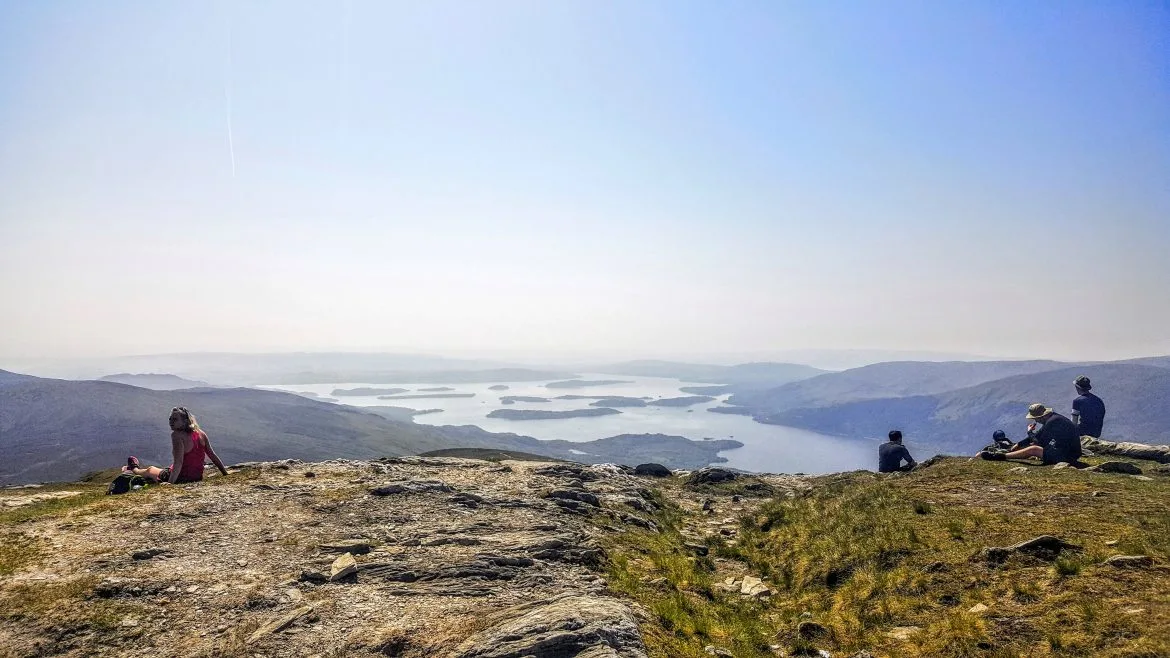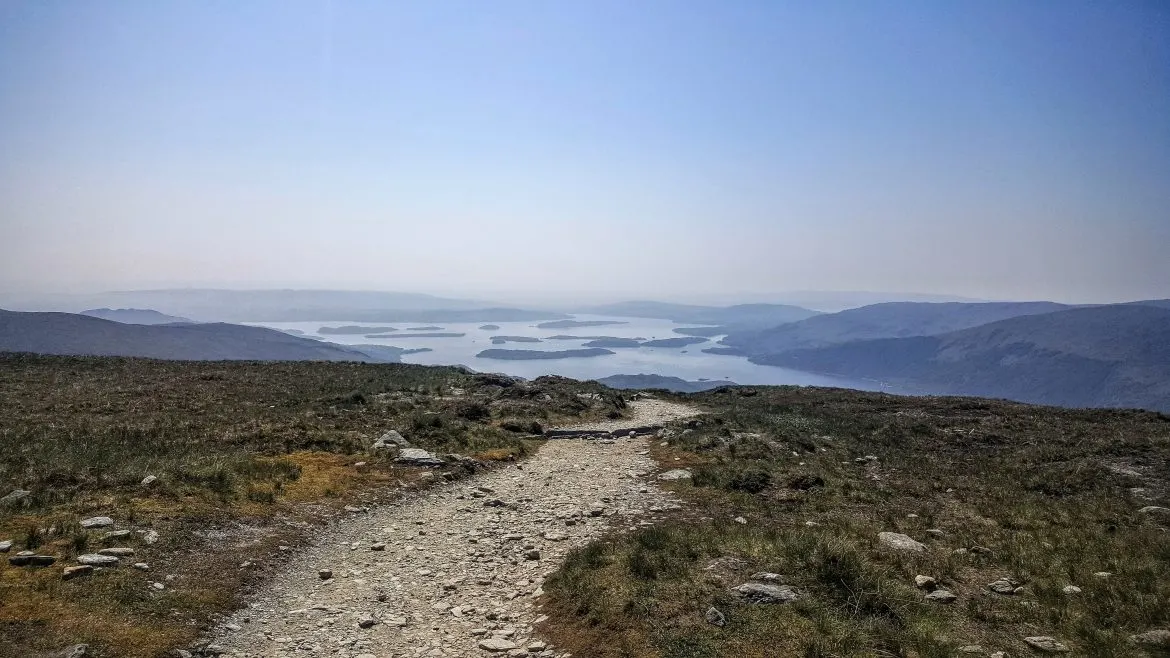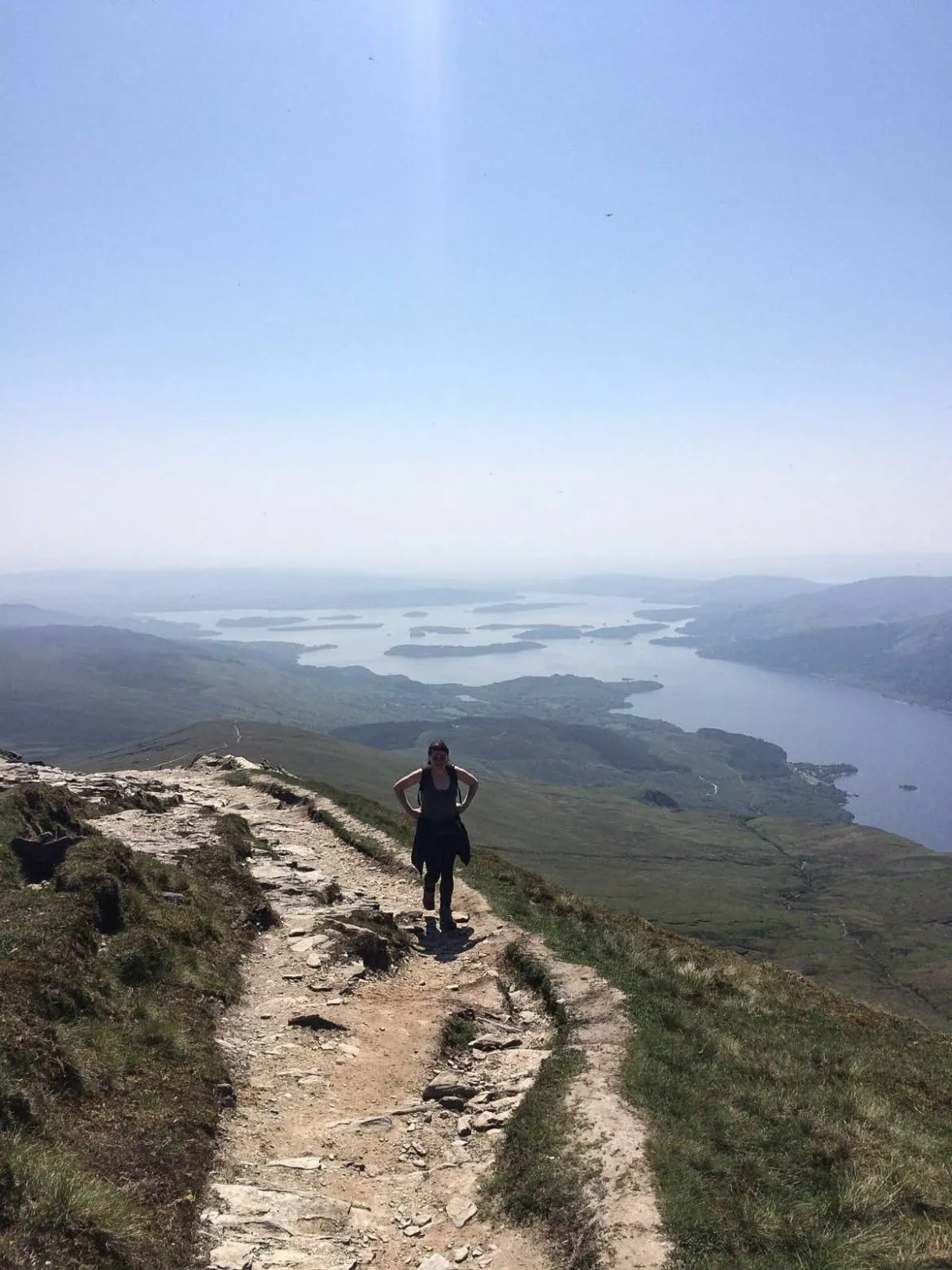 Despite the now oppressive heat and for me, total exhaustion (I was starting to feel like I was climbing in a sauna) we had to push on and we finally reached the top after 2 hours of climbing.
Sadly, as evidenced by the number of people hurrying back down the trail towards us, our time on the top of the mountain was to be very short-lived. Arghh the MIDGIES! Usually found at lower levels, close to water, the incredible heat (and extra dinner they were getting) had pushed a swarm of biting midgies upwards and the top was utterly infested.
Lacking a protective covering of midgie spray we had to make a dash for it and following the round trip walk we scrambled down the back of the mountain to the Ptarmigan Ridge. I only stopped for breath to take the photo below. I did make the summit, honestly!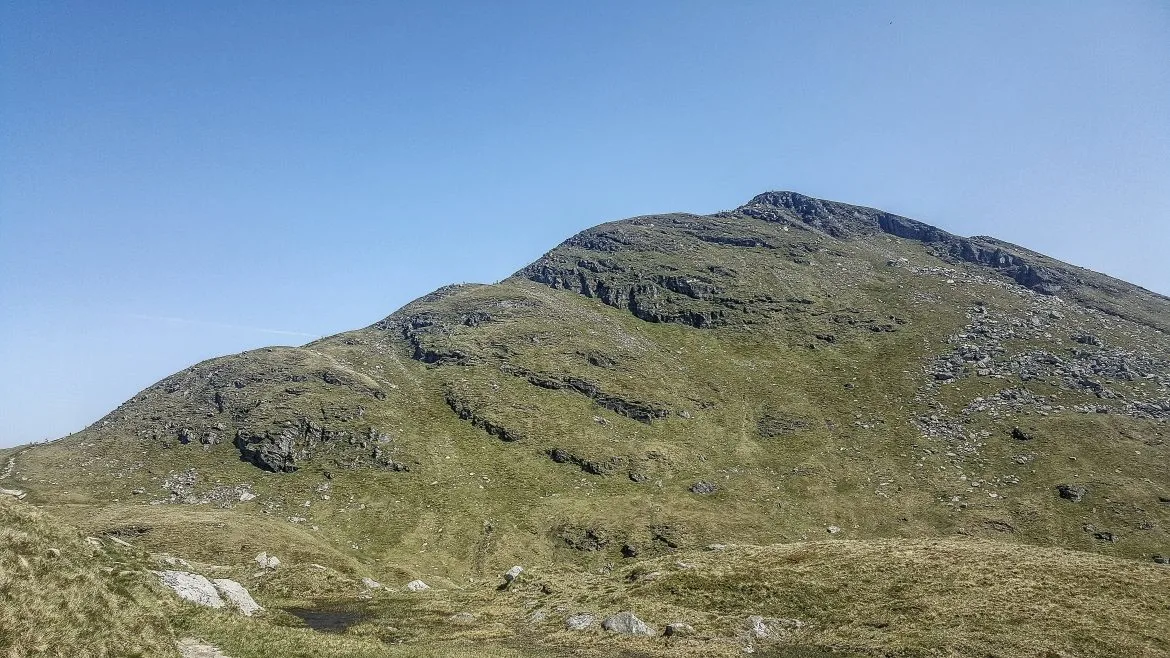 Now, I think the descent down the mountain along the Ptarmigan Ridge tops every walk I've ever completed in Scotland. The midgies had finally disappeared and with a fresh breeze and home in sight, I was able to really enjoy the views. Just look at it; I think I've fallen in love with beautiful Scotland even more. Even if by this point, I was such a sweaty mess, this selfie was really not a good idea!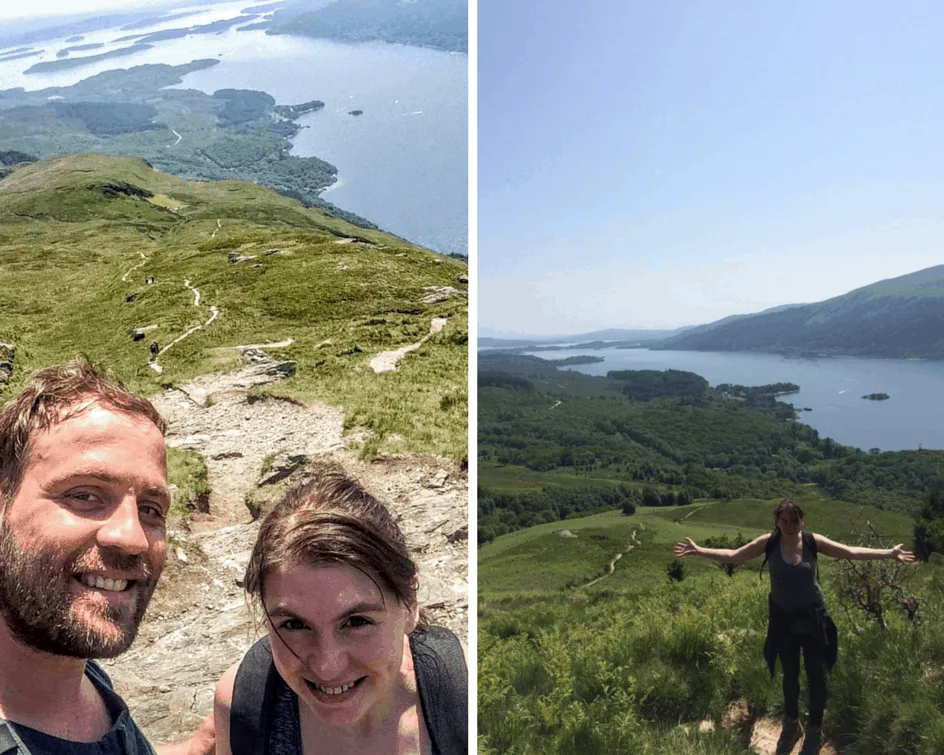 After 10 miles, 25 degrees, 4 hours 52 minutes walking, 1081m in height and 28500 steps, we did it again! I told you this Munro bagging was addictive.
How long does it take to climb Ben Lomond?
It will take between 4-6 hours to climb Ben Lomond.
Best time to climb Ben Lomond?
Scotland's weather is best in May and September. Don't attempt climbing Ben Lomond in winter unless you are a specialist climber. For weather forecasts, I recommend you check out:
Ben Lomond is a deservedly a popular hill and on a good day the car park can quickly fill up. Get there early and don't park in the passing places if you can't find a spot.
Ben Lomond route maps
How hard is it to climb Ben Lomond?
Whilst climbing Ben Lomond is not technically hard, it is a Munro, and the path is boggy rough so don't climb it expecting a wee trip up Arthurs Seat. You will need hillwalking gear and be prepared for the weather to change in a heartbeat – mist, fog and rain can sweep in quickly.
If you haven't hill walked before, have a look at my beginners guide to hillwalking in Scotland.
Are you a Munro bagging beginner? My guide to climbing a Munro might help.
(I can't help pronouncing Ptarmigan as Parmesan…)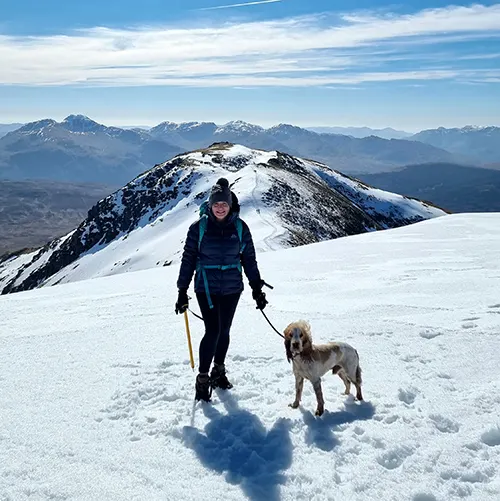 I'm Kate – a travel writer and photographer living in Scotland. Love, From Scotland is the Scotland travel guide that shows you where to stay and how to get outside in Scotland.