Scotland's beaches such as Luskentyre on Harris, or Sand on Applecross might be world famous, but one of my favourite things about living in Edinburgh is that the city has a spectacular waterfront with over 40 miles of waterside walkways and its own Edinburgh beach. If you fancy a trip to the seaside, from Portobello, Cramond and Silverknowes, to dramatic castles at Seacliff and seaside town beaches at North Berwick, here are Edinburgh's best beaches.
Stroll along the prom at Portobello
---
Once a thriving Victorian seaside resort, now a relaxed and sedate beach town compete with arcades and a promenade, Portobello is a favourite of Edinburgh locals for a stroll on a sunny day. Just 30 minutes from the centre of town and with views across to East Lothian there are very few places better in the city to have an ice cream than on Portobello's huge sweep of sand.
Where to eat and drink at Portobello Beach: Brunch at The Skylark Cafe

, Lunch at The

Beach House Cafe

, drinks at

The Espy.
How to get to Portobello Beach: Catch the number 26 Lothian Bus. Journey time: 30 mins.
Cycle to Cramond and Silverknowes Beach
---
Cramond is a 19th Century village just 40 minutes from Edinburgh city centre. With whitewashed cottages, boats on the River Almond and the long causeway to Cramond Island, it's a local's favourite for a Sunday wander or a cycle along the Promenade to Silverknowes. Feeling energetic? Walk the Shore Walk to Queensferry to view the Forth Bridges.
Where to eat and drink at Silverknowes: Grab a bacon roll and coffee from the Boardwalk Beach Club

, or drinks at the Cramond Inn.

How to get to Cramond: Catch the number 41 bus to Cramond, walk along the Promenade to Silverknowes. Journey time: 40 minutes.
Walk out to beautiful Aberlady Bay
---
Aberlady Bay is Britain's oldest nature reserve and the sand dunes, mudflats and salt marshes are home to over 550 plants, wading birds and in summer, 30,000 pink-footed geese. Wander through the dunes down to a beautiful beach with views of Edinburgh. The remains of two midget submarines on the beach are visible at low tide.
Where to eat & drink at Aberlady: fine dining meals and lunches are served at the Ducks Inn

.

Get to Aberlady Bay: Catch

East Coast Buses

r124 / x24

. Journey time 50 minutes. Driving – there is a car park at Aberlady Bay Nature Reserve.

Read more: Living like a local in Aberlady
Search for treasure at Yellowcraigs Beach
---
Otherwise known as Broad Sands Bay, Yellowcraigs beach is located by the lovely village of Dirleton, follow the sign just past the Castle. Park up by the ice cream van, wind your way through the woods, up the extensive sand dunes, and pop out onto this spectacular bay. The beach has views of North Berwick Law and Bass Rock and to Fidra lighthouse sitting on Treasure Island.
Where to eat & drink at Yellowcraigs: Lunches and play facilities are next door at the Archerfield Walled Garden.
Get to Yellowcraigs: Catch

East Coast Buses

r124 / x24

to Dirleton. Journey time 1.15 minutes. Otherwise,

get the train to North Berwick and walk to the beach, it is 3 miles along the John Muir Way.

Read more: Yellowcraigs Beach
Take the family to Gullane
---
Popular with horse riders, dog walkers, surfers and ice cream munchers, with a car park right by the beach, the big sweep of sand at Gullane is one of Edinburgh and East Lothian's most family-friendly beaches. Golf fans will also love the nearby links golf courses.
Where to eat & drink at Gullane: The ice cream van does a roaring trade on a hot day!
Get to Gullane: Catch

East Coast Buses

r124 / x24

. Journey time 50 minutes.
Find the castle at Seacliff Beach
---
Seacliff is an open secret to those in the know – find the tiny lane, pay your £2, drive down the little winding private road and park up. The beach is a short wander through the woods. Walk along the beach to reveal a stunning view of Tantallon Castle which sits on a dramatic cliff face and cross the rock pools to The Gegan to find Scotland's tiniest harbour, blasted out of the rock in 1890.
Where to eat and drink at Seacliff: Beer and pub grub in

East Linton.

Try The Linton

.

How to get to Seacliff Beach: Best reached by car,

head out along the A1 from Edinburgh and turn off at Auldhame.

Read more: Seacliff Beach
Head to the John Muir Country Park at Tyninghame Beach
---
Otherwise known as Ravensheugh Sands, Tyninghame has a quiet, wild, and remote charm. Walk through the woods along one of the many paths which wind their way through the golf links, finally emerging out onto the huge sandy bay with dramatic views of the Bass Rock. Tyninghame is my favourite of all the Edinburgh beaches – even when it's full of happy families and dogs and kites and surfers, you feel like you've made it somewhere special.
Where to eat and drink at Tyninghame: T

he Tyninghame Smithy does a roaring trade in coffee & scones served outside in its courtyard.

How to get to Tyninghame Beach:

search for

Limetree Walk Dunbar

. Drive to the end of the lane. You can park all day for £2. Nearly all the paths go to the beach.

Read more: Tyninghame Beach
Go to the seaside at North Berwick Beaches
---
A quintessential seaside town, North Berwick has two beaches – the huge sweep of the West Beach and family friendly Milsey Bay with its boating pond. Grab a fish & chips picnic, visit the Seabird Centre and train your camera out onto Bass Rock, or take a boat ride out onto the Firth of Forth.
Where to eat and drink at North Berwick:

Perched on the edge of the harbour, this the

Lobster Shack

freshly grills lobster in garlic butter and serves it with perfectly cooked chips, all ready for you to take away and find a spot to soak up the sea air.

How to get to North Berwick: By train, 30 minutes from Edinburgh City Centre.
Read more: North Berwick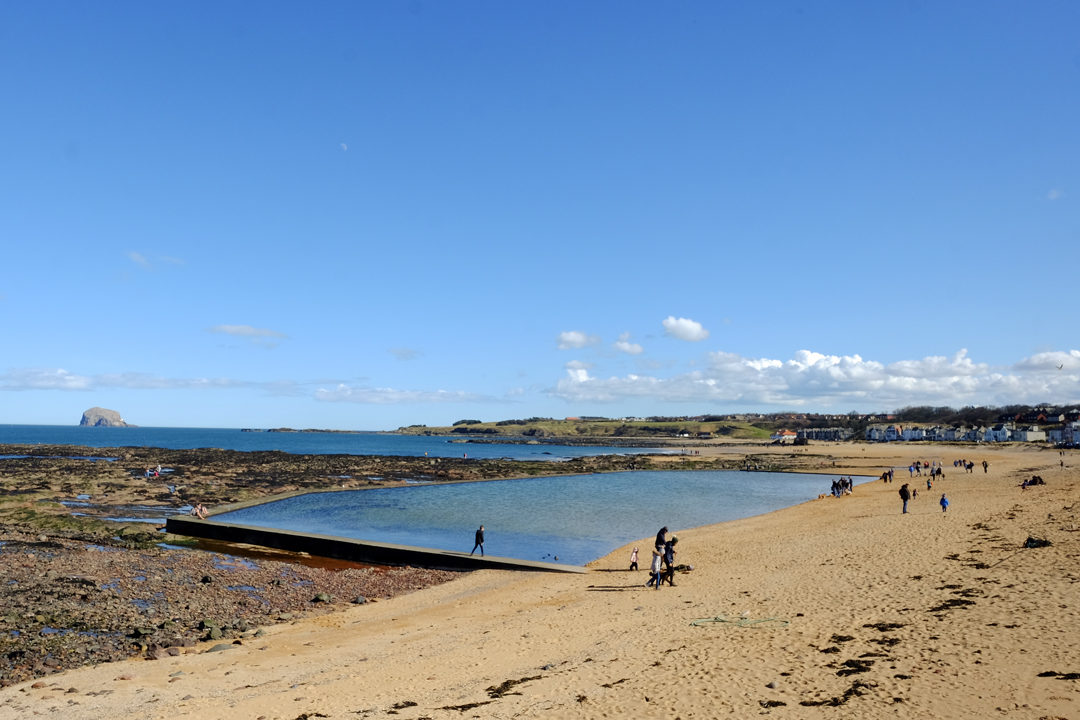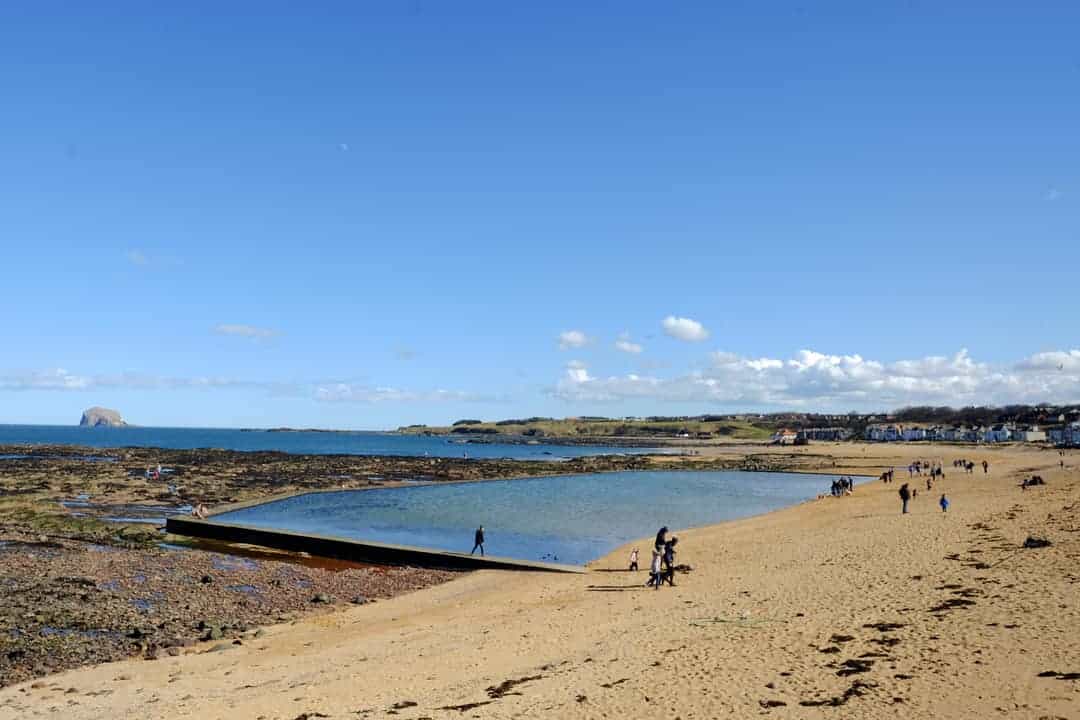 Find an Edinburgh beach
Which is your favourite Edinburgh beach?
Love, from Scotland x
Pin for later