Voted 'No 1 outdoor destination' in Scotland by Scottish Natural Heritage eight years in a row; it's no wonder I love Fife. With 117-miles of stunning beaches and coastline and the volcanic Lomond Hills Country Park, along with a whole host of brilliant outdoor activity providers, here is my guide to things to do in Fife outdoors.
This is a paid partnership with Welcome to Fife
My favourite things to do in Fife:
Go stand up paddle boarding (SUP) at Lochore Meadows – learn to paddle on this lovely loch, you will be standing up and doing tricks in no time!
Walk the West Fife Woodlands Way – a lovely 10-mile ramble through West Fife's beautiful woodlands starting in Culross. Walk the West Fife Woodland Way.
Climb up to the Bunnet Stane – an unusual rock formation in the Lomond Hills Regional Park, before climbing East Lomond for a view of Fife
Learn to Mountain Bike on the beginners trails at Lochore, and perfect your skills on the bike park.
Go scrambling and coasteering at Elie – the Elie Chain Walk is a series of chains along the Fife coast, climb, scramble and coasteer from Shell Bay to Elie
Walk the 117 mile Fife Coastal Path – Scotland's longest coastal path tales you from the Firth of Forth to the Firth of Clyde. My favourite section explores the villages of the East Neuk.
Track credits to @argofox & @a-himitsu
Stand up paddleboarding (SUP) in Fife
Looking to try something new? How about stand up paddleboarding? SUP is one of the fastest-growing watersports in Scotland is brilliant fun and really easy to learn – take it from me!
If you fancy trying SUP for yourself, Lochore Meadows Country Park offers up a huge calm loch perfect for beginners. Try Lochore Meadow's two-hour beginners guide to SUP (£20 for adults, £10 for under 18s) which includes your paddleboard and wetsuit hire. By the end of your two-hour session you will be confidently standing up on the board and paddling around the loch. Once you are up on your feet take a guided SUP tour of the loch – perfect for those with more confidence – you will be doing tricks in no time!
Book your SUP session through Lochore Meadows
Feeling even more adventurous? Scotland's National Waterski and Wakeboard Centre is based at Townhill Loch near Dunfermline. Adult beginners can get out on the water with a coach for £55 including waterski and wakeboard hire.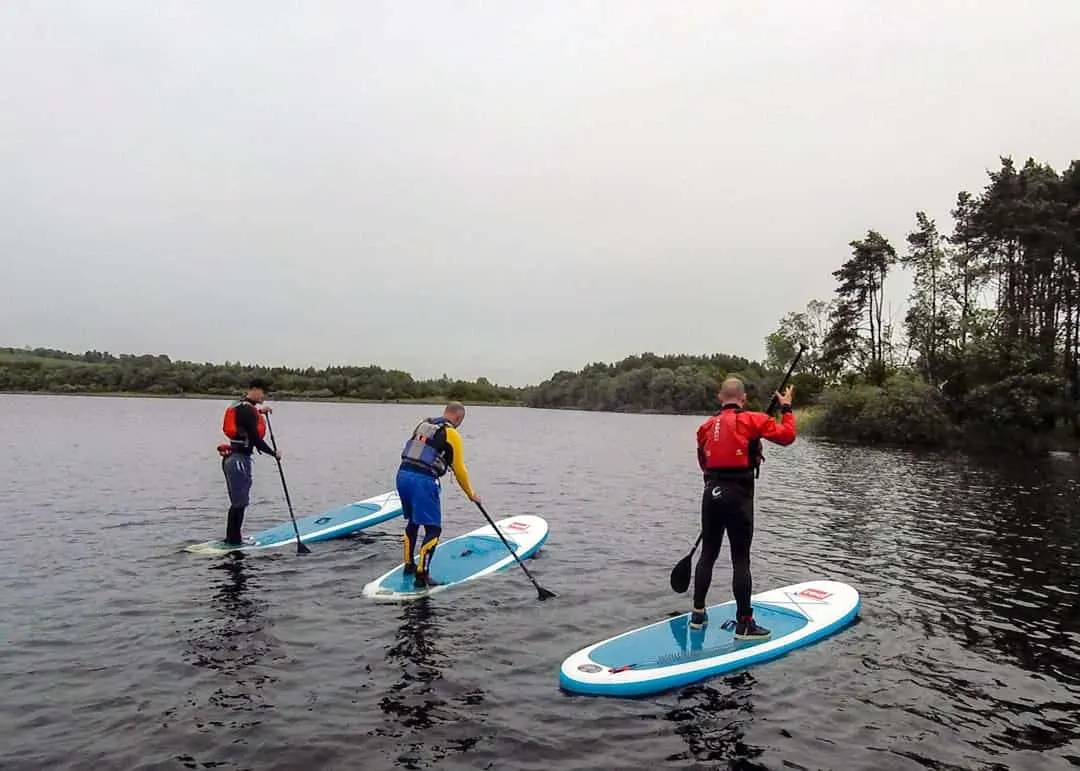 Mountain Biking in Fife
With over 1,200 acres of parkland to explore, Lochore Meadows Country Park is the perfect place to learn to mountain bike or to brush up on your skills. There are lots of off-road mountain bike trails at Lochore Meadows to explore.
With the family? Cycle around Loch Ore on an off-road 3.5 miles/ 5.65 km trail, perfect for all ages and with lovely views of the loch.
Beginner? Follow the all-ability trail which is suitable for kids bikes, tandems, rollers and beginners, then head out on the woodland trails – start with Bogey Trail and Nearly Knarly Nelly, followed by the Benarty Brae pump track, Chapel Chase and the Lindsay's Loop.
If you want to practise your skills, then the White Wood has all the technical features like drops and rock gardens including 'Rockzilla' – perfect for intermediates. Lochore Meadows also has a bike park with rocky elements, north shore sections (raised timber trails) and berms (curving slopes) and rollers (humps).
Experts will love climbing Harran / Benarty Hill to try the unofficial, technical red and black graded trails.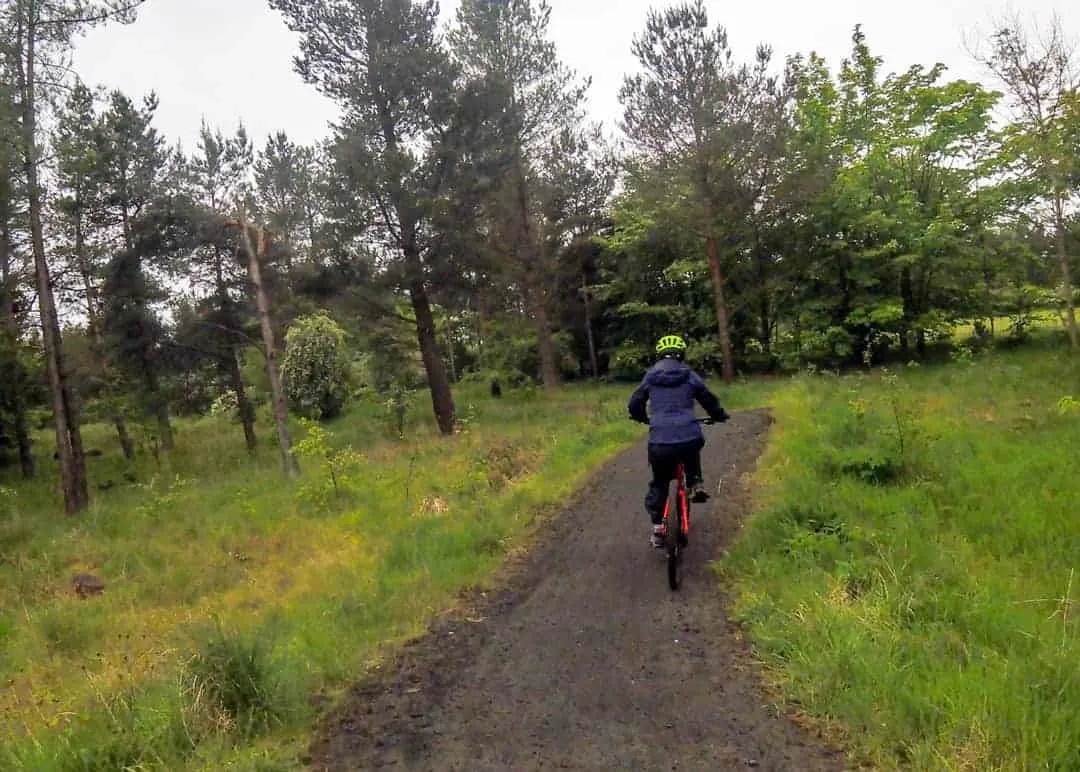 If you are a beginner to mountain biking at Lochore Meadows then book into a guided mountain bike rides (£20 per adult) which start off with a warm-up on the skills loop and then head off with a guide to explore the trails. I loved our two-hour ride around the country park with Lochore and I found I quickly progressed up the skill levels. Mountain bikes can be hired at Lochore Meadows from 2 hours to a full day.
More mountain bike trails in Fife
There are lots of trails all over Fife to explore:
Cycle through Devilla Forest on a 9.5km (green) route on forest tracks through Scots Pine trees.
Head to Pitmedden Forest (blue) near Auchtermuchty with its huge amount of forest tracks to explore.
Climb up Pitcairlie Hill for views across Fife (Blue) River Tay Fife Coastal Path,
With challenging climbs and great views cycle along the Tay from Newburgh up Norman's Law (red) one of Fife's highest hills.
Walk the beautiful 117-mile Fife Coastal Path
The Fife Coastal Path is Scotland's longest coastal path and stretches for 117 miles along the edge of the Fife peninsula – stretching all along from the Firth of Forth – from Kincardine to North Queensferry to Anstruther, St Andrews north to the Firth of Tay. Managed by the Fife Coast and Countryside Trust, the whole Fife Coastal Path can be walked in a week and is designated one of Scotland's Great Trails. However, if you haven't got a whole week, the path is also great walked in sections. These are my favourite sections:
Kirkcaldy to Dysart – catch the train to the bustling town Kirkcaldy and follow the coastal path to Dysart with its hidden gem of a harbour. Stop for a coffee at the Fife Coastal Path centre at the Harbourmaster House before wandering on to West Wemyss before returning to Kirkcaldy.
Elie to St Monans – passing the striking Elie Lighthouse and Lady's Tower at Sauchar Point – a picturesque changing room built for Lady Anstruther in the 1700s so she could bathe in the Forth – walk from St Monans to Elie. Grab lunch at the Ship Inn at Elie which serves up lovely lunches right on the beach – you might even spot a game of cricket being played on the sand!
St Monans to Pittenweem – passing the St Monans windmill – a relic 1770s of the salt panning industry which once dotted the coast. Further along, the coastal path passes the ruined and slightly spooky Newark Castle. For lunch try the East Pier Smokehouse or coffee and cake at the Diving Gannet.
Anstruther to Crail – visit Cellerdyke with its tiny 16th century harbour – which is also known as Skinfast Haven once home to more than 50 herring boats. The path passes the- The Coves, or the caves of Caiplie – used as an early site of christian worship and a doocot! The return walk from Anstruther to Crail is around 10 miles.
Crail to Kingsbarns – Crail is my favourite of all the East Neuk villages, but leave it behind to walk out along the furthest eastern point of the path to the famous golf course at Kingsbarns. Along the way you pass by a whisky & gin distillery and the Nosebag Cafe at the Cambo Estate is a great stopping point for lunch.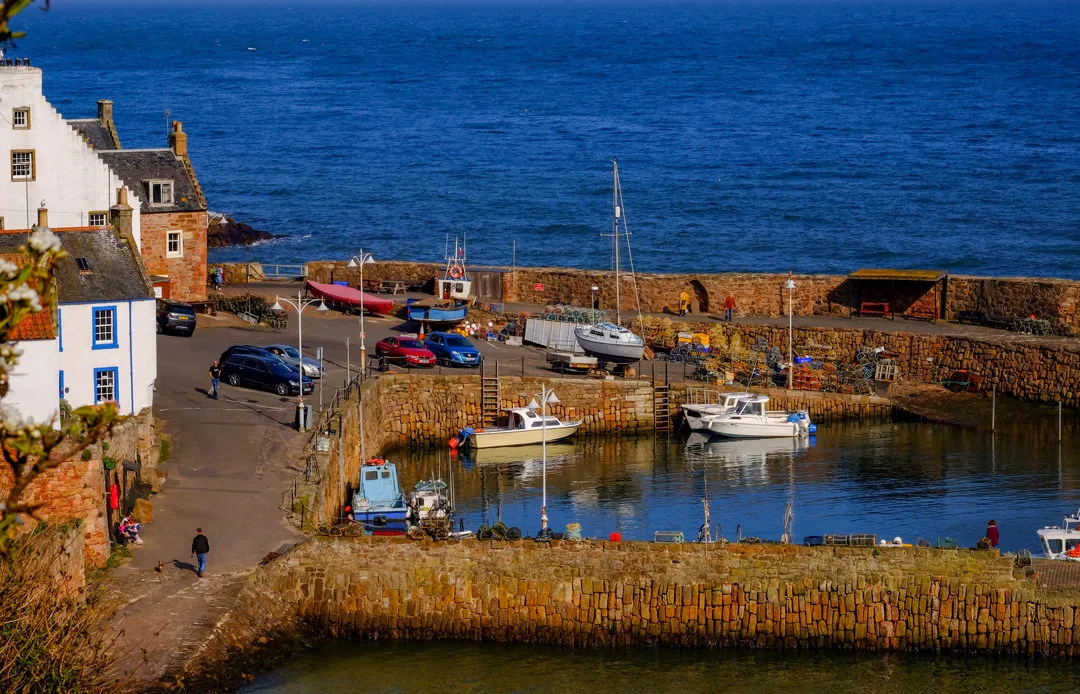 Learn to cycle at Fife Cycle Park
Fancy learning to ride a bike? Fife Cycle Park offers a 1.6km tarmac circuit designed to offer a range of cycling activities and for all skill levels. Floodlit and built to 'A Road' standard, at Fife Cycle Park you can learn to cycle in a traffic free environment. If you'd like to get out on the roads then try an adult confidence builder session (prices vary) or you can turn up with your own bike for a pay to pedal session. Fife Cycle park is near Lochgelly.
Scramble the Elie Chain Walk
The Elie Chain Walk is a Fife oddity – a series of chains fixed along the coast between Shell Bay and West Bay near Elie which you use to climb, scramble and coasteer along the Fife cliffs – kind of like a Scottish Via Ferrata!
The original chain walk was thought to have been installed after the second world war, and runs for over a kilometre. The chains have been replaced and upgraded over the years, and there are steps cut into the cliffs in many places to aid your climbing.
The Elie Chain Walk is great fun, if a little challenging in places, and you do need a head for heights. Make sure you are prepared for the weather and the tides, so if you fancy doing the Elie Chain Walk, please watch my Elie Chain Walk video guide for tips and tricks before you head out on the chains.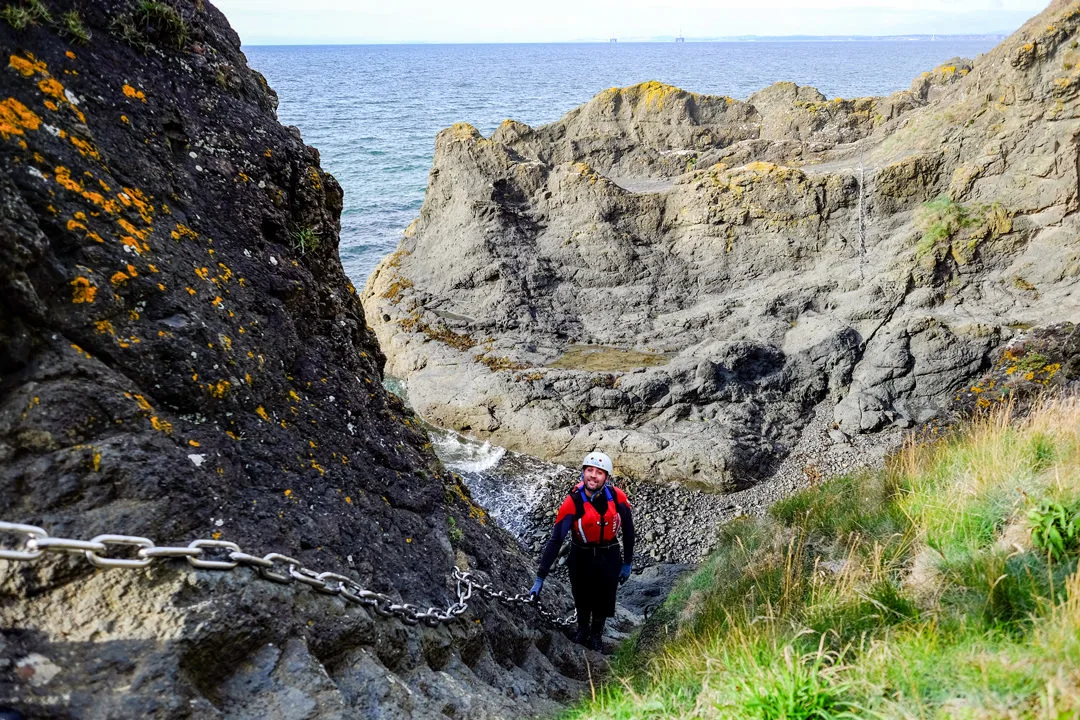 Coasteering in Fife
Coasteering offers up a way of exploring Scotland coastline like you have never experienced it before. The best place to coasteer in Fife is at Elie, jump into the water and climb out – its all brilliant fun. Coasteering should be always done instructor – being able to safely coasteer (jump & scramble off the cliffs) along the Fife coast requires knowledge of both the tides and the rocks underneath the Forth.
We coasteered with Fife Outdoors who gave us very good instructions about where and when to jump (Allan our guide also went first to check both the coasteering and the chains) and how to deal with the rough seas to get back in. Fife Outdoors offers coasteering days for £30 an adult at Elie.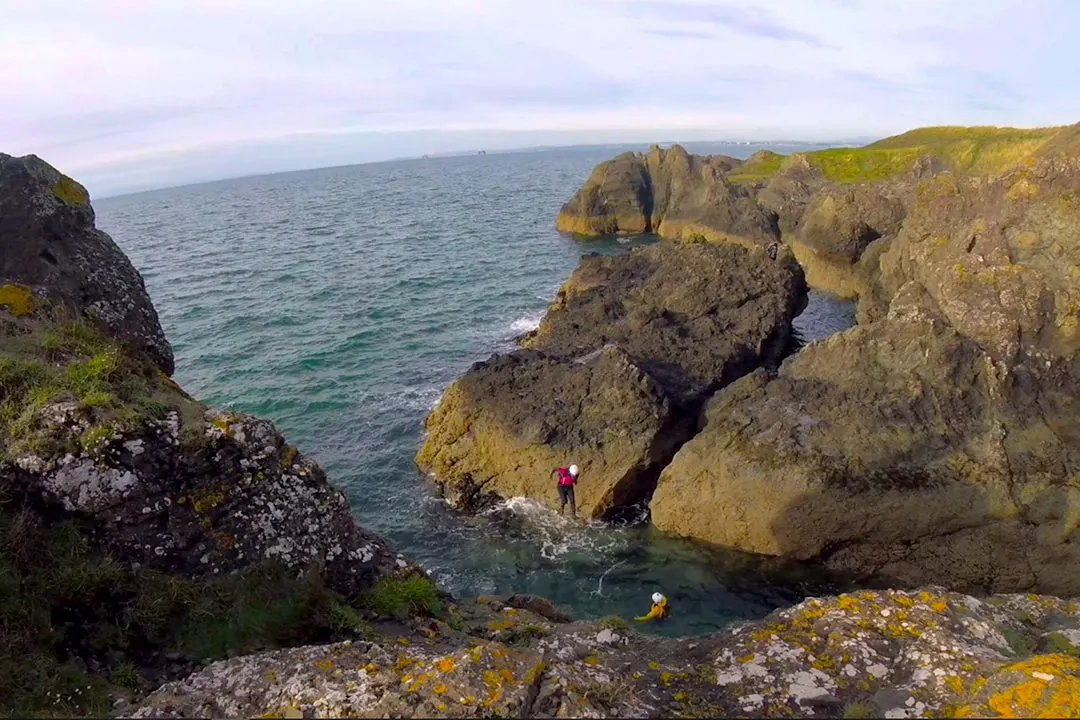 Horse Riding in Fife
One of the best ways to see the countryside is on horse back and Barbarafield Riding School offers adult and children's hacks near Cupar. Head out on a 1 hour hack (£30 for adults) to explore the beautiful grounds of the Hill of Tarvit and Scotstarvit Tower on the back of a horse.
I spent a lot of my childhood horse riding, but as an adult not so much. It turns out that I just needed the confidence to get back up there! The one hour hacks with Barbarafield Riding School are suitable for everyone – the horses are gentle (my horse Coco was a complete gem!) and the rides are led by experienced instructors – you just need to love horses to take part! I even managed a rising trot!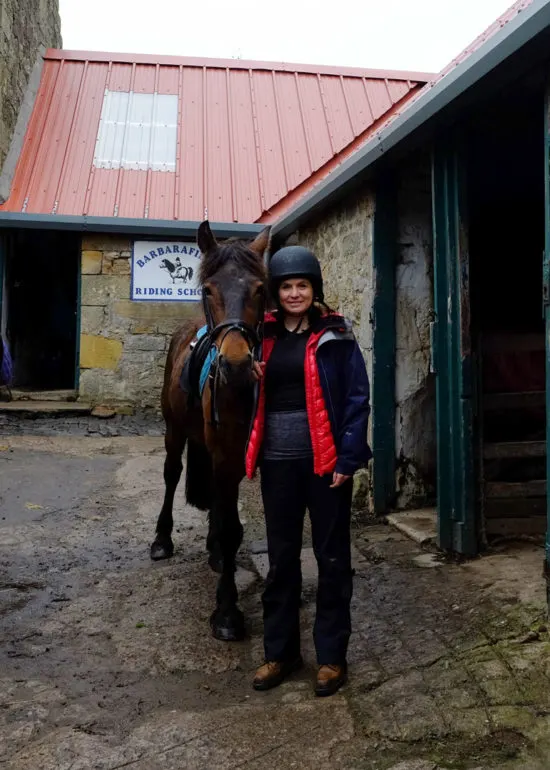 The Bunnet Stane and explore the Lomond Hills
The Lomond Hills Regional Park was designed as Scotland's first Regional Park in 1986 and covers 25 square miles of hills and rolling Fife countryside. There are lots of walks in the park, including West Lomond, the highest point in Fife at 1713 ft, and East Lomond which can be tackled on a great circuit from Falkland.
My favourite walk in the park is up to the Bunnet Stane (or bonnet stone), an unusual mushroom rock formation made up of 'calciferous' sandstone on the edge of West Lomond. A stroll up to the Bunnet Stane makes for a great family ramble with lovely views.
Below the Bunnet Stane is the Maiden Bower, a small man-made cave, named after a young maiden who had a Romeo and Juliet style romance with the son of a local rival, and on the murder of her husband to be carved out the cave, never to return home. It is actually more likely that the cave was carved out as a shepherd's bothy – there is evidence of a chimney and fire grate! Hike up to The Bunnet Stane and East Lomond.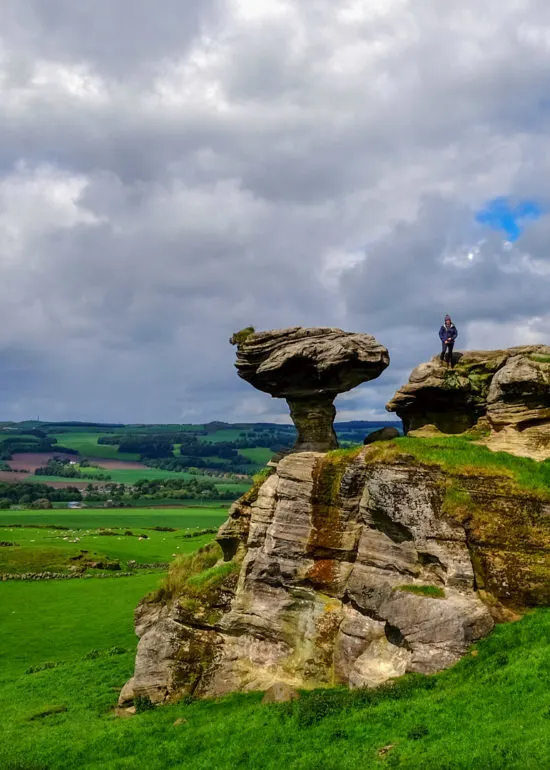 Maspie Den, Falkland
The climb up through Maspie Den to a magical waterfall pouring over a cliff is one of my favourite short walks in Scotland. After a wander around the pretty conservation village of Falkland (including a visit to the NTS managed Falkland Palace and a few photos of the Covenanters Inn and the fountain if you are an Outlander fan) head east along West Port to the Falkland Estate (or park at the Centre for Stewardship) and follow the Maspie Burn up into the woods.
The Falkland Estate was once a pleasure ground for the Stuart kings who owned the Palace and the grounds were laid out in the 1820s. On your way up the (slightly muddy) Den, you will discover dark & spooky tunnels, bridges and cascades. 'Den' in Scots means a narrow wooded valley and the walk soon feels like you are in a tropical world, surrounded by huge ferns. At the top is a beautiful surprise.
To return to the village follow the path back down through the woods or take the wooden steps to your left and climb to the top of East Lomond for a view across Fife. Follow our walk-up Maspie Den and download the Lomond Hills Map.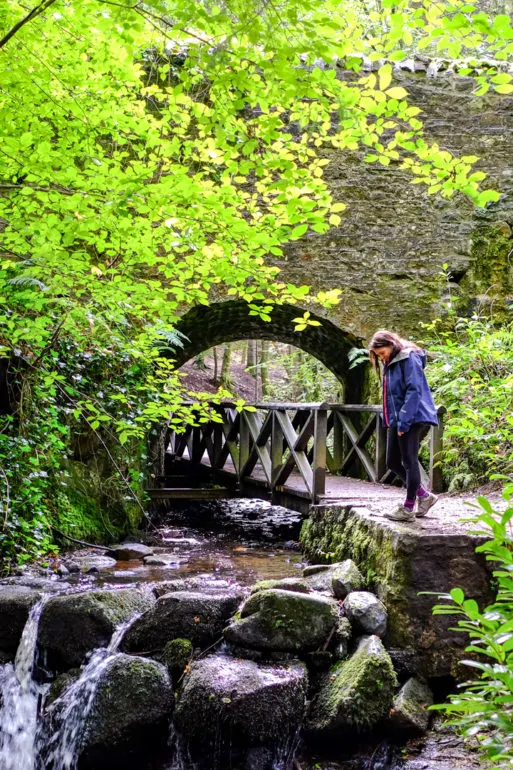 Get on target at Cluny Activities
Starting life as a clay shooting centre, Cluny Activities now offers up all kinds of target sports as well as a bustling wee cafe. Perfect your favourite sport or try a taster session of air rifles, indoor archery (you will soon realise just how hard this sport is!) and clay shooting – perfect for those who are a little competitive.
Never tried target sports before? Cluny Activities instructors are friendly, professional and hands-on, and will get you completing (and hitting the target) in no time. Don't like the idea of target sports? Cluny Activities also offer a golf range, cricket, foot golf and Segways – perfect for team days out. Our taster session of target shooting was complimentary but is normally £60 each and we thought it was great value for a two-hour session. Cluny Activities also have a great cafe serving up really tasty food including cakes and club sandwiches. Visit: Cluny Activities.
Explore Ceres and the Fife Pilgrim Way
One of Fife's prettiest villages, Ceres is home to the Fife Folk Museum and a history of weaving & spinning. Visit the lovely small museum (free, donations welcome) and then explore Craighall Den with its huge ruined lime kiln. Next year, Ceres will become a stopping point on the newly developed Pilgrim Way, a 70-mile path running from Culross to St Andrews following the route taken by pilgrims between the 11th to 16th centuries. The Fife Pilgrim Way officially opens in 2019.
Get out on the beach
Fife's is home to some of Scotland's best beaches – did you know Fife has 25 Blue Flag beaches including Elie's Ruby Bay, Aberdour's Silver Sands and Burntisland? Exploring the coastline is one of the best ways of discovering Fife – kids will love the child-friendly silver sands of Aberlour, the huge sweep of sand between Earlsferry and Elie best known for its beach cricket matches and the walk through the Cambo Estate to the and wild Kingsbarns golf course is beautiful.
If you are feeling more active Blown Away will take you out land yachting on the beaches of St Andrews – a 2 hour land yachting experience including coffee and shortbread is £55 per person.
How to get to Fife
Fife is located in the Scottish lowlands, across the Firth of Forth from Edinburgh. A huge peninsula, Fife stretches from Culross in the west, to Kingsbarns in the East. and all the way up to St Andrews and the Firth of Tay overlooking Dundee and is connected by the Kincardine Bridge, the three Forth Bridges and the Tay Bridge.
Did you know that Fife is known by the locals as 'The Kingdom of Fife' – the name is taken from the Pictish Chronicle which tells the tale of a mythological Pictish prince called Fib (or King Fib) who ruled the Kingdom of Fib (or Fife) in the late iron age. Nothing to do with King Robert the Bruce who is buried in Dunfermline Abbey.
Fife is less than an hour drive from Edinburgh, and not much further from Glasgow, it's really surprising that Fife is so often missed off the tourist trail. Whilst it is best to take a car to explore fife, you can get to Fife by public transport.
By train – there are stops on the Fife Circular at North Queensferry, Inverkeithing, Dalgety Bay, Aberdour, BurntIsland, Kinghorn and Kirkcaldy, along with Cupar ad Dunfermline.
By bus – Stagecoach East Scotland run the buses across the region and provide express links to Glasgow and Edinburgh.
Where to stay in Fife
The main towns and villages in Fife are Dunfermline, Scotland's ancient capital; St Andrews, the home of golf and St Andrew's university; Falkland with its palace; and, Anstruther, the main town in the East Neuk (or Eastern corner) of Fife. Here are my favourite places to stay in Fife: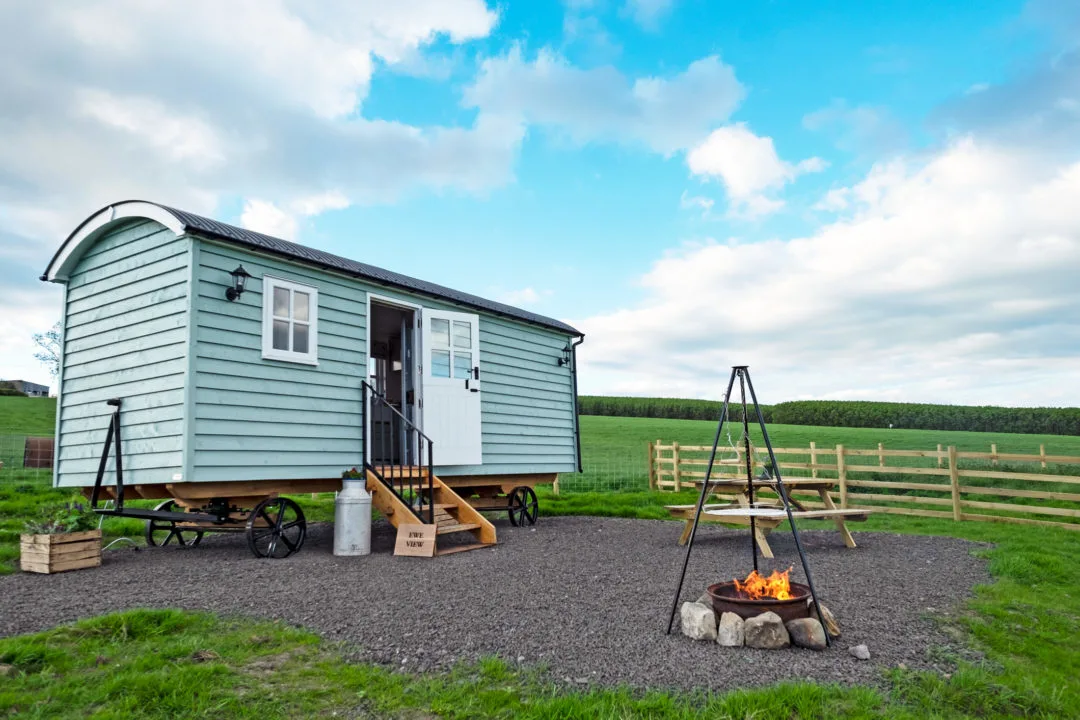 Where to eat in Fife
After all that exercise you will need to be fed. Thankfully, with farms as far as the eye can see, freshly landed scallops and langoustines, a farm to table philosophy, Michelin-starred restaurants, award-winning food festivals, artisan food shops and unique spirits – Fife has everything to keep hungry adventure seekers happy. Here is where you should eat in Fife:
Pick up a Shellfish lunch at Crail – Stroll from Crail's beautiful restored high street (choose your favourite quirky seaside cottage) via Crail Pottery down to the harbour and its seafood shack 'The Lobster Hut' (£)
Visit the Bowhouse Food Market – Pick up local langoustines, cheese from St Andrews and street food from the market (££)
Head for lunch at the Nosebag Cafe – the lovely Cambo Estate has a stunning walled garden, filled with instagrammable cherry blossoms, snowdrop filled woodland walks, its own wild and remote beach and views out to sea over the famous Kingsbarns Golf Links (££)
Dine with a masterchef at the Newport – owned by Masterchef The Professionals winner Jamie Scott and wife Kelly offers up a menu which pays its respects to the incredible produce grown, caught and made in Fife (£££)
Michelin starred dining at The Peat Inn – the first restaurant to receive a Michelin star in Scotland, the Peat Inn is a luxuriously cool and stylish restaurant inside a traditional inn (£££)
Read more: How to have a feast in Fife
Things to do in Fife – map
Love, from Scotland x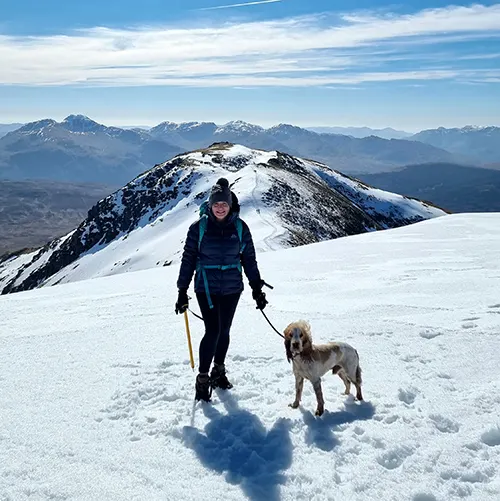 I'm Kate – a travel writer and photographer living in Scotland. Love, From Scotland is the Scotland travel guide that shows you where to stay and how to get outside in Scotland.