From mountain huts, traditional 'but an' bens', to tiny houses, bothies in Scotland are famous. Off-grid, and designed to provide shelter for farmers or those walking the wilds of Scotland, the are often remote and most, inaccessible. Rightly so. Instead, for a taste of bothy life, let's check into The Bothy at Balloch O' Dee in Dumfries and Galloway.
Welcome to Balloch O' Dee
Balloch o Dee is a gorgeously remote campsite in the rolling hills of Galloway in South West Scotland. With views to die for across the Southern Uplands, plenty of relaxed space for campers, Balloch O' Dee also offers up a range of quirky accommodation, with space for couples, small families. and groups.
Stay a vintage Royal Caravelle (circa 50 years old) Bluebell, a wooden gyspy caravan, or a totally off-grid Celtic round house. Then there is The Ranch, a stylish cottage for a family gathering and Balloch O 'Dee's old cow shed which has been converted into a traditional bothy now sleeping up to five. Let's check in for the weekend.
The Bothy at Balloch O Dee
Once a cowshed, The Bothy has been an obvious labour of love for Balloch O' Dee owners. Hewn out of thick stone walls, the Bothy might be open plan, but is a cosy welcoming space with heavy Scottish furniture, a large wood burning stove and quirky decor – you can immediately imagine what staying in a traditional bothy was once like.
Making the most of the space, The Bothy sleeps up to 5 in a double and three single bunks (think family, or very close friends & you'll need your own bedding) with there is plenty of space for dining or cards around a huge dining table and a couple of overstuffed armchairs by the fire. With no mobile signal, or wifi (Balloch O' Dee is gadget free) close the door, shut out the world, and light the candles.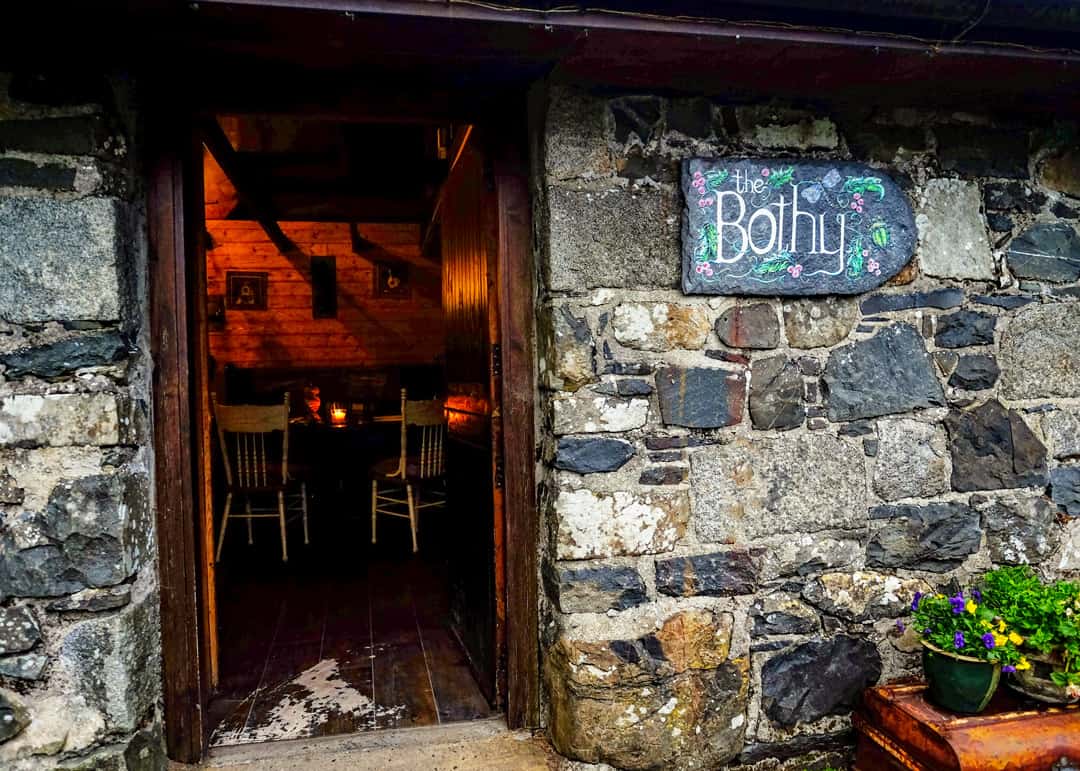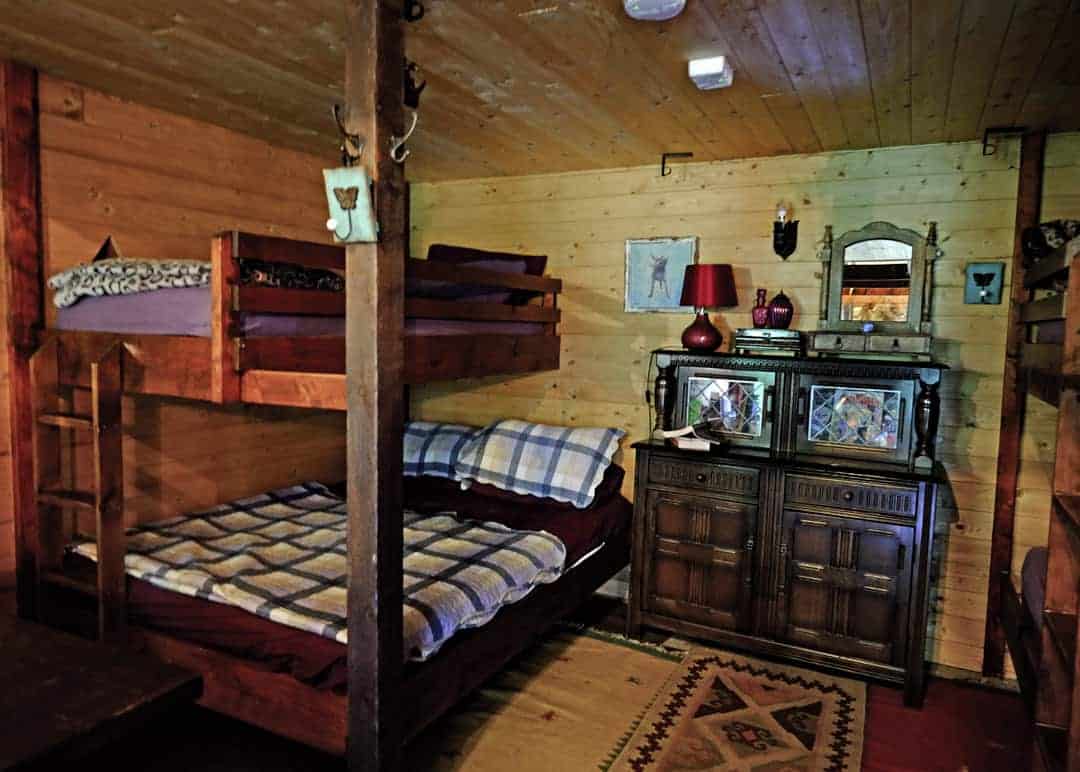 Inside the Bothy, the facilities are basic, but there is everything you need – pots, pans, plates and cups, kettle, chopping board, knives and frying pan – oh yes there is electricity in the bothy, but just enough to make a cup of tea or some toast. Dinner is cooked on a highly efficient wood burning oven – we managed perfectly cooked steak & asparagus, and even made roasties in the oven. There might be some leftovers on the shelf such as oils and spices, but bring all you need to cook.
There is no running water in the bothy, but outside, shared with the campers, is an impeccably clean shower block (think hot showers, art work on the wall, luxury soaps and fairy lights rather portacabin and soaking wet floors) along with separate toilet block, with sinks for cleaning up after tea and fresh drinking water on tap. You are still glamping, so don't forget a towel!
Outside, Balloch O' Dee is all about free range – you might meet their 20 horses and shetland ponies having a wander around the site, be squawked at by chickens, geese, and greeted by a large selection of dogs and free range kids is encouraged, along with evening campfires and maybe a guitar or two. There are no real rules here – at Balloch O' Dee you check in and chill out.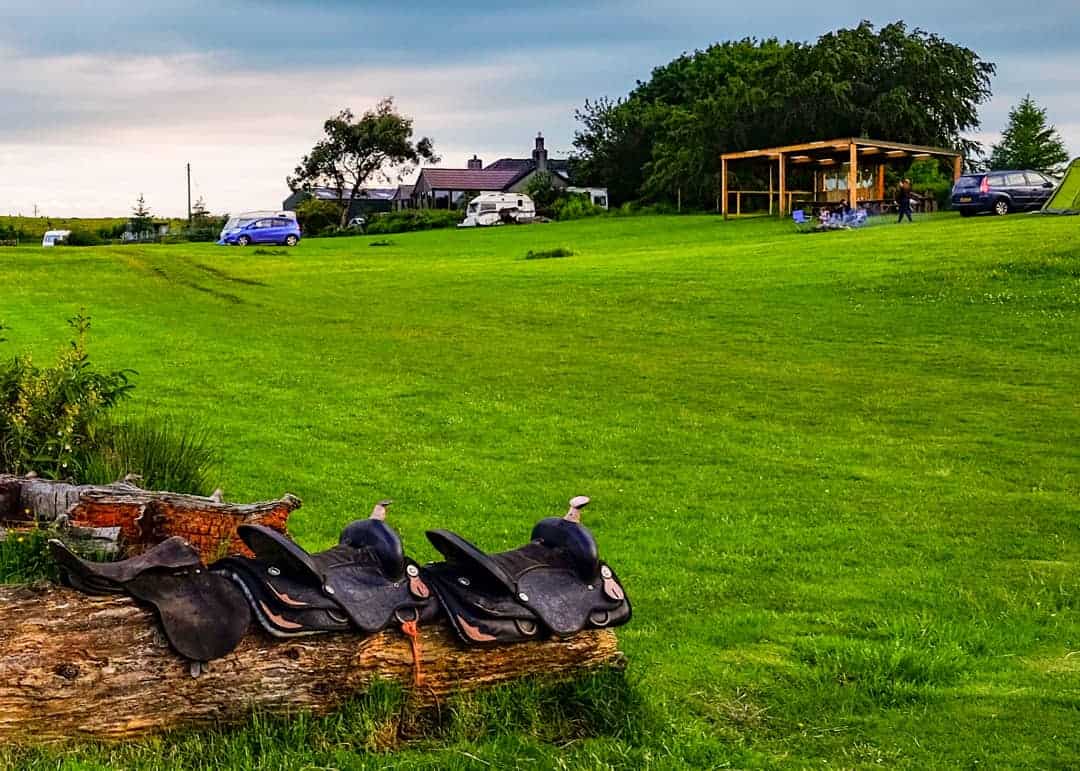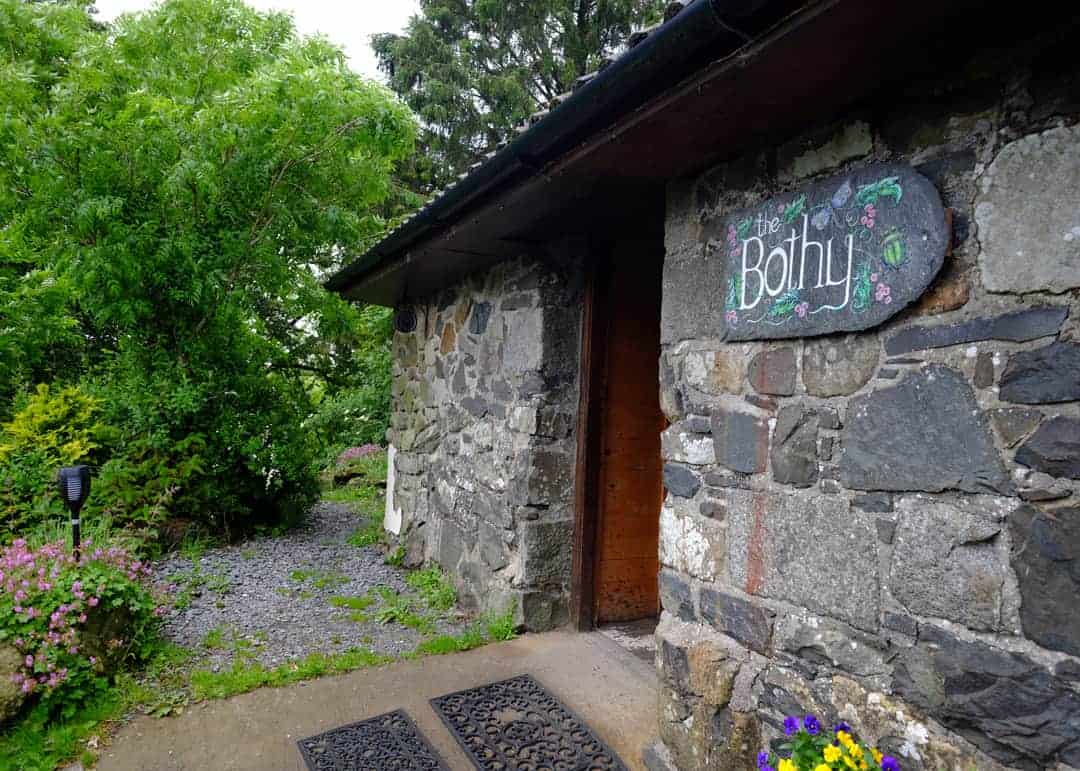 Things to do at Balloch O' Dee
If you are planning a weekend break to Dumfries and Galloway, here are my top things to do in D&G near Balloch O' Dee
Discover the beaches on the Solway Firth –

south facing and often deserted, the Solway Firth has some of the most gorgeous beaches in Scotland. I love Mossyard Beach near Castle Douglas – it's perfect for families.

Meet Captain the cat in his Wigtown bookshop

– often found sleeping by the fire, Captain is a rather famous cat, star of his owner's novel '

diary of a bookseller

'

. I loved the bookshop, but Captain a little bit more.

Walk around Loch Trool to Bruce's Stone

– Loch Trool is one of southern Scotland's most beautiful lochs and the 6 mile walk takes you along the Southern Upland Way to a memorial to Robert the Bruce with a great view.

Visit Caeverlock Castle

– well worth a detour from Dumfries, make sure you explore the grounds of this moated, triangular castle.

Ride the 7Stanes

– The Lowlands of Scotland offer up incredible days out on your mountain bike – there are 5 of the 7stanes in Galloway near to Balloch O Dee.
Explore the Galloway Forest Park – the forest park's nickname 'the Highland's of the Lowlands' does the area a disservice. The Galloway Forest Park was designated a dark sky park in 2009, the UK's first. The best place to see the stars at night? Clatteringshaws Visitor Centre looks out over the park – and at night there is truly no light pollution.
Now check out all the things you can do in D&G near Balloch O' Dee.
As Balloch O Dee suggests, camping in Scotland is all about pulling up, pitching up and chilling out. Balloch O' Dee is one of Scotland's best campsites, we will be back.
Love, from Scotland x
We were guests of Balloch O' Dee.
Did you know that Balloch O' Dee hosts an annual music festival in September, and hosts Scotland's largest outdoor Vegan Festival every July.