Describing Dumfries & Galloway as one of 'Scotland's hidden gems' might be a clumsy cliche, but Dumfries and Galloway has long been off the list of places to visit in Scotland. It is time to change that. Over tourism is killing many parts of Scotland – and is time to focus on the regions that need our love – Dumfries and Galloway and South West Scotland in general (let's not forget the Scottish Borders too) deserves its moment in the spotlight.
Welcome to Dumfries and Galloway
Stretching from Scotland's most southerly point, along the beautiful Solway Firth to Scotland's highest village, Dumfries and Galloway has Robert the Bruce and Robert Burns connections, deserted beaches, beltie coos, incredible castles, a gold standard dark sky park and world class mountain biking. I love Dumfries & Galloway – and I think you might too.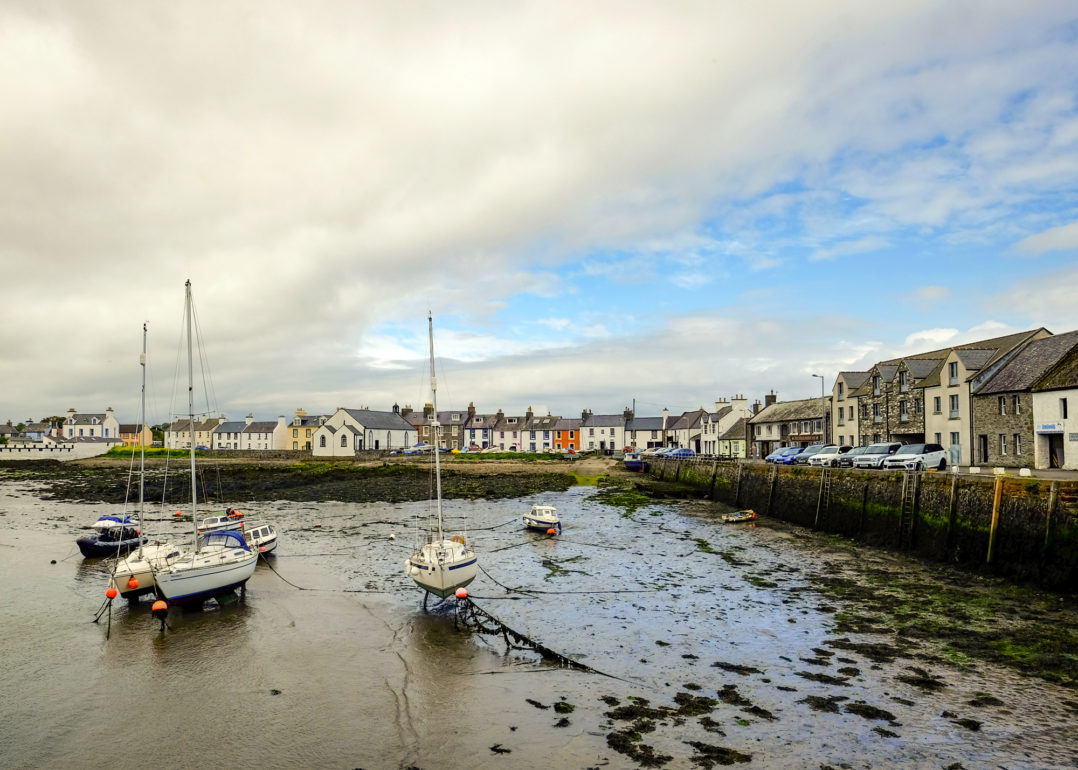 Here is why I love D&G.
Beltie cows

– Galloway has its own breed of cows – the 'beltie'. Black & white and fluffy with a big belt around their chubby waists, they are as cute as any Highland Coo – if you can find them, they are pretty rare!

The beaches ofthe Solway Firth –

south facing and often deserted, the Solway Firth has some of the most gorgeous beaches in Scotland. I love Mossyard Beach near Castle Douglas.

Captain the cat in his Wigtown bookshop

– often found sleeping by the fire, Captain is a rather famous cat, star of his owner's novel '

diary of a bookseller'

. I loved the bookshop, but Captain a little bit more.

Loch Trool and Bruce's Stone

– Loch Trool is one of southern Scotland's most beautiful lochs and the 6 mile walk takes you along the Southern Upland Way to a memorial to Robert the Bruce with a great view.

Caeverlock Castle

– well worth a detour from Dumfries, make sure you explore the grounds of this moated, triangular castle.
Things to do in Dumfries & Galloway
Got more time? Here is how to plan a trip to Dumfries and Galloway
1/ Road trip the South West Coastal 300
Scotland loves a road trip and south west scotland has its own. The South West Coastal 300 takes you along the Solway Firth, to the remote Mull of Galloway, Scotland's most southerly point, down through the Machar Peninsula and along the Ayrshire Coast, through the Galloway Forest Park and to Wanlockhead – Scotland's highest village! It's best to spend a few days on the South West 300 – D&G is a paradise for walkers and you will want to get out of the car.
More road trips in Dumfries and Galloway:
Raiders Road forest drive

– explore a 10 mile section of the Galloway forest park on this beautiful drive / fee of £2, payable by card or coins.

Burns Country Run

– a 162 mile circular route from Robert Burn's birthplace in Ayr and death in Dumfries, exploring lots of places connected to Scotland's national poet along the way.

Scottish Castle Route

– Visit Dunure, Culzean, Caerlaverock, and Drumlanrig Castle and many more on a 250 mile route around Dumfries and Galloway
2/ Visit Wigtown and the Wigtown Book Festival
With over a dozen book shops (and growing every year) along with its annual book festival (10 days – 27 Sep – 6 Oct 2019). Wigtown is undoubtedly one of D&G's biggest tourist attractions. Designated Scotland's first book town over 20 years ago, this once run down market town is now a thriving hub for literature in Scotland. Visit The Book Shop, one of Scotland's largest bookshops to meet Captain the cat, the pretty Byre Bookshop which specialises in folklore, Reading Glasses for its books "by and about women" room, and the Old Bank bookshop for antiquarian books.
3/ Discover Isle of Whithorn and The Wicker Man
On the Machar Peninsula is Isle of Whithorn, a small pretty coastal village and port with views to the Lake District and the Isle of Man. whilst Whithorn is no longer an island, houses have been built on the small peninsula, leading out to the island, once home to the ruined 13th century Saint Ninian's Chapel and now a lighthouse. Hike out to Burrows Head – where the final clifftop scenes in The Wicker Man were filmed. For lunch, the community center is locally owned and managed and serves up huge lunches. There is also a great real ale pub – The Steam Packet Inn.
4/ Stroll the Kirkcudbright Arts Trail
Pronounced kir–coo–bree, Kirkcudbright is one of my favourite wee towns in Scotland. With a thriving artist community, beautiful cottages and a water side location, it is a great place to spend an afternoon wandering around. Follow the arts and crafts trail (formally in August each year, but there are lots of places open all year round) or visit for the Jazz Festival (mid June) and visit the edwardian National Trust for Scotland Broughton House with its Glasgow Boys art display and stunning Japanese inspired garden – a lovely oasis in the middle of this bustling wee town.
5/ Ride 5 of the 7stanes
The Lowlands of Scotland offer up incredible days out on your bike – try the 7stanes, world-class mountain biking centres in Southern Scotland. Stane is the scots word for stone, and each of the 7stanes has its own stone sculpture! There are 5 of the 7stanes in Galloway –
6/ Hike the Southern Upland Way
Britain's first official coast to coast long distance footpath, the Southern Upland Way takes you 214 miles from Portpatrick on the west coast of Scotland to Cove on the east, the Southern Upland Way tacks you right across Scotland. D&G's best section (25 miles, no services apart from the White Laggan Bothy) takes you right through the beautiful Glen Trool in the heart of the Galloway Forest Park. The whole route will take 10 to 14 days – and you can stay in five bothies along the route.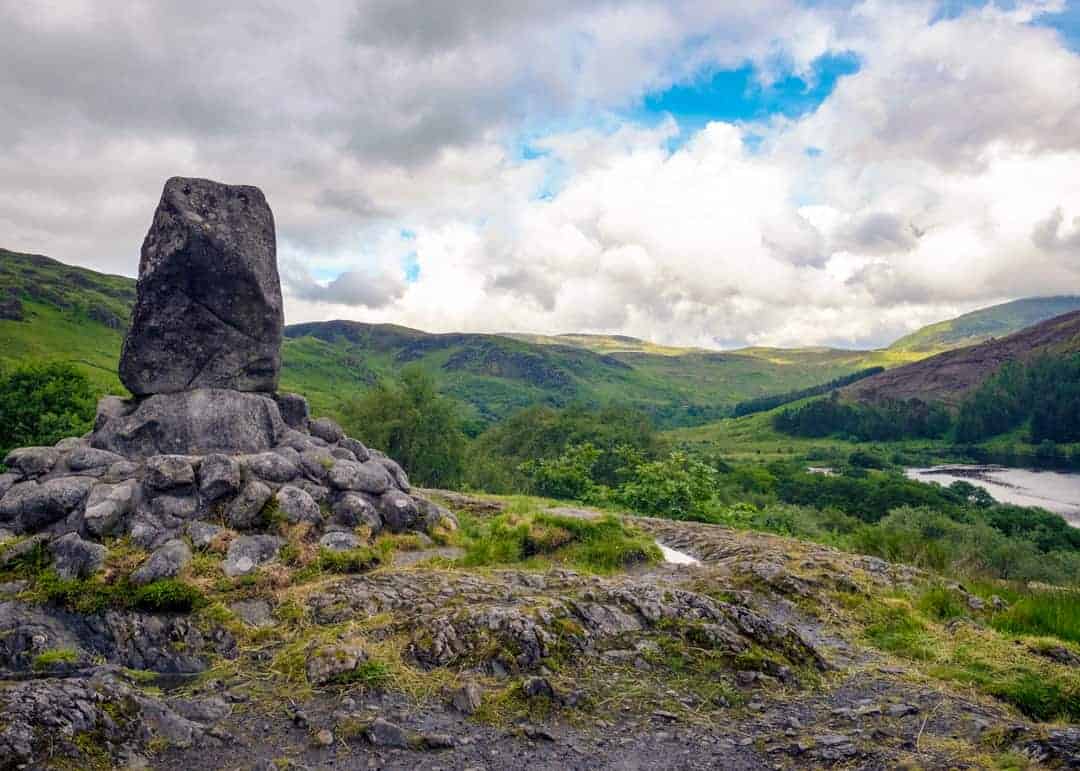 7/ Explore Galloway Forest & Dark Sky Park
Scotland's largest forest park, the Galloway Forest cover 300 sq miles of Southern Scotland. The forest park's nickname 'the Highland's of the Lowlands' does the area a disservice. The Forest Park is stunning, encompassing mountains, forests, glens, and lochs. My favourite area is Glentrool (start at the popular Forestry Commission Visitor Centre) and walks around Loch Trool and up to Bruce's Stone, a memorial commemorating Robert the Bruce's first victory in 1307 over an English army. From Bruce's Stone you can climb The Merrick, the highest hill in southern Scotland.
The Galloway Forest Park was designated a dark sky park in 2009, the 4th Dark Sky Park in the world and the UK's first. The best place to see the stars at night? Clatteringshaws Visitor Centre looks out over the park – and at night there is truly no light pollution.
8/ Storm Caerlaverock Castle
Castles are ten a penny in Scotland, but Caerlaverock Castle is something a little special. With a working moat, it's also triangular – and incredibly imposing – you can see how it stood up against a series of invasions! The castle is managed by Historic Environment Scotland and has lovely walks around the grounds and down to a bird hide on the Solway Firth.
How to get to Dumfries & Galloway
D&G is made up of the country Dumfriesshire, with Dumfries the county town, and Kirkcudbright and Wigtownshire, which makeup Galloway. Other towns include Newton Stewart, Castle Douglas, Stranraer, Moffat and Lockerbie.
Driving?

D&G is best accessed from the A75 which is a fast road taking travellers to the ferry to Northern Ireland or travel south from Glasgow through Girvan or Ayr. Have more time? Drive the A702 which winds its way through the forest park.

By train

– the are train stations in Dumfries, Lockerbie and Stranraer

By Bus

–

local buses

run right across the region from the main hubs
Where to stay in Dumfries and Galloway
We stayed at the unique Balloch O Dee which offers up group accommodation, glamping, bothies, and a campsite near Newton Stewart perfect for staying in the region. Check out more places to stay in Dumfries and Galloway*
Love, from Scotland x
We were guests of Balloch o Dee. This post contains affiliate links I may make a small commission from.