Fancy a farm stay? Welcome to Craigduckie, Fife
Do you have a hankering to up sticks and retreat to the countryside? Then let me introduce you to Craigduckie Farm in Fife.
Swap your day job for life on the farm – pull on a pair of wellies to collect fresh eggs from the chickens, visit curious cows and nosey pigs and help to feed the rather greedy lambs. Then retreat to your own gorgeous boutique shepherds hut to light up your fire pit to cook your tea, and sit back and watch the sunset over the rolling Fife countryside before curling up for the night. Craigduckie Farm's two shepherd's huts – Ewe View and Lamb Lookout – offer up either a a romantic bolthole for a couple or cosy cabin for family adventures. This is glamping with a difference, every stay includes the opportunity to discover farming life.
Let's check for a farm stay at Craigduckie Shepherds Huts.
Our stay was part of a paid partnership with Welcome to Fife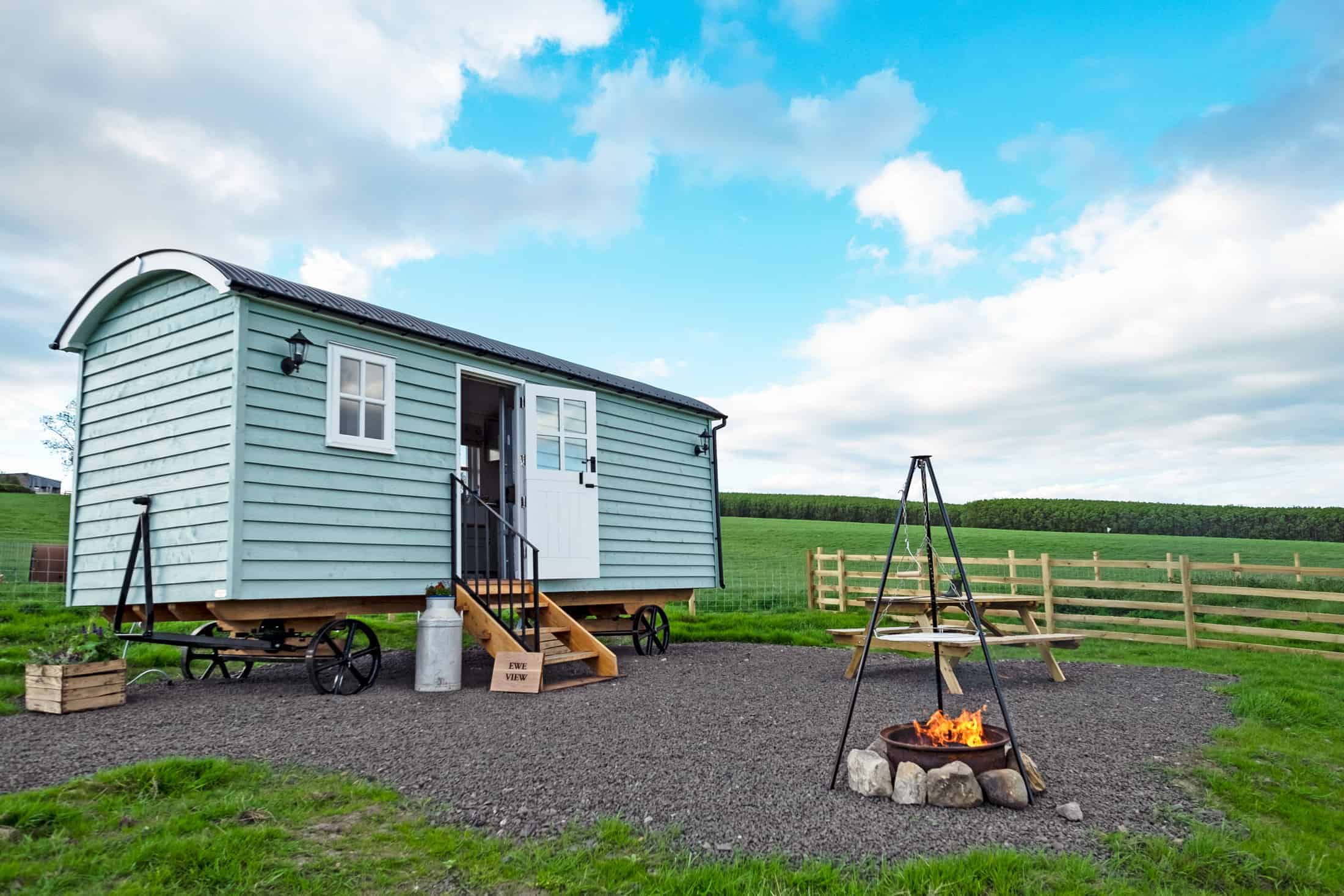 Shepherds Huts at Craigduckie Farm, Fife
Shepherd's Huts have come a long way from ramshackle tin structures for shepherds to spend their nights whilst tending their sheep during lambing season. Instead of a straw mattress on the floor and pens for tiny orphaned lambs, Craigduckie's Shepherd's Huts have comfy double beds (plus fold down bunk beds for the kids) hot showers, farrow and ball colours, usb plugs (although there is no wifi, you come to Craigduckie to detox!) along with stylish oak kitchens and for the cooler evenings, wood burning stoves.
On arrival at your shepherds hut you will find a delicious cake awaiting you, homemade by Katie, who runs the huts at Craigduckie. Make yourself a cup of tea or a hot chocolate, open the door and watch the birds flying across Loch Fitty in front of you. As evening falls, dinner can be cooked on the fire pit outside – there is an ingenious and easy to use fire pit bbq system all set up ready for you to start cooking – and for marshmallows later on! If the weather is not on your side, the hut's kitchen has a small hob, oven and fridge.
From your hut to the farm…
The land at Craigduckie has been farmed by the Roberts family since 1968, with 1,000 breeding ewes lambing each year, their own bred pigs and Quality Assured beef. Proud advocates that you should know where your food comes from, you can't get much more local than Craigduckie's breakfast basket Delivered by Katie on your first morning, it has has everything you need for cooking two big breakfasts for a family.
With a still warm home baked loaf, Craigduckie's own exceedingly tasty pork sausages and bacon, along with black pudding, beans, mushrooms, tomatoes, milk, cereals, yoghurts, butter, homemade jam, fresh fruit and milk and collected from the hen house just outside your door.
Make sure you go on Craigduckie's behind the scenes tour of a working farm – you might get to help to feed the rather greedy lambs and if you are gentle hold one of the Three Musketeers – Craigduckie's tiny Shetland lambs – and meet Caitlin and Hannah the Hebridean Sheep. You'll be accompanied along the way by Craigduckie's working sheep dogs, Fly and Nelly, who keep an eye out for any mischievous behaviour at all times…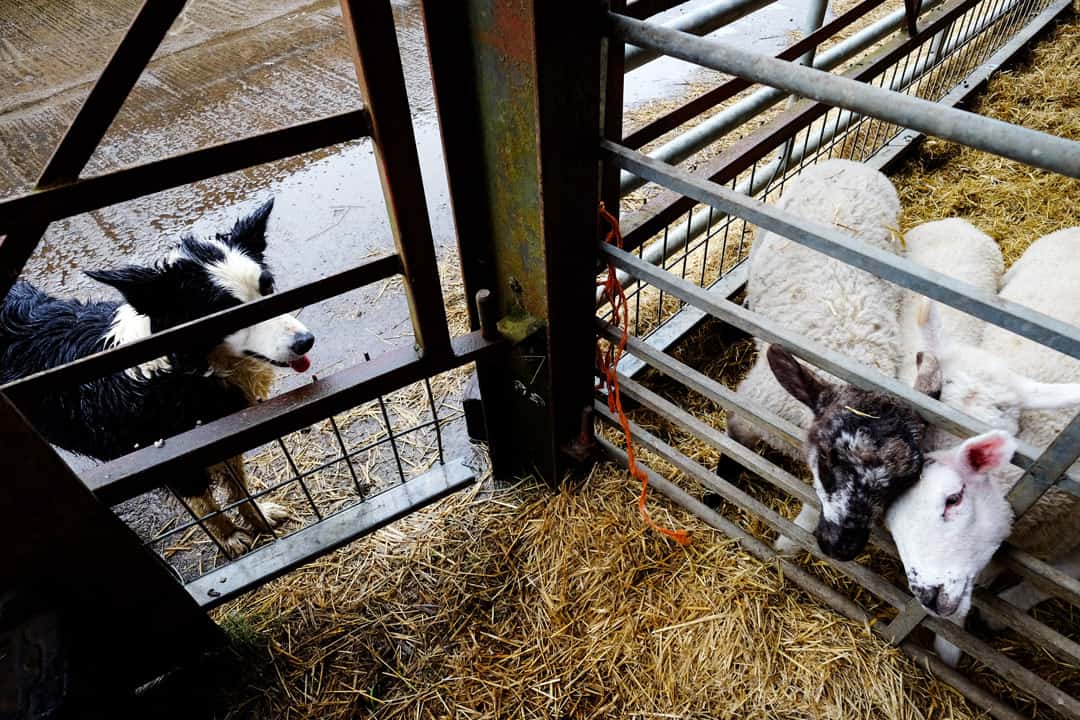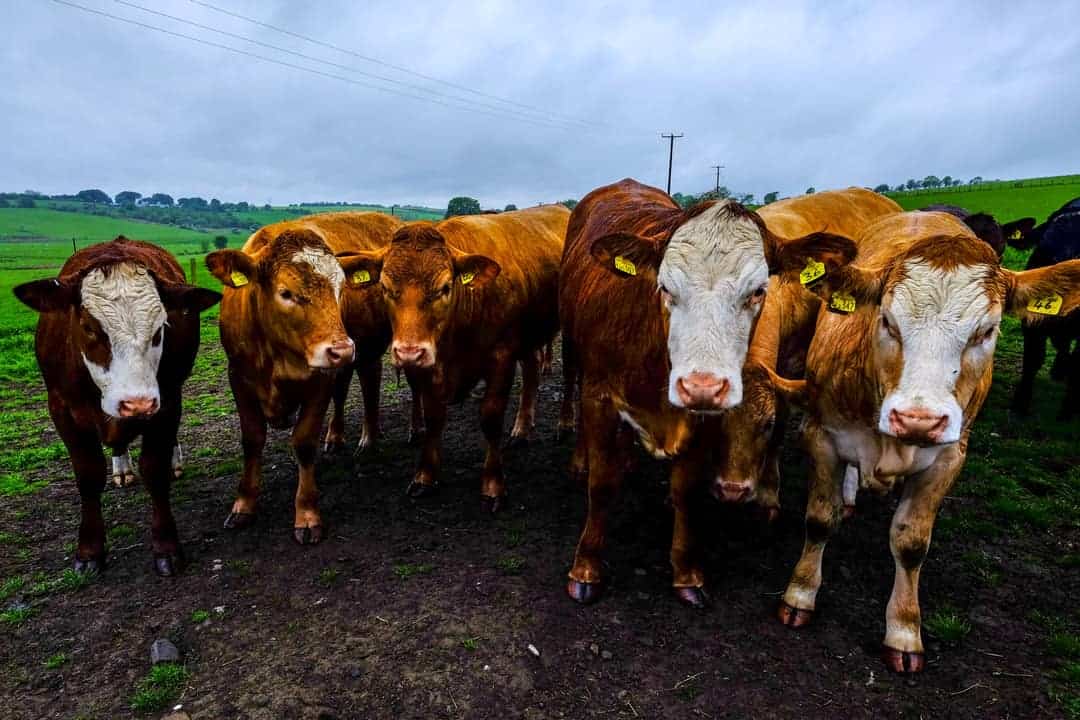 You might be tempted just bed down on the farm for the weekend, but there is so much to explore in Fife!
Things to do at Craigduckie
Craigduckie Shepherd's Huts are 10 minutes north of Dunfermline in Fife, 40 minutes (20 miles) from Edinburgh and 1 hour from Glasgow. Book: Craigduckie Shepherds Huts
Follow Craigduckie Farm on Instagram for behind the scenes photos & offers
More guides to exploring Fife – How to get outside in Fife / Where to eat in Fife
Love, from Scotland x