Fife is not just a pretty place – with farms as far as the eye can see, freshly landed scallops and langoustines, a farm to table philosophy, Michelin-starred restaurants, award-winning food festivals, artisan food shops and unique spirits… Fife has truly made a name for itself as a foodie destination. Here my favourite ways to have a feast in Fife Scotland.
Dine with a Masterchef at The Newport Restaurant
The Newport Restaurant, owned by Masterchef The Professionals winner Jamie Scott and wife Kelly offers up a menu which pays its respects to the incredible produce grown, caught and made in Fife, mixes it up with influences from all over the world and adds a little something that's been fermenting in the kitchen.
For an extra treat book into one of the Newport's rooms and relax over the restaurant's tasting menu for treats such as crab tacos, St Andrew's lobster with sea herbs and wild garlic, and local Sacred Grounds coffee and crowdie as the lights go on over the incredible view across the River Tay. The Newport is a very special restaurant indeed.
Explore Cambo Estate with lunch at The Nosebag Cafe
Owned by the Erskine family, the lovely Cambo Estate has a stunning walled garden, filled with instagrammable cherry blossoms, snowdrop filled woodland walks, its own wild and remote beach and views out to sea over the famous Kingsbarns Golf Links, home to the European Tour. Explore the Estate's extensive gardens, stop by the new estate visitor centre and then stay for lunch in the quirky and dog-friendly Nosebag Cafe (it's in the old stable block!) for a Scottish comfort food inspired menu made with ingredients harvested on the Cambo Estate – make sure you try their soup (their wild garlic and mushroom soup is delicious!) and incredibly moreish cakes. You can even stay on the Estate – check out the Camboat!
Try street food & artisan producers at Bowhouse Food Market
The Balkasie Estate covers 1800 hectares of Fife farmland and is the home and seat of the Anstruther family who have lived in the East Neuk of Fife since the 12th century.
Struck by all the vegetables growing in Fife's fields and with no way to connect the produce to local customers, the Anstruthers opened Bowhouse in July 2017 as a place for restaurants and visitors to source local food before it disappears into the national food chain, as well as spaces for small food production spaces for businesses growing too big for their home kitchens.
Bowhouse now puts on a monthly food and craft market complete with street food, music and demonstrations. Pick up local langoustines, cheese from St Andrews and look out for Tayport Distillery's Never 25 – a tasty 'eau de vie' made with local fruits from with fruit from Barnsmuir Farm.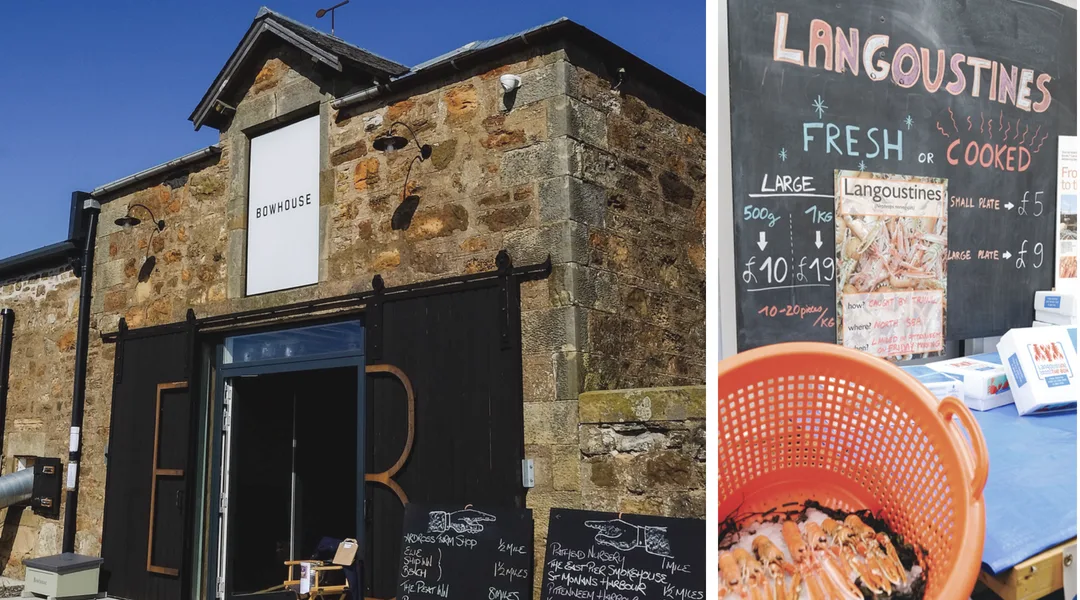 Make your own Aqua Vitae at Lindores Abbey Distillery
Did you know that first recorded mention of whisky or 'aqua vitae' was actually from Lindores Abbey in Fife way back in 1494? Over 500 years later Lindores Abbey Distillery is now again producing whisky using local barley from Fife. While Lindores Abbey awaits its first whisky bottling, the distillery is producing their own 'Aqua Vitae', a flavoured distilled alcoholic spirit otherwise known as the 'water of life' or uisge-beatha in Gaelic – to make whisky, aqua vitae is aged for at least 3 years in wooden casks. Visit the distilleries' beautiful apothecary room to mix up your own aqua vitae using herbs and flavourings from the Abbey next door.
Michelin starred dining in Fife at the Peat Inn
The first restaurant to receive a Michelin star in Scotland, the Peat Inn is a luxuriously cool and stylish restaurant inside a traditional inn. Menus range from a decadent 7-course tasting menu to a real steal lunch – dining at the Peat Inn can be as little as £22 for 3-courses. Dine a la carte on East Neuk wood pigeon with smooth liver parfait, spiced mallard is served with lentils and figs, and moreish blackberry and chocolate ganache served in a croustillant tower before retiring to the lounge for a cocktail in front of the real fire. Book in advance at The Peat Inn and treat yourself to a night in one of their 8 suites.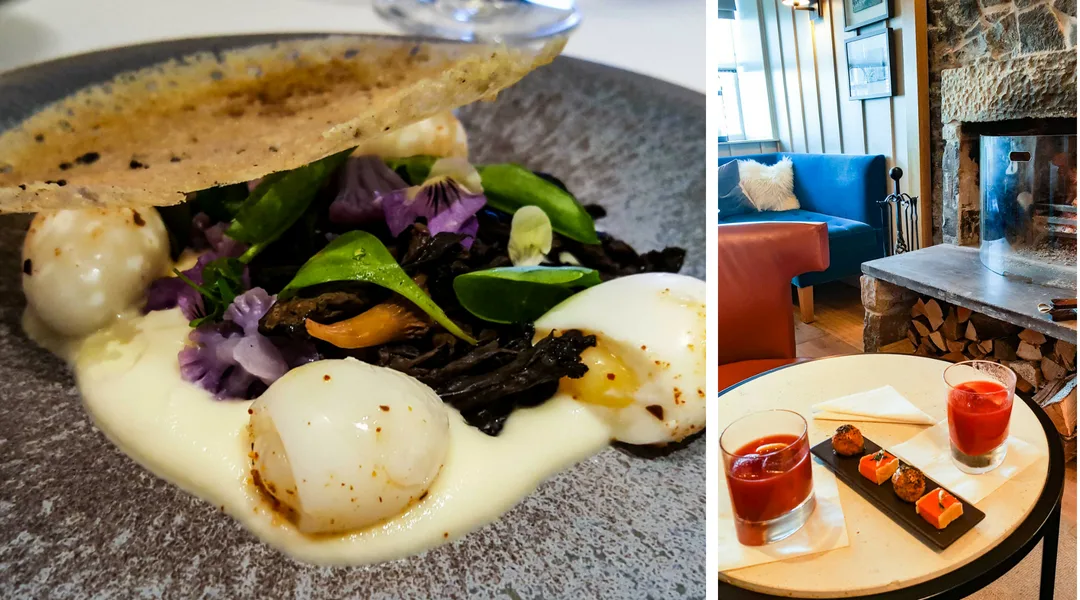 Pick a Shellfish lunch in Crail Harbour
Stroll from Crail's beautiful restored high street (choose your favourite quirky seaside cottage) via Crail Pottery down to the harbour and its seafood shack 'The Lobster Hut'. Grab yourself a picnic bench, bring along the wine and salads (and all the extras you need from Ardross Farm Shop) and grab yourself a crab roll or a plate of lobster and set yourself up for a picture perfect lunch in the sunshine. Crail's foodie reputation continues with the award-winning Crail Food Festival which takes place in the village every June. After lunch walk out along the Fife Coastal Path south from the village for a fantastic view back over the harbour.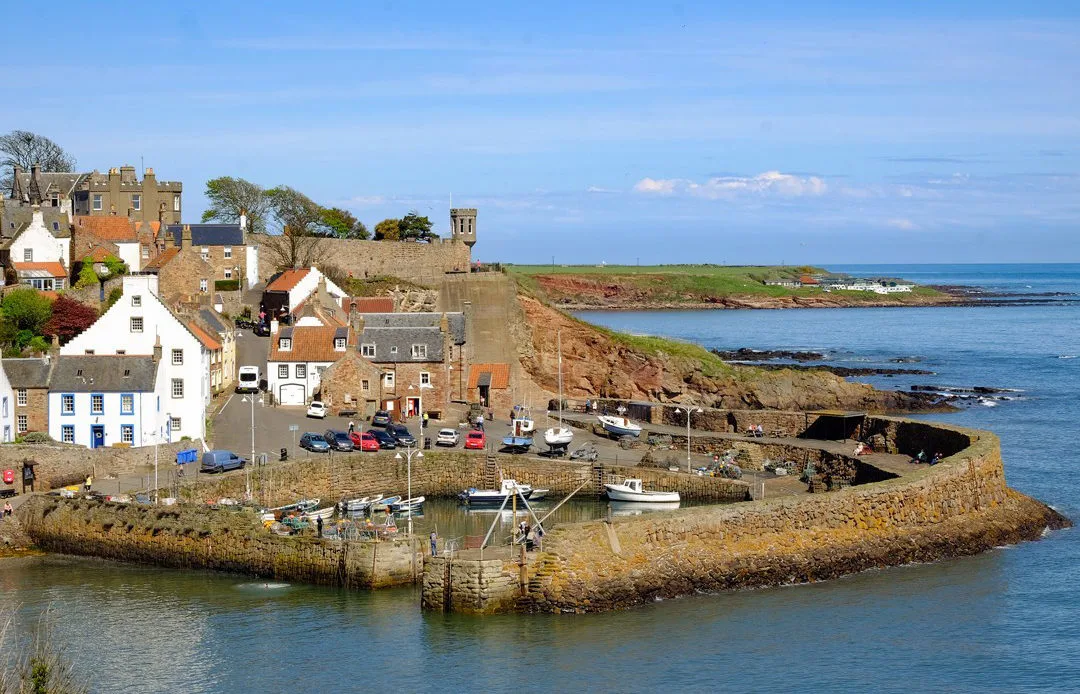 Are you hungry now? I bet you are! See you in Fife sometime!
Love, from Scotland x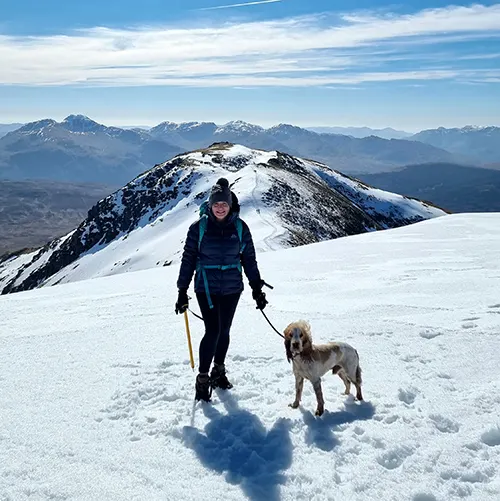 I'm Kate – a travel writer and photographer living in Scotland. Love, From Scotland is the Scotland travel guide that shows you where to stay and how to get outside in Scotland.