At first the village of Stein on the Isle of Skye seems little more than a street of whitewashed cottages, a traditional pub, an occasional view to the Western Isles, and a few battered palm trees – the village really is at the end of the road. Hidden down on the waterfront is Loch Bay Restaurant.
Loch Bay, Michelin starred dining on the Isle of Skye
Loch Bay is tiny, just 20 covers in a traditional cottage with wooden benches, harris tweed chairs and a cool laid back attitude with perfectly judged service. There are no starched whites here – think more jeans and plaid shirts – and an expert efficiency in dealing with wind battered, soggy customers rushing in through their doors.
However, while the restaurant's style might be casual, the food is serious, Loch Bay serves up 7 course fruit de mer tasting menus and a la carte lunches – along with Michael's own coveted star.
Michael gained his first Michelin star for Skye's (also rather remote) Three Chimneys in 2014, and, like his previous home, it takes time to get to Stein – it is at least hour's drive on mostly single track roads from busy Broadford, more if you have to negotiate sheep, coos or camper vans.
Once you have arrived and settled in, it is time to dig in.
For starters, it's Scotland vs the Mediterranean. A pot roast crown of highland wood pigeon is served with turnip remoulade and crunchy pickles and on the other side of the table saffron and thyme panisse comes with a capsicum and olive salad.
Despite a howling gale outside, the summer flavours of the panisse won out this round, the red pepper adding a jaunty salsa touch to delicious crispy chickpea fritters. On the side were homemade scones, sour dough and a fresh trout pate – perfect with a Languedoc-style rose.
For mains, Michael's love of Scotland's larder really starts to shine through. Hake comes topped with a perfectly served and sweet langoustine and squattie sauce – and is served with triple cooked chips. Yes chips at a Michelin indeed.
Meat lovers will love 'Fast and Slow', lightly seared steak and pot roasted scotch beef served with summer vegetables and barley – a beautifully balanced but hearty dish for a blustery kind of Scottish summer day. To finish Loch Bay is famous for its Clootie Dumpling (a lighter version of a Scottish suet pudding) but chocolate delice flavoured with amaretti and served with rhubarb sorbet and my choice of homemade lemon and ginger ice cream.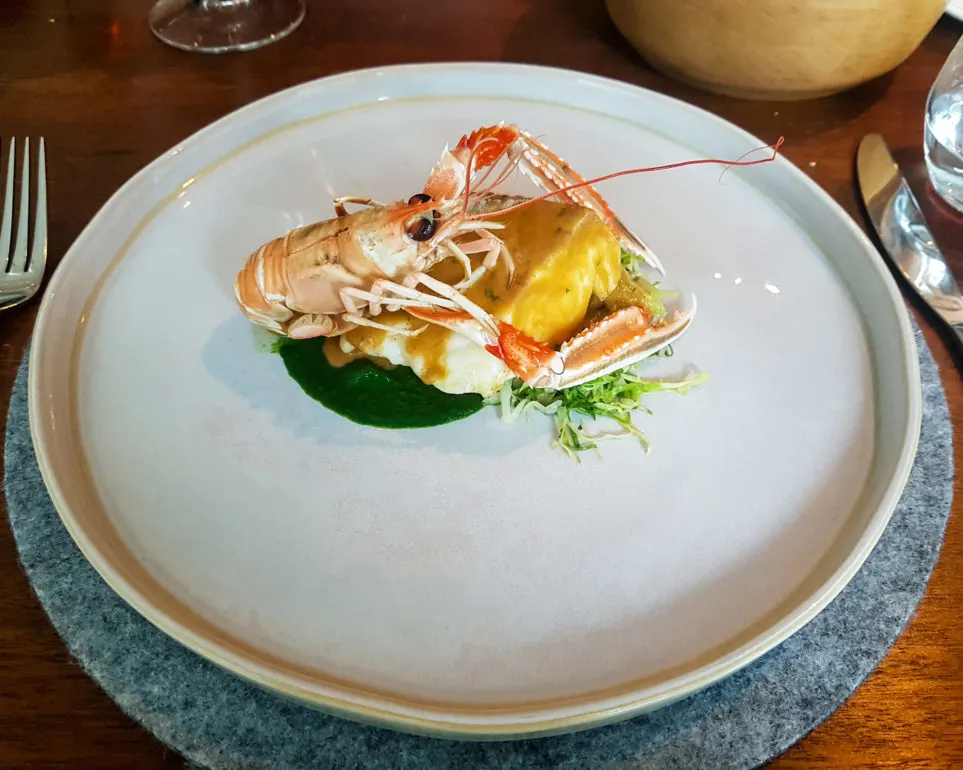 A remote hamlet on the far north coast of Skye might be an usual place to find a Michelin-starred restaurant, but Loch Bay really is worth going the (quite a few) extra miles for.
Visit Loch Bay, Stein, Isle of Skye. Stay at the The Stein Inn next door, or there is a local taxi service.
Love, from Scotland x
Read more: places to eat in Scotland
My complete: Guide to Skye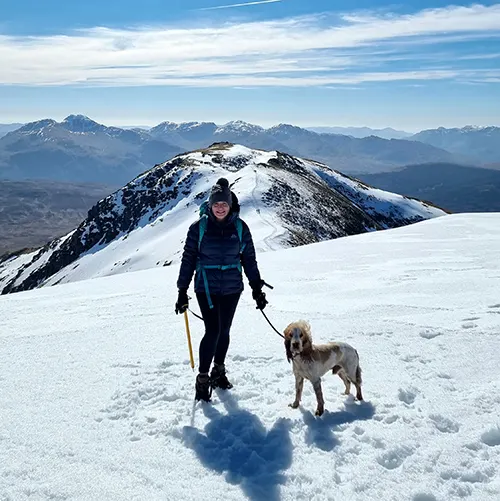 I'm Kate – a travel writer and photographer living in Scotland. Love, From Scotland is the Scotland travel guide that shows you where to stay and how to get outside in Scotland.