The Great Caledonian Forest once stretched coast to coast across Scotland. Now forests cover just 18% of our country and our caledonian pinewoods, home to the 'granny' of all Scottish trees – the Scots Pine tree, are protected habitats for many of Scotland's most famous animals. Our caledonian pinewoods are beautiful places to visit, explore and even to forest bathe! Here is how to visit my favourites places to see Scots Pines in Scotland with luxury brand Noble Isle.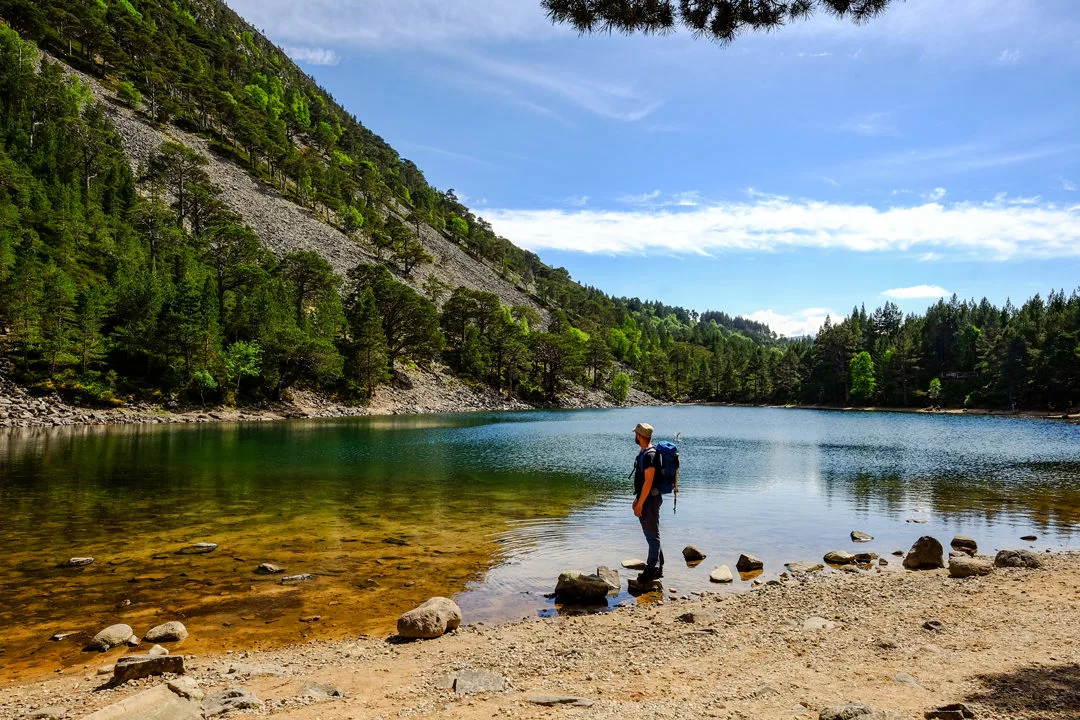 How to visit the Scots Pine woods of Scotland with Noble Isle
Luxury brand Noble Isle brings Scottish provenance and perfumery to their bath, body & home collections and one of their most popular scents is inspired by our national tree, the Scots Pine.
Noble Isle extracts its Scots Pine tree essence for their range of luxury candles and bath products from sustainably grown Scots Pine trees at Pluscarden Forest near Elgin in Morayshire, but you can visit ancient caledonian pinewoods in 35 locations across Scotland to get a sense of just how amazing the Scots Pine scent is – and then take it home with you in the Noble Isle range!
Here is how to visit the Scot's Pines of Scotland's caledonian pinewoods.
You might also like: The best forest walks in Scotland
The Scots Pines of Glen Affric (and neighbour Glen Strathfarrar)
Glen Affric is one of 48 National Nature Reserves in Scotland and since 2015, the Trees for Life 'Glen Affric Forest Landscape Project' has been restoring the 55 sq mile glen, restoring the ancient Caledonian Forest, planting 30,000 native trees and Scots Pine trees.
Amongst this remnants of Scotland's ancient Caledonian Scots Pine forest, the 11-mile circular path around Loch Affric must be one of Scotland's most awe-inspiring walks. Discover Affric by strolling along the River Affric, past Loch Affric and Loch Beinn a' Mheadhain amongst huge surrounding mountains.
If you fancy visiting Glen Affric, shorter walks in the glen include the Dog Falls (2 miles, 1.25 hours) and the Viewpoint Trail (1.45 miles, 1 hour). Visit Glen Affric.
Next door neighbour Glen Strathfarrar is a private glen where only 25 cars are allowed in a day – why not take your bike into the glen to discover the ancient remnants of the Caledonian Pinewoods hidden here?
This post uses affiliate links
Where to stay near Glen Affric:
If you fancy making it a longer visit to Glen Affric, these are my favourite places to stay.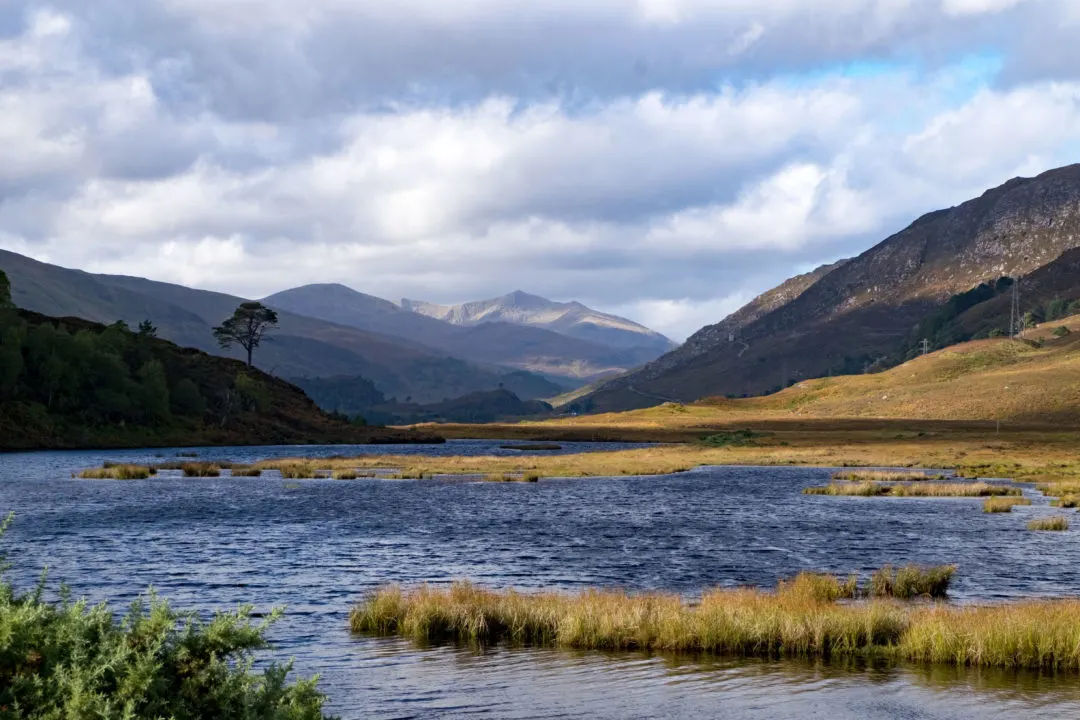 The Scots Pines of the Cairngorms National Park
One of the best places to see Scots Pines is in the Cairngorm National Park. Here is how to find them.
Abernethy Forest
The Abernethy National Nature Reserve and neighbouring RSPB Loch Garten in Cairngorms National Park is one of the best places in Scotland for discovering Scots Pines and the wildlife – capercaillies, ospreys, crested tits and red squirrels – which make these stunning trees their home. Visit Abernethy Forest, Loch Garten and the Cairngorms National Park.
Rothiemurchus Estate
Home to 10,000 hectares of Caledonian Forest is the beautiful Rothiemurchus Estate. Hike up to the famous Loch an Eilein (Loch of the Island) on a gorgeous 4.5-mile circular walk. The castle in the middle of the loch was built by the grandson of Robert the Bruce, Alexander Stewart.
Glenmore Forest Park Scots Pines
In the heart of lovely Glenmore Forest Park and surrounded by huge Scots Pine pines is the beautiful Lochan Uaine – where it is said the waters get their green hue from the local fairies washing their clothes in it. The 3.7 miles / 6 km walk up to Lochan Uaine is a popular walk for families.
If you are looking for a more strenuous walk, hike up to the Ryvoan Pass or stroll around Loch Morlich or the visit the gorgeous Uath Lochans, Rising above the woods and forests of Glenmore are the awe inspiring Cairngorm mountains.
Read more – how to visit the Cairngorms National Park.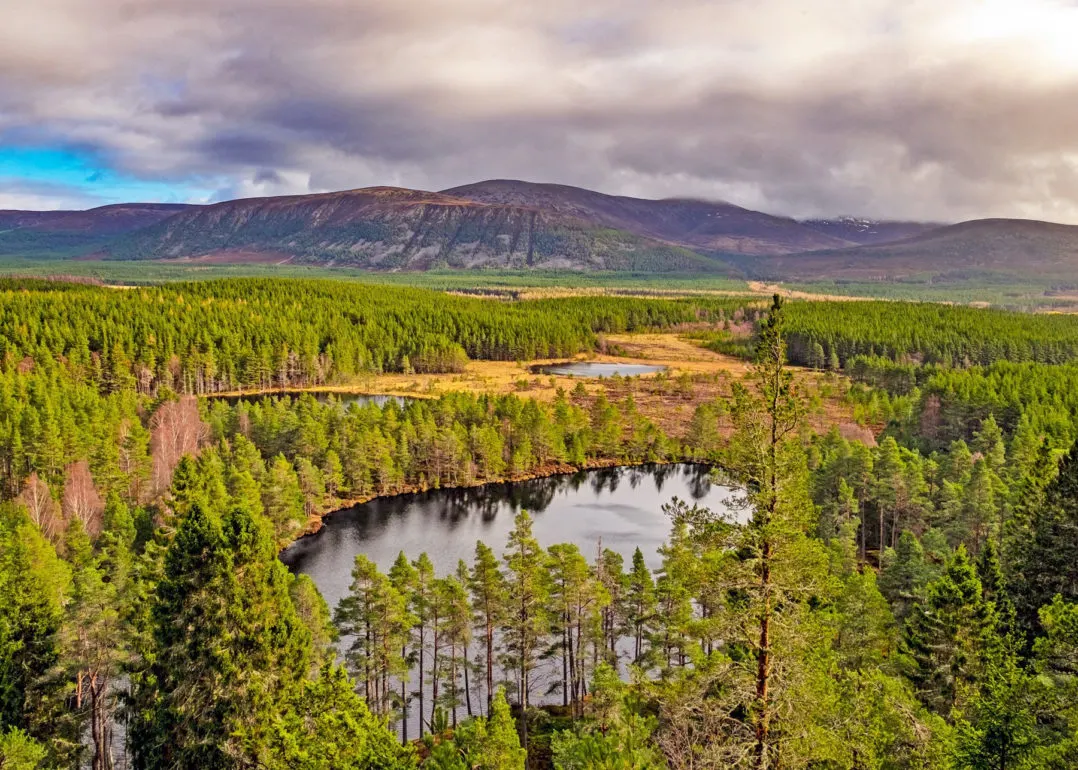 Glen Tanar
Visit this beautiful glen in Royal Deeside on a variety of walks including a fairy pool and beautiful caledonian pinewoods home to Scots Pines, along with one of the best routes up Mount Keen. Look out for the gorgeous gatehouse at the entrance to the glen.
Visit Glen Tanar and Royal Deeside.
Where to stay in the Cairngorms: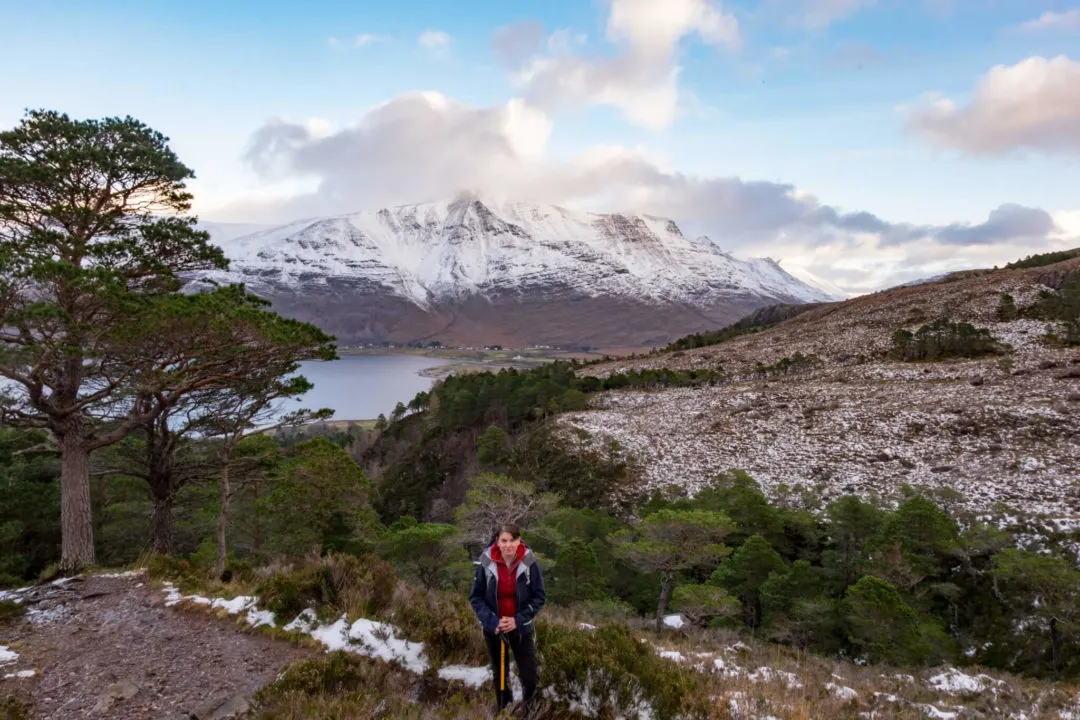 The Scots Pines of the west coast – Beinn Eighe
Better known as a mecca for those wishing to climb the famous munros of Liathach, Beinn Alligin and Beinn Eighe, and the Torridon Hotel, one of Scotland's most stylish (and relaxed!) hotels, the pinewoods of Beinn Eighe and the Loch Maree Islands NNR is of the most ancient and least disturbed fragments of native pinewood.
Managed by Nature Scot, the slopes of the mighty Beinn Eighe are home to 48sq kilometres of woodland and upland habitats.
Visit Beinn Eighe and Loch Maree islands.
Where to stay near Beinn Eighe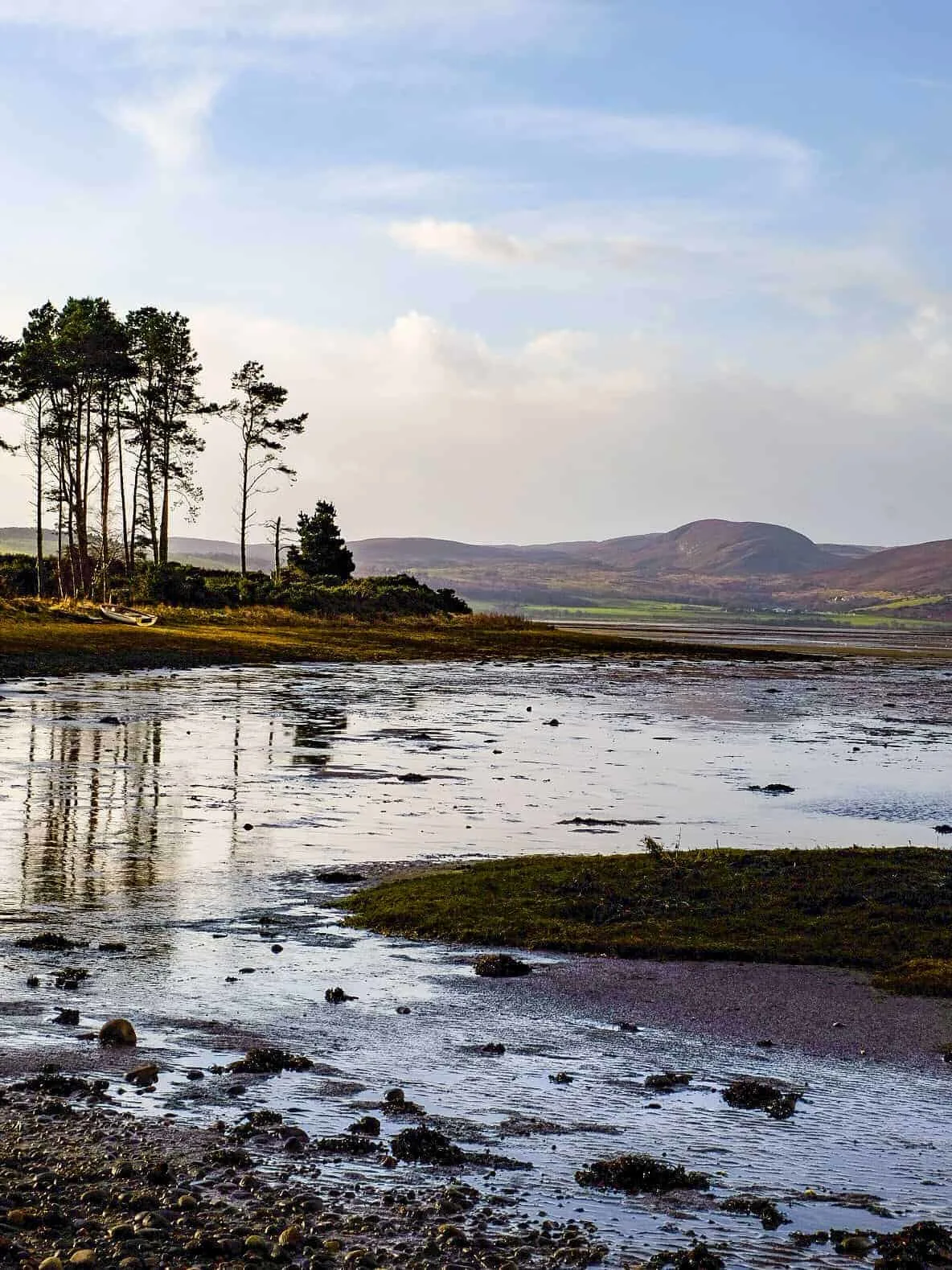 Scots Pines at Loch Fleet, Golspie
You won't find Loch Fleet or Balblair Woods on any list of things to do on the North Coast 500, but this National Nature Reserve is home to some of Scotland's rarest residents – crossbills, greedy pine martens – and on the very rare occasion red squirrels and Scottish wildcats.
With the silence only interrupted by the whistling cry of an osprey taking flight over Loch Fleet's endless stretch of sand dunes, mudflats, Loch Fleet is one of the best places in Scotland to see 100-year-old Scots pines.
Stay at the Birdwatcher's Cabin, the best place to stay on Loch Fleet.
Thank you to Noble Isle for sponsoring this post.
Love from Scotland x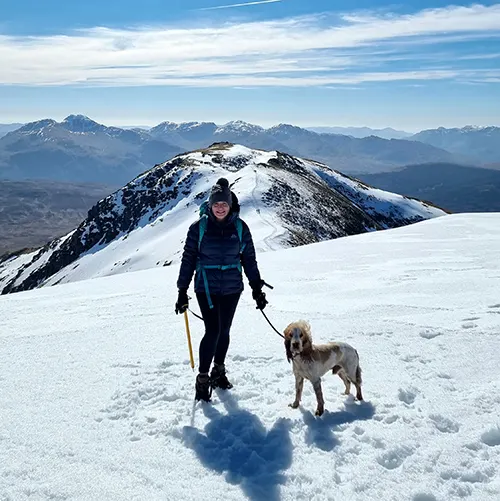 I'm Kate – a travel writer and photographer living in Scotland. Love, From Scotland is the Scotland travel guide that shows you where to stay and how to get outside in Scotland.