Looking for a hidden gem in Scotland? From a great alternative to visiting the Isle of Skye, to a secret peninsula, a great wee city (you probably haven't thought of visiting), to where all the best standing stones are hidden, there are lots of destinations in Scotland suffering from under-tourism (rather than the dreaded 'over-tourism in Scotland') which need your love! Here's how to visit Scotland's hidden gems.
The Cowal Peninsula
Whilst the western bank of Loch Fyne is much visited by those travelling to Islay and the southern Hebrides, the eastern bank of the loch is still mostly untouched by tourism.
Forming part of the Loch Lomond and the Trossachs National Park, the Cowal Peninsula stretches from the pretty town of Inveraray to the stunning Ostel Bay – and right out to sea. Say hello to our 'secret coast' and one of Scotland's hidden gem's – the Cowal Peninsula.
Puck's Glen – the stroll through Puck's Glen is one of the best wee walks in Scotland following a path laid down by the Victorians in the 1800s (they loved a gothic walk!) through a waterfall-filled spectacularly-deep gorge filled with tropical plants and an otherworldly atmosphere.
Ostel Bay – arguably Cowal's (and Argyll's) best beach, Ostel Bay looks over to the Isle of Arran and is a huge sweep of sand reached by a stroll through the dunes.
The Kyles of Bute – follow the coastal path from Tighnabruaich along the edge of the pretty Kyles of Bute (sea channels) to Caladh Lighthouse and Eilean Dubh (the black island) sitting at the mouth of Loch Riddon returning by the same route. The walk will take about 2 hours, but you can walk as far as you'd like – you are following the Loch Lomond and Cowal Way.
Benmore Botanic Garden – at the foot of Beinn Mhòr is the Benmore Botanic Garden, filled with massive conifers, including 150-year-old redwoods, rhododendrons from Asia, and traditional Bhutanese and Chilean pavilions.
The Cobber – to the north end of the Cowal Peninsula are the Arrochar Alps – The Cobbler is one of Scotland's best small hills, famous for its distinctive shape and rocky crags – and the challenge of 'threading the needle'.
Whether you spend a week or a long weekend, for such a 'secret' place, Cowal has loads of things to do!
The Heart of Argyll
Chosen by Kathi from Watch Me See
Argyll is one of my favourite regions in Scotland – it is incredibly diverse, has stunning coastal and mountain scenery and it is only a short drive from my hometown of Glasgow. When I am looking for a place to go on a trip off the beaten track – whether it's to relax or pack my days full of activities and discoveries – I love planning a trip to the Heart of Argyll.
Kilmartin Glen – The area is rich in history and offers numerous historical sites. Kilmartin Glen has over 300 sites including standing stones, chambered cairns and Dunadd Fort, the stronghold of the medieval Dalriada Kingdom.
The Castles – The heart of Argyll is stuffed full of castles – some ruined like Tarbert or Kilchurn Castle, others beautifully restored – Inveraray Castle, I'm looking at you!
Picture perfect landscapes – From wild coastlines to panoramic mountain views, largely untouched forests and tranquil freshwater lochs – Argyll has it all. One of my favourite places to visit is Loch Awe where you can hire a boat for a day on the loch or Arduaine to wander around the lush gardens and stop for lunch with a view.
The Heart of Argyll is also perfectly located to explore the wider region – perfect to use as a home base and do day trips further afield.
Oban is just a short drive away and from the nearby Isle of Seil, you can join boat tours to the Slate Islands or to the Corryvrecken Whirlpool.
The Kintyre peninsula is around the corner and many of the Inner Hebrides just a short drive and ferry ride away. You could easily do a day trip to Gigha or Jura – more of Scotland's hidden gems!
Perth, Perthshire
Chosen by Yvette Webster – Wayfaring Kiwi
Perthshire is one of my favourite destinations for a nature injection. I have visited the area several times with friends and family- and there are a few good reasons we keep going back!
If you enjoy spending time in nature, Scottish history and cosying up in traditional pubs, then you'll love a trip to Perth – one of Scotland's seven cities.
Kinnoull Hill Woodland park – within walking distance from the city centre and the summit offers beautiful views of the city and the River Tay. You may even spot Scotland's native and endangered red squirrels jumping from tree to tree. There are plenty of fantastic traditional Scottish pubs in the city centre; my favourites include The Venue and King James Pub.
Scone Palace – for those who want to indulge in some Scottish history, there is Scone Palace, located a short distance from Perth. This is where the ancient Kings of Scotland were once crowned. Scone Palace is a great attraction for families too- there is a maze located within the gardens, a Pinetum and peacocks also roam the grounds.
Dunkeld – another great spot in Perthshire for a nature getaway. I spent Hogmanay here with friends; during the day we explored the walking trails nearby and at night we cosied up by the fire.
The Hermitage is a beautiful woodland walk in Dunkeld and home to some of the tallest trees in Britain. After going for a walk I recommend satisfying your sweet tooth at the Aran Bakery run by Flora Shedden-a finalist on the Great British Bake Off.
Perthshire is a great area to visit any time of the year, however, I love visiting in autumn when the colours of the larch trees turn golden.
So as you can see- Perthshire offers a wee bit of everything for visitors: great pubs, nature and wildlife and ancient history!
Ullapool, North West Highlands
Chosen by Suzanne at Adventures Around Scotland
Ullapool is situated on the north-west coast of Scotland and can be reached in just over an hour from Inverness. This makes it an accessible but alternative destination for those in search of a Highland vacation.
Ullapool's scenic location on the shore of Loch Broom, surrounded by rugged mountains, gives it an aesthetically pleasing charm.
However, as I've discovered after staying there on holiday myself on numerous occasions, its beauty is more than skin deep. If you were to tick off all the iconic activities you might look for in a vacation to the Scottish Highlands, Ullapool has them covered. It also acts as a gateway to some of the most scenic parts of Scotland including the dramatic coast of Wester Ross, the mountainous Coigach Peninsula and the magnificent Outer Hebrides.
Read more – things to do in Ullapool
Ullapool is amazing for hiking – There are walking trails for all abilities from gentle riverside paths to a more strenuous climb up Ullapool Hill. Some of my favourite easier nearby walks include a visit to the Bone Caves, the sculpture trails at Knockan Crag Nature Reserve and a short jaunt at sunset to Rhue Lighthouse.
The mountains are iconic – For the more serious hill walker, many of Scotland's iconic mountains including Stac Pollaidh, An Teallach and Suilven are just a short drive away
Go sea-kayaking – If you prefer water-based activities then sea kayaking is available or take a cruise from Ullapool Harbour to the nearby Summer Isles. The surrounding waters are home to a wide variety of seabirds and mammals. If you're lucky you might spot the local white-tailed eagles, seals, dolphins and even whales.
Other attractions within a short driving distance include the famous ruins of Ardvreck Castle, the 45m high Falls of Measach in the Corrieshalloch Gorge National Nature Reserve, the stunning Achnahaird Beach and Lael Forest Garden which has around 200 species of trees from all around the globe – to name a few.
Another option is to take the community ferry across to the uninhabited Isle Martin which has nice walks, a beach and small museum.
Personally, I also enjoy just pottering around Ullapool itself. The independent shops, cafes and galleries are great places to find local goods and produce.
On a sunny day, eating a takeaway lunch of locally caught seafood from The Seafood Shack is a popular choice. In the evening grab an outdoor table at the Arch Inn where you can enjoy a drink with a view that is hard to beat, making Ullapool one of Scotland's hidden gems.
Loch Rannoch, Highland Perthshire
Chosen by Amanda Watkins
Loch Rannoch is an ideal base to enjoy Scotland's iconic natural beauty without any big crowds. I recommend this Scotland hidden gem for a chance to disconnect, without being completely isolated or needing to take a long journey.
On the eastern edge of the loch is Kinloch Rannoch just over 2 hours' drive from Glasgow or Edinburgh. You can also easily visit popular spots like Aberfeldy or Pitlochry on day trips from here.
From this base, you can enjoy walks through woodland or moorland, bask in loch and mountain views and you'll likely see some local resident stags who often wander the village!
For its clan history – Like much of Scotland, this region boasts fascinating layers of history. There's Eilean nam Faoileag, the crannog (an artificial island in the loch) built in 1110 AD. More recently, the Rannoch Barracks housed English troops during the Jacobite Rising of 1745 and subsequent "pacification" attempts. Not to be quelled, the Rannoch clans became renowned thieves and cattle drivers. Today, you can cycle, walk, or drive around the entire loch to follow the Clan Trail. Several markers along the way highlight local clans and their history in the region.
For Outlander filming locations (oh and Trainspotting!) In more recent years, the area around Loch Rannoch has become a popular filming location, with multiple scenes from Outlander being filmed as well as a bit of Trainspotting. Pop into Rannoch Station past the western end of the loch to learn more, and enjoy a cuppa at the lovely Rannoch Station Tearoom.
To climb the Fairy Hill – Walking and hiking are some of the most popular activities around Loch Rannoch. The conical Munro called Schiehallion often referred to as the Centre of Scotland and translated as "Fairy Hill of the Caledonians", stands tall overlooking the loch. If you're not up for bagging a Munro, easier hillwalking and nature trails abound in the area. Check out the Black Wood of Rannoch for forest trails or take on the inimitable Rannoch Moor.
From ancient forests to boggy moorland, from the height of a Munro to the depth of a loch, Rannoch has a little bit of everything for everyone.
The Scottish Borders
Chosen by Patricia at Mad About Travel
While some people are starting to explore the Scottish Borders thanks to the popularity of its ruined abbeys (that is Kelso, Jedburgh, Melrose and Dryburgh), this region of Scotland still has plenty of places that feel totally off the beaten track and where locals love going on a holiday.
One of my favourite parts in the Borders is the whole area in and around Peebles. This quaint market town surrounded by hills and forest is well known for its proximity to the fun-packed Go Ape tree-top adventure but there's much more to do, particularly if you like historical sites and walking.
The Cademuir Hills – For the walker's I'd definitely recommend any of the hiking trails that take you to the top of the Cademuir Hills. The views are worth, and so are the two iron-age forts where people lived many moons ago.
The Oldest Inhabited House in Scotland – If you love castles, then make sure you include Duns and Neidpath Castle in your itinerary, as well as Traquair House, one of the oldest inhabited houses in Scotland and a true gem with a giant maze and their own brewery.
Lots of quirky things to do – If you're looking for quirky and very interesting spots, then do not miss Robert Smail's Printing Works, a late 19 th Century business where you can discover more and try your hand at traditional printing and check out the Great Polish Map of Scotland, right next to the Barony Castle.
If you ask me, spring is the best time to visit the Scottish Borders is when the hills start to get green and the days are longer. Oh, and if you're hungry, the Prince of India makes a mean curry, perfect to warm up after a day hiking!
Read more – my complete guide to Midlothian and the Scottish Borders
Read more – my Midlothian and Scottish Borders Itineraries
The isle of Raasay, the Inner Hebrides
Chosen by Janice of Scots2Travel
So many visitors make a beeline for Skye, it's hugely popular! But venture slightly further to reach the remote island of Raasay, for a true island adventure. A 25 minute Caledonian MacBrayne ferry ride, from Sconser on Skye, will transport you to this tiny island. (Check the timetable and prices here)
A few minutes walk from the harbour is Raasay Distillery, one of the only distilleries offering accommodation. Contemporary and stylish, this modern Bed & Breakfast is ideal for couples and discerning friends – the views from the breakfast room are jaw-dropping. Take a one hour tour of the distillery to learn more about the island's new whisky.
The walks are fabulous – Scale Dun Caan, the highest hill on Raasay, or hike to Inver, the favoured picnic site on Raasay of the Royal Family when the Royal Yacht Britannia moored nearby, or escape to the tidal island of Fladda, keep an eye on those waves as you can only reach it and return when the tide is out!
In terms of history – head to Hallaig, once the largest settlement on Raasay before the Highland Clearances. The ruins of Brochel Castle stand eerily silhouetted against the sky, it's renowned as a proud MacLeod stronghold. The island also boasts a famous road that's a bit of a curiosity, built by one man, Calum MacLeod of Arnish, to link his village to the south of the island. It took him over a decade to construct, from 1964-74. Now that's real dedication.
Take a luxury boat trip – Finally, if you'd like to see the island from the water, consider a luxury boat trip aboard the Seaflower. Voyages set sail from Portree, featuring a sumptuous seafood lunch, and stop at Raasay for visitors to enjoy a dram, a hike or an adventure.
Raasay makes a wonderful island escape off the beaten track. SO many tourists head for Skye, but who can say they've stepped ashore at Raasay – one of Scotland's hidden gems!
Where to stay on the Isle of Raasay*
Isle of Raasay Distillery – stay in B&B in a working distillery
Families, groups and active tourists can book into Raasay House. As well as offering evening meals and an informal bar, it's a hub of outdoor activities. Try your hand at Canadian kayaking, archery, abseiling and cycling.
Where's your hidden gem in Scotland?
Love, from Scotland x
Read more: the prettiest towns and villages in Scotland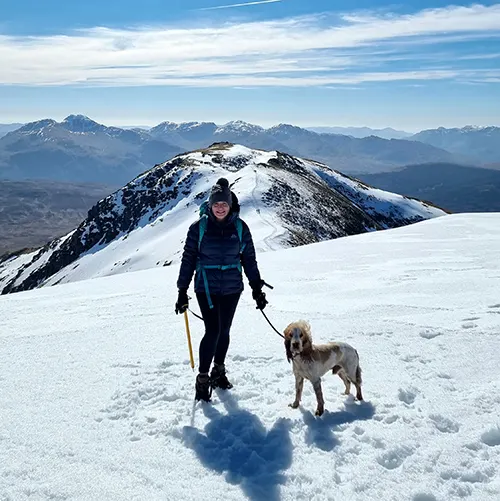 I'm Kate – a travel writer and photographer living in Scotland. Love, From Scotland is the Scotland travel guide that shows you where to stay and how to get outside in Scotland.