Islay is one of the most famous whisky regions of Scotland producing some of the most distinctive flavoured whisky in the world. Islay is also one of the most beautiful of the Scottish Hebridean Islands and is well worth a visit whether you like whisky or not.
Even if you can't travel to Islay, getting to know this diverse whisky island is great fun – with nine distilleries on the island, you are bound to find an Islay whisky you like, from blow your head off peaty delights to soft, salty and sweet sherries.
Here's my beginner's guide to Islay whisky. Slainte-mhath! [your good health]
This post uses affiliate links which I may make a small commission from.
Which is the best Islay whisky to try?
Everyone will have a favourite, but if you have never tried Islay whisky before here are 10 Islay whisky distillery picks which you can buy online* or try in your nearest bar:
My favourite Islay whisky is the unpeated Bunnahabhain 18 – the perfect treat.
From Bruichladdich, I like the easy-drinking Classic Laddie,
The Bowmore 15 is matured first in bourbon barrels then Oloroso casks for a tasty sherry finish,
My husband loves the 23-year-old Bowmore Port Cask,
The Kilchoman 100% Islay is the world's only Single Farm Single Malt scotch whisky,
Look out for Caol Ila Cask Strength which is delicious,
Looking for a true Islay whisky style? Ardbeg 10 is complex and smokey,
Try the classic Lagavulin 16-Year-Old – always a crowd-pleaser,
Like or loathe Laphroaig? Try the sweeter Laphroaig Quarter Cask, and finally
I love the smoothy sherry taste of Jura 10 – there is always a bottle on my kitchen whisky shelf!
Where is Islay whisky made?
islay whisky is made on the Isle of Islay off the south-west coast of Scotland. Islay is the largest of the southern Hebridean Islands and sits off the coast of the Kintyre Peninsula. Islay is pronounced EYE-LA, not EYE-LAY, and is also known as Banrìgh nan Eilean – the Queen of the Hebrides. We call it the whisky island.
How many distilleries are there on Islay?
There are currently nine whisky-producing distilleries on Islay:
Ardnahoe – the newest distillery on Islay
Ardbeg – produces one of the smokiest drams from Islay
Bowmore – the oldest distillery on Islay and located in the island's capital
Bruichladdich – re-opened in 2000, Bruichladdie uses modern-style branding
Bunnahabhain – a remote distillery producing a non-peated whisky
Caol Ila – the largest distillery on Islay
Kilchoman – a tiny farm distillery
Lagavulin – sitting proud on Lagavulin Bay
Laphroaig – the most famous peated whisky in the world
Port Ellen, which started distilling in 2020 and three more distilleries are also in the pipeline!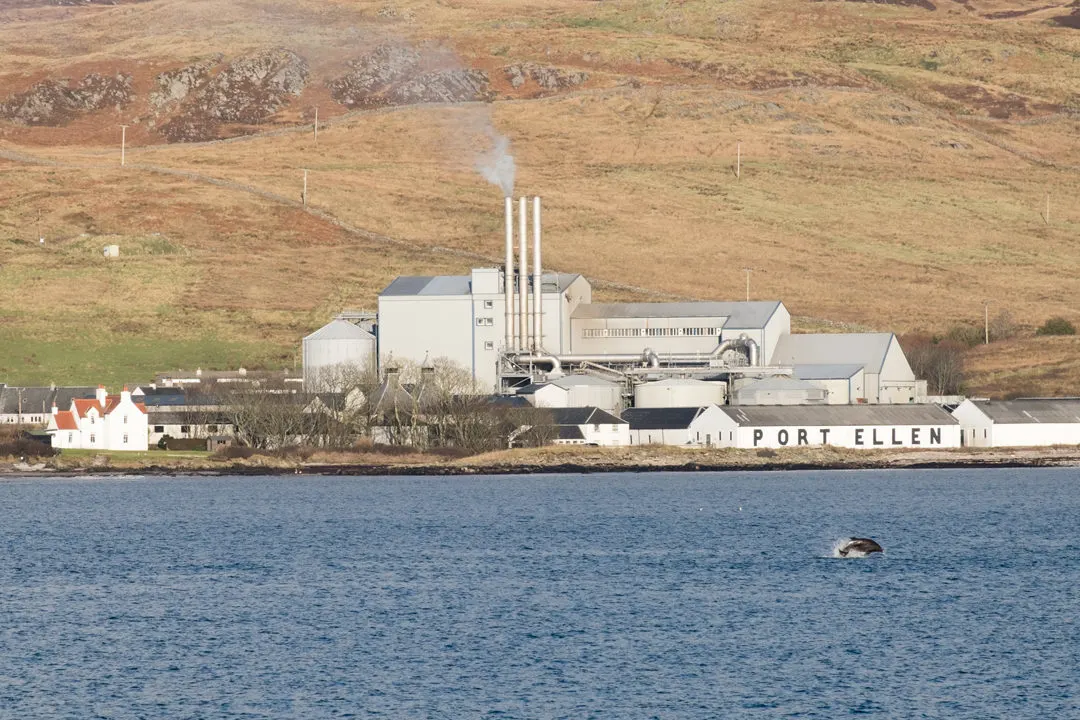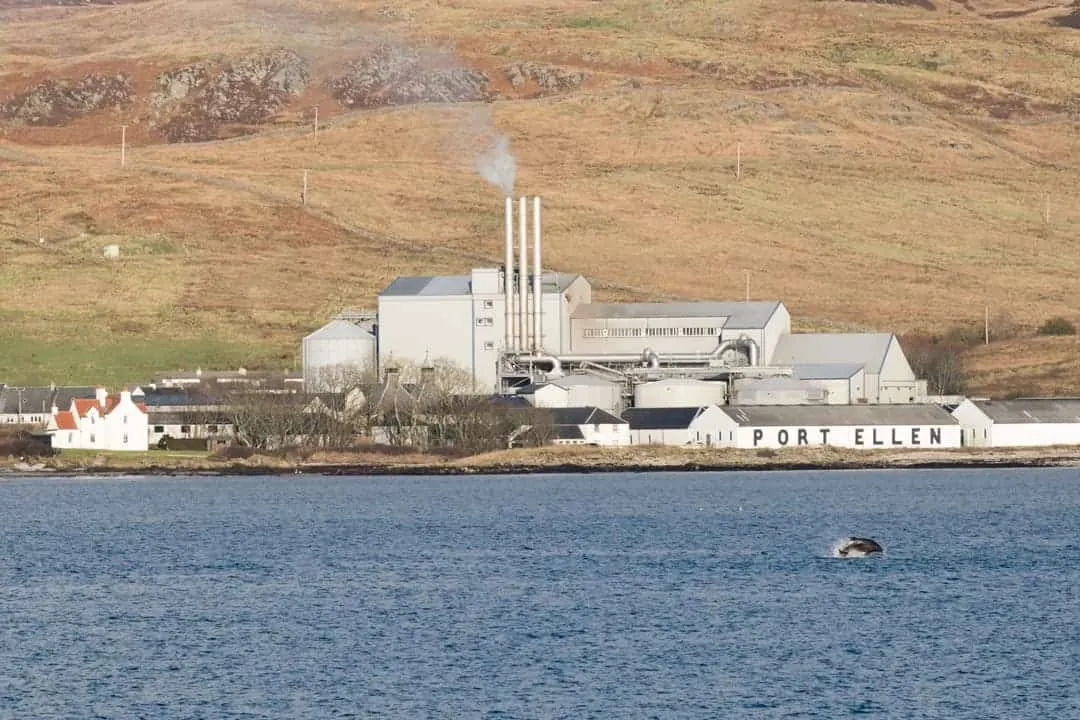 Why are there so many distilleries on islay?
The Isle of Islay is perfect for making whisky – with peat soil, freshwater and homegrown barley all available on the island. Plus the islanders once had a fearsome reputation – banning the exercise men from the island for over 150 years – leading to the island becoming known as 'the whisky island'.
How peaty is Islay whisky?
I usually use the 'Islay whisky peatiness scale' to determine just how peaty Islay whisky is – which ranges from 'mmm that's smoky' to 'oh my god, what is that?"
You can also use the official term – PPM – or parts per million.
PPM refers to the phenol content of the whisky. Phenol is a compound released from burning peat. To make islay whisky, peat is smoked in a kiln from which phenols rise up and attach themselves to damp barley sitting on a malting floor above the kiln. The longer the barley is exposed, the peatier a whisky could become. PPM doesn't always relate to a smoky whisky – it just refers to how many ppm the barley had when it arrived at the distillery – the end taste could be very different.
The peatiest whisky in the world is Bruichladdich Octomore 08.3 with a ppm of 309ppm. In comparison, the two most recognisable smoky whiskies from Islay – Laphroaig and Ardbeg have PPMs of 40 and 54 respectively. Most barley on Islay is smoked at Port Ellen, but three distilleries on Islay – Laphroaig, Bowmore and Kilchoman – have their own malting floor you can visit.
My guide to the Islay whisky distilleries
There are nine distilleries to visit on the Isle of Islay – and all do tasting tours, or have a shop and bar you pop into for a dram! Here is how to visit them.
Bunnahabhain Distillery
Let's start in the north of Islay. Port Askaig has three distilleries – Bunnahabhain and Caol Ila – which both sit on the Sound of Islay and have wonderful views across the water to the Isle of Jura. A third, Ardnahoe, has recently opened.
Bunnahabhain (Boo na hab hain meaning 'river mouth') is the most remote distillery on Islay and produces whisky quite unlike the rest of the island. Bunnahabhain doesn't have that traditional smoky islay taste (Bunnahabhain is only around 5ppm) but it is utterly delicious having been double matured in ex-bourbon and ex-sherry casks, and produced for the last 40 years.
Bunnahabhain's best tour is The Warehouse 9 tour. Take a tour of the distillery with a tasting of non-peated and peated Bunnahabhain drams – straight from the cask! Bunnahabhain are also building a new Distillery Visitor Centre – so follow Bunnahabhain on social @Bunnahabhain to keep up to date.
Whiskies to try at Bunnahabhain* include the classic Bunnahabhain 12 and the Bunnahabhain 18 my favourite whisky from Islay. Both whiskies taste of honey and sea salt, but the 18 is just something else. Normally retailing at around £100, snap it up if you see it at £80. Bunnahabhain also produces Toiteach A Dhà which is Bunnahahabhain + a little bit of peat. Yum.
Visit Bunnahabhain Distillery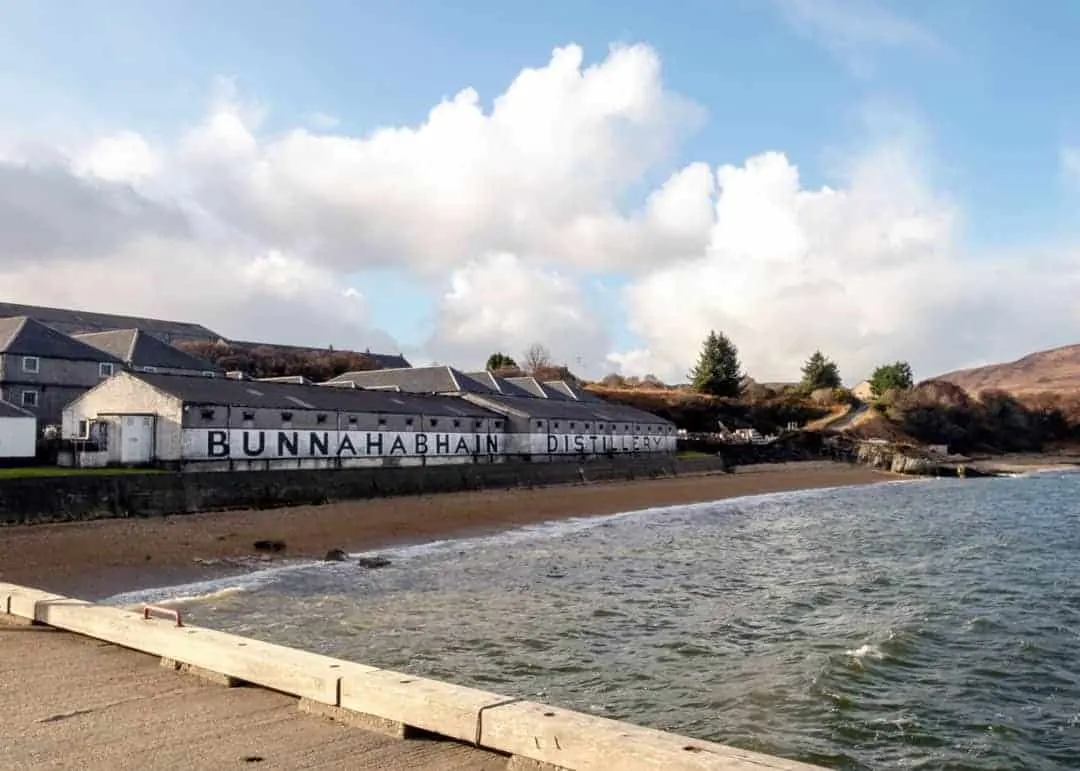 Caol Ila Distillery
Caol Ila (Pronounced Cull-eela) is the largest distillery on Islay producing up to 3 million litres of spirit a year – mostly for blends such as Chivas Regal. Meaning the 'Sound of Islay' the distillery looks out over the Isle of Jura. Coal Ila produces a traditionally peated Islay whisky with a peatiness scale or ppm of 30–35, and with a light smoke it is one of the more accessible and popular of the Islay whisky distilleries.
Whiskies to try at Caol Ila* include the Caol Ila 12-Year-Old is sweet and lemony, the Caol Ila 18-Year-Old is more smoky and sour. Look out for the Caol Ila Cask Strength which is delicious! Try the Cask Strength Experience tour which includes a visit to the still house and then on to the cooperage to try the Caol Ila cask strength.
Visit Caol Illa Distillery
Ardnahoe Distillery
Islay's newest distillery – Ardnahoe – has just opened its doors and begun production at Port Askaig. However, you will need to wait three years to taste their whisky! Ardnahoe is doing tours of this new distillery, including an in-depth tour with the manager, Fraser Hughes, ending in the warehouse sampling a few casks, and has a cafe on site.
Visit Ardnahoe Distillery
Ardbeg Distillery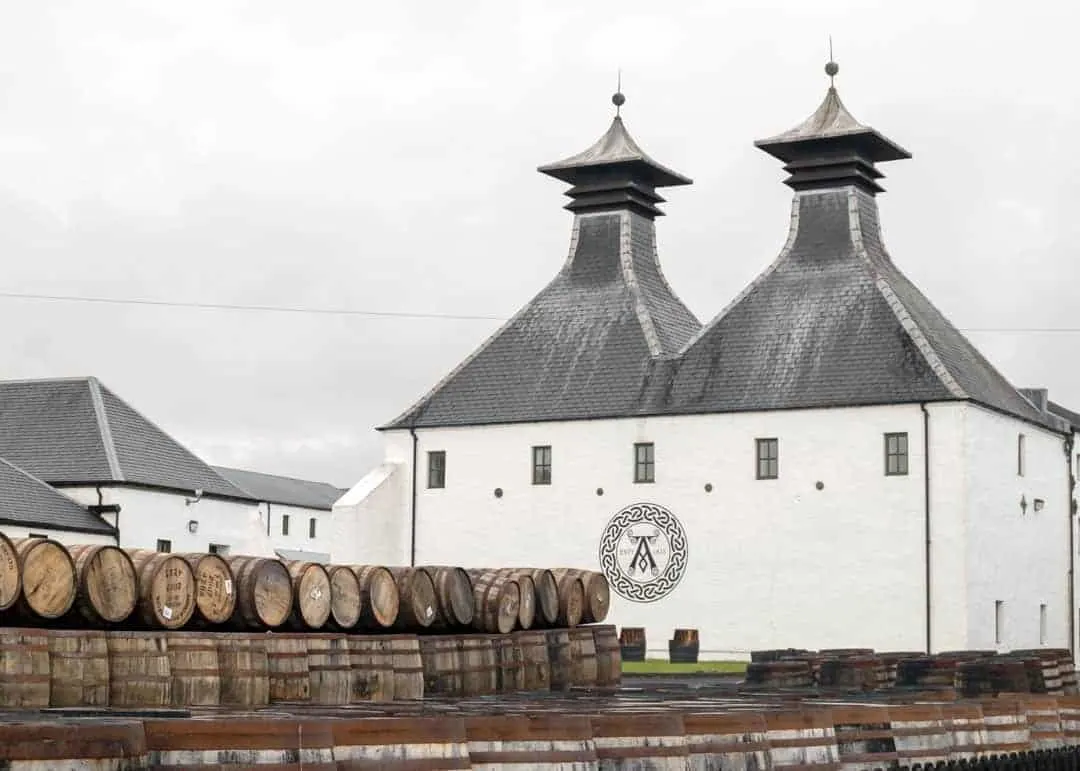 Heading south, Port Ellen is dominated by three of the Island's whisky giants – Laphroaig, Lagavulin and Ardbeg, collectively known as the Kildalton Distilleries – all famous for that Islay peaty taste. The distilleries can be reached on foot via the Three Distilleries Pathway – a 3-mile walk connected by the local bus to get you back.
One of Islay's peatiest whiskies at 50 ppm, Ardbeg is also one of the island's fastest-growing distilleries despite a turbulent past. Opened in 1815 the distillery was closed and fell into disrepair in 1981 until it was bought by Glenmorangie who refurbished the distillery beautifully in 1997 and brought it back into use. There is a great cafe on-site and tours are run every day – how about the Ardbeg Bog Off Walk (£65, summer) which includes a hike over the hills for a picnic lunch with drams and tales of Ardbeg.
Whiskies to try at Ardbeg* – the Ardbeg 10 is complex, smokey and delicious, peat lovers will love Ardbeg Corryvreckan and lovers of a sherry cask will like Ardbeg Uigeadail* or the blended Ardbeg An Oa.
Visit Ardbeg Distillery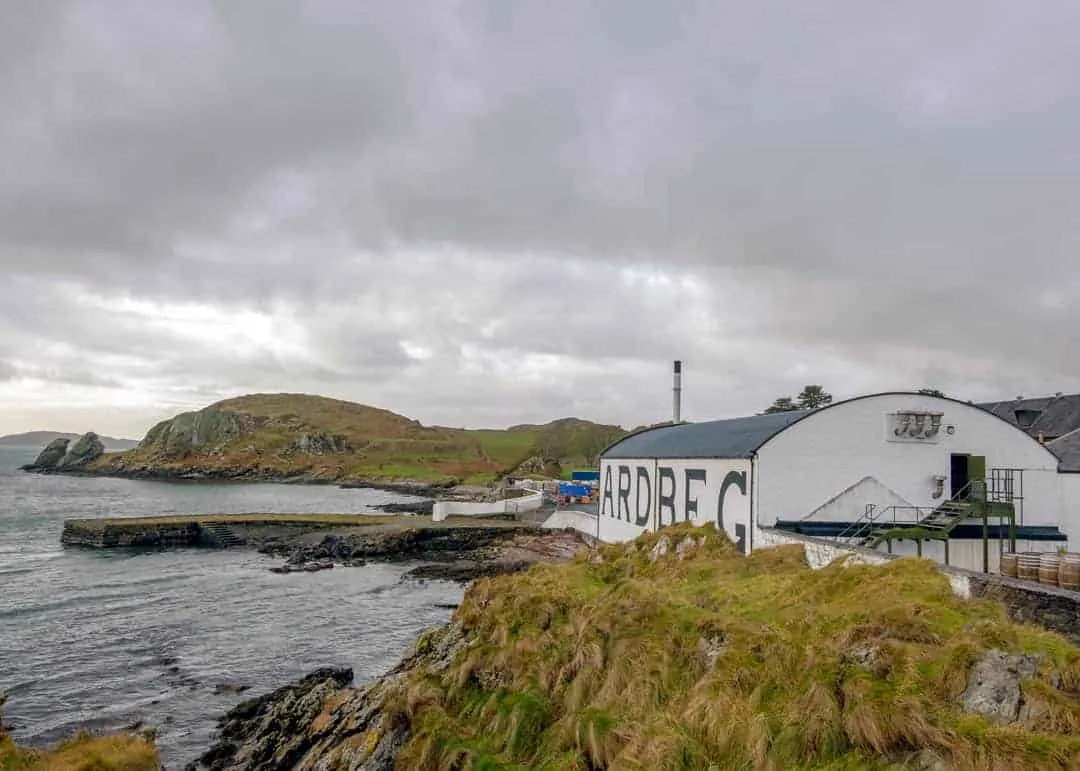 Lagavulin Distillery
Sitting on its own bay, with its name painted onto its whitewashed buildings, the distillery at Lagavulin is very striking. Like Ardbeg and Laphroaig, Lagavulin produces an intense smoky whisky classic to Islay. The taste of Lagavulin is very distinctive, in part due to its medical iodine smell along with seaweed and salt. I love it but it isn't a dram for everyone – get past the iodine and Lagavulin tastes of burnt caramel to me. Tours of Lagavulin start at £8 and include a dram.
Whiskies to try at Lagavulin* – the classic Lagavulin is the Lagavulin 16-Year-Old, although they also distil the Lagavulin 12-year-old and a Lagavulin Distillers Edition.
Visit Lagavulin Distillery
Laphroaig Distillery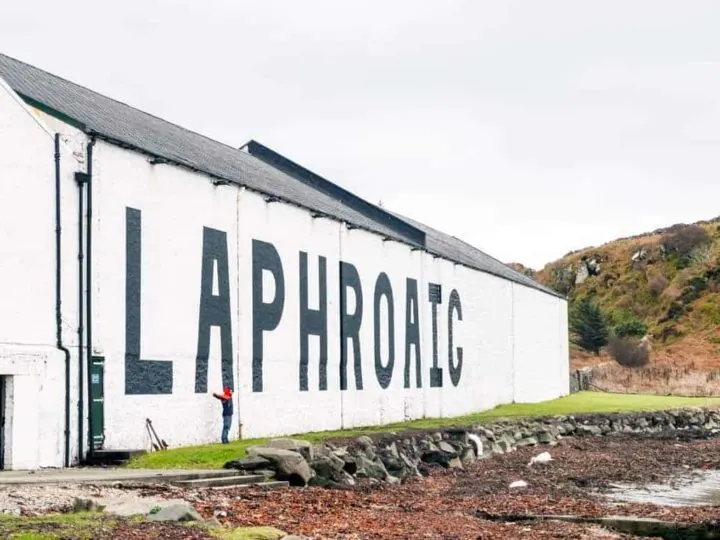 Ah, Laphroaig, probably Islay's most famous distillery and the most famous peated whisky in the world. I am not sure there is any way to truly describe the taste of Laphroaig but people have famously had a go – you can see many of the attempts on the sign at the distillery's entrance. Laphroaig was the only spirit not banned in America during prohibition due to the medicinal taste.
There is a great wee visitor centre and tours of the distillery are available – it worth going on the tour just to see Laphroaig's peat kilns to get a true idea of how whisky is smoked. You can also buy your own plot of Laphroaig peat in their Friend of Laphroaig scheme. Finally, not sure how to pronounce Laphroaig? Watch this wee youtube video of an Elvis McGonagall poem for the pronunciation of the name.
Whiskies to try at Laphroaig* – the most popular Laphroaig is the Laphroaig 10-year-old, but they also do aged varieties – a Laphroaig 16-year-old and a 25 and 30-year-old. I really like the Laphroaig Quarter Cask – a young whisky aged in old barrels for a sweeter taste.
Visit Laphroaig Distillery
Bruichladdich Distillery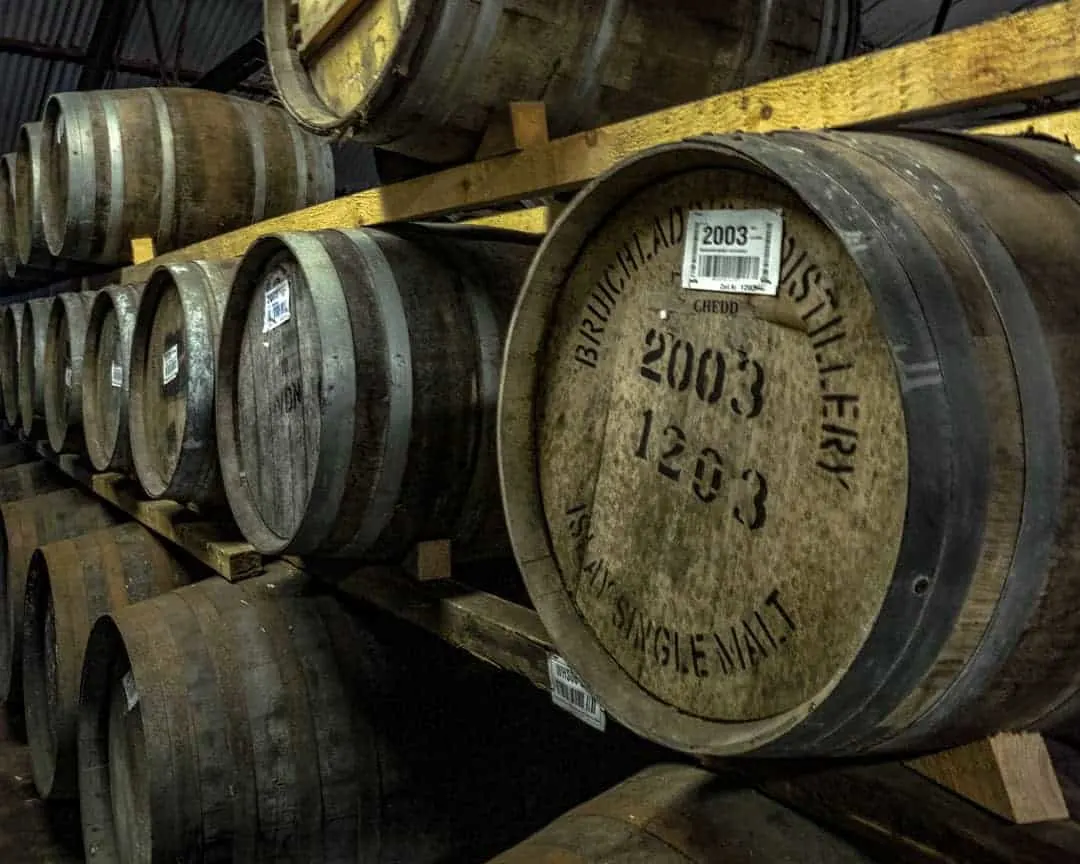 Moving to the centre of the island, there are three more distilleries to visit – Bruichladdich by Port Charlotte, Bowmore in the island capital and the tiny Kilchoman farm distillery.
The Bruichladdich (mostly pronounced as brook-laddie) distillery sits on the shore of Loch Indaal by Port Charlotte and is one of the island's most modern and innovative distillers despite the distillery being a literal museum – the machinery is Victorian and there is not one computer used in the whole process. Bruichladdich also produces Port Charlotte whisky, the very tasty Islay Botanist Gin and make the world's peatiest whisky – the incredibly smokey Octomore range.
Whiskies to try at Bruichladdich* – the Bruichladdich Classic 10-year-old laddie is an easy-drinking whisky and the Port Charlotte 10-year-old is both sweet and salty.
Visit Bruichladdich Distillery
Bowmore Distillery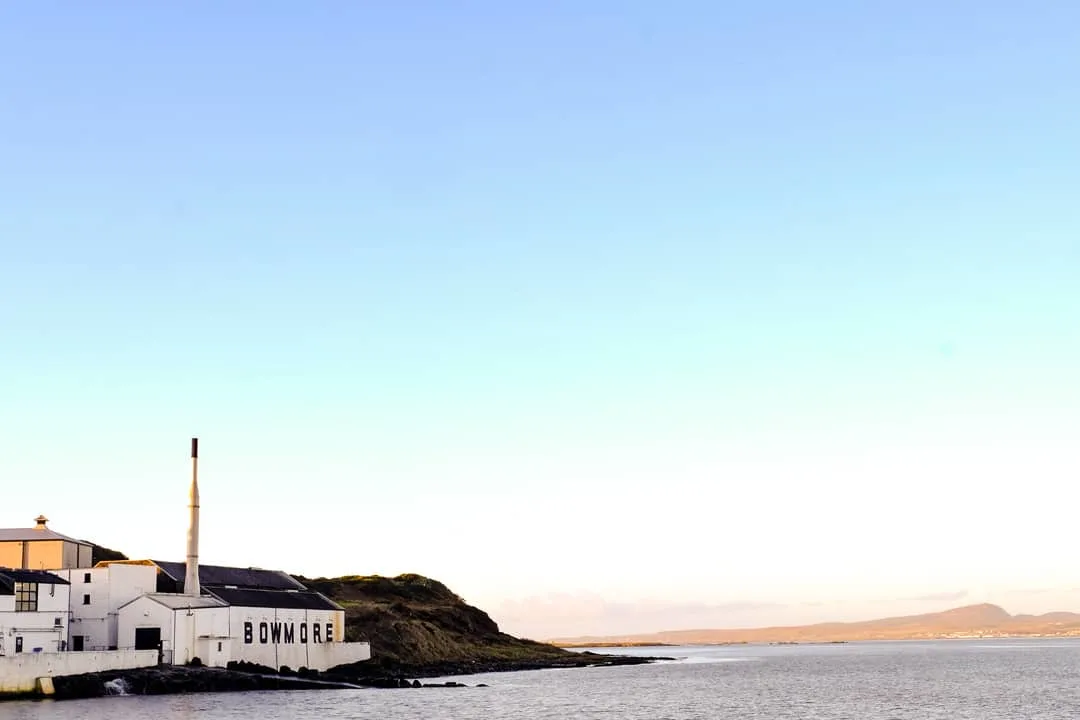 Islay's oldest licensed distillery, the Bowmore Distillery, is located in the centre of Islay's capital Bowmore and has a lovely tasting room with views across Loch Indaal. Bowmore also has one of the only remaining malting floors on Islay and the whisky produced by Bowmore is one of Islay's lightest with a PPM of around 18 – 25 PPM making for a sweet and sea-salty whisky. Bowmore produces lots of different cask types – lookout for their 23-year-old Bowmore Port Cask from 198, it is delicious! Tours of the distillery include the Legendary No.1 Vaults, Bowmore's old stone warehouse. Bowmore also owns the Harbour Inn and restaurant next door to the distillery.
Whiskies to try at Bowmore* – the Bowmore 12 year old is sweet with honey and lemon, the Bowmore 15 is matured first in bourbon barrels then Oloroso casks for a sherry finish. For those who like older whiskies, try the Bowmore 18.
Visit Bowmore Distillery
Kilchoman Distillery
The island's smallest distillery, Kilchoman Distillery (kil-ho-man) is a tiny farm distillery and the only distillery which doesn't sit on the Islay coast. Kilchoman produces Single Farm Single Malt – whisky produced entirely on-site from growing the barley to the whisky in the bottle! All the barley is malted at the distillery on their own malting floor and the whisky is matured on-site. From the distillery, you can go out on Kilchoman's Whisky and Wilderness tour to the fields surrounding the distillery where they grow 200 tons of barley each year!
Whiskies to try from Kilchoman* – named after Islay's best beach close to the distillery, Kilchoman Machir Bay is a traditional Islay dram, the Kilchoman 100% Islay was their first bottling produced solely on Islay.
Visit Kilchoman Distillery
Jura Distillery
I can't not mention one of my favourite whiskies! From Islay catch the ferry from Port Askaig to Feolin on Jura and explore this lovely remote island home to 180 people, 5000 deer and one whisky distillery – and the impressive Paps of Jura. The Jura Distillery opened in 1963 and is a lovely small distillery. The Jura 10 is always on my whisky shelf!
Islay whisky festival / Fèis Ìle
The Islay Festival of Malt and Music takes place in the last week of May every year. The festival includes a series of open days at each of the Islay whisky distilleries and a full traditional music programme.
How do you get to Islay?
Getting to Islay is easy – either catch the ferry to Islay with Caledonian MacBrayne or fly to Islay from Glasgow with LoganAir. The flight takes around 40 minutes. The ferry from Kennacraig to one of two ports on Islay, Port Askaig and Port Ellen and takes around 2 hours. Sailing to Port Askaig the crossing will take you through the Sound of Islay with an incredible view of Jura's three famous hills – the Paps of Jura.
Islay whisky tours / driving on Islay
Whisky is about more than alcohol – in Scotland, it is the water of life. However, in Scotland the drink-drive limit is basically zero so you will need a designated driver – thankfully the distilleries now allow the driver to take their drams away in special whisky pots!
Don't want to drive? The best way to tour the Islay distilleries is by an Islay whisky tour. Here are my recommended tours:
The North Islay Whisky Tour (£180pp) includes a day of transport, tours, tastings and lunch along with visits to Bunnahabhain, Caol Ile and Ardnahoe. Contact Islay Taxis on +44 (0)1496 850170 or email info@islaytaxis.com
Bowmore taxi tours – bespoke Islay tours via taxi – contact Tel.+44(0)1496 810449 or Mob. +44(0)7899 756159
4 day Islay tour from Edinburgh – tour the Islay whisky distilleries* on this tour run by Rabbies.
Where to eat on Islay
In Bowmore, Peatzeria serves Italian food that could grace the top ten lists of any major city.
The Bowmore Hotel serves up good pub food and has a huge whisky selection and a warm welcome from staff and locals alike.
The Lochside Hotel has a stylish bar, serves classic Scottish dishes and has a conservatory perfect for watching dolphins in the bay.
The An Tigh Seinnse in Portnahaven serves seafood platters (order in advance) and is characterful with a real fire.
The Port Charlotte Hotel serves up excellent chowder, real ales, and on a Wednesday evening, live traditional music.
The Port Askaig Hotel serves seafood platters are served from the scallop, crab and lobster boats which dock right in Port Askaig's Bay. Look out for the owner's wee white dugs which greet each and every ferry arriving with much enthusiasm!
Where to stay on Islay
Islay has a total population of just over 3000 people, so the island's main settlements have a local, village feel. There are lots of options for Islay accommodation*. The main towns on Islay are Bowmore and Port Ellen, with smaller villages at Port Charlotte and Portnahaven.
Ready to plan your trip to Islay?
Slainte-mhath!
Love, from Scotland x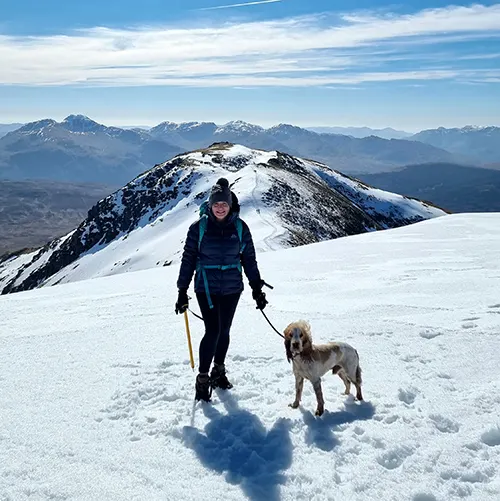 I'm Kate – a travel writer and photographer living in Scotland. Love, From Scotland is the Scotland travel guide that shows you where to stay and how to get outside in Scotland.