Munros are Scottish mountains over 3000ft (914m) and there are 282 Munros to climb. I started my hillwalking journey in May 2016 and with 21 Munros in the bag and many more hills along the way, 2017 was the year I truly became addicted to hillwalking in Scotland.
Read my first ever post about bagging a Munro
…and why I started bagging Munros!
Here is my review of the year – and what an incredible year in the hills it was!
In January we climbed 3 hills in spectacular winter sunshine starting with a climb up what is now one of my favourite hills in Scotland. Whilst not a Munro, Ben Ledi dominates the town of Callander on the edge of Highland Perthshire and our walk up the hill in beautiful winter sunshine was a great warm-up for the year ahead. It was a memorable day with an amazing view of the Trossachs. Height: Corbett, 879 m (2884 ft), Ascent: 760m. Read more: Ben Ledi

Our second hill walk in January was memorable for all the wrong reasons – in fact, our almost disastrous climb of Ben Narnain & Ben Ime was one of my most popular blog posts of 2017! This was a true lesson in being prepared out on the hills.
After successfully bagging six Munros in 2016 we'd got cocky and forgotten just how much the weather and the lack of daylight in winter can affect a walk – we got lost in the fog and had to run back down the hill as we didn't have a torch. However, I wouldn't have missed witnessing an incredible cloud inversion over Scotland for anything! Height: Munro 926m and 1011m, Ascent: 1325m. Read more: Ben Narnain & Ben Ime
February in Scotland was pretty miserable – wet, icy, windy, we had the lot! So of course, we spent much of the month, including Valentines weekend up all hill. First up was a Corbett – Ben Venue. The views from the top across the Trossachs are meant to be fantastic, but did we see them? A resounding No. Instead, the climb was a very wet slog to an icy freezing summit, from which we nearly got blown away. Sadly our hotel for the weekend was pretty rubbish too, but thankfully drinks in the pretty town of Aberfoyle cheered us up. Height: 729m, Ascent: 725m.
Next up was Ben Chonzie which appears on most lists as an easy Munro, but not when you add horrible foggy wet weather and 50mph winds! We'd also both got the fear after Beinn Narnain. However, we dragged ourselves up the hill, had a good laugh being buffeted around at the top, and finally got a view halfway back down. Height: Munro 931m, Ascent: 712m.
Thankfully March saw the return of good weather and blue skies – and turned out to be our busiest hill walking month of 2017 – with 7 Munros in the bag.
Our 10th Munro was Schiehallion. It was also our first full winter climb and I fell completely in love with winter walking, it turns out I love the snow! The boulder field at the top of Schiehallion was completely covered in the white stuff, which made for easy going on what I've been told is very hard on the knees! Our day out on Schiehallion was one of my best days of 2017. Height: Munro 1083m, Ascent: 731m.
Up next was our first camping weekend of the year and our first trip to the Cairngorm Plateau. Driesh and Mayar won't ever top anyone's list of being interesting Munros, but the climb up to them through the glacial bowl of Corrie Fee is utterly spectacular. This was my first time walking with hiking poles – I have no idea how I managed before. Both the camp and the climb were a little chilly – I spent most of the weekend brushing ice off my hat – even in our tent! Height: Munros 947m and 928m, Ascent: 835m. Read more: Corrie Fee.
March also saw me commissioned by the BBC to film my Munro bagging adventures, so I had to get out and practice with a GoPro!
I'd been on a mission all year to get my friends out hillwalking with me, so I dragged my best pal up Ben Lomond to film me on camera for the first time – gulp! Thankfully between climbing and filming, we managed to get some good gossiping in – it was lovely to be out on the hills with my best friend. It was my second time up Ben Lomond, and the winter views were stunning. Height: 974m, Ascent: 990m.
The day after Ben Lomond I was out in the hills again, this time in the Ben Lawers range climbing my favourite hill of the year – Meall Nam Tarmachan. With incredibly warm and sunny weather (I was in sunglasses and a t-shirt) plenty of people to film having fun in the snow – plus the Tarmachan Ridge to scramble along, it was a brilliant day. With drinks outside the Falls of Dochart to finish, we just couldn't stop smiling. How lucky were we? Height: 1044m, Ascent: 783m.
March finished with a biggy – the mighty Ben More at Crianlarich. Whilst we cheated slightly by climbing up the Bealach between the two Munros, Ben More certainly lived up to its name – it was a serious slog!
I enjoyed Stob Binnein more than Ben More – the views across the rest of the Crianlarich range are superb. After climbing down the front of Ben More my legs ached for days – and stairs were an issue for over a week. Two hills I'm glad I've ticked off the list. Height: Munros 1174m and 1165m. Ascent: 1335m.
The weather in April was typical – wet & windy. We should have left the month to its showers, but instead were gluttons for Munro bagging punishment and managed three more.
On an Easter road trip to the west coast of Scotland, we realised we had a short window on Mull to bag Ben More. So we whizzed up the hill. Sadly there were no views from the top – just typical Easter weather – freezing fog and rain. Another Munro to climb again! Height: 9665m. Ascent: 945m.
April saw my worst day climbing all year on Beinn Tulaichean. I nearly gave up halfway up the first hill – the hail was blowing sideways, the heather was sodden and my legs sick of climbing hills. Not my best day but I learnt that I can push through the pain and I am very proud of myself for reaching the top. Height: 946m and 1046m. Ascent: 1025m.
After Beinn Tulaichean I was on the verge of giving up Munro bagging – at least in the rain. Much of May was spent exploring the area around Loch Tay, including horse riding and riding a RIB on the loch.
However, we had a free morning one weekend, and with a Munro right on our cottage doorstep, we popped up Meall Greigh. The weather was still pretty rubbish, so we stopped short of doing the full round of An Stuc, leaving the scrambling for another day. Height: 1001m.
June was another washout month – it is no wonder that most hillwalking in Scotland is done in Autumn and Winter – the weather in summer is so unpredictable. Actually, make that predictable – it was wet. Again.
By June we were starting to run out of Munros within two hours of Edinburgh so it was back to the Lawers range for the short round of Meall Corranaich & Meall a'Choire Leith. Apart from the horrendous bogs at the start, I've not much to report as these two hills sadly weren't particularly memorable – we bagged both in less than three hours.
The best bit of the day was being accompanied by a friend and his spaniel bagging her first Munro, I think she actually climbed the hill three times! Height: 1069m and 926m. Ascent: 740m.
In June we also made the trip up to Aberfoyle to climb Ben A'an. This hill is deservedly popular as the views across Loch Katrine are superb. Height: 454m. Ascent: 340m.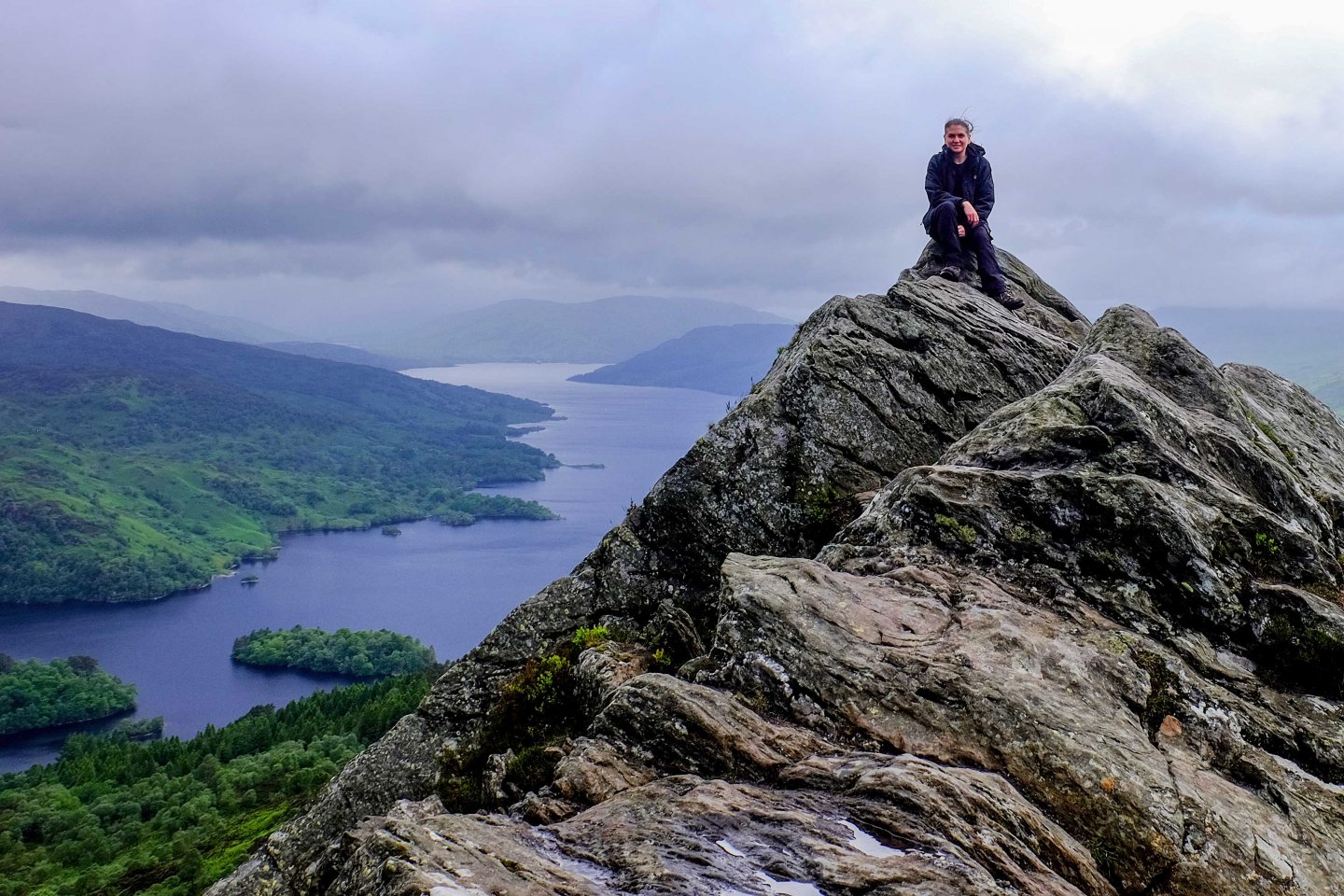 My biggest regret of the year? Beinn a G'hlo. These three Munros are a range of hills which you walk in a 14-mile circular. We tackled it in deep fog – with lots of navigation required – and were exhausted after the first two hills, so with still a seven-mile walk back to the start we headed back to the car. We are now left with one hill and a 14-mile walk – if we ever want to compleat our round of the Munros. Height: 975m, 1070m, 1121m. Ascent: 1239m (we did about 1000m).
I must admit that after Beinn a G'hlo we took a break from Munro bagging for a few weeks – walking in the wet is just not for us. You need to enjoy yourself, and for me, hillwalking is more than just ticking off another hill, I want to see where I am going!
We did, however, manage one day in July and August walking – with the forecast showing the sun splitting the sky we headed to Pitlochry and climbed Ben Vrackie. The hill was heaving, but the views across to the Beinn a G'hlo range were superb – we should have saved it for a day like this!
We'd had a few days of very hot weather resulting in fires on the heather moors – and we spent a lot of the climb watching a helicopter collect water from a loch and dousing the flames, quite incredible to watch. Height: 841m. Ascent: 720m.
September was a quiet month – but we did climb the biggy – Ben Nevis. We had a week in September sailing the Caledonian Canal from Fort William to Inverness and with a whole week to choose a day to climb Ben Nevis – we went for it.
I can't say Ben Nevis is my favourite of all the Munros – those zig zags on the Pony Track at the top are a killer – but I am proud of us for bagging it in about five hours. I am looking forward to doing the CMD Arete in the future. Height: 1345m. Ascent: 1352m. Read more: Ben Nevis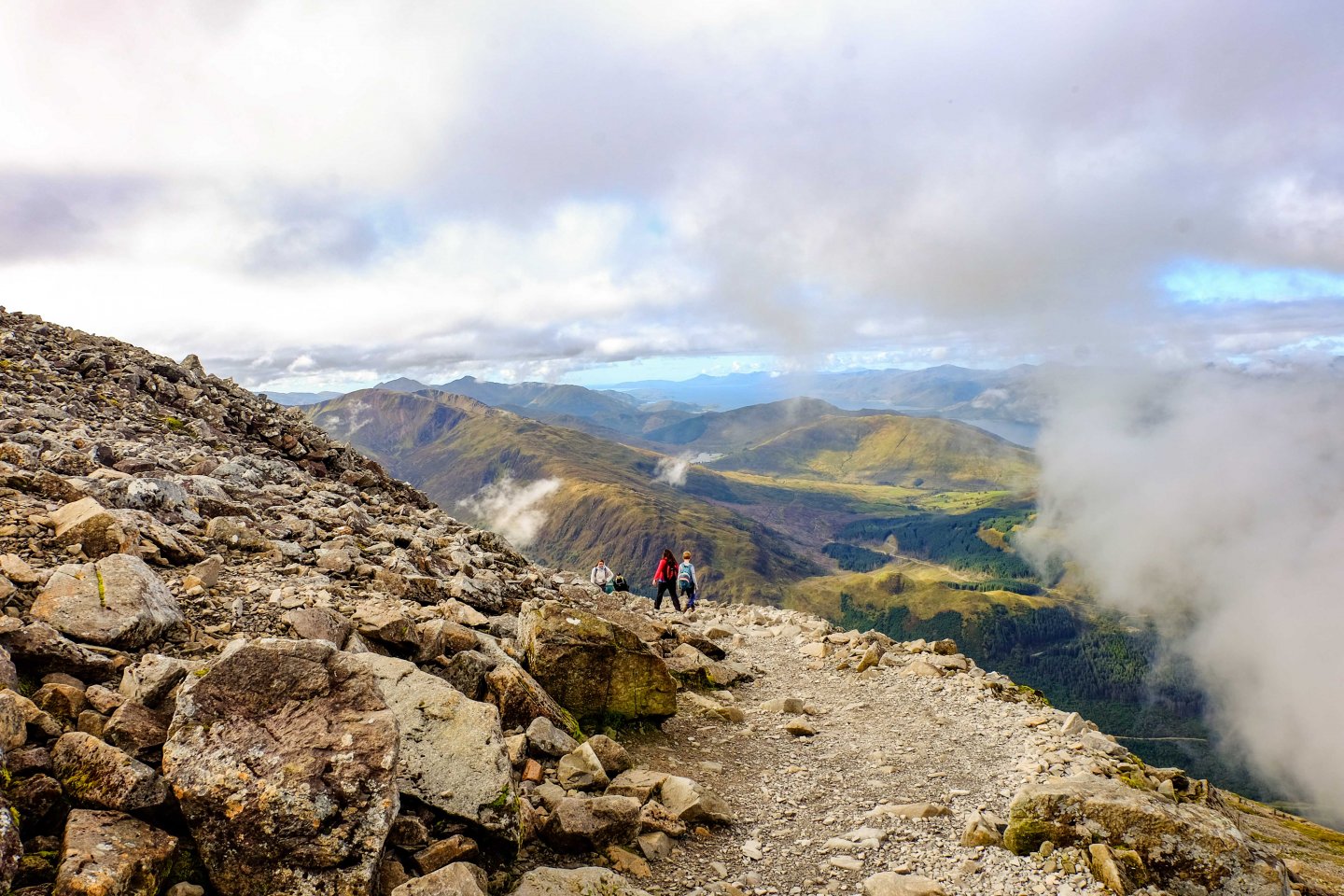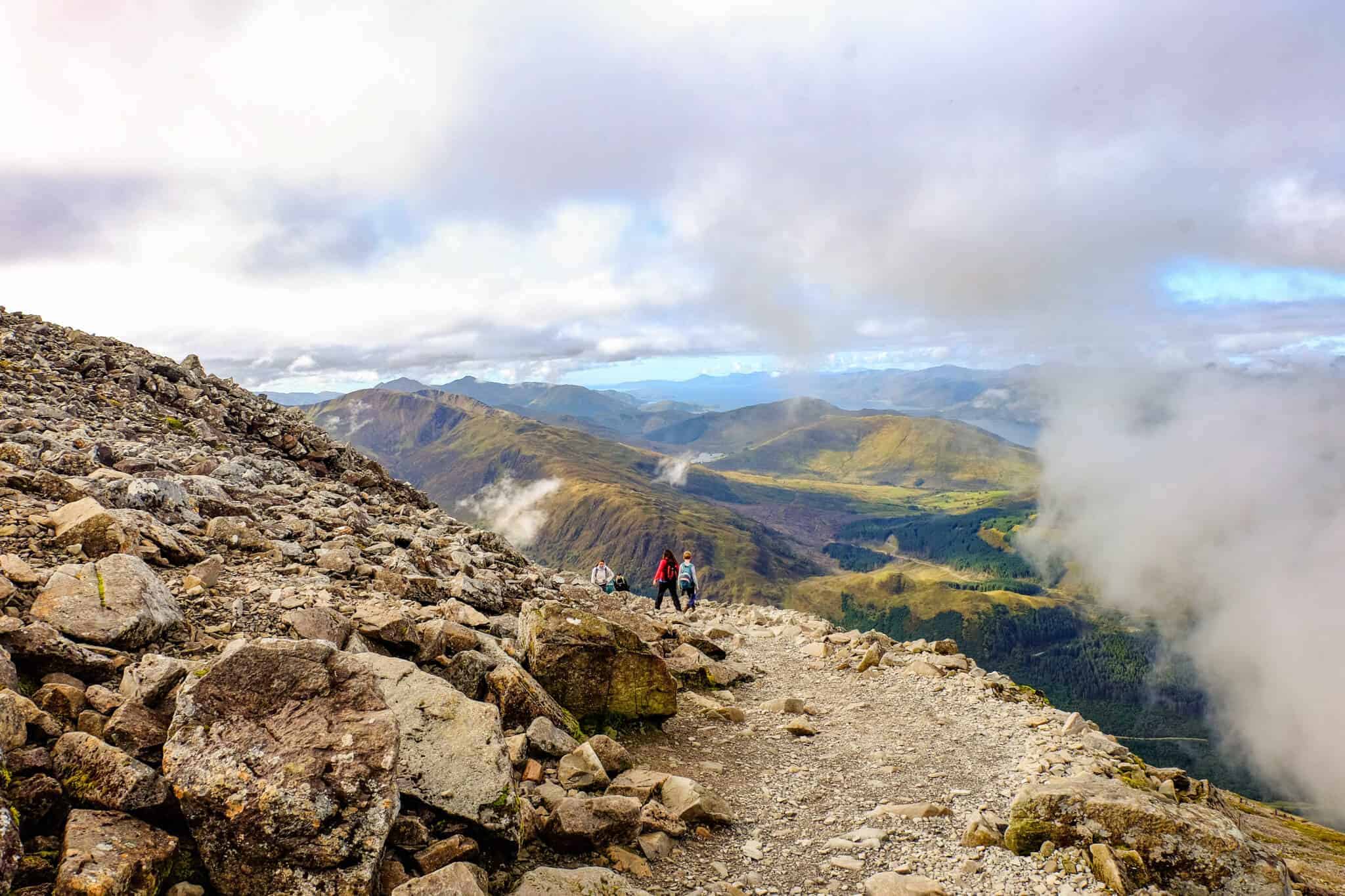 By October the autumn colours were stunning. We had two hills left in the Arrochar Alps to climb, so headed back up to Loch Lomond to climb Ben Vorlich. This was another favourite climb of the year – the views of Loch Lomond were so clear and the climb was very steep but great fun. One problem is the field of cows at the start – I am terrified of cows! Our Munro bagging team were all together on this climb, and the team dog bagged her third Munro. Height: 943m. Ascent: 945m.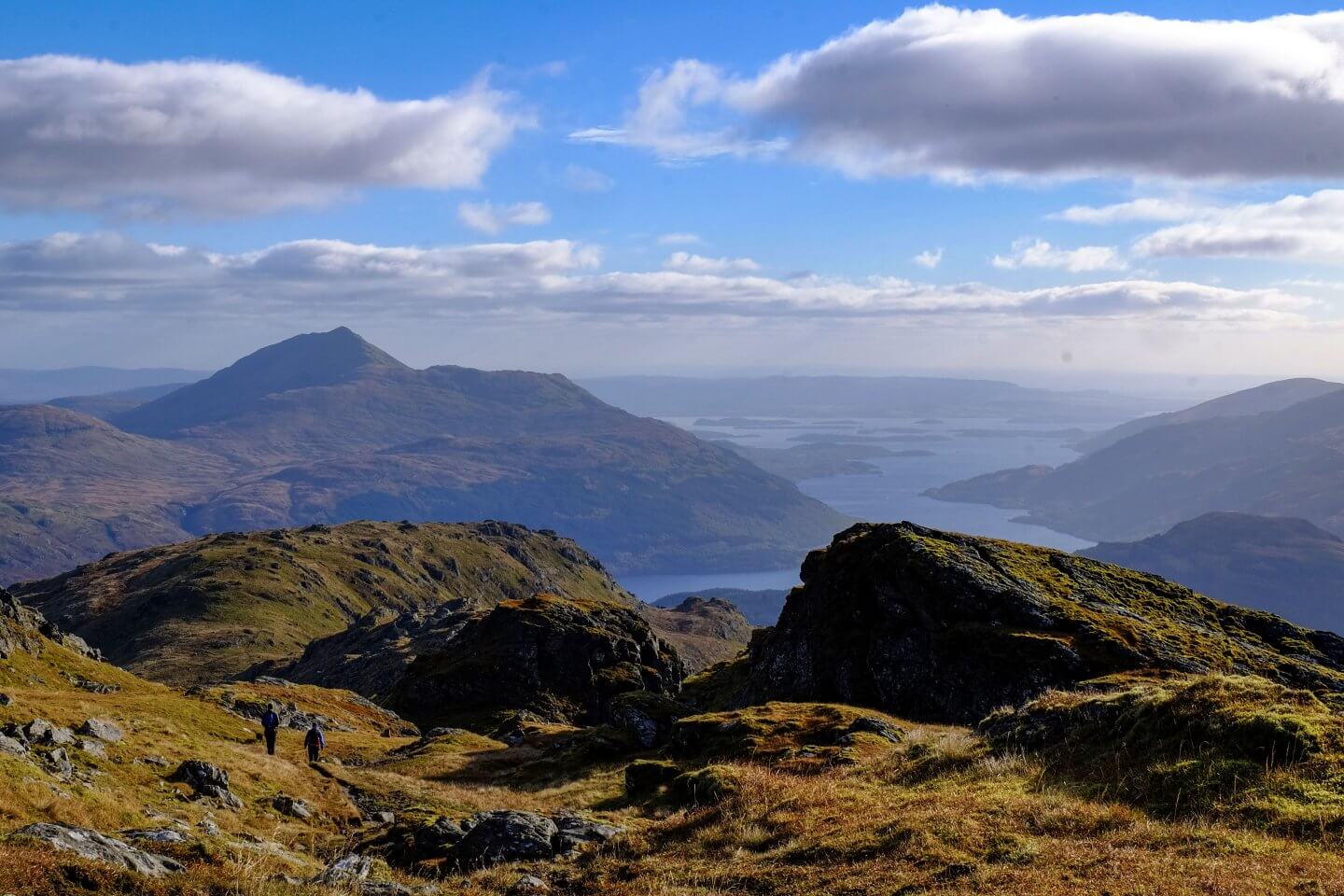 November, was for 2017, our final Munro bagging month of the year – this time not because of the wet, but because of the snow. We have yet to purchase crampons and ice axes so are very careful in the type of conditions we go out in. I'm thinking of doing a winter skills course in the new year as I am so jealous of all the winter Munro photos!
We did manage two Munros to close out the year in style – An Caisteal & Beinn a'Chroin were great Munros to finish 2017 on – and one of our toughest climbs of the year with snow, ice and 45mph winds. Height: 995m and 942m. Ascent: 1045.
Looking at these photos of me on An Caisteal I can truly say I have totally changed my life in 2017.
Munro tally at the end of 2017 – 27/282
Total ascent 18,000m+
2018? See you at the top!
Love from Scotland x
Fancy hillwalking in Scotland? Here is my beginner's guide to the best small hills