Welcome to Fife, one of my favourite dog friendly places in Scotland. If you're planning a trip to Fife and want to take your pup, you're in luck! Here are my favourite dog-friendly places to visit, stay, and eat. Let's visit dog-friendly Fife!
This post contains affiliate links – these help support this site at no cost to you!
Dog friendly Fife – places to visit
Hike the Fife Coastal Path – the pups will love the Fife Coastal Path. Spanning 117 miles, this spectacular trail offers breathtaking beaches and charming fishing villages. The whole Fife Coastal Path can be walked in a week and is designated one of Scotland's Great Trails. These are my favourite sections:
Elie to St Monans – passing the striking Elie Lighthouse and Lady's Tower at Sauchar Point
Anstruther to Crail – visit the Coves, or the caves of Caiplie – used as an early site of christian worship and a doocot!
Crail to Kingsbarns – the furthest eastern point of the path to the famous golf course at Kingsbarns.
More things to do in Fife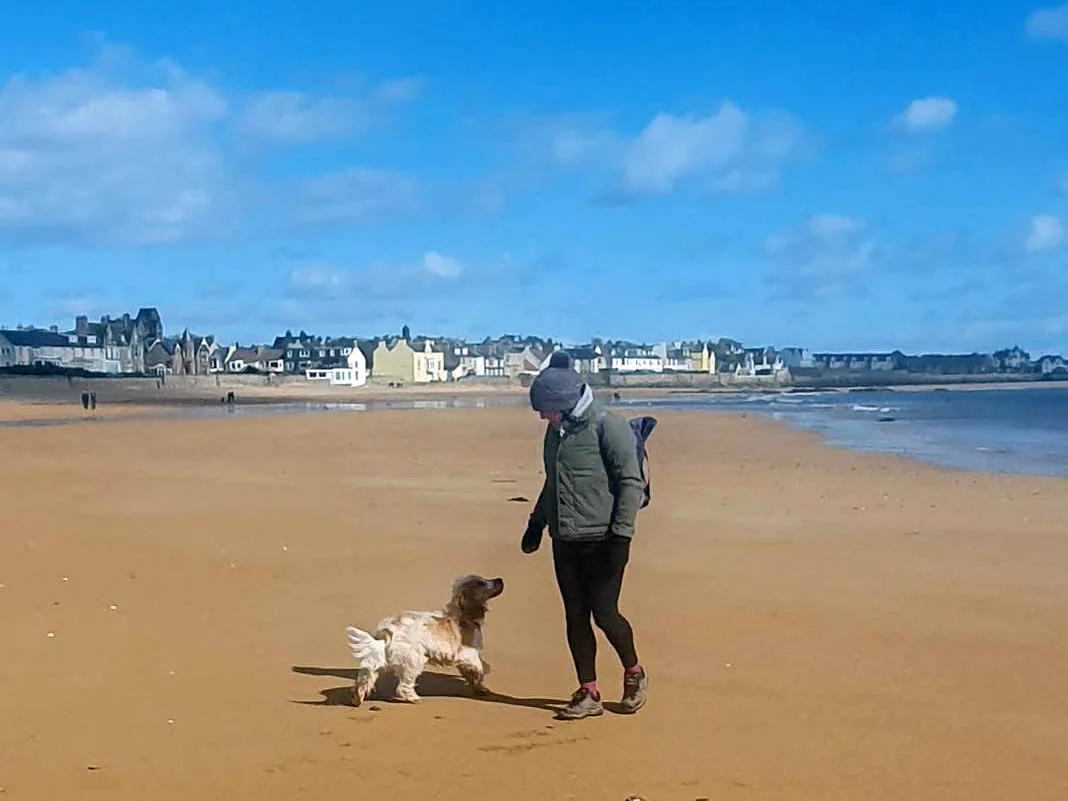 Tentsmuir Forest and Beach – situated near Tayport, Tentsmuir Forest is a haven for dogs. Take a leisurely stroll through the woodlands before heading to Tentsmuir Beach.
Falkland Estate, Palace and Garden – Make a visit to the breathtaking Falkland Palace and Garden, a property managed by the National Trust for Scotland. While dogs are not permitted inside the palace, they are welcome in the gardens. After the Palace visit Falkland Estate which has miles of paths to explore, and a great dog friendly cafe.
Hill of Tarvit Mansionhouse and Garden – Explore the elegant Hill of Tarvit Mansionhouse and Garden, another National Trust for Scotland property that welcomes dogs in the gardens.
Loch Leven Heritage Trail – take a stroll along the Loch Leven Heritage Trail, a 13-mile circular path that encircles Loch Leven.
Lomond Hills Regional Park – discover the Lomond Hills Regional Park and find The Bunnet Stane and unusual mushroom rock formation made up of 'calciferous' sandstone on the edge of West Lomond.
Walk the West Fife Woodlands Way – a lovely 10-mile ramble through West Fife's beautiful woodlands starting in Culross. Walk the West Fife Woodland Way.
Get out on the beach – Fife's is home to some of Scotland's best beaches – did you know Fife has 25 Blue Flag beaches including Elie's Ruby Bay, Aberdour's Silver Sands and Burntisland? Exploring the coastline is one of the best ways of discovering Fife – dogs will love the child-friendly silver sands of Aberlour, the huge sweep of sand between Earlsferry and Elie best known for its beach cricket matches and the walk through the Cambo Estate to the and wild Kingsbarns golf course is beautiful.
Lochore Meadows – With over 1,200 acres of parkland to explore, Lochore Meadows Country Park is the perfect place to take you dog for a walk – you could even take them paddleboarding out on the loch!
Dog friendly Fife – Places to Stay
Planning on a holiday in Fife with your dog? Here is where to stay:
Dog friendly hotels in Fife
There are lots of dog friendly hotels in Fife – and they may even provide beds, food bowls, and treats for your dog. Some highly recommended pet-friendly hotels in Fife include:
Dog friendly hotels St Andrews
East Neuk dog friendly hotels
Dog friendly cottages Fife
For a more home-like experience, consider staying a dog friendly cottage in fife. A dog friendly cottage in Fife offer the flexibility to cook your own meals while providing a comfortable base for you and your dog.
Dog-Friendly Places to Eat and Drink
Dog-Friendly Pubs and Bars in Fife
Fife's dog-friendly pubs and bars provide the perfect setting to enjoy a meal or drink with your pup. My favourites include The Bruce Arms in Limekilns, The Dreel in Anstruther, Railway Inn, Lower Largo, The Commercial Inn in Dunfermline, the Station Buffet Bar, Elie, and the Hillend Tavern, Hillend.
Dog friendly Cafés in Fife
Fife has lots of dog-friendly cafés. My favourites are The Rhynd near Tentsmuir, Spoiled Life in St Andrews, Cocoa Tree, Pittenweem, Pillars of Hercules, Falkland, and the Juniper Wine Cafe in Dunfermline.
Dog friendly restaurants in Fife
Fife also offers lots of dog friendly restaurants. I'd recommend Jack 'O' Bryan's in Dunfermline, Shipwreck Seafood at The Newport Restaurant, Larachmhor Tavern, Pittenweem,
Dog friendly Dunfermline – restaurants, cafes and bars
Dog friendly places to eat and drink in Dunfermline
*Jack 'O' Bryan's*
*The Caledonian Craft Beer Merchant*
*Juniper Wine Cafe*
Edwards Bar & Grill
1703
The Old Inn
Somewhere Else
Fire Station Creative
269 Vegan
The Rumblingwell
Blend Abbot House
Garvock House Hotel
The Elizabethan
The Glen Tavern
Cafe Wynd
Incontri
Dog friendly West Fife
Dog friendly places to eat and drink in West Fife
*The Ship Inn, Limekilns*
*The Bruce Arms, Limekilns*
*The Carnock Inn, Carnock*
*Red Lion, Culross (outside)*
The Inn At Charlestown
Peppermill Bothy, Blairhall
Dog friendly Aberdour and Dalgety Bay
Dog friendly places to eat and drink in Aberdour
Aberdour Bistro, Aberdour
The Cafe at Number 16, Aberdour
Post & Pantry, Aberdour
EVOO Café, Dalgety Bay
The Compass, Dalgety Bay
The Harbour View, Kinghorn
The Hillend Tavern, Hillend
Dog friendly East Neuk of Fife
Dog friendly places to eat and drink in the East Neuk of Fife
*Ox & Anchor, Anstruther*
*The Dreel, Anstruther*
Coast coffee, Anstruther
The Grind, Cellardyke
Haven, Cellardyke
Ship Tavern, Anstruther
The Bank, Anstruther
The Upper Largo Hotel & Restaurant
Balcomie Links Hotel, Crail
*The Crusoe, Lower Largo*
*Railway Inn, Lower Largo*
Lundin Coffee Co., Lundin Links
Nosebag Scotland, Elie
Station Buffet Bar, Elie
Clock Tower Café, Pittenweem
Cocoa Tree Cafe, Pittenweem
Larachmhor Tavern, Pittenweem
BistroDory, Pittenweem
Giddy Gannet, St Monans
Sôlt Dining, St Monans
St Andrews Dog Friendly
Recommended dog friendly hotels St Andrews include: Rusacks St Andrews, or Hotel Du Vin, St Andrew or Drumoig Golf Hotel, St Andrews or the luxury Fairmont St Andrews.
Dog friendly St Andrews – places to eat and drink
*The Rhynd, Leuchars*
*The Rule*
*Hatch*
*Spoiled Life*
*The Adamson*
Ziggys
One Under Bar
The New Inn
Central Bar
The Duke's Course
Hams Hame Pub & Grill
The Saint Bar & Kitchen
BrewDog
Greyfriars Inn
The Bothy
The Cottage Kitchen
Hotel du Vin
The Keys Bar
Dog friendly Kirkcaldy and Leven
Dog friendly places to eat and drink in Kirkcaldy
The Steadings
The Chapel Tavern
Weavers Bar & Lounge
Roots & Seeds Cafe Bistro
No.91 Coffee House
Cupcake Coffee Kirkcaldy
Betty Nicols
Chinwag's Cafe
The Spiral Weave
Alfie's, Kirkcaldy
Kangus Coffee House, Kirkcaldy
Jocks Grill House
The Harbourmaster's Café, Dysart
Shorehead cafe, Leven
The Troff, Leven
The Cottage Window Cafe, Silverburn Park, Leven
Dog friendly Burntisland
Dog friendly places to eat and drink in Burntisland
The Fix Fife, Burntisland
Coffee House, Burntisland
Olive Tree Cafe, Burntisland
North Fife and dog friendly Cupar
The Laurel Bank Hotel, Markinch
Golf Inn, Ladybank
The Boar's Head Fife, Auchtermuchty
The Old Barn Coffee Shop, Auchtermuchty
*Falkland Estate, Falkland*
The Stag Inn, Falkland
The Bruce Inn Falkland
Town House Deli & Bakery, Falkland
The Boudingait Cupar
Tina's Little Cafe, Cupar
Milly's Kitchen, Cupar
The Village Cafe, Ceres
*Shipwreck Seafood at The Newport Restaurant*
Fig & Fromage Deli Newport on Tay
East Port Garage and Coffee Shop, Newburgh
The Gardeners Rest, Freuchie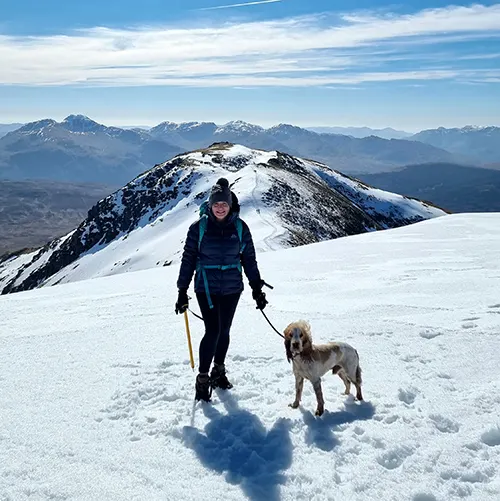 I'm Kate – a travel writer and photographer living in Scotland. Love, From Scotland is the Scotland travel guide that shows you where to stay and how to get outside in Scotland.