Despite living in Scotland for the last 20 years, there is much of the country I have yet to explore (although I guess that is the same for most of us!) so last year we made a pact to change this, visiting the Scottish Highlands, the beautiful west coast and driving part of the North Coast 500.
However, over winter the weather often puts a kibosh on longer travel, which it means we often prefer to stay closer to home. Last weekend, thanks to an invitation by The Elphinstone Hotel to visit the lovely market town of Biggar we had the perfect excuse to explore the Clyde Valley area and visit New Lanark.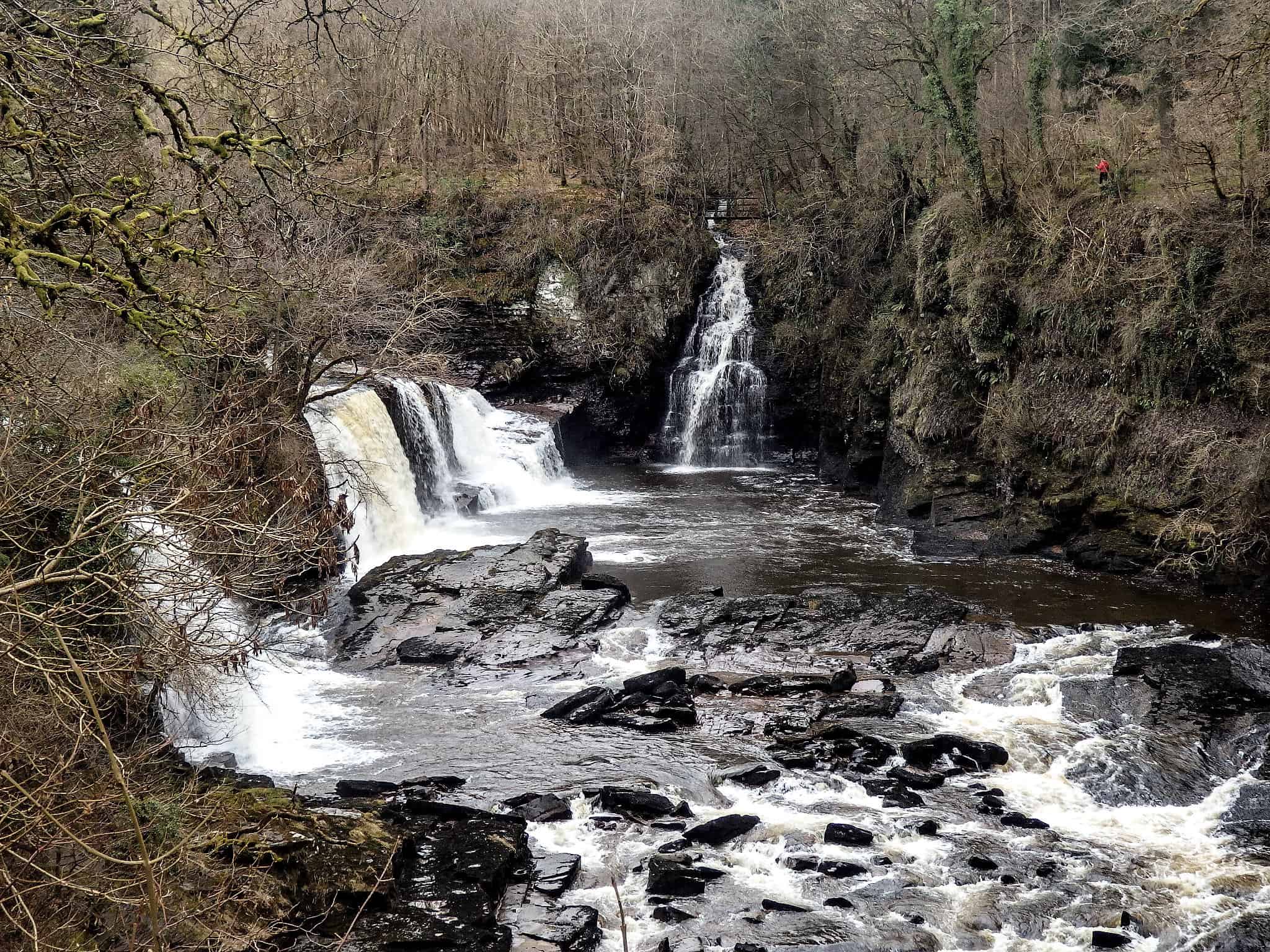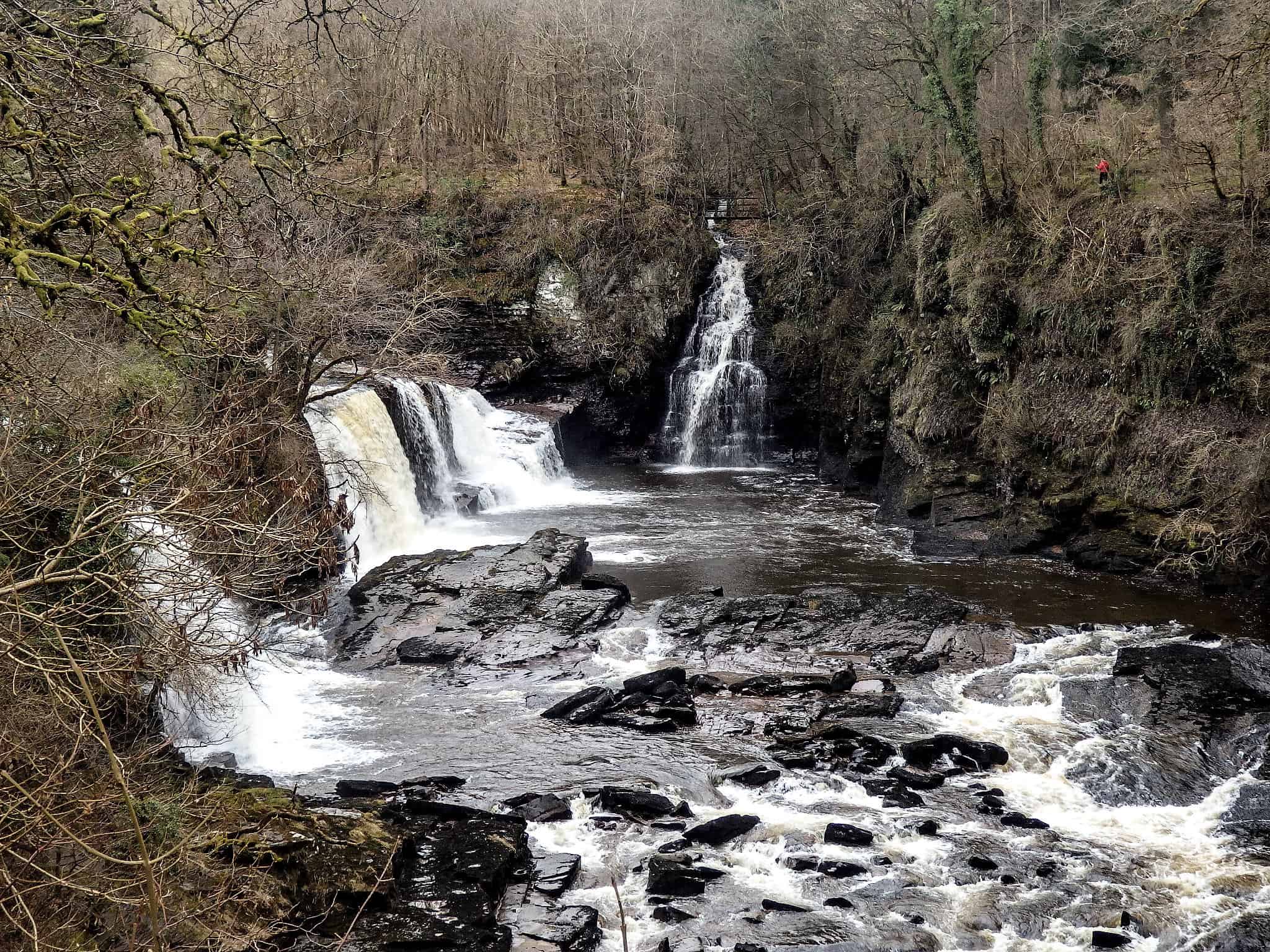 ---
New Lanark & The Falls of Clyde
---
On the edge of two counties, South Lanarkshire and the Scottish Borders, New Lanark is located just 20 minutes west of Biggar and 40 minutes from Edinburgh and Glasgow. Whilst the River Clyde might be famous for shipbuilding in Glasgow, the model industrial village of New Lanark is one of only 6 World Heritage Sites in Scotland and is the real jewel in the Clyde Valley crown.
Set against a backdrop of the spectacular Falls of Clyde, entry to the visitor centre is £9.50 for adults & £7.00 per child which includes the Annie McLeod ride. There is a large cafe on site and if you are a knitter like me, New Lanark also make their own Arran and Double Knitting wool.
To work up an appetite for dinner, we walked the 5km Clyde walkway to see the Corra Linn and Bonnington Linn falls, which thanks to our wet winter were in full flow. The Falls of Clyde Nature Reserve is managed by the Scottish Wildlife Trust with a suggested donation is £3 (pay in the visitor centre)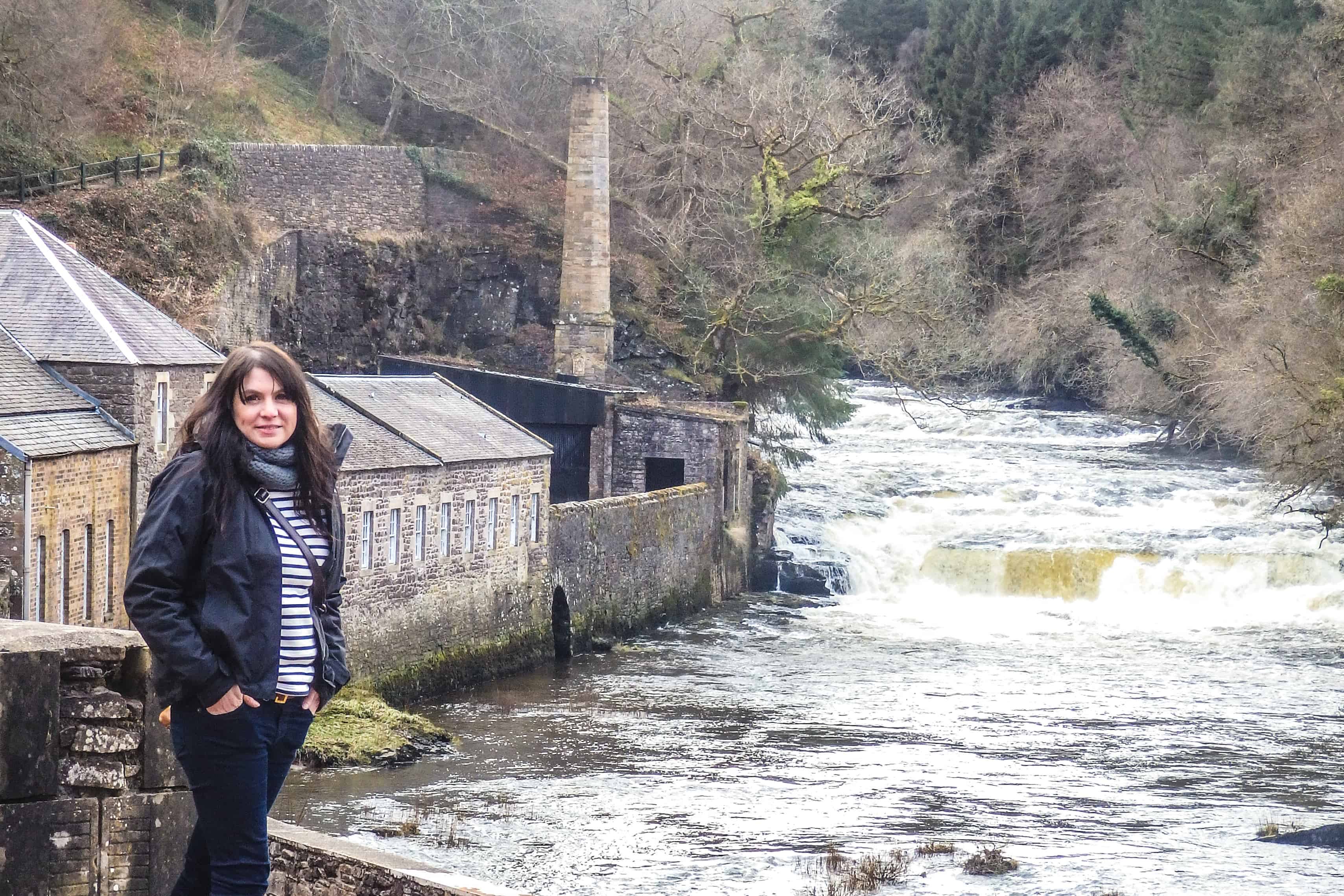 Look! Finally no hat!
---
The Elphinstone Hotel & Restaurant
---
After our walk it was time to head to Biggar to check into our hotel and what we'd heard would be a rather delicious dinner. The Elphinstone Hotel is located on Biggar High Street and has a lounge and a public bar, a restaurant, a function suite and 11 bedrooms. 'The Elph' as it is known locally is family-run and in these days of bland chains and overblown 'boutiques' is still in independent hands, basically my kind of place.
On our arrival, despite a busy late lunch trade we were swiftly checked in, our table reserved in the cosy lounge for dinner, and we were shown to our large comfortable family room at the back of the hotel. After a long bath with Arran Aromatics bubbles (a nice touch) and use of the strong & free wifi, we strolled down for a leisurely dinner by the fire.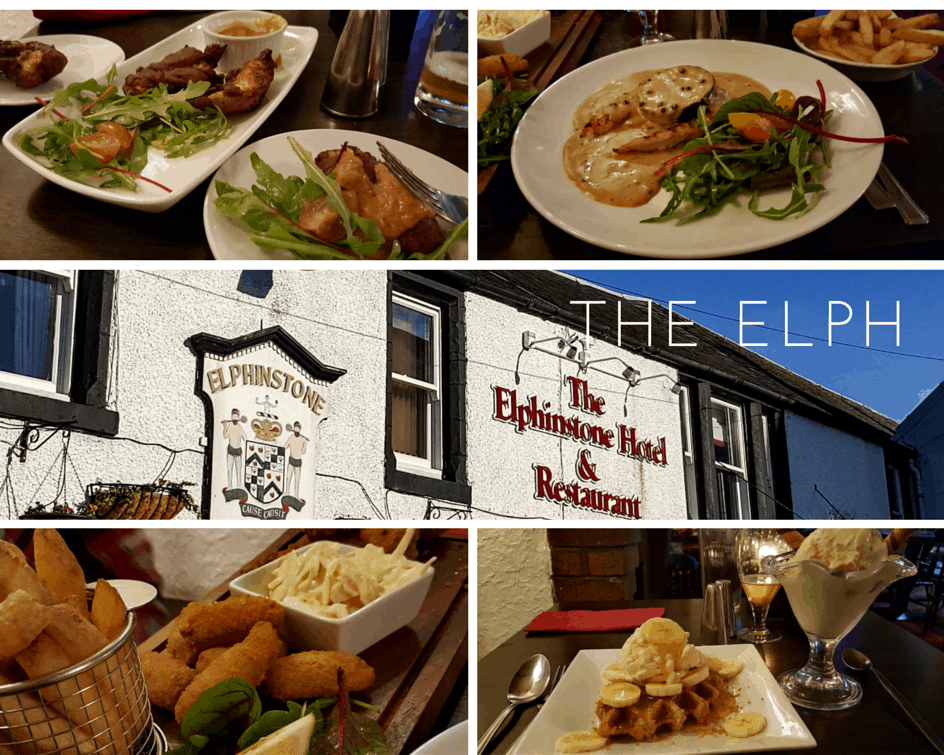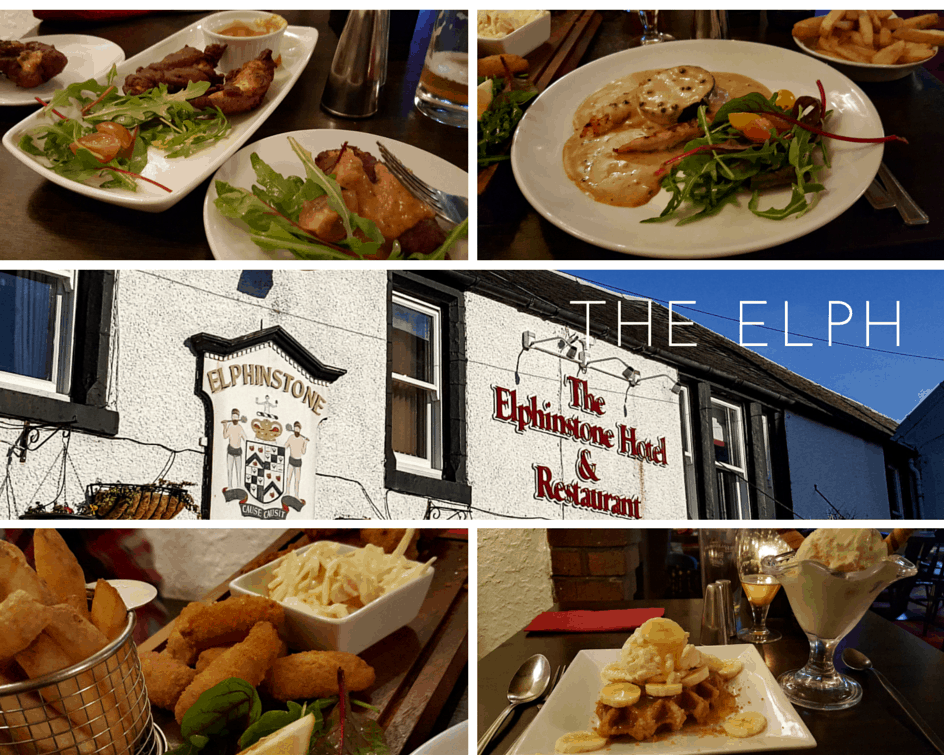 The Elph has a huge traditional menu, plus daily specials, which I rather like – I am not really one for fancy terms I have to google, just give me hearty good food, great beer (they have up to 4 real ales) and good service and i'm happy. Plus they source most of their ingredients locally. It all made choosing rather difficult.
We finally decided on chicken pakora to share as a starter (ha!) as it is my favourite which was served with a spicy dip. My main was also chicken, this time served with black pudding and excellent pepper sauce which I scooped up with great chips. B went for a surf & turf of chicken and scampi, which disappeared rather quickly. Pudding was the total star of the show, we shared locally made Taylor's Ice Cream and a cinnamon waffle with butterscotch & banana – oh this was heaven.
Despite a constant stream of customers looking for a table, service was very well managed by the friendly and warm staff. The night before we arrived the hotel had even won a local award for tourism and throughout our stay the atmosphere was buoyant with locals popping in to offer their congratulations. A couple more beers by the fire and we were happily stuffed.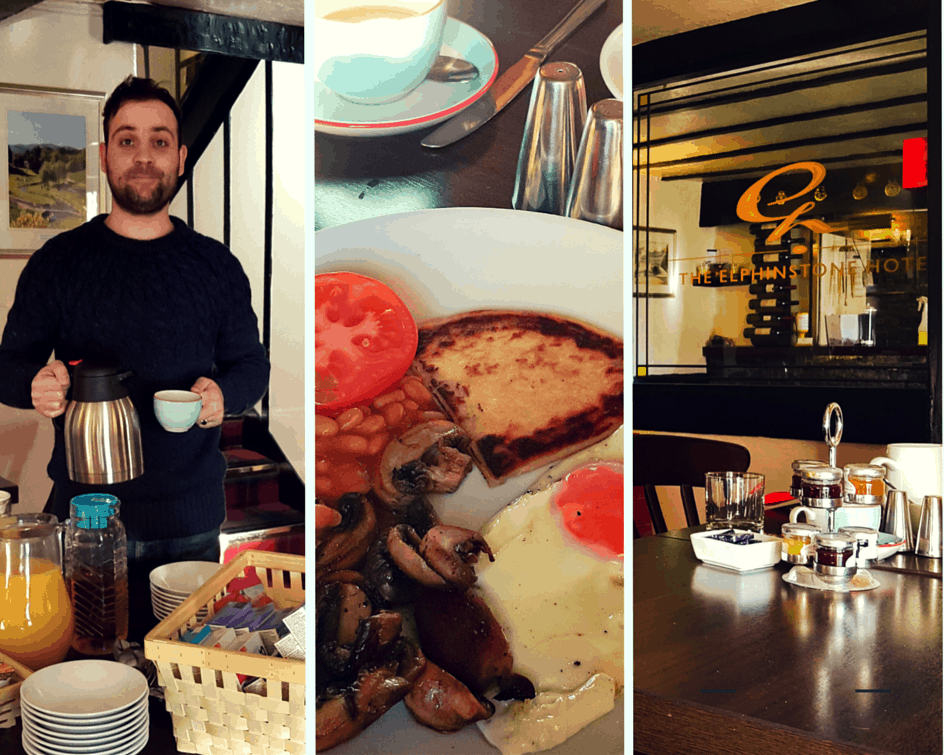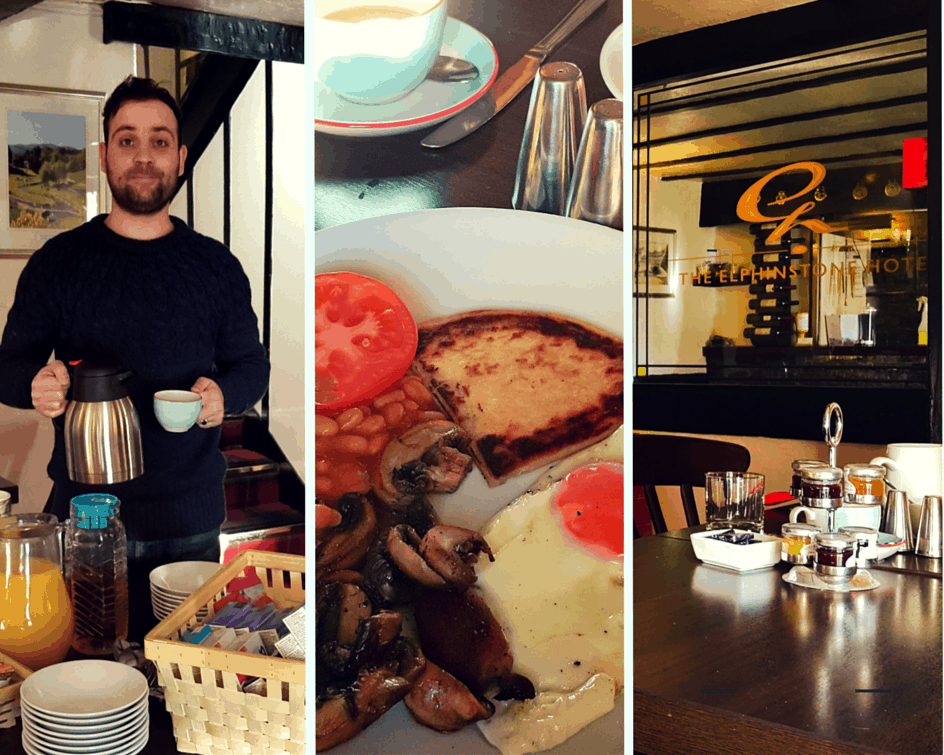 After a great nights sleep in a comfy bed we were up bright and early, well we had to be, breakfast was only served until 9/9.30 which is a tad early! Breakfast was served in the lounge bar (the restaurant is currently undergoing a makeover) and there was coffee, juices, cereals and yoghurt which you could help your self to, plus choose anything you like hot breakfast. I went for a veggie spread and B for his favourite roll & square sausage and tattie (potato) scone. You can take a boy out of Glasgow…
---
Exploring Biggar
---
After breakfast, with the sun splitting the sky, we took a wander around the village, sadly we were actually up too early to visit the award winning Bigger Museum (which opens at 10am) or the Biggar Gas Works (which opens June to September) or the Puppet Theatre (shows are at 1.30) so instead we headed to Dawyck Botanic Garden, 20 minutes west of Biggar on the way to Peebles.
After our stroll (read more about our trip to Dawyck here) it was sadly home time, but with just a 40-minute drive back to Edinburgh, it turns out the Biggar is pretty much perfect for a weekend away. Thanks to the Elphinstone Hotel for inviting us to stay, we had a rather lovely time.
Love from, Scotland x
Linking up with Jo's Monday Walk and My Favourite Trip