The nights might be long and the weather unpredictable, but with snow arriving as early as October, bright blue skies and crisp days, log fires, and of course plenty of whisky to keep you going, Scotland in winter is a great time to visit. An off-season break in Scotland might take a little more planning than a trip in summer, but don't let that stop you. Here is all you need to know about visiting Scotland in winter.
Things to do in Scotland in winter
Visit the Christmas Markets and Winter Festivals – fancy strolling among twinkling lights with a cup of hot chocolate in hand? Scotland has lots of winter festivals – from the extravaganza in Edinburgh to a festival of fireworks over Oban's harbour.
Celebrate the new year on Hogmanay – Scotland's new year celebrations are legendary. How about a fire festival in Stonehaven, a giant street party and concert under the castle in Edinburgh, or why not check into a five-star hotel in the highlands to toast in the new year
Experience Up Helly Aa – taking place mid-January, the Shetland Viking festival of Up Helly Aa is one of those out of the world experiences in Scotland you have to see. Marking the end of Yule, Up Helly Aa is made up of 12 huge fire festivals across Shetland.
Dine out at a traditional Burns Night – celebrating Scotland's National bard, Robert Burns, a burns supper takes in traditional Scottish food, along with a recital of a few of Burn's most famous poems – along with rather a lot of whisky.
See the Northern lights – whether you call them Aurora borealis, the merry dancers or the Northern Lights, Scotland is a great place to spot them. Head as far north as you can, find a spot looking north with no other lights and keep your fingers crossed for a display.
Get out for a walk – walking in Scotland in winter is magical!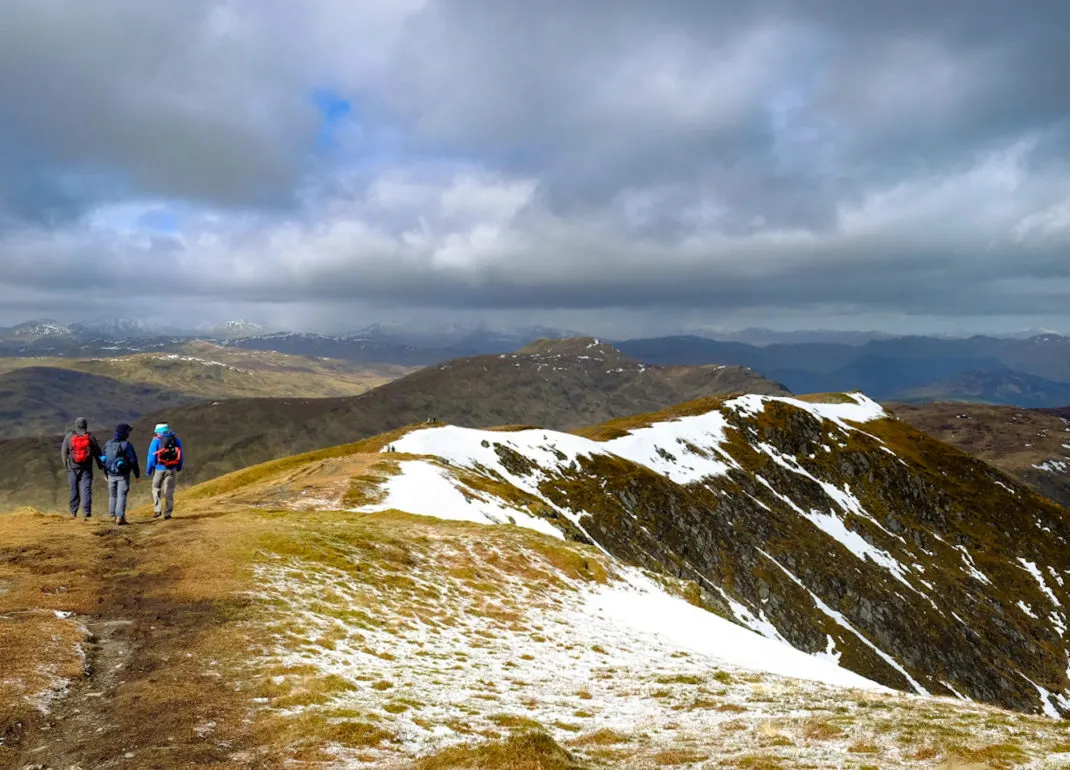 What to do in Scotland in Winter
Outside of the cities, as Scotland is winter is much quieter than the summer and a lot of tourist attractions close for winter.
This includes a lot of Historic Environment Scotland and National Trust for Scotland properties which close in October and reopen at Easter, although the grounds of many houses and castles are often open for visitors – check their websites before you visit.
The centre for winter activities in Scotland is the Cairngorms National Park. Explore Rothiemurcus Forest, go for a great walk at Loch Morlich, visit reindeer in their mountain wilderness (walks start everyday at 11 am) and go dog sledding.
Skiing in Scotland
If you are looking for snow in Scotland, there are five ski centres.
The largest ski resort in the UK is at the Glenshee Ski Resort in the Cairngorms National Park, with 22 lifts and 36 runs – check out the huge Glenshee piste map.
The Nevis Range by Fort William also offers winter activities on Aonoch Mor piste with 35 runs and, for non-skiers, the only gondola in Scotland – the Nevis Gondola.
Other ski centres can be found at Glencoe Mountain Resort, The Lecht, and Cairngorm Mountain.
Did you know the world's best indoor ice climbing is actually in Scotland? At Kinlochleven by Glencoe is the Ice Factor, where 400 tonnes of snow make up their 12m high ice wall. Learn to ice climb or learn winter skills to get you out climbing on the snow and ice for real in Scotland's mountains.
Where to go for a walk in Scotland in winter
Walking in Scotland in winter can be magical, especially if there is snow on the ground. While climbing up above the snow line is for those with experience in winter hillwalking and using crampons and ice axes, there are plenty of lower level walks in Scotland which will give you incredible views of the snowy hills.
Have a look at my guide to walking in Scotland for my favourite walks, and if you do want to try your hand at a small hill, my guide to beginners hills. If you are planning on heading into the hills, read this advice on winter walking from WalkHighlands. If you fancy getting serious about winter walking, think about a winter skills course.
Remember that the days are very short in Scotland in winter, there are on average 6 hours of proper daylight – so head out early and carry a torch. If you do get into trouble phone 999 and then ask for the Police and then ask Mountain Rescue.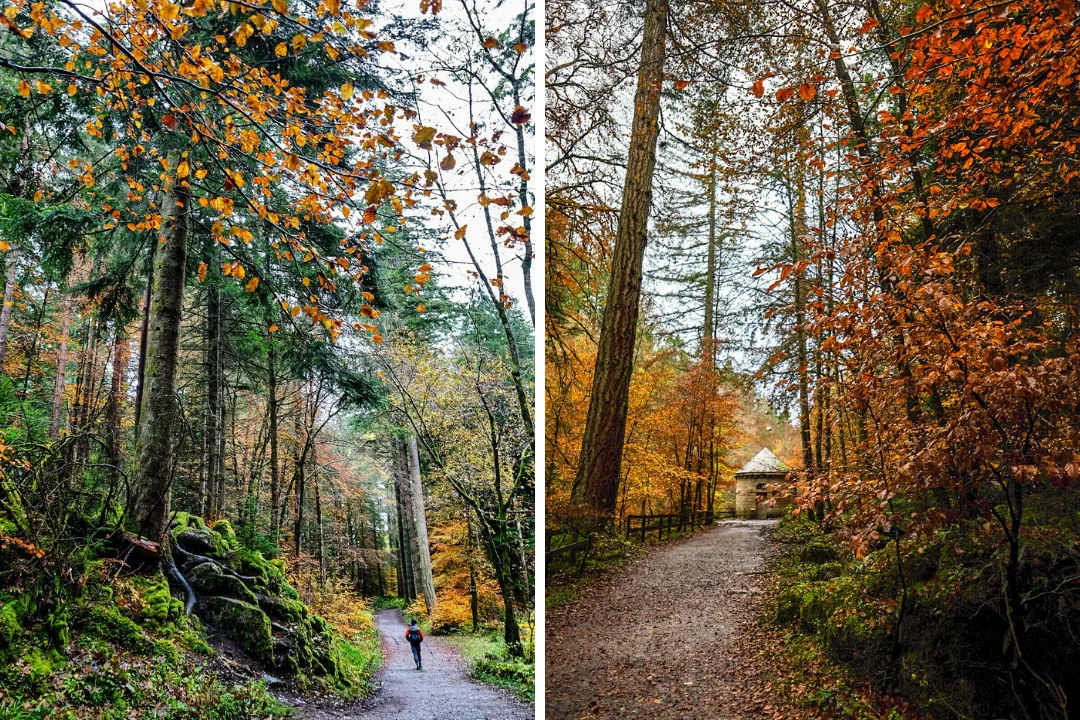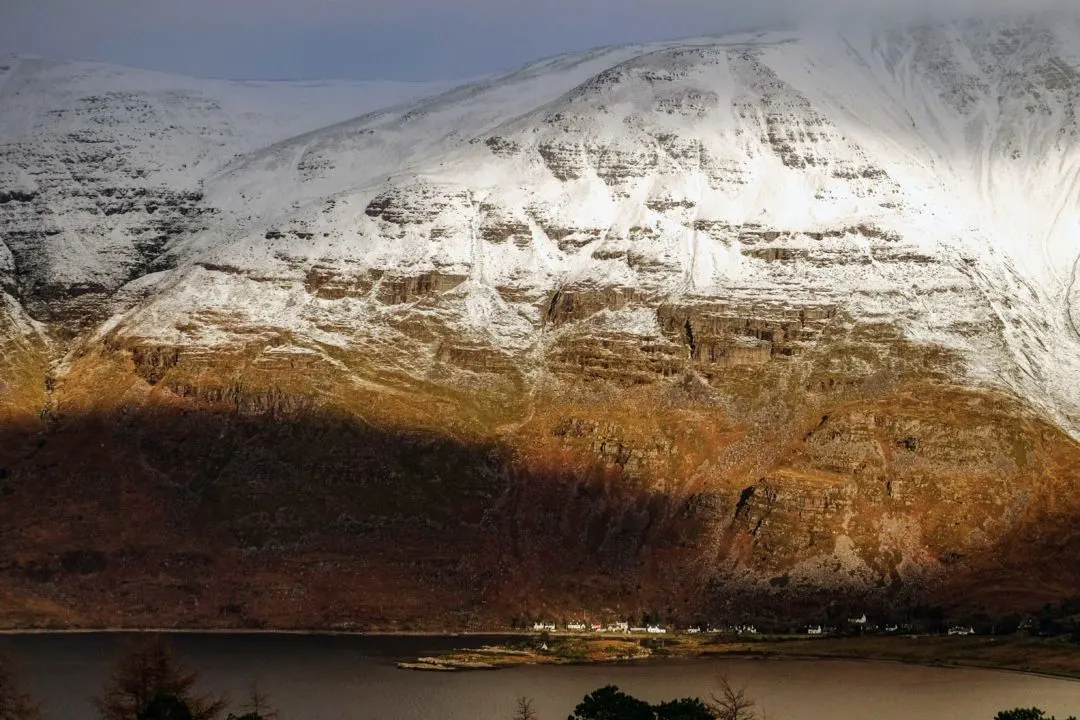 The weather in Scotland in winter – is it really that bad?
In one word – no. Winter are like any season in Scotland – you never know what the weather is going to be like. So prepare for everything – torrential rain to gorgeous blue sky sunny days, hail, and snow – and often within seconds of each other. You should always follow the Scottish philosophy – just wait 5 minutes and the weather will probably change again!
How cold does it get in Scotland in winter?
Temperatures in Scotland in winter generally range from just below zero to +10 degrees; however, in 2010 and 2018 we had 'proper' winters where the temperatures got as low as -16 in Edinburgh and the snow stayed in the cities for a few weeks during the 'beast from the east'.
Does it Snow in Scotland in winter?
Yes – however you are more likely to see snow in Scotland in February and March each year.
Driving in Scotland in Winter
Driving will be your biggest concern in Scotland in winter – wind, snow, ice, and driving in the dark on single track roads. Legally you can use snow chains in Scotland, but you have to remove them as soon as the snow goes. Most cars here don't use snow chains as due to Scotland's maritime climate and salty air, and the snow rarely stays for long.
While all the main trunk and A roads (managed by Transport Scotland, or local authorities) are regularly gritted throughout winter, minor B roads can be a hazard.
One thing to remember is stopping distances – in winter, this is a lot shorter than you expect, so slow down carefully. If you are hiring a car, it is also not recommended not to hire one with rear-wheel drive – they aren't great in the snow.
If you do get stuck, starting in a higher gear might help you get up that hill and carry a shovel – just in case you need to dig out your car. If you do start to slide, don't use your brakes, use a low gear and steer into the skid. It is also worth remembering sunglasses as low winter sun can be a nasty hazard in the evenings.
For more advice on Scotland in Winter visit:
For winter driving advice visit Police Scotland
The Met Office put out yellow, amber and red snow and ice weather warnings, you can download an app to your phone which will alert you
Follow the brilliantly named trunk road gritters on the Transport Scotland website
The Transport Scotland website also notifies you of road closures due to essential winter roadworks or weather.
What to wear in Scotland in winter
If you are just visiting Edinburgh or Glasgow, then dress how you normally would on a cold and wet day – wear a good waterproof and woolly hat, hood, gloves and scarf! In winter in Scotland, an umbrella is generally useless – the wind in Edinburgh can destroy one in seconds.
If you are planning to head out into the countryside or up to the Highlands, then you will need outdoor clothing – think quick-drying fabrics and lots of warm layers.
Start with a good base layer – I like merino wool and then a thin fleece (or tech material) jacket.
On top, I always wear a thin wind and waterproof jacket. Good waterproof jackets fro Scotland are made with either Goretex or Nikwax coating.
I always carry lightweight waterproof trousers which pack up really small to fit in my bag.
I can't live without touchscreen gloves – you don't have to keep taking them off to use mapping apps on a GPS or your phone!
If you are planning on doing any walking or hiking then you will need waterproof hiking boots.
Finally, how much daylight in Scotland in winter is there?
Not much! Although we do not have an eternal night here in Scotland, it can feel like it – it is no wonder so many Scots are prescribed vitamin D. Expect it to get light around 8.30 am and be dark by 4 pm.
With only around 6 hours of daylight a day in winter you need to squeeze a lot in or be prepared to spend plenty of time in front of a roaring fire, or one of Scotland's many distilleries – thankfully Scotland in winter can easily be warmed up by a wee whisky!
Love, from Scotland x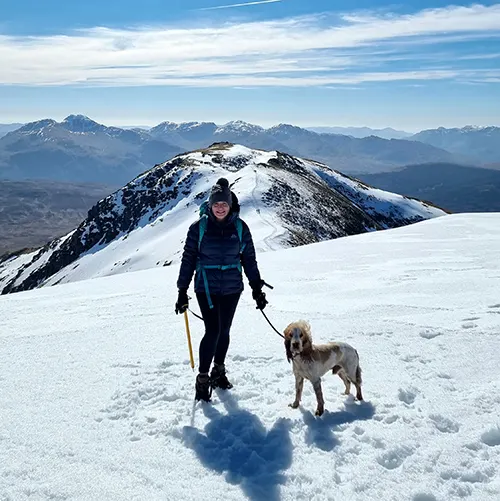 I'm Kate – a travel writer and photographer living in Scotland. Love, From Scotland is the Scotland travel guide that shows you where to stay and how to get outside in Scotland.