BEER! – That hopefully got your attention. I love beer. Whether you prefer 'craft beer' or 'real ale', beer is still beer, and something that Edinburgh does fantastically well – so to help you out here is my mini guide to Edinburgh craft beer and real ale pubs. The guide has been split into areas so if you fancy a wee crawl, it's all set up for you!
Key
T is for traditional, where the hand pump and cask conditioned beer is king, often with a historic interior and just about still resident regulars.
M is for modern, with keg and cask and a good selection of bottled craft beers. Interiors range from upgraded old man's pubs to steel and glass.
T/M is for traditional pubs with a modern attitude – otherwise known as my favourites.
Edinburgh Craft Beer
To help you find your way around, here is a map of all the pubs mentioned in this guide. If the map isn't working then you can view it online.
The Old Town
The Old Town is a haven for those who like to drink beer in tucked away boozers. Not all of them are good though. Here are five to try:
The Bow Bar This may look like one of Edinburgh's oldest pubs but it is actually a modern recreation. 8 traditional air fonts, 100s of whiskies and a cosy interior. It's easily missed as it is hidden away in plain sight on Victoria Street, but then that is no bad thing. 80 West Bow (t)
The Brass Monkey: one of my favourite Edinburgh pubs, hands down. Dark and a little dingy, it isn't really known for its real ale although it does have hand pumps, its one of the city's best bars to pull a stool up at. Plus daily films are shown in the back room. 14 Drummond St (t/m)
Brewdog: You can't write a beer post and not mention Brewdog. The brewery's 2nd bar opened in Edinburgh in 2011 and proudly doesn't serve crap lagers. They do however sell very strong beer and the Cowgate is the perfect place to roll out into. Noisy and fun. 143 Cowgate (m)
The Halfway House: Whilst other pubs may declare otherwise, in my opinion, this is Edinburgh's original tiny pub. To find it walk down Cockburn Street until you spot the entrance to Waverley Station down an alley and head down the stairs. CAMRA members get 50p off a pint. 24 Fleshmarket Close. (t)
Holyrood 9a: Beer and brilliant burgers. Enough said. 1 Holyrood Road (t/m)
The New Town / Stockbridge / Canonmills
If you fancy exploring the New Town or even walking the Water of Leith, here are 3 pubs you can stop off at along the way:
The Baille: is how a local pub should be – and they pride themselves on it. Good selection of real ale on traditional hand pumps and a good food menu, with some creative offerings. Lovely place to hole up in winter when the fires are on. 2-4 St Stephens Street (t)
The Cumberland Bar is a new town stalwart, with a lovely beer garden. Traditional, unspoilt interior with a very high bar festooned with lovely real ale hand pumps. You will see plenty of Edinburgh's posher wildlife in here, but don't let that put you off. 1-3 Cumberland Street (t
The Stockbridge Tap – a Stockbridge stalwart. A traditional pale wood interior, an excellent selection of beers (consistently I've found) and good burgers. Perfect for a pint as you are exploring the charity shops. 2-6 Raeburn Place (t)
Leith
Teuchters Landing This cosy Leith pub is in an old waiting room for the steam ferry from Leith to Aberdeen. With 18 beers on tap, 100s of whiskies and one of Edinburgh's best beer gardens perched out on the dock. They even offer free suntan lotion on sunny days – rare indeed! 1c Dock Place (t)
Carriers Quarters – The Carriers describes themselves as a 'little bar with a big heart' – just like me then, only I am not a bar. But if I was a bar I'd embody this place. Love it. Go – you will too, it is everything I love about Leith in a nutshell. 42 Bernard Street (t/m)
Southside
Cask and Barrel (Southside) There are two Casks in Edinburgh (the other is on Broughton Street) but this is my favourite. Traditional big room pub with an oval bar, football on TV and a large selection of hand pumps. They even won the CAMRA Edinburgh pub of the year just after they opened. 24-26 W Preston Street (t)
Dagda. A tiny one roomed pub with a good selection of Scottish real ales, a duke box and unusually a South African welcome. Don't be put off by the fact you can't see in – this is not one of those bars. 93-95 Buccleuch St (t)
Tollcross / Lothian Road
Tollcross is not just for students these days, but beer connoisseurs; it also may hold the most disparate group of pubs out of the lot. From CRAFT BEER to drinking in a church hall, don't let the area put you off (ok ok, it's got a lot better since I was a student)
The Blue Blazer might be located right on the edge of Edinburgh's pubic triangle, but this is not a fur coat nae knickers pub. Hand pumps galore, a great and lively atmosphere and a good selection of rum make this pub worth venturing into the naughty path of! 2 Spittal Street (t)
Cloisters is a stalwart of the Edinburgh real ale scene; posting their huge board of real ale (and sometimes real cider) almost on a daily basis. To see what they have on today check out their twitter. You are also drinking in an old church hall – fab interior. 26 Broughton Street (t)
The Hanging Bat: if it's craft beer that you want, then the Hanging Bat should be your heading. Showcasing a huge range of cask and keg beers, hot dogs and smoked food, as well as being proud to sell their beer in schooners, the bat is probably Edinburgh's best craft beer bar (until they open their next place that is) Regular meet the brewer nights heads up an impressive roster. 133 Lothian Rd (m)
For extra bonus points:
On your travels look out for local Edinburgh breweries to try: Alchemy Brewery, Barney's Beer, Pilot and Tempest. Further afield in Scotland I'd also recommend Harviestoun, Cromarty Brewing and Inveralmond Brewery.
If there are any Edinburgh craft beer or real ale pubs I should be adding to this list let me know!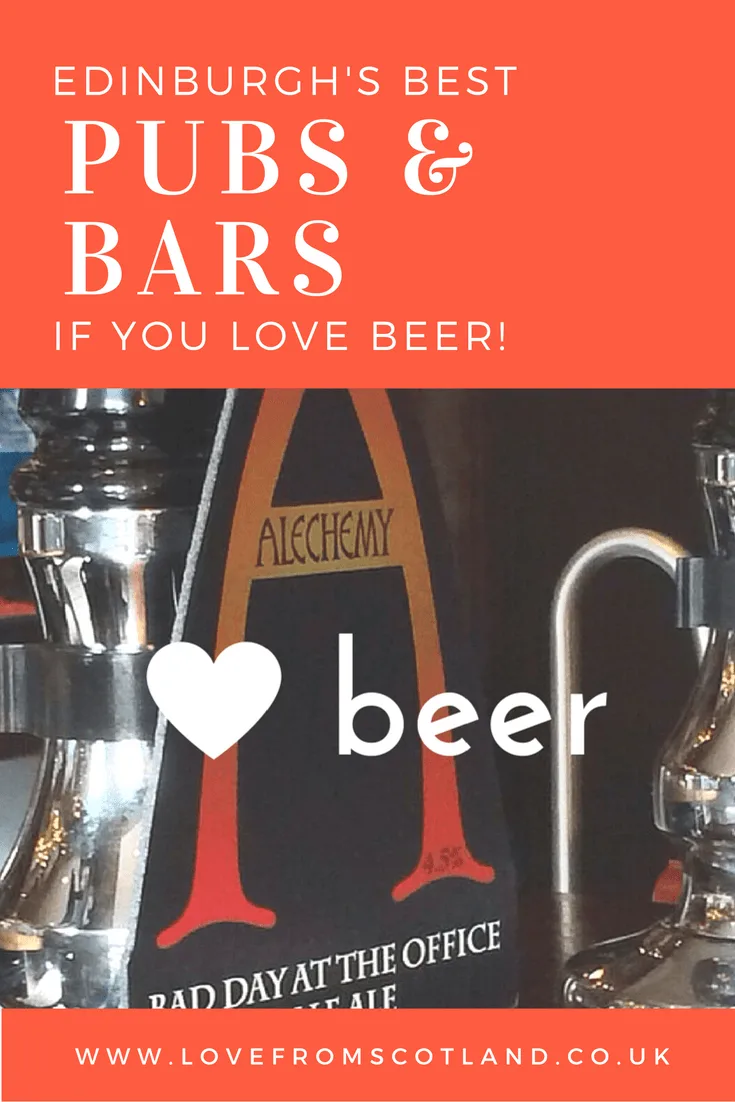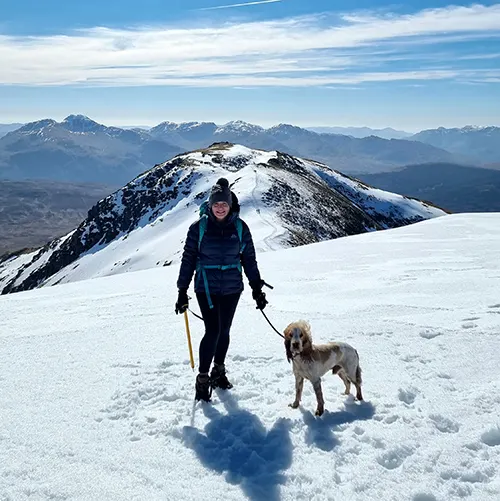 I'm Kate – a travel writer and photographer living in Scotland. Love, From Scotland is the Scotland travel guide that shows you where to stay and how to get outside in Scotland.