Rising just 350m above Loch Lomond, Conic Hill gives up one of the best views in Scotland – and achieved without much effort at all. Here is how to climb it.
Above the village of Balmaha on the east side of Loch Lomond is a dumpy rocky mini mountain full of character with incredible views. Located on the iconic West Highland Way, and on the Highland Boundary Fault line, the climb up takes around an hour from the Loch side. For beginner hillwalkers, this is a great introduction to hillwalking in Scotland. Look out for shaggy highland coos!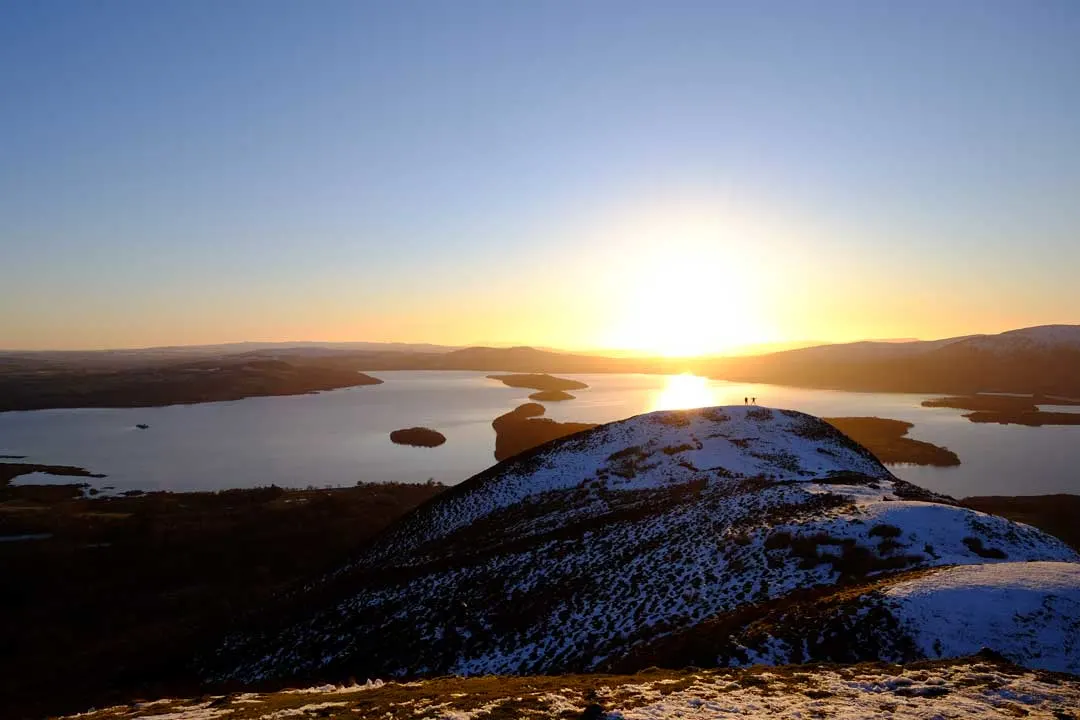 How to climb Conic Hill
Conic Hill is on the east side of Loch Lomond. You will need to park at or catch the bus to the Balmaha Car Park (long stay, paid). The path to the hill is from the back of the car park.
From the car park follow the path up the hill, keeping right at any T junctions, following the West Highland Way thisle signs. Climb up through the trees until you reach a gate, through which you emerge out onto the open hill.
Follow this path to the summit. Make sure you detour off to the right near the top for an amazing view down to Loch Lomond's islands before ascending to the summit itself. Return via the same way.
Conic Hill Car Park:
Park at: Balmaha Car Park, Loch Lomond and the Trossachs National Park
Public transport: Catch the train to Alexandria or Balloch and catch the McGills 309 bus to Balmaha – timetable. Book your train tickets with trainline.com.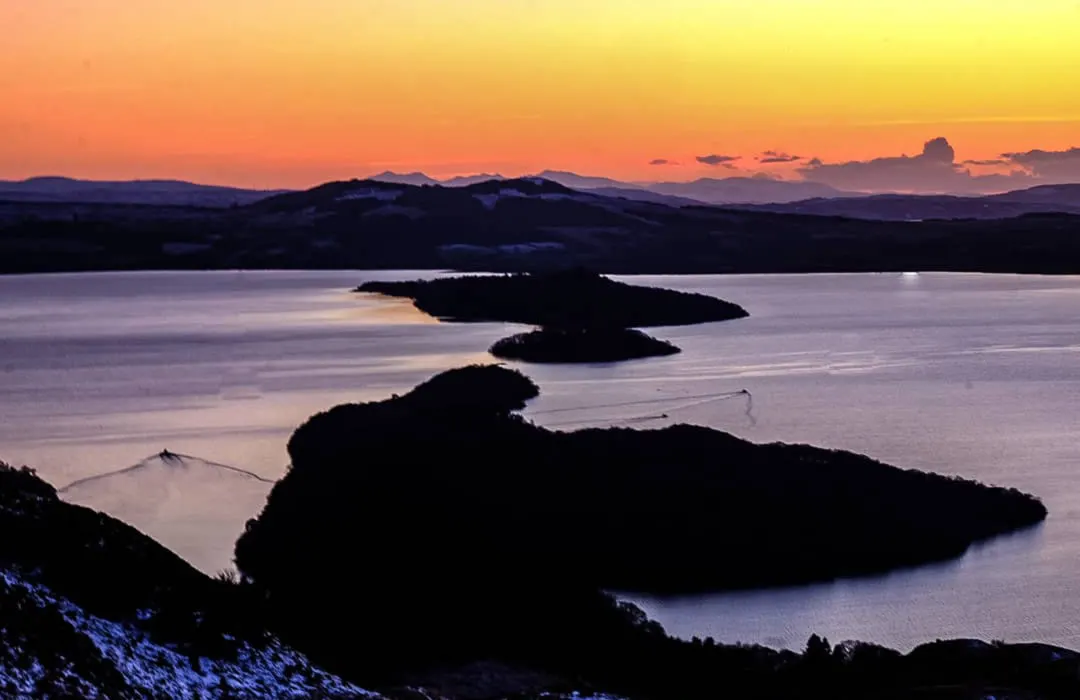 Conic Hill Route Maps
Best Time To Climb Conic Hill?
Scotland's weather is best in May and September. The sunsets in winter can be fabulous over Loch Lomond, but be prepared for weather changes.
How high is Conic Hill?
Conic Hill is 361 m (1,184 ft) high.
How To Get To Conic Hill Scotland
The hill sits above Loch Lomond at Balmaha, 1 hour north of Glasgow and 2 hours from Edinburgh. There are daily bus services to Loch Lomond with City Link and local buses to Balmaha.
Car Parking at Conic Hill
Parking is at the Balmaha Car Park.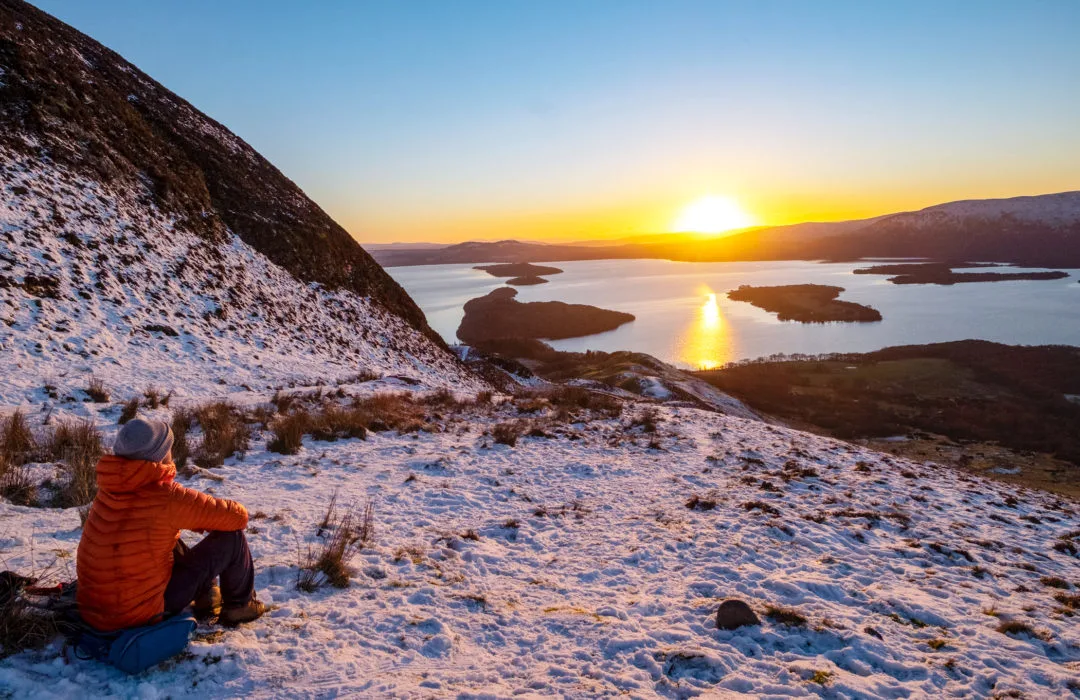 How Long Does It Take To Climb Conic Hill ?
With a reasonable level of fitness, the walk up and back will take around 2 hours from the car park.
How Hard Is It To Climb Conic Hill?
Climbing Conic Hill is not technically hard, but it is steep and muddy in places. You will need walking gear and be prepared for the weather to change in a heartbeat – mist, fog and rain can sweep in quickly.
Read more – My beginners guide to hill walking in Scotland
Read more – More hills for beginners in Scotland
Read more – More iconic mountains in Scotland to climb
Read more – More things to do at Balmaha and where to stay for Conic Hill
Love, From Scotland x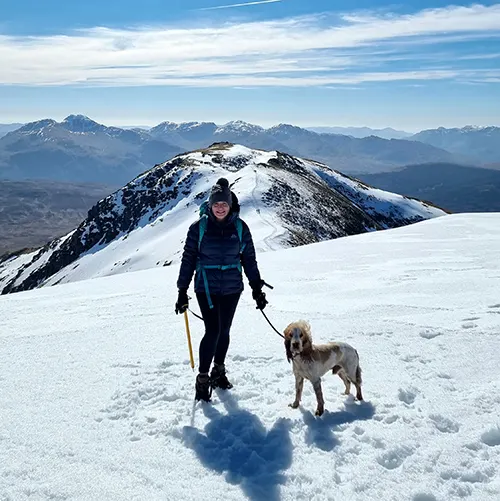 I'm Kate – a travel writer and photographer living in Scotland. Love, From Scotland is the Scotland travel guide that shows you where to stay and how to get outside in Scotland.