With cute cafes, cocktail bars, designer shopping and some of Edinburgh's grandest Georgian new town streets, just 5 minutes walk from the hustle and bustle of Princes Street is the Edinburgh West End Village.
The Edinburgh West End Village
Between Haymarket station and Princes Street sits a secret village hidden behind the bustling Shandwick Place. Centred on pretty William Street, the shops of the West End Village was built in 1825 to allow the wealthy residents of nearby Coates Crescent and Melville Street to shop locally for their groceries. Today, the village streets are packed full of small independent shops, restaurants and bars. If you are looking for a cool neighbourhood to stay in Edinburgh, here is how to spend 24 hours in Edinburgh's West End.
10am – but first, coffee!
It might have a cheeky name (yes the posh West End Village has had a few resident madames over the years!) but inside Strumpets Cafe at 35 William Street is a rather lovely little cafe. I loved the cafe's little touches – from the little slice of fruit cake served with your the coffee to the minted water on the tables, with vintage furniture, great Artisan Roast coffee and a selection of cakes, soups, quiches and salads, Strumpets is a cosy space to curl up for an hour and plan out your day. Coffee shop perfection!
11am – Search for Sherlock Holmes
The best way to get to know an area is to take a walking tour, and the West End Village has audio tours for you to follow – each taking around 10 minutes. Find out about the West End's famous residents through the Historical Tour, or find the home of the doctor who inspired Sir Arthur Conan Doyle to write Sherlock Holmes on the Mystery Tour – and discover a secret word to win a prize.
The audio tours are really easy to use, just log on to the West End sound walks webpage and press play – you will need some headphones to get the full effect! My favourite fact about the West End is that the spires of St Mary's Cathedral are named Barbara and Mary after the spinster Walker sisters who paid for them. Does any other church in the UK have a steeple called Babs?!
1pm – head to William Street for lunch
Lunchtime on William Street is a busy affair with the surrounding Georgian office buildings emptying out their starved staff. Have a little more time? Then head to Maialinos a Tuscan deli specialising in Italian pork (Maialino means little pig) owner Claudio creates some of Edinburgh's finest sandwiches.
Try the Spianata Calabrese (extra hot salami), Brie de Meaux, rocket & roasted red peppers or Maialino's version of a bacon buttie – Pancetta with smoked cheese and homemade red onion chutney. You will be very sad that your office is nowhere nearby!
2pm – time to get a little cultured – or go shopping!
Whether you want to discover what the inside of a Georgian House would have looked like in the 18th century, Edinburgh's famous faces at the National Portrait Gallery, or the Gallery of Modern Art, they are all within 10 mins walk of the west end. Otherwise, walk down to pretty Stockbridge for a stroll along the historic Water of Leith.
If you prefer to exercise your wallets, the West End is full of independent boutiques – Frontiers Woman and Just G Boutique both stock a great selection of unusual brands. For men check out Frontier Man and Solo Menswear. If you are looking for an afternoon spa hideaway I love Chamomile Sanctuary – their nail bar is one of the prettiest I have seen in Scotland, and their treatments are always super relaxing.
5pm check in – Boutique not Budget at the Hub Hotel
Our hotel for the night was the newly refurbished Hub Hotel directly opposite Haymarket Station which made for an incredibly handy check-in.
Our twin room was budget-sized, but boutique quality – the Hypnos beds were covered in thick sheets, there was a luxury shower room with White Company toiletries and the snacks were brownies and vegetable crisps. The hotel is also fitted out with a full sky tv package and a smartphone which is yours for your stay – book a tour, log in to your Instagram and make calls – its all included – really handy if you can't find wifi – although the hotel also offers high-speed internet access.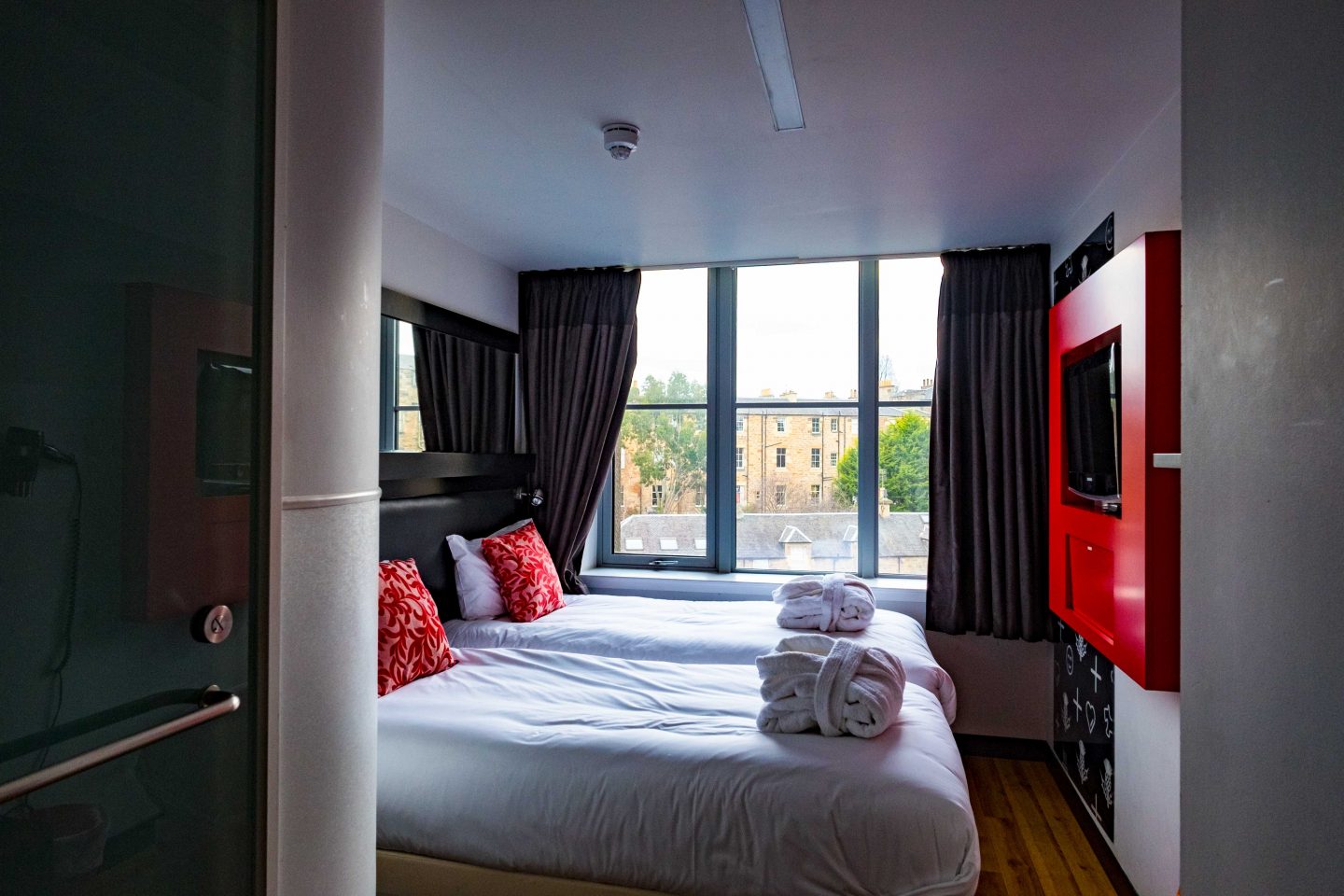 7pm – Dinner & Cocktails in Edinburgh's West End
We headed for dinner at Edinburgh institution, the Room in the West End, which serves modern Scottish dishes in a cosy basement restaurant. With temptations such as bridies stuffed with Stornoway black pudding & lamb shoulder (£6.95) or, chicken escalope with wild mushroom & tarragon risotto (£15.25) we went for a delicious slow braised beef blade with crispy haggis (£16) and on the other side of the table a sirloin steak with green peppercorn cream sauce (£25).
After dinner, there are lots of bars in the west end to tempt you for a drink. Above the Room in the West End is Teuchters Bar, or if you are looking for cocktails cross the road to the atmospheric Voyage of Buck or head to Heads & Tales under the Huxley which is the home of Edinburgh Gin. To finish off the night in style Ceilidh fans will love The Ghillie Dhu.
10am – The morning after the night before at The Huxley
With quirky decor, comfy sofas and a full breakfast menu to take your time over until 11.30am, The Huxley is the perfect spot for (ahem) the morning after the night before. The Huxley Breakfast is served 8-11.30am and the Huxley Brunch is served on Sundays from 12am-5pm. Try the eggs florentine – delicious! Breakfast at the Huxley is huge, tasty and served with a smile, but my favourite part is the massive picture windows – I could spend all morning staring out of the window onto the West End people watching over lots of much-needed coffee.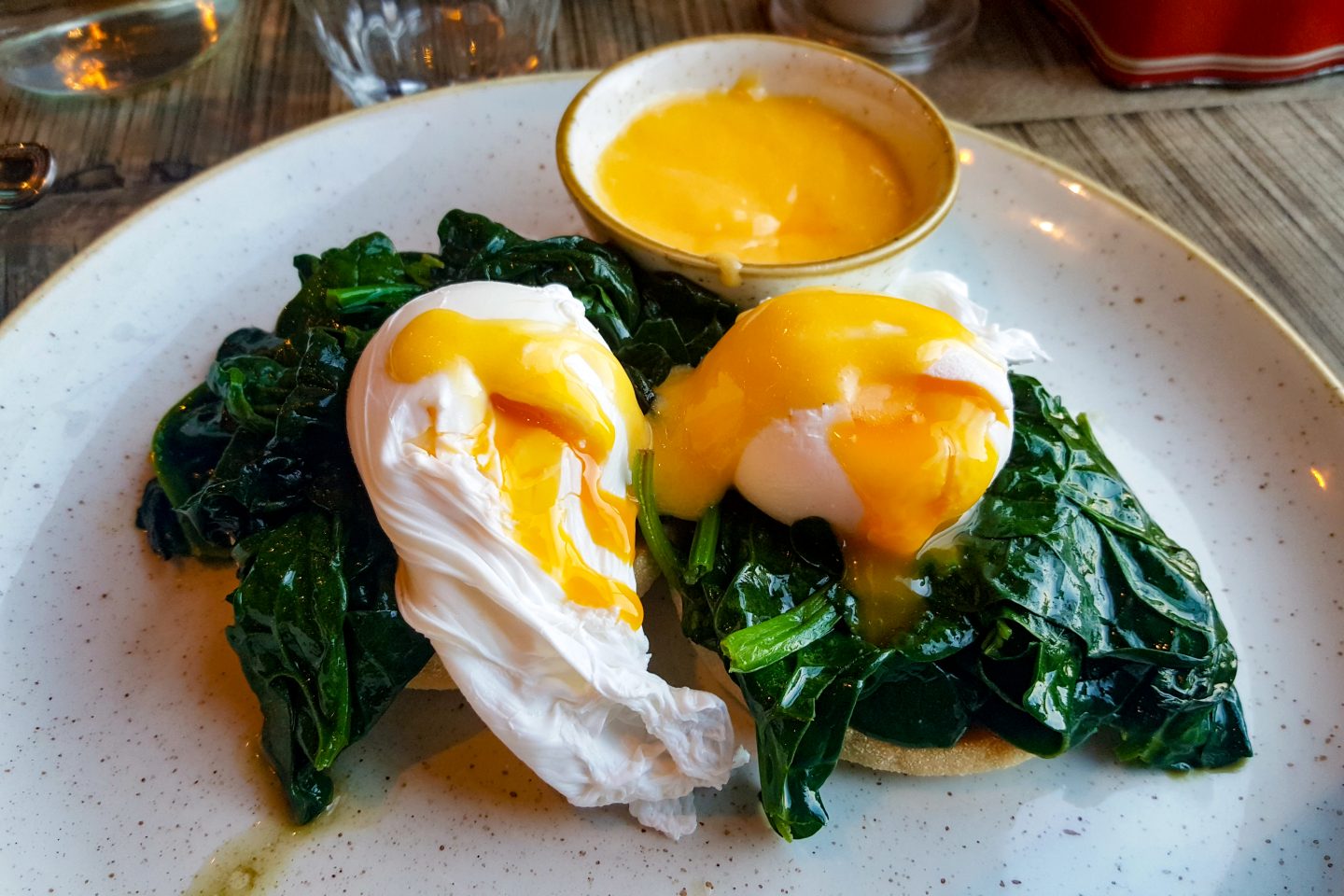 Thanks to Edinburgh's West End for inviting us to stay, we had a great West End weekend!
I have popped all of our stops on the map below.
Love, from Scotland x