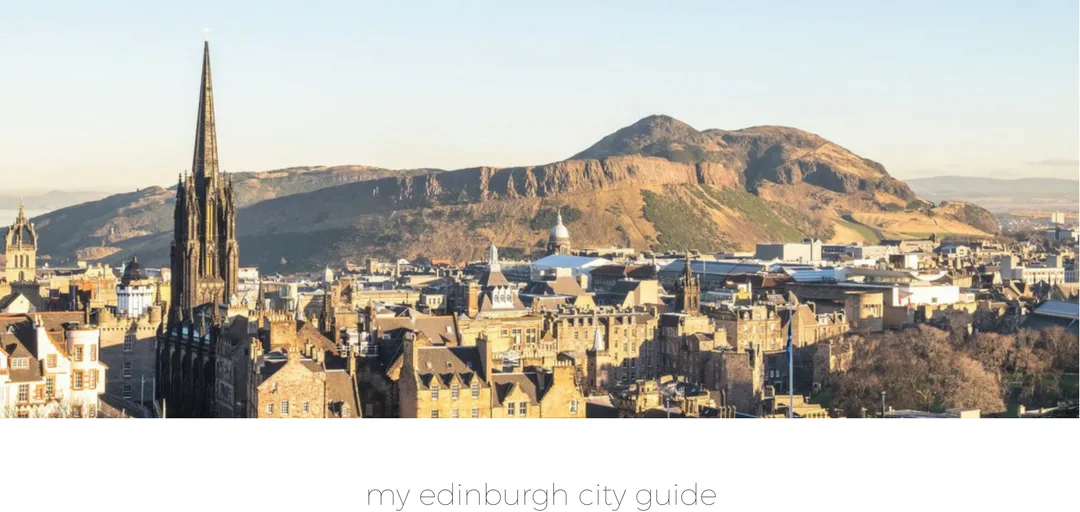 When I go on a city break I want to know more about the city I am visiting – what neighbourhood I should stay in, what to do on a Sunday afternoon, where the coolest bars are, basically, I want to become a local for the weekend. Here is my local's guide to Edinburgh.
Things to do in Edinburgh
---
There are some Edinburgh tourist attractions that are a must do – I always take people to the Castle, to explore the National Museum of Scotland, and the disorientating mazes and tricks of light in Camera Obscura. You also have to watch the penguins parade at Edinburgh Zoo!
However, once you have done all the 'must do's' make sure you take some time out to discover Edinburgh away from the tourist areas. Why not walk from Leith to Stockbridge along the Water of Leith, stroll around Edinburgh Botanic Garden, or just grab a coffee and sit in one of our huge number of parks – I love Inverleith Park with its castle views – and just soak things up.
If you are visiting Edinburgh with kids, have a look at my top tips for families coming to Edinburgh with lots more ideas.
Where to stay in Edinburgh
---
Edinburgh's villages are where the locals spend our weekends; meeting friends for brunch, strolling around a market and propping up our favourite local bars. Easily accessible from the city centre by bus or on foot, with independent high streets, small cafes and quirky restaurants, you could spend a whole trip to Edinburgh in one of its villages, and immediately want to move in. Here are my favourite villages:
More Edinburgh village guides coming soon!
Where to Eat in Edinburgh
---
Edinburgh's restaurant scene is famous worldwide – and not just for haggis, fried mars bars and whichever place does the best fish and chips on the Royal Mile. However, you don't need to spend a fortune on microwaved food or resort to eating baked potatoes. Edinburgh is full of tiny one old pop & a couple of stool places, hipster start-ups and quirky Asian hangouts. Whether you prefer Italian, Greek, Tacos, or basically could eat breakfast all day long, have a look at my favourite places to eat in Edinburgh in my guides below.
Street Food in Edinburgh
---
Whilst not such as a huge thing as in other cities, you can find great street food in Edinburgh. Head to either the Food & Flea Market (at the end of East Market Street) or the Pitt Street Market (Bonnington, take buses 11, 7 and 14) for beers, bands and brilliant food pop-ups. Street food is also available at the Stockbridge, Grassmarket, and Leith Sunday Markets. The Biscuit Factory, also in Bonnington, holds a series of pop up events year round.
Edinburgh Pubs and Bars
---
Whilst Glasgow will forever hold the reputation as Scotland's friendliest city, Edinburgh can certainly hold its own. Pull up a bar stool at a traditional Edinburgh bar, smile willingly, or just join in with the banter, you will soon be made welcome. Just don't mention fitba, the trams, or the bins.
Edinburgh has hundred of pubs – from traditional 'old man's' style pubs (where you can get a malt of the moment for a quid), Scottish bars with traditional music, modernised pubs with great grub and real ale to craft beer bars, we have them all. Edinburgh also has a brilliant underground cocktail scene – with its cocktail bars regularly being voted the best in the world – you just have to know where to find them!
Edinburgh Nightclubs
---
There is a long-running joke that the only place to go for nightlife in Edinburgh is the infamous studenty Hive Nightclub. Do not be suckered in. Edinburgh may not have many gig venues and nightclubs left after gentrification, but there are still plenty of places to spend a drunken evening. The main nightclubs in Edinburgh are to be found in the Old Town and include the Liquid Room (house, indie and bands), Cabaret Voltaire (house/techno), and the Bongo Club (world, drum and bass). Fancy dressing up in your best heels? In the New Town there are plenty of nightclubs perfect for a girls night out on a Saturday – try Lulu on George Street.
For live music, check out the Edinburgh Gig Guide for listings.
How to get around Edinburgh
---
Did you know that Leicester is bigger than Scotland's capital city? Edinburgh is tiny – which makes it perfect for just strolling around. However, if you have ever stayed here with a local, you will have probably been taken on endless 'shortcuts' through the city that avoid walking on actual, you know, streets. It is very easy to get lost!
The best way to find your way around is to remember there are 4 main streets in Edinburgh city centre – The Royal Mile, Princes Street, George Street and Queen Street – and that they are all connected by short-cuts – closes, paths through parks and in some cases, underground tunnels. Most of the shortcuts aren't marked on google maps – so unless it is 3am and you are on your own – just try it – you might just pop out somewhere you never expected.
If you do get lost, Edinburgh is a digital city (we even have high-speed wifi in the city centre) and there are mobile Edinburgh apps to help you get around.
Edinburgh Buses
---
Don't be scared of the buses – they are frequent and cheap – and go everywhere you fancy visiting. One thing you need to know is that Edinburgh's buses don't give change which can be really annoying as a visitor if you are always searching for the exact fare of £1.60. Instead, download mobile tickets through 'Transport for Edinburgh' App.
The app also allows you to zoom in on a map to find your closest stops, click on bus numbers to see routes and see when your bus is due in real time – you can even see the little buses move along their route. Remember that you will need an app for each person travelling – but you can share tickets between apps and buy family tickets.
We also tend to thank our bus drivers. This often results in a humorous Walton's style john boy exit from the bus.
Edinburgh weather
---
Whilst it rarely actually snows in Summer, the cliche of 'four seasons in one day' is never truer than in Edinburgh. Scotland has a maritime climate, and whilst Edinburgh is generally drier than Glasgow, at any moment the rain can be horizontal, it might hail in May and only occasionally (in February) might you need some sunscreen.
However, Edinburgh is a stylish city (we even have our own Harvey Nichols) so don't pack your walking trousers (unless you plan on visiting the Highlands too) and emergency buy a £1 plastic parka.
Instead, dress for the wettest day where you live, and you will be fine. A decent pair of flattish ankle boots (we also have cobbles, so stilettos are brave), invest in a sturdy umbrella (and learn to angle it 'just right' into the legendary Edinburgh winds) and wear a coat with a hood. If the weather is that bad, just hide in a pub – that is exactly what all the locals are doing after all.
Love from Scotland x