Each night at The Table Edinburgh, two chefs serve a seven-course fine dining tasting menu for just 10 lucky diners. With a reservation list until 2017, last week we were lucky to pick up a last minute cancellation. What followed was one of the best meals I have ever eaten…
THE TABLE EDINBURGH REVIEW
So why is The Table so popular? Well, firstly Sean Clarke's food is incredible. The atmosphere is, however, just as good as the food. Dining at The Table Edinburgh is an experience. Arriving at 7 pm you are warmly welcomed by chef Sean and his brother Keith and invited take your seat at the chef's table – and await that day's surprise menu.
We settled in with a delicious canape selection, deep fried pasta, neeps & crab (amazing) and a peaty potato with creme fresh, and opened a bottle of BYOB prosecco. As we listened to rock & roll on the stereo (including plenty of 90s indie) the chefs prepared our starters right in front of us.
First up was 'Cassius Cray', a delicious mix of crayfish, mango and a spicy sausage paste (I think it was Sobrasada from Mallorca) and delicious Spanish olive oil, which, when covered in a punchy mango gazpacho was a lovely light and heavenly opener. A side of bread spread with whey butter was damn good too.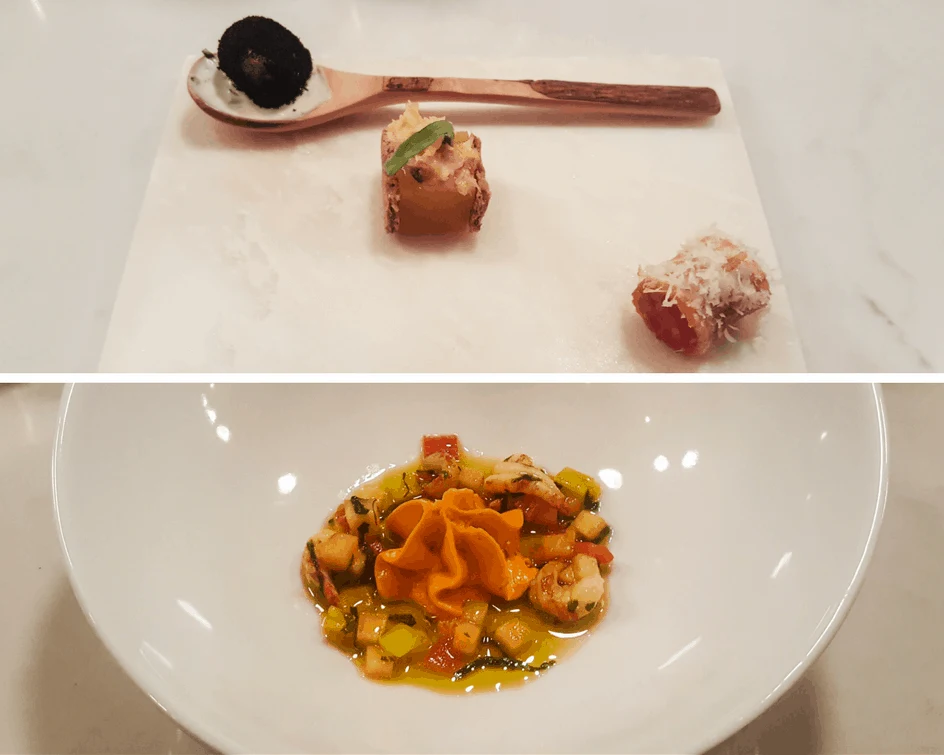 Sean loves a quirky name for a dish and frogs legs served with the 'perfect egg' (eggs cooked in their shell in a water bath at 63 for 1 hour) and chanterelles, peas, watercress, and hazelnut is named after Dangermouse's 'Silas Baron Greenback'. I must admit that I didn't think I liked frog's legs, but it turned out that when used as a kind of lollipop, dipped in the best egg I've ever eaten, they are delicious.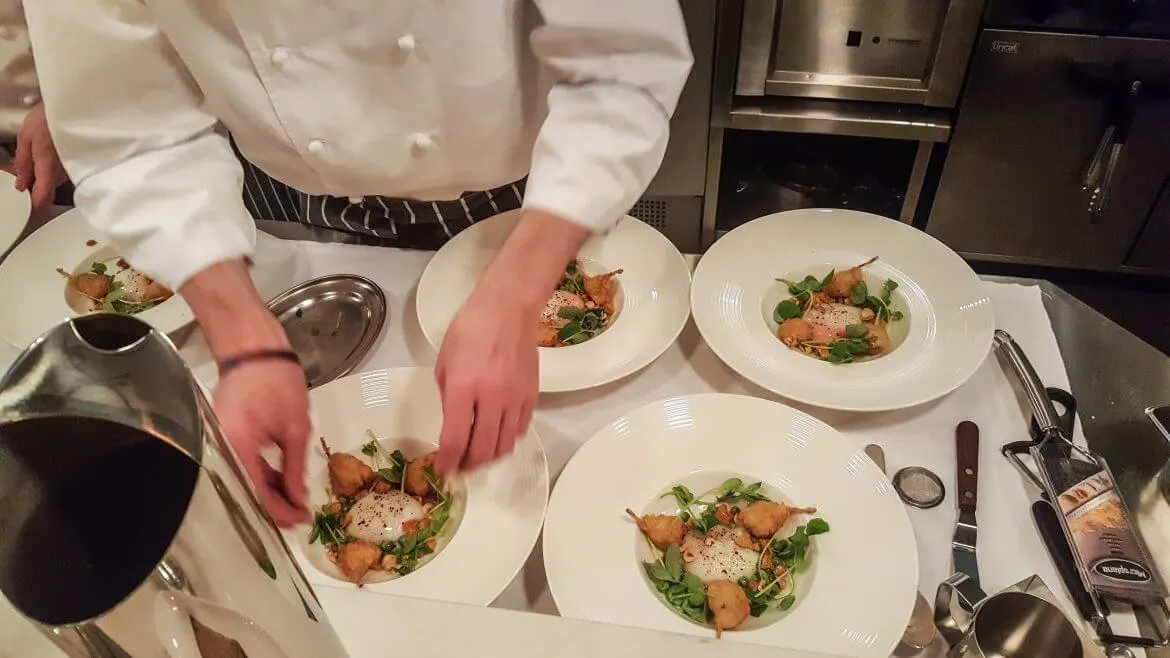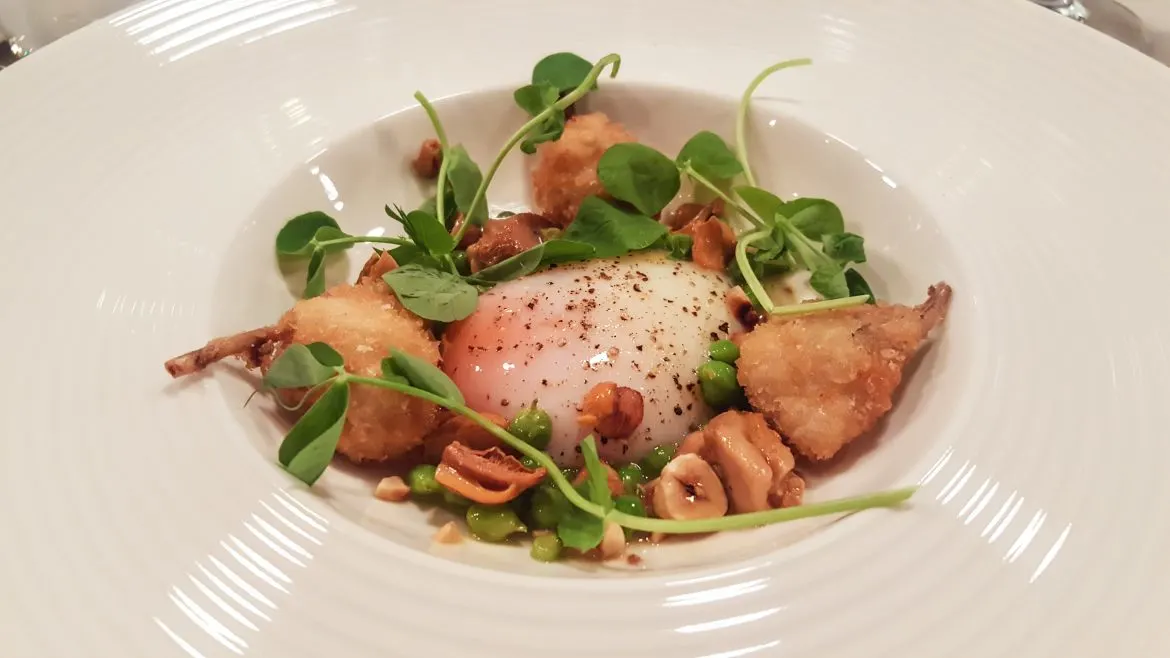 'Fishy McFish Face' had made me snigger until I saw the serious effort that had gone into the fish course. A seaside scene of beetroot 'stones', a brioche beach (Sean explained that edible sand is white and as Scotland's is not, they had to make their own) and foraged seaweed sat aside a red pepper 'sea' of monkfish cheeks was exceptional.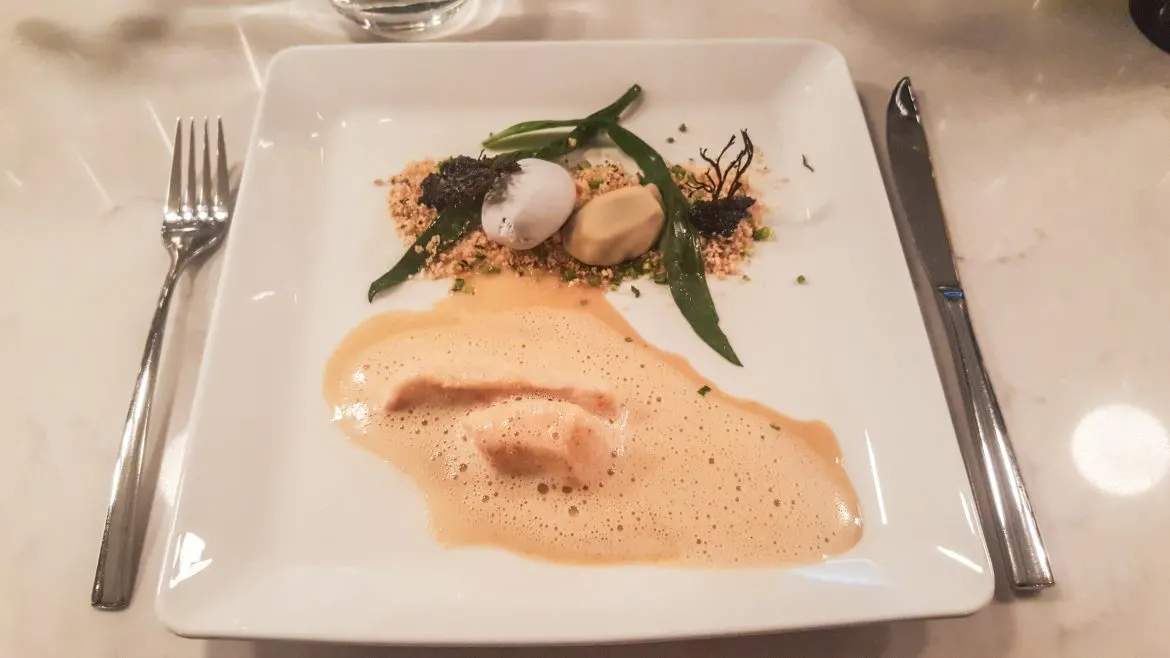 It was the meat course was where The Table really hit its stride. 'Deer in the Woods' was a rack and fillet of Roe venison, light tasting and served still prancing, with a foraged forest floor – wild mushrooms, herbs, and giant juicy blackberries. I must admit that towards the end, I may have picked up the rack, the venison was so good, I didn't want to leave any of it behind.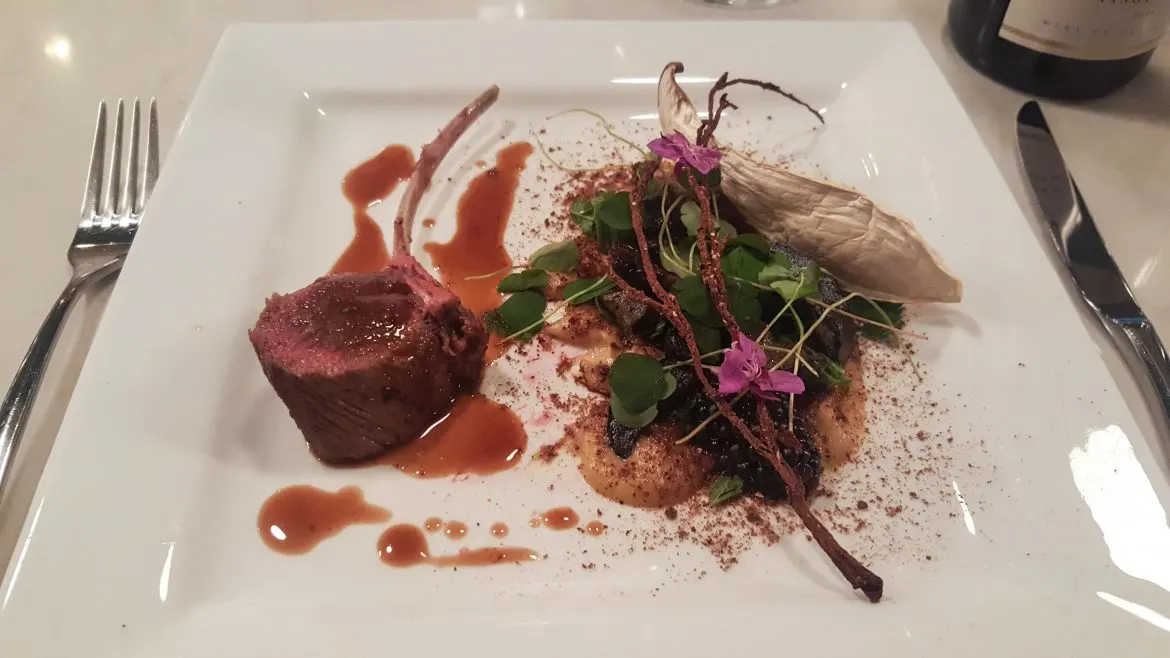 Next up was the cheese course (not pictured) of Let It Brie; melted brie de Meaux served with grapes, honey and sweet wine. It almost had almost a white chocolate taste; I may have used my fingers to get the rest off the plate. Oops. Too much BYOB wine by this point. Then came The Table's celebrated pre-desert. I won't completely spoil this surprise; just to say it is utterly clever.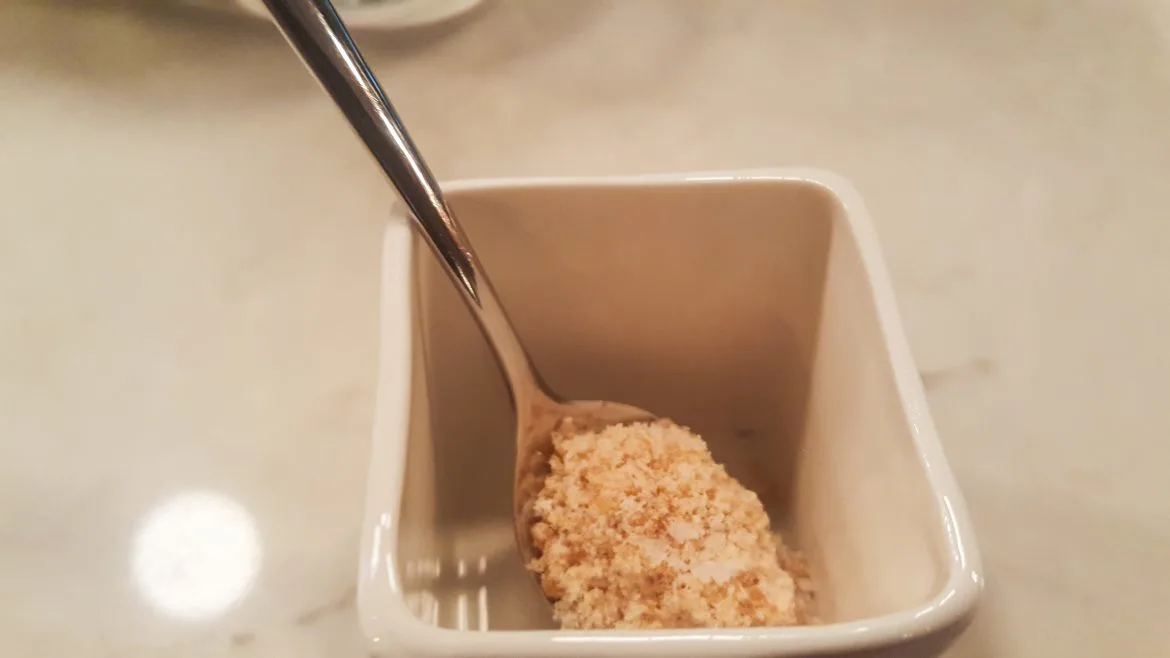 The dessert mon petit cherry was all of those things I love, cake, cherries, ice cream, chocolate bon-bon and disappeared in a flash. Quenelling 10 plates of ice cream was the least of the skill shown in this delightful plate. With the last spoon finished we were draining our glasses and settling back in complete delight.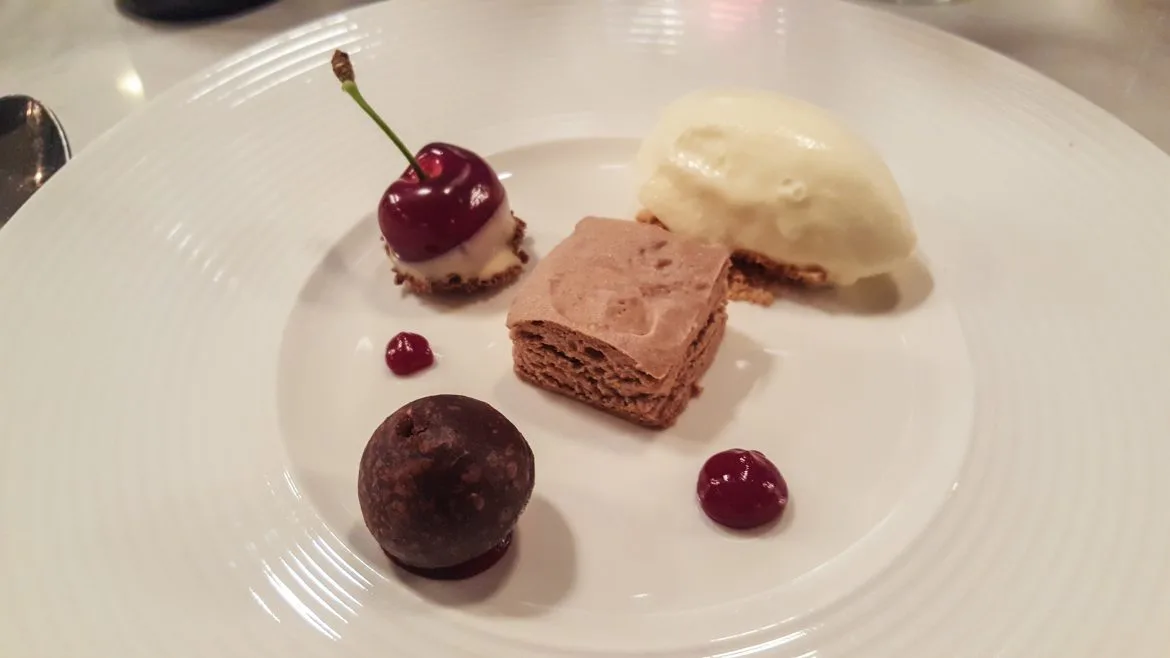 The Table is no fussy fine dining restaurant; everything about it from the food, to the setting, to the chefs themselves encourage you to just get stuck in and enjoy yourself. The whole evening was charming, friendly and self-deprecating – and we were made to feel a part of the whole experience. I love a bit of character and quirk with a meal, and The Table Edinburgh has it in spades.
As a food obsessed home cook, I found sheer joy in being able to lean over and watch exactly how each course is prepared, as well as being able to ask the chefs questions, including the ever popular "have the Michelin inspectors been in yet?"
(It can't be long, seriously, Sean?)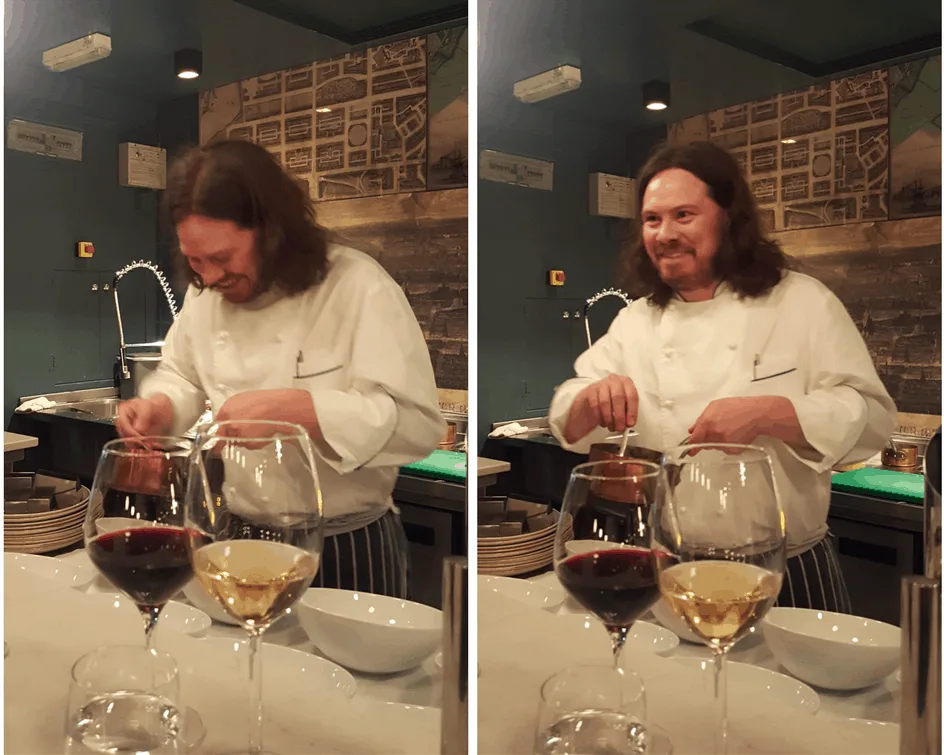 I highly recommend that you beg, borrow or steal a seat at The Table too.
Dundas Street, the new town
£70 for 7 courses, BYOB
TIP – Follow The Table Edinburgh on Twitter to spot cancellations!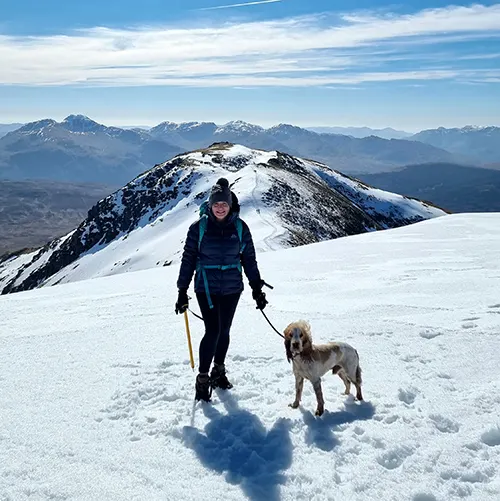 I'm Kate – a travel writer and photographer living in Scotland. Love, From Scotland is the Scotland travel guide that shows you where to stay and how to get outside in Scotland.