On a hillside beneath the often misty Rubers Law hill hides a beautiful Scottish Borders campsite and a hive of activity. Opened in 2011 by the Bailey family, Ruberslaw Wild Woods Camping is a gem, offering woodland camping, glamping safari tents and pitches in a walled garden.
With a warm welcome, a bustling campsite hub and a well-stocked shop – all the facilities you need for a great time camping in Scotland – whatever the weather. Plus, the grounds are absolutely gorgeous; how many campsites do you know which have glasshouses with their own vines to explore?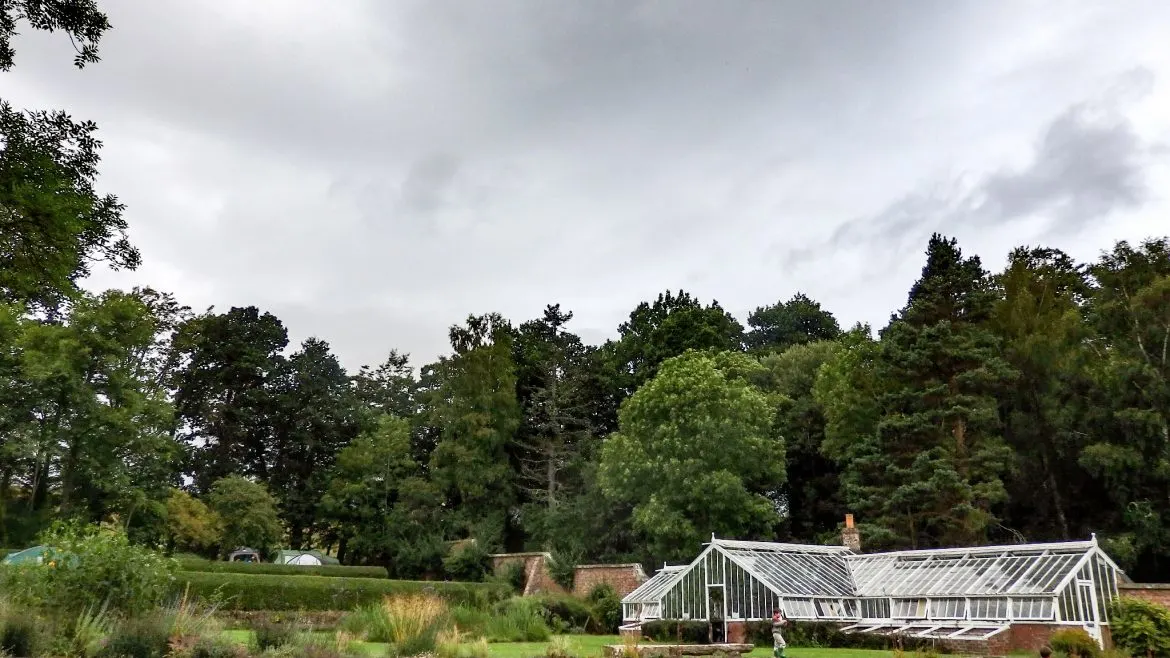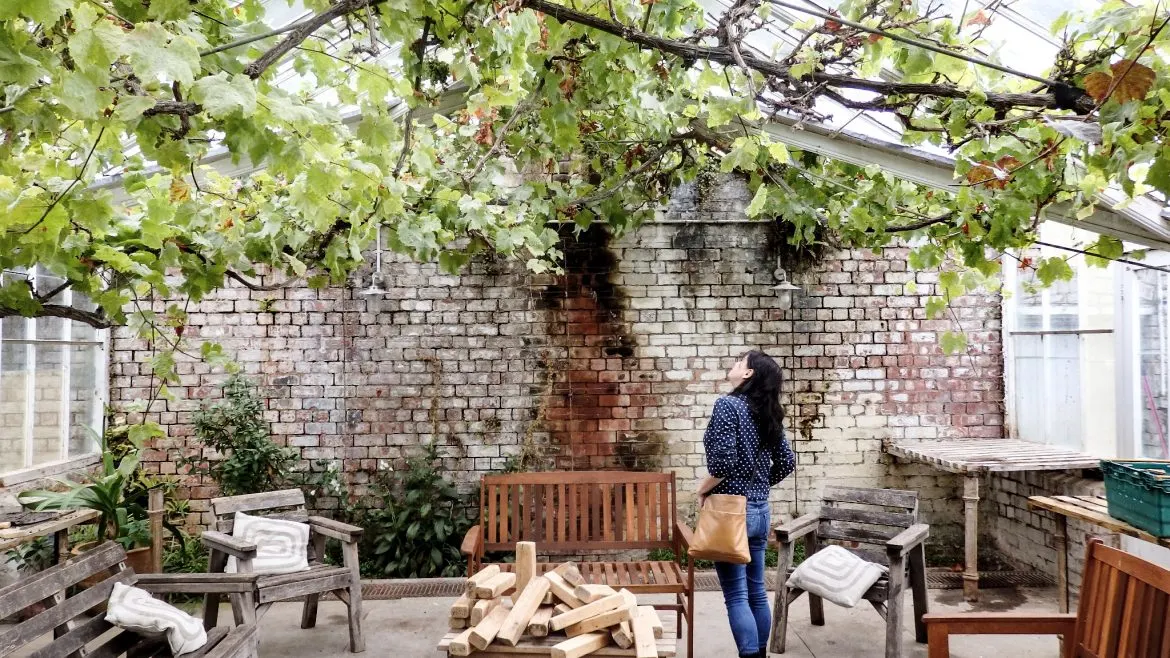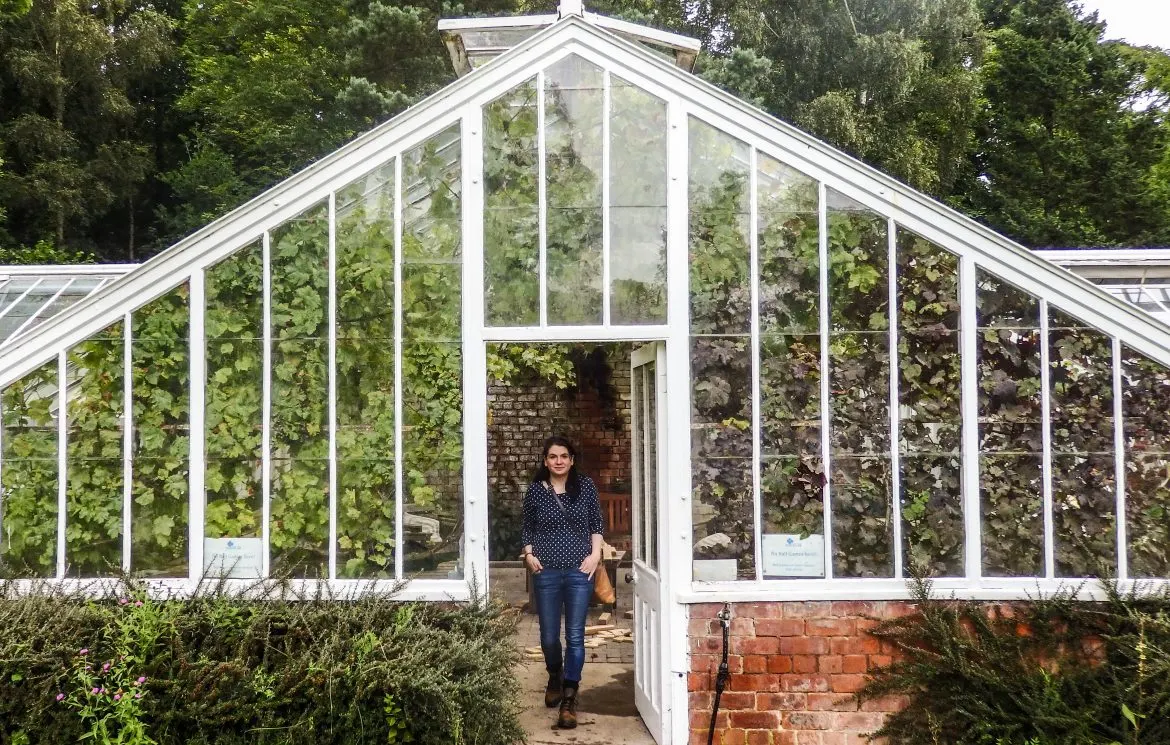 But I must be honest with you. We were a little grumpy when we arrived at Ruberslaw. We'd had a testing drive in torrential rain on a Friday night, a 15-minute slog up a hill in the drizzle with all our kit and our woodland pitch was very very busy with big family groups. Where was our pitch? Our fire pit? Oh no, where were we to camp! Thankfully, Ruberslaw's brilliant customer service soon sorted us out.
A quick call and the campsite's owner buzzed up the hill in his mini 4×4 and helped us sort out a spot beneath the trees. With our new Coleman Coastline 3 Plus tent fast and easy to put up in the rain – and with its large porch to sit in – we were soon warm and dry and with a glass of wine in hand, and burgers on the fire – we were infinitely more cheerful. Ahhh that's better…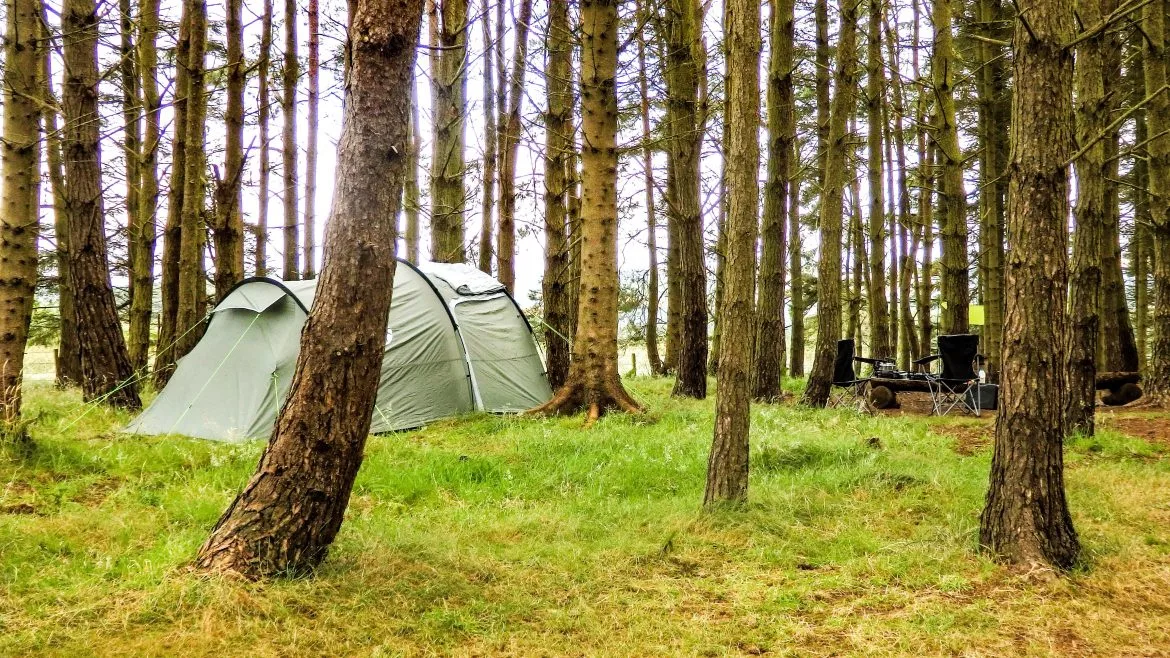 In the night the rain even managed to stop and we were up bright and early and off to explore!
Things to do around Ruberslaw Campsite
Ruberslaw Wild Woods Campsite is set between the pretty village of Denholm and the bustling town of Jedburgh, just north of Northumberland so there are loads of things in the area to keep you busy. Even if it is raining!
Born in the Borders
Just 5 minutes to the east of Ruberslaw campsite is Born in the Borders, a cafe, shop, brewery and parkland serving up the best in Borders products. If you don't fancy cooking, brunch is served 10 am until 3 pm and we tucked into excellent Dark Horse (a beer!) and treacle cured bacon rolls with delicious homemade brown sauce (brown sauce is a Scottish fruit sauce) and a couple of flat whites.
After breakfast, we explored the Born in the Borders Brewery, an award-winning microbrewery making beer from barley grown in its own fields, truly "plough to pint". With a beer shop selling an amazing selection brilliant real ales and craft beers from across Scotland, we stocked up on a Foxy Blond from the brewery plus extras from Alchemy near Edinburgh. Born in the Borders also has a farm shop to stock up on yummy products for your camp bbq.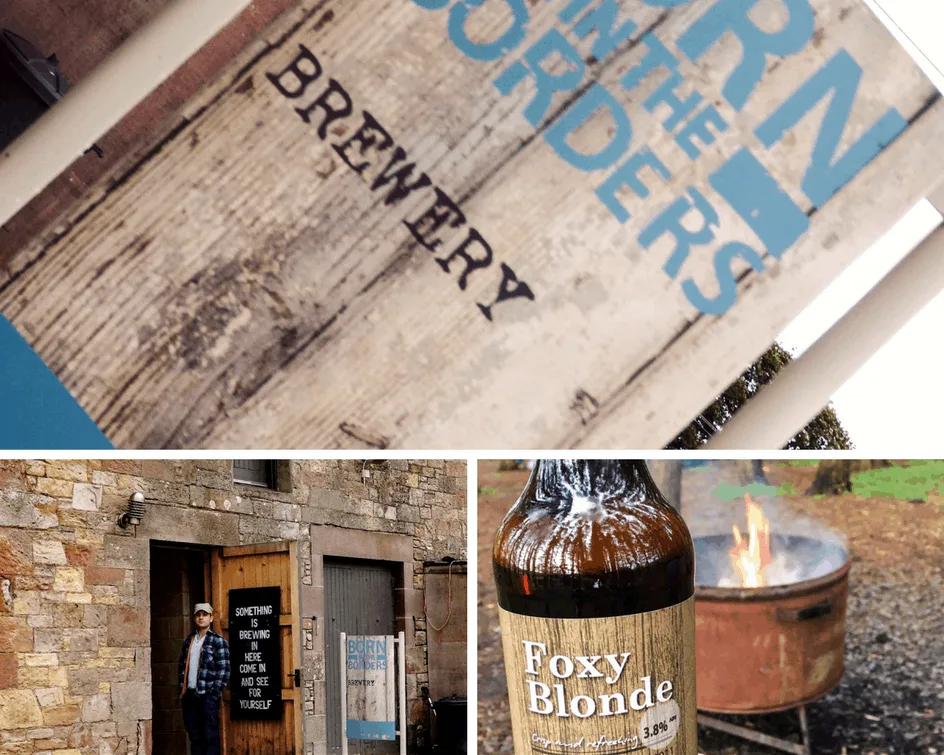 Head to Jedburgh for tales of horrible histories
10 minutes from the campsite, Jedburgh is a quaint market town, with some big attractions! All of which provide shelter from the rain! First up, visit the fascinating Mary Queen of Scots House, a restored 16th-century tower house which tells the story of Mary's dramatic downfall at the hands of the church and political rivals. It is a great exhibition, the building has been restored beautifully and is free entry.
Next, head to the beautiful Jedburgh Abbey, a ruined 12th-century Augustinian abbey managed by Historic Environment Scotland. Pick up the free audio tour – if it is raining, I suggest you listen to it from the shelter of a visitor centre overlooking the Abbey. The tour explains just why this huge abbey is built here, maybe it was to do with annoying the English?! There is a huge dress-up box for the kids too, to help pass the time. £5.50 for adults, free if you are a member of Historic Scotland.
Finally, explore Jedburgh Castle and Jail, the only example of a town prison in Scotland, Jedburgh's 19th-century Jail is rather spooky, and great if you have got kids (especially if you want to lock them up!) The museum also tells the story of Jedburgh. Free entry.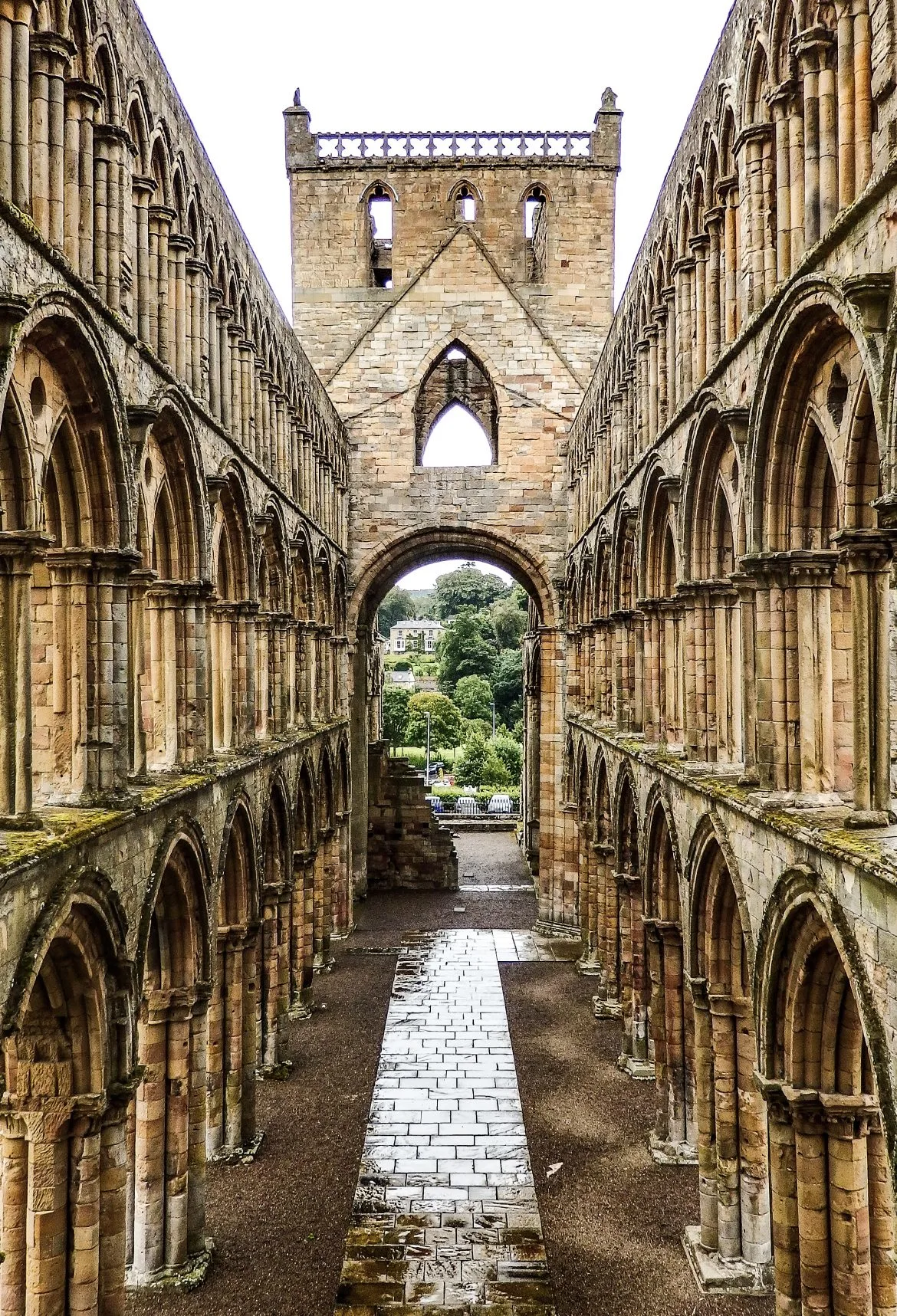 Take a walk (however strenuous you like!)
We'd been hoping to climb Rubers Law as we'd heard that at 424m it gives great views from the top. However, with a couple of unhealed injuries, we instead opted for the gentle option of walking from the campsite to the village of Denholm, a rather muddy and 30 minutes across the fields. A very wet Scottish Borders really does make for some beautiful walks…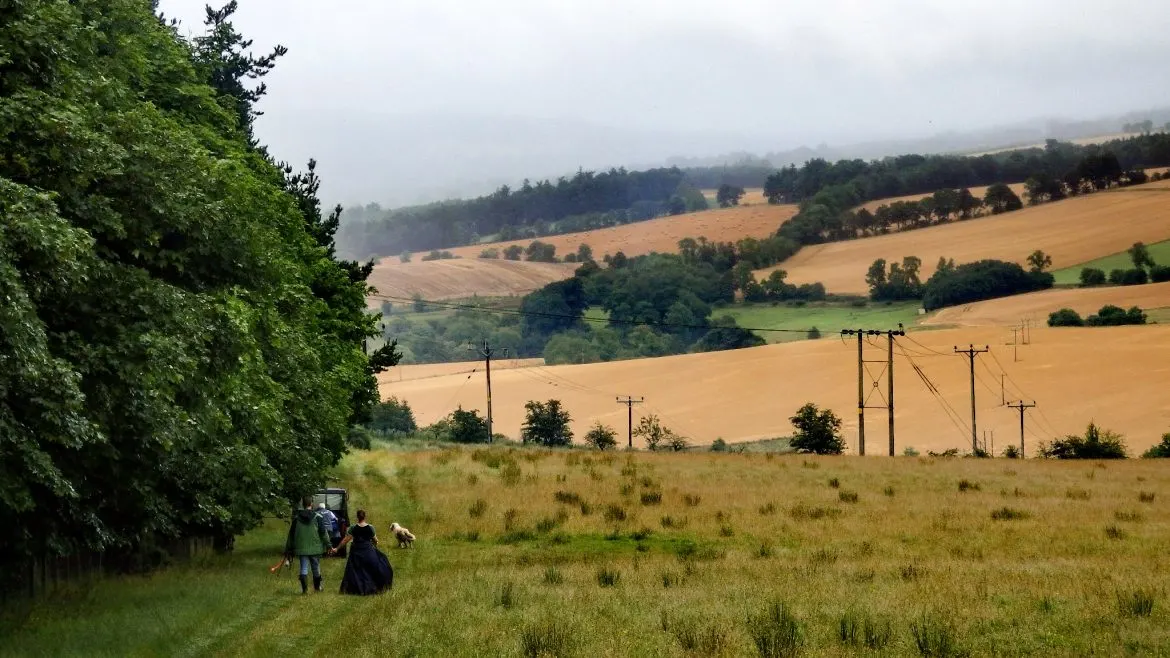 I loved this couple!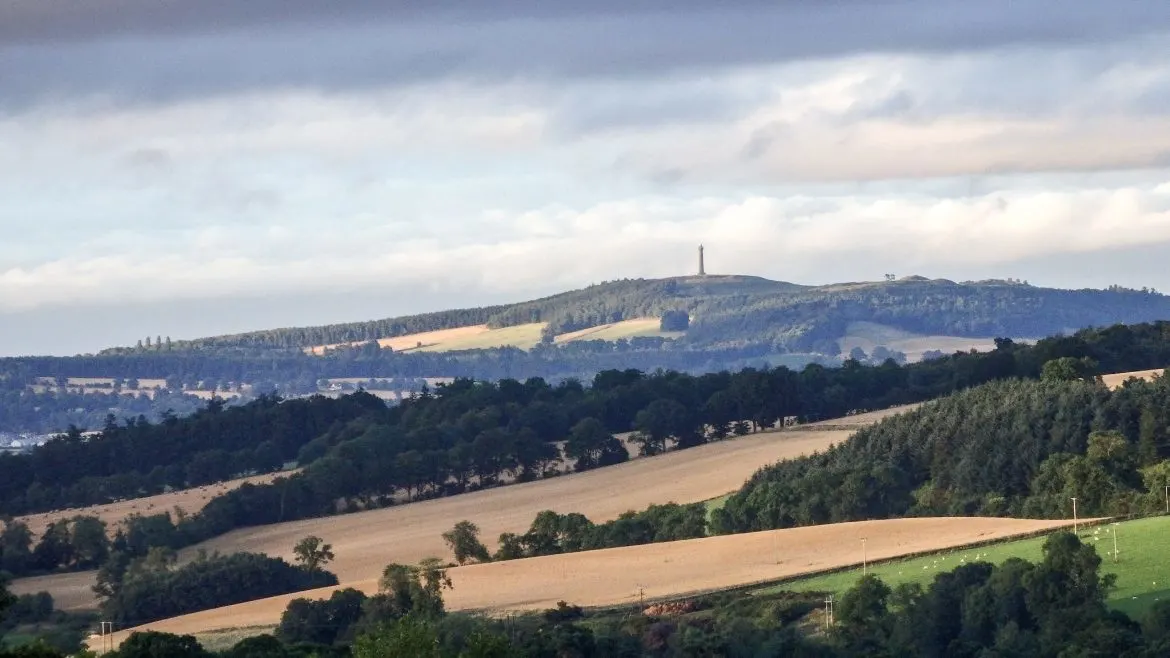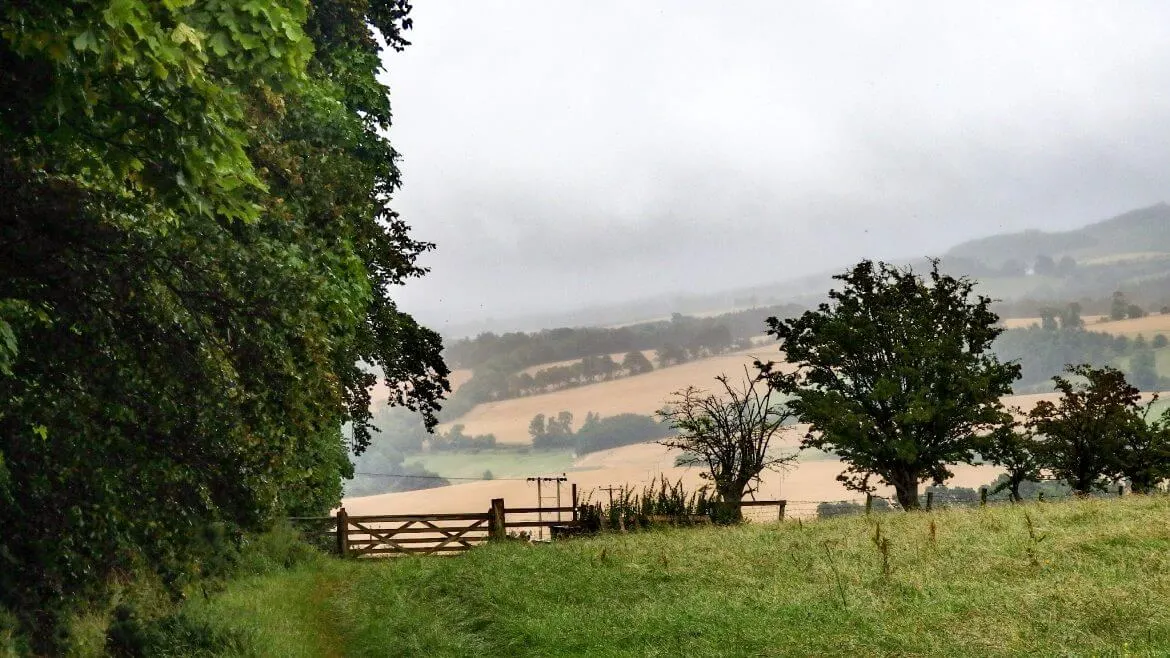 If you are looking for some shelter after your walk, the village of Denholm has two pubs serving meals and local beer – The Fox & Hounds and the Cross Keys. Both pubs were very welcoming to a pair of soaked and dirty campers and full of character and chat. We managed to stay most of the afternoon before wobbling back to our campsite for tea. You've got to keep up that #scotspirit, even in the pouring rain eh?
Love from, Scotland x
Ruberslaw Tips – If you are not in a family group and are looking for some peace and quiet on a woodland pitch I would suggest booking Ruberslaw's really wild pitchesrather than Home Wood. Make sure you book a kit assist, for £6 each way – it really is worth it!
Explore my favourite Scotland campsites
Read more – my complete guide to Midlothian and the Scottish Borders
Read more – my Midlothian and Scottish Borders Itineraries
Save this post for later!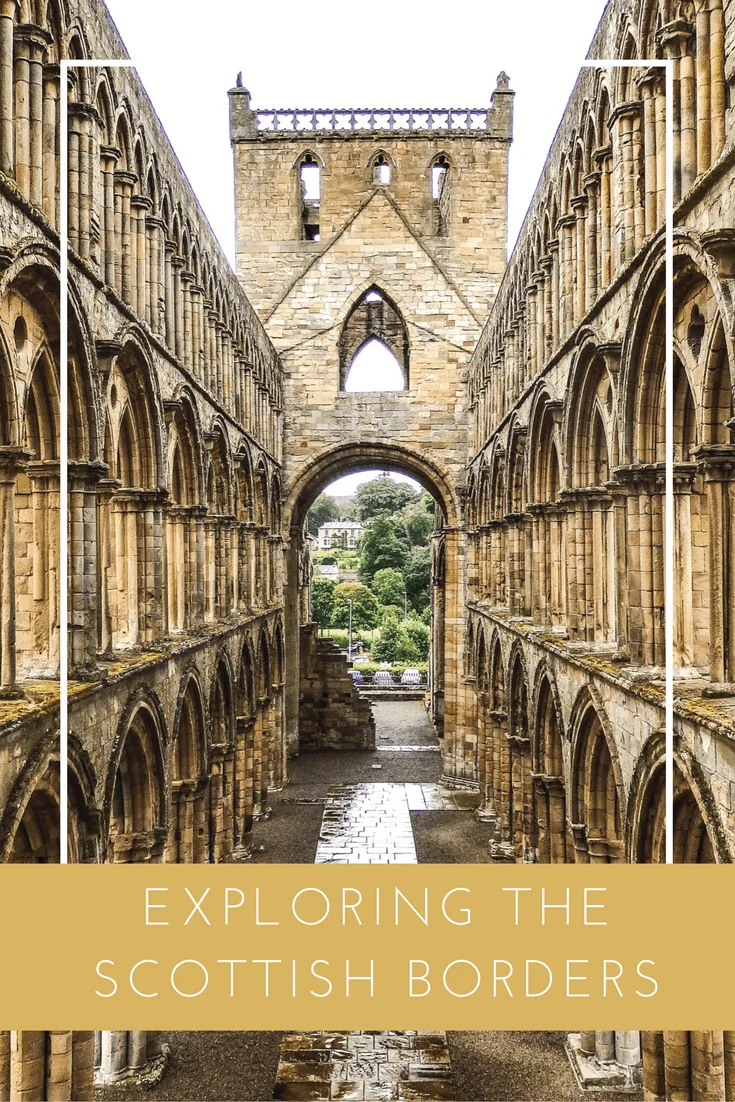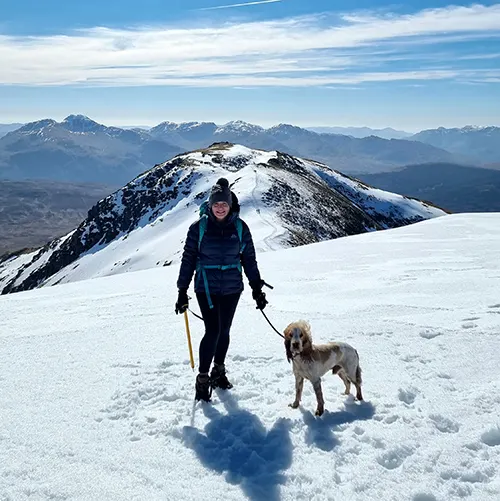 I'm Kate – a travel writer and photographer living in Scotland. Love, From Scotland is the Scotland travel guide that shows you where to stay and how to get outside in Scotland.