Have you been to Loch Tay in Highland Perthshire? We were recently invited by Mains of Taymouth* for the weekend to discover what you can get up to, on and around the loch.
The Mains of Taymouth is a 160-acre family-owned luxury estate located just to the north of Kenmore, a 5-minute walk to the loch and village centre. With five-star self-catering cottages and apartments of all shapes and sizes, a restaurant, bar, and shop on site, it is the perfect place to base yourself for exploring Highland Perthshire.
Let's go on a Loch Tay adventure!
Things to do on Loch Tay
Located just 2 hours north of Glasgow and Edinburgh, Loch Tay is a great place to base yourself for a Scotland holiday. Loch Tay is one of my favourite lochs as whatever the weather there are lots of things to do, from gentle bank side Loch Tay Walks, to whisky tasting at Dewars Distillery. However, if, like me, you like to get up to something a little more adventurous, read on.
Discover the loch with Loch Tay Safaris
Nearly 70 years after the last tourist steamship sailed on Loch Tay you can once again take to the water. Loch Tay Safaris sail their specially made rigid inflatable boat (RIB) Iolaire three times a day (5 times a day in July/August) from Kenmore, taking up to 12 people for an hour's trip. With the weather against us, we were glad of the brand new RIB's cosy cabin and comfy seats we were soon scooting our way up the loch.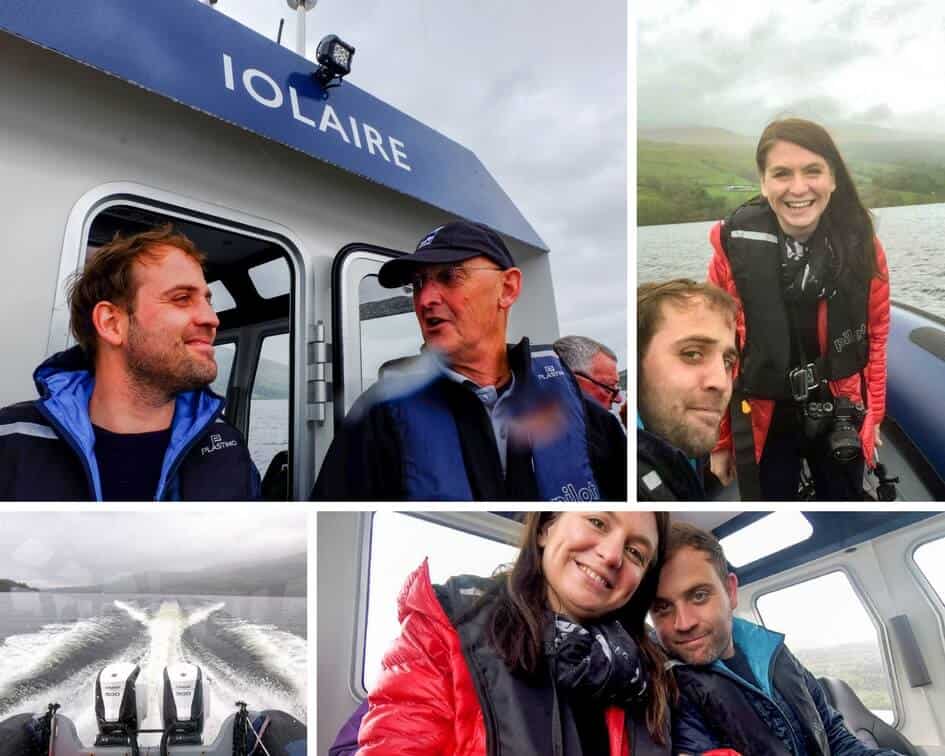 With stopping points along the way we learnt some of the loch's tales – including the story of the queen buried on an island (that'll be Queen Sybilla, wife of Alexander King of Scots) and the fascinatingly strange but true predictions of the Lady of Lawers – which also includes the sinking of a boat on Loch Tay. Don't worry, the safety instructions and life jackets used by Loch Tay Safaris are second to none.
On our way up the loch we kept an eye open for ospreys and eagles (Iolaire, the name of the boat means eagle in Gaelic) soaring above Ben Lawers, the 10th highest mountain in the UK – and for sightings of Kelpies deep in the water. Returning along the south side of the loch, the boat passes the recreation of an ancient dwelling at the Scottish Crannog Centre.
The boat trip was great fun, and the crew knew just how to keep us all smiling, even as the rain descended on the loch – our boat trip was a complete treat. Loch Tay Safaris sail from the pier at Kenmore, £30 for adults, £20 for children, £95 a family. You can book online. If you fancy driving up to 3000ft in a 4×4 and then back to feed red deer, then try Highland Safaris.
Go horse riding at Mains of Taymouth Stables
On-site at Mains of Taymouth is riding stables from which you can go trekking in the Perthshire countryside. Growing up on the edge of the Peak District I spent quite a lot of time as a child on the back of a horse. In the last 15 years – not so much. B, in fact, had never been on a horse at all!
We were therefore suitably nervous for our riding experience, but Kerry, our instructor for the day, immediately put us at ease by introducing us to our two friendly ponies – Brodie and Tommy. The stables check your height and weight before you ride (you have to be under 13 stone) and match you perfectly with a horse. Brodie, just like me, was on the short and stubby side. It was love at first sight.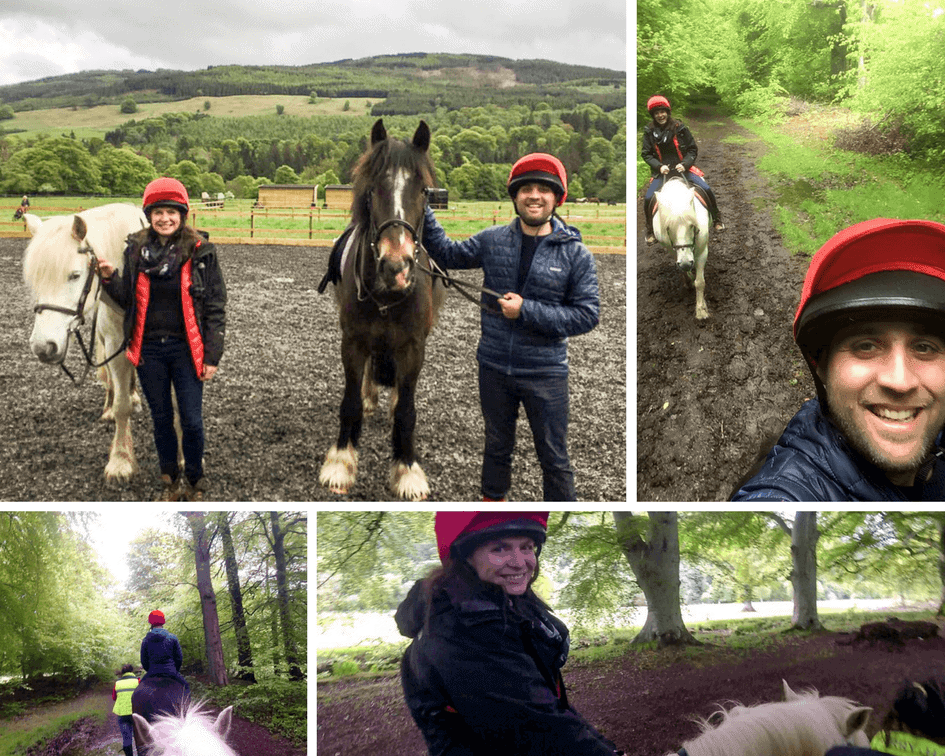 The stables sit on the banks of the River Tay, and for our 1-hour guided trek we ambled along tree-linedpaths around the Mains of Taymouth Estate, chatting with Kerry about the delights of living in the countryside.
For those who are nervous, we spent most of the ride 'on a lead' i.e being led by Kerry, which gave us the confidence to enjoy the ride. For me, it turned out being on a pony again was just like riding a bike, and after half an hour I was brave enough to ask to ride alone. Apart from a few struggles with greedy tree-eating behaviour Brodie and I, for the most part, bumbled along rather happily together.
Apart from a slightly scary (not to mention bum jarring) rising trot, I had forgotten just how relaxing – and fun – being on a horse could be, and we left the stables with massive grins on our faces. You can tell by the photos just how much we enjoyed our visit to the Mains of Taymouth Stables!
One hour beginners treks at Mains of Taymouth Stables are £35 per person. The stables also do 2-hour treks for those with experience.
Where to stay on Loch Tay
At Mains of Taymouth we stayed in Bell Tower Cottage, a luxury 'honeymoon' bolt-hole for two with a four-poster bed hidden up in a bell tower. The cottage was located in the estate's converted steading and has been beautifully refurbished and decorated.
Beautiful!
The cottage retains many of the A-listed steading's original features – including a tiny doorway into the bedroom. Watch your head, even at 5 foot tall I had to duck! With a gorgeous spa bathroom, sauna, and wood burning stove it was a perfect space to cosy up as a couple (or with your dog too!) and relax and rejuvenate after a day out exploring the loch.
On site is the Estate's Courtyard Bar and Restaurant. With squishy seats, a great selection of gin and real ale on hand pump, as well as a huge fire pit, we spent a good few hours in the bar relaxing and recovering over drinks and the Sunday papers. Next door the restaurant serves Scottish classics such as chicken supreme with haggis, as well as being able to order burgers and pizzas from the bar menu.
Sadly, I'd overdone it a little during the day and the staff were nice enough to package up my main course of chicken fajitas for me to take away – they made an excellent lunch on top of a local mountain the next day! If you fancy going full self-catering, the estate's deli and shop also sell the best of local Scottish produce which was good to see – and sample!
We found that the estate had all we needed for a perfect self-catering break in Scotland – the cottages and apartments really are 5-star, and we thought the onsite restaurant and bar were great. With boat trips, horse riding and hill walking on your doorstep, Loch Tay is somewhere we will return to time after time. What a fantastic weekend!
Love from Scotland x
Disclaimer: I was invited to stay by Mains of Taymouth who also treated us to dinner and horse riding. Thanks to Loch Tay Safaris for the boat trip.