When the sun shines bright on the bonnie banks of Loch Lomond there are few places in Scotland more beautiful – and the best way to see the Loch is to wake up overlooking the water. We checked into a Loch Lomond Lodge* for a cosy winter weekend.
Driving down the east side of Loch Lomond always puts a smile on my face – I love catching glimpses of tiny coves and pretty beaches, passing through villages sitting on the silvery blue water and watching the hikers trekking the long and winding West Highland Way.
A favourite stopping point on the east side of the Loch is the village of Balmaha – we visit regularly to grab a coffee on the way to Ben Lomond, to climb Conic Hill, or once, for huge haggis rolls at the Oak Tree Inn on a particularly rainy day. However, this time we were heading to Balmaha to check in for the weekend.
Our home for the weekend at Balmaha was to be a grass-roofed chalet at Loch Lomond Waterfront*. The setting is stunning, with lodges flanked on one side by the looming Conic Hill and on the other the endless waters of Loch Lomond, you can't get many more iconic locations in Scotland.
Welcome to your waterfront Loch Lomond lodge…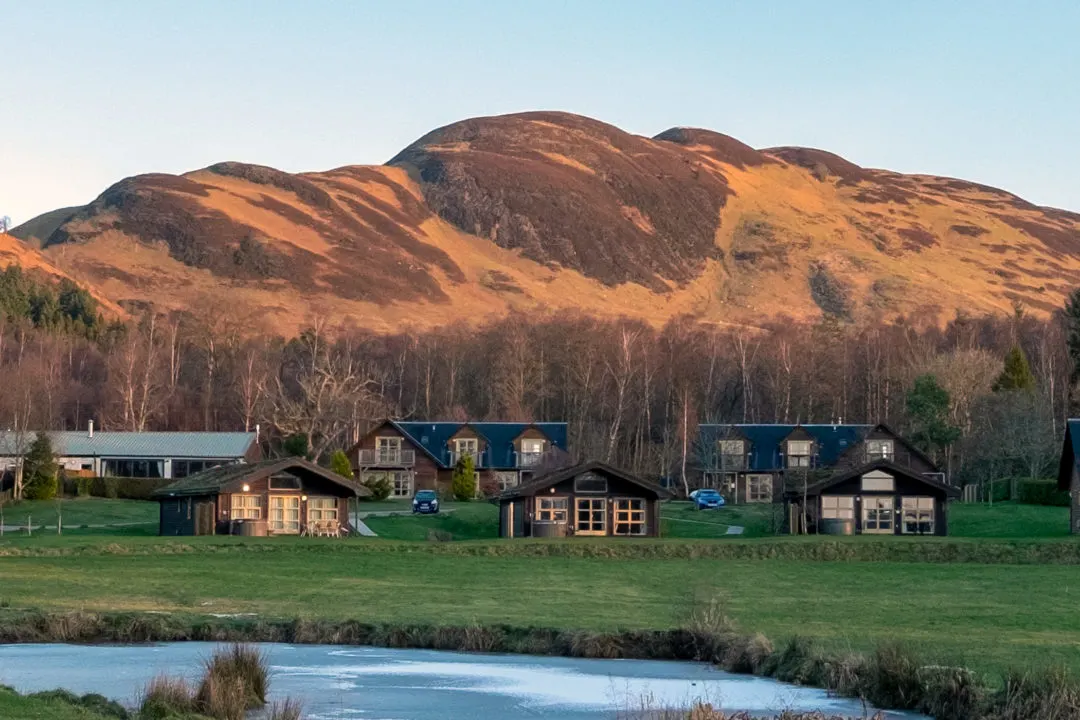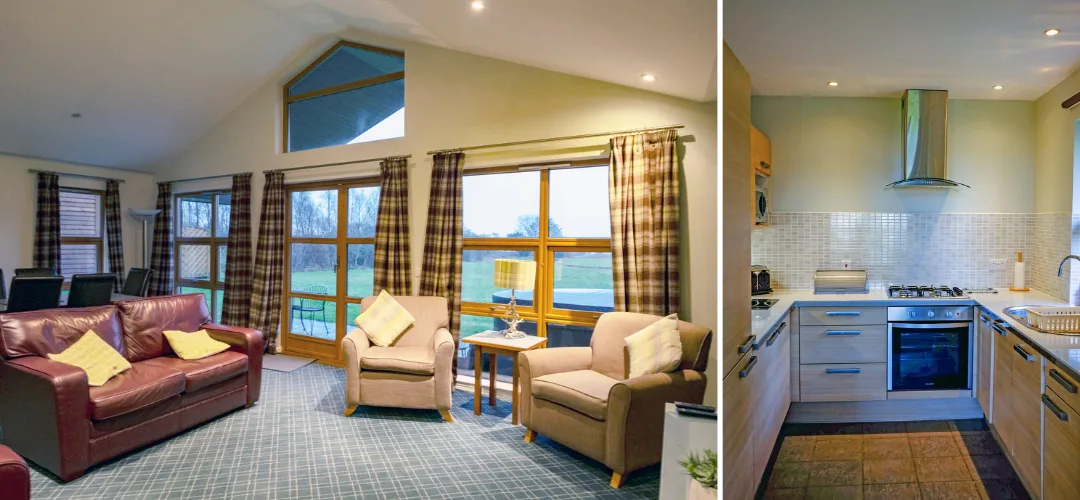 a luxury Loch Lomond lodge for two (or four, or six)
I must admit having endured many wet and windswept holidays on the east coast, I had preconceived ideas about staying in a chalet. I was honestly thinking rustic beach hut – but instead, our chalet 'Brodick' was cosy, comfy and stylishly decorated in subtle Scottish tweeds – and with an uninterrupted view down to the loch – looking out we only had the resident ducks and geese for company. It completely failed to live up to my expectations.
The chalet's exterior also completely hides just how much space you have – we had two ensuite bedrooms with giant comfy beds and crisp sheets and an open plan living/dining room with lots of sofas and armchairs to curl up in. With a fully equipped kitchen including a washer / drier, microwave and dishwasher and all the pots and pans we needed to cook for ourselves, we planned to settle in for a weekend of total relaxation.
The best bit? Outside our chalet we had our own patio and, blissfully, in the freezing cold winter weather, there was a toasty warm jacuzzi hot tub. With little-to-no light pollution at Loch Lomond, as soon as it got dark, all we could see from our outdoor tub were thousands of stars – and the occasional hooting owl passing by.
Loch Lomond Waterfront had thought of everything – there are big fluffy towels, towelling dressing gowns and slippers so you feel like you are at a spa, luxury Loch Lomond toiletries and even shortbread and good ground coffee for the cafetiere (there are no instant coffee sachets here!) were all provided. It was a treat to wake up, put the kettle on and wander down to the lochside to watch the sunrise. Even if we had just missed catching the aurora the night before, it was all rather romantic…
We were so tempted just to curl up for the weekend, but outside, the lodge sits at the heart of the Loch Lomond and the Trossachs National Park and it was a shame not to explore.
5 Things to do at Loch Lomond Waterfront Lodges
…then and after a long day exploring, you have your cosy lodge and hot tub all waiting for you. Grab your whisky of choice and snuggle in for the night.
Love, from Scotland x
Loch Lomond Waterfront has eight five-star luxury lodges and three wooden chalets. Whether you are looking for a romantic break or a family group trip to Loch Lomond, each lodge sleeps between two and six people, most are dog-friendly, and all have stunning views over the loch.
Thanks to Loch Lomond Waterfront for inviting us to stay for the weekend, it was completely blissful.
[do_widget id=custom_html-27]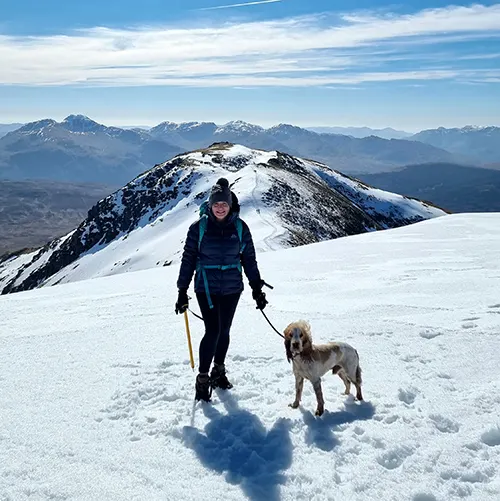 I'm Kate – a travel writer and photographer living in Scotland. Love, From Scotland is the Scotland travel guide that shows you where to stay and how to get outside in Scotland.