Let's visit one of my favourite parts of Scotland – Kinloch Hourn.
In a country the size of Scotland, it's surprising that there are still parts of the country so remote that it can take days to get to them. Described as Britain's last wilderness, Knoydart is only accessible by boat or a 16-mile (26 km) walk in from Kinloch Hourn.
(or, other, more circuitous routes)
Kinloch Hourn might be the gateway to Knoydart, but you don't need to head off into the wilderness complete with backpack and tent to discover this gloriously remote region of Scotland. Here is how to visit Kinloch Hourn.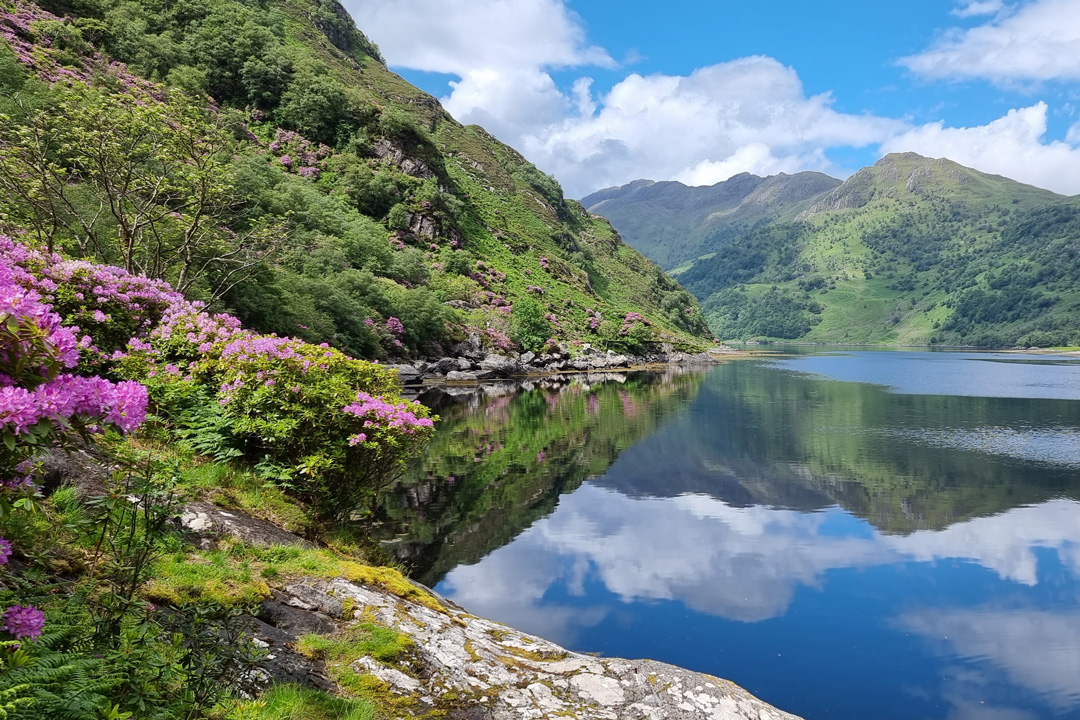 The drive to Kinloch Hourn and Loch Hourn, Knoydart
With the Glenelg peninsula to the north and Knoydart to the south, beautiful Loch Hourn (or in Gealic, Loch Shubhairne, sometimes translated as Loch Hell) is one of Scotland's grandest sea lochs.
Described as Britain's longest dead end road, the drive down to Kinloch Hourn (also marked on maps as Lochhournhead) a tiny settlement sitting on the loch, is 22 miles of rather hair-raising single track road.
The drive to starts from the A87 as it rushes by on its way from Loch Ness to the Isle Skye. At first, the single track road leaves Glengarry (signposted to Tomdoun and to Kinloch Hourn) taking you along Loch Garry passing the pretty Tomdoun Church before reaching Loch Quoich which forms part of the massive Glen Garry hydroelectric dam.
With the mighty Munros of Gleouraich and Spidean Mialach rising above you and views to the back of the Glen Shiel Ridge, the road winds its way along the steep hillside before descending down to Kinloch Hourn on a final rather dramatic and extremely steep section of road – do not come down this road in a campervan!
22 miles of absolutely spectacular Scottish scenery – all before you head out on foot along the loch to Barrisdale Bay or deep into Knoydart.
Parking at Kinloch Hourn is at the head of the loch. For those walking into Barrisdale or Knoydart there is a long stay car park charged at £2.50 per night (cash in the honesty box, or by contactless card payment at the Tea Room) there is no charge for the day carpark.
There is no public transport to Kinloch Hourn, although a local taxi may take you down if you ask nicely.
Walking at Kinloch Hourn and Loch Hourn
Kinloch Hourn is one of the gateway to remote Knoydart, and from Lochhournhead a old coastal path takes you out alongside Loch Hourn to Barrisdale Bay and onwards to Inverie, the main settlement on the peninsula.
The walk out along one of Scotland's most dramatic and fjord-like sea lochs can be as long or short as you like.
The full route to Inverie on Knoydart is 15 miles (8 hours) although most people will stop at Barrisdale at 6.75 miles (4 hours) where there is a campsite for the night before continuing on, or returning back to civilisation.
Look out for stunning rhododendrons, otters, deer, and even dolphins!
In summer, a wee boat service can be arranged to take you back from Barrisdale Bay back to Lochhournhead. If you do reach Inverie, then there is a passenger ferry boat to take you back to Mallaig.
The walk forms part of the Cape Wrath Trail. There are also jetties for kayaks and SUPs.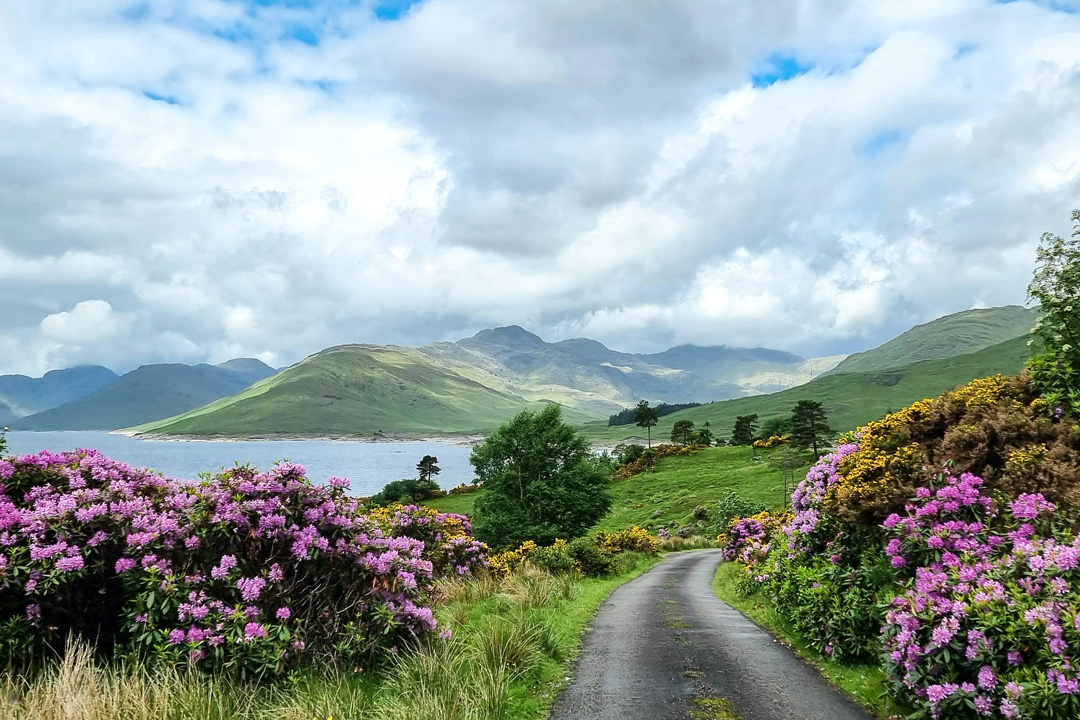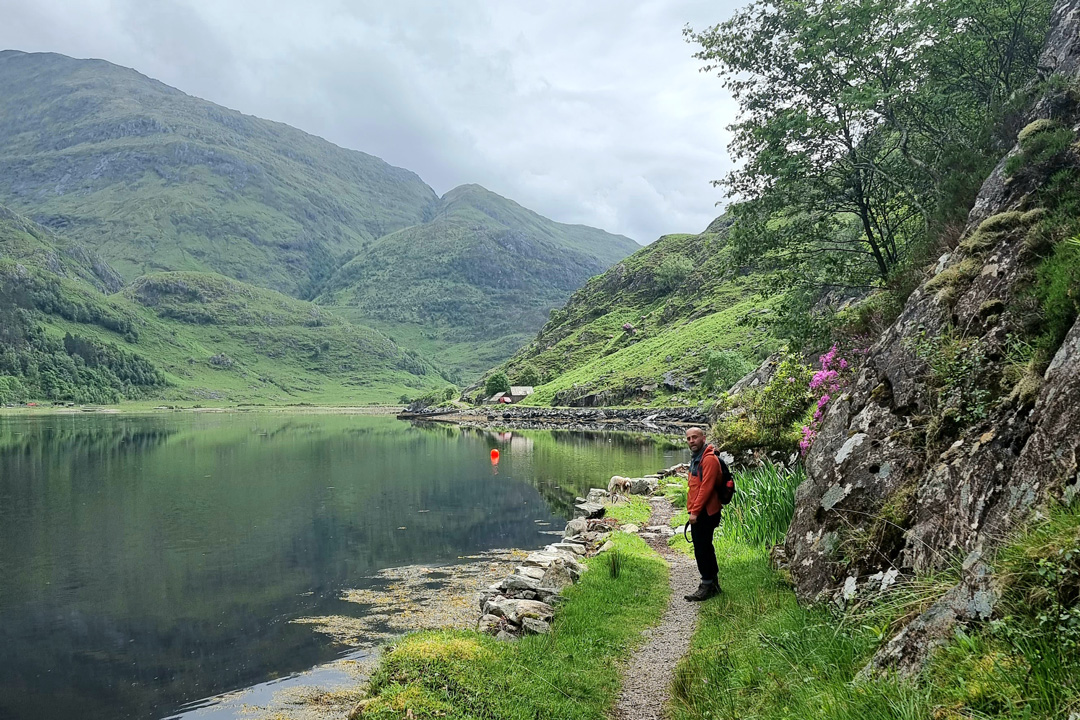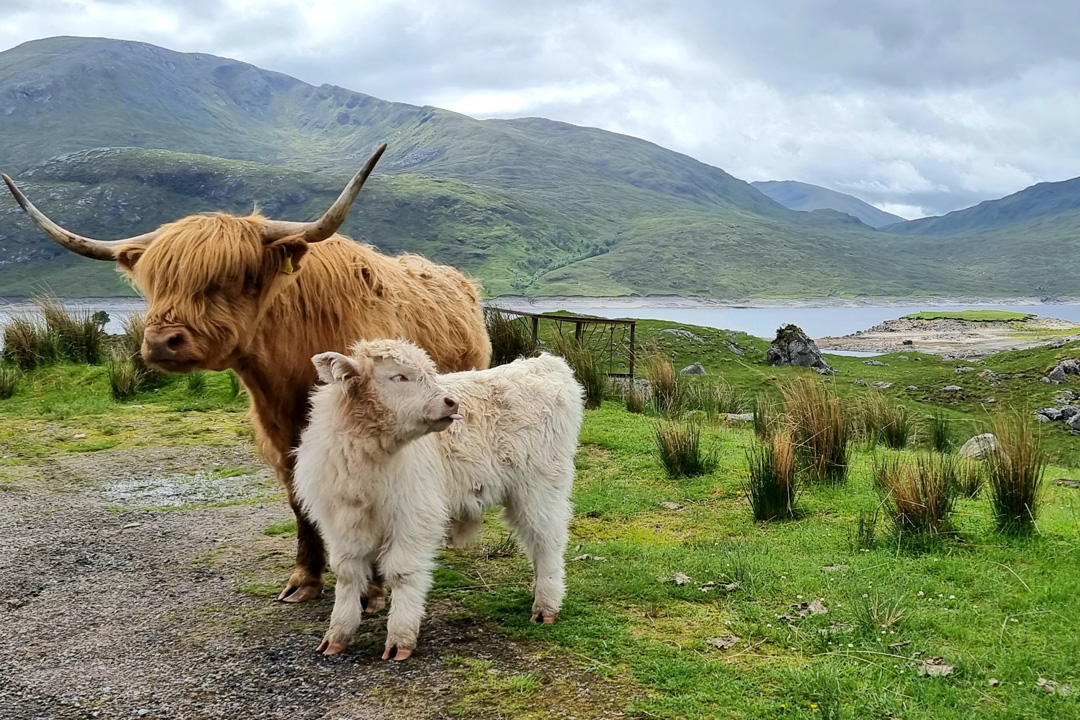 Where to stay at Kinloch Hourn and Loch Hourn, Knoydart
Campsite at Kinloch Hourn
The Stables (Barrisdale Estate) and The White House (Barrisdale Estate)
Barrisdale campsite
There is also a tearoom at Kinloch Hourn.
Love, from Scotland x
*affiliate links